Chicken Sorrentino has everything going for it. Chicken, eggplant, cheese, and a delicious sauce. This is one of my family's favorite meals. The best part is how easy it is to make with these detailed step by step photo instructions!
This is one of those recipes that is on almost every Italian restaurant's menu in the New York Metro area. If it's not, they will surely make it for you if requested.
The dish starts with flour dredged chicken scallopini pan seared in butter and oil. Scallopini just means small scallops of meat. In this case it's chicken cutlets that are ready to be fried quickly.
They are then topped with prosciutto, eggplant, fontina and parmigiano reggiano cheese. Finished in the oven with a simple-sauce it really doesn't get any better than this.
What Is Chicken Sorrentino And Is It A Real Italian Recipe?
I am not sure about this one. Perusing Google I really could not find any good info on this particular dish. My hunch is that the recipe originated in New York considering how widespread it is in all the local Italian restaurants.
Most of the Italian immigrants that came to America were from southern Italy. My Mother's Father hails from Palermo, Sicily and her Mother's side is from the Basilicata region of southern Italy. The food they made like many other Italian immigrants was very similar to this dish. They ate a lot of red sauce and eggplant dishes like Pasta Alla Norma, along with hearty recipes like this Sweet Italian Sausage Pasta.
Beef Braciole With Raisins and Meatballs And Sunday Gravy were also very common dishs as was the ever popular Pasta Fagioli.
The "internet" says Chicken Sorrentino is named after the southern Italian city of Sorrento. Sounds right to me, though I couldn't find any reputable source to confirm this either.
Naming dishes by Italian areas and cities is quite common here in New York. I think there's a lot of nostalgia at play. I always get a chuckle out of some of the menu names at my favorite Italian restaurants. This is especially true after I get home to research them and can't find one single thing about the recipe on Google.
Please correct me if I am wrong about this, as I would love to know the history of chicken Sorrentino.
Any food historians out there?
And One Important Thing:
Please Don't Worry If You Need To Substitute A Few Ingredients…
Fontina cheese is what the recipe calls for, but it would be great with mozzarella or a soft provolone.
Can't find parmigiano reggiano? Pecorino or a good grated Italian cheese is totally fine.
Anyway, you get the idea. Let's go over the shopping list.
Chicken Sorrentino Ingredients:
4 thin chicken cutlets – You can save time by buying thin sliced cutlets, though they are almost always more expensive. If you've got the skills, filet the cutlets yourself and/or pound them out to about 1/4″ thick scallopini style.
1 small eggplant – No need for a large eggplant with this recipe. The eggplant will be sliced lengthwise into strips for roasting.
14 ounces plum tomatoes – This is one half of a standard 28 ounce can.
4 slices of prosciutto – 1 slice per piece of chicken.
1/2 cup grated fontina cheese – thick grated works well or sliced if you can find it.
1/4 cup grated parmigiano reggiano – Can substitute pecorino.
1/4 cup marsala wine – A dry white wine can 100% be substituted .
1/4 cup diced onion – Just a little bit of diced onion for the sauce.
2 cloves garlic chopped – Rough chopped is fine.
1 cup low sodium chicken stock – For the sauce.
1/2 cup olive oil – For frying the cutlets and roasting the eggplant slices.
6 Tbsp unsalted butter – For frying the cutlets and to finish the sauce.
All purpose flour – For dredging the cutlets before frying.
salt and pepper
Chicken Sorrentino Recipe Step By Step Instructions:
Slice the eggplant longways into 1/4″ thick slices. Make sure to have at least one slice per piece of chicken.
Arrange the slices on a baking sheet and coat with a couple tablespoons of olive oil and a pinch of salt and pepper. The parchment paper works really well to prevent sticking. Bake the eggplant on 375f for 20-25 minutes.
Grate the fontina cheese.
Picture of the thin sliced chicken cutlets.
Place 1 cup of flour in a bowl with 1/2 tsp of kosher salt and a 1/4 tsp of black pepper. Mix thoroughly.
Dip cutlets into the flour and completely coat. Shake off the excess to form a light coating like shown.
Picture of the eggplant after 20 minutes of roasting. The eggplant will be almost fully cooked.
In a pan heat 2 Tablespoons of butter and 2 Tablespoons of olive oil on medium heat. Cook the chicken for 2 minutes per side.
After cooking the chicken, remove and place on a paper towel lined plate and repeat frying the second batch of cutlets.
After cutlets are finished add 1 Tbsp of olive oil and the onions and garlic to the empty pan. Saute for 3 minutes on medium heat.
Turn heat to high and add the marsala wine and chicken stock. Bring to a boil and scrape up the browned pan bits with a wooden spoon. Let the wine/stock boil for 2 minutes.
Turn heat to low and add the tomatoes. Stir together and let the sauce cook for 5 minutes.
To finish the sauce add 2 Tbsp of butter and stir well to incorporate. Remove most of the sauce from the pan and place it in a bowl.
Place the chicken cutlets into the pan and add one slice of prosciutto onto each cutlet.
Place one eggplant slice on top. Use 2 pieces if they are small, so as to cover the prosciutto fully.
Finally sprinkle the fontina onto each stack. Sprinkle the 1/4 cup of parmigiano reggiano evenly, then add 1 tablespoon of the sauce on top of each stack. Bake for 8-10 minutes on 350f or until the chicken is cooked through and the cheese is nice and bubbly. Enjoy!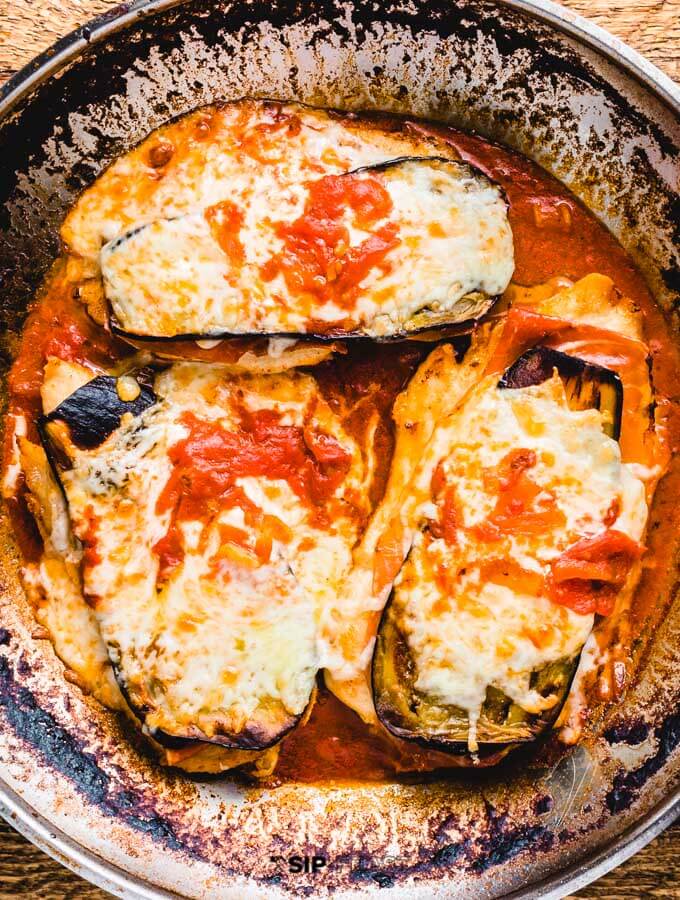 So that's all there is to it! I am trying to develop step by step instructions to give you the confidence to make dishes like this. My intent is not to overwhelm you with steps but to clearly show exactly how to make this dish.
Please let me know if you like these steps, as feedback will give me all the more reason to continue with it. I feel a recipe is simply not enough for you as a recipe for everything is all over the internet these days.
Some Common Questions:
What is Scallopini?
Scallopini means scallops of meat that can be cooked real quick in the pan. So many Italian dishes like francese, marsala, saltimbocca, and parmigiana start with a scallopini of either veal, chicken, or pork.
To get a perfect scallopini it is often necessary to pound out the cutlets with a meat hammer, but buying them thin sliced can save a lot of time for this chicken sorrentino recipe. I do not recommend making this dish with a fat chicken cutlet.
Can Prosciutto Be Substituted?
Yes, anything in this recipe can be substituted, but it really does derive a lot of its original flavor from the prosciutto. I find prosciutto easier to get than ever before. Often it's available at a good price from places like Costco or Trader Joe's.
If going the substitution route a good quality ham would be fine. Serrano ham would be excellent though it's just as expensive and probably harder to find than prosciutto.
Can Breaded Eggplant Be Used?
Yes! It would be great with it but more time consuming.
I have seen the breaded discs in the frozen section at Costco so that would be an option if you have access.
Chicken Sorrentino Difficulty Level:
On a scale of 1-5 with 1 being easy this recipe is a 3. There is really nothing difficult about the recipe – It just has multiple steps. It's so worth it – trust me. My kids are asking me to make this again as I write this!
The only thing I recommend is getting thin cutlets or filleting them yourself. Watch them closely when cooking to avoid burning them in the butter and oil mixture. Just pay attention to the burner and if you have to, turn it down a tad on the second batch of cutlets. Also feel free to add some more butter and oil to the pan for the second batch.
More recipes with thin-sliced chicken cutlets
If you've enjoyed this chicken sorrentino recipe or any recipe on this site, give it a 5-star rating and leave a review.
Some people learn by watching. If you're that type of person, you can find most of our recipes on YouTube and our Facebook Page.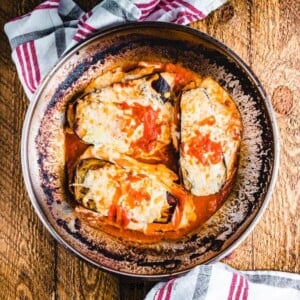 Delicious Italian recipe of pan seared chicken with roasted eggplant, prosciutto, and fontina cheese in a light tomato and wine sauce.
Ingredients
4

thin

chicken cutlets

1

small

eggplant

1

14 ounce

can plum tomatoes

4

slices

prosciutto

1/2

cup

grated fontina cheese

1/4

cup

grated parmigiano reggiano

1/4

cup

marsala wine

1/4

cup

diced onion

2

cloves

chopped garlic

1

cup

low sodium chicken stock

1/2

cup

olive oil

6

Tbsp

unsalted butter

1

cup

all purpose flour

1

tsp

kosher salt

1/2

tsp

black pepper
Instructions
Preheat oven to 375f and place rack in middle. Slice eggplant lengthwise into 1/4" strips. Place eggplant on parchment paper lined baking sheet and coat eggplant with 4 Tbsp of olive oil and a sprinkle of salt and pepper. Bake eggplant for 20 minutes.

Grate 1/2 cup of fontina cheese and set aside. Squeeze 14 ounces of tomatoes in a bowl and set aside. Place flour in dish with 1/2 tsp of kosher salt and 1/4 of black pepper. Mix well. Dredge dry cutlets into flour and coat completely. Shake off any excess.

Heat 2 Tbsp of butter and 2 Tbsp of olive oil on medium heat. After the butter melts sear the cutlets for 2 minutes per side, shaking pan to prevent sticking. Repeat for second batch if pan is not big enough. Set cutlets aside on paper towel lined plate.

In same pan add onion and garlic and saute for 3 minutes in 2 more Tbsp of olive oil. After 3 minutes add marsala wine and chicken stock to pan and turn heat to high. Bring to boil for 2 minutes and scrape the pan bits with a wooden spoon to dislodge.

Turn heat down to low and add the crushed tomatoes. Cook for 5 minutes and add 2 Tbsp of butter and stir it all together to finish the sauce. Remove most of the sauce from the pan and set aside.

Add cooked chicken to the pan. Top each cutlet with 1 slice of prosciutto. Cover the prosciutto with eggplant. Sprinkle both cheeses on to each piece dividing evenly. Place one Tbsp of sauce on each cutlet.

Bake the assembled chicken stacks in the oven for 8-10 minutes or until fully cooked through with nice bubbly cheese. Serve the remaining sauce on the side. Enjoy!
Notes
There is not much added salt in this recipe because prosciutto and the cheeses are already quite salty. Adjust according to taste.
There is more than enough sauce to make a little pasta on the side.
Nutrition
Calories:
642
kcal
|
Carbohydrates:
11
g
|
Protein:
35
g
|
Fat:
52
g
|
Sodium:
550
mg
Nutrition information is automatically calculated, so should only be used as an approximation.