Do you love the combination of cucumber and melon? Are you looking for a drink to help close out the end of summer? This cucumber martini with melon and mint will surely meet your needs!
Cucumber Vodka Drinks
I first began using cucumber vodka about 7 years ago. A friend of mine introduced me to Crop Organic Cucumber Vodka and I became an instant fan.
Cucumber vodka is great paired with just a little seltzer, lime and ice if you want something super simple.
I also love it with some Pellegrino Limonata and fresh basil. Summer in a glass. Delicious.
Really, any cucumber vodka drinks are good but this time around I wanted to add another flavor dimension and make this a bit more of a melon cocktail.
Cucumber, Melon and Tranquil Breezes
I think I first started to love cucumbers for more than just salads when I was in my teens and Victoria's Secret launched their scent, Tranquil Breezes. This was my perfume of choice during those years. Never had I considered the cucumber for anything else.
Since then I've been a lover of cucumber flavored anything, especially cocktails!
In a previous post, I confessed my adoration for the Juliet & Romeo cocktail, the incredible concoction of cucumber, mint, lime, gin and rosewater that continues to transport me to the English countryside each time I drink it.
This drink is a bit of a twist on the Juliet & Romeo - we're still using cucumber and mint, but substituting gin for cucumber vodka and adding melon juice.
Making the Cucumber Martini with Melon and Mint
To get started, you'll need Cucumber flavored vodka. I adore Crop but haven't been able to find it here in Minnesota (shout out to my mom for bringing the Crop to me from NY on her last trip here!). Prairie Organic makes a great cucumber vodka, as does Effen. Any of these will work.
You'll also need melon juice. I took the easy way out here and just bought a bottle at Trader Joe's but if you're feeling ambitious, feel free to make your own! I'm sure it will make this even more amazing!
Fresh lime juice, mint, cucumber and ice complete your ingredient list.
Start by squeezing some fresh lime juice.
Next you'll want to muddle some cucumber slices with the mint and lime juice.
Add the ice, vodka and melon juice and get ready to shake.
Shake it up vigorously for about 20 seconds. Strain and pour into a coupe glass or martini glass.
Garnish with some cucumber slices and mint. Or, if you have melon you can also use that for a garnish. No rules here!
Now you are ready to serve and enjoy this delicious cucumber martini with melon and mint!
This cocktail is very drinkable and would make a lovely pre-dinner drink for a variety of dishes. If you're looking to serve these at a dinner or cocktail party, consider pairing with any of the following:
Other Great Vodka Based Cocktails
If you like this Cucumber Martini With Melon And Mint or any recipe on this blog please let us know in the comments! We would love to hear how you did and it's nice to show others as well. FOLLOW US on Instagram, Pinterest, and Facebook. Thanks!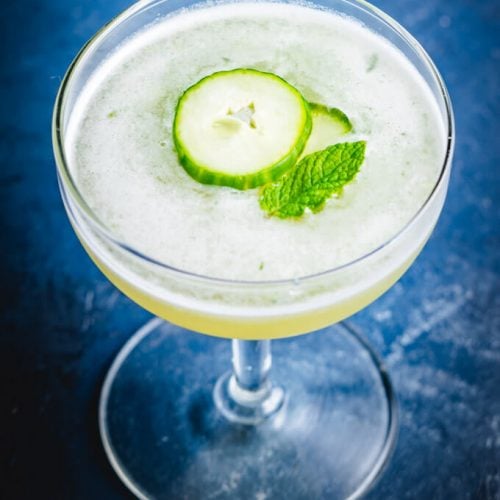 Ingredients
2

oz

Cucumber flavored vodka

2

oz

melon juice

1

oz

lime juice

3

slices

Cucumber plus more for garnish

1

sprig

mint plus more for garnish

1

cup

ice
Instructions
In a cocktail shaker, begin to muddle the cucumber slices, mint and lime juice.

Add the ice, vodka and melon juice.

Shake vigorously for at least 20 seconds.

Strain and pour into a coupe glass or martini glass.

Garnish with fresh mint, cucumber slices or melon slices or cubes. Enjoy!
Nutrition
Calories:
165
kcal
|
Carbohydrates:
8
g