We all know by now how great sweet potatoes are for our health, but sometimes we need to think of new ideas for our healthy staples.   The stuffing sauteed in coconut oil takes only minutes to prepare.  The hardest part of this dish?  Waiting for the sweet potatoes to finish roasting.  Let's make some Loaded Sweet Potatoes!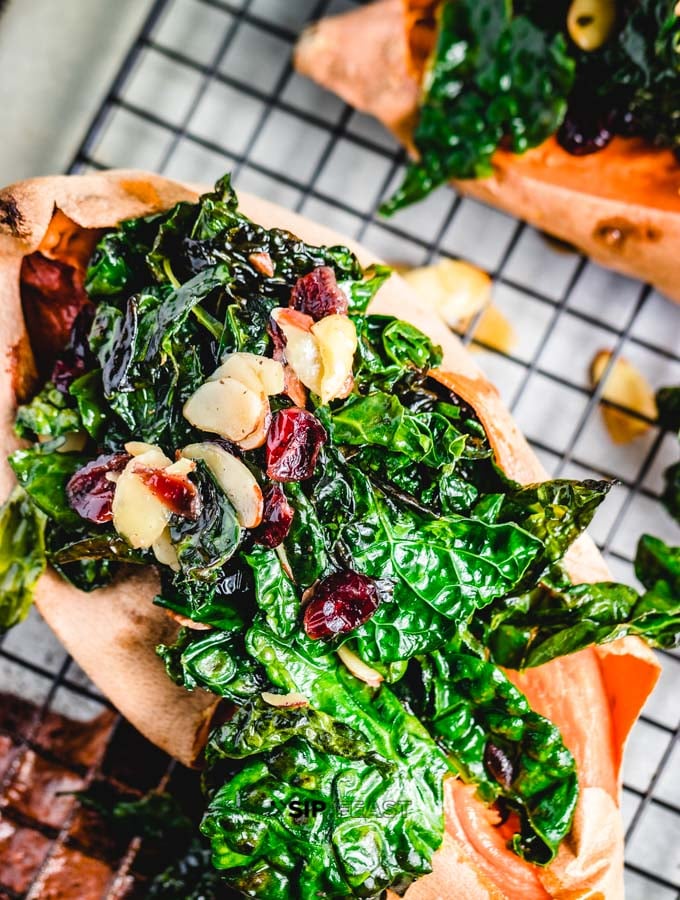 Kale and Sweet Potatoes?
Healthy/Unhealthy – the debate one often has.  For better or worse I think many people associate sweet potatoes with Thanksgiving.  And what type of dishes are made on Thanksgiving?  All too often, unhealthy ones.
Don't get me wrong – sweet potato pie or a casserole covered in candied pecans and marshmallows sounds awesome.  Buttered up with a ton of cinnamon and brown sugar is great as well.
But there's so much more to be done with a sweet potato.
The baked sweet potato topping in this dish is so good.  The coconut oil sauteed kale pairs so well with the sweet potatoes.
The cranberries and slivered almonds take it to the next level, enhancing the flavor texture while adding nutrients.
The most important thing about this dish is eating it without feeling bad.  This dish is packed with some of the healthiest ingredients.  I say, if you want seconds – go for it!
Loaded Sweet Potatoes Process:
So the sweet potatoes take a long time to roast.  If you don't want to microwave them, be prepared for at least 1 hour of roasting.  I find that poking some holes in the potatoes and throwing them in the microwave for 10 minutes can greatly speed up the process.  I do this, then bake them until fork tender – around 20 more minutes.
The kale prep is pretty straightforward.  Remove all the stems and discard.  Kale stems are not that pleasant when sauteed.  Plus, getting rid of them will allow the kale to be seared up in 5 minutes!
After the stems have been removed, wash and roughly chop the leaves.  Heat a pan with a 1/4 cup of coconut oil.  Too much oil? Nope – it will be a great flavor, act as a coating agent to the kale and drip inside the loaded sweet potatoes.
Heat the oil on medium and throw the kale in the pan.  A little salt and pepper and 5-7 minutes of sauteing is all that's required.  If a little more searing is needed, increase the heat to medium-high.  Coconut oil can be cooked at a higher heat than other oils, such as olive oil.
After 5 minutes add the cranberries and slivered almonds to the kale mixture.  Stir it all around for 1 more minute, then turn off the heat.  The kale, cranberry, and almond mixture is ready to be loaded into the sweet potatoes.
It's really as simple as stuffing them after the potatoes have finished roasting.  Again, you can easily speed up the process with 10 minutes of microwaving.  Why not just cook them completely in the microwave?  I say go for it if time is real tight.
Love kale and sweet potatoes? Of course you do, you made it this far.  Here's another great sweet potato recipe.  Or maybe you're after another vegan option – try this miso eggplant recipe.
Drink Pairings:
DID YOU TRY THIS RECIPE?
Give it a star rating!
Loaded Sweet Potatoes with Kale and Cranberries
Print
Pin
Rate
Ingredients
2

large

sweet potatoes

.....Cooking time will vary, depending on size.

1

bunch

kale

1/4

cup

slivered almonds

1/4

cup

dried cranberries

1/4

cup

coconut oil

1/2

tsp

kosher salt

1/8

tsp

black pepper
Instructions
Heat oven to 425. Poke holes in sweet potatoes, then microwave on potato setting for 10 minutes in oven/microwave safe dish.

After 10 minutes in microwave, finish roasting in oven until potatoes are fork tender - about 20 minutes.

While potatoes are roasting, prepare kale. Remove all stems from kale and roughly chop. Wash kale thoroughly.

Heat pan on medium heat and add 1/4 cup of coconut oil. Add washed kale and saute until kale gets slightly charred - about 5-7 minutes. If the kale is not charring, increase heat to medium - high and cook for another minute.

After about 5-7 minutes add cranberries, slivered almonds, and salt and pepper. Saute for 1-2 minutes to heat everything through. Turn off heat and set aside. Cover to keep warm.

Remove sweet potatoes from oven when fork tender.

Cut sweet potatoes down the middle. Be careful - they will be very hot. Load the sweet potatoes with the kale, cranberries, and almonds. The coconut oil will saturate the sweet potato and add that perfect flavor.
Nutrition
Share this on Instagram or Facebook using #sipandfeast to let us know how you did and to show your friends!
Follow us on Instagram, Pinterest and Facebook.  Sign up to receive great recipe ideas to your inbox.
Thank you!