Smoked Chuck Roast is a great way to change up your normal taco game. Smoked beef packs so much flavor in this simple taco recipe. Pair these awesome tacos with a Jalapeno cucumber margarita and you're all set!
Smoked Chuck Roast And Smoking Beef In General
Smoked chuck roast gets its amazing flavor from the smoking process.
Smoking can be as easy or difficult as you want it to be. I smoke most of my meats on a Pit Barrel Cooker. This cooker is basically a barrel where you can either hang food or place it on top of a grate.
It's kind of a hybrid grill/smoker. The heat source - coal - is low in the bottom of the barrel and the meat is up above. The smoke created by the smoker indirectly cooks the meat.
The smoke creates the flavor. Beef is so flavorful already so I tend to add only salt and pepper when smoking. Beef ribs are awesome smoked as well.
There are plenty of full fledged indirect cookers to buy if you want the traditional smoking experience.
The bottom line is putting smoke on meat creates an awesome flavor!
A ton of info on smoking is in this Smoking Meat Geeks article. Read it if you want to learn about all the different types of smokers on the market.
This post is not about how to use a smoker - basically smoked beef is taken, braised and seared to make some amazing tacos topped with sauteed veggies.
Smoked Chuck Roast Process:
Chuck roast is super cheap. In fact it's one of the best values. The issue with a chuck roast is the fat. In order to get the texture correct, the large fat in the meat has to break down. Rendering the fat takes a long time.
I do a two step process. First, smoke the chuck roast to roughly 160F to get all that awesome smoke flavor. I then break it up and braise it indoors for another hour. By doing this, the meat gets real tender. I let the liquid evaporate and get an awesome pan sear on each piece of meat. Each piece of seared and smoked meat makes these smoked chuck roast tacos real special!
The whole process takes roughly 4 hours. Smoking is weekend food for me.
The only way to speed up the process with a chuck roast would be to pressure cook it. Liquid smoke could be added to get the smoked flavor. I have never had a good liquid smoke and always prefer the real thing. This is a common theme in my recipes - there's always ways to change or adapt a recipe, but going too far is not worth it imo.
So here's the chuck roast at 165F. Check out the temp with an instant read thermometer. It's an essential kitchen tool, especially in barbecue and smoking.
After the roast gets the smoke it's off to the next step.
Chop the chuck roast into bite sized pieces for the tacos. Chop it up smaller if desired.
The smoked beef is not ready to eat yet - It will be tough and have hard-to-chew fat.
The next step is to take this meat and braise it in a large pan. Place 2-3 cups of water in the pan to cover the meat. Simmer the meat on medium-low covered for 1 hour.
The meat will get tender during this process. During the last 10 minutes, remove the lid and let the liquid evaporate. If too much liquid is in the pan turn up the heat to speed up the process.
After all the liquid is evaporated let the meat sear in the pan. Use a spoon to spread it all around and allow it to get the nice sear seen in the above picture.
Saute some mushrooms, peppers, and onions. They go so well with the smoked chuck roast.
Quarter or halve the mushrooms, and chop up the peppers and onions.
Sear the mushrooms, peppers and onions.
Serve it all up with warm tortillas and any taco sides you like. I always serve fresh cilantro, limes, and jalapenos with my tacos. Sour cream is also a must - but do what you like.
Drinks And Other Mexican Dishes To Pair:
Tag #sipandfeast if you made this recipe. Share it and follow us on Pinterest and Instagram. Sign up to receive great recipes in your inbox, and leave us a comment!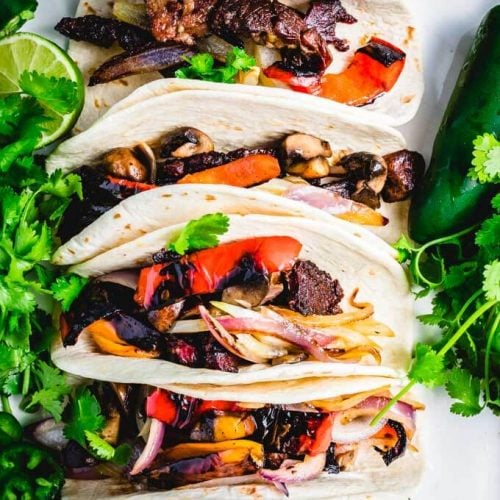 Ingredients
3

pound

chuck roast

8

ounces

mushrooms

2

large

bell peppers

2

large

onions

1

Tbsp

kosher salt

1

tsp

black pepper

3

cups

water
Instructions
Season the chuck roast with the salt and pepper.

Smoke chuck roast according to your smokers instructions. On the pit barrel smoker a 3-4 pound chuck roast will take 2-3 hours. Cook to 160-165F and remove and bring inside.

Chop chuck roast into bite sized pieces.

Add chuck roast pieces to large pan, add 3 cups of water and cover. Cook chuck roast for 1 hour on medium to medium-low heat.

Chop mushrooms into quarters. Chop peppers up into strips. Slice onions up into strips.

After 1 hour of cooking remove lid and turn up heat to medium-high. Cook off excess moisture. Let meat sear for 5-10 minutes. To get a good sear work in batches and let meat brown. Remove meat and set aside covered.

Saute the mushrooms, peppers, and onions in the same pan as the meat to get all the good meat flavor. 5-10 minutes on medium-high heat should give the veggies a nice sear.

Plate the seared smoked chuck roast with all the veggies. Serve with warm tortillas, cilantro, limes, jalapenos, and sour cream. Enjoy!
Notes
The nutrition info is for one 6" flour tortilla with 3oz of the smoked chuck roast and a few veggies.
Nutrition
Serving:
120
g
|
Calories:
300
kcal
|
Carbohydrates:
20
g
|
Protein:
21
g
|
Fat:
13
g
|
Sodium:
330
mg