Sausage. Cream. Pasta. These three words, when combined, might just be my favorite phrase ever. The tomato-based cream sauce provides a velvety backdrop to the sweet fennel sausage, and the pappardelle proves to be the perfect medium to deliver both right to your mouth. And the best part - this can be on your table (and in your mouth) in no time!
This is one of those ground sausage recipes that imparts so much flavor into a sauce. The flavor of the Italian sausage is so key in this hearty dish so buy the best sausage you can get!
Process

Shown are most of the ingredients.
First step is to roughly chop the onions and garlic. If you like the garlic or onion more finely chopped go for it.
Remove the sausage casing by making a slit.
Saute the onions and garlic in 2 Tablespoons of olive oil for 5 minutes on medium-low. The objective is to sweat them but not burn the onions.
The next step is to saute all of the ground Italian sausage. Turn the heat to medium and break up the sausage with the back of a wooden spoon.
After about 20 minutes of sauteing the sausage will be nice and brown. If you have any large clumps of sausage now is the time to break them up.
Crush one 28 oz can of whole plum tomatoes with your hands in a large bowl. Be careful to not splatter - I do this in my sink. Alternatively, a two second pulse in a blender is fine.
Add the crushed tomatoes to the sauteed sweet Italian sausage. Also add the full 6 ounces of tomato paste, 1 teaspoon of kosher salt, ¼ teaspoon of black pepper and a ½ teaspoon of dried oregano. Stir it all together - cover the pan with a lid and let it cook for 30 minutes on medium to medium-low.
While the sauce is cooking boil the pasta according to the package directions. Before draining the pasta reserve 3 cups of pasta water. This is very important!
After 30 mins of cooking remove the lid and add 1 cup of pasta water and stir all the sauce together. Let it cook for 5 minutes to blend well.
Finally turn the heat to low and add 1 cup of cream and stir it all together. Let it cook for 2 minutes to fully incorporate.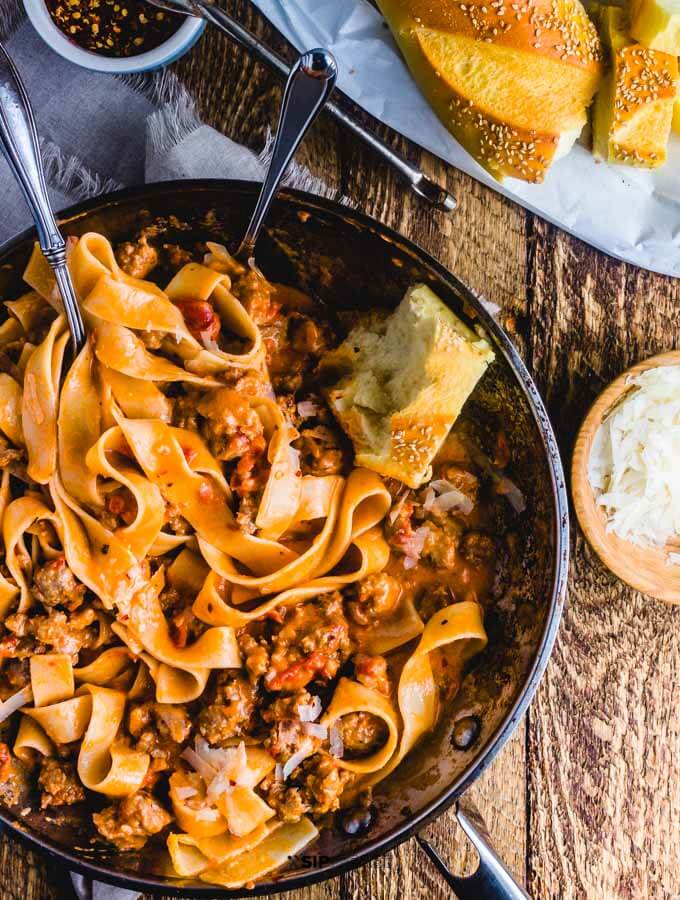 Add the pasta to a large bowl and spoon the sauce all over. Don't use all the sauce unless you need to. There might be leftovers depending on the pasta used. Mix the sauce and pasta together well.
If the sauce is a little too thick and the pasta is a little dry add a ½ cup of pasta water or more. This will help in getting the exact right consistency in the sauce/pasta ratio.
More Comforting Pasta Recipes
If you like this recipe give it a share! Leave a comment. We would love to know how you did and it's nice to show others as well.
Follow us over on our Youtube channel where we are working to make every single recipe on this site into a full-length instructional video. Right below is the Creamy Italian Sausage Pasta video.
We are also on Instagram, Pinterest, and Facebook. We appreciate you reading this and making our recipes! Thanks!
Ingredients
1

pound

pappardelle pasta

1.5-2

pounds

sweet Italian sausage

8

cloves

chopped garlic

1

medium

chopped onion

28

oz

whole plum tomatoes

6

oz

tomato paste

1

cup

heavy cream

1

tsp

kosher salt

¼

tsp

crushed red pepper

½

tsp

dried oregano

2

Tbsp

olive oil

3

cups

pasta water

1

cup

grated Parmigiano or Pecorino

¼

cup

fresh chopped basil
Instructions
Chop onion and garlic roughly. Pulse plum tomatoes in blender or break about gently in large bowl with hands. Remove all the sausage from casings.

Saute garlic and onions on medium-low heat for 5 minutes to soften.

Add ground sausage to pan and turn heat to medium. Saute sausage for roughly 20 minutes. Break sausage apart with wooden spoon during the saute process.

Add the salt, crushed pepper, oregano, crushed tomatoes, and tomato paste to the sausage and stir it all together. Cover and cook on medium to medium low for 30 minutes.

Boil pasta according to package directions. Before draining pasta reserve 3 cups of pasta water.

Remove lid from sauce at 30 minutes and add 1 cup of pasta water. Stir together and cook for 5 more minutes uncovered.

Turn heat to low and add cream. Stir together well and cook for 2 more minutes. Taste sauce and adjust salt or pepper if necessary.

Place cooked pasta in a large bowl and spoon the sausage sauce all over the pasta. Do not go overboard with the sauce as you might have extra.

Mix the sauce and pasta together and if it is not creamy enough add a ½ cup of pasta water to loosen the sauce. Do this in small increments to get the perfect consistency.

Finally add the chopped basil and serve in bowls with Italian bread, grated cheese, and (if any) the extra sauce. Enjoy!
Notes
Make sure to use heavy cream to avoid breaking the sauce.
Nutrition
Calories:
585
kcal
|
Carbohydrates:
36
g
|
Protein:
31
g
|
Fat:
35
g
|
Sodium:
770
mg