Smoked ribs are one of my favorite things. Colman's Mustard rubbed baby backs? Yes please! This rub has it all. The perfect blend of spices, sugar, and a nice heat from the mustard powder. I top off these ribs with a Carolina mustard bbq sauce. Sweet, tangy, and vinegary flavors make one awesome sauce. But enough talking - let's get cooking!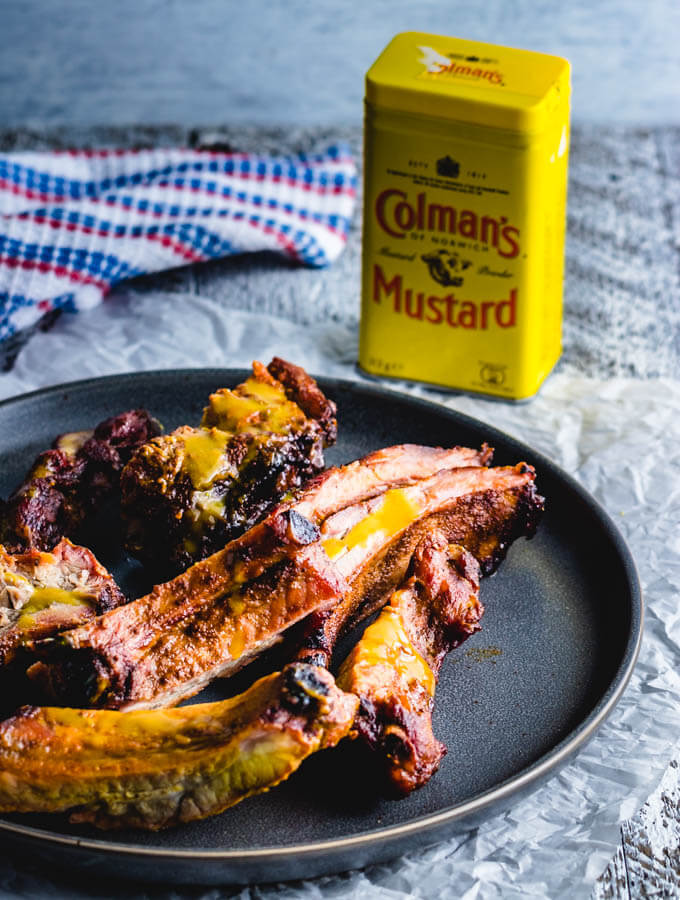 This post is sponsored by Colman's
Colman's Mustard Powder and Ribs are a Perfect Match
Colman's Mustard powder adds just the right amount of heat to some of my favorite dishes. It goes really well with meat and seafood, but I especially love it with baby back ribs.
In this recipe we will prepare an awesome all-purpose rub that makes great use of the mustard powder.
This recipe makes enough rub for about 6 racks of ribs. Double or triple it and save it in your pantry for next time!
Next a Carolina mustard bbq sauce recipe will be created to really finish off the ribs nicely. It's a simple bbq sauce recipe that's super tangy and is fantastic on the ribs.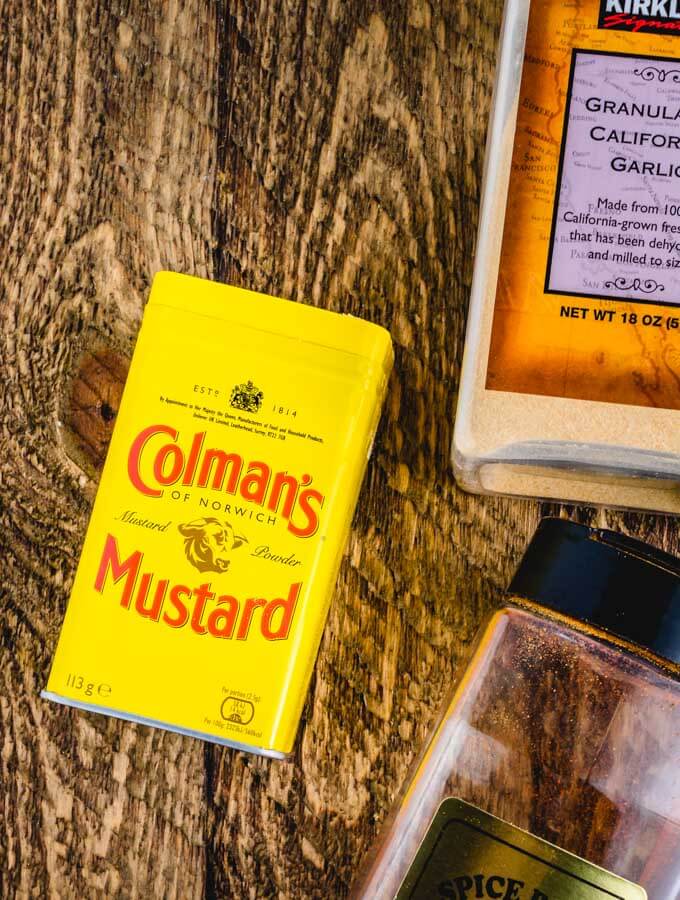 Colman's Mustard Rib Process:
The first step is to mix up the dry rub - all of the exact measurements are in the recipe card below.
Once mixed, sprinkle liberally onto both sides of the ribs. I put my rub mix in an empty spice container.
After all the rub is applied, go start the coals for whatever type of smoker you are using. I use a barrel smoker which is a hybrid type smoker.
While the coals are getting ready prepare the simple Carolina mustard bbq sauce. Only 5 ingredients are used to make this awesome sauce.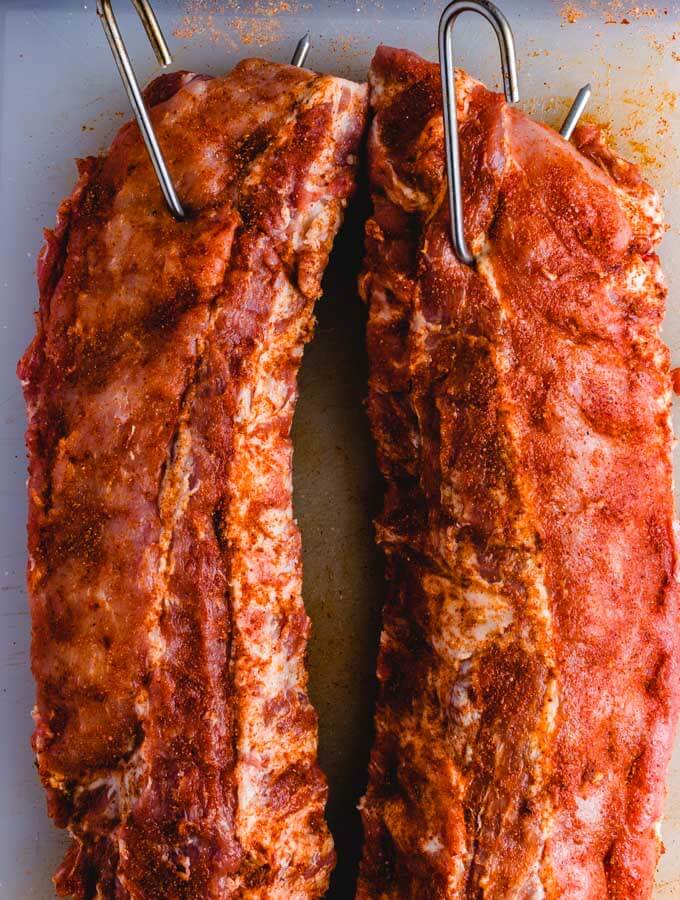 The ribs are ready for smoke. I attach hooks to hang the ribs and smoke them for 3-3.5 hours.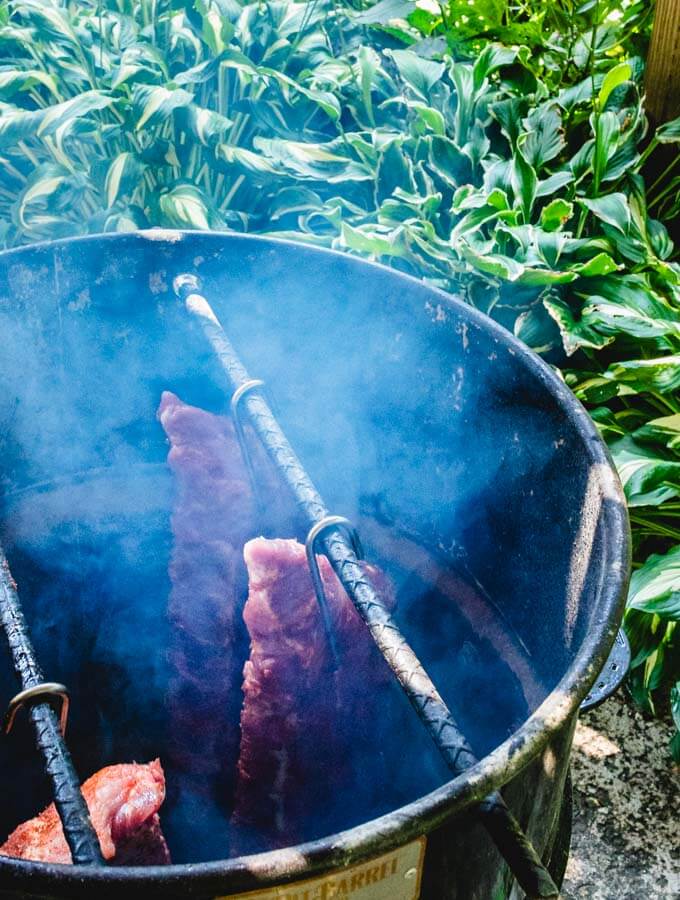 The ribs are placed in the smoker and the lid is closed.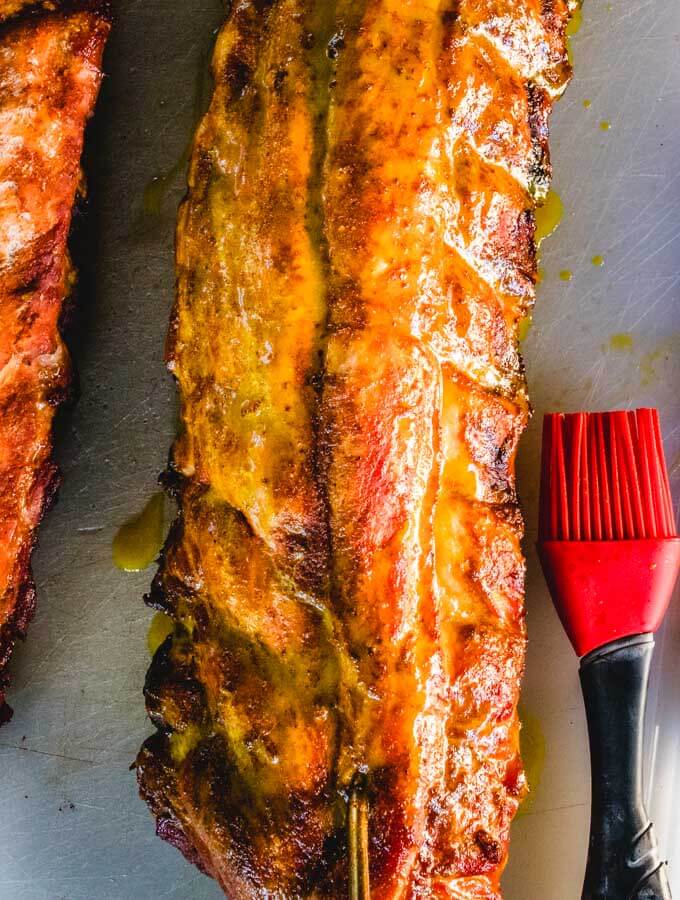 After 3- 3.5 hours remove the ribs and sauce them up with the mustard barbecue sauce. Place them back in for 20 minutes more and get ready for some amazing ribs.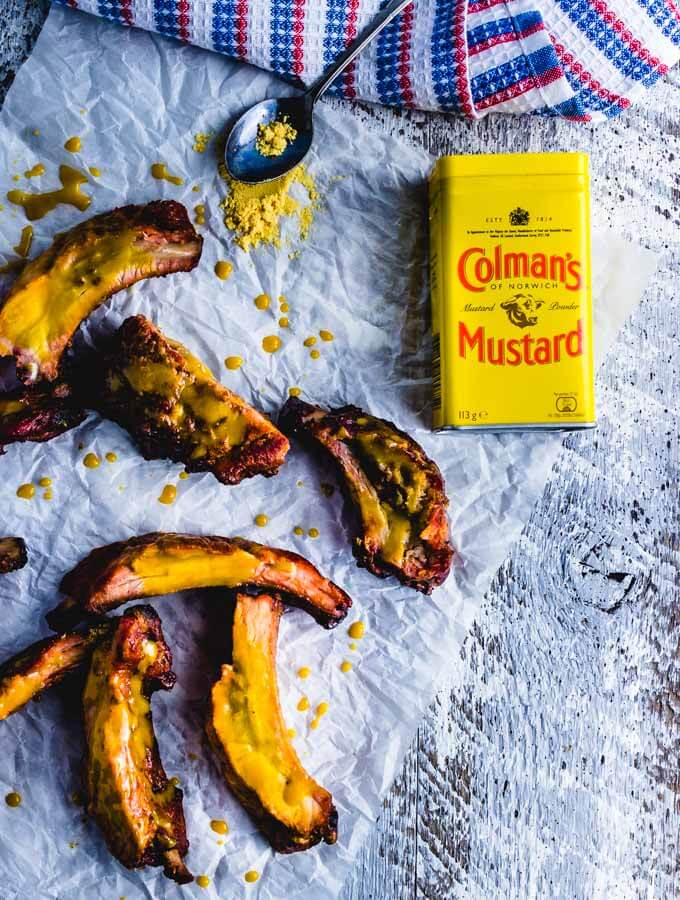 The ribs are all done. I like to cut them up and squeeze some more of the mustard bbq sauce all over them. Of course serve more of it on the side.
This recipe really hit the spot. A really nice heat from the Colman's Mustard and the tangy, spicy bbq sauce really finished the smoked baby backs perfectly.
Again, this post was sponsored by Colman's. If you want more awesome Colman's Mustard powder recipes follow them @ColmansUSA and visit Colman's USA. Check out #HotMessAround, #PackYourPunch, and #ColmansMustard.
Did you try this recipe?
Give it a star rating.
Please share these mustard smoked ribs on Instagram or Facebook using #sipandfeast, to let us know how you did and to show others as well. Thanks!
Follow us on Instagram, Pinterest, and Facebook. Sign up to receive great recipe ideas in your inbox.
📖 Recipe
Ingredients
3

racks

baby back ribs

6

tsp

Colman's dry mustard powder

1

tsp

black pepper

5

tsp

kosher salt

3

Tbsp

paprika

1

Tbsp

garlic powder

1

Tbsp

cumin

1

cup

brown sugar

1

cup

cider vinegar

1

cup

prepared yellow mustard
Instructions
Mix together 1 Tbsp Colman's dry mustard, 1 tsp black pepper, 1 Tbsp kosher salt, 3 Tbsp paprika, 1 Tbsp garlic powder, 1 Tbsp Cumin, and 2 Tbsp of brown sugar. Mix thoroughly. This is the dry rub.

Place rub in empty spice container to allow easy application. If not just use a spoon to distribute rub on ribs.

Mix the remaining cider vinegar, brown sugar, prepared yellow mustard, Colman's dry mustard, and salt in glass bowl with a whisk to make mustard bbq sauce. Stir well to thoroughly incorporate all the ingredients.

If you have one, place sauce in a squeeze bottle. If not just baste the sauce on.

Prepare your smoker of choice for the ribs.

Apply dry rub to ribs. 1-2 Tbsp of dry rub per side is perfect. Make sure to get the rub all over the ribs. Use surgical gloves if you have them to really get the rub well incorporated into the ribs. Otherwise a nice sprinkle and pat with the hands is sufficient.

Place ribs in smoker and get them going. My smoker takes roughly 3.5 hours for perfect baby back ribs, but follow the directions on the type of smoker you have. I like to remove the ribs from the heat when the meat pulls back ¼" from the bone. This is a good way to check for doneness without an instant read thermometer. If you do have an instant read 190f is a perfect temperature for tender smoked ribs.

During the last 15-20 minutes of smoking remove the ribs and apply the Carolina mustard bbq sauce to the ribs with a baster. Return the ribs to the heat for 20 more minutes of smoking.

After the final 20 minutes, remove the ribs and cut them up. I like to slather some more of the sauce on and serve it on the side as well. Enjoy!
Nutrition
Calories:
675
kcal
|
Carbohydrates:
13
g
|
Protein:
52
g
|
Fat:
45
g
|
Sodium:
530
mg