These grilled chicken thighs in homemade Italian dressing are so easy to make. Marinate them overnight, get them on the grill, and 20 minutes later you will have an awesome meal!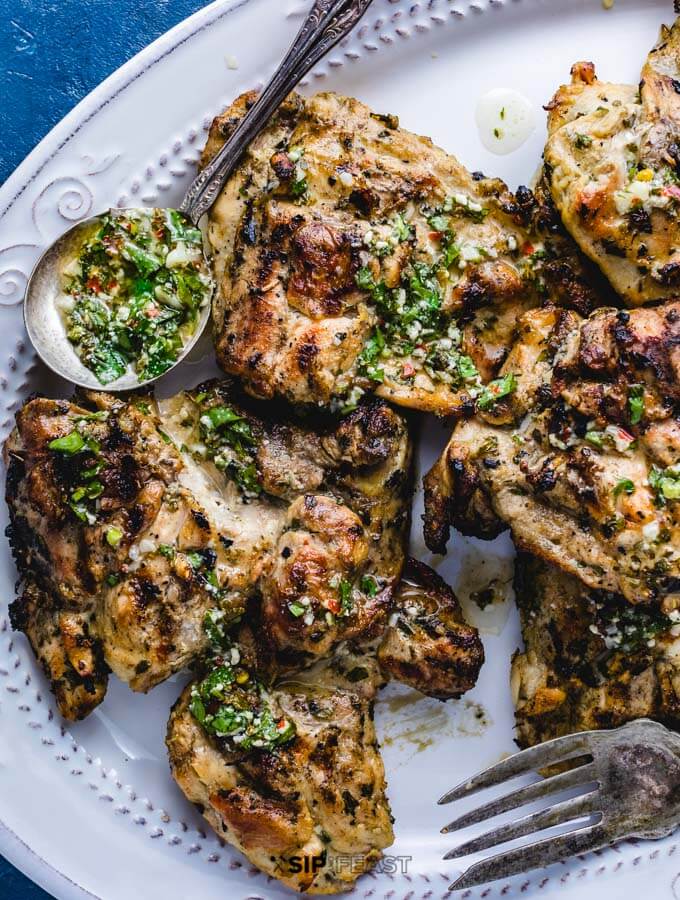 We love this Italian dressing. It pulls double duty as an awesome marinade or salad dressing. The best part is how easy it is to make. You can make a batch of the dressing in about 5 minutes.
Ingredients For Italian Grilled Chicken Thighs
1 cup red wine vinegar – White vinegar and/or lemon juice can be substituted.
1 1/2 cups olive oil – Just plain olive oil. Save extra virgin for salads and to finish pastas.
3/4 cup pecorino cheese – Parmesan can be substituted.
2 tsp dried oregano
1/2 tsp crushed red pepper
8 cloves garlic
1/2 cup fresh parsley – Always use fresh parsley when available.
4 pounds boneless chicken thighs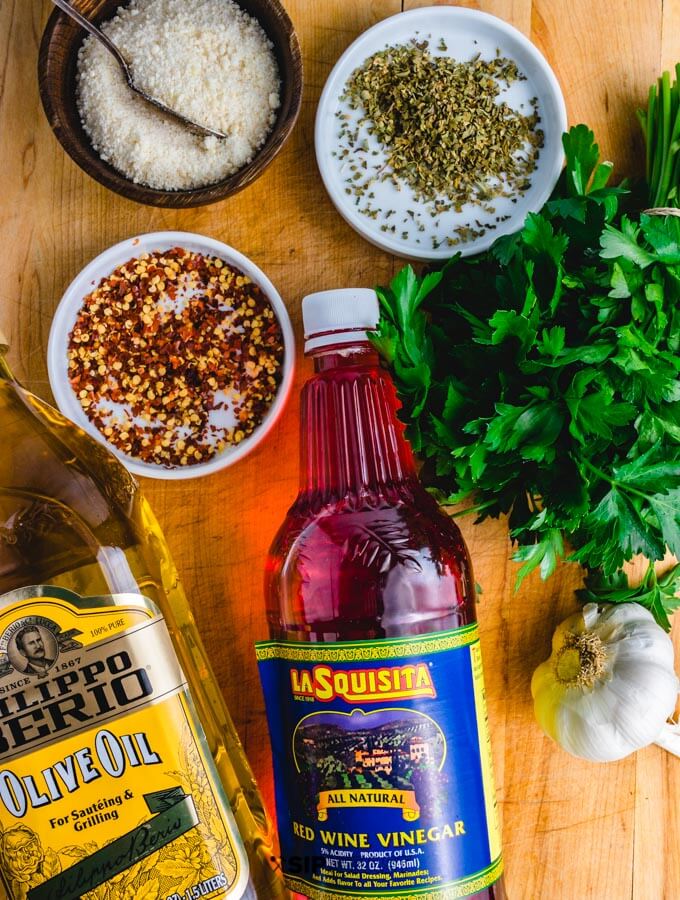 How To Grill Boneless Chicken Thighs: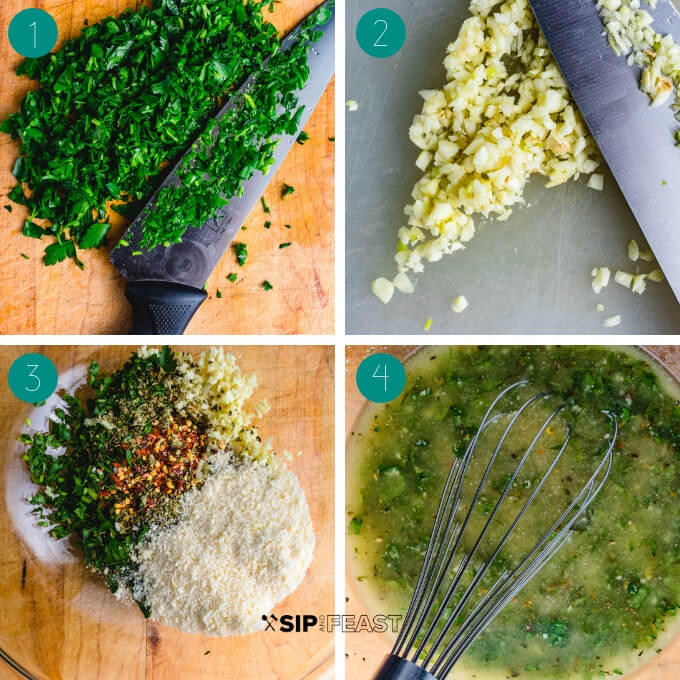 Chop 1/2 cup of fresh parsley.
Mince 8 cloves of garlic.
To a bowl add the garlic, parsley, 1/2 tsp crushed red pepper, 3/4 cup pecorino cheese and 2 tsp dried oregano.
Add the 1 cup of red wine vinegar and 1 1/2 cups of olive oil. Whisk aggressively and give it a taste. If it's too vinegary add a little bit more olive oil. It's nice to be on the vinegary side as the chicken thighs will absorb even more flavor.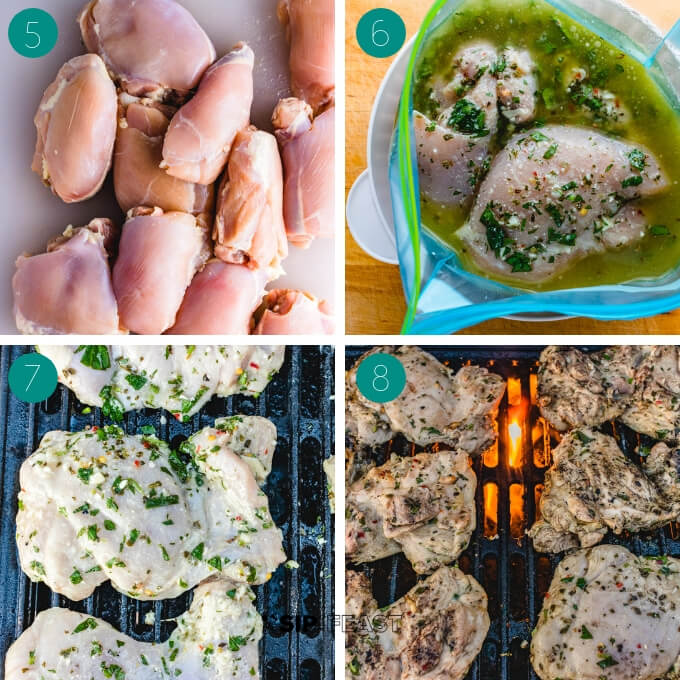 Boneless chicken thighs are real easy to work with. Trim away any large pieces of fat, but do not go crazy. The heat from the grill will take care of most of it.
At this point reserve 3/4 cup of the Italian dressing marinade and set aside. Add the remaining marinade and all the chicken thighs to a zip lock bag. Mix the bag and marinade together and place in another container. I recommend this because you never know if the bag will develop a leak. For best flavor refrigerate the chicken overnight. At a minimum, try to marinate for at least 4 hours.
Turn on a gas grill to medium heat. Lightly oil the racks and grill for approximately 7-8 minutes per side.
Grill the chicken thighs until nicely charred. Before removing make sure the chicken is 165f. This is easy with an instant read thermometer. If you don't have one, cut a piece open and check for doneness. The color will be dark and the texture will be firm.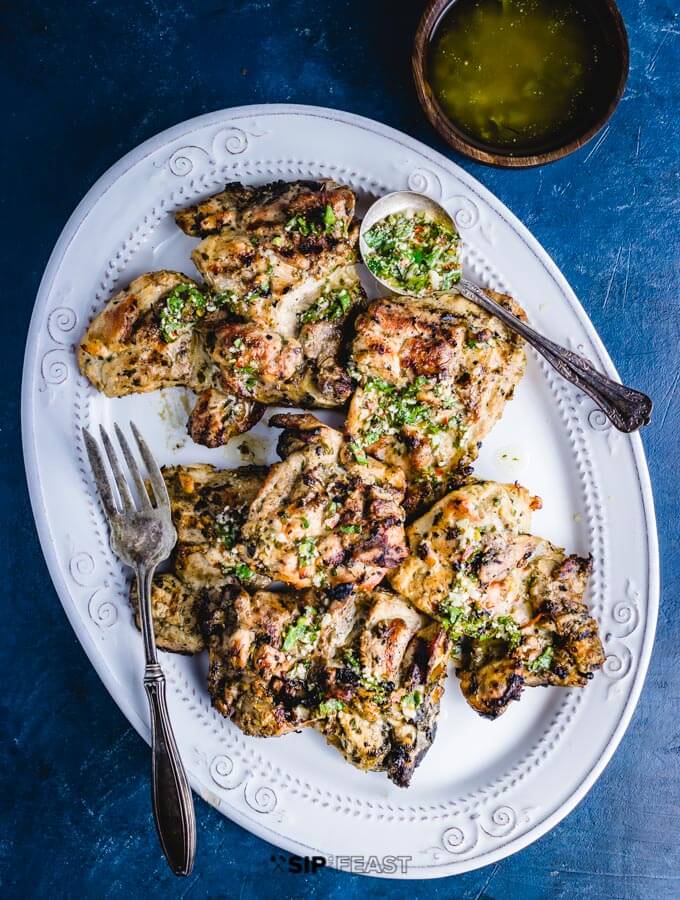 These Italian grilled chicken thighs are all finished and are ready to be served. The extra reserved marinade can be served on the side and drizzled on top like shown.
Additionally the marinade makes an excellent salad dressing. A salad would go perfectly with this recipe. Add a little bit of extra virgin olive oil to the marinade to make an awesome salad dressing.
Notes
How Long To Grill Chicken Thighs?
The time will vary depending on the grill. Temperature control is harder with charcoal. If using coal I recommend leaving a cool spot ( an area with no coal below it) on the grill. This acts as a safety zone to move the chicken thighs to if they start burning. For coal, boneless thighs will take roughly 15 minutes total.
For a gas grill on medium heat the cooking time will be about 15-20 minutes for chicken thighs. It's hard to overcook dark meat chicken like thighs and drumsticks, but it can be done. If you have an instant read thermometer 165-170f should be when they are pulled off. If the thighs get up to 190f internally they will get very hard and will lose most of their weight and become brittle. Avoid this!
How Long To Marinate Chicken Thighs?
Aim for 4 hours, but longer is better. Overnight marinades on chicken always yield better flavor. 12 hours seems to be the sweet spot. Make your Italian dressing or marinade the night before to have perfect grilled chicken thighs the next day.
Also, if you can remember, flip the chicken in the bag every couple of hours to really distribute the marinade well.
Substitutions
For the Italian dressing
Lemon juice or white vinegar both work well. Also a mix of red wine vinegar and lemon juice is great too. That's the start of a souvlaki marinade. There's a lot of similarity in the flavors of this dressing and its Greek counterpart.
Other herbs such as thyme and basil are great additions.
For The Chicken Thighs
Pork and all types of chicken pieces are great substitutes. The same marinating guidelines will work for them. Grilled veggies also do real well. I like to grill the veggies and just drizzle the Italian dressing on top.
Italian Grilled Chicken Thighs Difficulty Level
On a scale from 1-5 with 1 being easy this recipe is a 2.5 Honestly there is nothing to this one. The only reason it gets a 2.5 is because of the waiting time involved.
Only thing is to make sure to let the chicken thighs soak up the marinade long enough, and to cook them all the way through. Use medium heat and an instant read thermometer for a foolproof recipe.
Other Great Summer Dishes
Great Summer Cocktails
DID YOU TRY THIS RECIPE?
Give it a star rating.
If you liked this recipe for grilled chicken thighs we'd really appreciate it if you would share it with #sipandfeast on Instagram or Facebook.
We would love to know how you did and it's nice to show others as well. Thanks!
Follow us on Instagram, Pinterest, and Facebook. Sign up to receive great recipe ideas in your inbox.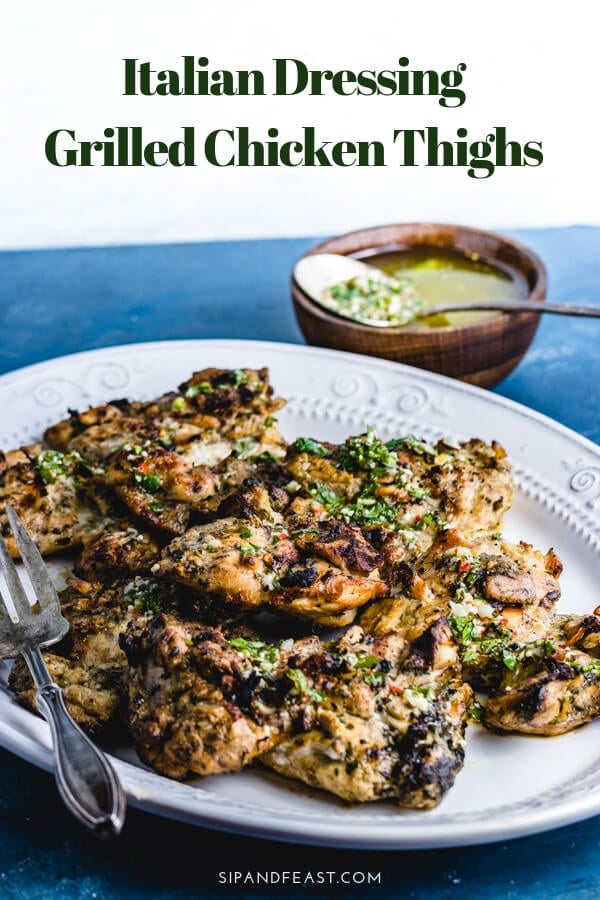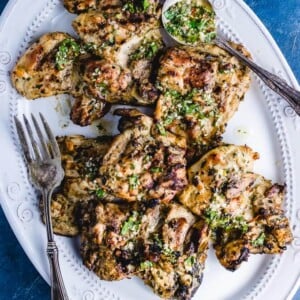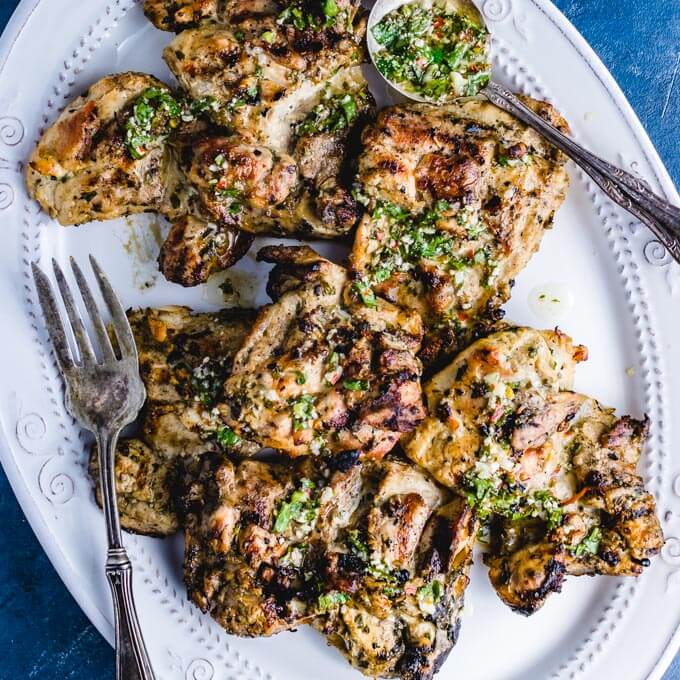 Easy and delicious grilled boneless chicken thighs in a homemade Italian dressing.
Ingredients
Italian Dressing
1

cup

red wine vinegar

1.5

cups

olive oil

3/4

cup

pecorino cheese

2

tsp

dried oregano

1/2

tsp

crushed red pepper

8

cloves

garlic

1/2

cup

fresh parsley
Chicken
4

pounds

boneless chicken thighs
Instructions
Chop 1/2 cup of parsley and mince 8 cloves of garlic. Combine with 1.5 cups olive oil, 1 cup red wine vinegar, 3/4 cup pecorino cheese, 2 tsp dried oregano and 1/2 tsp crushed red pepper. Whisk well or blend.

Reserve and set aside 3/4 cup of the Italian dressing marinade. Pour remaining Italian dressing in a zip lock bag with the boneless chicken thighs. Refrigerate overnight or a minimum of 4 hours.

When ready for grilling remove chicken from bag and dispose of marinade.

Preheat gas grill to medium heat. Lightly oil grates and grill thighs for 7-8 minutes per side until nicely charred. Cook until internal temperature of meat is minimum 165f.

Plate and serve the chicken thighs with a drizzle of the remaining 3/4 cups of Italian dressing. Enjoy!
Notes
Remove any large pieces of fat from the boneless thighs if present, but do not worry about small bits of fat.
All grills are different so use the time as a general grilling guideline.
For certainty use an instant read thermometer and cook to 165f minimum temperature.
No salt was added due to the salt content of the pecorino cheese.
3/4 cup of the remaining Italian dressing can be used for a salad or drizzled on top of the chicken.
Nutrition
Calories:
604
kcal
|
Carbohydrates:
0.1
g
|
Protein:
41.2
g
|
Fat:
47.7
g
|
Cholesterol:
193
mg
|
Sodium:
241
mg
Nutrition information is automatically calculated, so should only be used as an approximation.