This potato green bean salad is super easy and perfect for summer barbecues and parties. Warm potatoes are tossed with a tangy red wine vinegar, Dijon mustard, extra virgin olive oil, and fresh herb vinaigrette. It can be made ahead of time and will still be just as good. The best part about this recipe is that you only need a few ingredients!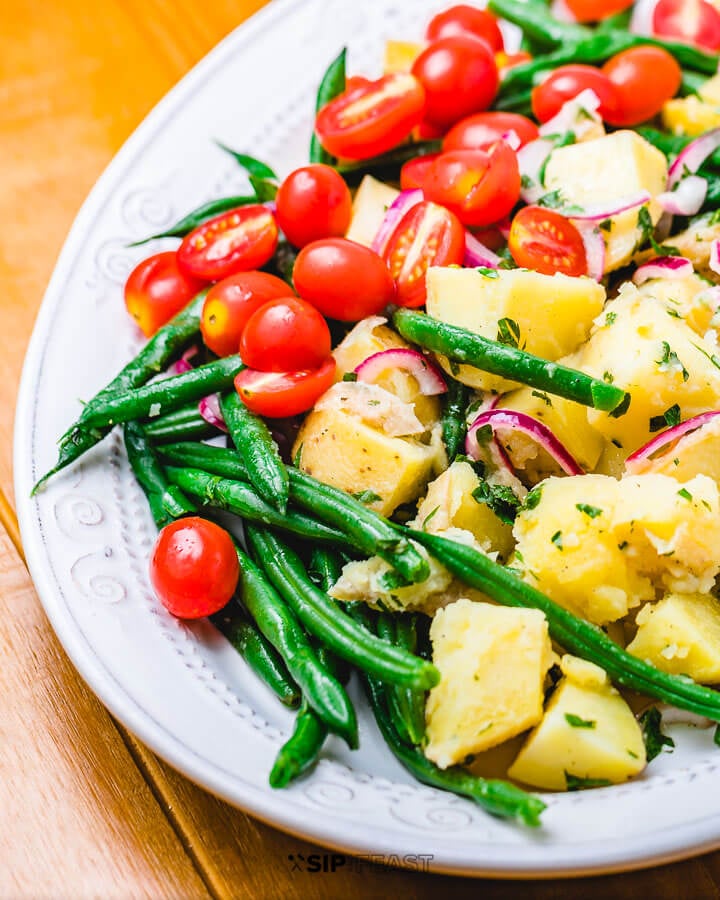 This summer Italian-style potato salad pairs well with so many dishes.
Serve it with some Italian chicken cutlets for a full meal all year long.
Or during the summer when you're grilling it's great with these rosemary grilled pork chops, Italian dressing grilled chicken thighs, or prosciutto stuffed steak pinwheels.
You'll need potatoes, green beans, red onion, cherry tomatoes, parsley, basil, olive oil, red wine vinegar, Dijon mustard, and salt and pepper for this Italian green bean salad. Super simple ingredients!
If you like more string beans or tomatoes, or maybe different herbs, feel free to add them. Use the detailed recipe below as a general guide and feel free to make changes if you desire.
How to make Italian green bean potato salad
Each number corresponds to the numbered written steps below.
Start by cleaning the green beans and snapping off the stem edge. They snap off pretty easily, but you can also use a knife.
Slice 1 medium red onion into thin slices as shown. Finely chop a ¼ cup of fresh parsley and a ¼ cup of fresh basil. Slice the cherry tomatoes in half.
Clean and chop the potatoes into fairly large pieces. About 1 ½" cubes or slightly larger is fine. The measurement is not critical.
Bring a salted (2 Tbsp kosher salt) pot of water to a boil and add the potatoes. Boil the potatoes until almost fork tender. This should take about 7-10 minutes.
While the potatoes are boiling make the vinaigrette. In a large bowl whisk together a ½ cup olive oil, ½ cup red wine vinegar, the herbs, 1 tsp Dijon mustard, 1 tsp kosher salt, and a ¼ tsp black pepper.
Add the onions into the vinaigrette and set it aside.
After the potatoes have been boiling for about 7-9 minutes add the green beans into the water so that they both finish cooking at the same time.
Remove the green beans with a slotted spoon, then drain the potatoes. Note: You can run the green beans under cold water to stop the cooking and keep them crunchy. If you don't they will get softer. Totally a personal preference. Whisk the vinaigrette one last time, then add the warm potatoes to the bowl and toss to coat. They will absorb all the flavors this way.
Next, add the green beans, toss, then plate. Taste test and adjust salt and pepper if required. Finally, add the cherry tomatoes on top.
And that's how to make an easy Italian green bean potato salad. You can add some more basil and parsley for garnish at this point.
Substitutions and additions
Bacon - Use a half-pound of crumbled cooked bacon. Toss it in right at the end with the tomatoes.
More herbs - Fresh oregano or other herbs like rosemary can be added. Use what you like!
Greens - Kale and spinach both work quite well. Substitute the greens for the string beans or add them to the recipe. For the kale, add it to the pot during the last 3 minutes of cooking. For the spinach (use baby), place it into the bottom of the vinaigrette bowl and let the warm potatoes wilt it with their residual heat.
Tips
Use any type of potato you like. Yukon gold was used in the pics, but new or fingerling potatoes would work nicely as well. The potatoes should be almost fork tender. Basically, still a tiny bit firm, if they are too soft they will get mushy when mixed with the vinaigrette. Don't worry though, cook it to your preference, no doubt some people like the potatoes in this salad on the soft side.
Toss the warm potatoes into the vinaigrette to achieve maximum flavor. The warm potatoes will soak up and absorb the oil and vinegar much better this way.
Adding the tomatoes at the end helps avoid them breaking down from the hot potatoes.
More Italian summer salads
If you've enjoyed this green bean potato salad or any recipe on this site, we want to know so tell us in the comments below. We would love to hear how you did and it's nice to show others as well. Thanks!
Watch the video below where Jim will show you how to make this recipe with easy to follow instructions. Some people learn by watching. If you're that type of person, you can find most of our recipes on YouTube and our Facebook Page.
Ingredients
for the salad
3

pounds

potatoes

cut into 1.5" cubes

¾

pound

green beans

stems removed and cut into 3" pieces

1

pint

cherry tomatoes

halved

1

medium

red onion

thinly sliced
for the vinaigrette
½

cup

extra virgin olive oil

½

cup

red wine vinegar

¼

cup

basil

chopped

¼

cup

parsley

minced

1

teaspoon

kosher salt

¼

teaspoon

pepper

1

teaspoon

Dijon mustard
Instructions
In a large bowl make the vinaigrette by whisking the Dijon mustard, extra virgin olive oil, red wine vinegar, salt, pepper, and herbs. Add the red onions into the bowl, mix, and set aside.

Bring a large pot of salted (2 Tbsp kosher salt) water to a boil. Once boiling add in the potatoes and cook for 7 minutes. Add in the green beans and continue to cook until the green beans are bright green and the potatoes are almost fork tender (about 3-5 more minutes).

Remove the green beans with a slotted spoon and set them aside. Drain the potatoes into a colander.

Place the warm potatoes into the vinaigrette and toss to coat. Next, add in the green beans and toss them together. Taste test and make any final adjustments to salt and pepper if required.

Finally, add the cherry tomatoes on top and serve. Enjoy!
Notes
The cooking times are approximate. If the potatoes need more time simply remove the green beans with a slotted spoon and allow the potatoes to continue cooking.
Only 1 tsp of salt was used in the dressing, plus the salt in the water. Adjust to personal preference.
Potato green bean salad can be saved for up to 3 days.
Nutrition
Calories:
341
kcal
|
Carbohydrates:
44
g
|
Protein:
5.6
g
|
Fat:
17.3
g
|
Saturated Fat:
2.5
g
|
Sodium:
419
mg
|
Potassium:
1226
mg
|
Fiber:
8.5
g
|
Sugar:
5.9
g
|
Calcium:
40
mg
|
Iron:
2
mg