You're looking for an amazing side dish, right? It's Green Beans Almondine - let's make it!
Green beans almondine or string beans almondine is one of those dishes that you've probably had at a wedding or a catering hall.
It's a great dish to prepare for a large dinner party. Serve them hot or at room temperature - it really doesn't matter!
Our recipe adds a lemon zest and feta cheese kick. Both additions improve on the classic recipe but feel free to omit the cheese if you want.
Here's the deal:
It's easy to make really good side dishes with only a few ingredients. They're side dishes after all and who want's to spend all day on a side when more attention should be spent on the main course.
And if you're looking for more side dishes you need to check out our Italian Roasted Peppers recipe. Super easy dish to make!
Or these Italian Vegetables With Lemon Caper Sauce. Easy with only a few ingredients! But let's get back to this fresh green bean recipe.
Ingredients For Green Beans Almondine:
1 pound of green beans- Try to buy the freshest you can find. Look for ones that are real hard and avoid soft or mushy ones and any that are exhibiting signs of decay.
⅓ cup of slivered almonds- You will need these to make the toasted almonds. I like to get them at Trader Joe's.
2 Tablespoons of butter- Use unsalted. If you do not have unsalted butter omit any more salt in the recipe.
¼ teaspoon of kosher salt- Start here and add any additional according to taste. At Sip and Feast we like to keep the salt amounts moderate. If too much is used the dish will be ruined so definitely keep this in mind.
⅛ teaspoon black pepper- I love black pepper on the beans but it's totally optional.
½ cup plus of water- The ½ cup is for steaming and you will need a couple tablespoons extra to make the sauce.
1 lemon juiced- About 2 Tablespoons of lemon juice.
Zest of 1 lemon
½ cup crumbled feta
How To Make Green Beans Almondine Step By Step: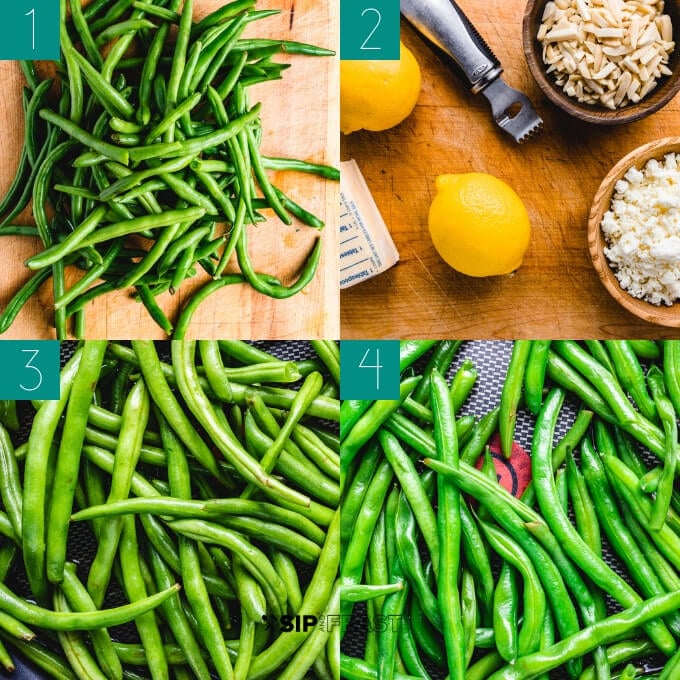 Clean the green beans and cut off or snip the stem ends with your fingers.
Butter, lemons, feta, almonds, and a pic of the zester I use.
Steam the green beans with the ½ cup of water in a lidded pan for 3 minutes on high heat.
Drain the string beans when they are bright green like the image above. Use a colander and run cold water over them to stop the cooking process.
Zest 1 lemon. You just want to pull off the outside yellow part of the lemon. Chop the zest coarsely.
Heat the butter on medium to low heat and add the almonds. Saute for 5-10 minutes.
The objective is to get the almonds golden brown but not burnt. After the almonds are nice and brown add 2 Tablespoons of water and the lemon juice. Mix and cook for 30 seconds to make the almond and lemon butter sauce.
Turn off the heat and place the green beans back in the pan and season with the salt and pepper. Stir to coat the green beans completely. Plate and add the zest and feta on top. Serve lemon wedges and extra feta on the side. Enjoy!
That's all there is to it. This green beans almondine recipe takes a max of twenty minutes. Make it, you'll like it!
Can You Make Green Beans Almondine Ahead Of Time?
Yes, definitely. They will lose a little bit of their luster and the beans won't have that crunch, but they will still taste awesome!
If you need to make them a few hours ahead of time it's best to leave them out lightly covered at room temperature. They are really good this way.
If reheating after a few days the microwave is probably the best bet.
Are String Beans Almondine Difficult To Make?
No way! On a scale of 1-5 with 1 being easy I would say a 2. Only issue is don't overcook the green beans. Just lightly steam them until they turn bright green.
When sauteing the almonds in the butter keep the heat low to not burn the butter. That's it!
Now I Know You Are Wondering What Goes With Green Beans Almondine:
These are a few of my favorite food pairings:
Reverse Sear Steak - Check out our recipe to learn how to make a perfect steak every single time.
Baked Chicken Legs - Easy baked chicken legs recipe with only a few ingredients.
Italian Chicken - This caper and tomato chicken would be perfect with the string beans almondine!
Drink Parings:
DID YOU TRY THIS RECIPE?
Give it a star rating.
Ingredients
1

pound

green beans

⅓

cup

slivered almonds

2

Tbsp

unsalted butter

¼

tsp

kosher salt

⅛

tsp

black pepper

½

cup

water

2

Tbsp

water

2

Tbsp

fresh lemon juice

1

large

zest of lemon

½

cup

feta
Instructions
Steam green beans in a lidded pan in ½ cup water on high heat for 2-3 minutes until bright green. Drain and run under cold water for 30 seconds.

Zest 1 lemon and chop up the zest. Set aside. Squeeze the lemon and save juice.

Saute ⅓ cup of slivered almonds in 2 Tablespoons of butter on medium to low heat to avoid burning. About 10 minutes.

Add the 2 Tablespoons of water and lemon juice to the pan to make the sauce. Mix the sauce with a wooden spoon for 30 seconds and turn off heat.

Add the green beans to the pan and season with the salt and pepper. Coat the green beans in the lemon and almond butter sauce.

Plate the green beans and top with the crumbled feta and the chopped lemon zest. Serve with lemon wedges and more feta. Enjoy!
Notes
The lemon zest adds a great kick.
The pepper is optional.
The feta is salty so not much extra salt is needed, but adjust according to taste.
Nutrition
Calories:
181
kcal
|
Carbohydrates:
11
g
|
Protein:
6.5
g
|
Fat:
14
g
|
Sodium:
320
mg
If you liked this green beans almondine recipe we would really appreciate it if you would share it on Instagram or Facebook using #sipandfeast.
We would love to know how you did and it's nice to show others as well. Thanks!
Follow us on Instagram, Pinterest, and Facebook. Sign up to receive great recipe ideas in your inbox.