This Italian chicken with capers and cherry tomatoes is an easy weeknight meal recipe that delivers a massive blast of flavor.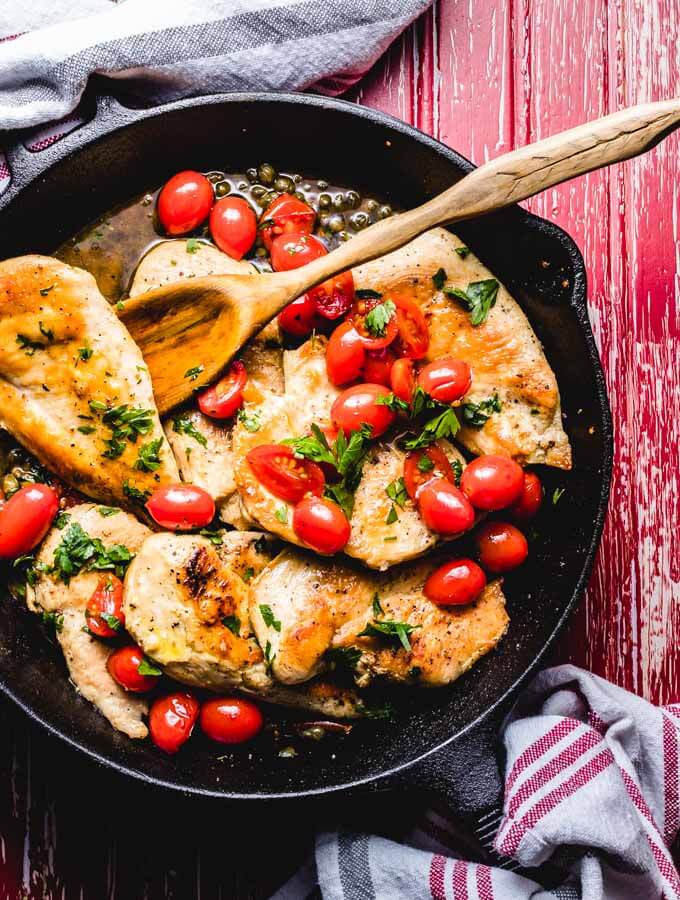 The delicious tomato-caper sauce smothers the chicken cutlets. The vinegar and capers go so well together!
Thin chicken cutlets are pan-fried and an amazing sauce is made with the flavor in the pan and the addition of cherry tomatoes, garlic, and capers.
Some vinegar and parsley finish off this easy recipe.
The whole dish can be made in under 30 minutes.
Looking for a nice side dish? Our recipe for Italian Roasted Peppers would be a nice compliment and takes roughly the same amount of time.
So enough babbling, let's make it!
One more thing before the steps. You will absolutely want a loaf of Italian bread to soak up all the sauce.
After making this a few times you'll probably decide to double the sauce component – Not a bad idea and easy to do if desired.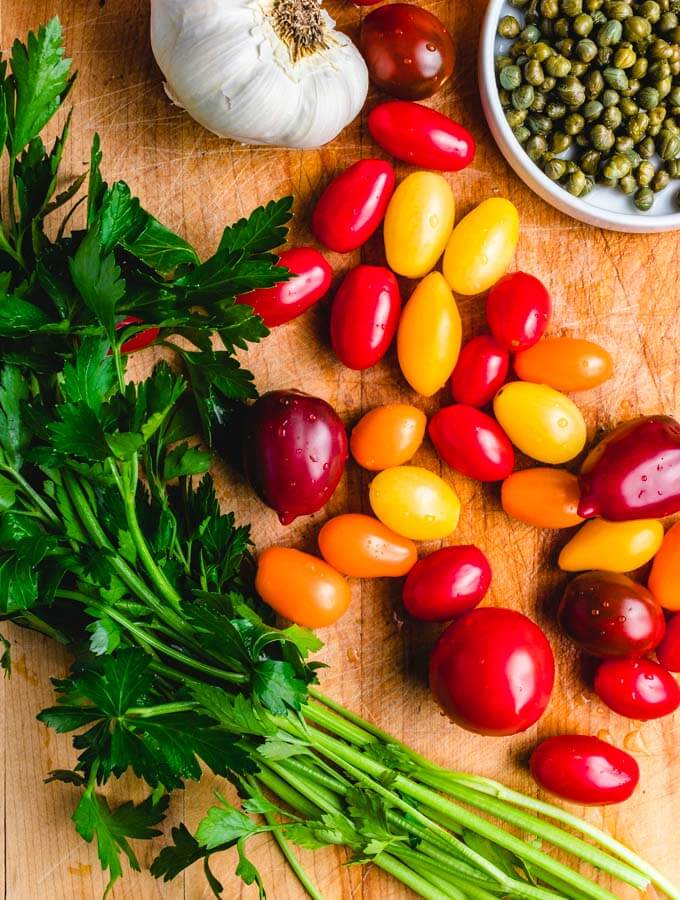 Chicken with Capers and Cherry Tomato Sauce Ingredients
To make the process quicker, buy some thin-sliced chicken cutlets. If you want to fillet them yourself, go for it. I always fillet and believe it's a good skill to acquire, but for time's sake, buying the thin cutlets might be a good idea.
This chicken recipe gets much of the flavor from the capers. I usually buy a small jar of capers from Trader Joe's which lasts a long time. A Costco size jar should last years.
Obviously cherry tomatoes are needed to make the tomato caper sauce – a pint will be more than enough.
Parsley- Always go fresh! All supermarkets carry fresh parsley.
Garlic, olive oil, water, salt, and pepper complete the ingredient list.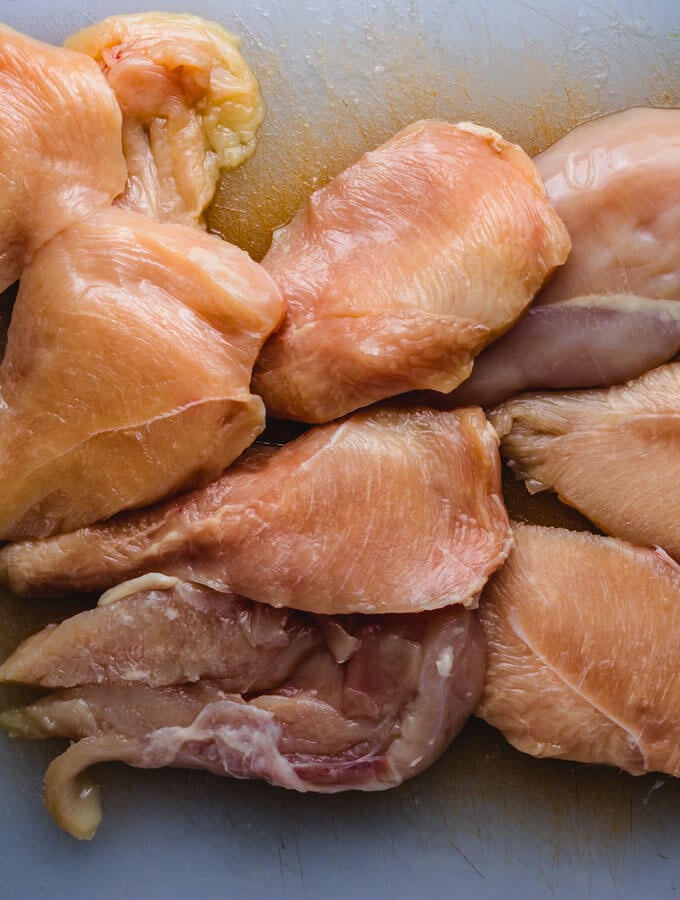 How to make it
Ok, so two choices: fillet the chicken like in the pic or buy thinly sliced cutlets. You decide. If you do opt for filleting I assume you know what you're doing. If you need some help check out this Serious Eats article on how to fillet chicken.
Drying them off well will ensure you get a nice sear and is an important part of this Italian chicken breast recipe.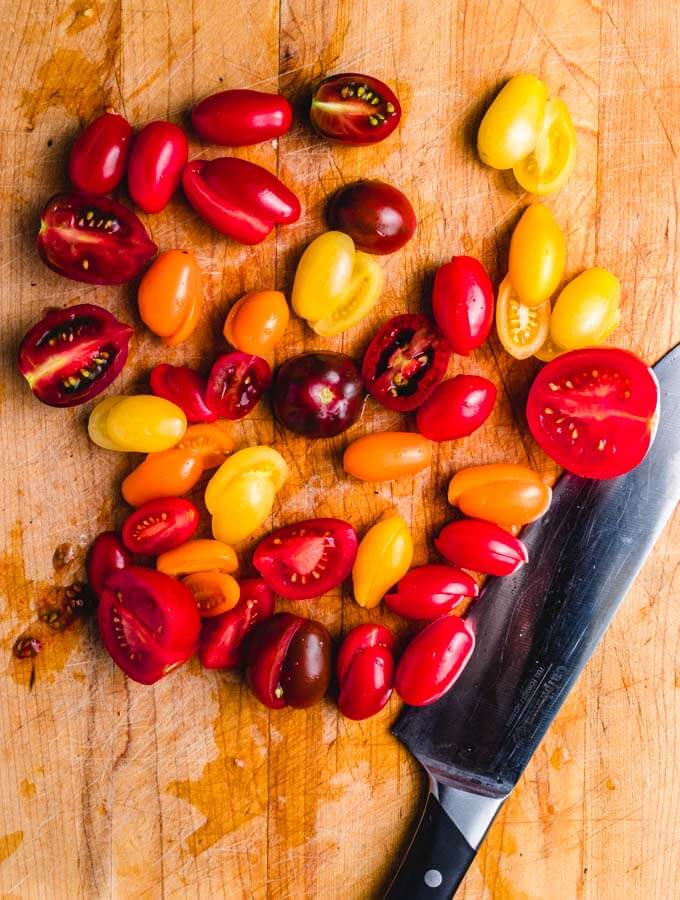 Halve the cherry tomatoes.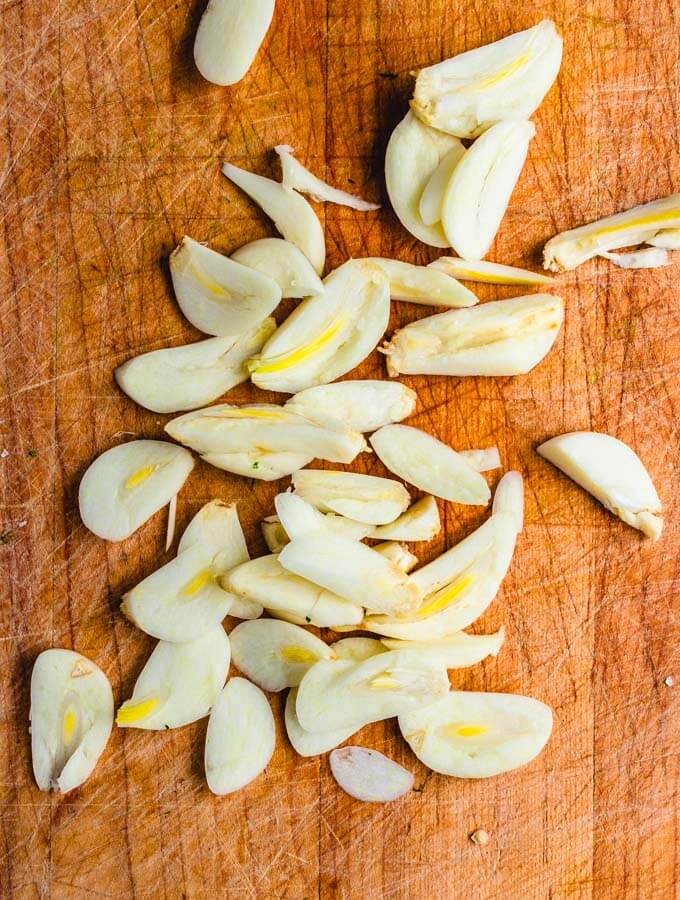 Slice the garlic cloves. If you prefer a finer chop, go for it.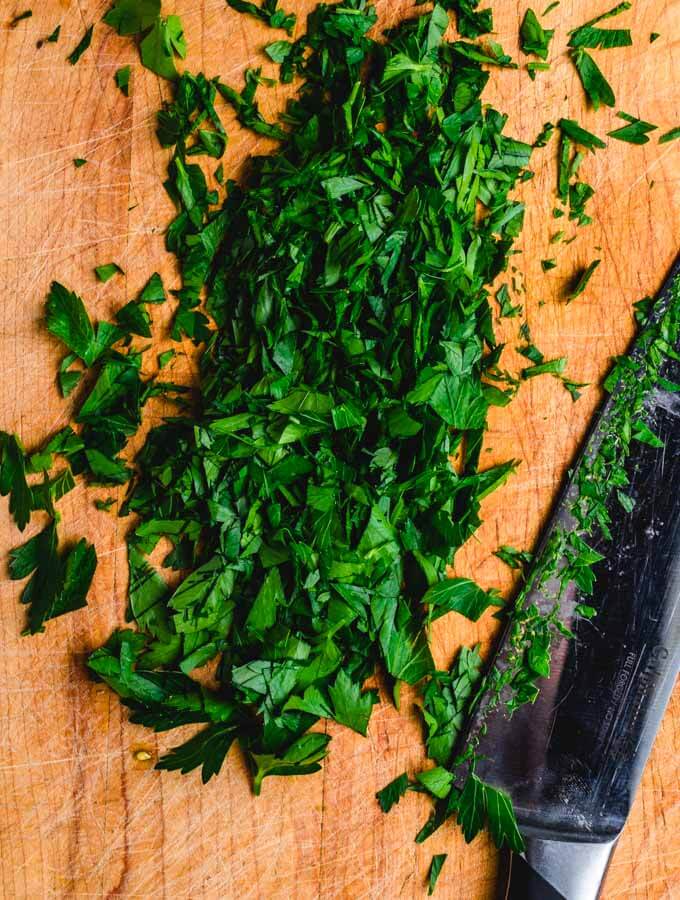 Wash, clean, and chop the parsley.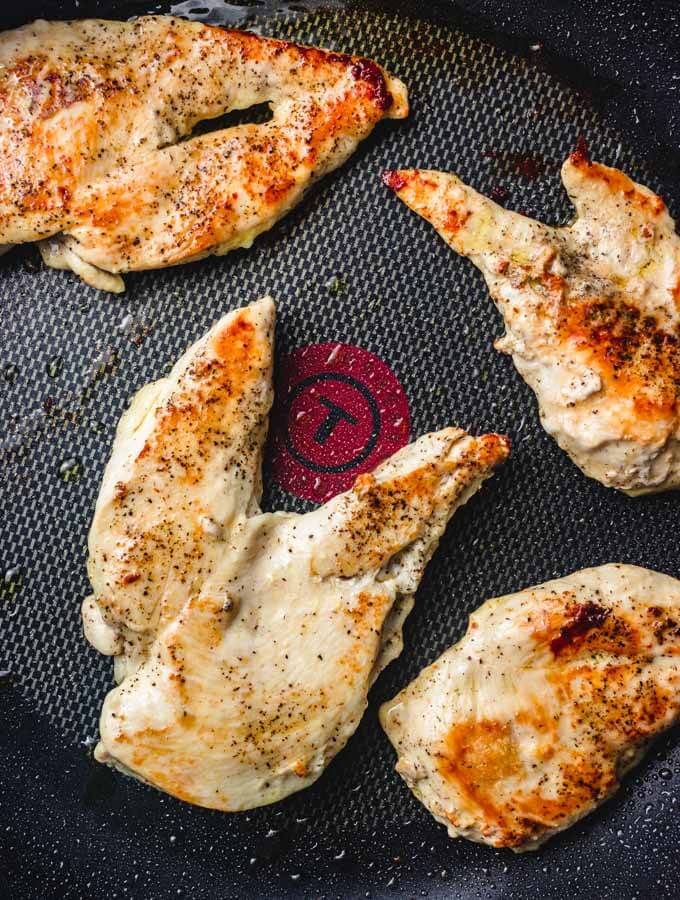 Heat a large pan on medium-high heat and add a tablespoon of olive oil. Season the chicken cutlets with salt and pepper on both sides and get them in the pan.
The goal is to get a nice brown color without burning the chicken. The chicken will take about 3 minutes per side. You'll need to make 2 separate batches unless you have a very large pan.
If the chicken starts burning, just turn down the heat a tad.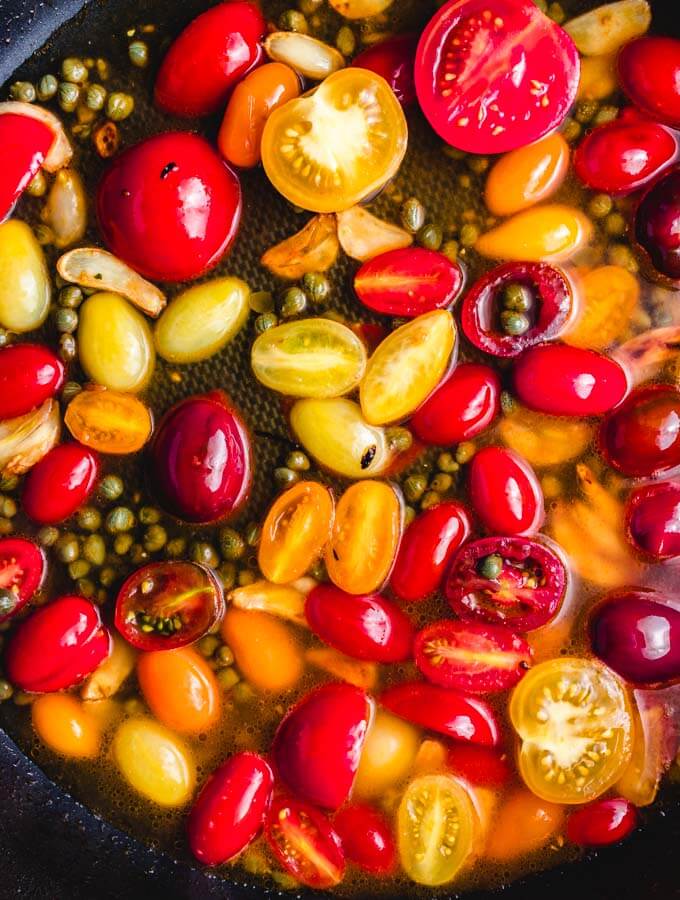 After the chicken is finished cooking make the sauce in the same pan.
Add garlic to the pan and saute for 2 minutes on medium heat.
Next, add the cherry tomatoes for 1 minute of cooking.
Add the vinegar, capers, and water to the pan and scrape the pan with a wooden spoon to get all the brown bits to release in the sauce.
Note – You might be thinking water? Why not chicken stock or white wine? Definitely use stock if you have it but make sure it's low sodium because the capers and caper vinegar are very salty.
If you do use stock be careful with any extra salt.
White wine would be nice and adding that and stock to the vinegar would make a sauce that's commonly used for chicken scarpariello. Another awesome dish but I digress.
Turn heat to high and bring to a boil for 2 minutes.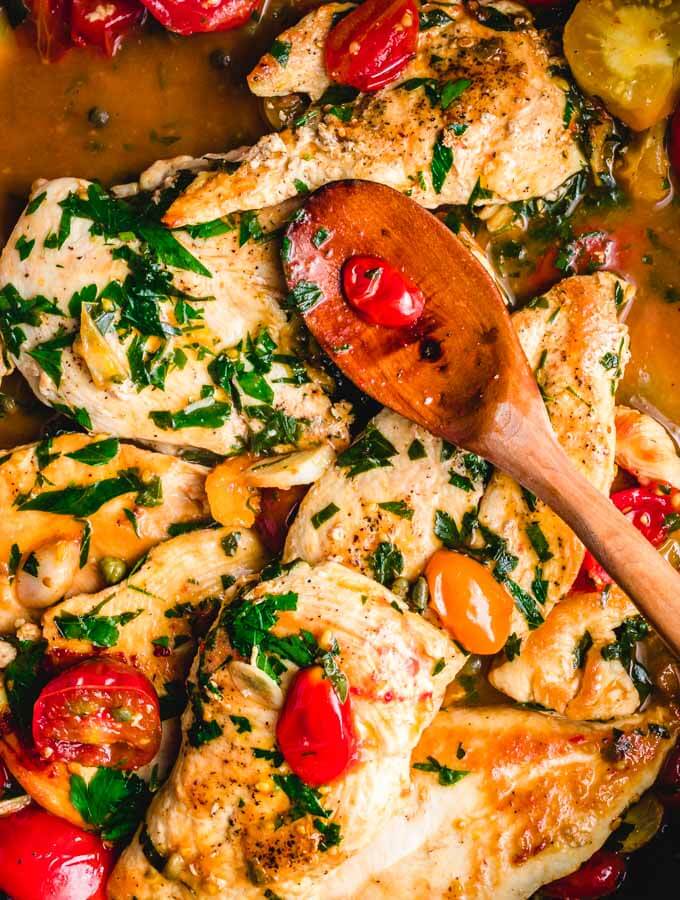 Add the chicken back to the pan and turn heat to low.
Get the chicken well coated with the sauce and taste it.
If it needs a bit more salt or pepper, add it now.
If there is not enough sauce, add a few additional ounces of water – simple as that.
Finally, add all the parsley and remove the pan from heat to serve.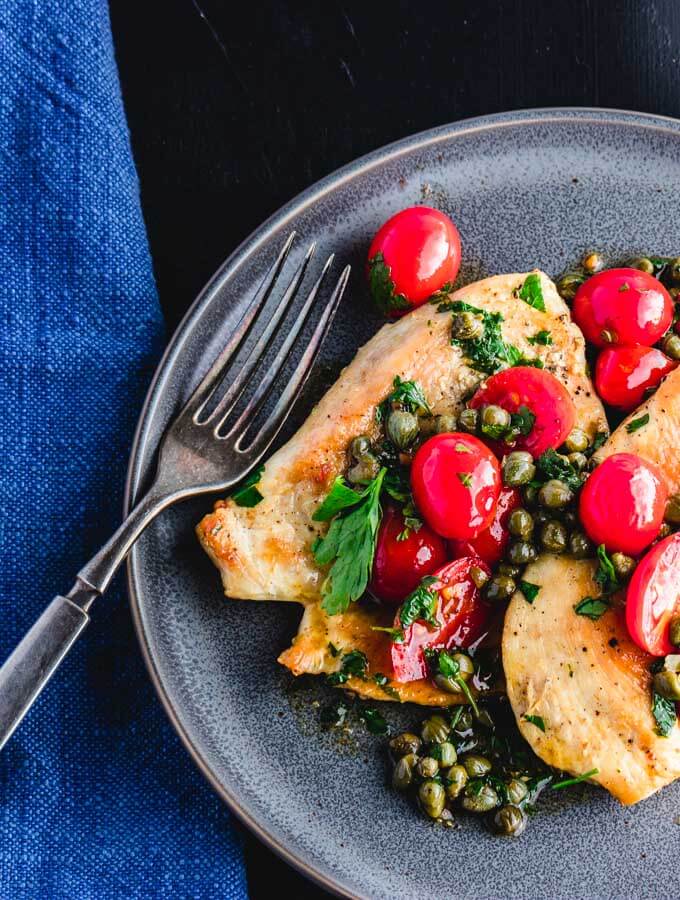 This is an excellent dish that combines only a few nice ingredients.
This Italian tomato chicken recipe is great for a large gathering – just scale up the recipe. I have made this dish with ten pounds of chicken in the past and served it all in a Sterno chafing dish setup.
Also if you like to change it up a little, try some hot pepper flakes or basil as another herb addition.
The total cook time for this is about 30 minutes for eight chicken cutlets. It could be sped up more if a larger pan is used. Just make sure it's large enough to not crowd the chicken. Doing that will stop the nice searing action on the chicken, which I feel is real important in creating the flavor in the sauce.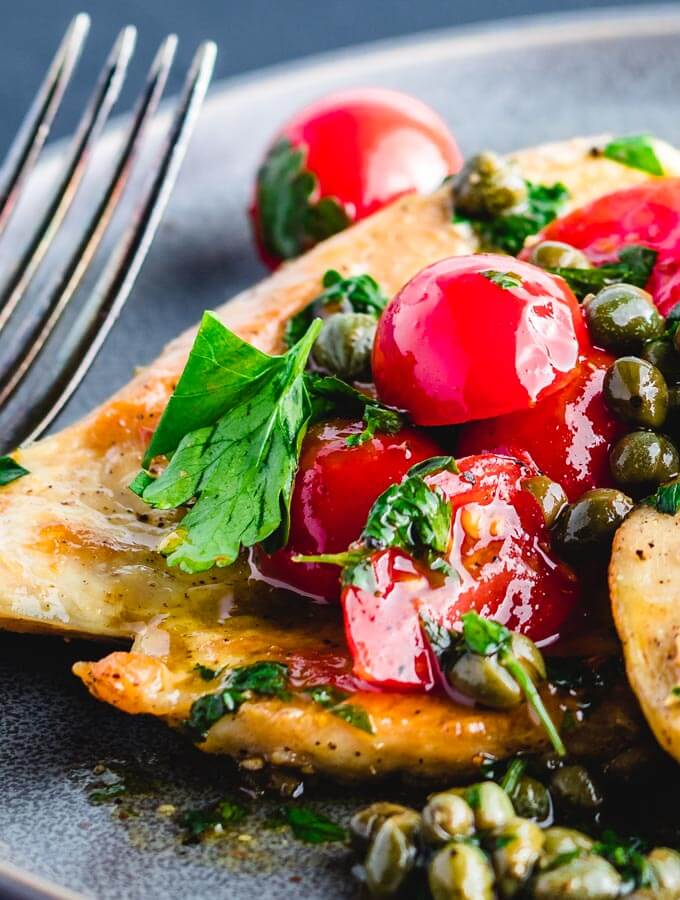 More Italian Chicken Recipes
If you've enjoyed this chicken with capers and cherry tomatoes recipe or any recipe on this site please let us know in the comments. We would love to hear how you did and it's nice to show others as well. Thanks!
FOLLOW US on Youtube, Instagram, Pinterest, and Facebook.
The full YouTube video for this recipe is directly below in the recipe card.
Italian Chicken With Capers And Cherry Tomato Sauce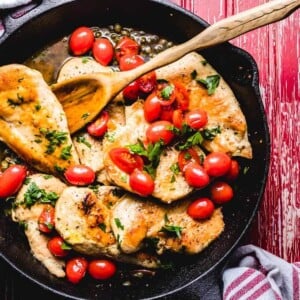 This Italian Chicken With Capers And Cherry Tomato Sauce has so much flavor. The vinegar and capers go so well with the cherry tomatoes to form the perfect sauce.
Ingredients
8

chicken cutlets thin sliced

about 1.5 pounds worth

20

oz

cherry tomatoes

halved

2

oz

capers

rinsed

4

cloves

garlic

minced

1/4

cup

parsley

minced

3

ounces

water

2

oz

caper vinegar or white vinegar

1/4

cup

olive oil

divided

1/2

tsp

black pepper

1/2

tsp

kosher salt
Instructions
Dry off chicken pieces really well so a good sear can be achieved.

Season dry chicken with the salt and pepper divided equally.

Heat pan to medium heat and add 1 tablespoon of olive oil. Add seasoned chicken to the pan in 2 batches to avoid crowding. Cook approximately 2-3 minutes per side. After all the chicken is cooked set aside and lightly cover with foil to keep warm.

Turn heat to medium-low and to the same pan add 1 tablespoon of olive oil and garlic. Saute until lightly golden (about 2 minutes). Then, add tomatoes to the pan and saute for 1-2 minutes more.

Add vinegar, water, and capers to the pan and turn heat to high. Scrape the pan with a wooden spoon to remove flavorful bits. Bring to boil for 2 minutes to make the sauce.

Turn heat to low and add the cooked chicken back to the pan to combine all ingredients. Cook the chicken for 2 minutes or until warmed through.

Turn off the heat and add the parsley. Stir together. Taste test and adjust salt and pepper if required. Add a nice drizzle of extra virgin olive oil if desired. Enjoy!
Notes
The number of tomatoes can be increased or decreased for more or less sauce.
The capers are very salty, so minimal salt was used. Taste test before serving and make any final adjustments if required.
Nutrition
Calories:
365
kcal
|
Carbohydrates:
15
g
|
Protein:
55
g
|
Fat:
17
g
|
Sodium:
400
mg
Nutrition information is automatically calculated, so should only be used as an approximation.