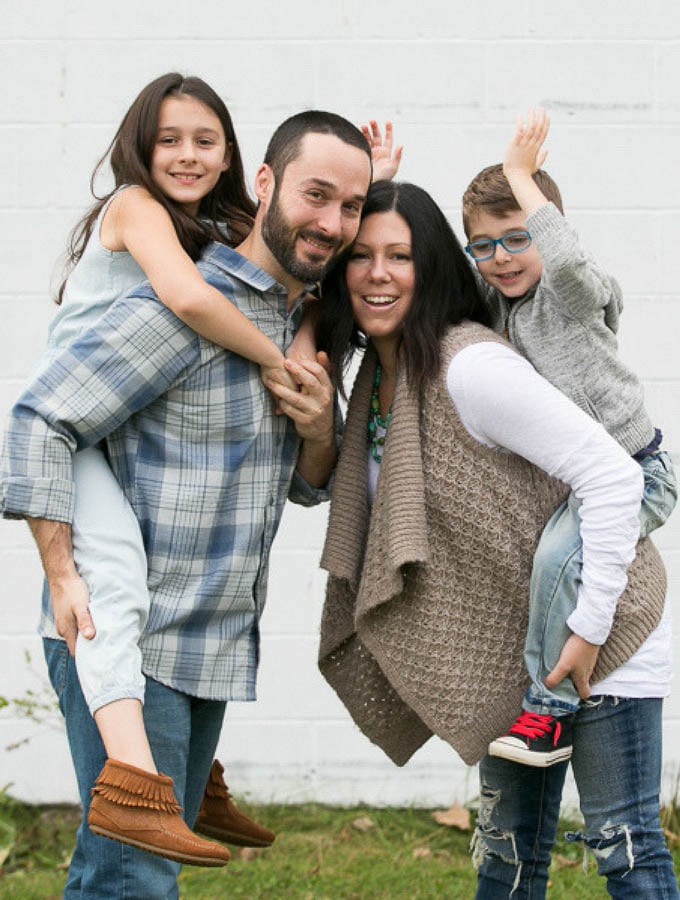 Hi, I'm Jim, the creator, and founder of Sip and Feast. I also happen to be the cook, photographer, videographer, chief technology officer, and most importantly, husband to my wife and co-conspirator, Tara, and father to our two amazing children, Sammy and James.
The bottom line is I am obsessed with great food and love nothing more than cooking for the ones I love. I truly believe that when food is prepared with love, it becomes so much more than a meal - it is an experience that is shared and remembered for years to come.
I've been cooking since I was a kid in Long Island, New York where my Italian grandmother patiently and generously shared all her culinary wisdom with me. From there, my obsession with preparing delicious food using the best ingredients possible has continued to grow, culminating in the creation of Sip and Feast.
Since New York is where our roots are, you will notice that most of our recipes are for Italian-American food that hails from the Northeastern United States. From homemade New York pizza to Sunday gravy with meatballs and chicken parmigiana, here you'll find many familiar dishes that are unique to this region.
Every now and then, we'll add an authentic Italian recipe as well. For example, let's take spaghetti carbonara. I make it with guanciale and Pecorino Romano, the exact way it's made in Italy. But, I also don't get dogmatic and frequently point out that you should use what is locally available to you. Pancetta or bacon is ok. Seriously, it is!
So what will you find here? Step-by-step instructions and photos to easily illustrate how to make the best Italian-American dishes.
We will only share shortcuts when they are time-tested and approved. No 7-minute Bolognese, or 10-minute Sunday sauce, or anything else that kills quality for time's sake. After all, this is our passion, and we feel that some things should never be rushed.
You'll also find recipes for cocktails. Some will be new recipes, others will be our take on the tried and true. Either way, the cocktail recipes we share here will be delicious and beautiful.
So take a look around, let us know if you like something, or if a recipe didn't work out, we want to know that too! Constructive criticism is always welcome as it only helps us to improve YOUR experience with Sip and Feast.
How to support me
Many people find me through our YouTube channel and Facebook page. Those platforms are where I have my biggest following and many loyal fans. I love making videos! I find it's my best way to communicate with you. It also shows you that I am actually the person behind the recipes. That I can cook well, but that I also make mistakes. I show you everything. I also don't buy content from others. I shoot my own photos and videos and edit them as well. My wife helps me with the writing, which I'm not the best at haha.
I receive so many wonderful comments but it's challenging to keep up with them all. If you subscribe to my Patreon page you will receive responses from me faster than on any platform. You'll gain access to original content only available to members and you'll be able to support me monetarily which helps a ton. I have plans to hire an editor when I reach my monthly goal. You being a Patreon supporter truly helps!
What people are saying
These are some comments from people who have personally reached out to me. Names and personal info have been omitted.
I made a big batch of your pizza dough 3 days ago. Last night, we had a couple of NY Thin Crust pizzas, and the taste was spot on! The flavor and texture of the dough took me back to my early childhood in NYC in the 1970's. There was a neighborhood pizza joint we used to get slices from, Lou's Pizza, probably long since gone as Lou was getting up there in age even then. Anyway, I wanted to let you know I really appreciate the recipes you share.
---
I just found your recipes and I love them! Everyone passed away before they could teach me to cook. I have created some written recipes but little measurements, a dash, pinch etc! I grew up on LI, loved all our Italian restaurants there, especially DiMaggio's Port Washington. Upstate NY now, we have a few good Italian places so I had to learn, which I'm doing from your videos! I was thinking maybe you're a fireman with all your cooking, but read they are all family recipes! Wonderful! Thank you!
---
I just found your channel and totally immersed in about five episodes now. I just started cooking as a hobby several years ago. Now I'm so enamored of it all that I invested in a Le Creuset dutch oven. You are correct. Your recipes allow for making them your own with different spins. Experimenting is good. PS....it's impossible to find a good Italian deli here.
---
I'm a new fan of your page. I only just discovered it about 2 weeks ago. I've been cooking Italian/Italian-American food for about 30 years (my grandmother taught me young) and I've been eating it for 47. I like your channel because I relate to it. I cook a LOT of the same dishes you cook, albeit with some differences. I like getting other perspectives on dishes I've been cooking for many years and sometimes I even adopt them!
---
One of the reasons I find your channel so relatable is that I am also on Long Island. I know, an Italian-American guy on Long Island? I am the one who cooks in my household and I've loved cooking since a young age. I used to even cook professionally while I was in college and afterward. I'm not typically impressed with most of the cooking shows, particularly when it comes to Italian food, but I really enjoy watching yours. Thank you for putting your videos out to the world for so many people to enjoy.
Even though on some dishes there are marked differences between our recipes, the foundation of them are almost identical. And that's what grabbed my attention and kept me interested. Anyway, thanks again and I hope you get a chance to read this. If you're ever in Seaford, I'll buy you a glass of vino!
---
My husband recently found your YouTube channel and has made TWO of your recipes THIS WEEK! We both were VERY pleased with the baked ziti using your Sunday Sauce recipe and the garlic mushroom pasta (Whispers-he used to make THE DRIEST ziti lol). Anyways, please let me know your thoughts. Thank you for your time and AMAZING recipes!
---
Greetings from the American South. I lived in the city for about 15 years. Your videos (the content, your specific out-on-the-island accent, really all of it) warm my heart and makes me miss it terribly.
These days (speaking for myself) can be rough sailing and your videos and cooking are a new bright discovery. I dare say, you're doing a public good.
---
Just wanted to share my memories of Sunday gravy. Sunday would start with my father and me going to the old bakery to buy bread. Two split loaves and one braid baked in a brick oven in the basement of a house. Next, we would go to grandma's for breakfast. We'd get there about 7:00. Breakfast was a couple of fried meatballs and a piece of toast. I'll never forget the smell of the maxwell house coffee brewing in the percolator. Grandpa was out in the garden at that time. Dad and I would see if grandma needed anything before we left to go home Until noontime.
At noontime, my aunts, uncles, and cousins would start arriving. It goes without saying that missing this meal was an unpardonable sin. Unless you were in the hospital or dead, then you were excused. All the gravy my grandma made came from tomatoes from their garden. Without exaggeration, my grandfather had 250 tomato plants every year. I know because one of my jobs as a kid was to help turn over the ground by hand and help plant the seedlings.
Every Sunday meal had the gravy with meatballs, sausage, and braciole. In addition, my grandmother would bake two chickens with potatoes. The only odd thing that she did as add chicken feet to the gravy. My grandfather had those to himself. He loved sucking the marrow from the bones. On special occasions, grandma would make homemade ravioli. (I never had lasagna until I was an adult.)
I love your videos on YouTube. They bring back very fond memories. Now I do almost all of the Italian cooking in my house. Sadly with our kids spread out between New England and in the south big meals are a rarity. I still cook big meals and just save the leftovers for lunches or snacks. Thanks for all you do to keep these recipes alive.
---
I love your channel. I've already upped my Pasta e Fagioli and Ragú game thanks to you. Anyway, keep up the fabulous work. I've been recommending you all over the place. You're the real deal Pizza meal, as they say.
---
Thanks for being the benchmark by which I can figure out and correct all the discrepancies in the classic dishes we love. As with all family handed-down recipes, they rarely match the one favorite version you had somewhere but can't find that recipe. I've had to cobble together recipes through countless kitchen experiments and versions of classics we knew the names of but had so many hand-scribbled notes you can't know what's right.
Yes, there are some references, cookbooks published by the women of this parish or that and in them, you find 5 recipes for one type of bread for example. Exhaustive cooking and development to find the one that makes the Eureka moment go off in your head. Every holiday I bring another great success to the table for my families and watch as they are startled and awoken to all the childhood and family memories.
Thanks for being the lighthouse in my dark kitchen as I nail down the ultimate authentic Italian recipes. I'm not a stickler for quantities, execution, or ingredients as you point out but you have done and provided so much data as to the history, evolution, and home execution of the classic Italian-American dishes. You're a lifesaver so I wish you continued success, I can't thank you enough.
---
I came across your videos on Facebook and really, really enjoy them because you are so down-to-earth and authentic and no frills or fancy stuff - just plain good Italian cooking. Sundays were huge at our house in California (just north of San Francisco where a lot of Italians and Portuguese settled in the early 1900s). I still carry on the Sunday tradition with friends and make a great Sunday Gravy but I am going to look at yours, too.
I just watched your video on the Short Ribs with Pappardelle (hard to find in the store lately) and am going to try that this weekend. Short ribs have always been a challenge to me but your video and explanation and recipe are so crystal clear, I can't go wrong!