Spaghetti Carbonara is a classic Italian dish that has only a few ingredients. Carbonara is comfort food at its best. Hearty, delicious, and definitely no leftovers - let's make it!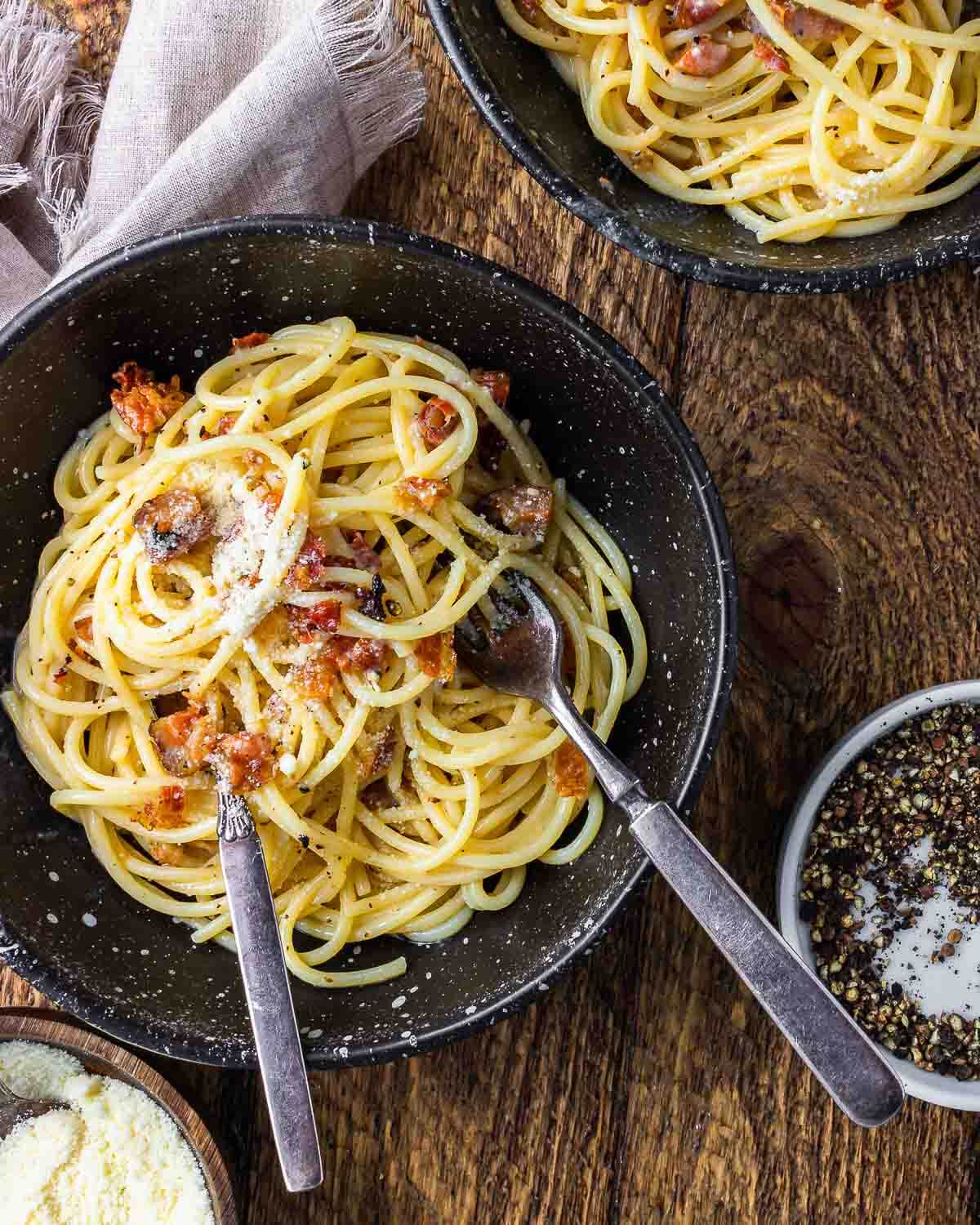 The trick to making this recipe is all in the preparation. It starts with good quality ingredients - guanciale if you can find it, pecorino cheese, and fresh eggs.
Does Carbonara Have Guanciale And Where Can I Find It?
Traditionally, carbonara is made using guanciale or pancetta. This recipe does not appear in any literature pre WW2. There are competing theories on its origin summed up quite succinctly on wikipedia.
Guanciale is a delicious cured pork product made from pig jowls. It's seasoned with black pepper and a variety of herbs like rosemary, thyme and fennel. It's basically a tastier version of pancetta. Pancetta is made from pork belly. Neither are smoked like American bacon.
Guanciale is used in 3 of the 4 popular Roman pasta dishes. The most famous in America is probably spaghetti alla carbonara, followed by Amatriciana and alla gricia. They are all unbelievably delicious! Check out this playlist from our YouTube channel where we make all 4 of the classic Roman pasta recipes.
Sourcing guanciale will prove difficult in most of America. It's also quite expensive.
If you live in an area of the country with a lot of Italian-Americans, visit a pork store and you should be able to find it. There are also specialty sellers online now that will ship it to you.

How To Make Spaghetti Carbonara
Picture of the starting ingredients: guanciale, pecorino, eggs, and spaghetti. Begin by cooking the spaghetti to "al dente" in salted ( 2 Tbsp kosher salt per gallon) water.
Chop the guanciale into cubes. If you prefer a smaller dice, go for it!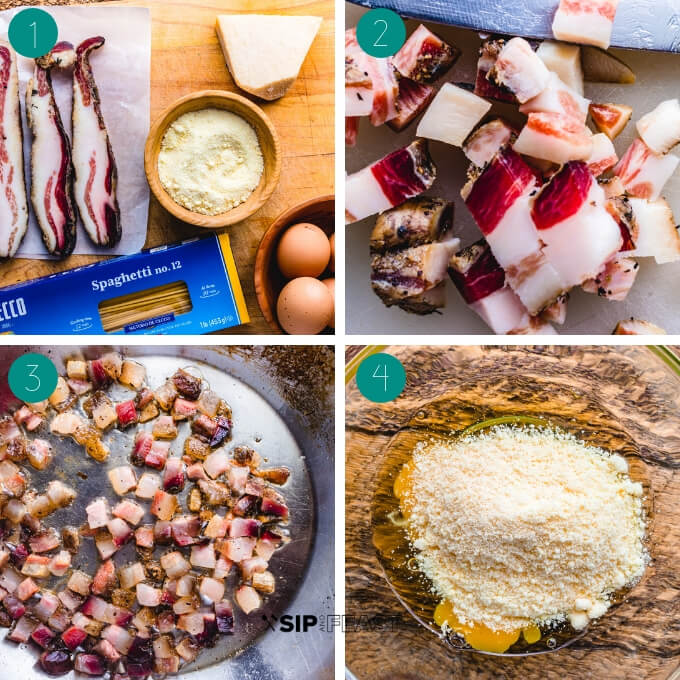 Put just a touch of olive oil (1 tsp) in a large pan to start sauteing the guanciale and crisp it up lightly on medium heat for about 7-10 minutes. The guanciale will release a lot of fat into the pan. If using pancetta, 7-10 minutes should be about right. With bacon, it might take a little bit longer.
Crack the eggs into a bowl and add the 1 cup of pecorino.
Mix the egg and cheese and set aside.
Reserve at least 1 cup of pasta water before draining.
Remove most of the guanciale if you want at this step. It doesn't really matter, but it does give a nicer presentation sprinkling it on each plate. It's also easier to evenly distribute the delicious bits.
Add 2 ounces of pasta water to the guanciale fat in the pan. Be careful to not get splashed! Add the spaghetti to the fat and pasta water and toss to coat. Cook the spaghetti for 1 minute in the fat.
Remove the spaghetti pan from the heat and wait 1 minute. This step is crucial so that the eggs do not get scrambled from too high heat.
After that minute, add the egg cheese mixture and start mixing thoroughly not letting the egg sit on the bottom of the pan.
Continue to mix and add the 1 tsp of crushed or coarsely ground black pepper to the spaghetti carbonara.
Add the guanciale now or during plating. Taste test and adjust salt if required. This might not be necessary at this step due to the saltiness of the pork and pecorino cheese. If the carbonara is a tad dry just add some pasta water, one tablespoon at a time, to loosen it up. On the other hand, if it's too wet just add a touch more of the pecorino.
We hope you enjoy the process shots and details we put into making these recipes. Our feeling is simply this - if you just want a recipe and are an accomplished cook, refer to the recipe card at the bottom of this post. On the other hand, if you need some help, we hope these detailed step by step instructions will show you the way.
What Type Of Cheese For Carbonara?
Pecorino is preferred and it is the traditional cheese to use in carbonara. I've made it with both and always prefer pecorino, but in the end, it's your choice. If using Parmigiano Reggiano, use the same amount but remember that pecorino is quite saltier, so a touch of salt might be required before serving.
Can Spaghetti Carbonara Be Reheated?
This dish will never be as good reheated in the microwave due to the delicate nature and creaminess of the cheese and egg mixture. What will happen if you try to reheat is the guanciale fat will separate from the eggs and cheese and the dish will be nothing like the original.
Substitutions And Additions
grilled chicken - A few grilled chicken breasts seasoned with salt and pepper and sliced up would go great with the carbonara sauce. If deciding on this, add an extra egg, ¼ cup more cheese, and a tiny bit more pasta water.
peas - A very worthy addition to many kinds of pasta. A purist would say no, but I say do what you like. The peas add great color and texture to carbonara.
pastas - Use any type of pasta you like. Rigatoni, penne, linguine, and fettuccine are all great choices. Tortellini also works very well.
Is It Safe To Eat Carbonara?
It is beyond the scope of this recipe to speak to whether the raw egg is a risk in this spaghetti all carbonara recipe. If you are worried, maybe make a different dish, because no one can make a 100% guarantee on the safety of the raw eggs being added at the end.
Though the hot pasta water and residual heat from the pan cook the egg into a creamy sauce, cooking the egg too much will result in scrambled eggs which definitely is not the desired goal.
This spaghetti carbonara picture is one I made with slab bacon. Delicious too! You can make it with bacon and still get great results.
I made this fettuccine carbonara with pancetta on Instagram live. That was fun and a test, because well you don't want to have scrambled eggs when people are watching live! This is my kids' favorite version, they just love pancetta in carbonara.
More Pasta
If you've enjoyed this recipe please let us know in the comments. We would love to hear how you did and it's nice to show others as well. Thanks!
Subscribe to our socials and to our YouTube channel where we put a lot of effort into publishing full-length cooking style videos. Right below in the recipe card, you'll find the YouTube authentic Carbonara recipe video.
Ingredients
1

pound

spaghetti

6

ounces

guanciale or pancetta

4

large

eggs

1

cup

pecorino cheese

1

cup

pasta water

1

tsp

coarse black pepper
Instructions
Cook spaghetti to "al dente" in salted (2 Tbsp kosher salt per gallon) water. Dice guanciale into small pieces. Saute guanciale in a large pan with 1 tsp of olive oil for 7-10 minutes on medium heat.

While guanciale is cooking break 4 eggs into a bowl and mix with 1 cup of pecorino cheese.

Remove guanciale after cooked through and set aside. To the pan with the remaining fat add 2 ounces of pasta water and the pasta. Cook the pasta in the guanciale fat and water mixture for 1 minute then remove the pan from the heat.

Wait for 1 minute, then add the egg/cheese mixture to the spaghetti and mix quickly. A creamy sauce will form. If it is too dry add a couple tablespoons of pasta water at a time to get the perfect consistency. If it is too wet add a touch more pecorino.

Finally add the guanciale back to the spaghetti. Add the black pepper as well. Mix again and serve quickly while still creamy. Enjoy!
Notes
The key to making the carbonara creamy is to mix the egg/cheese into the guanciale fat and pasta water thoroughly.
Remember to wait 1 minute before adding the egg/cheese mixture to avoid scrambled eggs.
No salt was added due to the saltiness of the guanciale and the pecorino cheese.
Nutrition
Calories:
657
kcal
|
Carbohydrates:
62.7
g
|
Protein:
36.6
g
|
Fat:
28.4
g
|
Cholesterol:
150
mg
|
Sodium:
1100
mg