I'm hard-pressed to think of a dish that more perfectly exhibits Fall flavors than sausage and apple stuffed acorn squash. Italian sausage, sage, and Granny Smith apples harmoniously combine to make an almost effortless stuffing nestled in the acorn squash shells and brimming with all the flavors of Autumn, home, and comfort.
Every time the fall season rolls in, we get ready to crank out some seriously hearty squash recipes.
I so appreciate the versatility of squash: whether it's stuffing it like in this recipe, using it in pasta dishes, or just simply roasting with some sea salt and olive oil.
You really can't go wrong with squash!
If you have similar feelings, you will want to check out our other squash recipes.
For a simple side dish that would go great with roasted chicken, consider our butternut squash with brown sugar recipe.
There is nothing like coming home on a rainy October night to a warm bowl of our stewed butternut squash chili or this baked butternut squash pasta recipe.
During the week, we love pairing this vegan butternut squash soup with maple syrup with some sandwiches or a salad.
It's super easy and between the squash, carrot, and maple syrup, it's basically a soul-nourishing Fall harvest celebration in a bowl.

How to make sausage stuffed acorn squash
Start with 2 medium acorn squash. Turn oven on to 400f and place rack in middle.
Picture of the apples, grated pecorino, and fresh sage. Disregard the onion as that is not in the recipe.
Cut the acorn squash in half lengthwise and scoop out the seeds with a metal spoon. They can also be cut the other way – which to be honest gives a nicer presentation. You will lose part of the squash though because a flat bottom needs to be cut on the pointy end.
Season the acorn squash with 2 Tbsp of olive oil, 1/2 tsp of kosher salt, and 1/4 tsp of black pepper. A brush works well for the olive oil. After the Acorn squash is seasoned turn them cut side down on the tray – the opposite of how they look in picture 4. They will steam and cook quicker this way. Bake in the oven for 35-40 minutes.
Remove the sausage from its casing and saute in 2 Tbsp of olive over medium heat in a large pan. Use a wooden spoon to break up any large pieces of sausage.
After about 10-15 minutes and the sausage is brown add the 2 cups of chicken stock, sage, and pepper. Scrape the bottom of the pan with a wooden spoon to dislodge all of the brown flavor bits.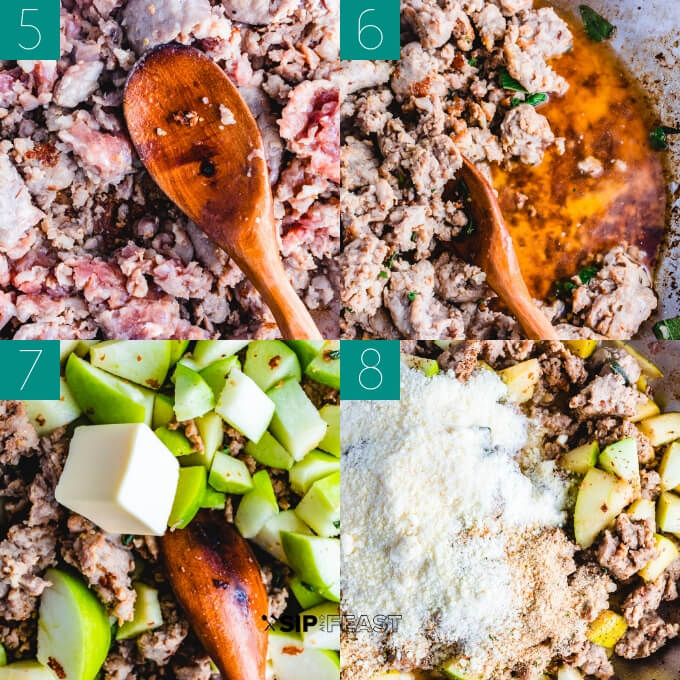 Add the chopped Granny Smith apples and 2 Tbsp of butter to the pan and cook for 3 minutes to let the butter melt.
Add a 1/2 cup of pecorino and 3/4 cup of breadcrumbs to the pan and mix it all together to incorporate the flavors.
Mix the stuffing thoroughly. It will be a wet mixture.
When the Acorn squash have finished baking turn them back over as shown in picture 10. They should be pretty soft when piercing the flesh with a fork.
Stuff the acorn squash with the stuffing mixture. Pile it on high. Any extra can be placed in a baking dish and cooked along with the sausage and apple stuffed acorn squash.
Add 1 Tbsp of butter on top of each squash. Lightly cover with foil and bake in oven for 35 minutes at 400f
Check the stuffed squash after 35 minutes to ensure the flesh is nice and tender. If not bake for 10 more minutes or so. Enjoy!
That's all there is to make this hearty sausage and apple stuffed acorn squash recipe.
What does acorn squash taste like?
Acorn Squash has a mild taste that is slightly less flavorful than a pumpkin or butternut squash so it excels at taking on other flavors.
It acts as a blank canvas which is why I think it's the best squash to use for stuffing. And, there are so many ways to stuff it!
Other stuffing ideas
Obviously, I think an apple and sausage stuffing is perfect, but what about a risotto?
I once had an unbelievable seafood risotto stuffed acorn squash at one of my favorite Italian restaurants. It was a meal that I have not forgotten!
Wild rice, cranberry, and nuts make an awesome stuffing as well.
Or just use the halves for soup bowls and make a curried acorn squash soup to serve in it!
How to cook it fast
So this recipe takes a while, but it's worth it!
If you are pressed for time it can be sped up dramatically by cutting the squash in half, cleaning, and cooking in a microwave, cut side down.
10-12 minutes and it will be tender and ready for the stuffing. The cut side down method, which is the same used while baking, creates a steaming effect to speed up the cooking process.
Fall cocktails
We've curated an expanding set of Fall cocktail recipes.
If you're hoping to round out your meal with a cocktail, you won't want to miss our apple and pear white wine sangria. This would be perfect for larger gatherings (think Thanksgiving).
Our apple cider old fashioned and pumpkin spice bourbon milk punch would also be perfect to serve before, during, or after this meal.
If you've enjoyed this Italian-style stuffed acorn squash recipe or any recipe on this site, give it a 5-star rating and leave a review.
Watch the video below where Jim will show you how to make this recipe with easy-to-follow instructions.
Some people learn by watching. If you're that type of person, you can find most of our recipes on YouTube and our Facebook Page.
Sausage And Apple Stuffed Acorn Squash
Fall comfort food at its best! This sausage and apple stuffed acorn squash recipe checks off all the right boxes with a buttery sage and pecorino cheese stuffing.
Ingredients
2

medium

acorn squash

1

pound

sweet Italian sausage

casing removed

3

medium

Granny Smith apples

chopped

3/4

cup

Pecorino Romano

grated

1/4

cup

olive oil

6

tbsp

unsalted butter

3/4

cup

Italian seasoned breadcrumbs

2

cups

low sodium chicken stock

1/2

tsp

kosher salt

1

tsp

black pepper

1

Tbsp

fresh sage

chopped
Instructions
Turn oven on to 400f and place rack in middle. Cut acorn squash in half and scoop out seeds with a metal spoon. Season squash with 2 Tbsp of olive oil 1/2 tsp of salt and 1/4 tsp of pepper. Turn squash cut side down on sheet pan and bake in the oven for 35-40 minutes until tender.

Remove sausage from its casing and saute in a large pan with 2 tablespoons of olive oil on medium heat for 10-15 minutes until browned and cooked through.

Add the chopped sage, 3/4 tsp of black pepper, and the 2 cups of chicken stock to the pan. Scrape off brown bits from the bottom of the pan with a wooden spoon and cook for 1 minute.

Add the 2 cups of chopped apples and 2 Tbsp of butter to the pan. Cook for 3 minutes to coat the apples and melt the butter.

Add 1/2 cup of pecorino and 3/4 cup of breadcrumbs to the pan and thoroughly mix to incorporate.

Remove the acorn squash from the oven and turn them cup side up for stuffing. Stuff the squash, mounding it higher than the edge. Place 1 Tbsp of butter on each squash half. Cover lightly with foil and return to oven 35-40 minutes more of baking. Any remaining stuffing can be placed in a baking pan and cooked alongside the squash.

Remove and test that the squash is fork-tender. If not, return to the oven for 10 more minutes. When tender, sprinkle the last 1/4 cup of pecorino onto the 4 halves and serve. Enjoy!
Notes
The acorn squash cooks quicker cut-side down because of the steaming action.
Acorn Squash skin is fully edible.
Nutrition
Calories:
1071
kcal
|
Carbohydrates:
60.7
g
|
Protein:
38.6
g
|
Fat:
77.2
g
|
Saturated Fat:
32.2
g
|
Cholesterol:
186
mg
|
Sodium:
1350
mg
|
Potassium:
1305
mg
|
Fiber:
8.2
g
|
Sugar:
18.7
g
|
Calcium:
504
mg
|
Iron:
5
mg
Nutrition information is automatically calculated, so should only be used as an approximation.