Baked butternut squash pasta is a creamy, cheesy, comforting dish that is full of all the flavors of fall. The butternut squash and sage sauce is tossed with penne pasta, mozzarella, and Parmigiano Reggiano, and layered between more sauce before being baked until melty.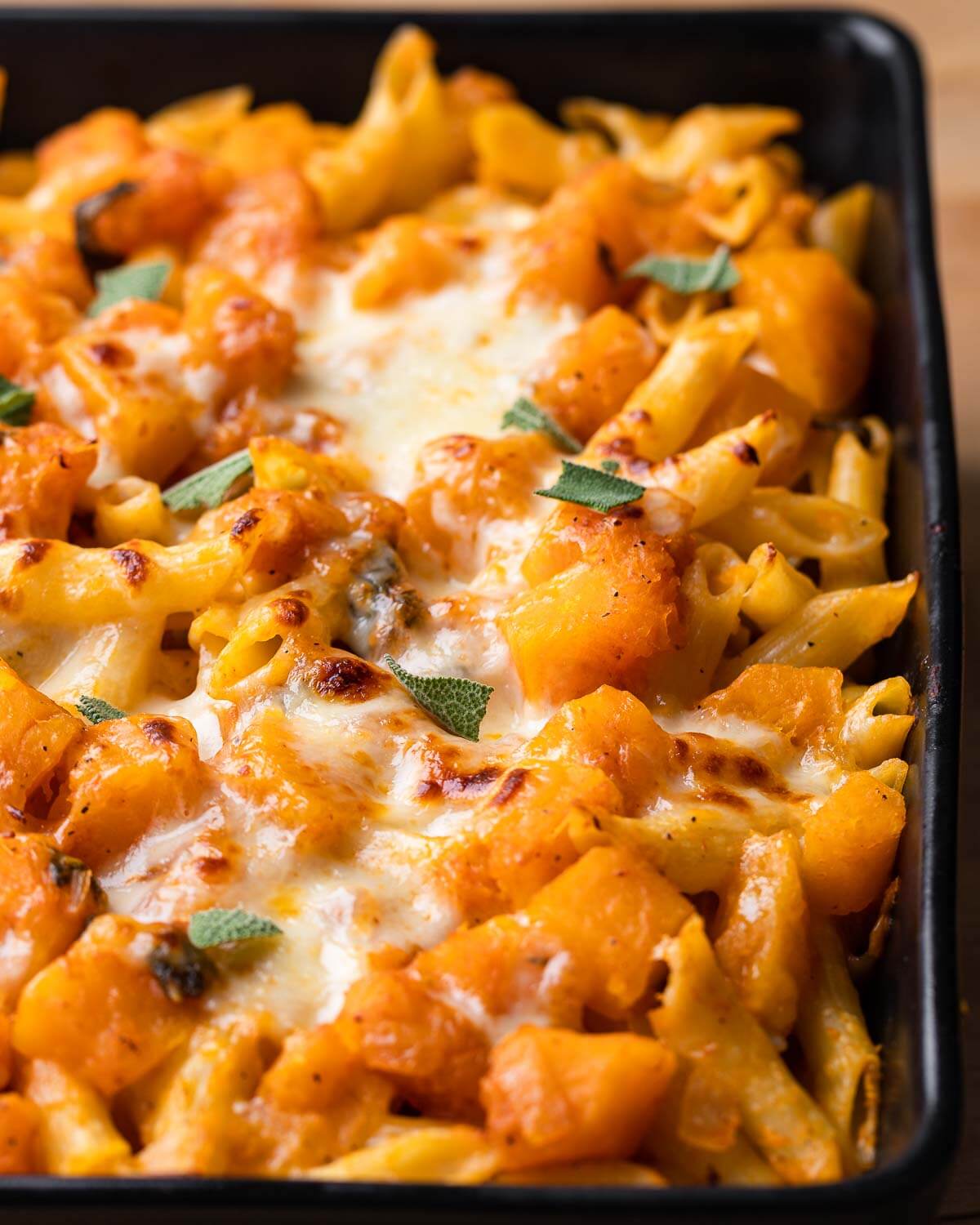 When Fall arrives, I embrace it fully.
I really enjoy the cooler weather and all the flavors and ingredients that are used predominantly this time of year.
Butternut squash is one of those ingredients. I use it in so many dishes, like:
Sage is another favorite fall ingredient and it marries perfectly with the squash in this baked butternut squash pasta.
Aside from the flavor, I'm wild about the textures in this dish.
The creamy butternut squash-tomato sauce, and the melty cheese make this so darn comforting that it's really hard to stop eating.
Think of this as an autumnal version of meatless baked ziti, or pasta al forno.
Serve alongside a simple green salad, and you've got the perfect Fall dinner.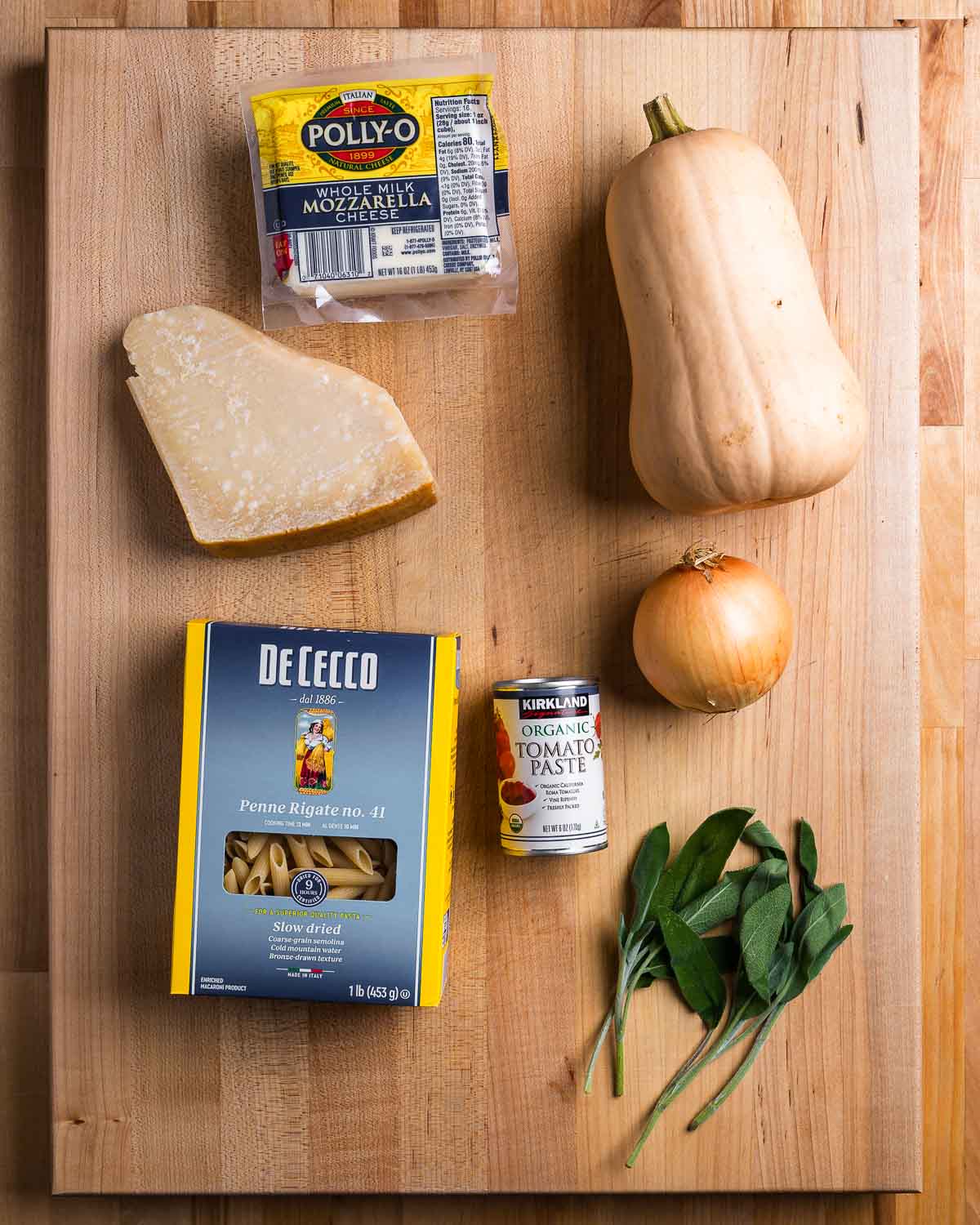 How to make baked butternut squash pasta
Each number corresponds to the numbered written steps below.
Begin by peeling 1 medium butternut squash. If you're having a hard time, microwaving the squash for 3-4 minutes will soften the hard outer skin. Let it cool before beginning to peel again.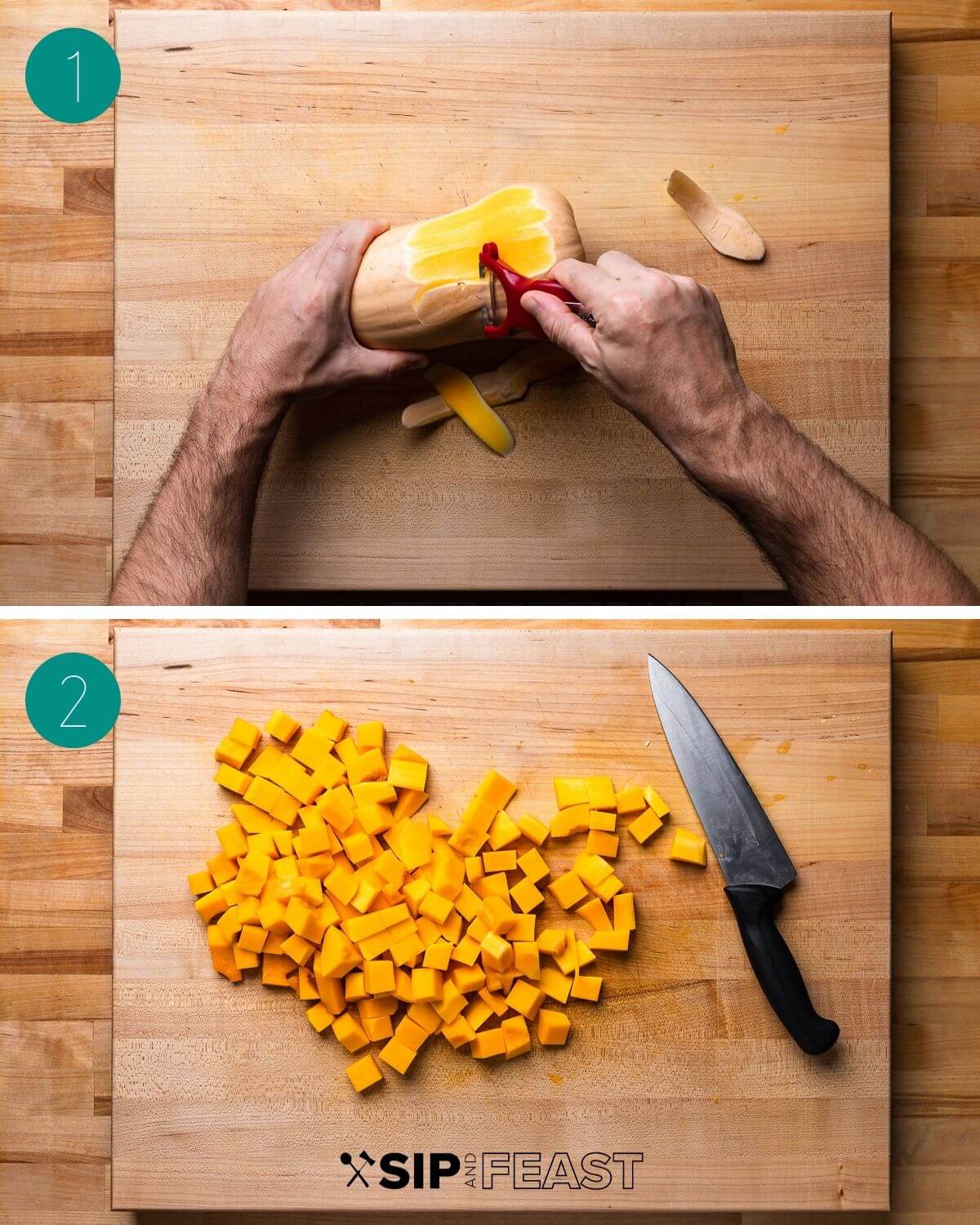 Cube 5 cups worth of squash. Any remaining bits can be saved for another purpose. Dice a medium-sized onion, and chop a ¼ cup worth of sage.
In a large pan over medium-low heat saute the onion in 2 tablespoons of olive oil and 2 tablespoons of butter until soft (about 5 minutes). Also, preheat the oven to 400f and set the rack to middle level.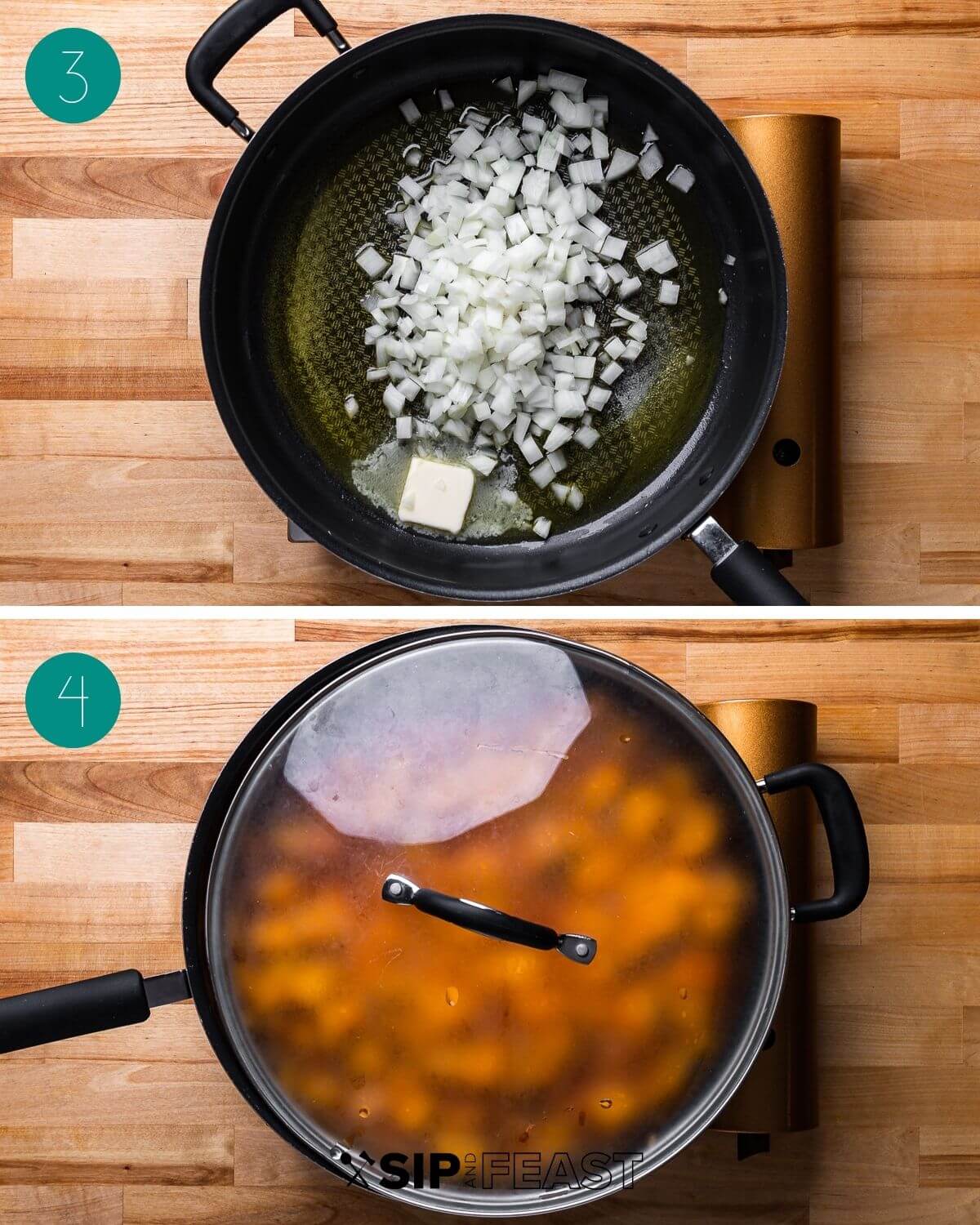 Add the diced butternut squash, 3 ounces tomato paste, 2 cups low sodium chicken stock, ¼ cup chopped sage, 1 teaspoon kosher salt, and ½ teaspoon of black pepper. Turn heat to medium, and give it all a stir for 1-2 minutes to incorporate. Cover the pan, leaving the lid slightly ajar, and let the sauce cook for 20 minutes.
While the sauce is simmering, boil the penne pasta in salted water (2 tablespoons kosher salt) until very al dente. Also, shred ½ pound of mozzarella and grate ¾ cup of Parmigiano Reggiano cheese. After 20 minutes of simmering, stir the sauce and place a layer (about ¼ of the sauce) into a 9 by 13" baking dish.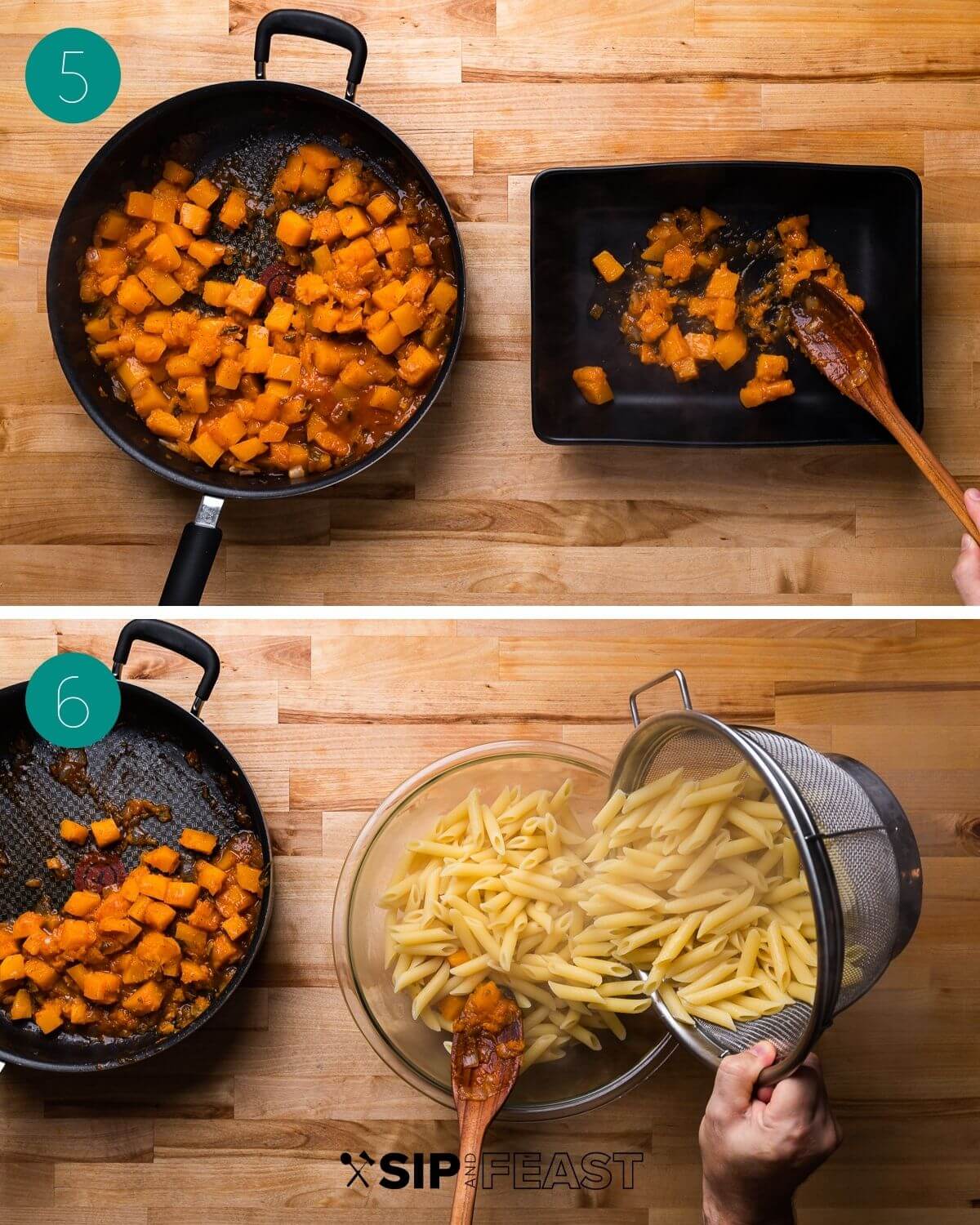 Add most of the sauce into a large bowl. Also, add the al dente pasta to the bowl along with ⅔'s of the shredded mozzarella and all of the grated Parmigiano Reggiano cheese. Mix well.
Add the pasta into the baking dish.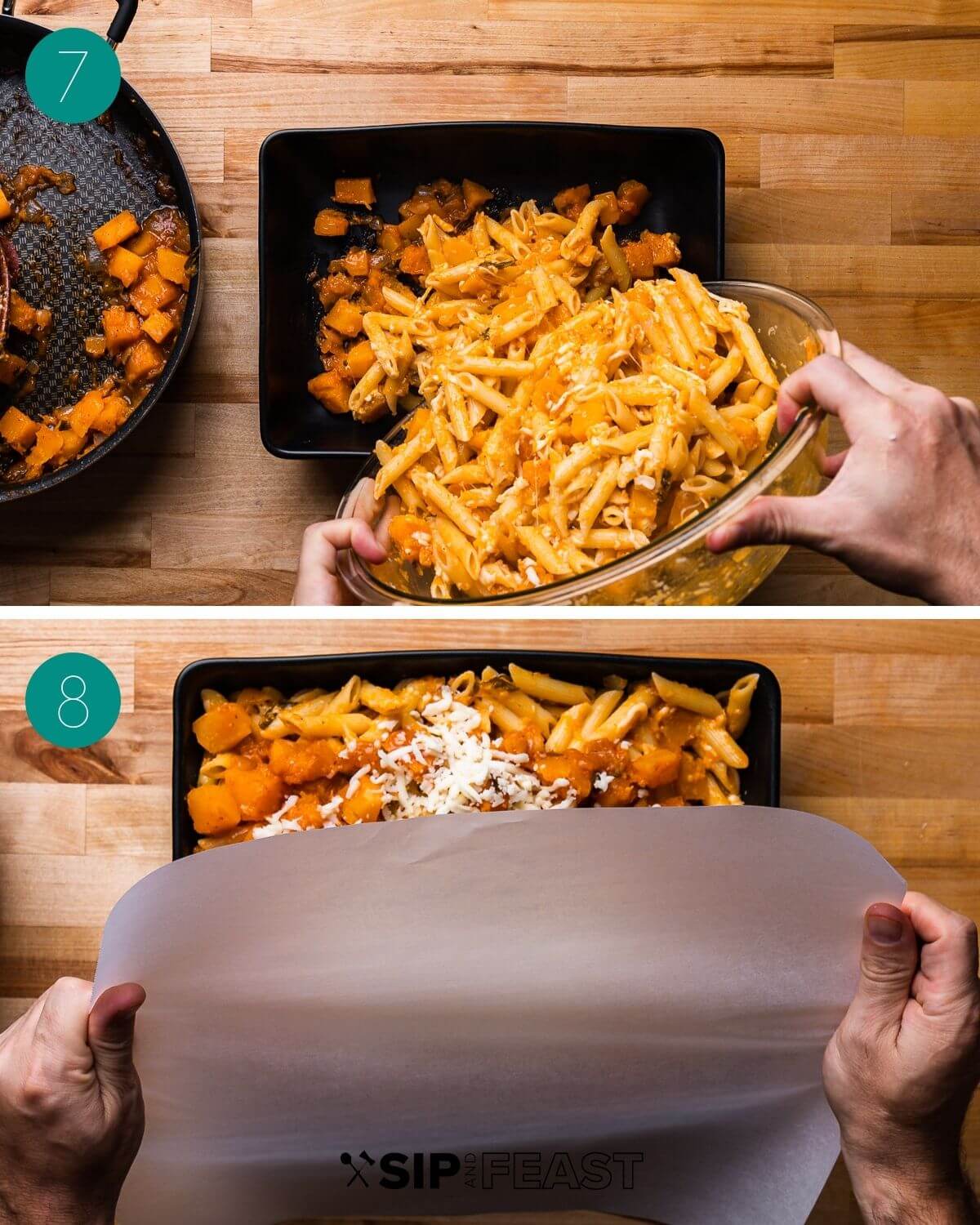 Top the pasta with the remaining butternut squash sauce and the remaining shredded mozzarella. Cover the baking dish with a layer of parchment paper, then a layer of foil. Bake the pasta for 20 minutes, then remove the covering and bake for 10 minutes longer. If you want the top charred, broil for 1-2 minutes but watch very carefully. Enjoy!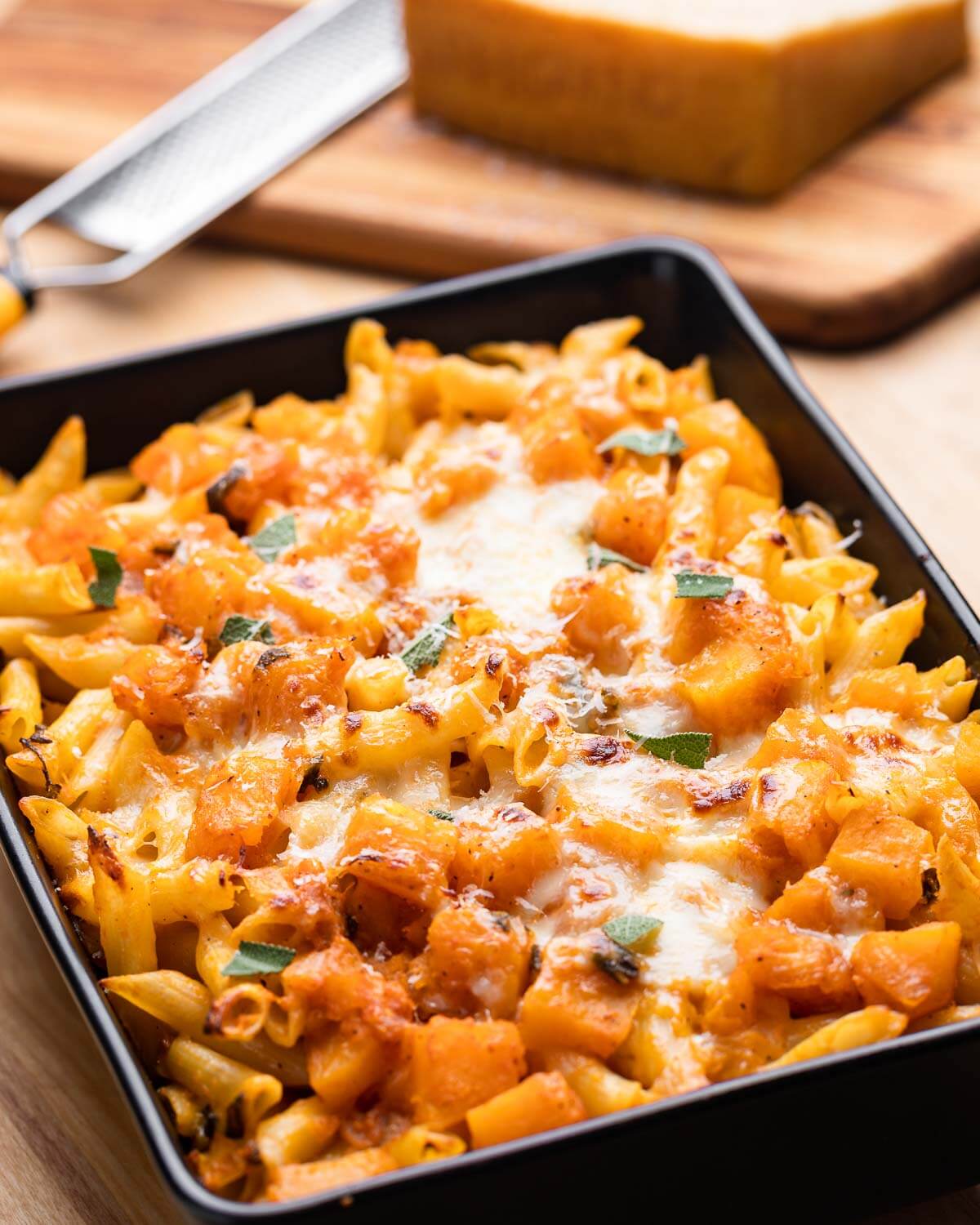 Top tips
If you don't have parchment paper, drizzle some oil on the foil before placing it on the pasta. This will help prevent the cheese from sticking to the foil.
Using fried sage leaves as a garnish makes for a beautiful presentation. Simply fry whole sage leaves for approximately 60-90 seconds in a ¼" layer of hot olive oil.
Peeling butternut squash can be difficult. The skin is quite hard and the shape is a bit unwieldy. You can microwave the whole squash for 3 minutes which can help make the peeling process a bit easier.
Favorite Fall dishes and drinks
If you are a sucker for fall flavors, just like me, you'll love these dishes and drinks that showcase all the bounties of Autumn!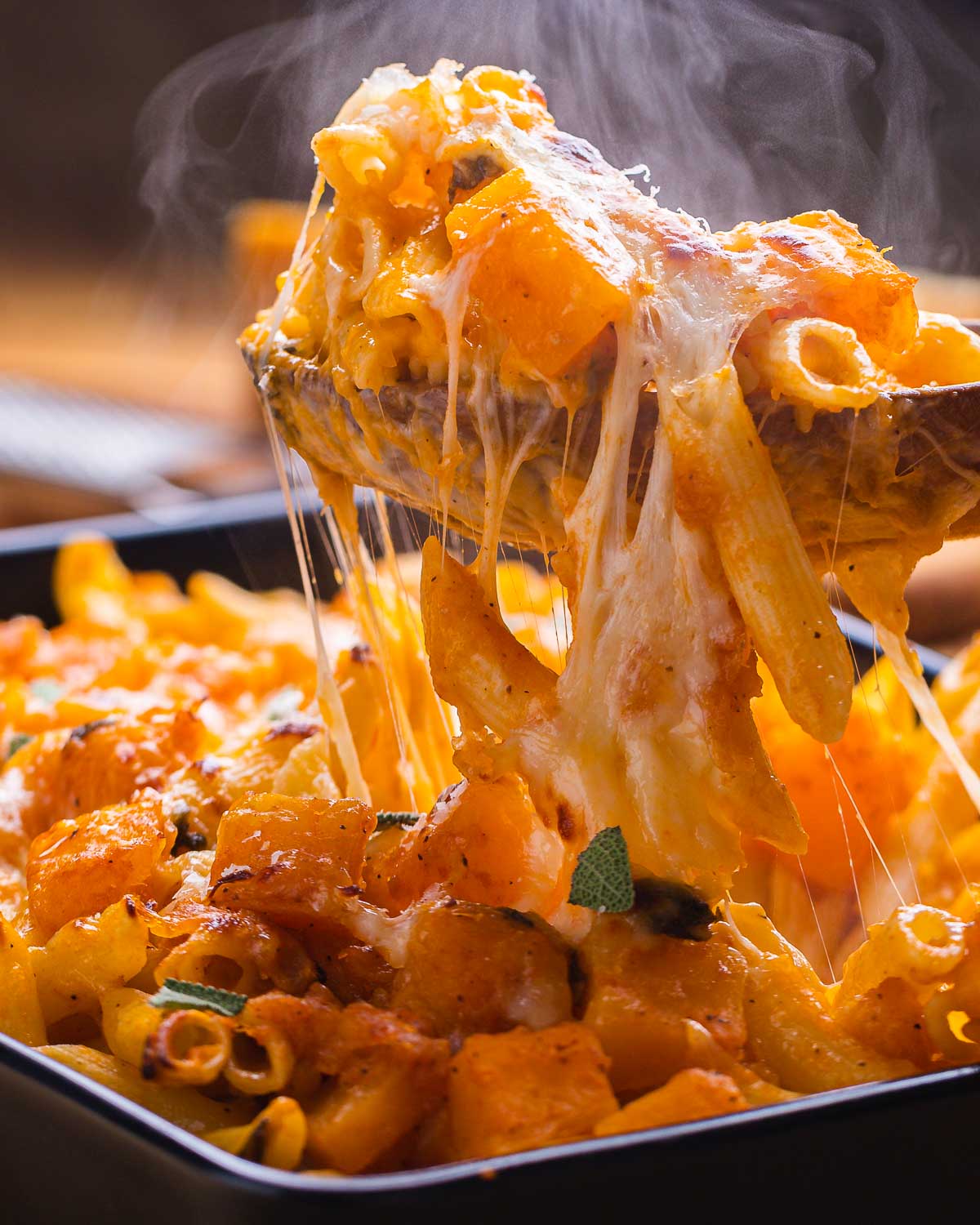 If you've enjoyed this baked butternut squash pasta recipe or any recipe on this site, give it a 5-star rating and leave a review.
Watch the video below where Jim will show you how to make this recipe with easy-to-follow instructions.
Some people learn by watching. If you're that type of person, you can find most of our recipes on YouTube and our Facebook Page.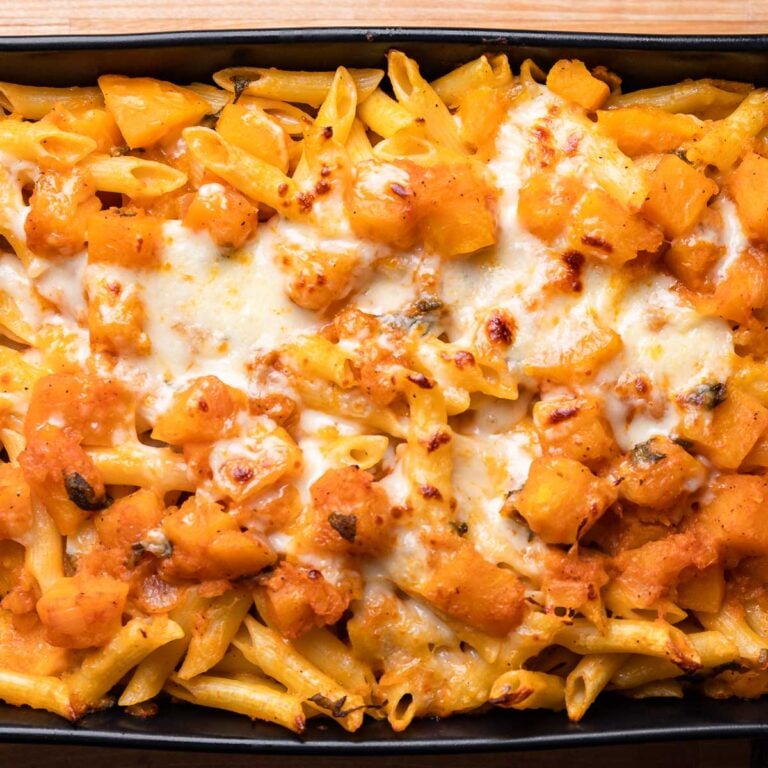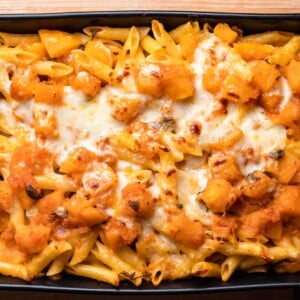 Ingredients
1

pound

penne

or rigatoni, ziti, etc.

2

tablespoons

unsalted butter

2

tablespoons

olive oil

1

medium

onion

diced

3

ounces

tomato paste

2

cups

low sodium chicken stock

5

cups

butternut squash

cubed

¼

cup

sage

chopped

1

teaspoon

kosher salt

½

teaspoon

black pepper

¾

cup

Parmigiano Reggiano

grated

½

pound

mozzarella cheese

shredded, divided
Instructions
Preheat oven to 400f and set rack to the middle level. Saute onion in the butter and olive oil over medium-low heat until soft (about 5 minutes).

Add in the tomato paste, chicken stock, butternut squash, chopped sage, salt, pepper, and cook partially covered over medium heat until the squash is fork-tender (about 20 minutes).

Meanwhile, cook pasta in salted water to very al dente. About 2 minutes less than the package instructions.

In a large bowl add half of the butternut squash sauce and the pasta. Add in the Parmigiano Reggiano cheese and ⅔'s of the shredded mozzarella. Gently mix together.

Place a layer of butternut squash sauce into the bottom of a 9 by 13" baking dish. Add the pasta and top with the remaining sauce and the remaining shredded mozzarella.

Cover with parchment paper then foil and bake for 20 minutes. Remove the covering and cook for 10 more minutes. If you want the cheese browned broil for 1-2 minutes, but watch carefully to avoid burning. Let rest for 5-10 minutes before serving. Enjoy!
Notes
Microwaving the whole butternut squash for 3 minutes can help soften the hard skin and make peeling easier.
When cooking the sauce keep the lid slightly cracked to encourage a bit of evaporation and to help the hard squash soften more quickly.
Covering the pasta with a layer of parchment paper, then foil, prevents the cheese from sticking. If you don't have parchment paper try wiping a bit of oil onto the foil to prevent sticking.
Fried sage leaves can be used as a garnish for a nice visual effect. To cook, just fry the sage leaves for 60-90 seconds in a ¼" layer of hot olive oil.
Leftovers can be saved for up to 3 days and can be reheated in the microwave until warm.
Nutrition
Calories:
670
kcal
|
Carbohydrates:
109.6
g
|
Protein:
23.3
g
|
Fat:
18.7
g
|
Saturated Fat:
7.1
g
|
Cholesterol:
27
mg
|
Sodium:
836
mg
|
Potassium:
833
mg
|
Fiber:
8.4
g
|
Sugar:
10.4
g
|
Calcium:
221
mg
|
Iron:
6
mg