This insalata verde is inspired by the epic green salad served at NYC's Via Carota. In this version of the Via Carota salad, butter lettuce, frisee, and romaine are piled high in layers in between which is drizzled the best shallot-sherry vinaigrette you will ever have. Salads may be overrated, but not today.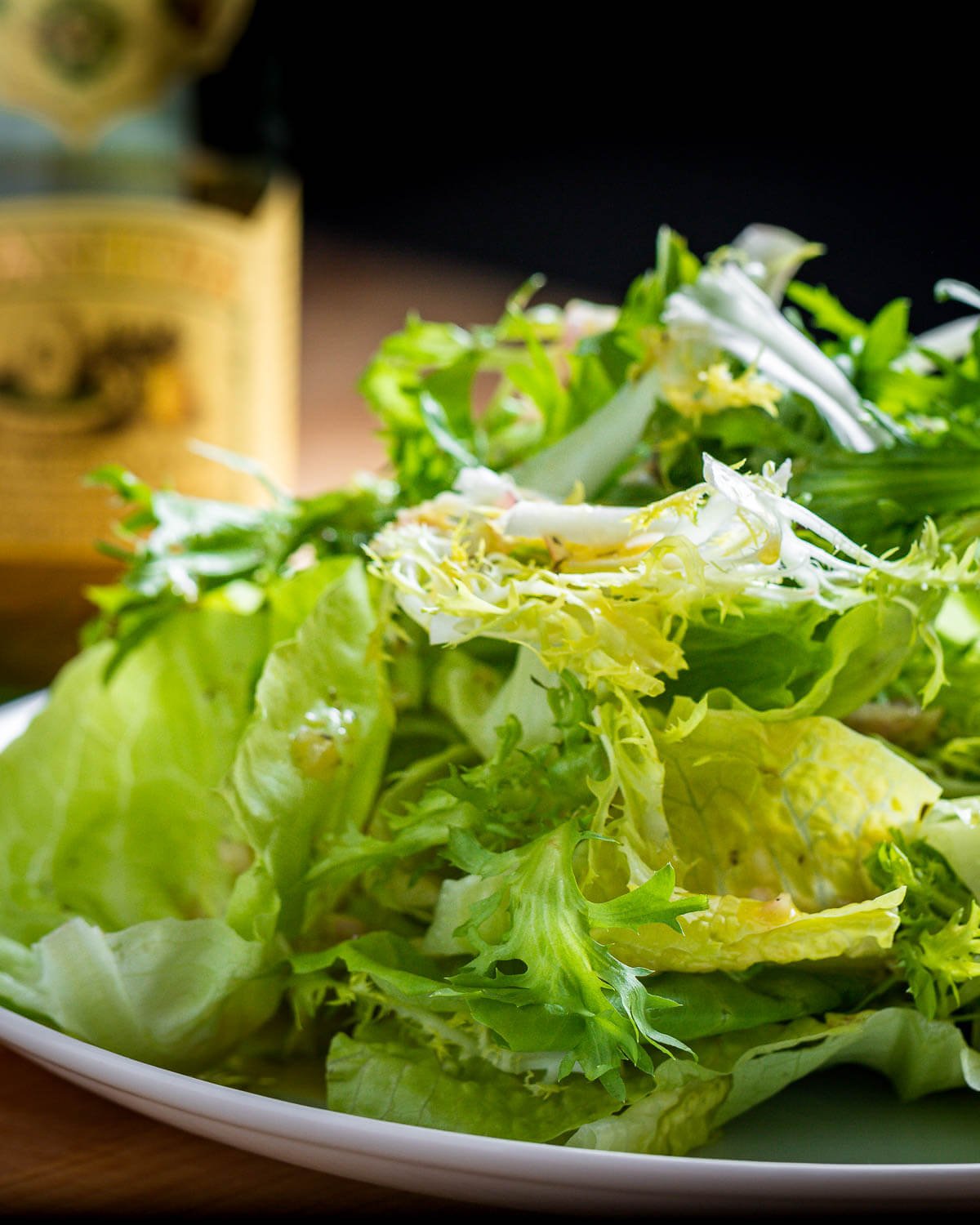 Via Carota is tucked away in the West Village and takes no reservations. Getting there early may help, as the host "takes your name" by scrawling it in chalk on an exposed pipe. I like this method as it allows you to see just where you stand in the Via Carota universe, so you can more accurately count down the minutes (or hours) until you're seated with an ice-cold negroni in hand.
The menu at Via Carota is impressively full of rustic, Italian fare, like grilled octopus with green olive pesto, fritto misto, and pappardelle with wild boar ragu.
As fantastic as all these dishes are, Via Carota's green salad is my favorite.
The variety of lettuces make for a textural dream, and the shallot-sherry vinaigrette is definitely drinkable. This may just be the only green salad recipe you'll ever need!
Mile high green salad
While the ingredients are a key part of this recipe, they are almost secondary to the manner in which it is assembled.
While you can certainly toss this all haphazardly into a salad bowl and call it a day, I encourage you to assemble this salad in layers, spooning the vinaigrette in between.
It makes for a beautiful presentation but also allows for tiny pools of dressing to nestle into the pockets of butter lettuce and romaine.
When finished layering, the salad will have a significant height and will be a feast for the senses.
What types of lettuce for Via Carota salad?
For our version, we used what was available to us in our local grocery store: butter lettuce, romaine hearts, and frisee.
In the past, I've made this with watercress and endive in addition to the frisee, butter, and romaine lettuces. These would certainly be a welcome addition to this salad. In fact, these are the five lettuces used in Via Carota.
Essentially, any green lettuces will do, but I do recommend using at least three different types to allow for a variety of texture, and taste.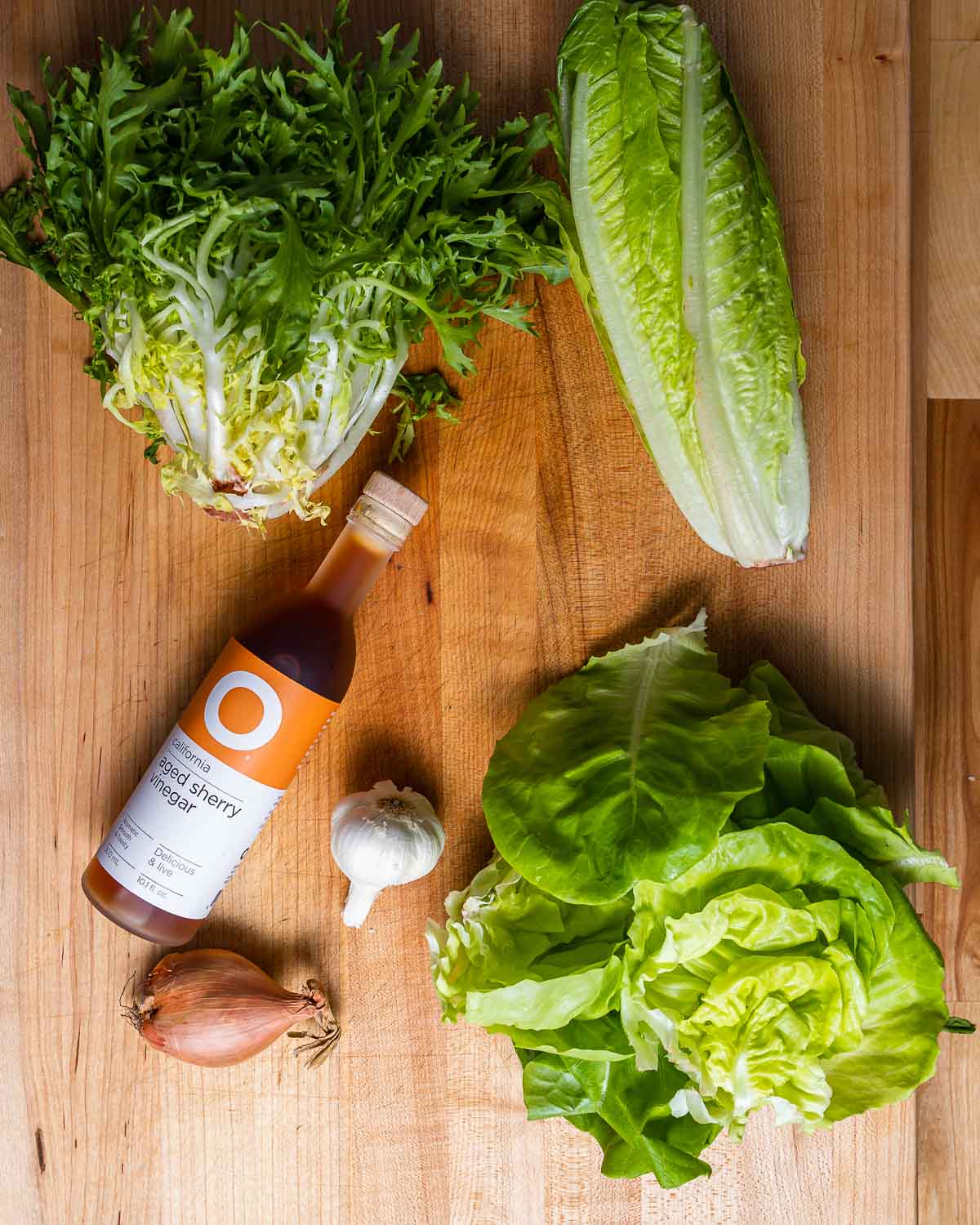 Sherry shallot vinaigrette variations
The sherry shallot vinaigrette is one of the best parts of this salad.
As its name suggests, it includes shallots and sherry vinegar. It also contains Dijon mustard, garlic, olive oil, honey, thyme, and warm water.
If you don't have sherry vinegar, you can absolutely substitute. Consider trying either rice wine vinegar or red wine vinegar.
I would not recommend using balsamic vinegar as it will change the taste of the dressing too dramatically.
For the mustard, I've done a combo of smooth and grainy Dijon, as well as just one or the other. Feel free to play around and see which version you like best.
I would not use yellow mustard here - the Dijon is non-negotiable.
Shallots are an important part of the recipe. While they may look and smell similar to onions, they are milder. That being said, if you cannot find shallots, it would be ok to use a finely chopped onion. If using an onion, about ¼ of a medium-sized onion should suffice.
This recipe calls for honey and thyme. I have made it without these, although I do prefer it with both. But, if you don't have either, you can omit and it will still taste good.
How to make the Via Carota green salad
To get started, give a rough chop to the romaine hearts, and frisee. The butter lettuce leaves should remain intact. Wash, and dry well, and set aside. Using a zester, grate the garlic clove. Alternatively, make garlic paste with your knife or a garlic press. Finely chop the shallot, and place it along with the garlic, into a mixing bowl.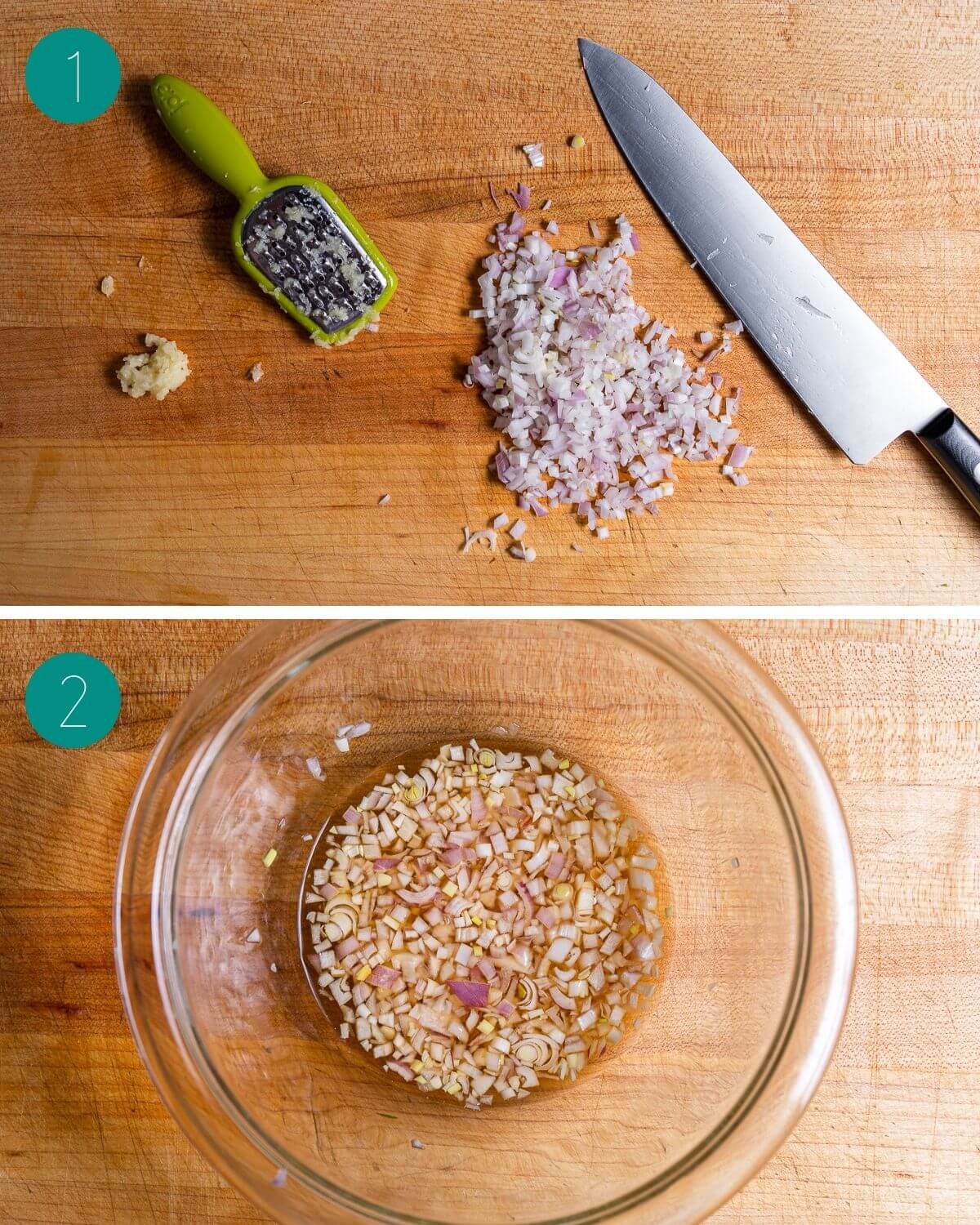 To the garlic and shallot mixture, add the sherry vinegar, and 1 tablespoon of warm water. Allow the shallots and garlic to sit in the water and vinegar mixture for several minutes - this will help soften the shallots.
Add the Dijon, honey, and dried thyme, giving the ingredients a mix. Slowly begin to drizzle the olive oil into the mixture while whisking to help emulsify. Taste the dressing and add salt and pepper, to taste.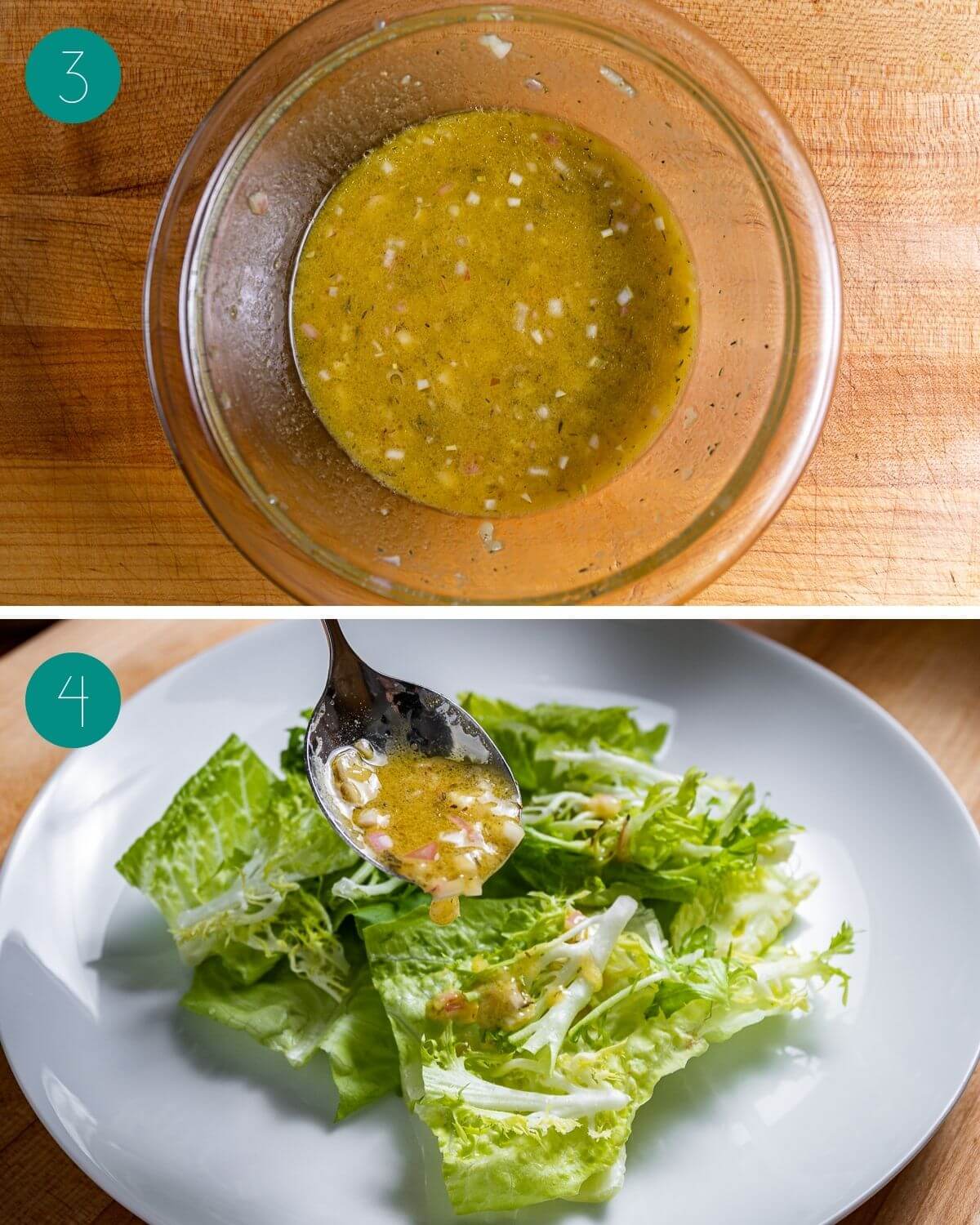 Begin to assemble the salad in layers. For example, lay down a few butter lettuce leaves, some romaine, and frisee, and then top with the vinaigrette before starting another layer. Continue this process until all the lettuce is used, and the salad is tall. Top with some freshly ground black pepper and serve immediately.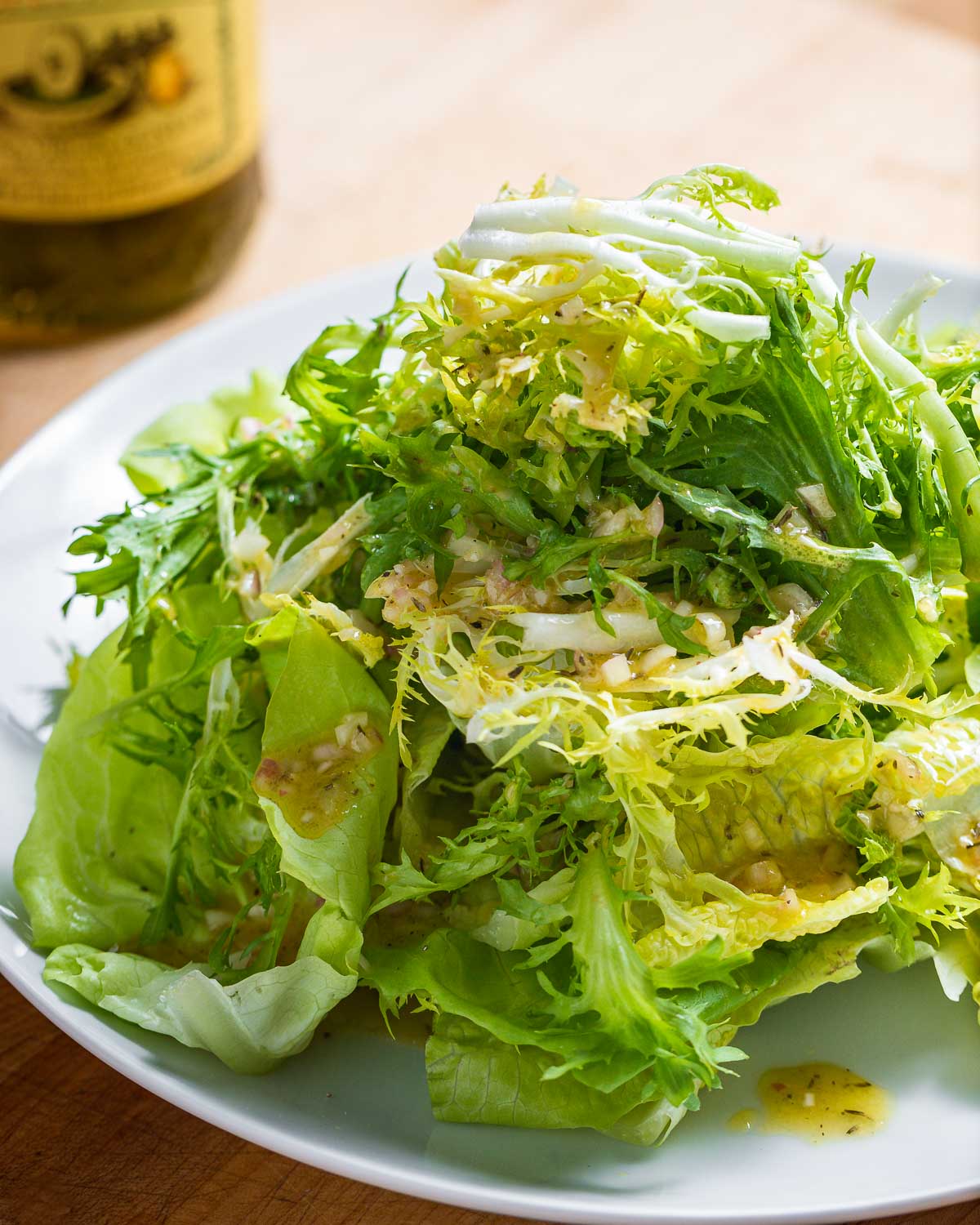 What to serve with the green salad
The better question, is what not to serve? This salad goes well with so many dishes.
It is the perfect light complement to pasta, such as bucatini cacio e pepe, or spaghetti carbonara.
It also works great with comforting potato gnocchi.
If I am making meat, such as grilled pork chops, grilled chicken thighs, or a seared ribeye steak, this salad is almost always making an appearance.
And of course, this is just about the best thing ever to serve alongside a pizza. I love taking the pizza crust and using it to sop up the extra dressing left on my plate.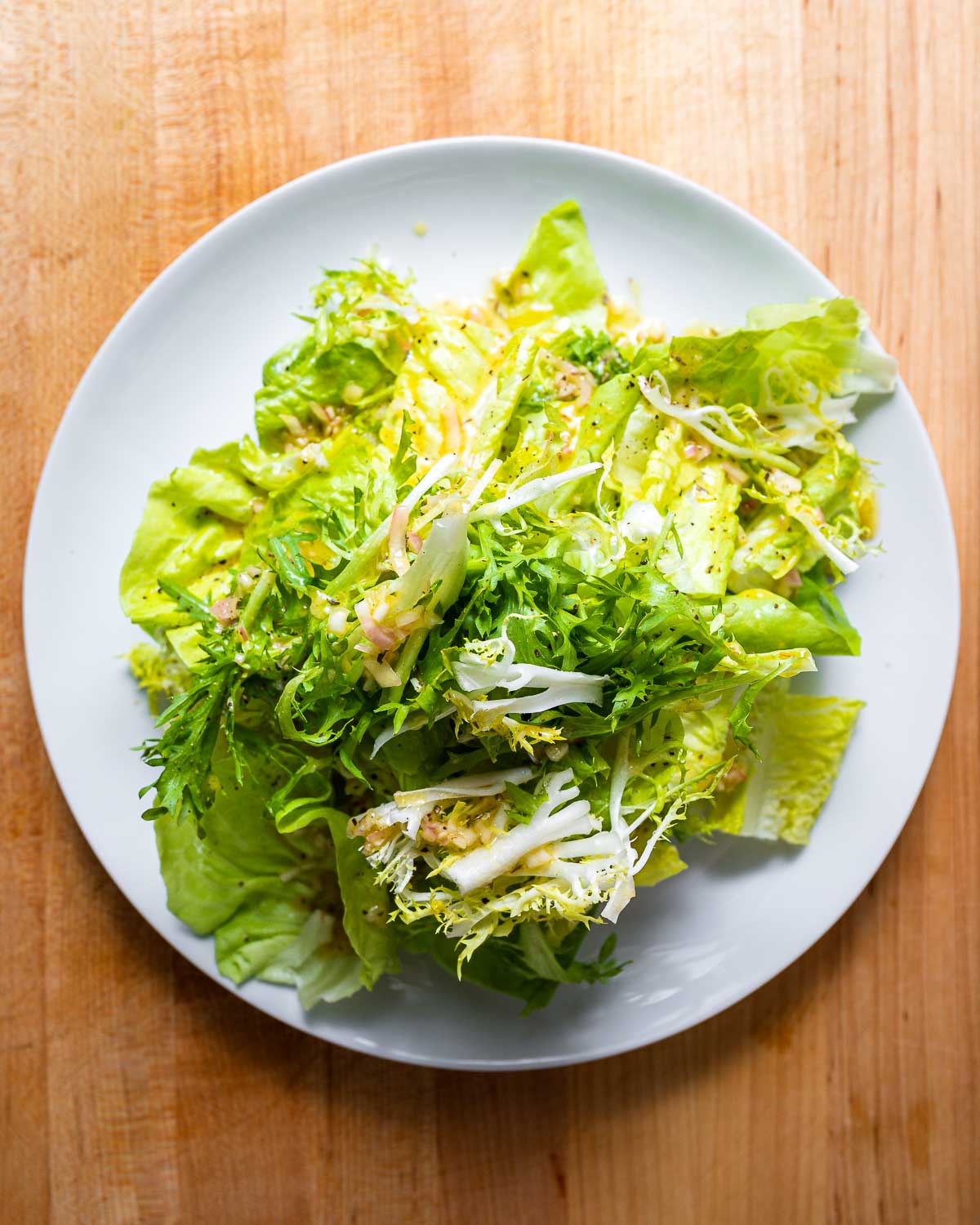 More epic salads
While the Via Carota salad is one of the most beloved in our home, we've also got a few others. We eat some type of salad almost every night and we like to change it up now and again. Here are just a few:
If you've enjoyed this Via Carota-inspired green salad recipe or any recipe on this site, give it a 5-star rating and leave a review.
Some people learn by watching. If you're that type of person, you can find most of our recipes on YouTube and our Facebook Page.
📖 Recipe
Ingredients
For the salad
1

head

butter lettuce

1

small

frisee

roughly chopped

2

hearts

romaine lettuce

roughly chopped
For the vinaigrette
1

large

shallot

minced

1

clove

garlic

grated or paste

3

tablespoons

sherry vinegar

1

tablespoons

warm water

2

teaspoons

Dijon mustard

1

teaspoon

honey

½

teaspoon

dried thyme

½

cup

extra virgin olive oil

1

teaspoon

salt

½

teaspoon

ground black pepper
Instructions
For the vinaigrette
To a mixing bowl, add the shallot, garlic, sherry vinegar, and warm water. Allow to sit for at least 5 minutes to soften the shallots.

Add the Dijon mustard, honey, and dried time and whisk until incorporated.

Slowly drizzle in the olive oil while continuing to whisk.

Add salt and pepper. Taste test and make any final adjustments to salt and pepper.
For the salad
On a serving platter, begin arranging the lettuces so a little of each is included.

Begin to spoon the vinaigrette over the first layer of lettuces.

Repeat until all the lettuce is used and there are multiple layers resembling a pile.

If desired, top with freshly ground black pepper and serve immediately.
Notes
The vinaigrette recipe is just enough for the amount of lettuce used in this recipe. If you'd like more, double the recipe. It is great to have on hand in case you'd like extra and it can last up to 3 days when stored in an air-tight container.
This recipe uses three different types of lettuce, but use what is available and most economical for you.
We used smooth Dijon mustard for the vinaigrette, but coarse ground mustard works well too.
Eat immediately so the salad is not soggy.
Nutrition
Calories:
246
kcal
|
Carbohydrates:
5.4
g
|
Protein:
0.9
g
|
Fat:
25.9
g
|
Saturated Fat:
3.6
g
|
Sodium:
588
mg
|
Potassium:
176
mg
|
Fiber:
0.9
g
|
Sugar:
2.7
g
|
Calcium:
12
mg
|
Iron:
3
mg