The Negroni is making a comeback of epic proportions. And why shouldn't it? Between its bitter orange and sweet vermouth flavors, it's basically Italy in a glass. Follow along as I show you how to make the best Negroni.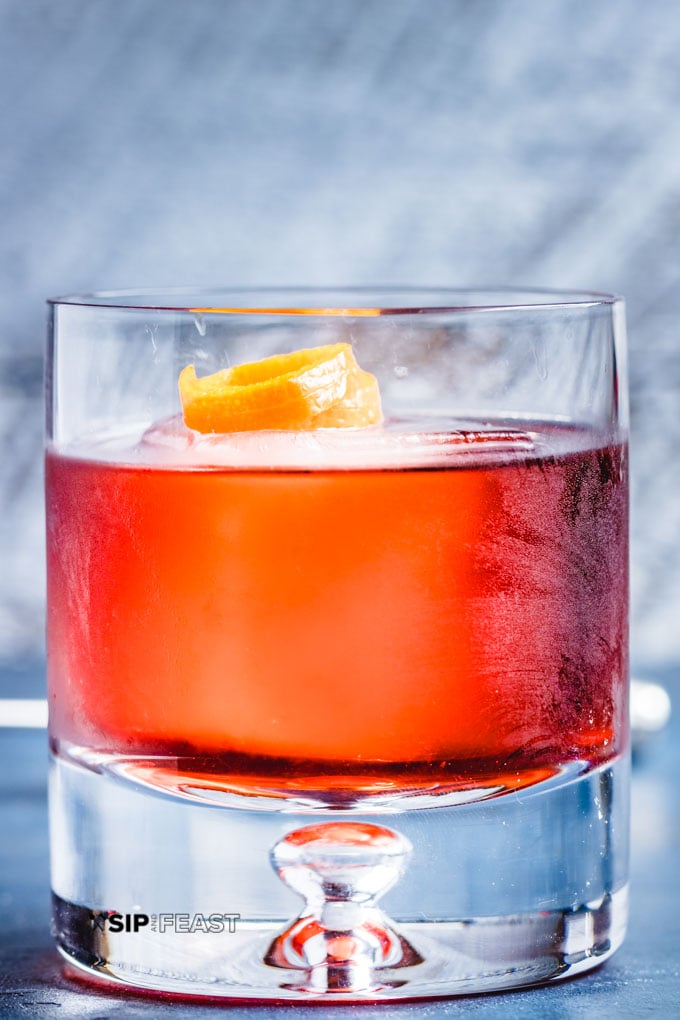 What Does A Negroni Taste Like?
I'll never forget the first time I had tasted a Negroni. Standing at the bar at my sister's wedding, I was celebrating the successful completion of my Maid of Honor speech with a gin and tonic, talking to my childhood (and adulthood) best friend whom I had not seen in over a year. When I asked him what he was drinking, he proudly proclaimed that this was a Negroni, his favorite drink, and insisted I take a sip.
Sure, it was a bit bitter, but in the most incredible way possible. And quite the contrast to my gin and tonic. This scarlet beauty of a cocktail also seemed to be a bit of an homage to my sister, who never one to follow conventions, elected to wear a ruby red wedding dress.
Since then, each time I drink a Negroni, I think back fondly to that night, that moment, my dear friend, and my sister in her glorious, cascading, Campari – colored gown.
Negroni Is A Classic Pre-Dinner Cocktail
There have been many variations on the Negroni throughout the years, each one substituting one or more of the ingredients to create another cocktail. The Tegroni substitutes tequila for gin; the Americano substitutes soda for gin; our Italian Margarita combines tequila, orange liquor, orange juice and Campari, sure to bring joy to any citrus fanatic.
But sometimes, when I find myself in the mood for a classic cocktail, nothing will do but the original – the best Negroni.
The equal harmonization of Campari, sweet red vermouth, and gin is delightful, and a wonderful precursor to any meal. I am partial to serving this before a classic Italian meal and found that this provides a great segue to pizza, such as our roasted garlic white pizza, or our Italian beef braciole.
But really, I could drink this before, during and after any type of meal and my taste buds will still want to be my BFF.
The Best Negroni Process:
The best Negroni, is a simple drink to make once you have all the ingredients: Campari, sweet red vermouth, and gin. An orange peel adds a nice touch as a garnish, but also functions as a wonderful and fragrant nod to the Italian peninsula, which is where this drink originated.
Any good gin can be used, but I love using Hendrick's for my Negronis. I haven't experimented much with other sweet red vermouths, but have found that Stock and Martini & Rossi have both worked well.
Start by adding the Campari, vermouth and gin to a cocktail shaker. Add some ice and stir until combined.
Strain and pour over fresh ice in a glass. I prefer to use a rocks glass for the best Negroni experience possible.
Finish by adding an orange peel or wedge to garnish.
That is all friends; it really is that simple to make the best Negroni.
Cheers, or as they say in Italy, Cin cin!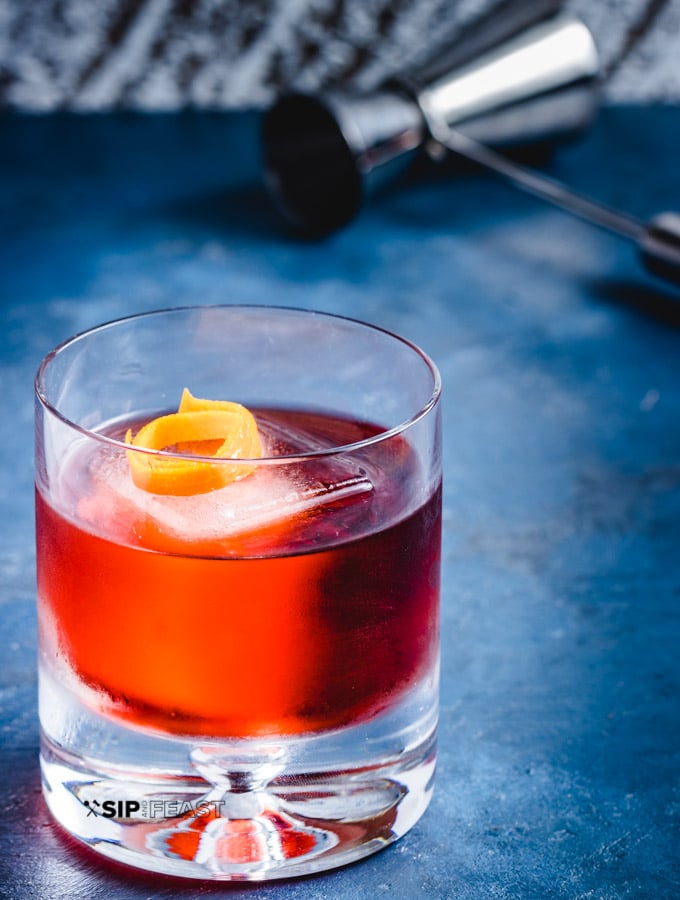 Great Food Pairings:
DID YOU TRY THIS RECIPE?
Give it a star rating.
If you like this Negroni recipe we would really appreciate it if you would share it on Instagram or Facebook using #sipandfeast.
We would love to know how you did and it's nice to show others as well. Thanks!
Follow us on Instagram, Pinterest, and Facebook. Sign up to receive great recipe ideas in your inbox.
How To Make the Best Negroni
This classic and simple cocktail requires just a few ingredients, and is ready in no time.
Ingredients
1

oz

Campari

1

oz

Gin

1

oz

Sweet red vermouth

1

peel

Orange
Instructions
In a cocktail shaker, combine the Campari, gin and sweet vermouth.

Add ice, and stir until combined.

Strain and pour over ice.

Garnish with an orange peel, or orange wedge.
Nutrition
Calories:
200
kcal
|
Carbohydrates:
16
g
|
Sugar:
14
g
Nutrition information is automatically calculated, so should only be used as an approximation.