Do you love Negronis but want to change it up a bit? This Grapefruit Gin Cocktail does just that using the flavors of the classic Negroni as its base with the addition of some fresh squeezed grapefruit juice.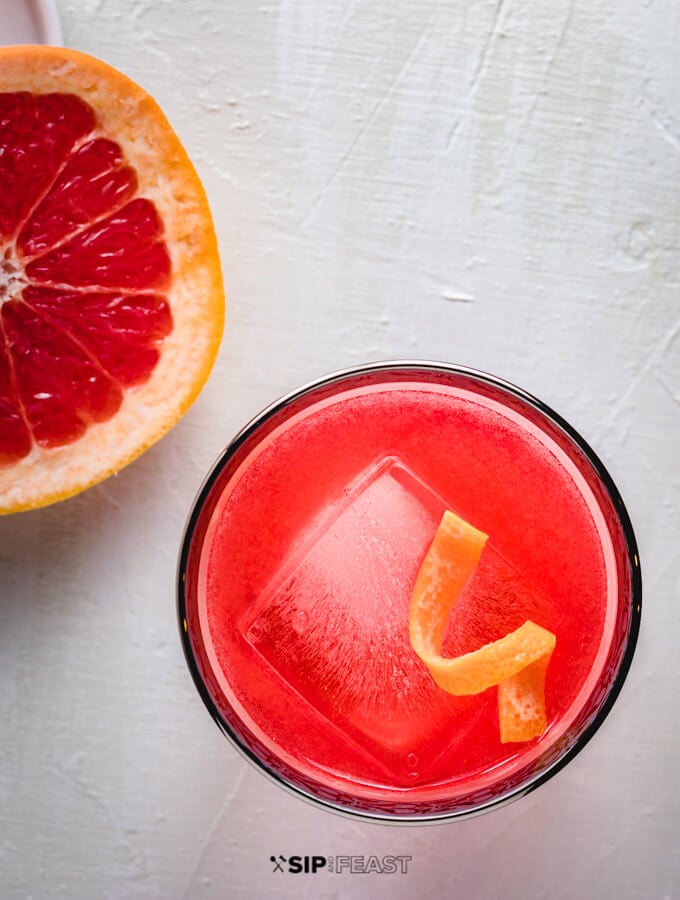 Mixed Drinks with Grapefruit Juice
I have always been a huge fan of grapefruit juice. Growing up, my parents always had orange juice in the house and drinking it was mandatory at breakfast.
I always found it to be too sweet, so whenever I was able to get my hands on some grapefruit juice, that was what I would drink.
Even as a child, the bitterness of the grapefruit appealed to my palate. Naturally, as an adult, I love making mixed drinks with grapefruit juice.
This gin and grapefruit cocktail was obviously inspired by the classic Negroni, but I wanted to add some freshness to it. The grapefruit juice was the perfect accomplice for the job!
More Grapefruit Juice Cocktails
So we know my love of grapefruit has inspired this grapefruit gin cocktail, but is has also inspired some other cocktails that we've shared with you at Sip and Feast.
The Grapefruit Mint Margarita is one of my absolute favorites! It's refreshing and the perfect companion to any dishes inspired by the flavors of Mexico.
Our Italian Margarita recipe calls for fresh squeezed orange juice, but you could easily use grapefruit juice in its place, although you may need to add some simple syrup if too bitter.
And this Bellini recipe uses the addition of Ketel One's Grapefruit Rose vodka to give the classic a run for it's money.
What are your favorite grapefruit cocktail combinations? Drop us a line below and let us know!
What Should I Pair With The Grapefruit Gin Cocktail?
One of my favorite combinations of food and drink, is pizza (or anything with red sauce) and Pellegrino Aranciata, Orangina, or even Orange Fanta.
This combination reminds me of one of the best pizza experiences I had.
My first night vacationing in Sicily, hungry and exhausted from travel/jet lag, I wandered into a tiny pizzeria and ordered a slice of eggplant pizza and an orange Fanta. The pizza was divine, and each time I replicate that combination, I am reminded of that meal.
At Sip and Feast we believe that food enhances drink, and drink enhances food. There is definitely a symbiotic relationship between the two!
Some of our recipes would pair perfectly alongside, or following this Grapefruit Negroni.
What are your favorite drink and food combos? Let us know in the comments below!
How To Make the Grapefruit Gin Cocktail:
I will preface this by saying, this is a bitter cocktail. There is nothing sweet about gin and grapefruit, especially when you add Campari. So you may need to add a little extra simple syrup if this is too bitter for you.
I love bitter drinks, especially as a precursor to a meal, but that's just me!
Gather your ingredients - you'll need grapefruit juice - fresh is better, but bottled is ok too. Gin, Campari, some simple syrup and of course ice!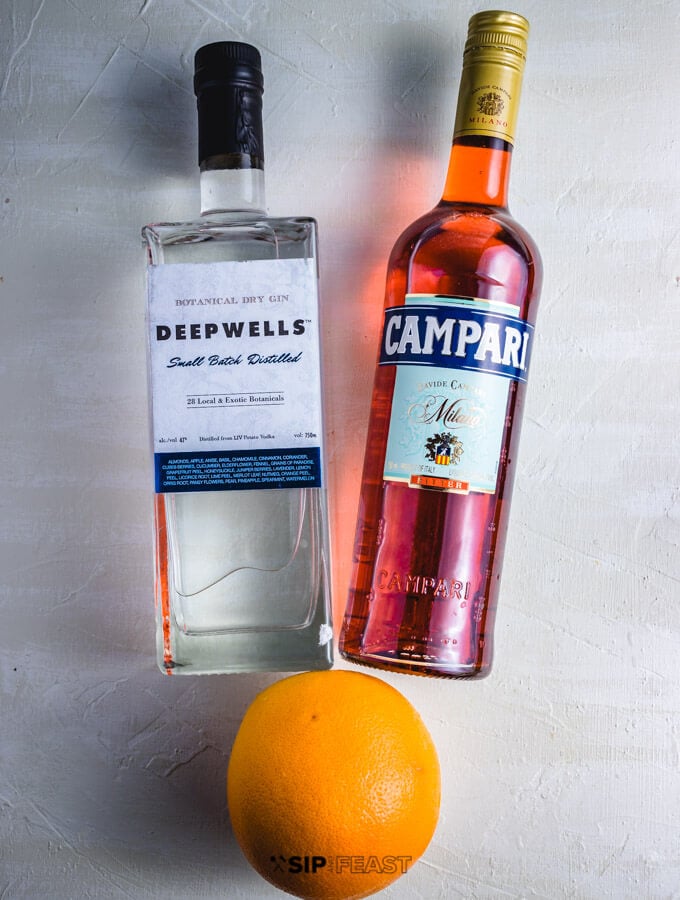 I used Deepwells Gin this time around but any gin will do. If you don't have Campari, you can use Aperol as a substitute.
Grapefruits vary in sweetness/bitterness so be mindful of this and adjust the simple syrup according to your taste.
Combine the grapefruit juice, gin, Campari, ice and simple syrup in a cocktail shaker and shake vigorously for 20 seconds or so.
Strain and pour over ice.
Garnish with a grapefruit twist or wedge.
It's that easy!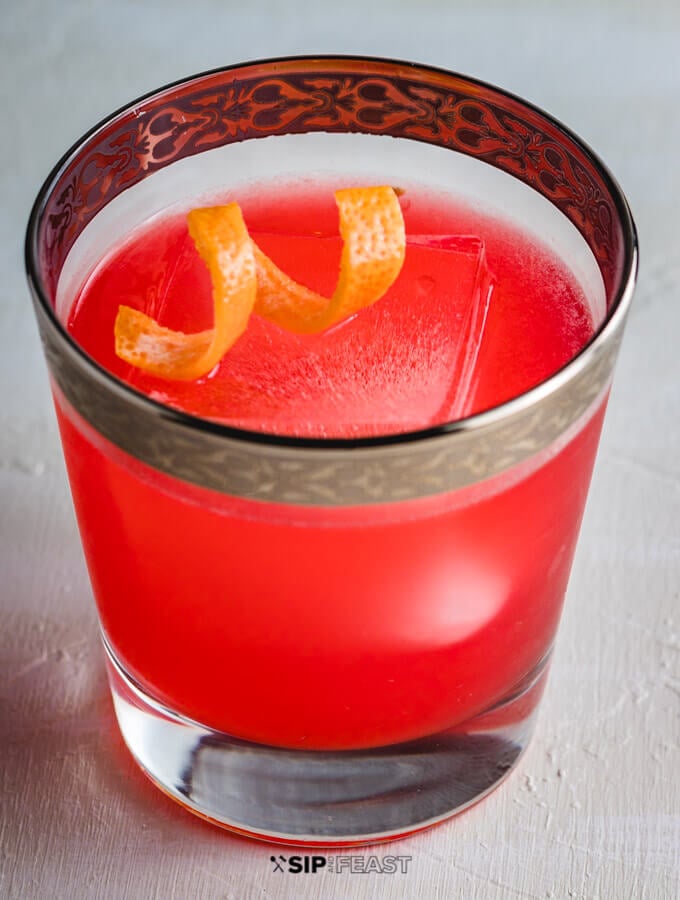 This drink is delicious, a little bitter, and 100% refreshing! Enjoy it before or with a meal!
If you've enjoyed this Grapefruit Gin Cocktail or any recipe on this blog please let us know in the comments! We would love to hear how you did and it's nice to show others as well. Thanks! FOLLOW US on Instagram, Pinterest, and Facebook.
📖 Recipe
Ingredients
1

oz

Gin

1

oz

Campari

2

oz

Grapefruit Juice

1

tsp

simple syrup (+/- depending on how sweet you like it)

1

cup

ice
Instructions
In a cocktail shaker, combine gin, Campari, grapefruit juice and simple syrup.

Add ice and shake vigorously for 20 seconds.

Strain and pour over fresh ice.

Garnish with a grapefruit twist or grapefruit wedge. Enjoy!
Nutrition