Beef Braciole is Italian comfort food at it's best!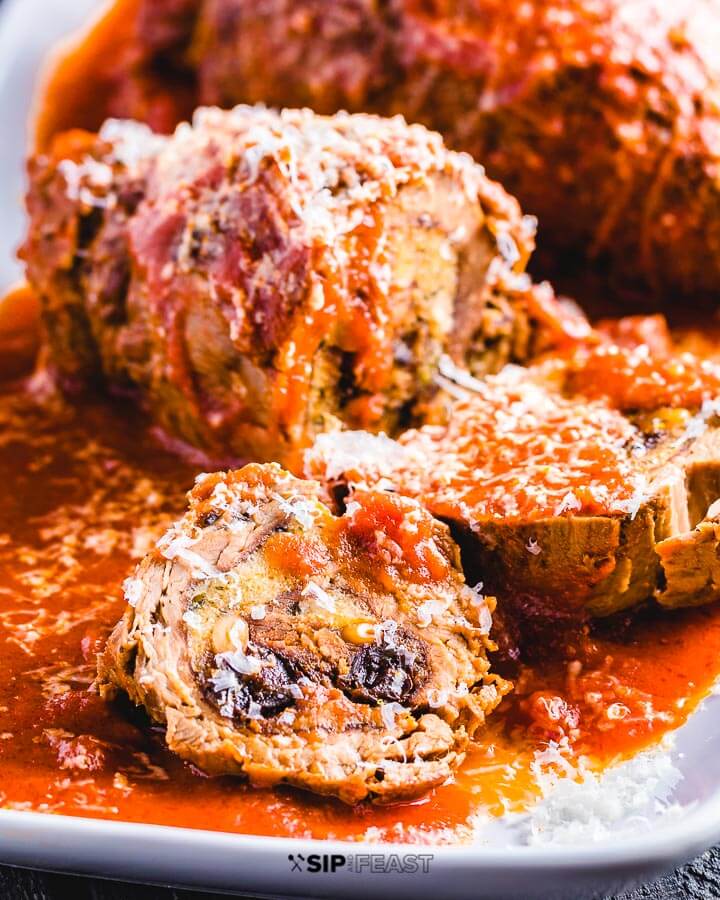 It is an Italian rolled meat dish that is both savory, and a little sweet, making it the perfect comfort food.
Some Italian Beef Braciole info:
1. It is an Italian rolled beef dish often stuffed with cheese and breadcrumbs.
2. Typically associated with Italian-American cuisine as well as Sicilian, although in Sicily it is referred to as involtini.
3. Anecdotally, not a mainstream dish.  I grew up in Long Island, NY where there were was an over abundance of Italian restaurants and people; It's rare to see beef braciole in a restaurant.
4. Excellent Sunday sauce addition.  Just add the braciole to the sauce and let it cook and get nice and tender.
5. Pine nuts (or pignoli), raisins, basil, parsley, cheese, garlic, hard boiled eggs, cured meats, and breadcrumbs are some of the ingredients that can be used for the braciole filling.
6. Flank steak or, even pork cutlets can be used for braciole.
What To Serve With Braciole?
Definitely a nice glass of Italian red wine.  A Chianti or Brunello would be excellent.  I also love Amarone Wine.  It's a special occasion wine for us due to the price but it's so good.  The raisiny flavor of the Amarone goes so well with the beef braciole.
These full bodied red wines pair excellently with the heartiness of this Sicilian braciole recipe.
As far as foods go – pasta!  Make a huge pot of sauce and cook the beef in it all day long.
The braciole gets better the longer it cooks and it imparts such a nice flavor to the sauce – it's a huge win both ways!
Serve that amazing sauce on top of some nice pasta like linguine or rigatoni and it's just perfect.
Don't forget the Italian bread and the grated Parmigiano-Reggiano or Pecorino cheese.  I love both of these Italian cheeses.  I especially like Pecorino because it's much more affordable.
For a side our Italian Roasted Peppers Recipe would go great with this dish.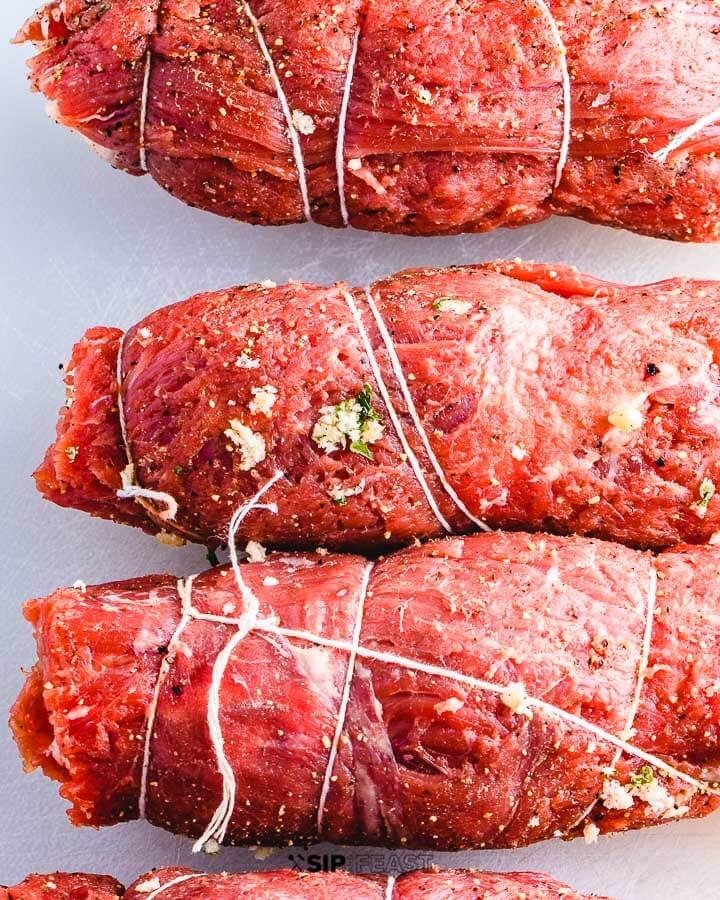 The Beef Braciole is all tied up and ready to be pan seared.
This dish is similar to our Red Wine Braised Short Ribs and Brasato Al Barolo.  Both require the meat to be slow cooked in sauce to get nice and tender.
Flank steak is versatile and can be cooked many different ways, but for this dish, braising it takes some time.
I recommend 2-3 hours.  Don't go nuts because it will break apart after about 6 hours.  This would be great to put in a "Sunday Sauce" which is usually started early in the morning, and consumed late afternoon with a hearty Italian red, and most importantly, beloved family and friends.
And, if you are looking to incorporate more hygge into your life, beef braciole epitomizes the concept that the more time and love you put into a dish, the more hyggely it becomes, albeit in a slightly less Danish way.
Basically after stuffing them with the braciole filling, searing, and placing them in the sauce it's a waiting game.
Just let them cook in the sauce – stirring occasionally – they will be amazing!
15 minutes or so to sear them on all sides. They look so beautiful already, but will only get better after 2-3 hours in a pot of sauce.  Can you speed this up?  Probably, but some foods like braciole or meatballs just get so much better as a result of being cooked in a pot of sauce for a few hours.  And, a little delayed gratification never hurt anyone.
Here they are in all their glory.  Grated Parmigiano-Reggiano or Pecorino finishes the dish.  You will want to make a whole Italian meal out of this.  Meatballs, sausage, and a nice plate of pasta with some crusty Italian bread would surely be welcome additions.  Enjoy!
Check out these other Italian dishes:
Also the drink pairings:
Did you try this recipe?
Give it a star rating.
Italian Beef Braciole
Total Time:
3
hrs
30
mins
Print
Pin
Rate
Ingredients
1.25-1.5

pound

flank steak

3

Tbsp

pine nuts

1/2

cup

chopped parsley

1/2

tsp

pepper

1

tsp

kosher salt

1

cup

breadcrumbs

2

Tbsp

garlic paste

3

Tbsp

raisins

3

Tbsp

olive oil

1/2

cup

grated parmigiano reggiano

1

roll

kitchen twine
Instructions
Pound out flank steak into 4 equal pieces roughly 1/4" thick. Using plastic wrap on bottom and top of meat makes it easy to flatten meat and avoid a mess. A good size for the meat is 5" by 7". This allows for an easy roll up and ability to tie them up like in the picture.

Arrange the 4 pieces of meat out on a cutting board and spread a 1/4 of the garlic paste on each piece. Next, sprinkle them with salt and pepper.

Then sprinkle 1/4 of the breadcrumbs, raisins, cheese, parsley, and pine nuts onto each piece.

You should have a thin layer of the mixture on each of the 4 pieces. Roll them up tightly and tie kitchen twine around them to keep them together. Don't be shy with the twine, it will all be taken off before the meat is served. Toothpicks can also be used.

Heat a large pan on medium heat with olive oil. Sear the pieces on all sides, turning them every 2 minutes or so to brown them nicely. The whole frying process should take roughly 10-15 minutes.

After the braciole is fried, add to pot of sauce and cook them for 2-3 hours.

Remove braciole from sauce and cut away twine with knife or kitchen scissors. Serve with grated parmagiano reggiano, bread, and pasta for a complete meal. Enjoy!
Notes
Beef Braciole are a family favorite.  This recipe is just one of many ways I have prepared them.  Sometimes I will place slices of of prosciutto and provolone in them and skip the pine nuts and raisins.  Other times a little basil and chopped hard boiled egg are used.  As you can see, they can be made many ways.  As long as they are seasoned correctly and cooked in the sauce long enough they will be delicious!
Nutrition
Calories:
390
kcal
|
Carbohydrates:
30
g
|
Protein:
50
g
|
Fat:
13
g
|
Sodium:
550
mg
Please share this beef braciole recipe on Instagram or Facebook using #sipandfeast, to let us know how you did and to show others as well.  Thanks!
Follow us on Instagram, Pinterest, and Facebook.  Sign up to receive great recipe ideas in your inbox.