Chicken parmigiana, also known affectionately as chicken parm, or chicken parmesan, might be the most well known and widely requested Italian-American dish, at least in the New York metro area. And for good reason. Who can resist perfectly fried chicken cutlets dressed in tomato sauce and topped with melted mozzarella and plenty of Parmigiano Reggiano cheese?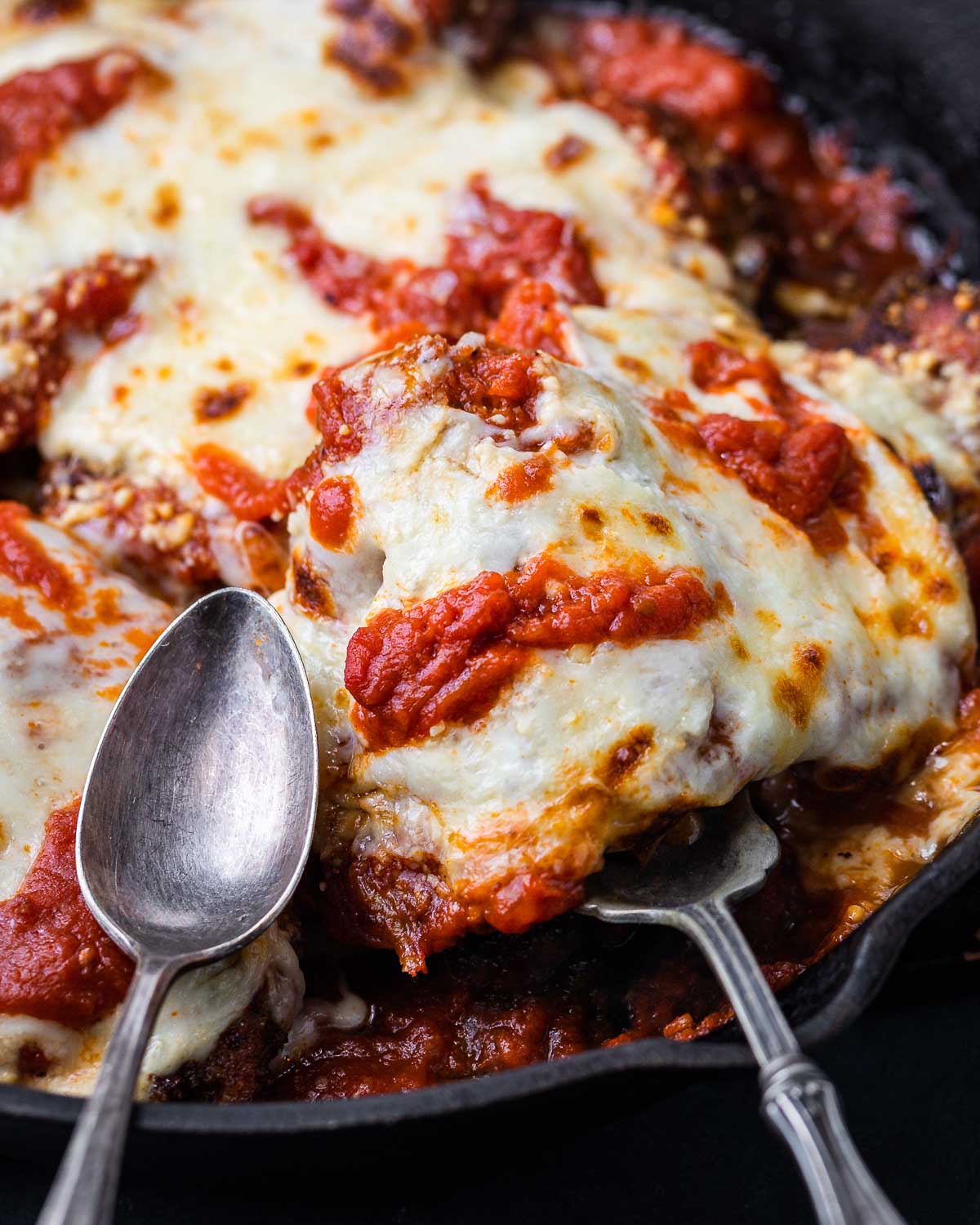 Growing up in Long Island, I took for granted how readily accessible chicken parmesan was.
It could always be found in some way, shape, or form in so many different types of eating establishments: Italian restaurants, delis, diners, and yes, even some fast-food chains have tried their hand at chicken parm.
Almost every catered event I have ever attended included a tray of chicken parm.
Why is chicken parm so popular? Simply put, it's just that good.
And it's versatile. Chicken parmigiana can be eaten by itself, with a side of pasta, on top of regular New York pizza and Grandma pizza or one of my favorite ways, in a hero/hoagie/sub/grinder/sandwich.
My chicken parm recipe is easy to follow, and the numbered instructions below will walk you through the entire process.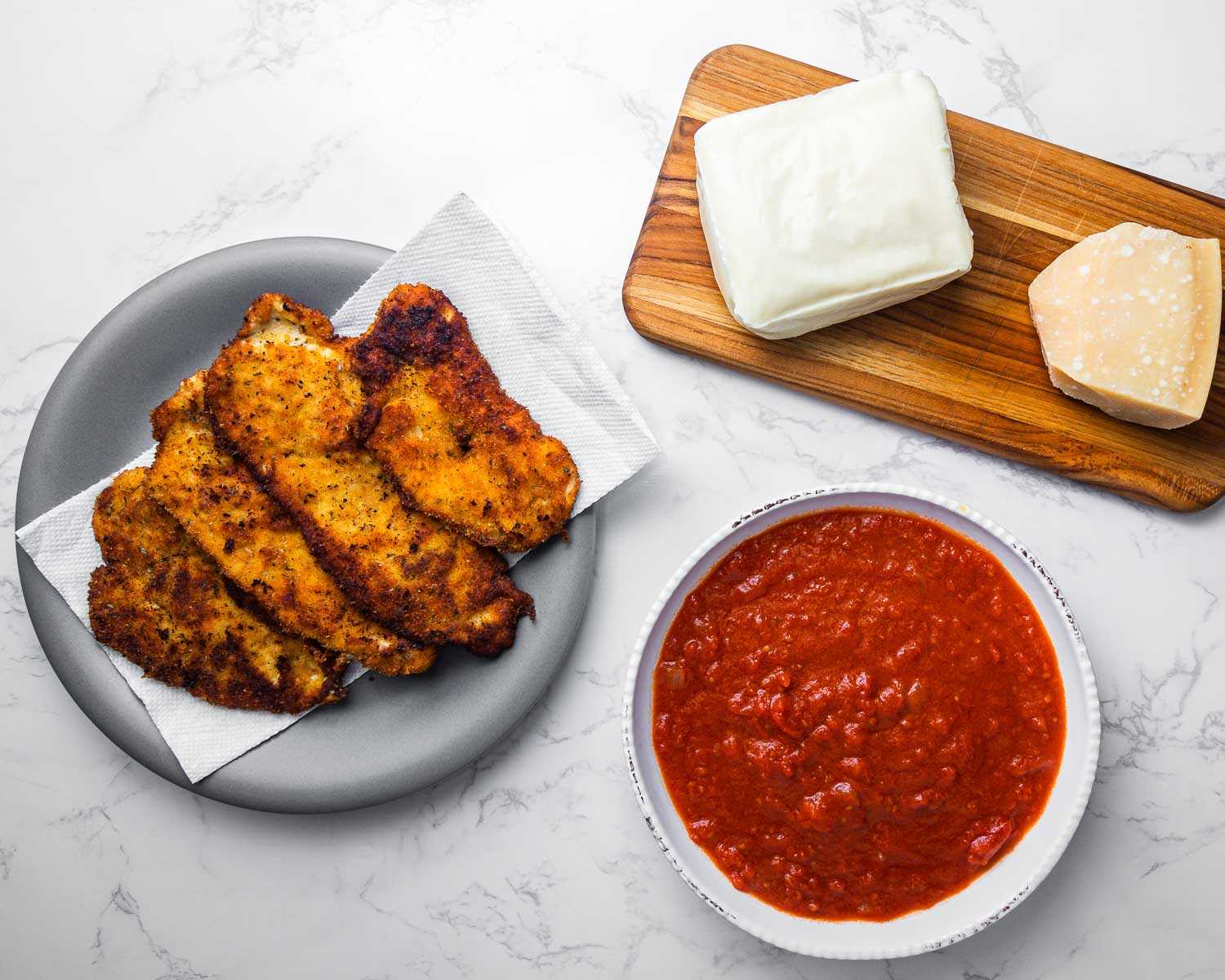 How to make the sauce
Note: This recipe uses this 15-minute marinara. Feel free to use your own sauce or store-bought sauce.
Slice or mince 5 cloves of garlic. If you want more garlic, go for it!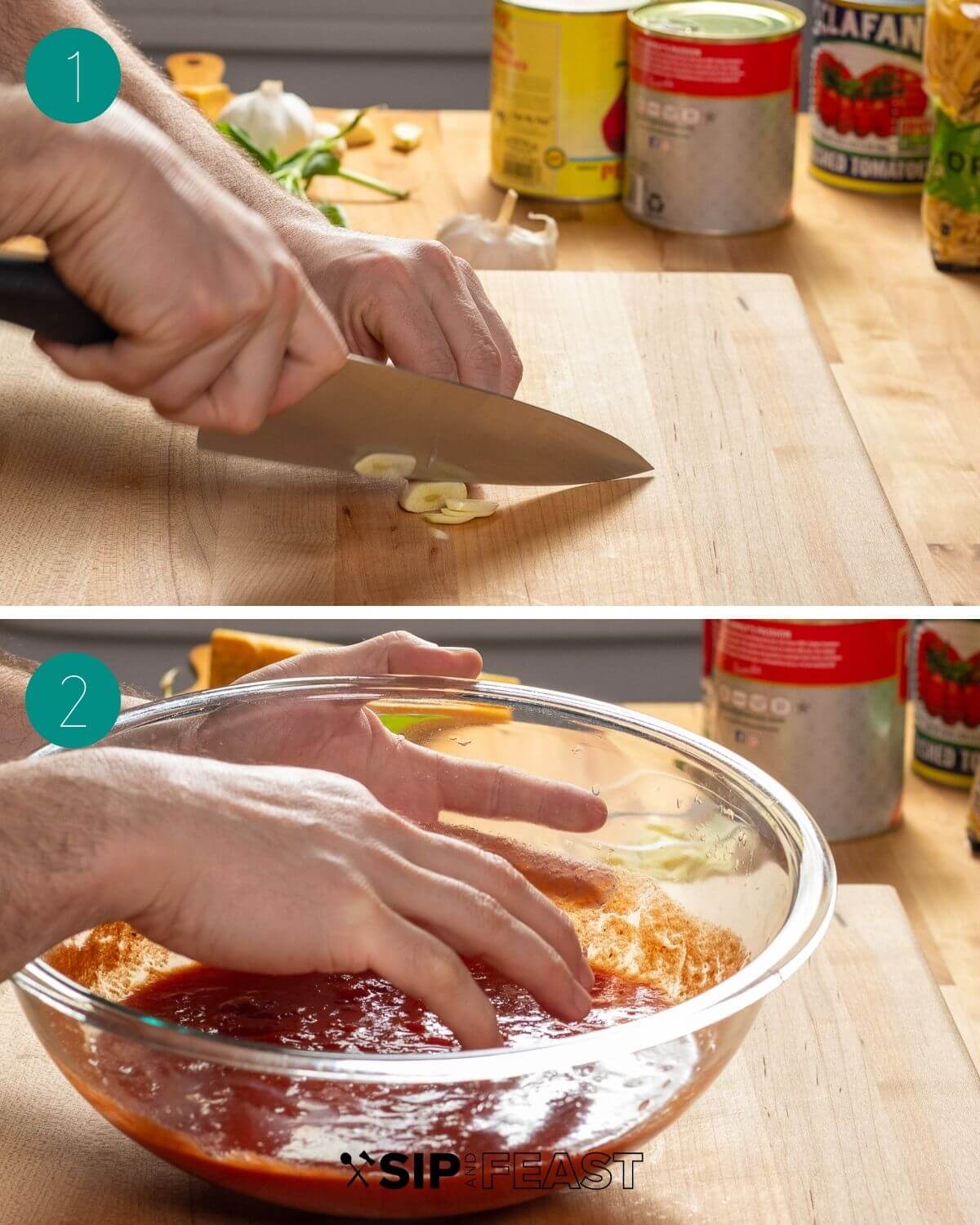 You can use whole plum tomatoes or high-quality crushed tomatoes. If using whole plum tomatoes, hand crush them as shown above or blender pulse for 2 seconds. Use 1 standard American can of tomatoes (28 ounces).
Heat a large pan to medium-low heat for 2 minutes, then add in a ¼ cup of olive oil. Toss in the garlic and saute until lightly golden (about 2-3 minutes).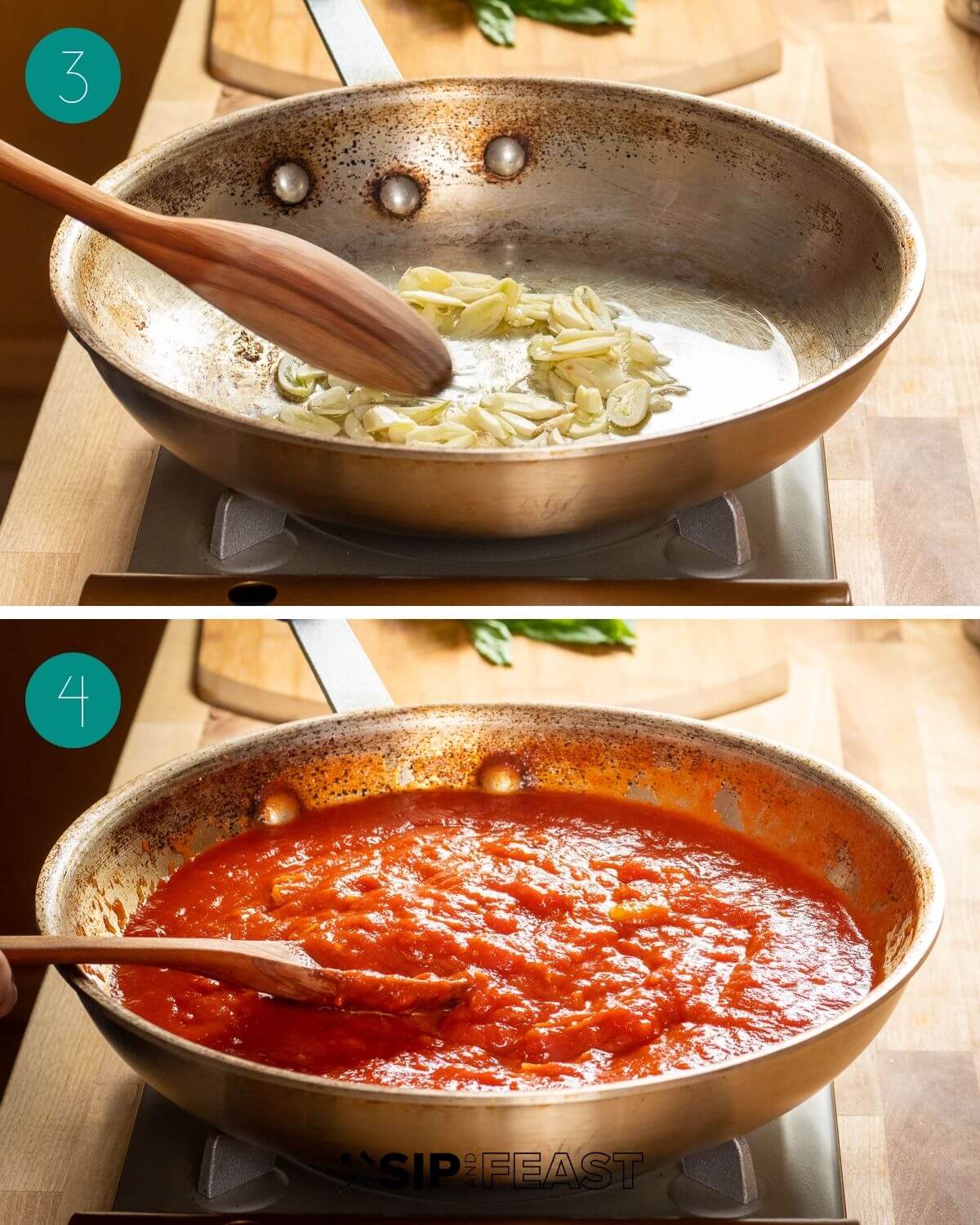 Add in the plum tomatoes and bring the sauce to a gentle simmer. Let the sauce cook for 10 minutes or so and taste test it. Adjust salt and pepper to taste. If you like dried oregano or fresh basil add it in now. Remove the sauce from the heat, set aside, and move on to the chicken prep below.
How to make the cutlets for chicken parm
Note: This recipe uses our chicken cutlet recipe. If you have cutlets already made, or storebought, just skip this part.
Begin by preparing a frying station consisting of thin-sliced (preferably pounded out to a ¼ to ⅜" thick) cutlets, a bowl of salt and pepper seasoned flour, a bowl of beaten eggs and, a bowl of seasoned breadcrumbs.
Dredge the cutlets in flour and shake off the excess.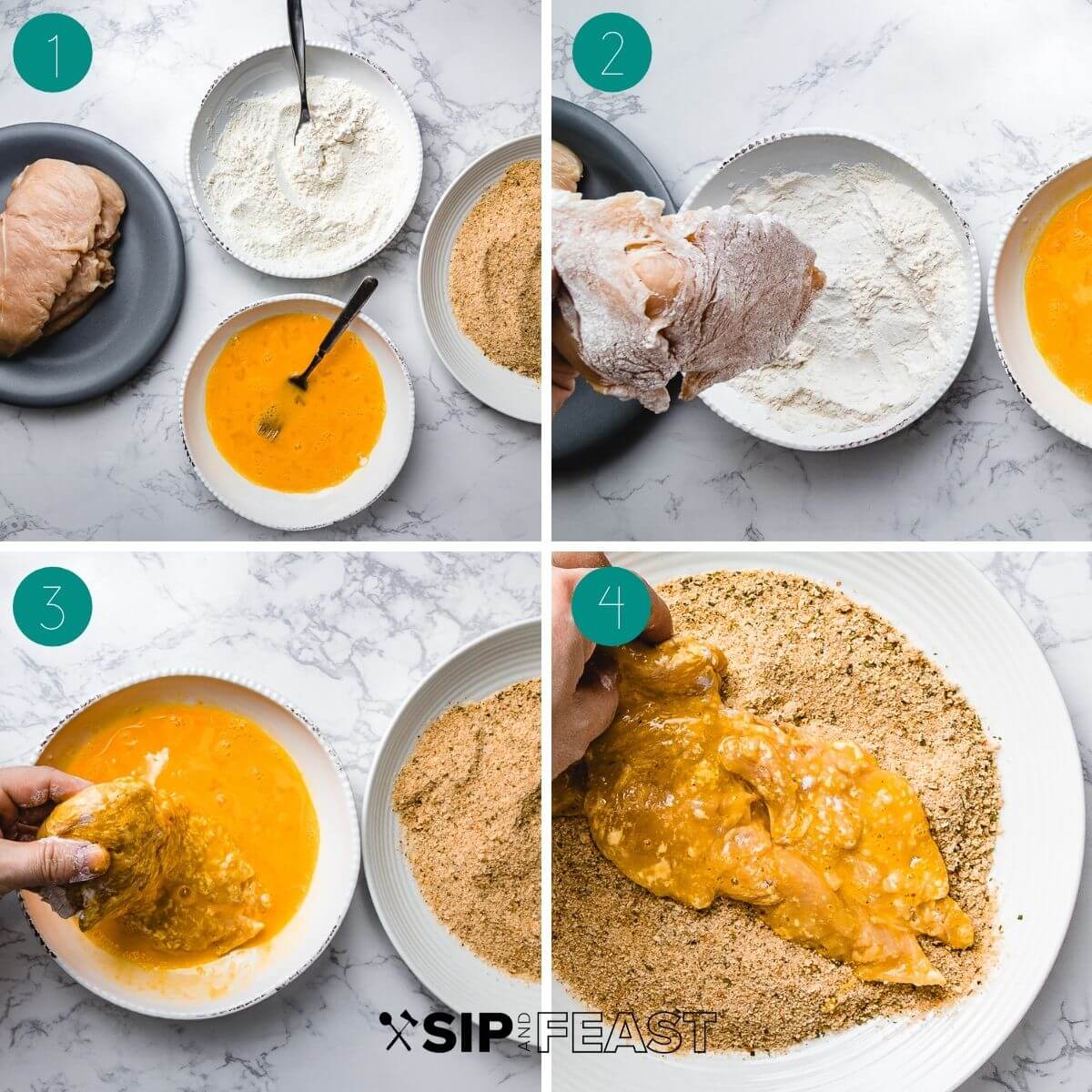 Place the floured cut into the eggwash and drip off any excess.
Finally, coat the cutlet in the breadcrumbs on both sides. Place the prepped cutlets on a parchment paper-lined baking sheet for easy frying in the next step.
Heat at least 1" of olive oil or vegetable oil in a heavy pan. A cast iron or dutch oven works great. When the oil reaches 350-370f begin frying the cutlets by gently lowering them into the oil.
Work in batches to not overcrowd the cutlets and to allow easy flipping.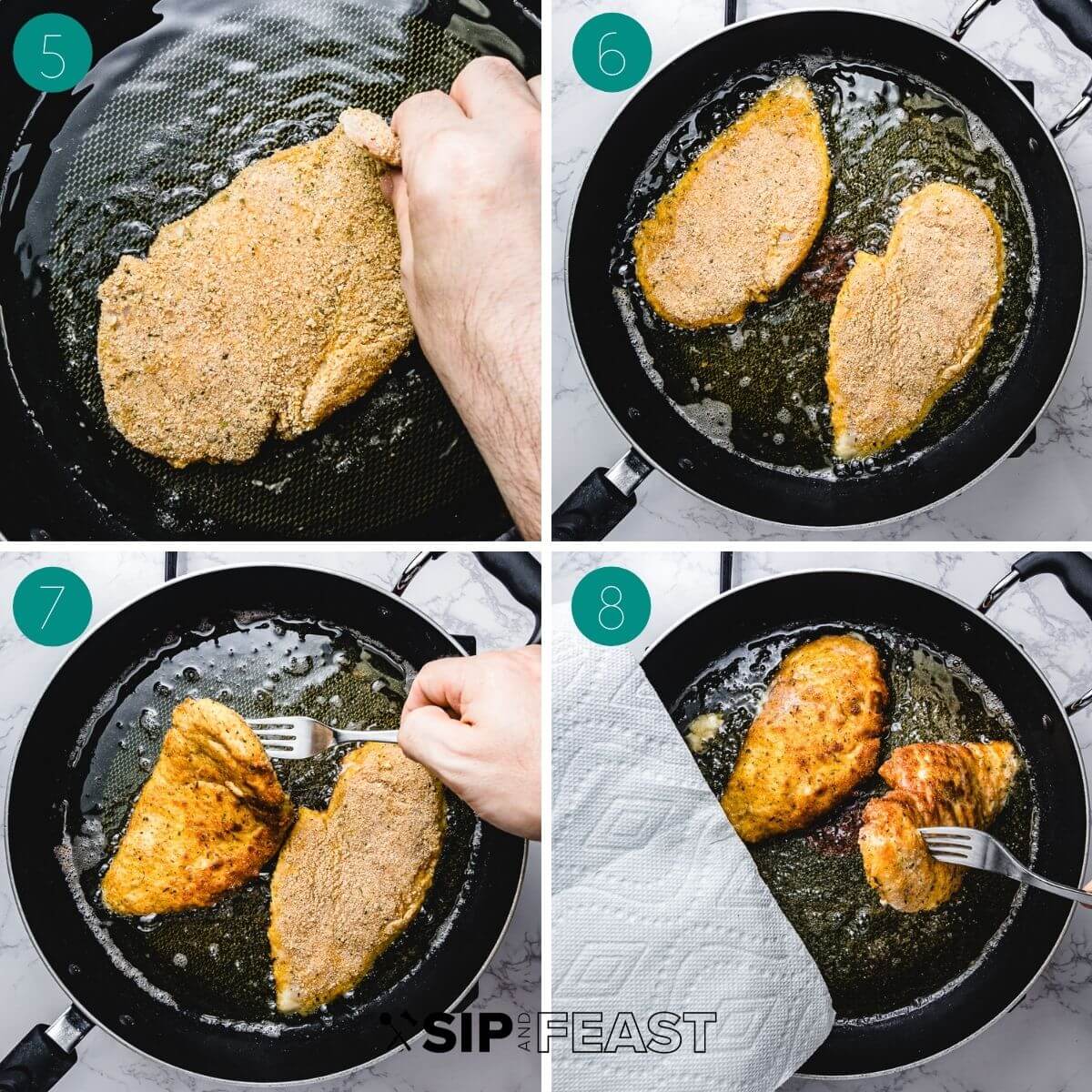 Cook the cutlets for 3 minutes per side.
You can place the cutlets on paper towels or if you want to keep them crispier, place them on a wire rack.
How to make chicken parmigiana (parmesan)
Note: Chicken parm can be prepared with sauce on the bottom like shown below or with the sauce just on top of the chicken cutlets to keep them more crispy as I demonstrated in this chicken parmigiana YouTube video. The choice is yours!
Preheat the oven to 400f. If you are opting to prepare your chicken parmesan with sauce, begin by adding marinara sauce to the bottom of a baking dish, or oven-safe pan. I used a cast iron pan for my pictures below, but a baking or casserole dish would work better. Note: It's recommended to not use acidic sauces (like tomato sauce) on cast iron because it can remove the seasoning. Grate the mozzarella and parmesan cheese and set aside.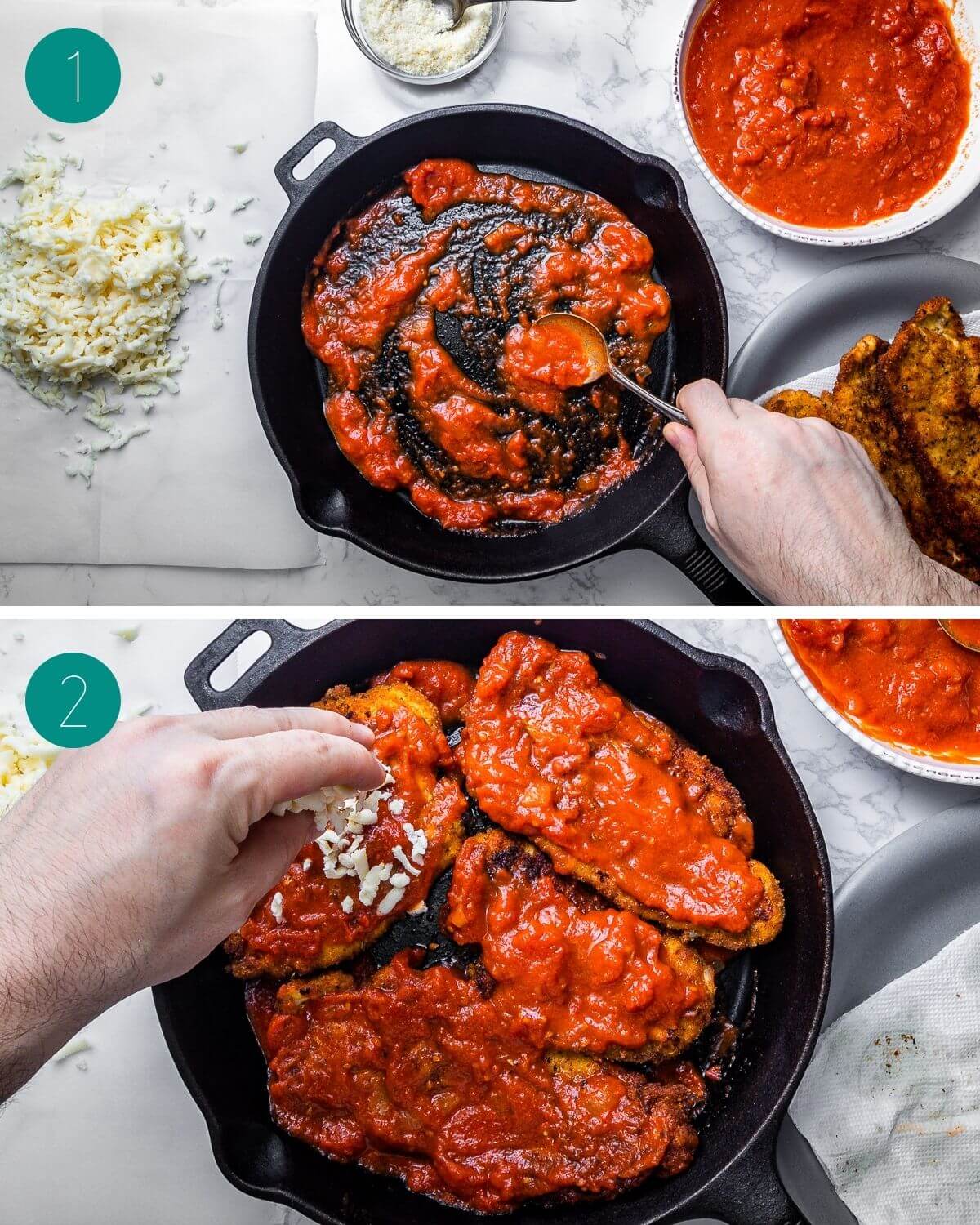 Add the chicken cutlets to the pan and top with more sauce.
Top the chicken cutlets with the grated mozzarella cheese.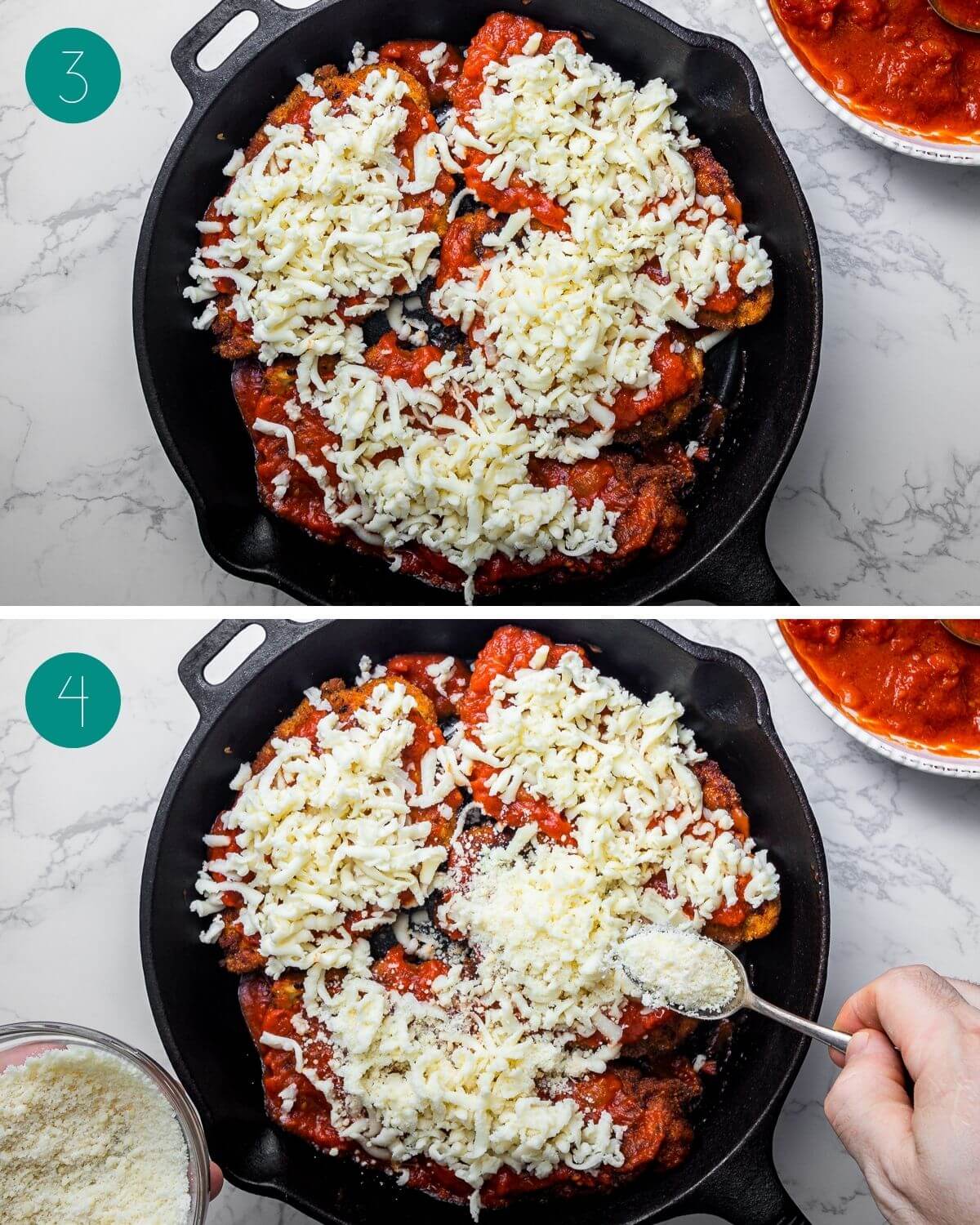 Sprinkle about half of the parmesan cheese on top and place in the oven. Depending on the state of your cutlets, the cook time will vary. If you previously made the cutlets or bought them from the store, they may be cold if they have been in the refrigerator. If they are cold, they will need to bake for 12-15 minutes to heat them through. If you just made the cutlets and they are still warm from being fried, they will only need to bake for ~5 minutes. Once they are hot, turn on the broiler and broil them for 30-60 seconds to melt and lightly brown the cheese. Be careful to keep a close watch so they don't burn. Remove from the oven and sprinkle with the remaining parmesan. Serve with some extra sauce on the side and enjoy!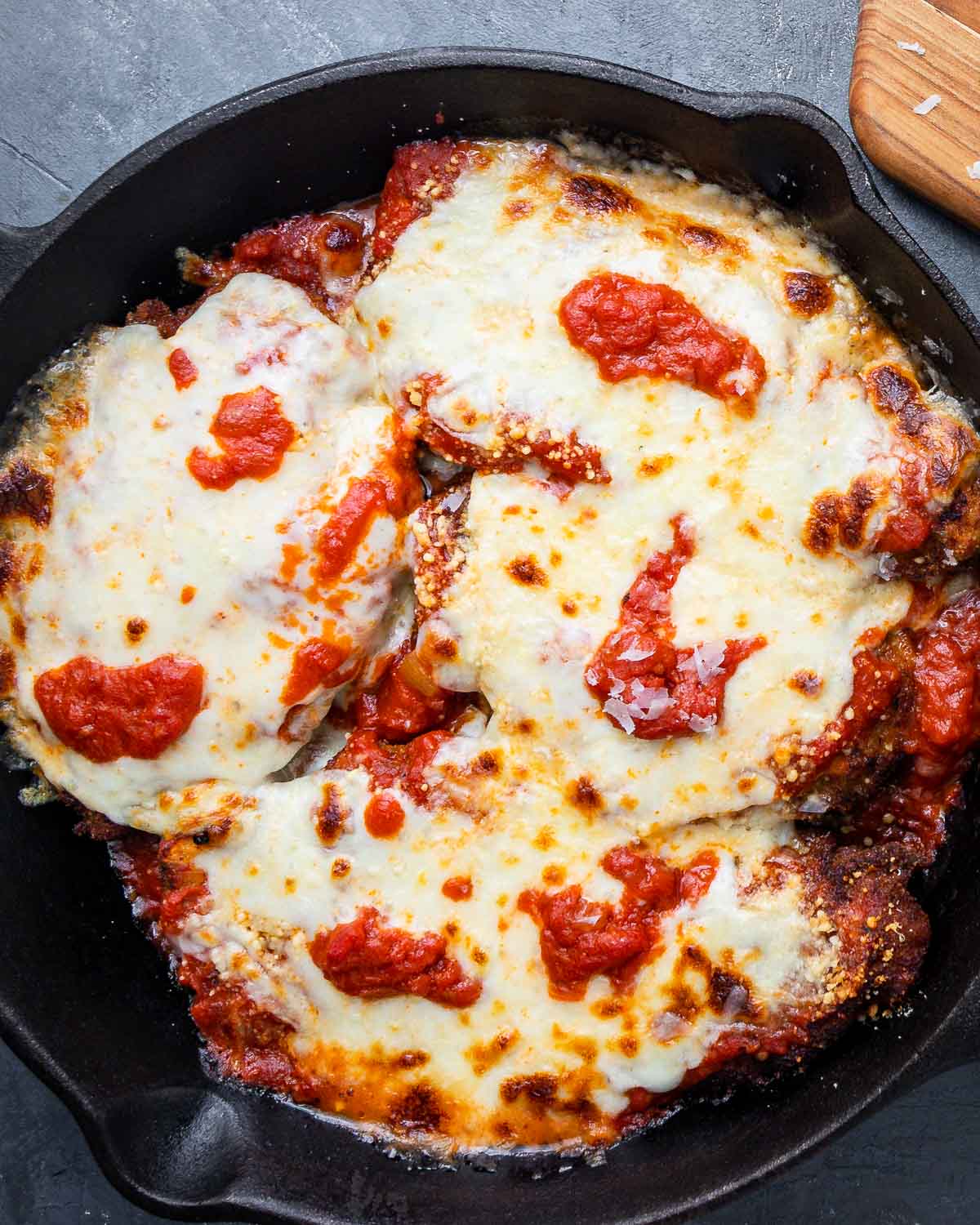 Sauce level for the perfect chicken parmigiana
The perfect sauce level for chicken parm is entirely up to the person making it or eating it.
Some people prefer their chicken parm to be crispy and with minimal sauce. If that is how you like it, opt for using a cookie sheet and saucing only the top of the chicken cutlet, as shown below.
If you like your chicken parm saucy, definitely throw a layer of sauce down so the chicken cutlets are sauced on both sides.
Pro tip: To make the best chicken parmigiana sandwich, or hero, go heavy on the sauce. The bread will soak up some of the sauce so it is good to over sauce the cutlets if you know they're going to wind up in a hero.
How to serve it
Chicken parm is incredibly versatile. If you order it from a New York Italian restaurant, deli, or pizzeria, it will likely be served with a side of your choice of pasta topped with marinara sauce.
If you're looking for a lighter option than pasta, a green veggie, such as garlic broccoli, broccoli rabe, or this best green salad would be perfect with chicken parm.
One of my favorite ways to serve chicken parm is on a hero.
To make a chicken parmigiana sandwich, I recommend buying a loaf of seeded Italian bread and slicing lengthwise. Add some sauce to the bread, and then layer your chicken parm cutlets, topping with more sauce if needed.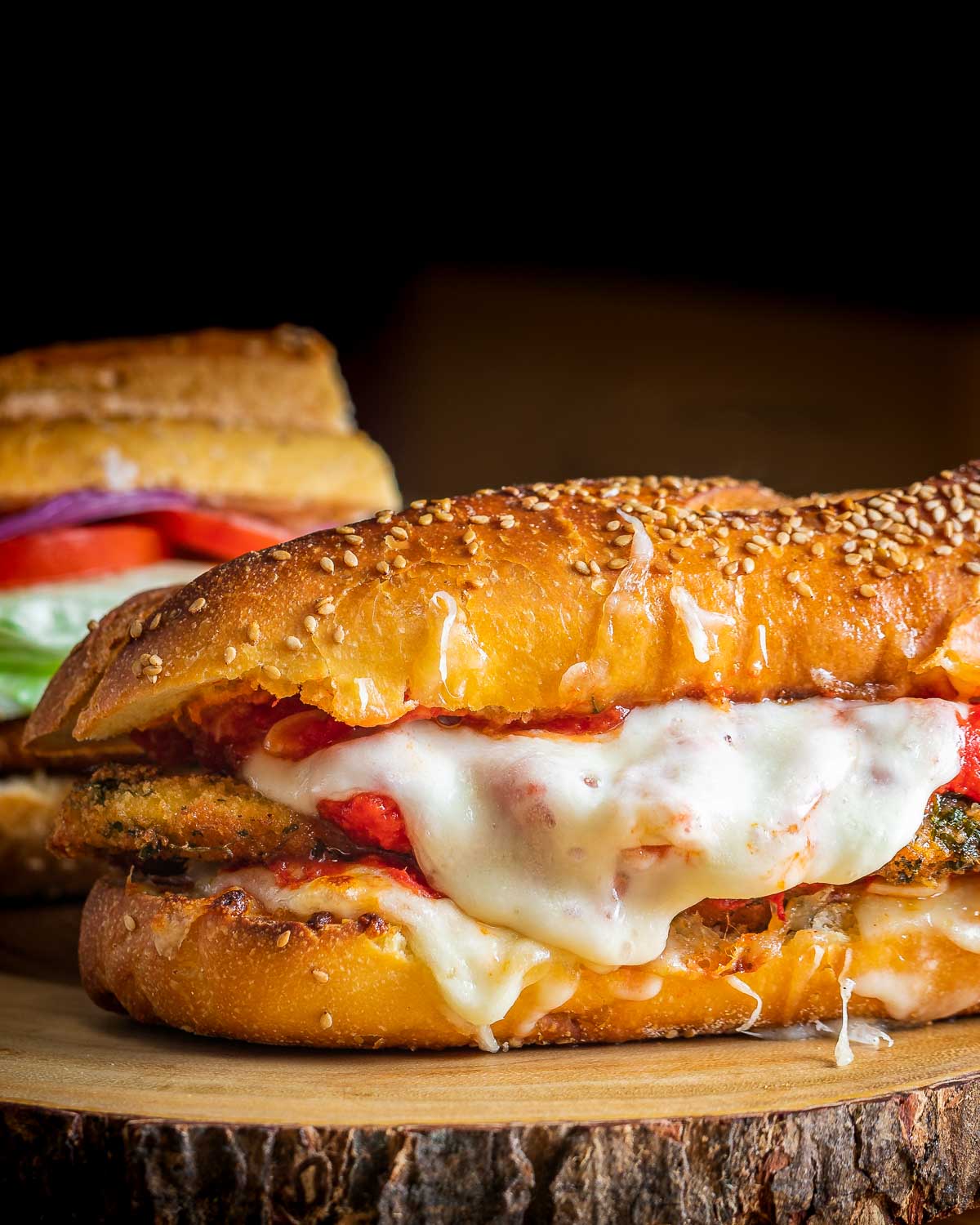 Which came first, the chicken or the egg(plant)?
Many Italian-Americans may be disappointed to learn that chicken parm isn't actually Italian.
In fact, if you were to visit Italy, you won't find this dish in any restaurant.
Chicken parm likely evolved from "parmigiana", or "parmigiana di melanzane", also known as eggplant parmigiana.
Many pizzerias in New York sell shrimp parmigiana too. Cheese and shrimp? Yes, that's right. And, it's damn good too.
Parmigiana is a classic southern Italian dish of fried eggplant topped with tomato sauce and cheese.
Early Italian-Americans likely used this as their inspiration for chicken parmigiana.
So, to answer the age-old question, the eggplant parm came first.
More parmigiana and other cheesy recipes
If you're making chicken parm, it's safe to say you probably enjoy cheese just a little.
And if you like cheese, there are plenty of melty, cheesy recipes here for you to peruse.
In addition to the eggplant parm recipe I mentioned above, check out zucchini alla parmigiana, made with roasted zucchini. It's super easy and so good!
Another NY classic is a meatball parm hero and sausage and peppers.
Zucchini rollatini, stuffed shells, and baked ziti are all excellent choices if you're craving baked, creamy, melty-type things.
We also think you'll love chicken eggplant parm which combines both iconic dishes into one!
If you've enjoyed this chicken parmigiana recipe or any recipe on this site, we want to know so tell us in the comments below. We would love to hear how you did and it's nice to show others as well. Thanks!
Watch the video below where Jim will show you how to make this recipe with easy-to-follow instructions. Some people learn by watching. If you're that type of person, you can find most of our recipes on YouTube and our Facebook Page.
📖 Recipe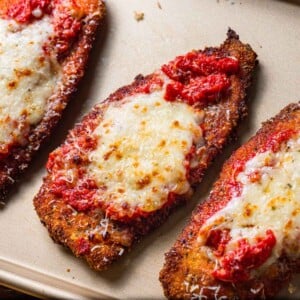 Ingredients
For the sauce
1

28 ounce

can whole plum tomatoes

hand crushed or blender pulsed

5

cloves

garlic

sliced

¼

cup

olive oil

salt and pepper

to taste

½

teaspoon

crushed red pepper

optional, see notes below

½

teaspoon

dried oregano

optional
For the chicken
1

pound

chicken cutlets

thin-sliced, about 6 cutlets

1

cup

flour

for dredging, will not need all flour

1

teaspoon

kosher salt

¼

teaspoon

black pepper

3

large

eggs

beaten

1 ½

cups

Italian seasoned breadcrumbs

1-2

cups

olive oil or vegetable oil

for frying

1 ½

cups

mozzarella cheese

shredded

½

cup

Parmigiano Reggiano

finely grated
Instructions
Making the sauce
In a saucepan saute the garlic in a ¼ cup of olive oil over medium-low heat for 2-3 minutes or until lightly golden. Add in the hot red pepper flakes (optional) and cook for 30 seconds more.

Add the tomatoes, stir together, and bring the sauce to a simmer for 10 minutes. Season with salt and oregano (optional).

Taste test the sauce, and adjust salt and pepper if required. When satisfied set the sauce aside.
Frying the cutlets
Mix 1 teaspoon kosher salt and a ¼ teaspoon pepper into the flour.

Dredge the cutlets in the flour and shake off excess, then dip into the egg, and then into the breadcrumbs. Place the breaded cutlets onto parchment paper and set them aside.

Pour the olive about ¾" high into a large heavy frying pan and heat oil to 350 to 370f. The burner should be set to about medium heat and take about 5-7 minutes to get to ~350f.

When the oil reaches frying temp, add the cutlets into the pan and fry in batches. The cutlets will take approximately 3 minutes per side. Place finished cutlets on a wire rack to cool.
Assembling the chicken parmigiana
Place a thick layer of sauce (about a ¼") on the bottom of a large baking dish. Space out the chicken cutlets in the dish and cover them with another thick layer of sauce. Note: You do not have to use all of the sauce.

Next sprinkle on the mozzarella cheese, dividing evenly between all the chicken cutlets. Sprinkle half of the Parmigiano Reggiano cheese on top.

Bake the chicken parmigiana in the oven for 5 minutes (12-15 minutes if starting with cold cutlets) then broil for 30-60 seconds to brown the top.

Remove the pan from the oven and sprinkle the remaining parmesan cheese all over. Let the chicken parmigiana settle for 5 minutes before eating. Enjoy!
Notes
If you follow the full recipe for the sauce, cutlets, and assembly, the chicken will only need 5 minutes to bake before broiling, due to the cutlets still being warm. If using cold cutlets the baking time will need to be increased to 12-15 minutes before final broiling.
Any extra sauce can be served on the side.
Dried Sicilian oregano screams Italian-American and frequently is used in sauce all over the NY metro area, especially in pizza and chicken parm. If you don't like it, don't use it.
Leftovers can be saved for up to 3 days and can be reheated in the oven at 350f until warm.
SAUCE/NO SAUCE: as mentioned in the body of this post chicken parmigiana can be served wet with the sauce on the bottom and top of the chicken. It can also be enjoyed with just a bit of sauce on top to retain the cutlet's crispiness factor. This is 100% a personal choice.
Nutrition
Calories:
904
kcal
|
Carbohydrates:
44.9
g
|
Protein:
58.7
g
|
Fat:
53.9
g
|
Saturated Fat:
15.4
g
|
Cholesterol:
259
mg
|
Sodium:
1272
mg
|
Potassium:
776
mg
|
Fiber:
4.7
g
|
Sugar:
13
g
|
Calcium:
541
mg
|
Iron:
5
mg