Chicken Milanese with tomato, mozzarella, and basil is a simple meal that nearly everyone loves. Chicken breasts are pounded thin, dredged in flour, egg, and seasoned breadcrumbs, and fried until crisp and golden. Topped with a light salad of sliced cherry tomatoes, mozzarella balls, basil, red onion, and extra virgin olive oil, this is a meal that looks light, but is filling and big on flavor!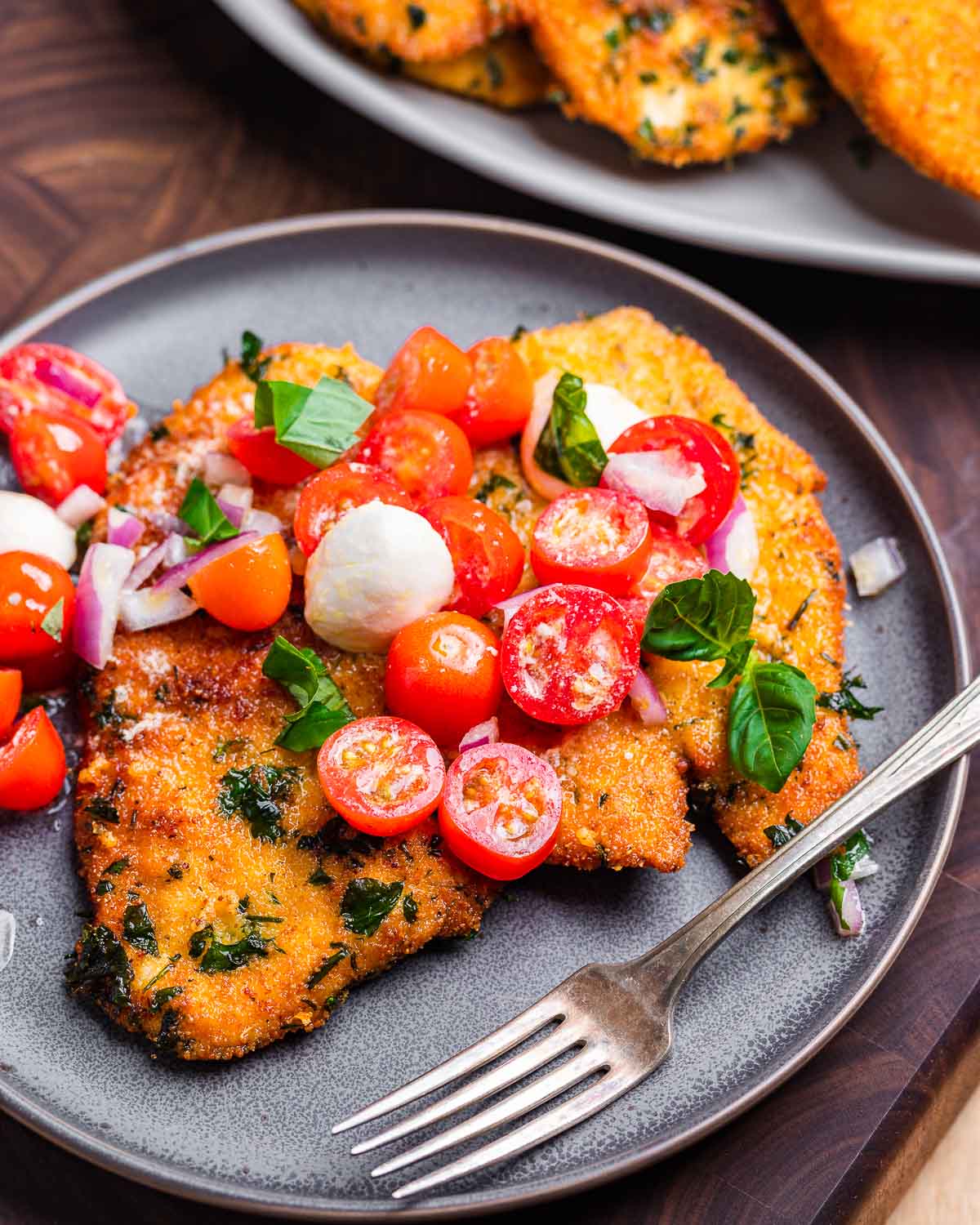 Chicken Milanese is a favorite in our house. This version is a bit different than a basic Italian chicken cutlet in that the chicken breasts are butterflied and pounded until thin and very large - perfect for topping with a tomato, basil and mozzarella salad (aka Caprese salad)!
A traditional chicken cutlet is typically much smaller, like the kind you'd find in a deli just waiting to be loaded onto a hero, or in a pizzeria to make chicken parmigiana heroes.
Chicken Milanese with tomato, mozzarella, and basil is perfect in that everyone seems to enjoy it, and they can top it which as much tomato and mozzarella as they like, or simply eat it on the side.
We'll sometimes top it with a balsamic glaze to add extra flavor and texture.
I also sometimes top chicken Milanese with a salad of chickpeas, arugula, lemon, and parmesan - simple and delicious!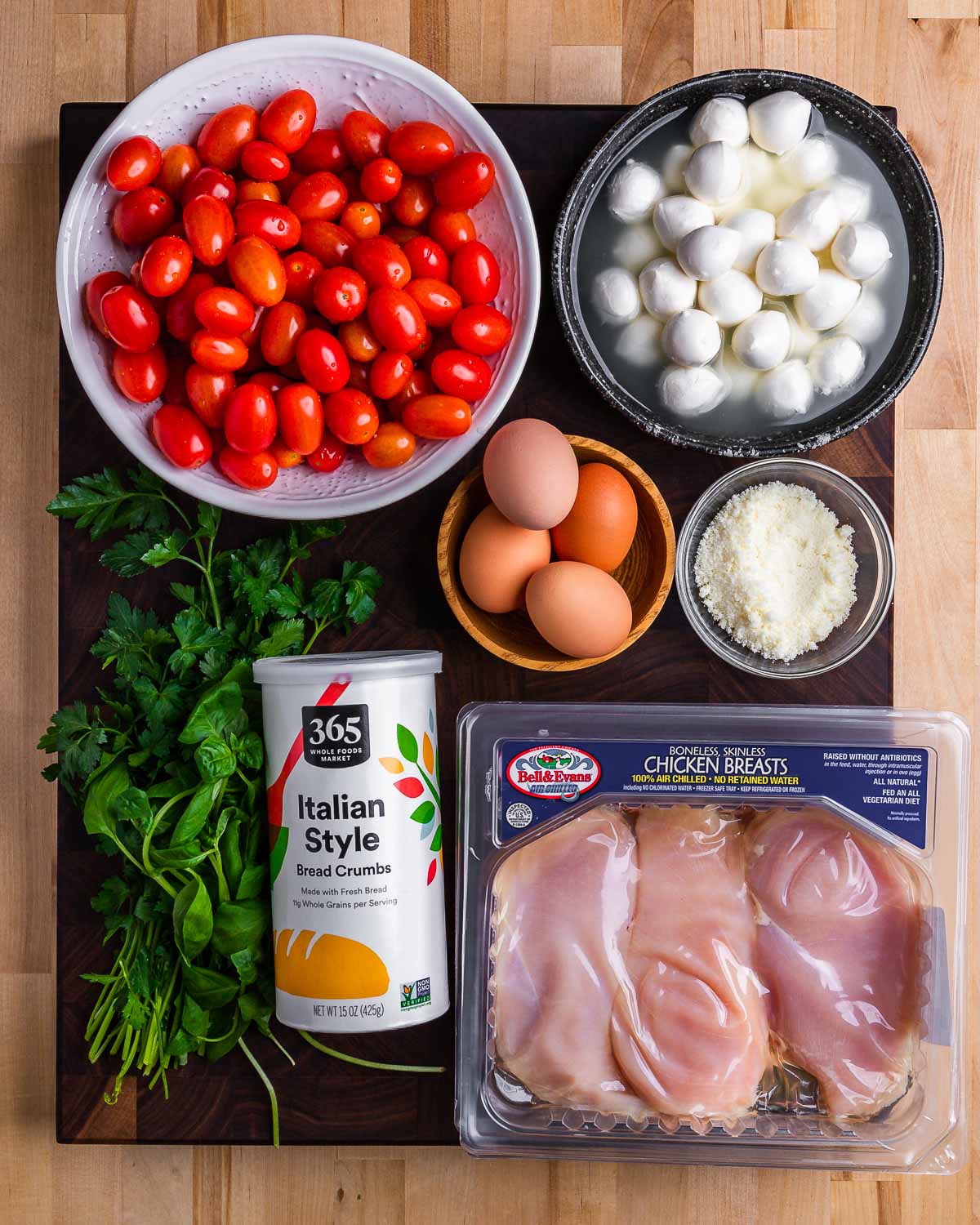 How to make chicken Milanese with tomato, mozzarella, and basil
Each number corresponds to the numbered written steps below.
Slice 3 pints of cherry tomatoes and 1 pound of fresh mozzarella balls in half. Also, dice a ¼ cup red onion. In a large bowl, mix together the tomatoes, mozzarella, red onion, and a ½ cup of your best extra virgin olive oil. Season with salt to taste then set aside for at least 30 minutes before frying the cutlets. Note: We used "ciliegine" mozzarella balls. You could also use pearls that won't require any cutting or you could use large fresh mozzarella balls and cut those into cubes. Finally, if you can't find fresh mozzarella, block mozzarella cut into cubes could certainly be used.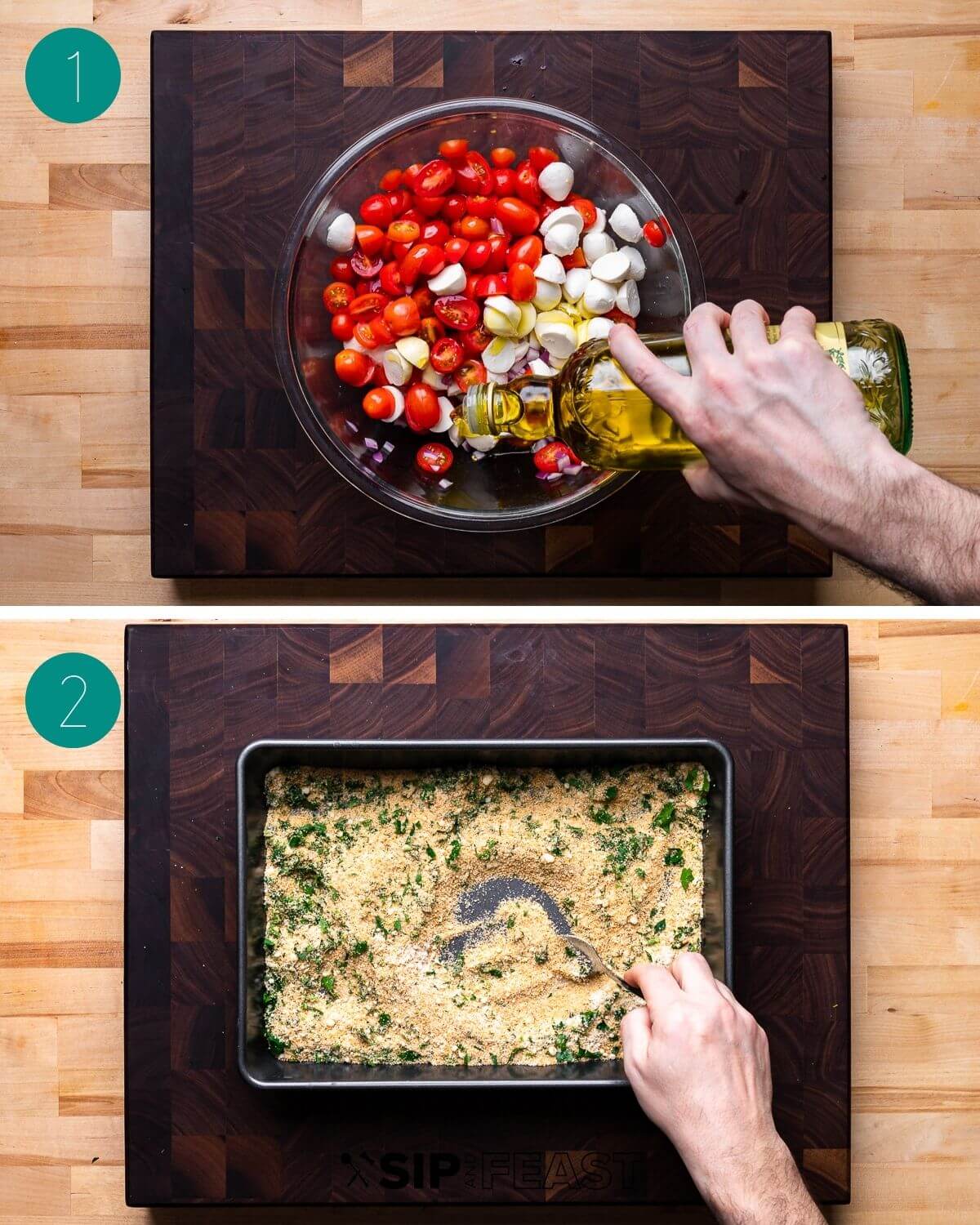 In a large bowl or tray, mix together 2 cups of Italian seasoned breadcrumbs with a ¼ cup of grated Pecorino Romano and 3 tablespoons of minced fresh Italian parsley.
Heat a ½ inch of olive or vegetable oil in a large heavy pan to 370f. While the oil is heating up, butterfly 4-5 chicken breasts (or approximately 2 pounds worth) as shown in pic 3 below. You want to open the chicken up without cutting all the way through so that it can be pounded out into a large piece. Don't worry if you do cut all the way through though!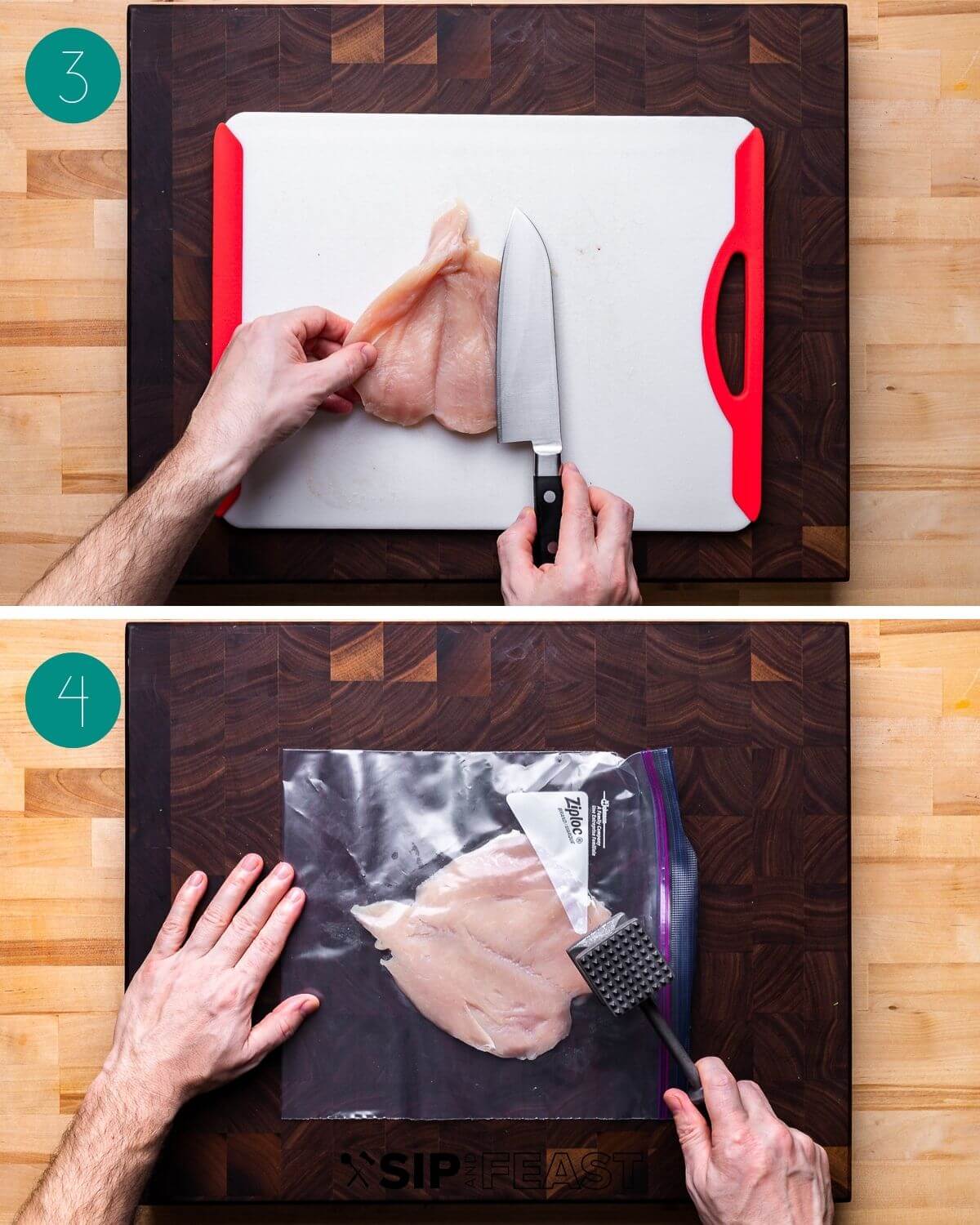 Take the butterflied chicken breasts and with plastic wrap on both sides or even better in a large gallon Ziploc bag, pound them out to a ¼-inch or slightly thinner piece. You will be left with a very large flat piece of chicken.
Set up a breading station with the pounded chicken cutlets, a bowl of 4 beaten eggs, another bowl with 1 cup of flour, and finally the tray of seasoned breadcrumbs. Season the chicken cutlets with salt and pepper on both sides then take 1 cutlet and dredge it in the flour and shake off the excess for the first step. Take that floured cutlet and coat it in egg on both sides.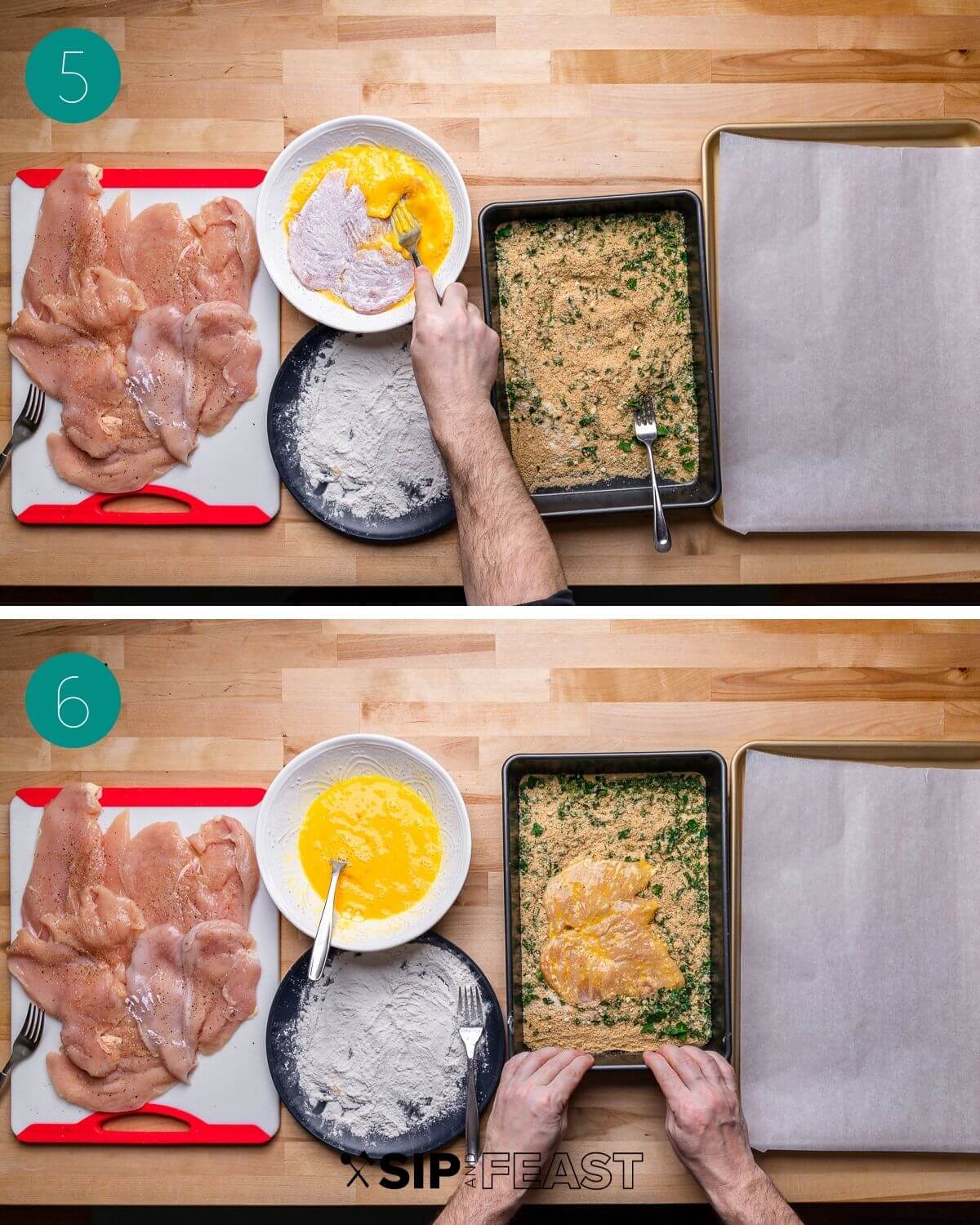 Let the egg drip off into the bowl then place the cutlet into the seasoned breadcrumbs. Shake the pan a bit to coat, then flip the cutlet and bread the other side. Repeat for all the cutlets and place them on a baking sheet.
Now that the chicken cutlets all breaded, the frying will be much easier. Once the oil hits 370f, gently place the cutlet into the oil -facing away from you- and fry for 3-4 minutes on the first side. Note: Check that the oil is ready by placing the end of a wooden spoon into the oil and looking for tiny bubbling, or cut off a tiny piece of chicken and see if it bubbles when added to the oil. If you are unsure if your oil is ready, an oil thermometer can be used to get the temp just right. To achieve 370f on a 14k BTU gas stove it normally takes about medium heat.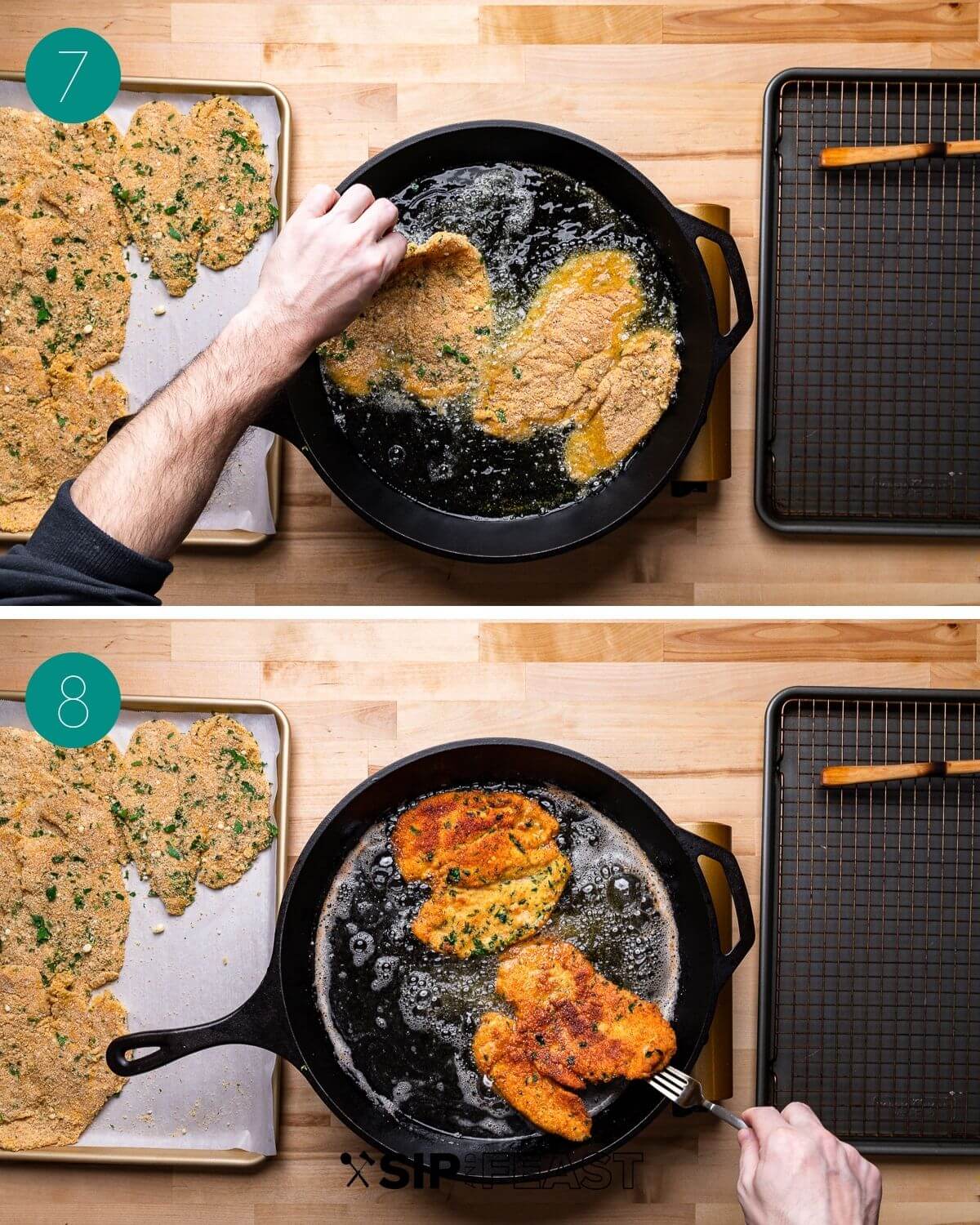 Flip the cutlets and fry for another 3 minutes or until they are golden. Place the finished cutlets on a wire rack to drain and repeat for the next 1-2 batches. Don't crowd the pan! The cutlets won't take very long to cook. Once finished with the cutlets, pat them dry a bit to remove any excess oil and set them aside.
Mix the tomatoes and mozzarella together and add more extra virgin olive oil if required along with more salt. Basically, you want the salad to be juicy. The extra virgin olive oil and the juice from the tomatoes poured over the chicken are what make this dish so good! At this point, you can tear some fresh basil and add it to the salad. Or you can hold off and chiffonade it for finishing.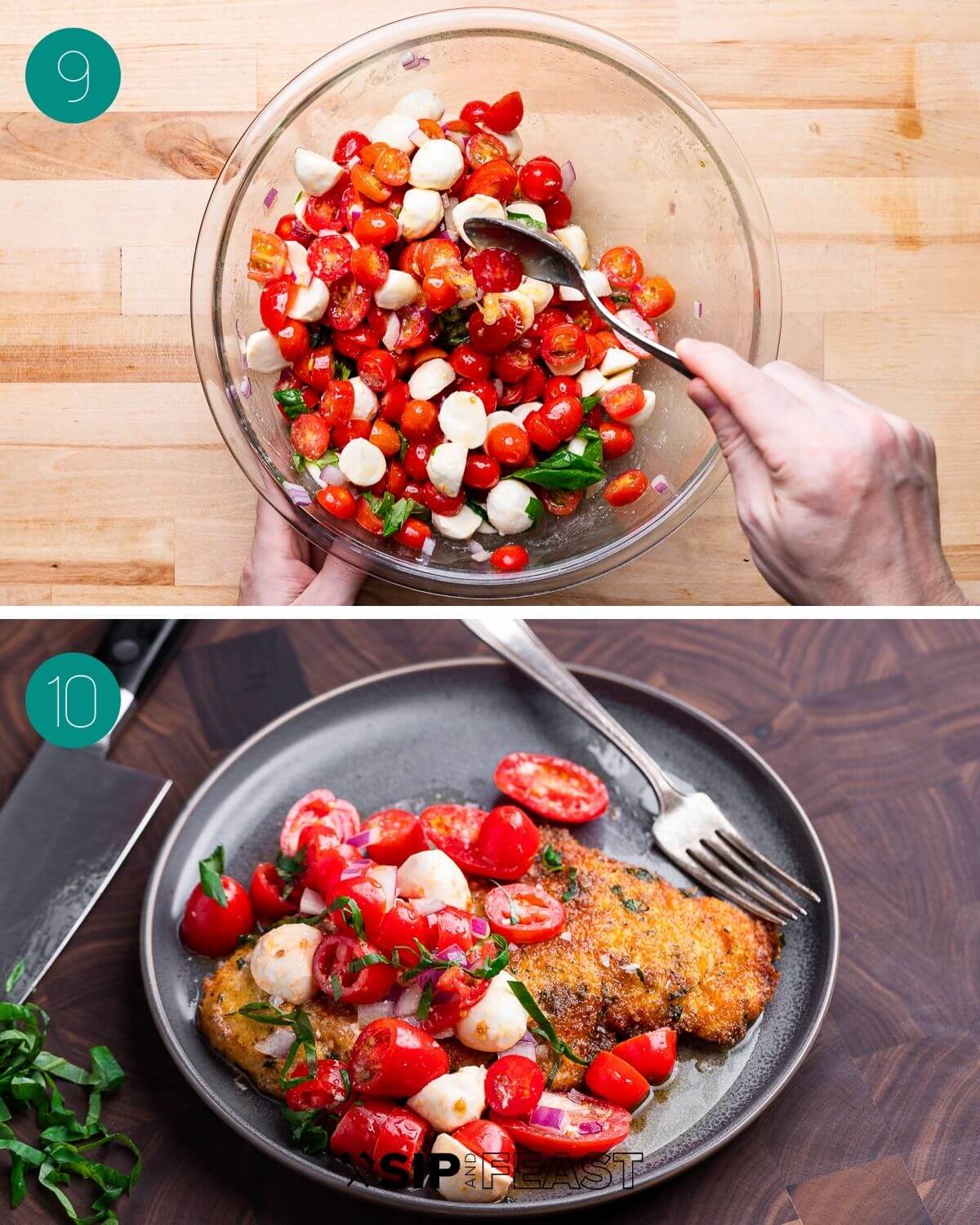 I like the chiffonade look. It's great this way but if you like the flavor of balsamic vinegar, adding a drizzle of balsamic glaze would also work well. Enjoy!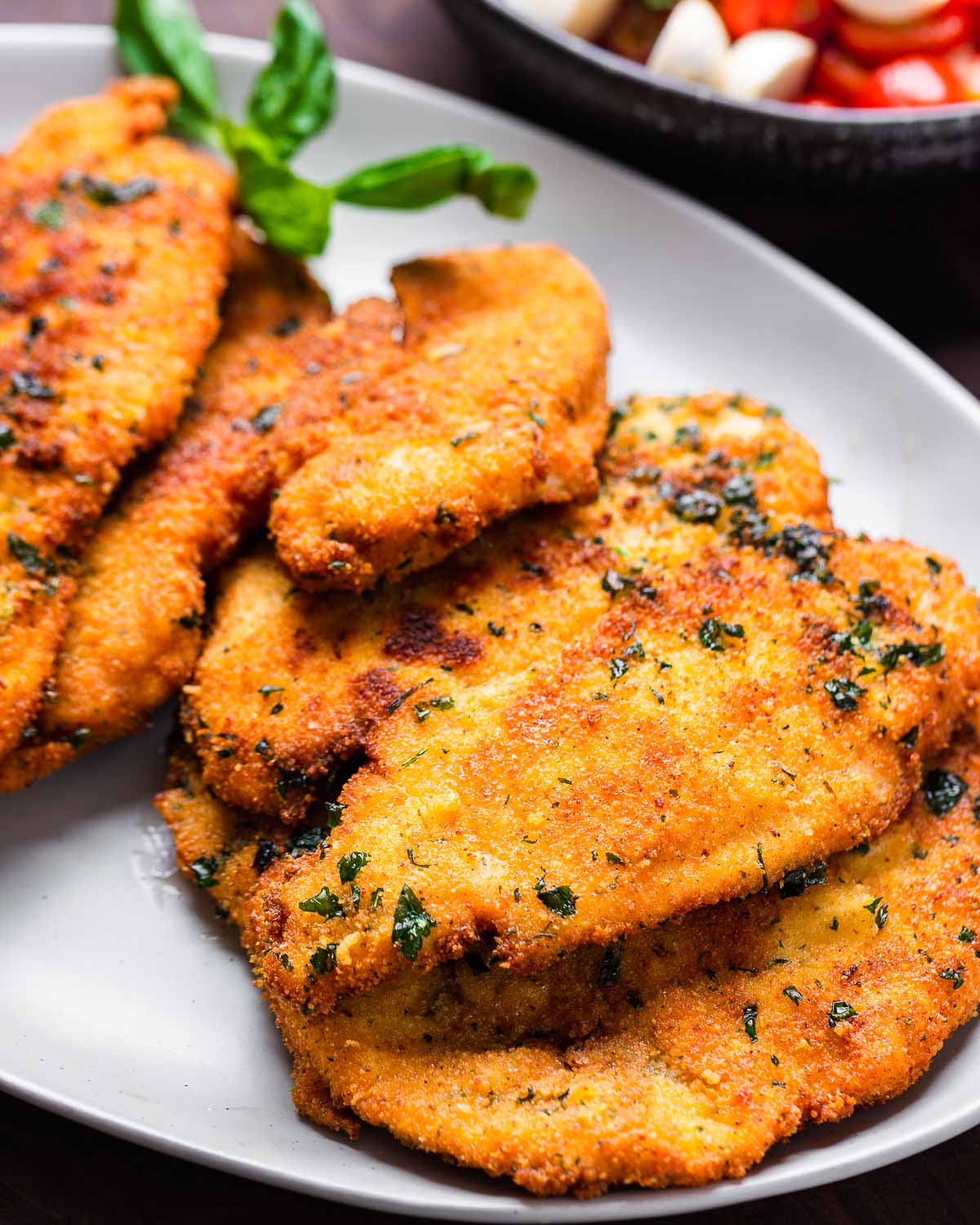 Top tips and substitutions
The chicken. We recommend buying whole chicken breasts, butterflying them, and pounding them thin as shown in the above photo. If you prefer to use thinly sliced cutlets, you can do so but the surface area of the cutlet will be much less than shown in this recipe.
The tomato and mozzarella salad. For our tomato, mozzarella, and basil salad, we added red onion. A traditional Caprese salad would not have red onion, but we love the additional flavor it adds to the dish. For the mozzarella, we opted for the ciliegine as they mimic the size of the cherry tomatoes. If you can't find these, you can slice fresh mozzarella into bite-sized cubes. If you can't find fresh mozzarella, sliced block mozzarella would also work.
Balsamic or no balsamic? It's really up to you. We prefer to make the salad without the balsamic and offer a balsamic glaze on the side for those who may wish to add.
Frying oil. We used olive oil to fry our cutlets, however, you could definitely use vegetable oil if you prefer.
How to serve. The cutlets shouldn't be piping hot when you serve. Rather, they should be warm, or even room temperature before topping with the salad.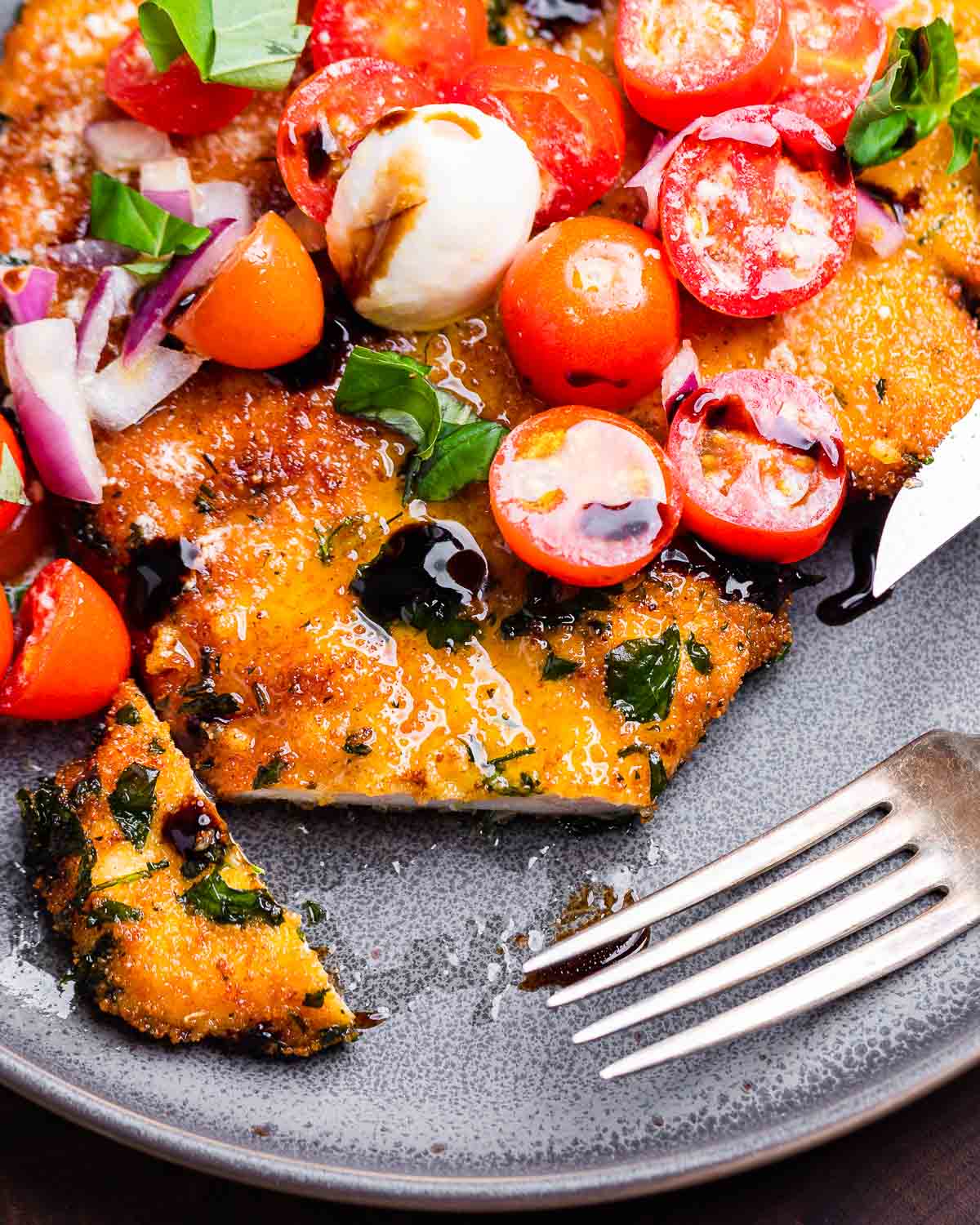 More great chicken recipes
If you've enjoyed this chicken Milanese with tomato, basil, and mozzarella salad recipe or any recipe on this site, give it a 5-star rating and leave a review.
Some people learn by watching. If you're that type of person, you can find most of our recipes on YouTube and our Facebook Page.
📖 Recipe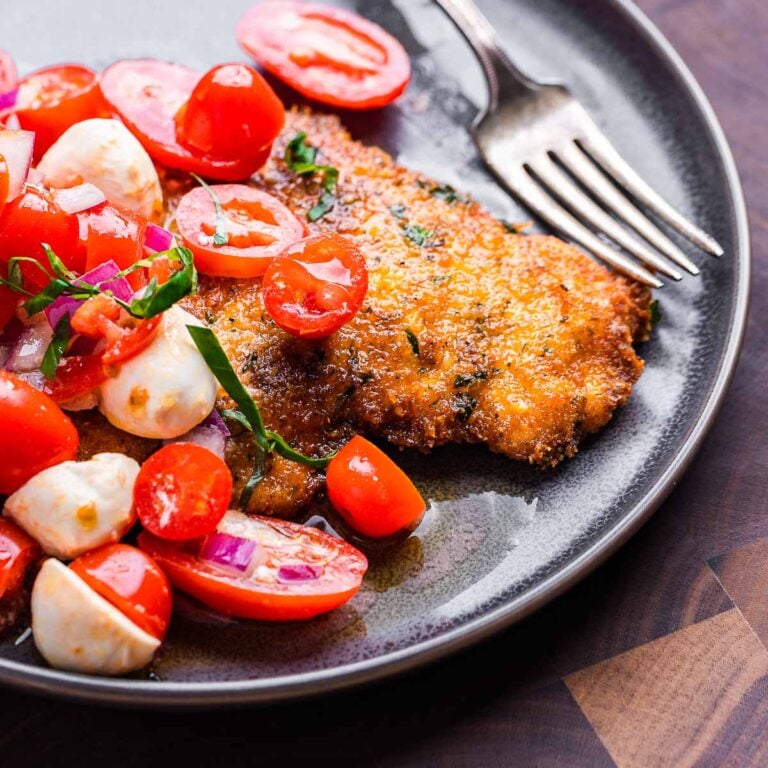 Ingredients
For the tomato salad
3

pints

cherry tomatoes

halved

¼

cup

red onion

diced

½

cup

extra virgin olive oil

salt

to taste

3

tablespoons

basil

hand torn

1

pound

fresh mozzarella

cubed
For the seasoned breadcrumbs (mix together)
2

cups

Italian seasoned breadcrumbs

3

tablespoons

Italian flat leaf parsley

minced

¼

cup

Pecorino Romano

grated
For the chicken
2

pounds

thin-sliced chicken cutlets

pounded to a ¼" thick

salt and pepper

to taste

4

large

eggs

1

cup

flour

for dredging only

2

cups

olive oil

or enough to fill up pan at least ½ an inch
Instructions
Mix together the tomatoes, mozzarella, red onion, and extra virgin olive oil. Season with salt to taste then set aside for at least 30 minutes before frying the cutlets.
For the chicken
Heat a ½ inch of olive or vegetable oil in a large heavy pan to 370f.

Meanwhile, mix together the breadcrumbs, Pecorino, and parsley.

Pound the chicken to a ¼ thick then season with salt and pepper on both sides.

Dredge the chicken into flour and shake off the excess. Place cutlet into the egg and then into the breadcrumbs. Place all the breaded cutlets onto a baking sheet for easy frying.

Fry the cutlets for 3-4 minutes per side then place on a wire rack or paper towel-lined baking sheet. Work in batches to not overcrowd the pan.

Let the cutlets cool down for about 10 minutes before plating. To plate, add 1-2 cutlets to a plate and spoon a portion of the tomato salad on top. Tear a bit of the basil and drizzle some extra virgin olive onto each plate. Enjoy!
Notes
Makes 4 very large or 6 moderate-sized portions.
Letting the tomatoes and mozzarella marinate for 60 minutes or more is key to getting a better flavor and making the salad juicier.
The cutlets should be warm (even room temperature) and not piping hot when served. This will give you enough time to easily prepare the meal.
Leftovers can be saved for up to 3 days and can be enjoyed with or without reheating.
Nutrition
Calories:
686
kcal
|
Carbohydrates:
20.9
g
|
Protein:
53.8
g
|
Fat:
43.9
g
|
Saturated Fat:
8.2
g
|
Cholesterol:
230
mg
|
Sodium:
512
mg
|
Potassium:
791
mg
|
Fiber:
3.1
g
|
Sugar:
6.3
g
|
Calcium:
134
mg
|
Iron:
3
mg