Chicken Saltimbocca combines thinly sliced pan-seared chicken cutlets, salty prosciutto, and sage leaves in a white wine butter sauce. Perfect served with a side of roasted potatoes, or sauteed spinach, this is a favorite in our home for its simplicity and outrageous flavor!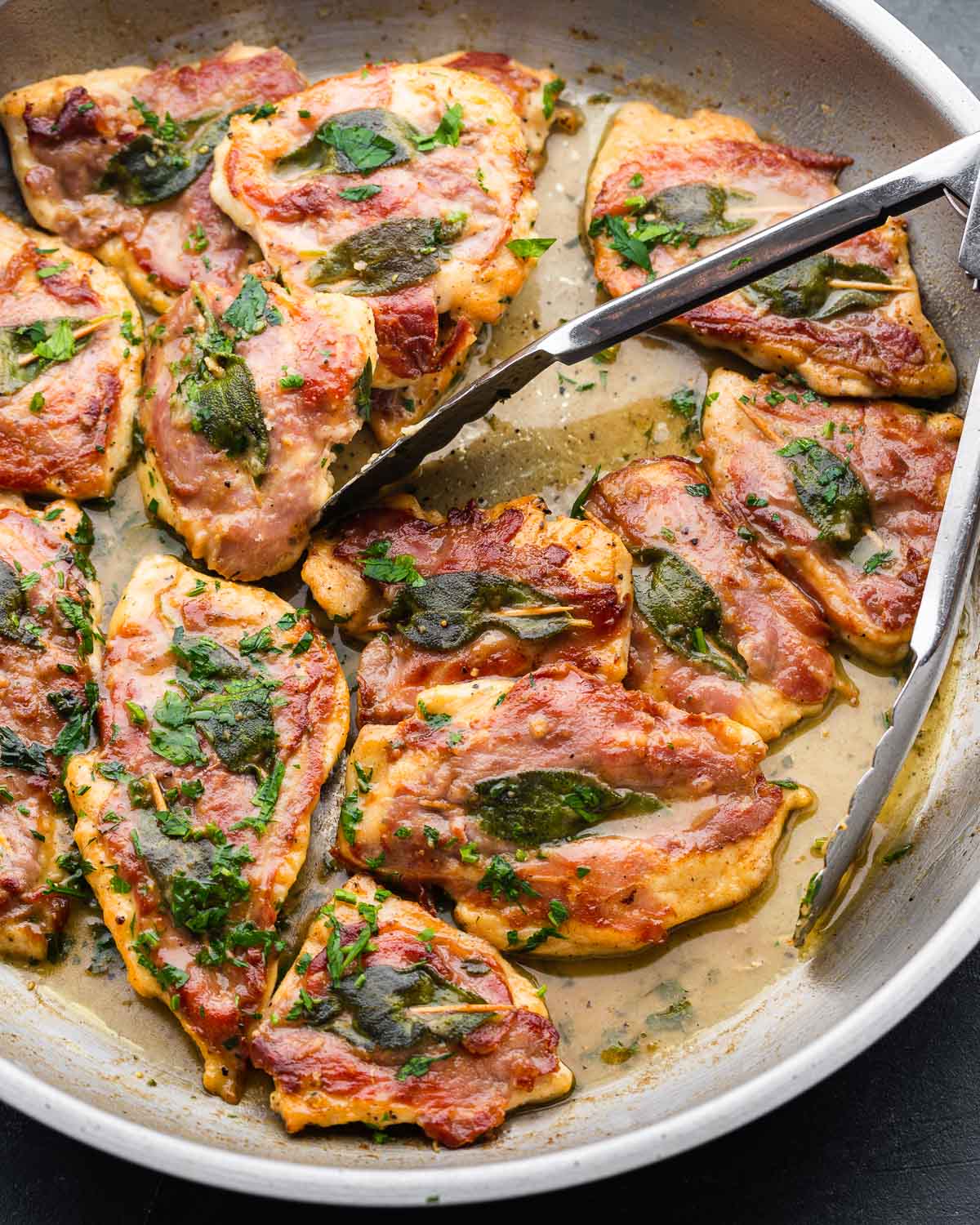 Every time I make chicken saltimbocca, I find myself wondering "why don't I make this more often".
Saltimbocca, meaning "to jump in the mouth", is easy to make but looks and tastes impressive.
The layering of the sage leaves, prosciutto, and chicken make for a lovely presentation and the white wine butter sauce is definitely drinkable.
I love serving chicken saltimbocca with some roasted potatoes, and a side green salad, or other green like broccoli rabe or garlicky spinach.
While chicken saltimbocca is one of my favorites, I don't often find it on the menus of Italian restaurants in the NY metro area as often as I would like, which is why when I'm craving it, I simply make it myself!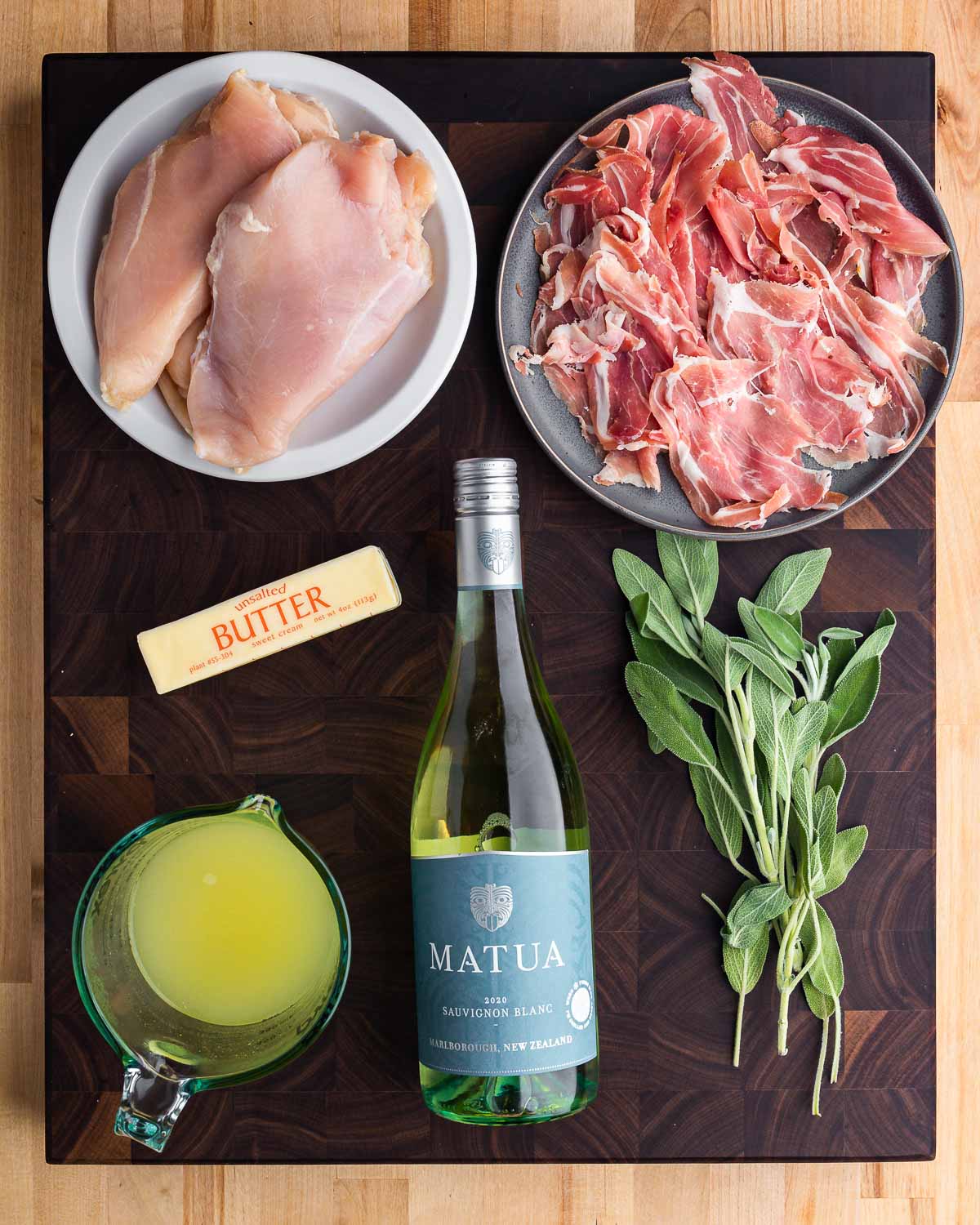 How to make chicken saltimbocca
Each number corresponds to the numbered written steps below.
Begin by filleting (if using chicken breasts) and pounding out the chicken with the flat side of a meat mallet to a 1/4″ thick. Pieces that are roughly 5 inches long are a good size to hold the prosciutto and one sage leaf (Photo #1). Note: Using a Ziploc bag, makes the pounding out process easier and more sanitary.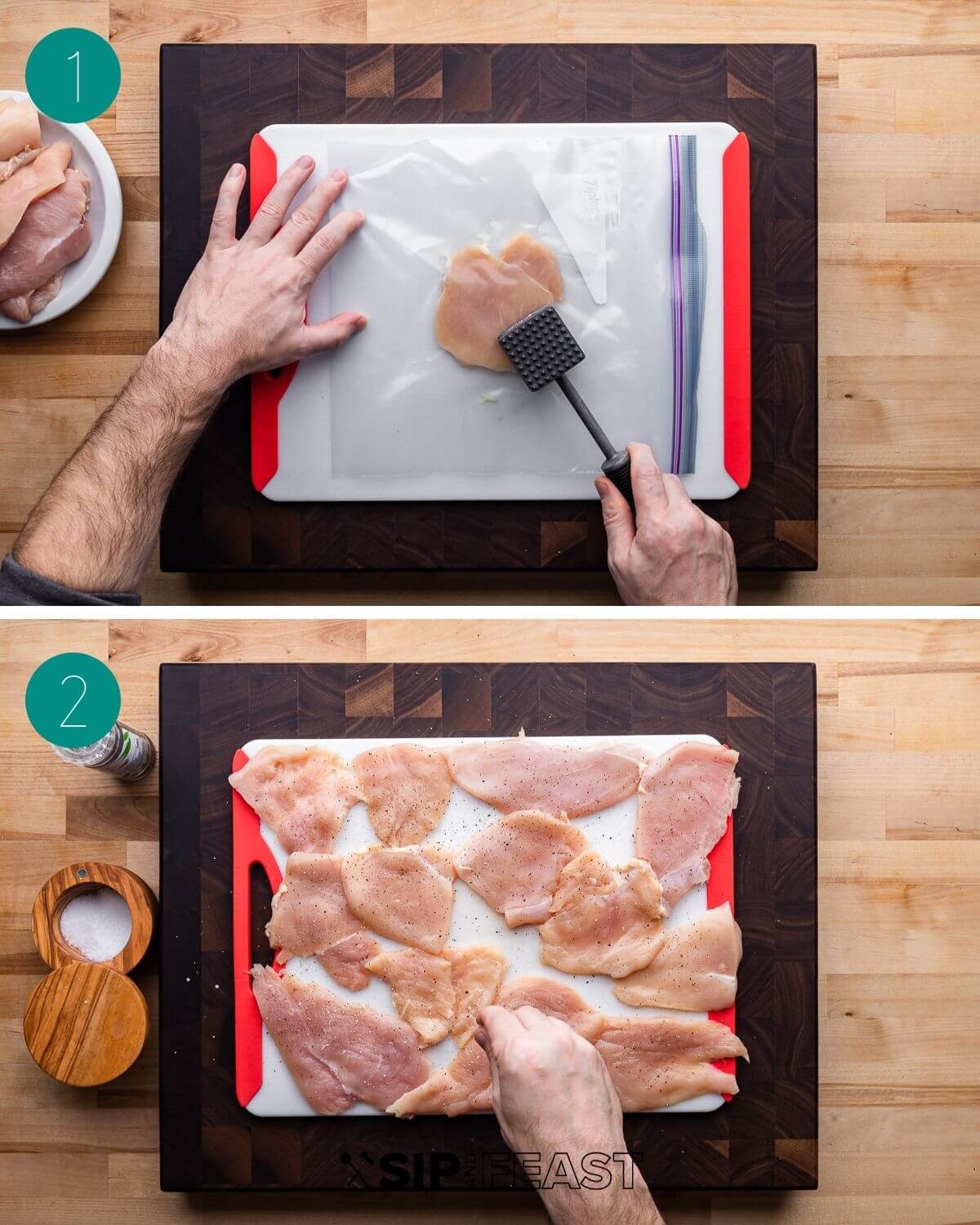 Season all of the chicken pieces with salt and pepper on both sides (Photo #2).
Layer one piece of prosciutto onto the chicken and trim off any excess. Place 1-2 sage leaves onto the prosciutto and use a toothpick to secure it in place. Repeat with all pieces of chicken (Photo #3). Note: You can avoid using toothpicks but you must put the sage leave down first. It doesn't look as nice but will taste the same.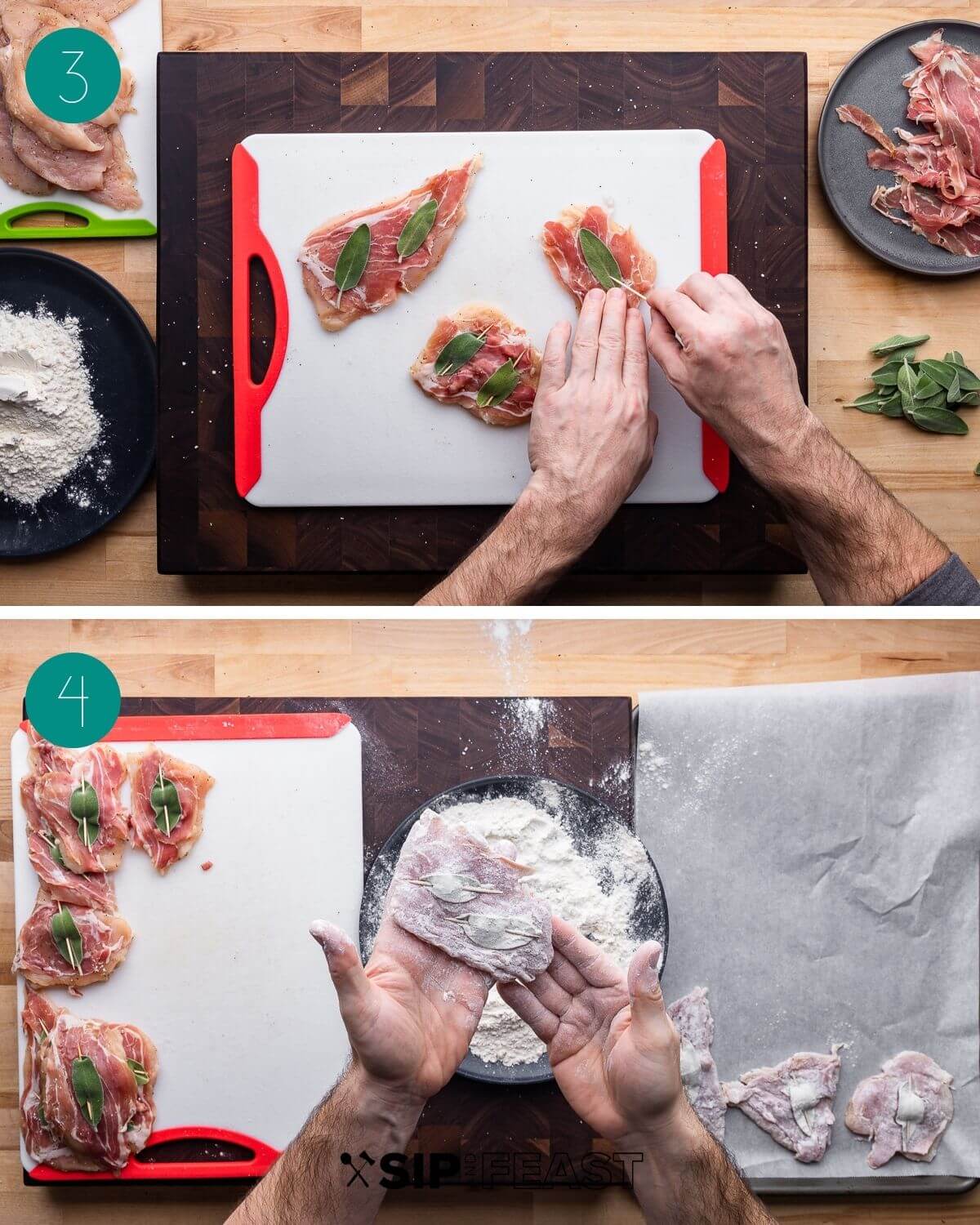 Dredge the chicken pieces in flour (use about 1 cup, the remaining flour should be discarded) and shake off all of the excess. Place the floured chicken pieces onto a plate or a parchment paper lined baking sheet as shown in pic 4 above (Photo #4).
Heat a large stainless steel pan to medium heat and wait 2-3 minutes for it to heat up before adding the olive oil or butter. Once the pan is hot add a tablespoon of olive oil and 1 tablespoon of butter and sear the chicken prosciutto side down (Photo #5).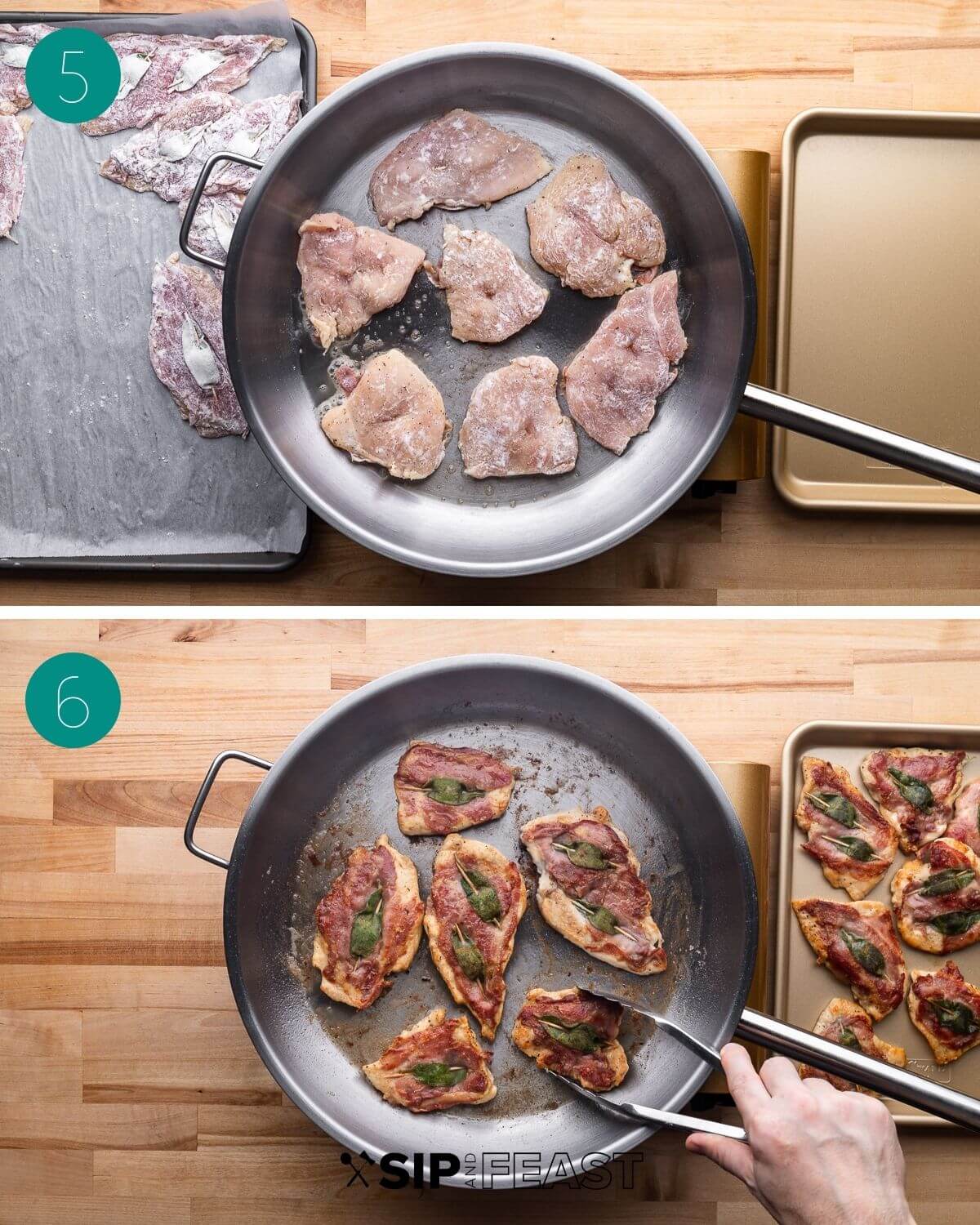 After 2-3 minutes, flip the chicken and cook for about 2 minutes more or until the chicken pieces are cooked through. Repeat the process for the next batch of chicken using more oil and butter as required. Place the cooked chicken pieces on a plate off to the side and tent with foil (Photo #6).
Add 1 cup of dry white wine to the pan and turn heat to medium-high. Scrape the bottom of the pan with a wooden spoon to remove any brown bits and cook for 1 minute (Photo #7).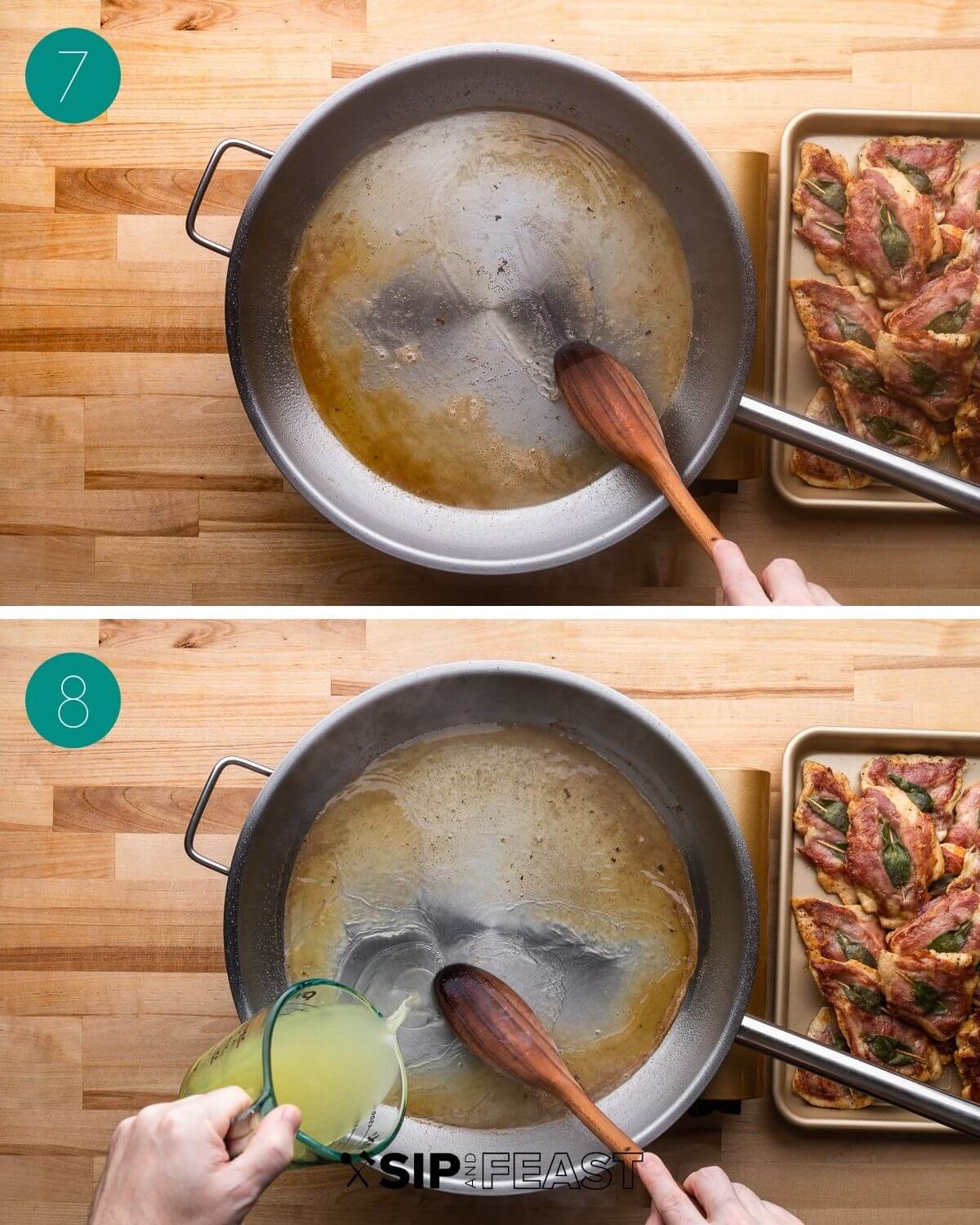 Next, add 1 1/4 cups of low sodium chicken stock and cook the sauce for 3 minutes more or until it reduces by about half (Photo #8).
Turn the heat down to medium-low and add in the remaining cubes of butter. Whisk the sauce together and taste test. Season with salt and pepper to taste (Photo #9).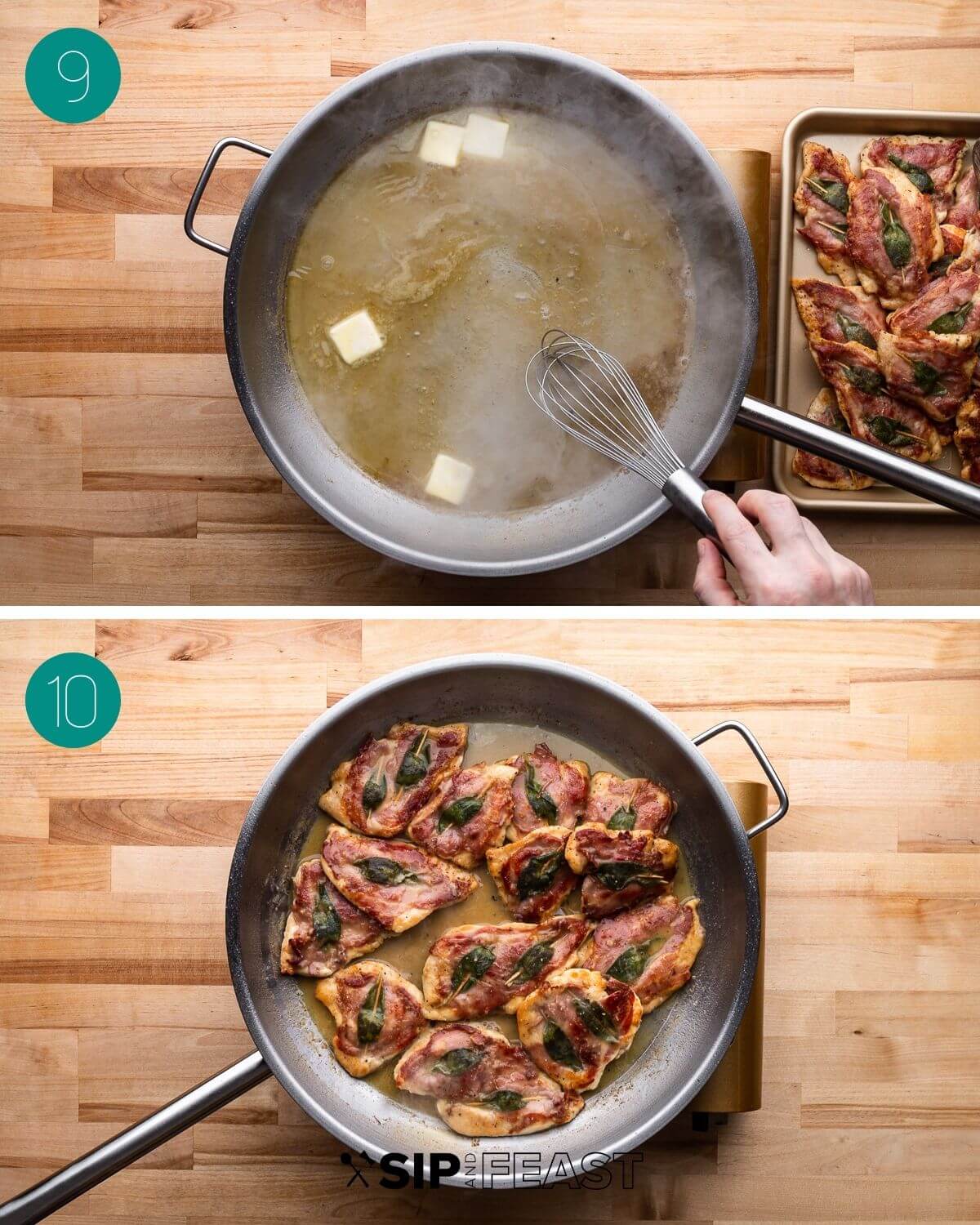 Return the chicken to the pan and mix together gently. Cook for 2-3 minutes or until the chicken is hot and the sauce has coated the chicken saltimbocca (Photo #10).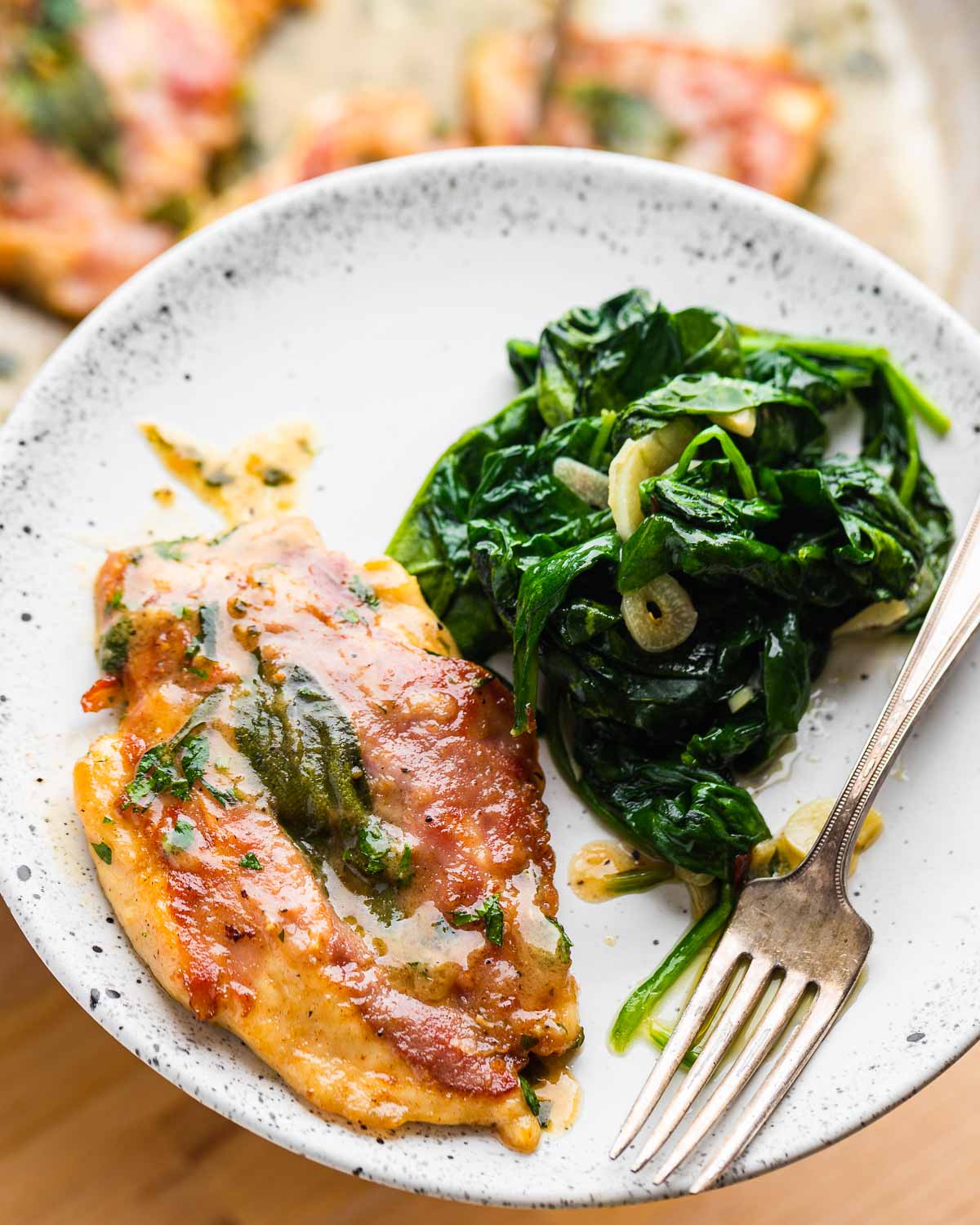 Top tips
The cutlets. Its extremely important that the cutlets are thin. Don't skip the step of pounding them out. It may take a little more time but will yield you the best possible results. Using a bag as pictured above can help make the clean-up easier. Note: If you prefer to use pork or veal cutlets, feel free to do so!
The wine. I used a Sauvignon Blanc for this dish. Any dry white wine will do. The alcohol will cook out and you'll only be left with the taste of the wine which is an important component of the flavor profile of saltimbocca.
The layers. One of my favorite parts of chicken saltimbocca is the presentation. The sage leaves layered on top of the prosciutto are visually appealing. To accomplish this, you'll need to use toothpicks to secure the leaves to the prosciutto. If you prefer to not use the toothpicks, you'll need to layer the sage leaves between the chicken and prosciutto. While it will taste the same, the presentation won't be as pretty. Don't forget to remove the toothpicks before eating!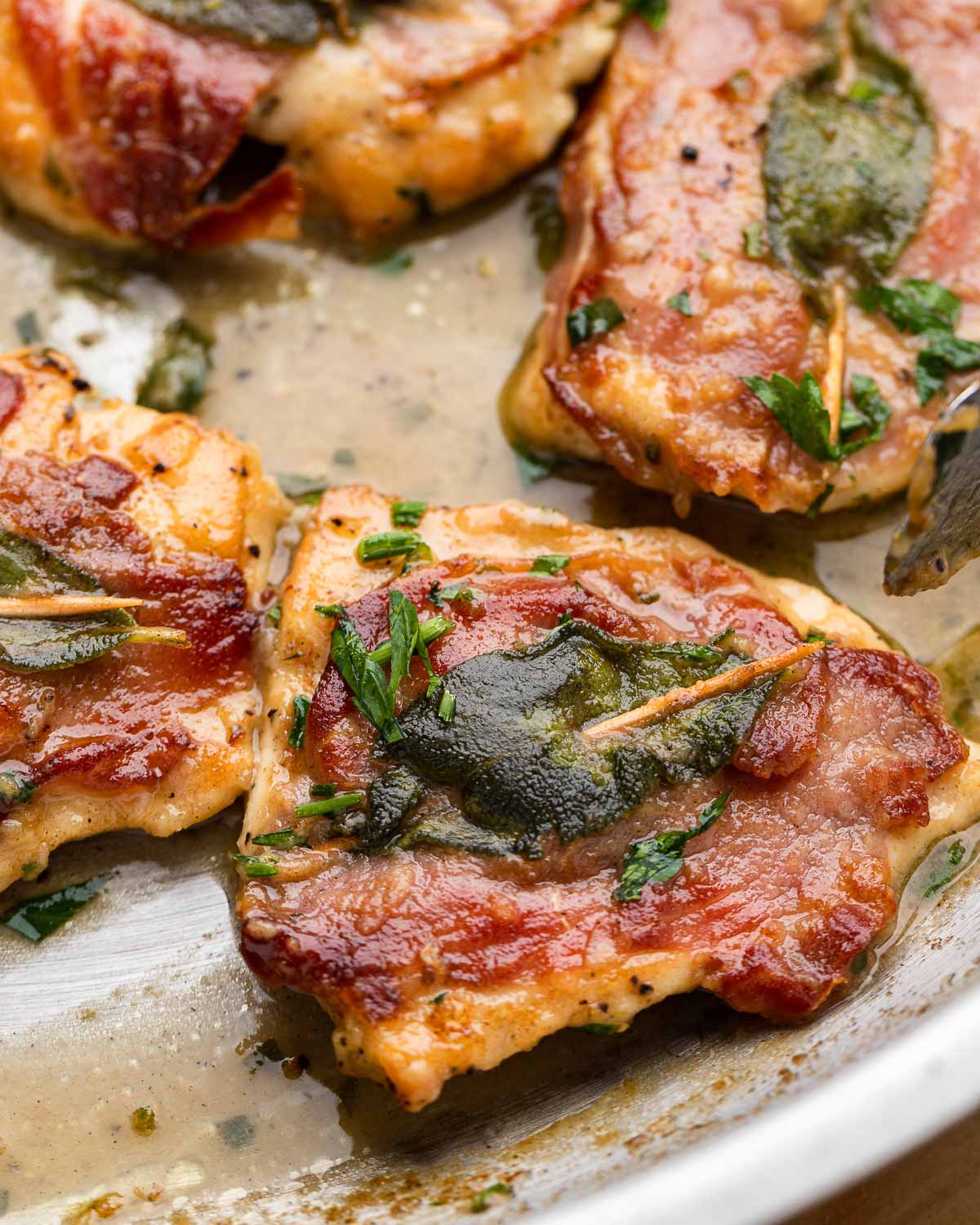 More Italian chicken recipes made with thin cutlets
Here are some of my absolute favorite Italian chicken recipes. Which one is your favorite?
If you've enjoyed this Chicken Saltimbocca recipe or any recipe on this site, give it a 5-star rating and tell us about it in the comments below.
We strive to satisfy a number of learning styles. If you are someone who prefers to learn by watching, you can find most of our recipes on YouTube and our Facebook Page.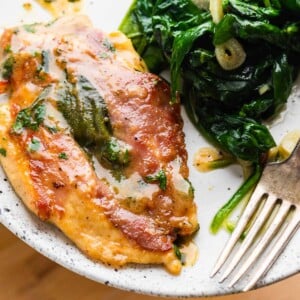 Thinly sliced cutlets are layered with sliced prosciutto and sage leaves and simmered in a buttery white wine sauce.
Equipment
20 toothpicks

or enough to hold all of the sage leaves
Ingredients
2

pounds

chicken cutlets

pounded to 1/4" thick and cut into 5 inch long pieces

20

large

sage leaves

12

pieces

prosciutto

about a 1/4 pound worth

1 1/4

cups

low sodium chicken stock

or homemade chicken stock

1

cup

dry white wine

1

cup

flour

for dredging only

salt and pepper

to taste

1/4

cup

olive oil

6

tablespoons

butter

divided

2

tablespoons

parsley

minced
Instructions
Season the chicken pieces with salt and pepper on both sides. Place the prosciutto on top of the chicken, trimming to fit if required. Press it down to make it stick and then depending on the size place 1-2 sage leaves on top. Secure the sage leaves and prosciutto to the chicken with toothpicks.

Dredge all of the chicken pieces in flour and shake off excess. Place the chicken pieces onto parchment paper and set aside.

Heat a large pan to medium heat. Add in 1 tablespoon of olive oil and 1 tablespoon of butter. Once melted add in the chicken pieces prosciutto side down and sear until golden (about 2-3 minutes). Flip and cook the other side for 1-2 minutes more or until cooked through and then place the chicken onto a wire rack. Work in batches, using more olive oil and butter as required.

Once all of the chicken pieces have been cooked, prepare the sauce by adding the white wine to the pan. Turn heat to high and scrape the pan with a wooden spoon to remove all of the brown bits. After 1 minute add in the chicken stock and cook the sauce until it thickens and reduces by half (about 3 minutes). Once reduced turn heat down to medium-low and add in the remaining butter.

Whisk the sauce together and taste test. Adjust salt and pepper as required. Once satisfied with the taste add the chicken pieces back into the pan and gently mix to warm the chicken through (about 2 minutes).

Sprinkle the chicken saltimbocca with parsley and serve right away. Enjoy!
Notes
Serve chicken saltimbocca with garlic sauteed spinach.
Pounding out thin flat cutlets is essential for this dish. Though store-bought thin cutlets can be used, pounding the cutlets flatter will help achieve more even cooking and better results.
Leftovers can be saved in the fridge for up to 3 days and can be reheated in the microwave or on the stovetop.
Nutrition
Calories:
687
kcal
|
Carbohydrates:
5.3
g
|
Protein:
72.9
g
|
Fat:
35.5
g
|
Saturated Fat:
13.4
g
|
Cholesterol:
228
mg
|
Sodium:
611
mg
|
Potassium:
572
mg
|
Fiber:
0.1
g
|
Sugar:
0.5
g
|
Calcium:
41
mg
|
Iron:
3
mg
Nutrition information is automatically calculated, so should only be used as an approximation.