This chickpea arugula salad is a delightful and easy summer salad that combines canned chickpeas, peppery baby arugula, diced red onion, and fresh parsley, tossed in a lemony vinaigrette and topped with plenty of shaved parmesan (Parmigiano Reggiano) cheese.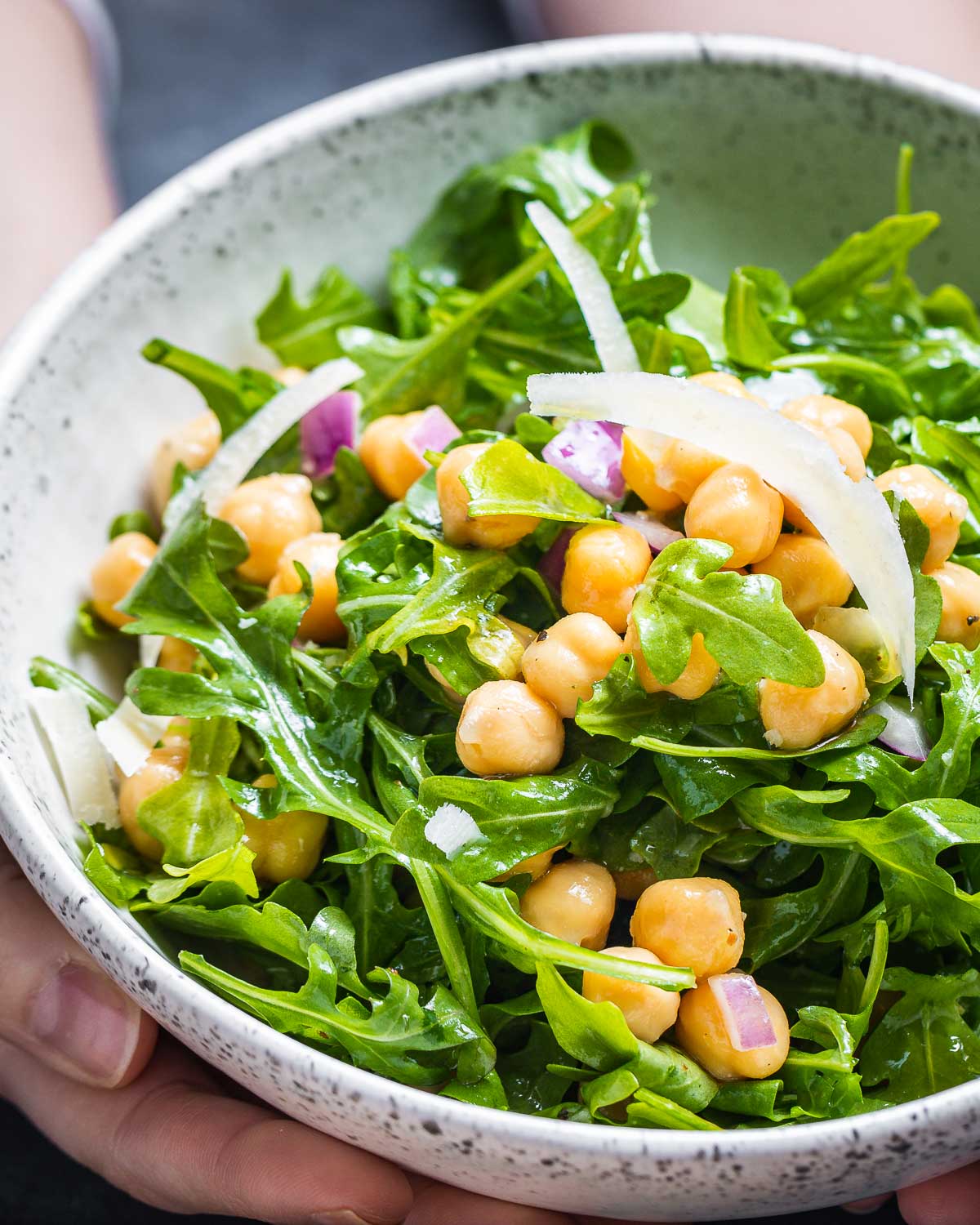 Salads often get a bad rap for being boring, or not filling enough to be considered a meal, but when you create a salad that includes beans, or other legumes, it increases its heartiness and makes it a bit closer to a meal.
This arugula salad with chickpeas is one such salad.
Why use arugula?
I love the taste of arugula, also known as rocket. It is bright, peppery, and lemony all on its own, and creates the perfect backdrop to heartier ingredients, like chickpeas, sliced steak, or chicken.
One of my absolute favorite meals is a simple Italian chicken cutlet served over arugula that is dressed simply with lemon juice and olive oil.
Arugula takes longer to wilt than other lettuces which makes this salad great for transporting or making in advance. In fact, arugula is not even really a lettuce. It is actually a member of the Cruciferous family which includes broccoli, Brussels sprouts, and kale.
I also love tossing arugula in with pasta, lemon, and Parmigiano Reggiano.
For this particular recipe, we used baby arugula, which is smaller and more tender than regular arugula. You could definitely use regular arugula if that is all you have access to.
Other ways to use chickpeas
Chickpeas, or ceci in Italian, are such a great ingredient to have on hand.
Canned chickpeas are shelf-stable and therefore can almost always be there waiting in the wings for you to use in a pinch.
You can add them to almost any salad, like this Italian chopped salad.
They are also great to add to pasta dishes. In fact, one of my favorite comfort food recipes is Pasta e Ceci, or pasta with chickpeas.
I also love making a spread of chickpeas blended together with garlic, olive oil, and lemon juice. This can be made quickly as a dip for veggies or pretzels, or even slathered on a sandwich.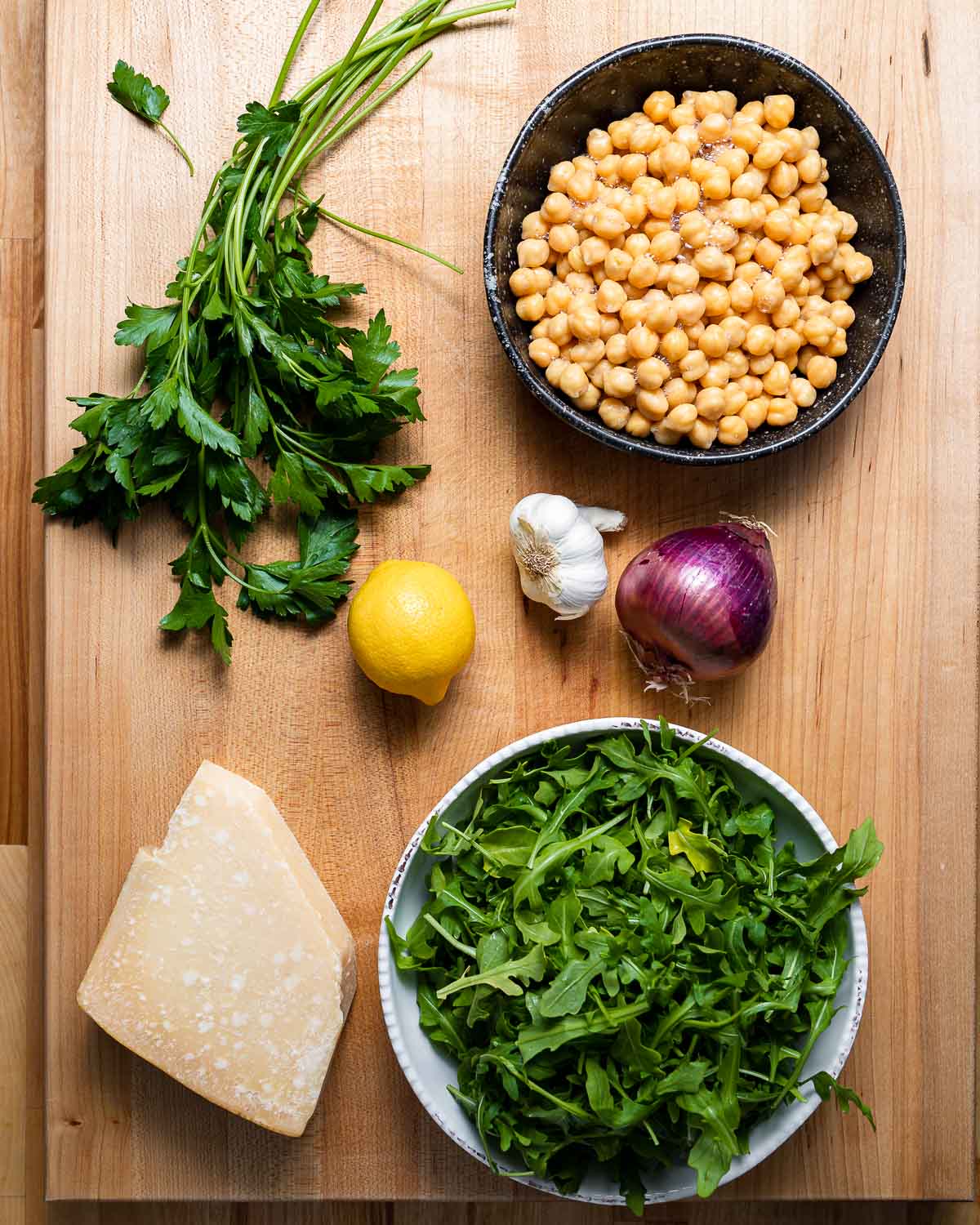 How to make chickpea arugula salad
Begin by mincing the parsley and dicing the red onion. Drain the canned chickpeas and give them a quick rinse with cold water. Rinse the arugula, and dry using clean towels, or a salad spinner. Grate one clove of garlic. Juice and zest one lemon.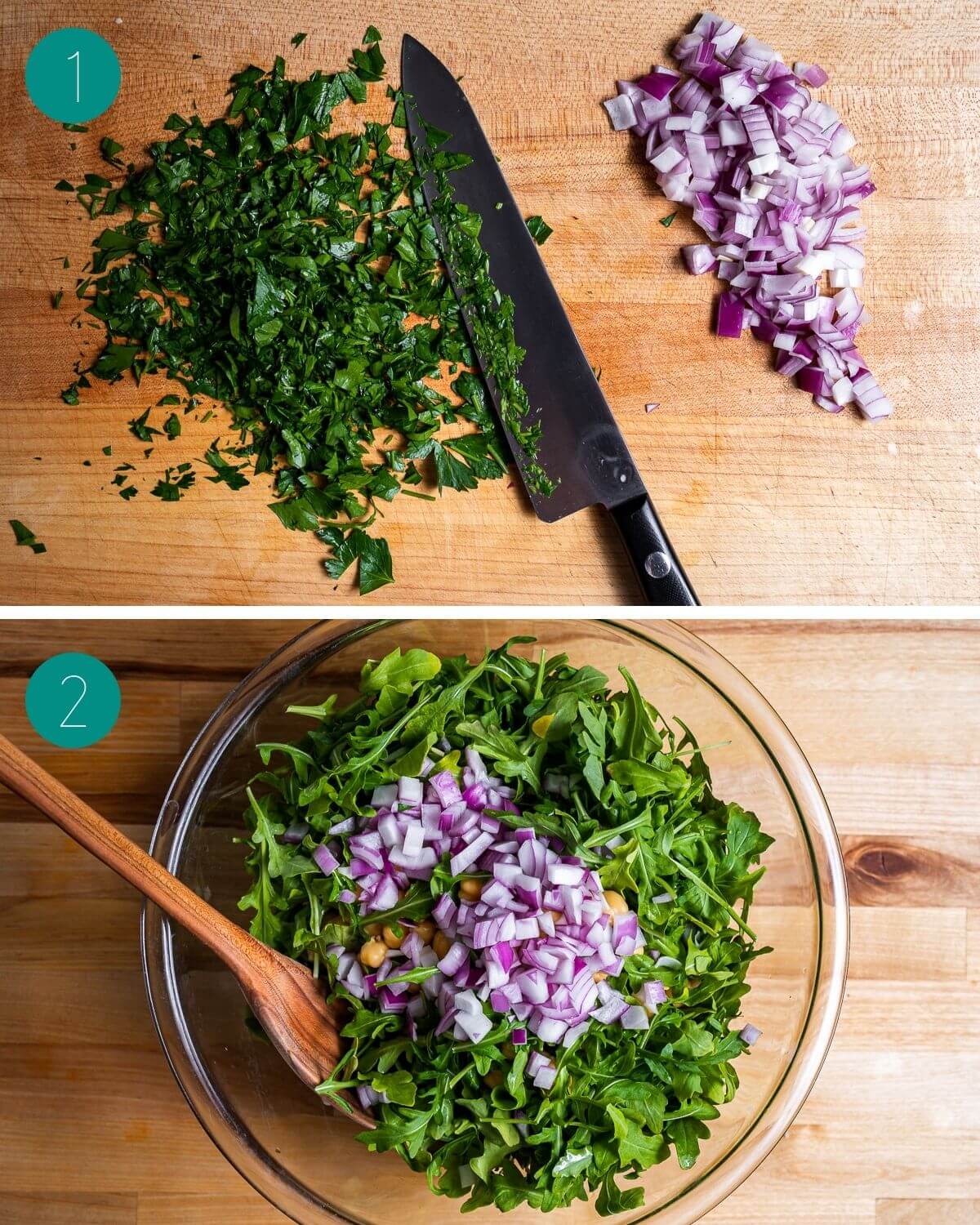 In a large bowl, combine the chickpeas, arugula, red onion, and parsley, and set aside. In a separate bowl add the grated garlic, lemon juice, and lemon zest. Add the dijon mustard, dried oregano, salt, and pepper, and lightly whisk. Slowly begin to add the olive oil to the lemon and garlic mixture while continuing to whisk.
Pour the vinaigrette over the entire salad, and give it a mix. Taste test the salad and add more salt and pepper if needed.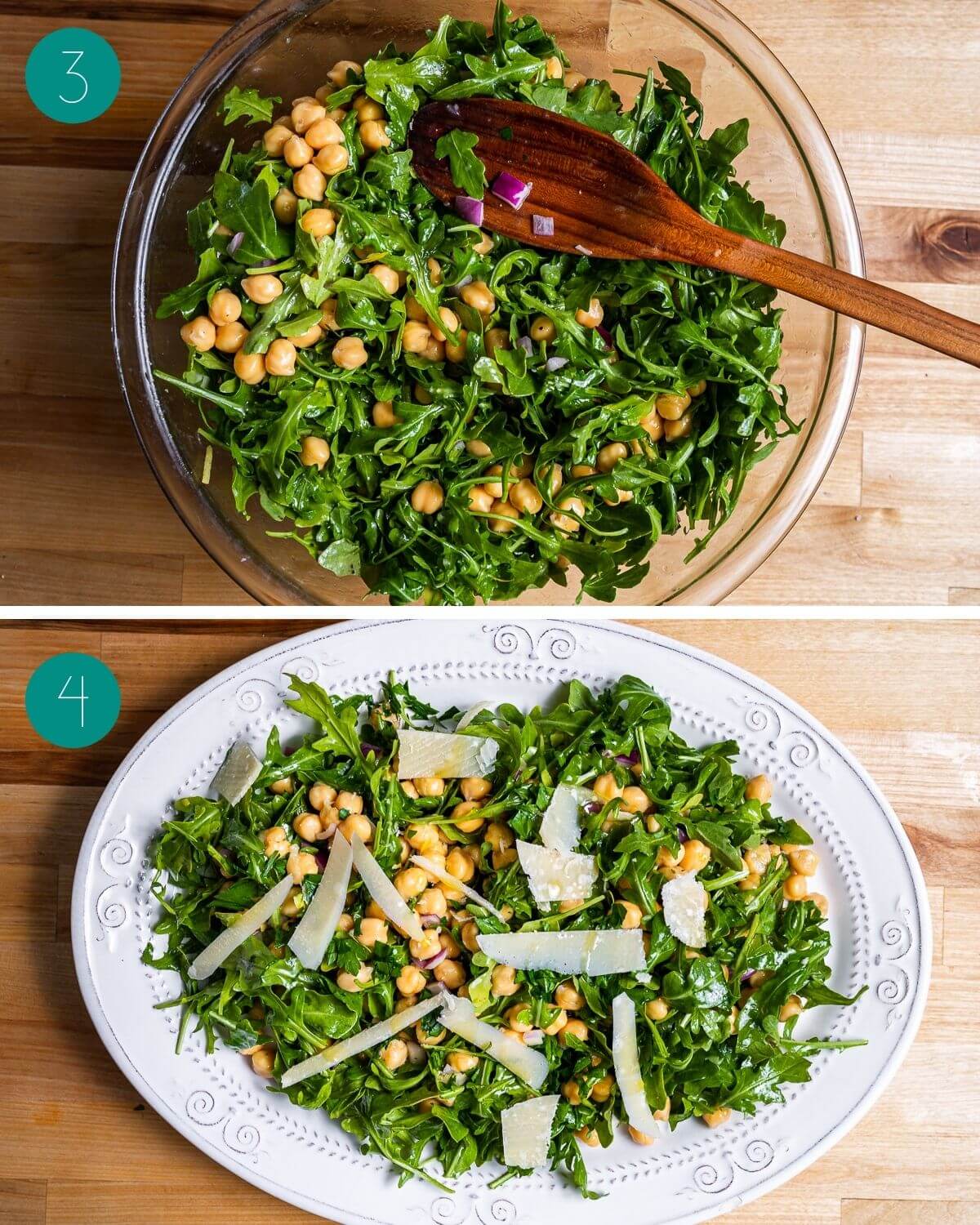 Right before serving, give the salad one more mix, and lay it out onto a large platter. Using a vegetable peeler, shave a hefty amount of Parmigiano Reggiano cheese all over the chickpea arugula salad. Enjoy!
Beans and greens
Growing up in an Italian-American household, you learn quickly that the combo of "beans and greens" is a food group unto itself.
If I'm not sure what to make for dinner at night, I can easily grab a can of chickpeas, or cannellini beans, saute some greens, such as broccoli rabe with garlic, and toss it all with some pasta and cherry peppers.
My other favorite "beans and greens" combos include escarole with white bean soup, and spicy sausage and kale soup.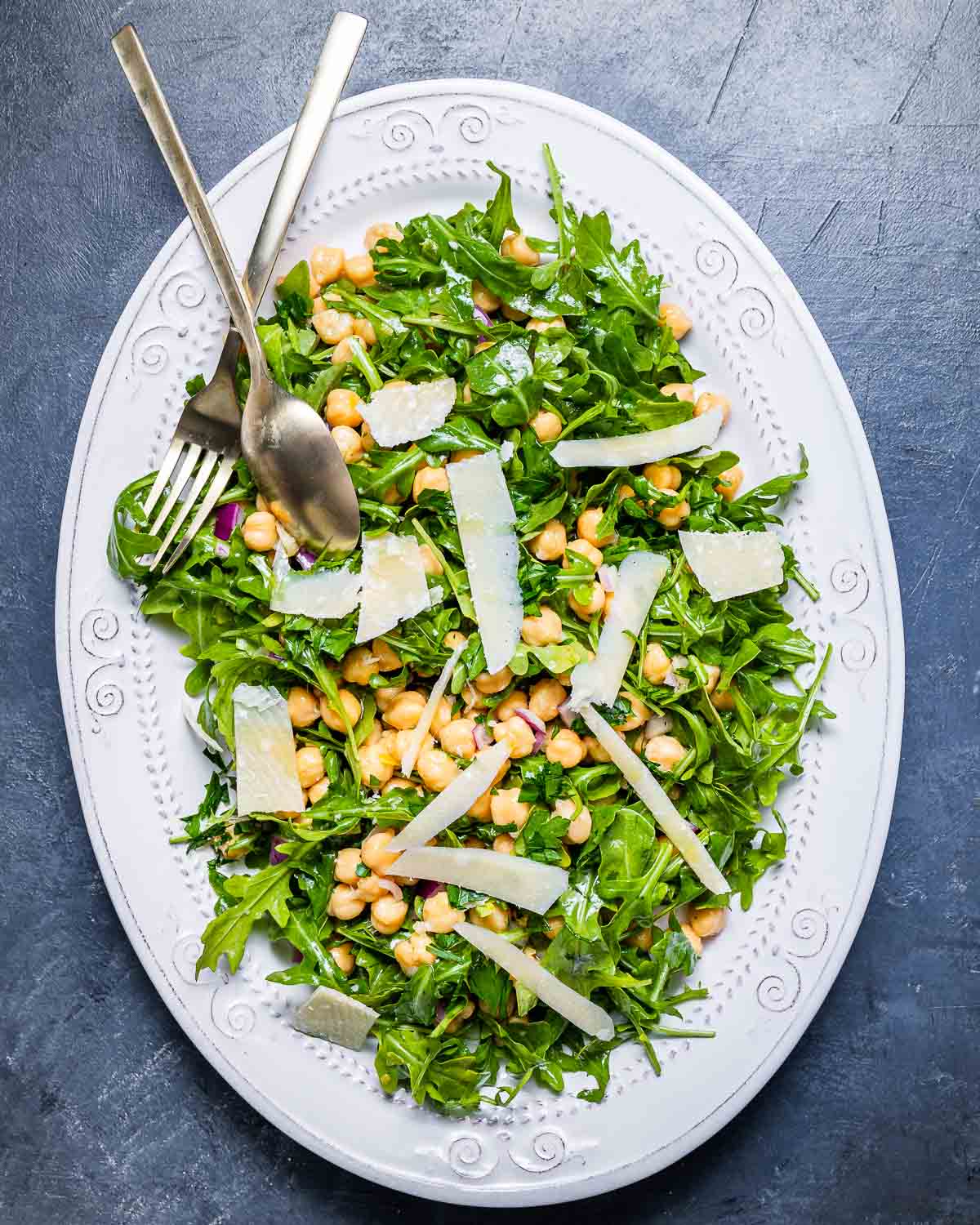 Other super salads
If you've enjoyed this recipe for Chickpea arugula salad, or any recipe on this site, we want to know so tell us in the comments below. We would love to hear how you did and it's nice to show others as well. Thanks!
FOLLOW US on YouTube, Instagram, Pinterest, and Facebook.
📖 Recipe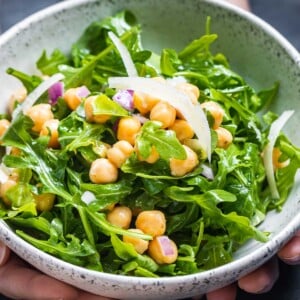 Ingredients
For the salad
2

15 ounce

canned chickpeas

drained and rinsed

5

ounces

baby arugula

¾

cup

red onion

diced

2

ounces

Parmigiano Reggiano

shaved from block

¼

cup

parsley

minced
For the vinaigrette
½

cup

extra virgin olive oil

1

large

lemon

juiced and zested

1

clove

garlic

grated

½

teaspoon

black pepper

1

teaspoon

kosher salt

plus more to taste

1

teaspoon

Dijon mustard

½

teaspoon

dried oregano
Instructions
Drain and rinse the chickpeas.

In a large bowl combine the chickpeas, arugula, red onion, and parsley.

Whisk together the vinaigrette and pour over the salad. Mix well. Taste test, and if required add more salt and pepper.

Right before serving mix the salad one more time and lay it out on a large platter. Shave a hefty amount of Parmigiano Reggiano cheese all over the salad. A vegetable peeler is a great tool for shaving the cheese. Enjoy!
Notes
The salad is best served the same day but can be eaten the next day. The arugula might be a tad soggy though.
A vegetable peeler is the recommended tool for shaving the Parmigiano Reggiano cheese.
Nutrition
Calories:
396
kcal
|
Carbohydrates:
23.1
g
|
Protein:
11.7
g
|
Fat:
30.3
g
|
Saturated Fat:
5.7
g
|
Cholesterol:
10
mg
|
Sodium:
1087
mg
|
Potassium:
133
mg
|
Fiber:
5.6
g
|
Sugar:
3.2
g
|
Calcium:
209
mg
|
Iron:
2
mg