This orange fennel salad is comprised of the simplest ingredients yielding a bright and flavorful dish that is beautiful to look at and delights the taste buds. Our recipe uses the cara cara, navel, and blood orange varietals and are gently tossed with sliced fennel bulbs, razor-thin onion, lemon juice and olive oil, and sprinkled with toasted pine nuts, fennel fronds, and flaky sea salt.
This Sicilian-style orange salad has become a favorite in our home.
My wife makes this at least once a week and it never disappoints. It's especially good in the winter months when we all need some vitamin c, but is so perfect in the summer!
This orange fennel salad travels well too making it the perfect side to bring to a barbeque, or any pot luck style gathering.
My favorite way to serve it is alongside a pizza. The brightness from the citrus and the digestive aid of the fennel make this a perfect side dish to pizza!
Orange fennel salad ingredients
As mentioned above, this dish is so simple because there are just a few ingredients.
Oranges, of any variety will work, but more on that in a bit. Slice, or segment, the choice is yours!
Fennel is a key ingredient in this dish, as its name suggests. The entire fennel bulb is edible, as are the stalks and the fronds.
If you love fennel, be sure to check out this grilled fennel salad with oil-cured olives and shaved parmesan.
For this salad, I sliced the bulb super thin, and roughly chopped the fronds.
The fronds are the completely edible dill-looking part of the fennel. They add texture and make a beautiful garnish.
Onion is another ingredient in the orange fennel salad. It may sound weird, but trust me, it works.
What type of onion should you use? I used a regular yellow onion, however, red onion would also work well and would add additional color.
Of course, you are free to omit the onion entirely, but I do recommend giving it a try.
Note – You can use a mandoline to get ultra-thin slices of the fennel and onion, but be careful, because it can be a dangerous tool.
I toasted pignoli nuts for this dish and tossed them in at the end. They also add texture and additional depth of flavor.
And lastly, I made a quick vinaigrette with fresh lemon juice and good quality extra virgin olive oil. Add it right before serving, give it a toss, and sprinkle the salad with flaky sea salt.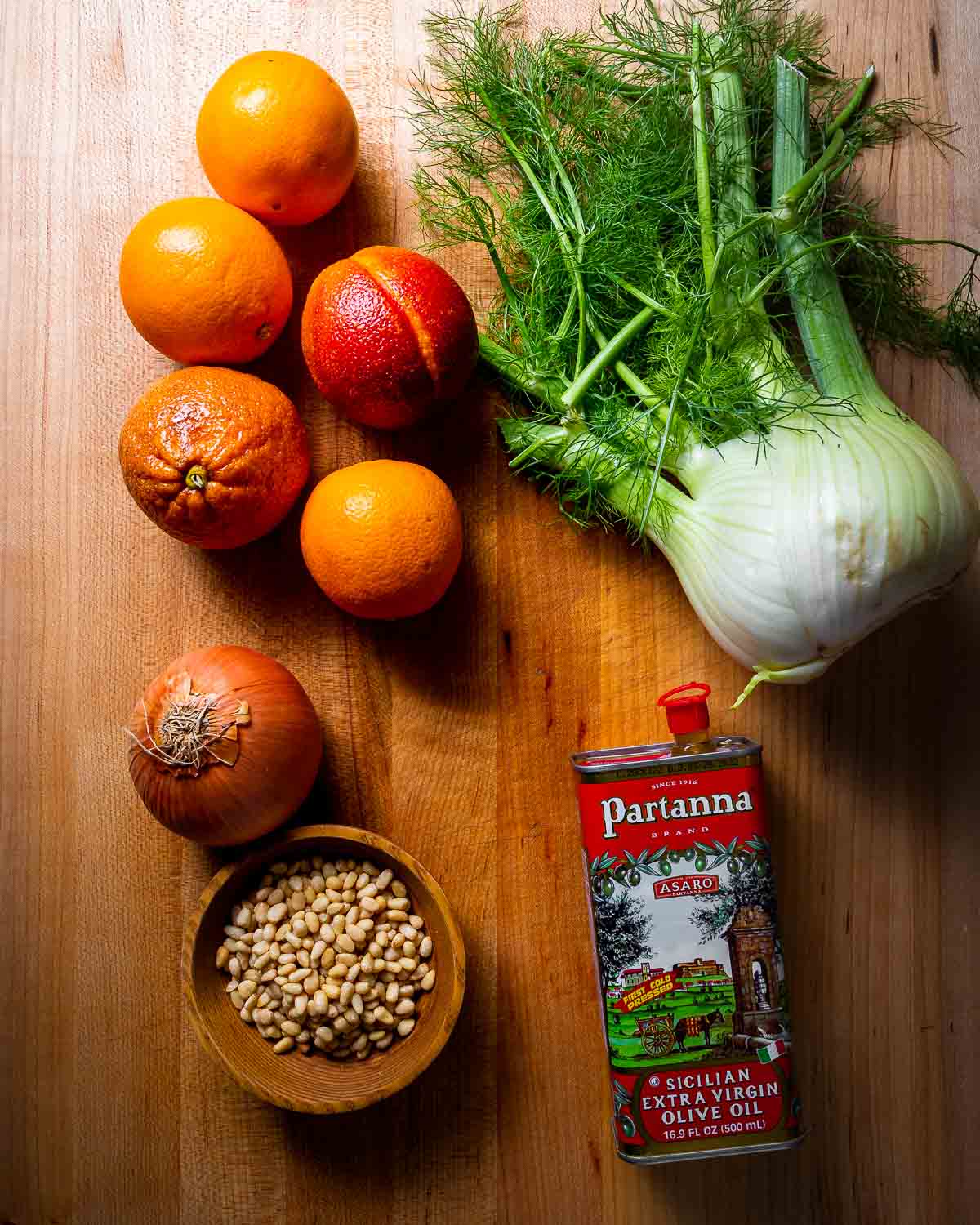 What type of oranges?
While you can certainly stick to one type of orange for this dish, I like to use several.
I love how different varieties of oranges have different colors, and tastes.
My favorite combination for creating a beautiful presentation is cara cara, blood, and navel.
Cara cara oranges have a slightly pink flesh that almost resembles the color of a grapefruit, while the navel orange is your classic orangey orange. And blood oranges, aptly named, have a deep red – almost purple flesh.
The combination of these three is just gorgeous.
Can I use grapefruit?
The short answer is YES! I've made it with grapefruit many times and it is always good.
Just bear in mind that grapefruit is less sweet, so I would recommend also including oranges in the salad as well.
How to make it
Begin by removing the fennel stalks and setting them aside. The fronds will be used later.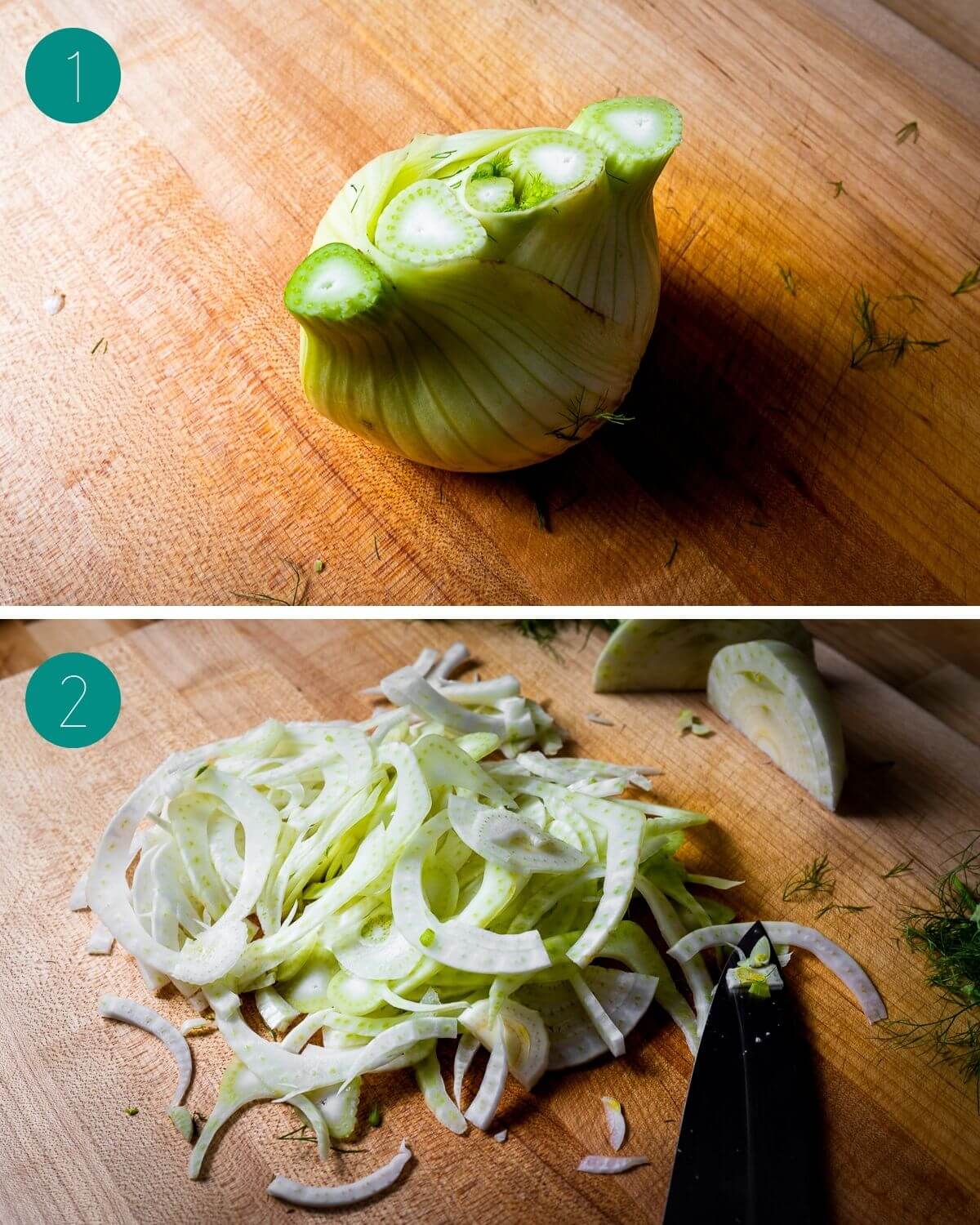 With a good knife, begin to slice the fennel into very thin strips. Once sliced, you can run them under cold water to clean them, and then run through a salad spinner, or pat dry.
Rinse the fennel fronds in cold water and pat dry. With a knife, give them a rough chop. Set aside as these will be used as a garnish.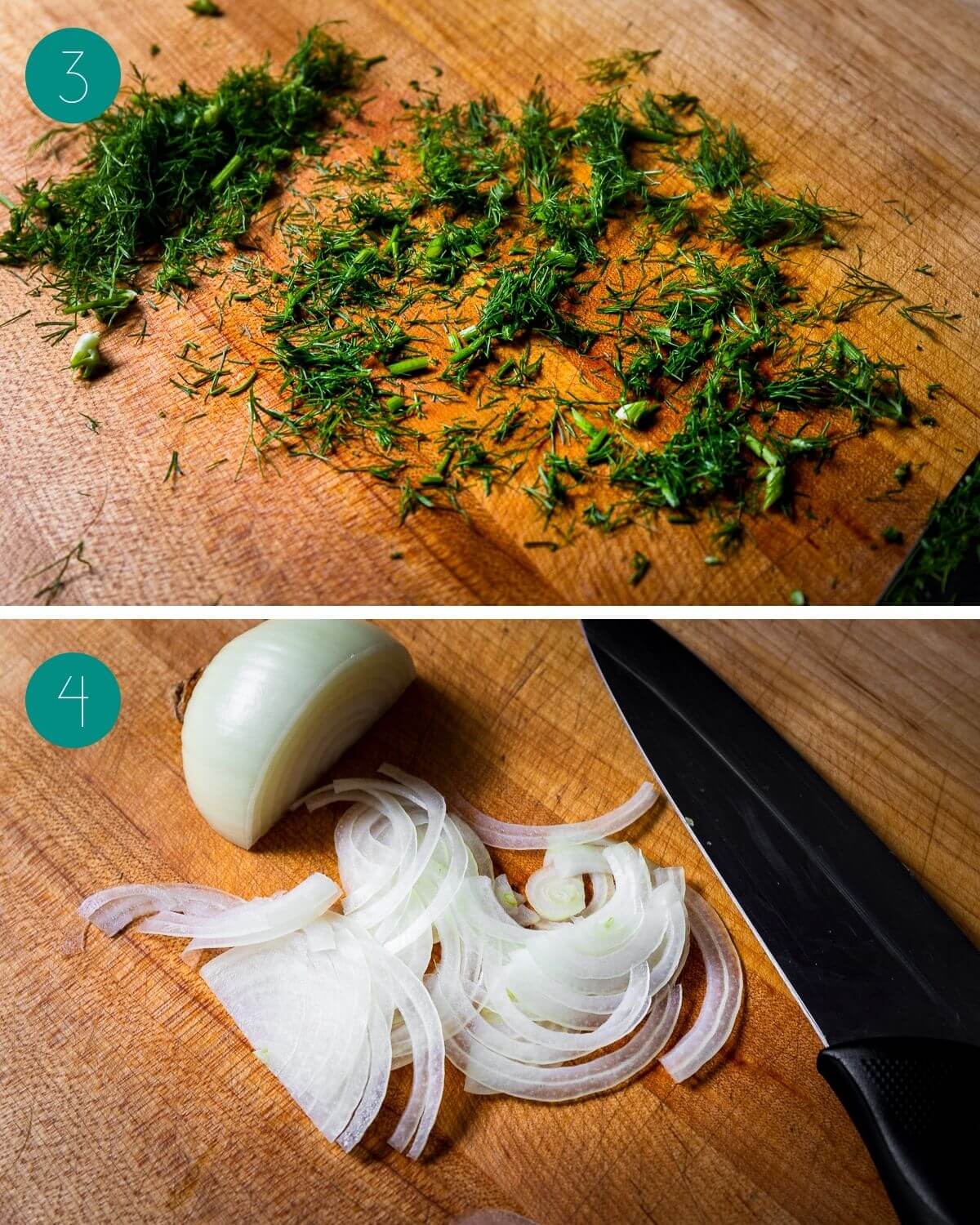 Slice the onion the same thickness as the fennel slices. Combine with the fennel slices and add to a serving plate.
With a paring knife, remove the skin from the oranges and slice into 1/4 to 1/2″ inch thick discs. Alternately, you can slice your oranges into segments. I prefer slicing them into discs because I find them easier to eat this way. Once sliced, layer them on top of the fennel and onion mixture. Drizzle with fresh lemon juice and good quality extra virgin olive oil.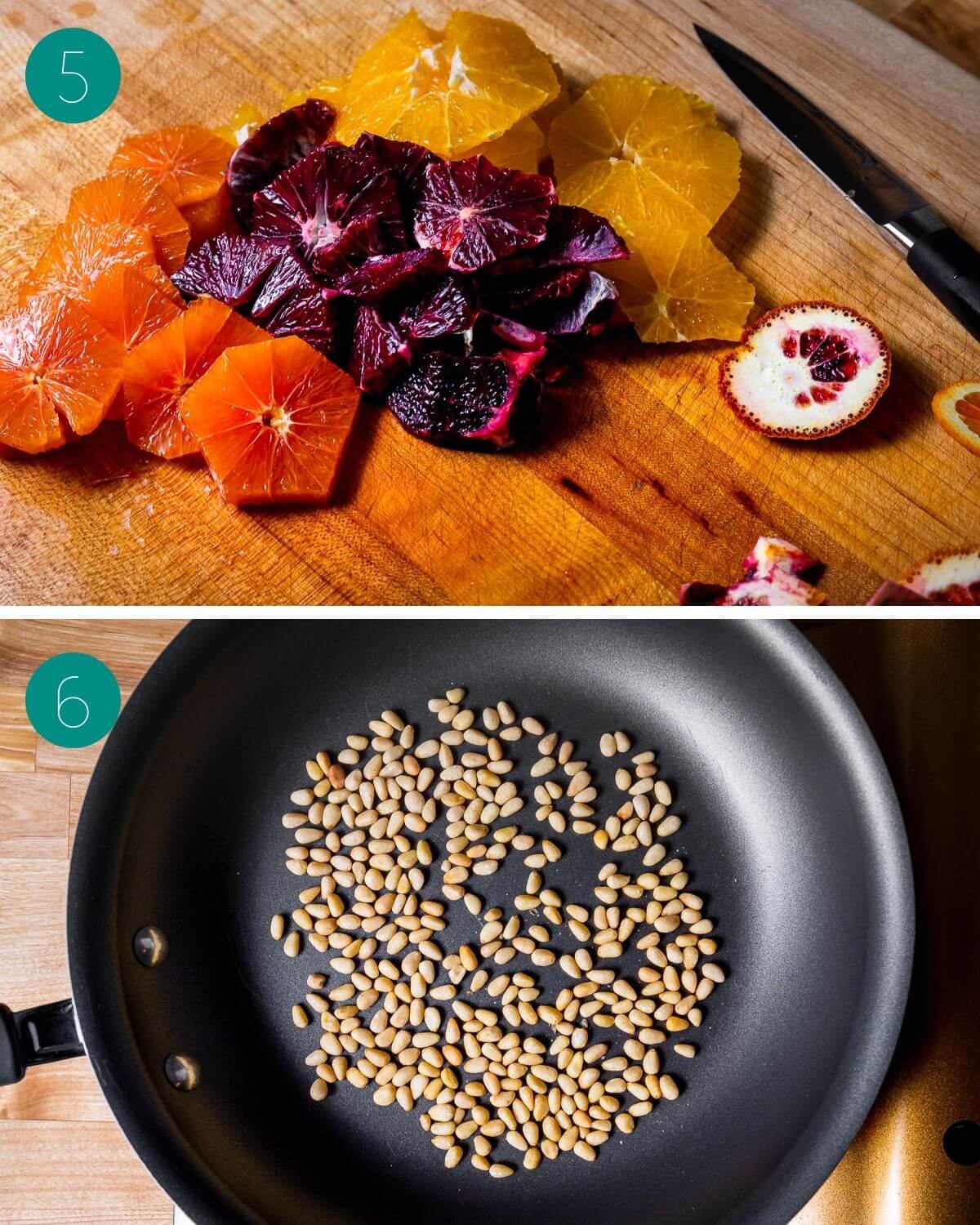 Add the pignoli nuts to a dry, small frying pan. Since the nuts have a high fat content on their own, there is no need to use oil in this step. On low heat, gently toast the pignoli nuts until lightly golden (about3 minutes). Make sure you watch them closely as they can burn easily. Once toasted, remove and allow to cool for 5 minutes before adding to the orange and fennel salad. Add the fennel fronds at this point, and just before serving, top with flaky sea salt. Serve with more extra virgin olive oil if desired. Enjoy!
What to serve with orange fennel salad
Since this salad is Sicilian in origin, I love pairing it with other Sicilian-style dishes, including pizza!
A favorite of mine is Sicilian-style eggplant parmesan without breadcrumbs. It's much lighter than the Italian-American version and would be the perfect complement to this salad.
I also love Pasta Alla Norma, the national pasta dish of Sicily that combines eggplant, tomato, basil, and Ricotta Salata.
For a super easy weeknight pasta, try this tuna pasta, aka Pasta al Tonno. It's just as simple to make as this salad!
And if you can't get enough fennel, you can serve this alongside chicken thighs with fennel and cherry tomatoes!
Try these other Italian salads!
While the orange and fennel salad is currently at the top of my list, there are so many other salads that I adore. I think you'll love them too. Check these out:
If you've enjoyed this orange fennel salad or any recipe on this site, please let us know in the comments. We would love to hear how you did and it's nice to show others as well. Thanks!
Follow us on YouTube, Instagram, Pinterest, and Facebook.
Orange, fennel, and onion salad tossed with lemon juice and extra virgin olive oil, and topped with fennel fronds and flaky sea salt.
Ingredients
2

medium

Cara cara oranges

segmented or sliced into 1/2" discs

2

medium

Blood oranges

segmented or sliced into 1/2" discs

1

large

Navel orange

segmented or sliced into 1/2" discs

1/4

cup

Pignoli, aka pine nuts

toasted

1

medium

Lemon

juiced

1

small

Onion

halved, and thinly sliced

1

large

Fennel bulb and fronds

thinly sliced

1/4

cup

Extra virgin olive oil

1

teaspoon

Flaky sea salt
Instructions
Slice the fennel bulb lengthwise, then slice thinly, crosswise. Chop the fennel fronds and set aside. Slice the onion in half, and slice each half thinly.

Toss the onion and fennel together and place on a serving dish. Layer the orange slices on top of the fennel and onion slices.

Drizzle the lemon juice and extra virgin olive oil on top of the fennel, onion and orange mixture.

To a dry, small pan, add the pignoli nuts and toast over low heat (about 3-5 minutes) paying close attention to not let them burn. Remove from the pan once fragrant and light golden brown.

Once the pignoli nuts are cool, sprinkle on top of the orange fennel salad.

Top the salad with the chopped fennel fronds and flaky sea salt. Serve immediately.
Notes
While this salad travels well, I would suggest waiting until you are about to serve before topping with the flaky sea salt. The salt has a tendency to dissolve into the oranges and waiting until ready to serve will ensure that the flaky sea salt texture is intact.
You can substitute any type of oranges for this salad, or use just one type. For a less sweet version, try adding in some grapefruit slices.
Some variations include oil-cured olives, fresh mint, or fresh basil. Feel free to experiment!
Nutrition
Calories:
262
kcal
|
Carbohydrates:
25.7
g
|
Protein:
3.1
g
|
Fat:
18.7
g
|
Saturated Fat:
2.2
g
|
Sodium:
584
mg
|
Potassium:
382
mg
|
Fiber:
4.8
g
|
Sugar:
16.4
g
|
Calcium:
16
mg
|
Iron:
2
mg
Nutrition information is automatically calculated, so should only be used as an approximation.