Roasted fig salad couldn't be simpler to make, and is perfect for when you're in the mood for something a little extra special. The sticky-sweet honey roasted figs, creamy gorgonzola, mixed greens, and balsamic vinaigrette combine to create the perfect salad to have when you feel like treating yourself to a restaurant worthy dish, in the comfort of your own home.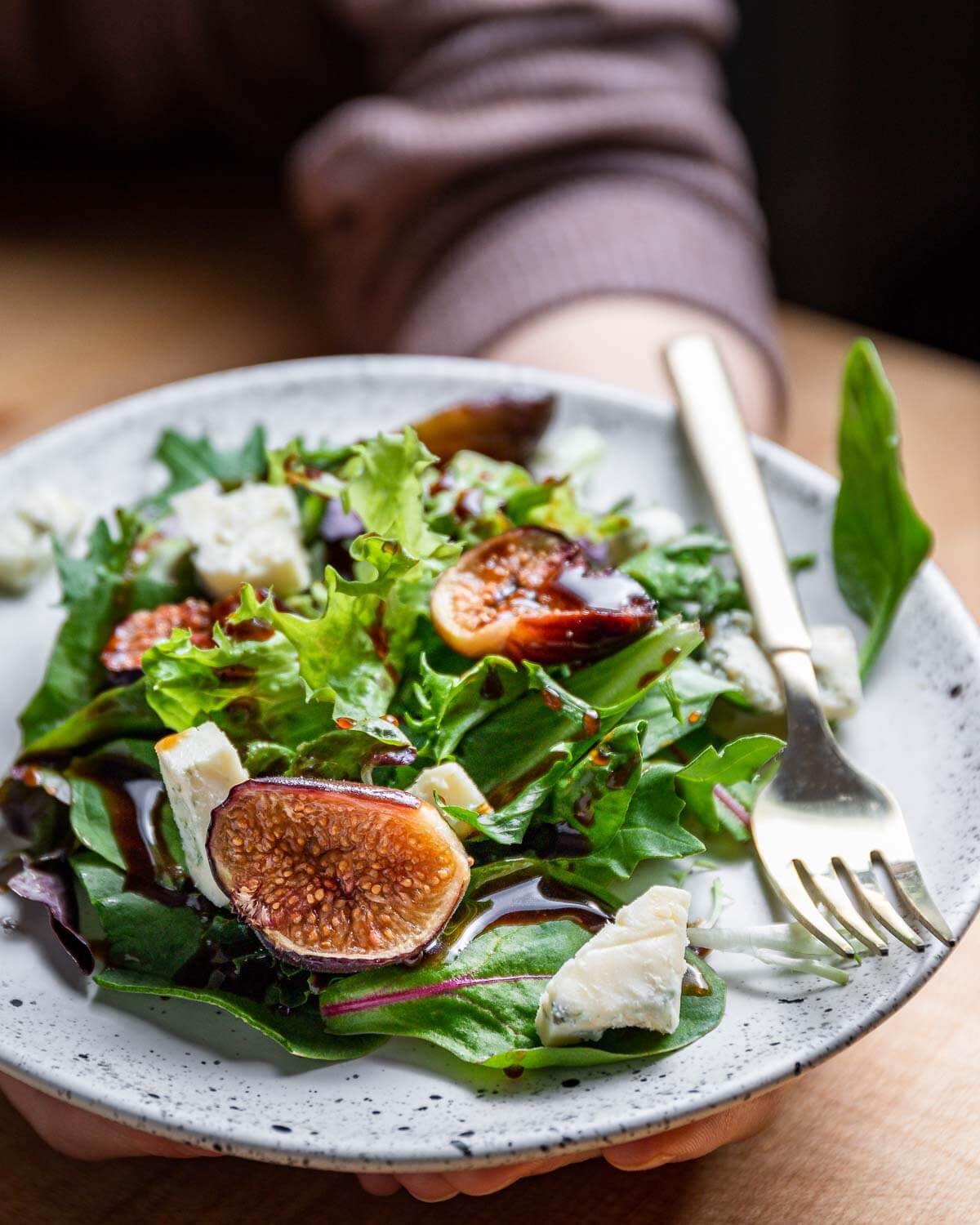 If you're Italian-American or know someone who is, you've likely encountered a fig or two in your lifetime. In fact, you may even know someone who has a fig tree in their yard.
For the Italian-American, the fig tree is more than just a tree - it is something that is nurtured and protected, an herbaceous family member if you will.
In the northeast where it gets colder in the winter, fig trees will be covered with a blanket to keep them warm and ensure their survival over the colder months.
Fig trees are special, and so are the fruit they produce.
They can be used in desserts, dinners, and appetizers. I love snacking on raw figs with some prosciutto and cheese or adding them to charcuterie boards, but my favorite is roasted figs with honey. And that is what inspired this roasted fig salad recipe.
Fig varieties
For this recipe, we used black mission figs because that was what looked the best at our local grocery store. Black mission figs tend to be sweeter than other figs, but other varieties would work equally well for this salad.
Calimyrna figs are on the greener side, and also pretty sweet. These could easily be used in this recipe. I've seen these figs in Costco several times, so if those are available to you, definitely pick them up.
Brown turkey figs are mottled dark purple and green and would also work well in a roasted fig salad.
You really can't go wrong selecting a fig variety for this salad. Just make sure they are on the firmer side. If they are too soft, they may be past their peak.
Inspect the figs you're buying. They are delicate and are normally sold in hard plastic containers to protect them during transport. Even with the containers, it can be hard to find good ones, so look closely!

Ingredients and variations
In addition to the figs discussed above, this salad consists of honey (for the figs), gorgonzola, balsamic vinegar, and mixed greens.
Gorgonzola
We used gorgonzola dolce for this salad. Gorgonzola dolce is creamier and slightly sweeter than other gorgonzola, such as piccante.
If you prefer to use a crumbly gorgonzola, opt for the piccante. Gorgonzola dolce isn't crumbly and requires you to cut it into cubes or chunks with a knife. Either one would be great in this salad.
Balsamic vinegar
We used the Kirkland brand aged balsamic vinegar of Modena for this salad. Since this is available in Costco, it is likely widely available to most in the US.
If you are able to find a fig-infused balsamic, you can certainly use that, and would just add to the salad.
Greens
I highly recommend using mixed greens for the roasted fig salad. I love the mix of colors and textures that spring mixed greens offer. That being said, if mixed greens aren't your cup of tea, you can certainly use green or red leaf lettuce or even romaine.
How to make roasted fig salad
The first step in making the roasted fig salad is to roast your figs. Doing this step first allows time for the figs to cool before placing them on top of the greens. You can serve them warm, but I actually prefer them to come to room temperature before serving and eating. If I'm serving this at a gathering, I usually roast the figs earlier in the day so there is very little to do when it comes time to serve. Preheat the oven to 400f and line a baking sheet with parchment paper. Slice the figs in half, or quarters, place them on the baking sheet, and drizzle with honey.
Roast the figs for 15 minutes. When you remove them, they will have released some of their juice and that will have combined with the honey making for a delicious, sticky-sweet fig. Set them aside to cool and resist the temptation to eat all of them at this step. 😉
While your figs are cooling, make the vinaigrette by combining Dijon mustard, balsamic vinegar, and the remaining honey. Slowly drizzle in the extra virgin olive oil while whisking to maximize emulsification. Add salt and black pepper, and set aside. The vinaigrette can also be made ahead of time to allow for easy assembly right before serving.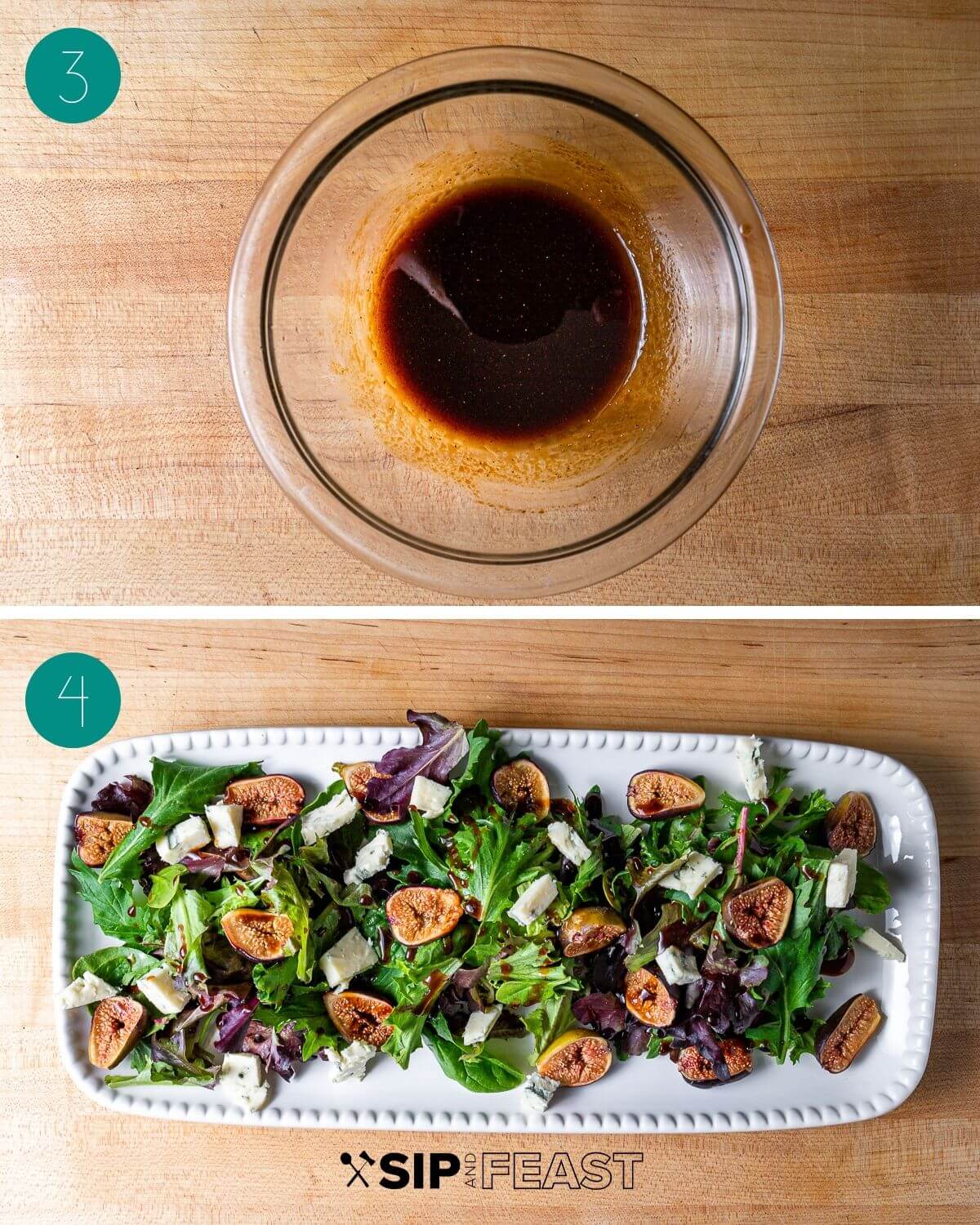 When you are ready to serve, wash and dry your greens using a salad spinner, or clean towels, and cube the gorgonzola dolce. If using pre-crumbled gorgonzola, you will not need to cube at this point as the crumbles are already bite-sized. Assemble the greens on a serving plate and top with the roasted figs. Drizzle the mixture with the vinaigrette, and then add the cubed gorgonzola dolce. Serve immediately and enjoy!
Additions for roasted fig salad
This salad is a great base for other add-ins. Feel free to play around and see what you like best. Some add-ins I've used for this salad include prosciutto, walnuts, or candied walnuts, toasted pine nuts aka pignoli, slivered almonds, as well as grilled chicken or steak.
Another great change up to consider is using maple syrup, cinnamon, and rosemary to roast with the figs. This combination is outstanding and tastes especially good in the Fall.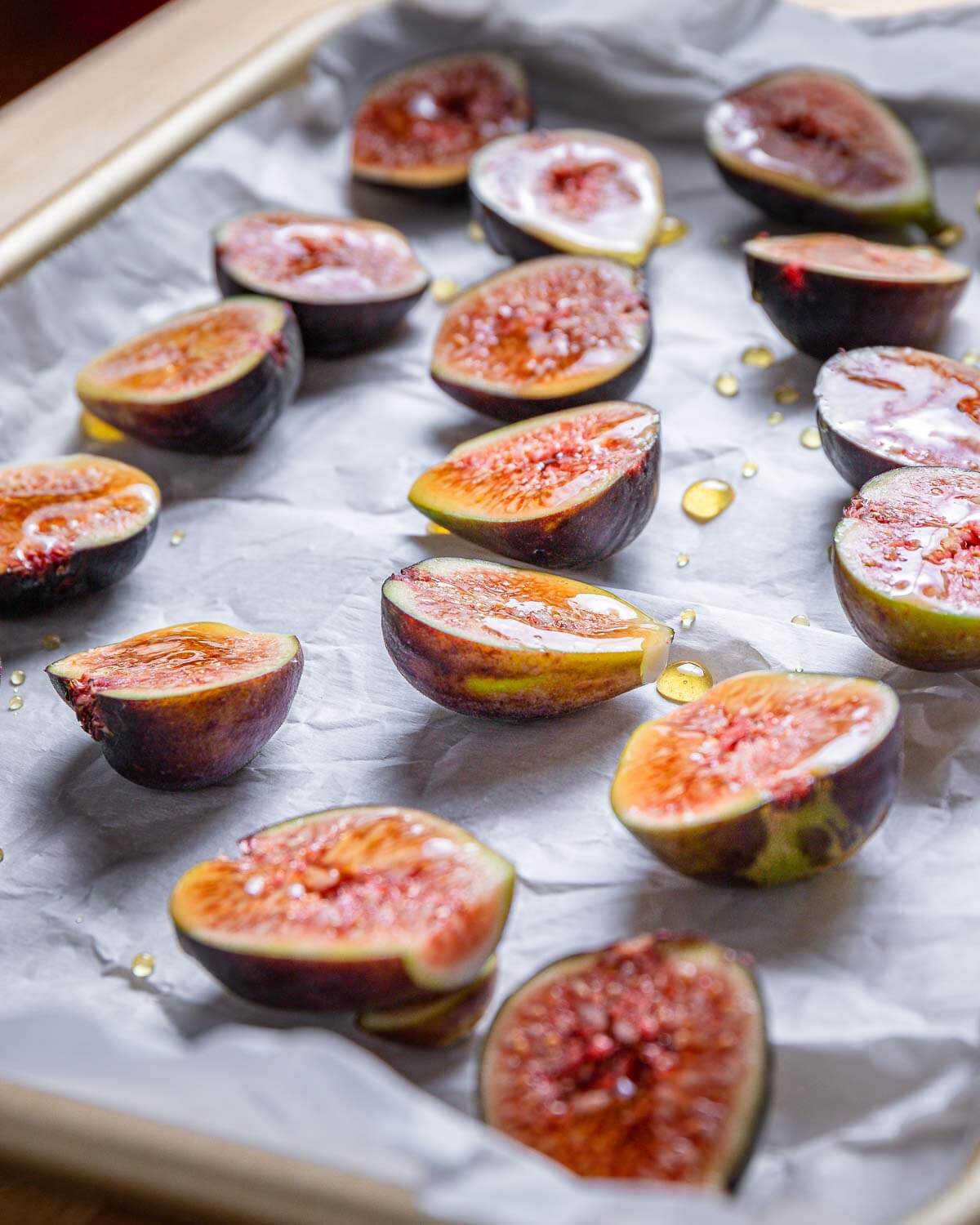 More salads
We love salads and eat them frequently. Some of our favorites are listed here. Which one is your favorite?
If you've enjoyed this recipe for the Roasted Fig Salad, or any recipe on this site, we want to know so tell us in the comments below. We would love to hear how you did and it's nice to show others as well. Thanks!
FOLLOW US on YouTube, Instagram, Pinterest, and Facebook.
Ingredients
For the salad
6

ounces

mixed greens

4

ounces

gorgonzola dolce

cubed

2

teaspoons

honey

8

medium

figs

halved
For the vinaigrette
1

teaspoon

Dijon mustard

6

tablespoons

balsamic vinegar

½

cup

extra virgin olive oil

2

teaspoons

honey

½

teaspoon

kosher salt

½

teaspoon

black pepper
Instructions
For the vinaigrette
To a small mixing bowl, add the Dijon, balsamic vinegar, honey, salt, and pepper and whisk until combined.

Slowly drizzle the extra virgin olive oil into the vinegar mixture, whisking continuously until combined.
For the salad
Preheat the oven to 400f. Line a baking sheet with parchment paper, placing the figs on top.

Drizzle the figs with honey and roast for 15 minutes. Remove from the oven and allow to cool.

To a serving platter, add the mixed greens and roasted figs. Drizzle with the vinaigrette.

Top with the cubed gorgonzola dolce and serve immediately. Enjoy!
Notes
The figs can be roasted ahead of time and served at room temperature.
The vinaigrette can be made up to 3 days ahead of time.
If using pre-crumbled gorgonzola, there is no need to cube it.
Nutrition
Calories:
433
kcal
|
Carbohydrates:
30.7
g
|
Protein:
7.9
g
|
Fat:
33.8
g
|
Saturated Fat:
9
g
|
Cholesterol:
27
mg
|
Sodium:
653
mg
|
Potassium:
342
mg
|
Fiber:
5
g
|
Sugar:
21.7
g
|
Calcium:
202
mg
|
Iron:
2
mg