This super simple pasta with cherry tomatoes, basil, and garlic is absolutely perfect for when you have a pasta craving but want a light, summer dish! It's a quick recipe that can be made in the time it takes to boil water and cook your pasta.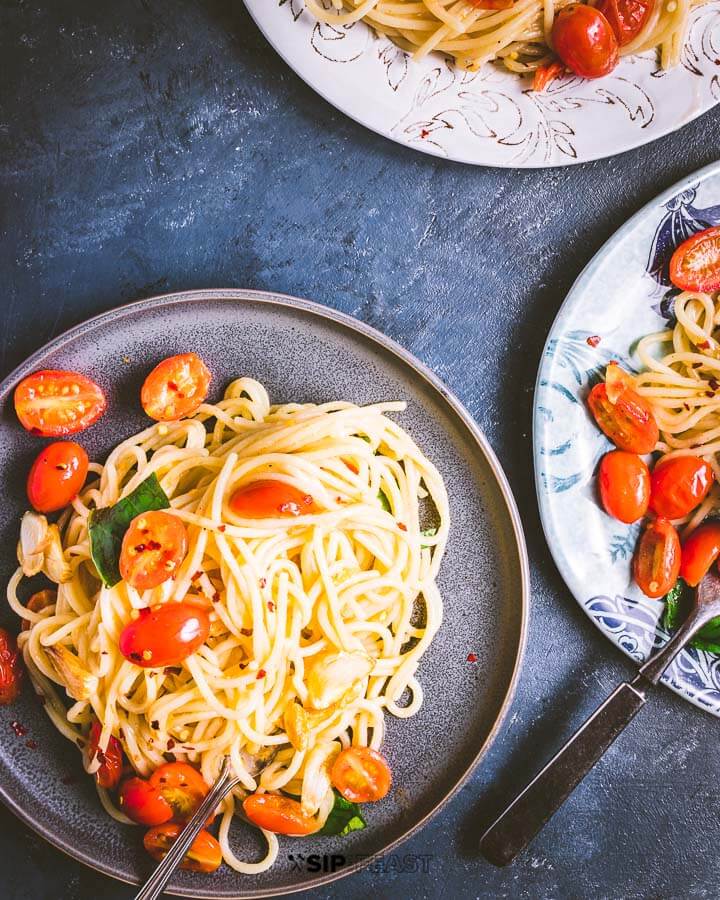 This cherry tomato pasta recipe is simple. Probably even simpler than linguine aglio e olio or pasta with celery.
It's quicker than our roasted cherry tomato pasta recipe. That one is great but it takes a bit longer due to the roasting time. If you're in a rush this is the recipe you should make.
It can be made all year round of course, but we particularly love it with our fresh grown cherry tomatoes and basil that we pick right from the garden.
And if you grow a lot of veggies, you'll this ciambotta recipe, which uses a ton of them.
Don't worry though - fresh, good-quality cherry tomatoes are around all year long, so this tomato basil pasta can be made year-round!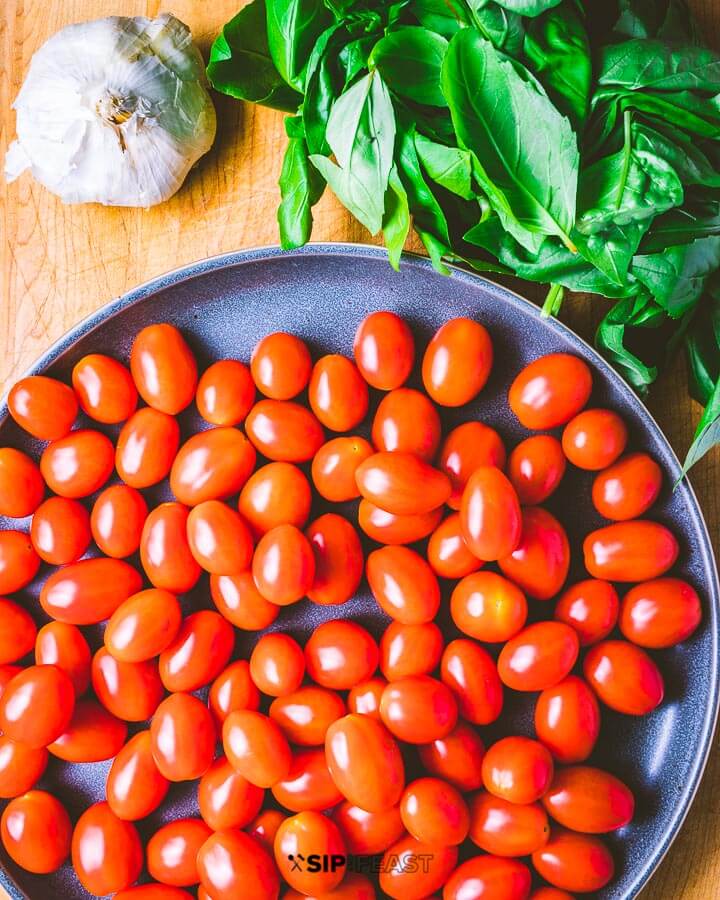 All you'll need for this recipe is some good good-quality cherry tomatoes, fresh basil, spaghetti, or any pasta you like, garlic, salt, pepper, crushed red pepper flakes, olive oil, and extra virgin olive oil. Super simple ingredients!
How to make pasta with cherry tomatoes
Each number corresponds to the numbered written steps below.
Start by cooking the pasta in salted ( 2 Tbsp kosher salt per gallon of water) water to "al dente". Slice or chop 10 cloves of garlic.
Slice the cherry tomatoes in half. This is not 100% necessary, but the tomatoes cook a little quicker in the pan and don't burst and pop, potentially burning your skin, while cooking.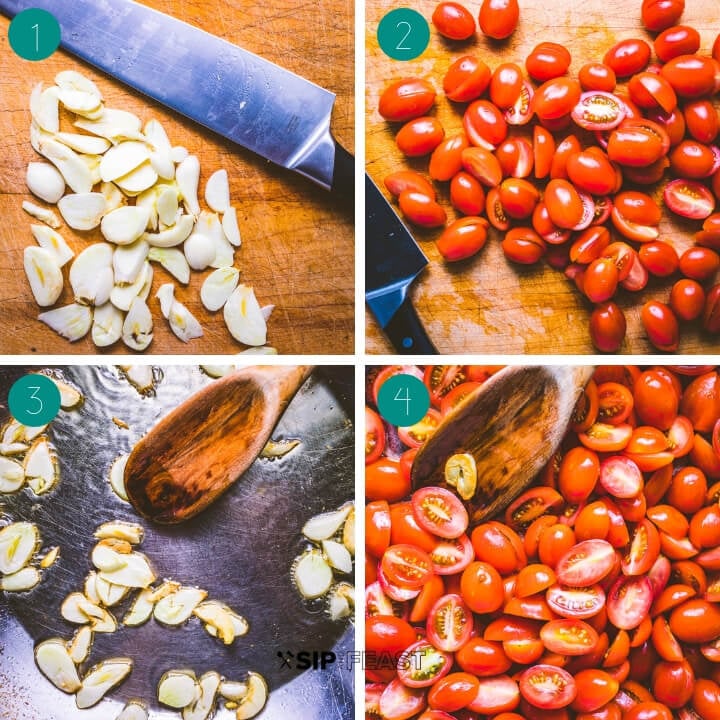 In a large pan, saute garlic until lightly golden in a ¼ cup olive oil over medium to medium-low heat.
After the garlic is golden, add all the tomatoes to the pan and cook for 2-3 minutes longer until they are lightly charred and wilted. Give the pan a shake to thoroughly coat the tomatoes with the garlic oil. Season the tomatoes with 1 tsp of salt and a ¼ tsp of crushed red pepper flakes.
Reserve 2 plus cups of pasta water before draining the pasta, or ideally use a pasta spider or basket to keep the water in the pot.
Add 1 cup of pasta water to the pan and cook for 1 minute.
Add the pasta to the cherry tomatoes and give it all a stir or toss.
Continue to mix the pasta and cook for a minute or so to allow the sauce to slightly absorb. Add a ½ cup or more of fresh hand torn basil leaves and turn off the heat. Taste test and adjust salt and crushed red pepper levels if required. Give the pasta a ¼ cup drizzle of extra virgin olive oil. Finally, if the pasta gets dried out before serving, just add a few ounces of the reserved pasta water at a time to bring the consistency right back to perfect.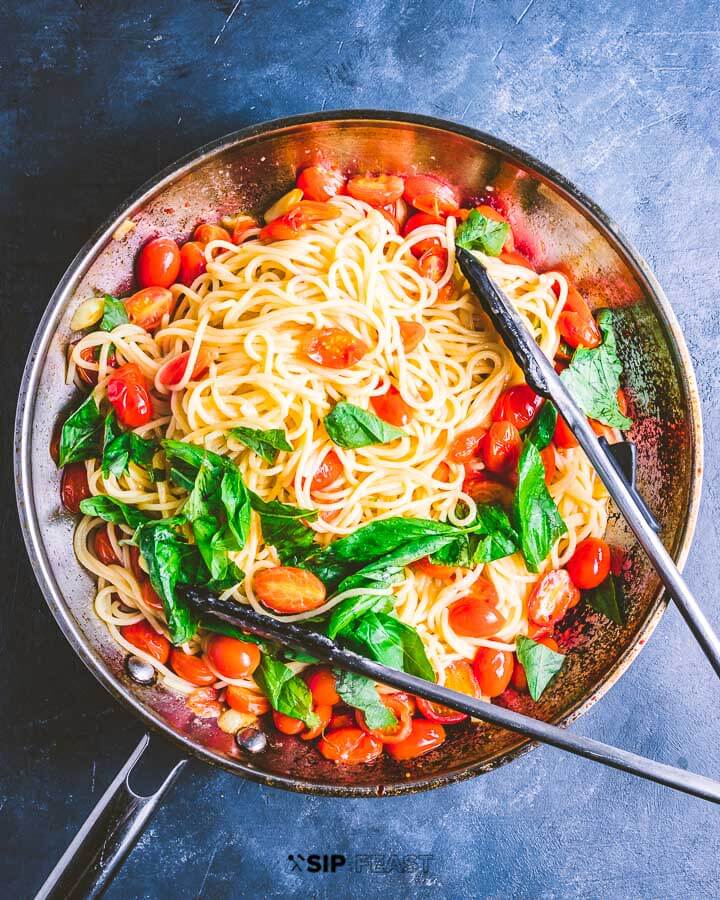 So that is how to make a great summer pasta with grape tomatoes.
Be sure to serve it with more crushed red pepper, extra virgin olive oil, and grated cheese on the side.
Pasta choices
There are so many great ones to use for this tomato basil pasta.
Bite size shapes like orecchiette, penne, and rigatoni all work well. By the way, if you love rigatoni you need to make this rigatoni alla vodka recipe!
Anyway, back to the pasta. We used spaghetti which works great if looking for long pasta. A thicker pasta like fettuccine or a thin one like angel hair would also be nice.
Substitutions and additions
spinach or kale - Use baby spinach and throw it in right at the end with the hot pasta to let it slightly wilt. Kale should be sauteed with the tomatoes as it needs some cooking time.
zucchini, asparagus, mushrooms - All three of these go great with pasta and grape tomatoes. Saute them before the tomatoes until fully cooked through.
chicken or shrimp - Either one would work well and make a more substantial pasta dish. Use 1-1 ½ pounds of either for 1 pound of pasta.
oil-cured black olives - These are amazing olives to add in. Use ¼-1/2 cup as they are very salty and strong. Make sure to rinse them first to remove some of the salt.
Cheese - Definitely serve pecorino or Parmigiano Reggiano on the side. Fresh mozzarella broken into bite-size pieces makes a great addition as well.
How to maximize the flavor
So of course you want to make this dish perfectly. There are not a lot of ingredients in this dish, so using quality ripe tomatoes and fresh basil is critical.
Even more important is the act of sauteing the garlic properly. Keep the heat pretty low to avoid burning it, but high enough to get a nice golden color on the garlic.
That wonderful flavor will be imparted to the tomatoes and will make the dish so much better.
The final tip is to reserve and use enough pasta water.
The pasta water and the olive oil along with some of the released juice from the tomatoes will create a delicious sauce. That sauce will thoroughly coat the spaghetti, making the perfect pasta dish!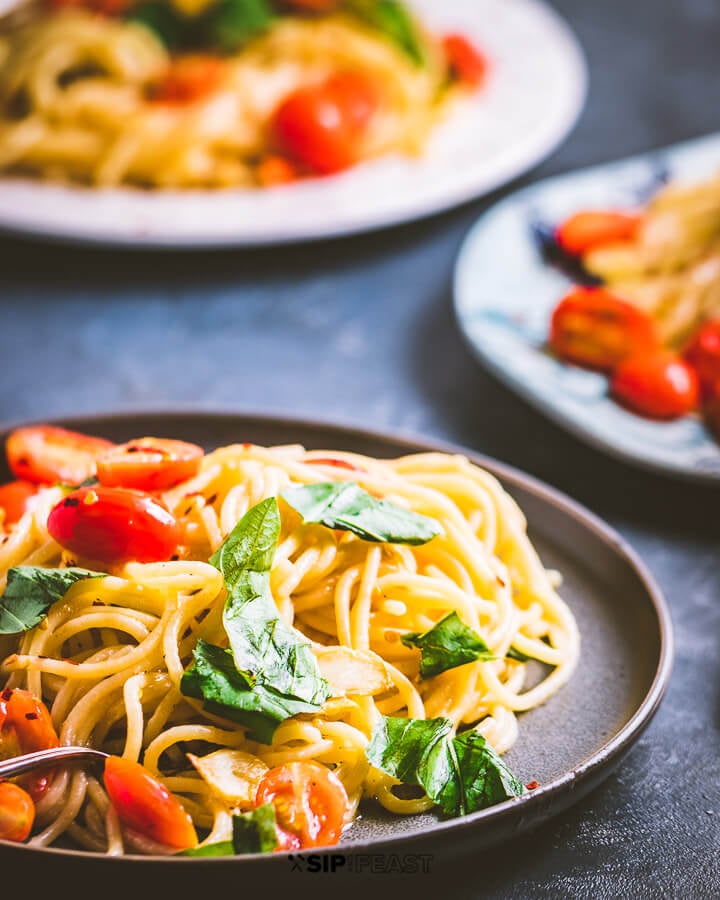 More recipes with cherry tomatoes
If you've enjoyed this pasta with cherry tomatoes and basil recipe or any recipe on this site, give it a 5-star rating and leave a review.
Some people learn by watching. If you're that type of person, you can find most of our recipes on YouTube and our Facebook Page.
Ingredients
1

pound

spaghetti

1

quart

cherry tomatoes

halved

½

cup

packed basil leaves

6

cloves

garlic

sliced

1

teaspoon

kosher salt

¼

teaspoon

crushed red pepper

¼

cup

olive oil

¼

cup

extra virgin olive oil

1

cup

pasta water
Instructions
In a large pan set to medium-low heat saute garlic in a ¼ cup olive oil until golden (about 3 minutes). After garlic begins to turn golden add tomatoes and saute for 2 minutes longer. Season tomatoes with 1 tsp kosher salt and ¼ tsp crushed red pepper flakes.

Meanwhile cook pasta to al dente in salted (2 Tbsp kosher salt per gallon) water.

To pan, add 1 cup of pasta water and cook for 1 minute longer. Next, add the pasta and toss to coat. Mix well and taste test, adjusting salt and pepper levels if necessary.

After 1 more minute of cooking remove pan from heat and add ½ cup torn basil leaves. Drizzle a ¼ cup of extra virgin olive oil on to pasta and serve. Enjoy!
Notes
1 teaspoon kosher salt was added, adjust to taste.
¼ teaspoon crushed red pepper flakes are optional.
Make sure to reserve extra pasta water, to thin sauce.
Serve with extra virgin olive oil, crushed red pepper flakes, and grated cheese.
Nutrition
Calories:
587
kcal
|
Carbohydrates:
71.6
g
|
Protein:
15
g
|
Fat:
28.2
g
|
Saturated Fat:
4
g
|
Cholesterol:
83
mg
|
Sodium:
621
mg
|
Potassium:
670
mg
|
Fiber:
2.4
g
|
Calcium:
40
mg
|
Iron:
4.5
mg