Rigatoni alla vodka is a crowd-pleasing Italian-American pasta that's incredibly easy to make. Our version combines white wine and vodka in a simple tomato-cream sauce that's tossed with pasta and freshly grated cheese.
If you grew up in New York, or the NY metro area, chances are you've had rigatoni alla vodka a few times.
This pink sauced pasta graces the tables at weddings, baptisms, communions, and every catered event in between!
I learned how to make pasta alla vodka in the 90's when I worked at a deli/caterer and observed the chef, Richard, make this dish twenty pounds at a time.
He always made it with vodka and white wine and this recipe is a re-creation of his.
And vodka sauce doesn't just need to be used for pasta. We love using it as an alternative to marinara sauce on chicken parm, and it makes a fantastic vodka sauce pizza!
Rigatoni Alla Vodka Ingredients:
1 pound rigatoni - Any pasta is fine.
¾ cup pecorino - Parmigiano reggiano can be substituted.
1 small onion - About a half cup of onion.
3 Tbsp olive oil
3 garlic cloves
6 ounces tomato paste - I always recommend the large pack of tomato paste from Costco which is an amazing value.
1.5 cups heavy cream - Heavy cream is important. Half and half can break and make the sauce look unappetizing.
4oz vodka
4oz dry white wine - Any dry white wine such as Pinot Grigio would work well.
1 tsp crushed pepper - Optional and/or completely to taste.
Salt and pepper to taste
1 cup pasta water - It's always a good idea to reserve it before draining the pasta. The recipe only needs a couple ounces, but if the pasta dries out before serving a little bit of the pasta water can make it nice and smooth again.

Step By Step Instructions For The Best Vodka Sauce Recipe:
First step is to start cooking the pasta to "al dente" in salted (2 Tbsp kosher salt per gallon) water. Chop the garlic into small pieces. Also, chop up about ½ a cup of onion.
In a large sauce pan saute the onion for 3-5 minutes on medium heat in 3 tablespoons of olive oil. Saute until translucent but not brown, then add the garlic and continue sauteing for another minute.
Add the tomato paste and let it cook for 3-5 minutes more. Move it around in the pan with a wooden spoon.
Add the crushed red pepper and stir to incorporate.
Next add the wine and vodka and turn heat to high. Let the wine and vodka boil out for 1-2 minutes before reducing the heat to medium-low.
Make sure to reserve a cup of the pasta water before draining.
To the pan, add the cream and stir it all together.
Cook the sauce for 5-10 minutes or until the sauce thickens slightly. A moderate simmer is good. If it starts bubbling too much, reduce the heat slightly. After the sauce is finished, remove 1 cup of it and set aside.
Finally, add the pasta to the sauce in the pan and coat thoroughly. Turn off the heat and add the cheese. Mix well. If the pasta is dry, add some more of the reserved vodka sauce. If it still feels a little dry, add the pasta water a little bit at a time to get the consistency just right.
Also, right at the end, taste test it. The reason it's important to do this last is because of the pecorino cheese being added. Pecorino is quite salty, so testing after the addition, and adding salt if required is the correct way to go.
Top tips for amazing rigatoni alla vodka
The cream. I strongly recommend using cream for this recipe. If you use half and half or milk, you run the risk of the sauce breaking and becoming crumbly.
Save your pasta water. As with all my other creamy pasta recipes, I urge you to save your pasta water. Pasta water plays an important role in helping to reconstitute the vodka sauce if it becomes too dry. This can happen when you're waiting for your family or guests to gather before eating.
Additions and substitutions. One thing I love about pasta with vodka sauce is its versatility. It can be combined with many things including shrimp or chicken, peas, or baby spinach. You could even add ham or prosciutto which is similar to penne al baffo. These would all make great additions!
The wine and vodka. As mentioned above, I use white wine in this recipe because that's the way I learned how to make it and I think the wine adds so much more flavor to the dish. That being said, you can skip the wine and just use vodka if you prefer. If you can't have alcohol, you can substitute with low-sodium chicken broth. If you are using the wine, opt for a dry white wine like a Sauvignon Blanc or Pinot Grigio.
More creamy pasta recipes
If you love rigatoni alla vodka, we think you'll love these other creamy and comforting pasta recipes!
If you've enjoyed this rigatoni alla vodka recipe or any recipe on this site, give it a 5-star rating and leave a review.
We strive to satisfy a number of learning styles. If you are someone who prefers to learn by watching, you can find most of our recipes on YouTube and our Facebook Page.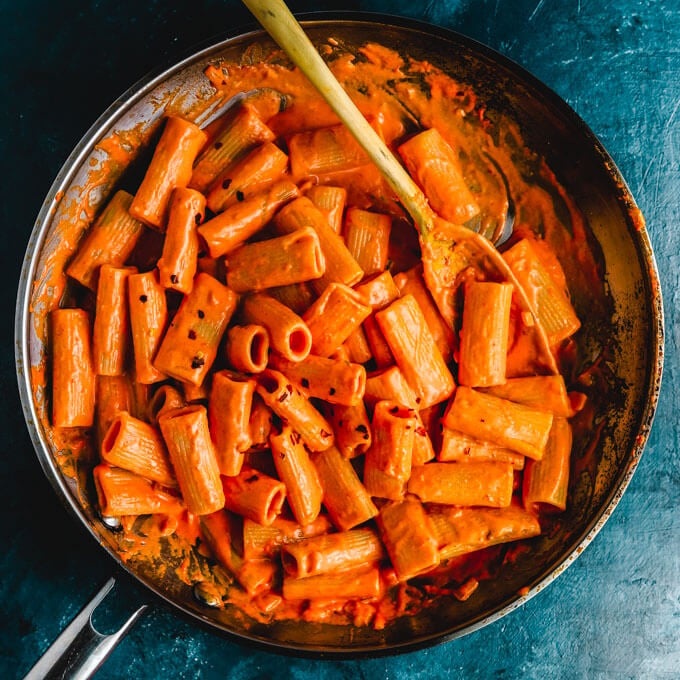 Ingredients
1

pound

rigatoni

¾

cup

pecorino

1

small

onion

3

cloves

garlic

3

Tbsp

olive oil

6

ounces

tomato paste

1.5

cups

heavy cream

4

oz.

vodka

4

oz.

dry white wine

1

tsp

crushed red pepper

1

cup

reserved pasta water
Instructions
Cook pasta according to directions in salted (2 Tbsp kosher salt per gallon) water and reserve 1 cup of pasta water before draining. Chop 3 cloves garlic and 1 small onion.

Saute onion in 3 Tbsp olive oil in large pan over medium heat until translucent (about 3-5 minutes). Add garlic and continue to saute for 1 minute more.

Add tomato paste to the pan and cook for 5 minutes. Add the crushed red pepper flakes and stir.

Add the wine and vodka to pan and cook on high heat until boiling. Let boil for 1-2 minutes then reduce heat to medium-low. Add the cream and mix thoroughly. Let the sauce simmer for 5-10 minutes until thickened slightly.

Remove 1 cup of the sauce and set aside. Add the pasta to the sauce pan and stir. Add the ¾ cup pecorino and thoroughly mix together. If the pasta is a dry add a little bit more of the sauce and finally if needed a couple ounces of the pasta water.

Taste test and adjust salt and pepper if necessary. Enjoy.
Notes
Makes 4 large servings or 6 regular ones.
If the pasta dries out while waiting for guests to sit down, thin with a couple more ounces of the reserved pasta water at table.
Serve with extra pecorino cheese and crushed red pepper on the side.
The pecorino is quite salty, so no additional salt was added to the recipe. Adjust according to personal taste.
Nutrition
Calories:
778
kcal
|
Carbohydrates:
73.4
g
|
Protein:
21.8
g
|
Fat:
36
g
|
Cholesterol:
159
mg
|
Sodium:
511
mg