Rigatoni alla vodka is ultimate comfort! It's one of those pasta recipes that you never make quite enough of. The best part? It's so quick and easy to make!
The kids love this rigatoni alla vodka recipe! They love the vodka sauce on any type of pasta. The pasta shape doesn't really matter - use the one you like.
This might become your favorite pasta recipe. Cream sauce pastas are just so good! And before we go on, bookmark these other cream sauce recipes for later:
They're all absolutely delicious and satisfy that comfort food craving. But let's get back to the rigatoni alla vodka recipe...
Rigatoni Alla Vodka Ingredients:
1 pound rigatoni - Any pasta is fine.
¾ cup pecorino - Parmigiano reggiano can be substituted.
1 small onion - About a half cup of onion.
3 Tbsp olive oil
3 garlic cloves
6 ounces tomato paste - I always recommend the large pack of tomato paste from Costco which is an amazing value.
1.5 cups heavy cream - Heavy cream is important. Half and half can break and make the sauce look unappetizing.
4oz vodka
4oz dry white wine - Any dry white wine such as Pinot Grigio would work well.
1 tsp crushed pepper - Optional and/or completely to taste.
Salt and pepper to taste
1 cup pasta water - It's always a good idea to reserve it before draining the pasta. The recipe only needs a couple ounces, but if the pasta dries out before serving a little bit of the pasta water can make it nice and smooth again.

Step By Step Instructions For The Best Vodka Sauce Recipe:
First step is to start cooking the pasta to "al dente" in salted (2 Tbsp kosher salt per gallon) water. Chop the garlic into small pieces. Also, chop up about ½ a cup of onion.
In a large sauce pan saute the onion for 3-5 minutes on medium heat in 3 tablespoons of olive oil. Saute until translucent but not brown, then add the garlic and continue sauteing for another minute.
Add the tomato paste and let it cook for 3-5 minutes more. Move it around in the pan with a wooden spoon.
Add the crushed red pepper and stir to incorporate.
Next add the wine and vodka and turn heat to high. Let the wine and vodka boil out for 1-2 minutes before reducing the heat to medium-low.
Make sure to reserve a cup of the pasta water before draining.
To the pan, add the cream and stir it all together.
Cook the sauce for 5-10 minutes or until the sauce thickens slightly. A moderate simmer is good. If it starts bubbling too much, reduce the heat slightly. After the sauce is finished, remove 1 cup of it and set aside.
Finally, add the pasta to the sauce in the pan and coat thoroughly. Turn off the heat and add the cheese. Mix well. If the pasta is dry, add some more of the reserved vodka sauce. If it still feels a little dry, add the pasta water a little bit at a time to get the consistency just right.
Also, right at the end, taste test it. The reason it's important to do this last is because of the pecorino cheese being added. Pecorino is quite salty, so testing after the addition, and adding salt if required is the correct way to go.
Hope this showed you how to make vodka sauce and that you enjoy it!
Notes
Substitutions And Additions:
Prosciutto or pancetta - For homemade vodka sauce either one of these additions really add a ton of flavor. Many times restaurants will use some prosciutto as a starting base. If you decide to use prosciutto, 4 ounces would be a perfect amount for this recipe.
Peas - Excellent addition that adds some green to the dish.
Spinach - Use fresh baby spinach right at the end and let the sauce and pasta wilt it. A super healthy add on!
Chicken or shrimp - Both are great additions. Two to three grilled chicken breasts cut into strips would be great added in right at the end and tossed with the pasta.
What Else Can Homemade Vodka Sauce Be Used For?
Pizza - Use vodka sauce instead of the red sauce in this delicious Grandma-style vodka sauce pizza.
For Chicken - Instead of adding the chicken to the pasta, make a bigger batch of the sauce and a lot of grilled chicken. Just top each piece with some sauce and you'll have an excellent dinner.
Where did Vodka Sauce Originate?
I try to always do a little research on every recipe I post. There is conflicting info on the origin of vodka sauce. Some say it started in America, others say Italy. All references date back to the early 1980's as the time frame it originated in. Honestly, if you're interested in it start Here In This Wikipedia Entry And Go Have Some Fun.
What I will say is I didn't have it until the early 1990's in the New York Metro area. One of my first jobs was at a gourmet deli that did tons of catering for wealthy clients. Penne alla vodka was probably the most sold item. Most of the catering orders would have this dish in it.
And they were huge orders. I watched the chef, Richard, make this dish twenty pounds at a time. Every time he made it there would always be a couple of pounds left over for the workers to come by and snack on. Anyway, he always made it with vodka and white wine. The recipe I am sharing here is a re-creation of his.
Difficulty Level:
On a scale of 1-5 with 1 being easy this recipe is a 2 or less. Only potential issue I see arising is using half and half instead of cream. I strongly advise to only use cream.
Other Great Entree Ideas:
DID YOU TRY THIS RECIPE?
Give it a star rating.
If you liked this rigatoni alla vodka we'd really appreciate it if you would share it on Instagram or Facebook using #sipandfeast.
We would love to know how you did and it's nice to show others as well. Thanks!
Follow us on Instagram, Pinterest, and Facebook. Sign up to receive great recipe ideas in your inbox.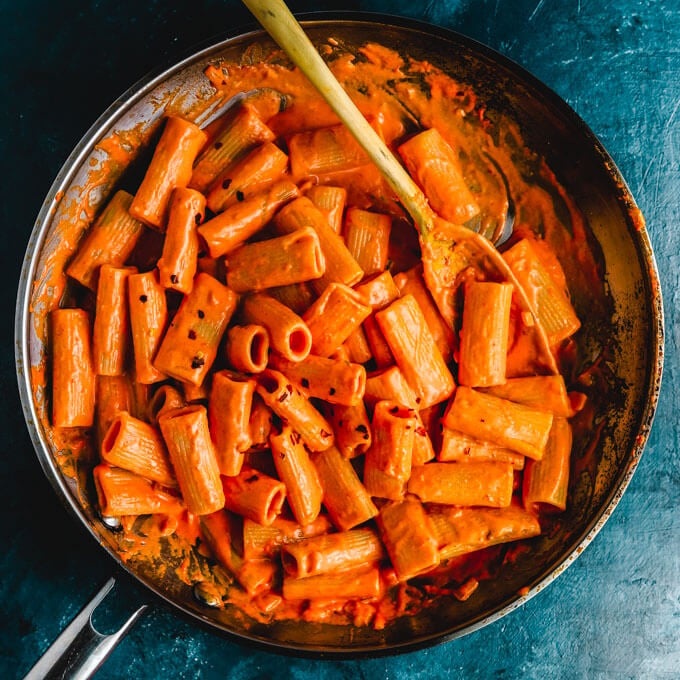 Ingredients
1

pound

rigatoni

¾

cup

pecorino

1

small

onion

3

cloves

garlic

3

Tbsp

olive oil

6

ounces

tomato paste

1.5

cups

heavy cream

4

oz.

vodka

4

oz.

dry white wine

1

tsp

crushed red pepper

1

cup

reserved pasta water
Instructions
Cook pasta according to directions in salted (2 Tbsp kosher salt per gallon) water and reserve 1 cup of pasta water before draining. Chop 3 cloves garlic and 1 small onion.

Saute onion in 3 Tbsp olive oil in large pan over medium heat until translucent (about 3-5 minutes). Add garlic and continue to saute for 1 minute more.

Add tomato paste to the pan and cook for 5 minutes. Add the crushed red pepper flakes and stir.

Add the wine and vodka to pan and cook on high heat until boiling. Let boil for 1-2 minutes then reduce heat to medium-low. Add the cream and mix thoroughly. Let the sauce simmer for 5-10 minutes until thickened slightly.

Remove 1 cup of the sauce and set aside. Add the pasta to the sauce pan and stir. Add the ¾ cup pecorino and thoroughly mix together. If the pasta is a dry add a little bit more of the sauce and finally if needed a couple ounces of the pasta water.

Taste test and adjust salt and pepper if necessary. Enjoy.
Notes
Makes 4 large servings or 6 regular ones.
If the pasta dries out while waiting for guests to sit down, thin with a couple more ounces of the reserved pasta water at table.
Serve with extra pecorino cheese and crushed red pepper on the side.
The pecorino is quite salty, so no additional salt was added to the recipe. Adjust according to personal taste.
Nutrition
Calories:
778
kcal
|
Carbohydrates:
73.4
g
|
Protein:
21.8
g
|
Fat:
36
g
|
Cholesterol:
159
mg
|
Sodium:
511
mg