Have you ever wanted to combine two of your favorite cocktails to create one new one? Two of my favorites, the Negroni and the Margarita, join forces to create the Italian Margarita. This tequila, blood orange liquor, fresh squeezed orange juice and Campari cocktail is the perfect compromise for when you just can't decide on a Negroni or a Margarita.
Tequila Cocktails, Campari Cocktails
By now it is no surprise that I adore cocktails made with tequila, and specifically, tequila paired with citrus. From our limoncello margarita and grapefruit mint margarita to our jalapeno cucumber margarita, citrus plays a key role in most of our tequila based cocktails. It was only a matter of time before I chose to pair tequila with fresh squeezed orange juice.
But I knew I wanted something different from the usual tequila, triple sec and citrus combo.
That's when I decided I needed to do something with the Campari I usually reserve for Negronis. And what would pair more perfectly with these ingredients than the Solerno blood orange liquor I've also grown to love.
I just knew that with the right formula, these ingredients combined would form the perfect cocktail: The Italian Margarita.
Italian Margarita Pairing Ideas
So here at Sip and Feast, we are passionate about pairing food with our cocktails. What are some great ideas to pair with this cocktail? Some of my recommendations are:
Pizza, like our roasted garlic white pizza. There is nothing better than pairing pizza with orange, IMO.
Tacos, specifically tacos with seafood and citrus, such as our tequila lime shrimp tacos. In fact, you could probably use orange juice as a substitute for the lime in this if you only have oranges.
Mole poblano always pairs perfectly with tequila and citrus based drinks.
These are just a few suggestions. This drink is so incredible, it's fine to just enjoy by itself!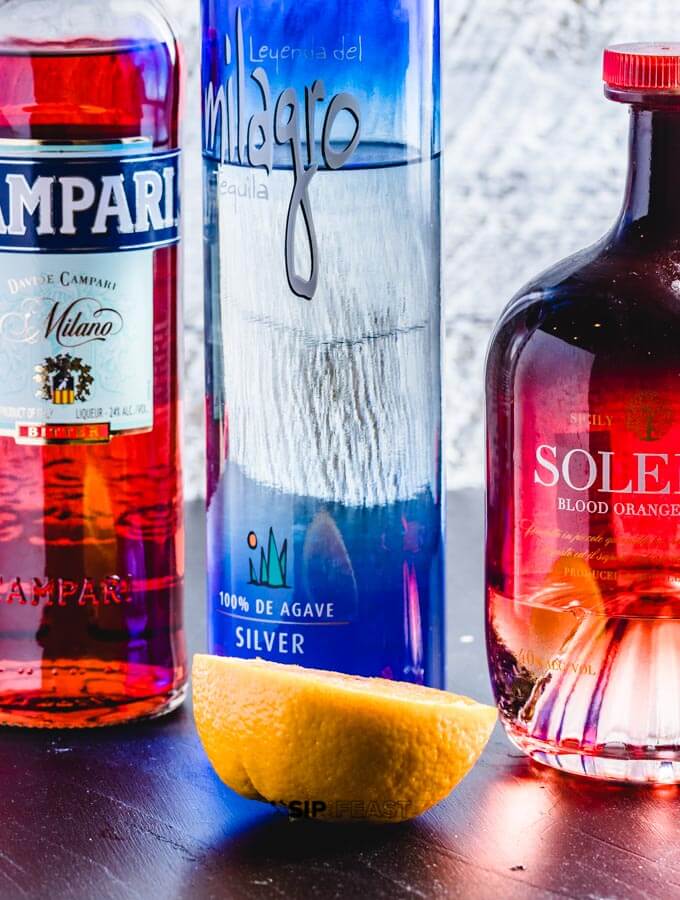 The Ingredients for the Italian Margarita
To make this drink you'll need just a few ingredients.
Tequila – I used Milagro silver, which is one of my favorite mixing tequilas.
Campari – You could use Aperol as well
Orange Liquor – I used Solerno Blood Orange Liquor, but you could also substitute Grand Marnier or Gran Gala.
Fresh squeezed orange juice – I suppose you could use bottled orange juice, but it's so damn easy to just squeeze the orange, and the taste cannot compare.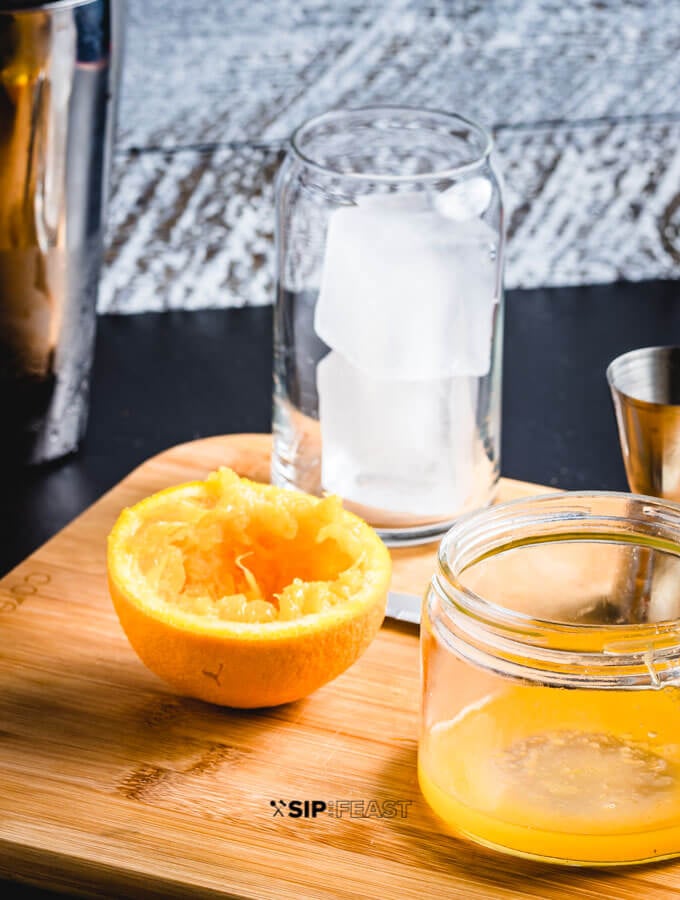 The Italian Margarita Process
Grab a glass and fill with ice. I used a beer can glass this time around because I love these glasses and wanted to try something new, but will typically use a rocks glass for margaritas.
Juice half an orange and add the juice, tequila, Campari and orange liquor to a cocktail shaker with some ice.
Shake vigorously for at least 20 seconds.
Strain and pour over ice. Garnish with orange peels, or orange slice/wedge. Whichever you prefer. Serve immediately.
Enjoy!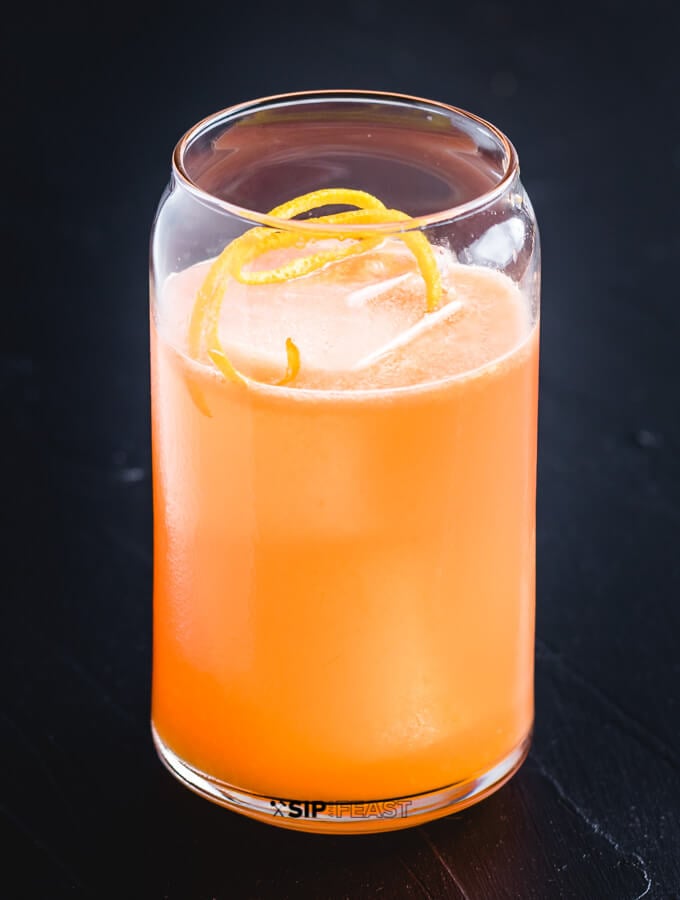 Did you enjoy this Campari cocktail? Drop us a line and let us know and use #sipandfeast on Instagram. Don't forget to follow Sip and Feast on Instagram and Pinterest and sign up to receive great recipes directly to your inbox!
Thank you for your support!
Italian Margarita -Tequila, Orange, And Campari Cocktail
This cocktail combines the best characteristics of the Margarita and the Negroni.
Ingredients
2

oz

Tequila

1

oz

Blood Orange Liquor

1

oz

Campari

2.5

oz

Fresh orange juice

1

cup

ice...plus more for serving

1

orange peel

for garnish
Instructions
In a cocktail shaker, combine the fresh squeezed orange juice, tequila, blood orange liquor, Campari and ice.

Shake vigorously for 20 seconds.

Strain and pour into a glass with fresh ice.

Garnish with orange peel.
Nutrition
Nutrition information is automatically calculated, so should only be used as an approximation.