Ah, Margarita. You are one of my favorite classic cocktails. But, despite the perfection of your original state, I am always looking for a way to help you evolve. This jalapeno margarita with cucumber is the spicy, sassier version of the classic, and I promise you, she will not disappoint. Let's get ready to mix!
Cucumber Jalapeno Margarita - a classic, all grown up
I love experimenting with different flavors in my cocktails. Sometimes I will create an original, like my Sparkling Lemon Thyme Cocktail. Other times, I'll start with a base of a classic, and add some twists to it. That's exactly how this cucumber jalapeno margarita came to be.
I adore cocktails with cucumbers. The Juliet and Romeo combines cucumber with gin, mint, lime and rosewater and is both refreshing and romantic.
But I really enjoy pairing cucumbers with spicy ingredients. In fact, one of my kid's favorite snacks (and mine too) is sliced cucumber with sriracha. Another fave is cucumber and avocado with lemon juice and cayenne. There is just something about the cucumber that pairs particularly well with heat.
Perhaps it's because it creates balance or yin and yang. We're all familiar with the simile "cool as a cucumber". I think its coolness is just meant to offset the heat of our beloved spicy peppers.
So it was only natural for me to want to combine cucumber with jalapeno in a cocktail.
Usher in the Margarita. I knew this classic love of mine would be a perfect foundation for this spicy yet refreshing duo. I've used her many a time as a base with which to experiment. And geographically speaking, it made sense to reunite the jalapeno with tequila since they both hail from Mexico.
Cucumber Jalapeno Margarita + Mexican Food for the WIN!
So the first time I made this drink, was to pair it with a mole poblano that James had legit spent ALL day making. Mole poblano is my favorite Mexican dish and a likely contender for a "last meal" if ever given the choice. For more on this smoky love of mine (the mole, not James 😉 ), read this article on mole poblano.
I'm a huge proponent of pairing cocktails with food, specifically as it pertains to the country of origin of the food, and the ingredients used in the cocktail:
Italian food - start with this delicious Negroni recipe
Middle Eastern food - cocktails with pomegranate or rose
Japanese food - sake based cocktails with ginger or melon
Spanish food - nothing but Sangria will do
Caribbean food - some variation of coconut, guava, or pineapple with rum
Mexican food - hands down, you want a margarita (or some version of it)
Don't get me wrong, I will gladly eat Mexican food without a margarita, but I just find that the flavors play off each other and enhance one another in such a way that my taste buds so appreciate.
To get started, grab your ingredients and tools:
Cucumber
Jalapeno
Pinch of salt
Triple sec
Tequila blanco
Limes
Ice
Cilantro (optional - for garnish)
Cocktail shaker
Muddler (you can also use the end of a wooden spoon)
Strainer
Shot glass or jigger
Glasses (I used rocks glasses)
Start by rolling your lime to warm it up and release the juice from within. This will help make it easier to squeeze. Slice it up and juice it.
Next you'll want to slice up your cucumber and jalapeno. I use three slices of each for the drink and then I reserve several more slices for garnish. I also use some cilantro leaves for garnish because it adds a wonderful aroma and is visually appealing.
Place your cucumber and jalapeno slices in the cocktail shaker with a pinch of kosher salt and begin to muddle them. Add the ice, lime juice, tequila and triple sec and shake vigorously for about 20 seconds.
You'll want to use a fine mesh strainer for your pour as there will be some pulp and seeds from the jalapenos and cucumbers.
Garnish with the sliced cucumber, jalapeno, and cilantro. Get creative with your garnishes - if you want to use something else, go for it. Drop us a comment with any other garnishes you'd suggest.
Enjoy this delicious, spicy and refreshing cucumber jalapeno margarita!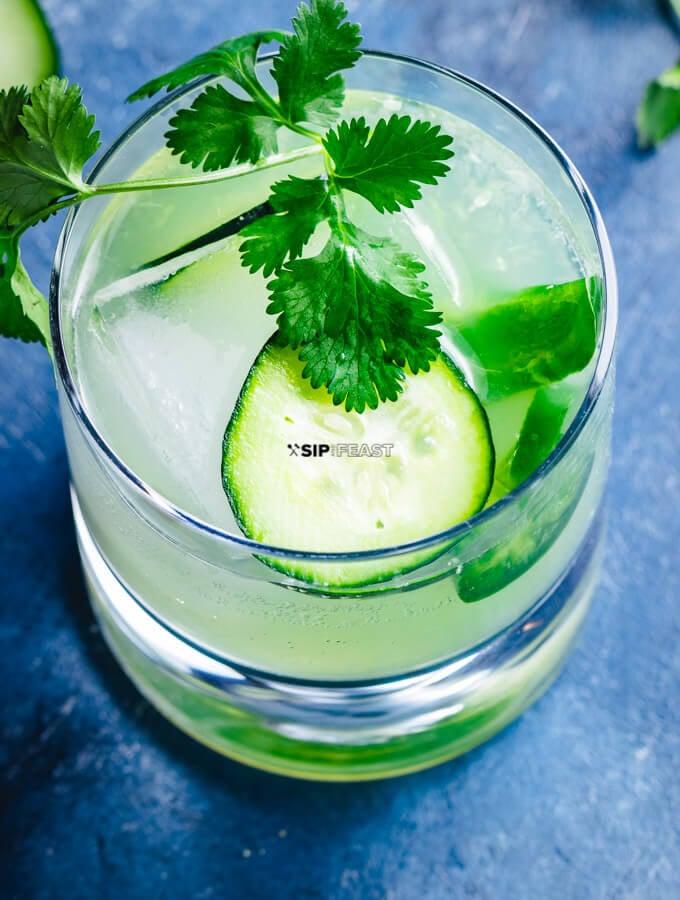 If heat isn't your thing, no worries - check out this Grapefruit mint margarita or our Italian Margarita.
Do you remember the first time you had a twist on a classic Margarita? What is your favorite twist on this drink? Is there something you want to try but want us to do the experimenting for you? Let us know by dropping a comment below! We love a challenge!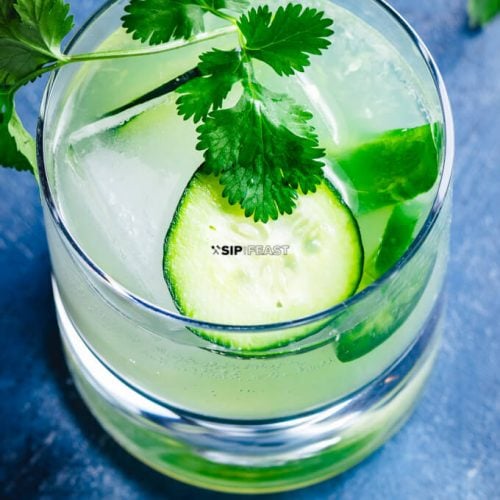 Ingredients
3

slices

cucumber plus more for garnish

3

slices

jalapeno plus more for garnish

1

sprig

cilantro - Optional - for garnish

2

oz

lime juice

1

pinch

kosher salt

6

oz

Tequila blanco

4

oz

Triple Sec

1

cup

ice plus more for serving
Instructions
Juice 1 - 2 limes to yield 2 oz of juice.

Muddle cucumber and jalapeno slices with a pinch of salt in a cocktail shaker.

Add ice, lime juice, tequila and triple sec to the shaker and shake vigorously for 20 seconds.

Strain and pour over fresh ice.

Garnish with a cucumber slice, a jalapeno slice, and cilantro if desired.
Nutrition
If you liked this spicy cucumber margarita recipe we would really appreciate it if you would share it on Instagram or Facebook using #sipandfeast.
We would love to know how you did and it's nice to show others as well. Thanks!
Follow us on Instagram, Pinterest, and Facebook. Sign up to receive great recipe ideas in your inbox.