The Apple Margarita combines mezcal, apple jam, apple cider, pear liqueur, triple sec, fresh lime juice, and star anise, all resulting in a harmonious marriage full of sweet, spice, and smoke. This is the perfect Fall cocktail that you will love to drink all year round.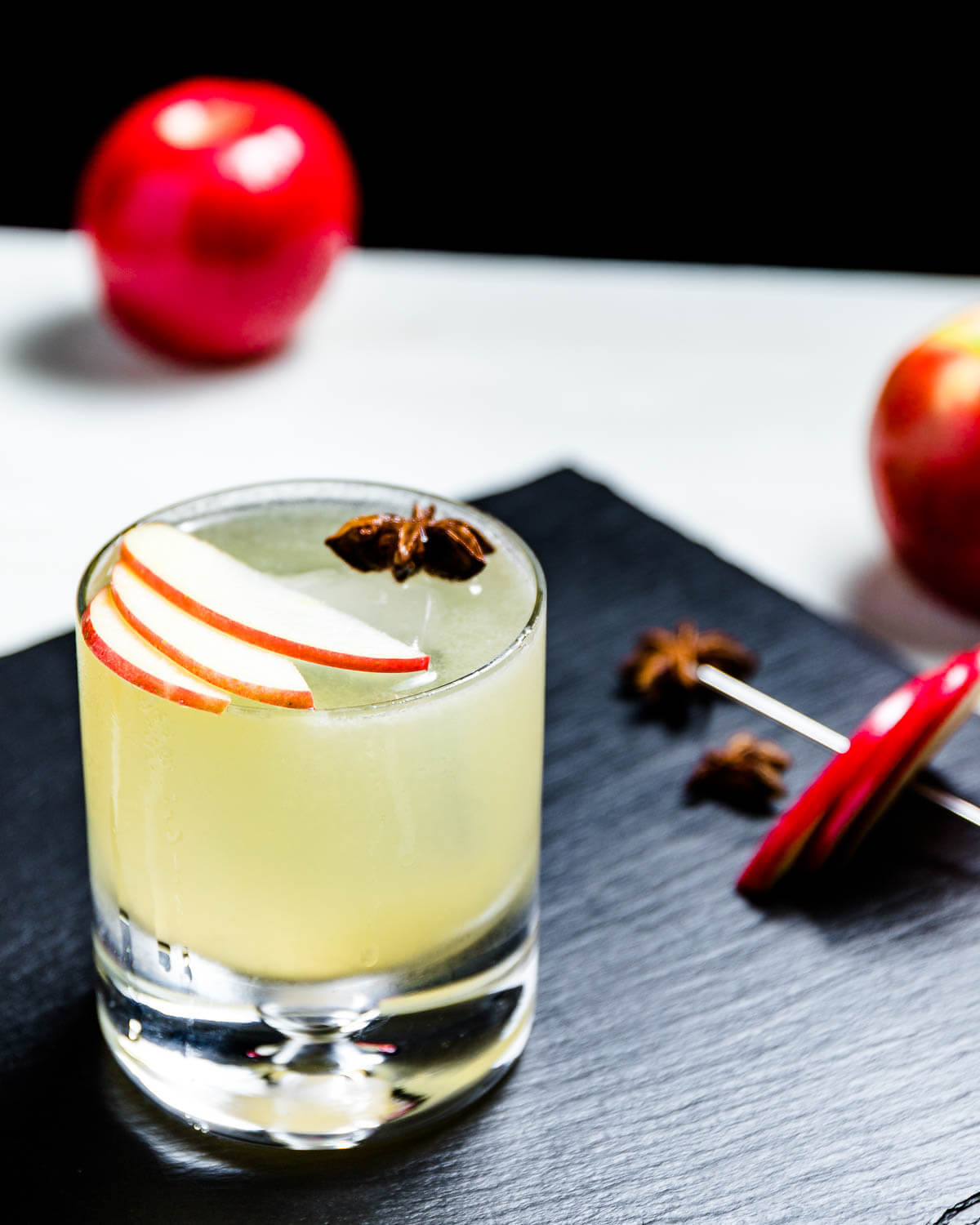 It's my jam
Have you ever found an ingredient that was so inspiring you felt the urge to create a recipe around it?
The Apple Margarita is the result of such an urge, its muse being apple jam. Specifically, the apple jam that is made in my new favorite local coffee spot, Druthers Coffee in Stony Brook, New York.
Situated across the road from Stony Brook University, Druthers Coffee turns out hand-crafted coffee beverages and baked goods that are strong on taste, and light on anything artificial, differentiating themselves from their more widely known competitors.
In addition to their passion for creating an impeccable customer experience, something I greatly admire is their commitment to curating some of the best gastronomic treats the Island has to offer, including their own house-made apple jam made from Jonamac apples grown on the east end of Long Island.
I was lucky enough to have visited the day the apples were on their counter and while he prepared my latte, Michael, the barista and co-owner, enthusiastically explained that he'd be turning them into jam later that day.
The next time I visited, I grabbed a jar of the freshly made jam, which I immediately slathered on some sourdough bread the moment I got home. One taste and I knew I wanted to use this in a cocktail. And so our version of the Apple Margarita was born.
Understandably, not everyone will have access to this particular apple jam, so for the purposes of this recipe, you can certainly use a different brand, such as Stonewall Kitchen's Apple Cider Jam, or any farm stand apple jam local to you!
Mezcal vs tequila
Both tequila and mezcal are derived from the agave plant, however, it is the process in which the agave is heated that accounts for the difference.
Tequila is steamed in above-ground ovens while mezcal is roasted in underground pits giving it its smoky flavor.
For this recipe, we chose to use mezcal as the smoky flavor pairs well with the other ingredients, but you can use tequila and still have a great outcome.
How to make the apple margarita
First, gather your ingredients. You will need mezcal, triple sec, pear liqueur, apple cider, freshly squeezed lime juice, apple jam, apple slices, and 2 anise stars (one for garnish, and one for your cocktail shaker).
If you like your drinks on the sweeter side, add an additional teaspoon of apple jam. If you prefer less sweet, add only one teaspoon of the jam.
To a cocktail shaker, add ice and all ingredients reserving one star anise and the apple slices for your garnish. Shake vigorously for at least 20 seconds.
Pour and strain into a rocks glass filled with ice. Garnish with the apple slices and star anise. Serve immediately.
More drinks
If you've got extra mezcal or tequila, and shots aren't on your agenda, we've got you covered.
If you like your drinks on the spicier side, you will love our jalapeno margarita with cucumber.
Do you love bitter orange? If so, the Italian margarita made with orange and Campari is the way to go.
And speaking of Italian, the limoncello margarita is a frozen blend of limoncello, tequila, triple sec, and lime juice.
And one of my all-time favorites, easy to sip and refreshing as hell, is the grapefruit mint margarita. Try it and thank me later.
If you've got more apple cider than you know what to do with, which most everyone does this time of year, why not try our apple cider old-fashioned or our bourbon apple cider cocktail.
Food pairings
The Apple Cider margarita is a great drink to serve alongside some food.
Dry brined turkey breast and roasted garlic mashed potatoes would pair wonderfully.
Other dishes that are rich in complementary fall flavors, such as our sausage and apple stuffed acorn squash, or our pan-seared pork chops with apples and cinnamon work great.
This would also pair (almost too perfectly) with our butternut squash chili.
If you've enjoyed this Apple Margarita or any other recipe on this site, please let us know in the comments. We would love to hear how you did and it's nice to show others as well!
Follow us on Youtube, Instagram, Pinterest, and Facebook. Share this recipe on your favorite social platform. We really do appreciate it!
Ingredients
2

ounces

mezcal

.5

ounce

triple sec

.5

ounce

pear liqueur

1

ounce

apple cider

.5

ounce

fresh lime juice

2

tsp

apple jam

2

stars

anise

divided

3

slices

apple

1

cup

ice

plus more for your glass
Instructions
Fill a rocks glass with ice.

To a cocktail shaker, add ice, mezcal, triple sec, pear liqueur, apple cider, lime juice, apple jam, and one star anise.

Shake vigorously for 20 seconds, strain and pour over ice in rocks glass.

Garnish with apple slices and star anise. Serve immediately.
Notes
You can substitute tequila for mezcal. Tequila will not have the same smoky flavor but the drink will be just as good!
You can definitely be creative with your garnishes - possibilities include cinnamon sticks, lime wedges, or salt to rim your glass.
If you prefer your drink to be sweeter, add an extra teaspoon of apple jam. If you want it less sweet, use only one teaspoon.
If you don't have pear liqueur, you can use an apple liqueur or just use another ½ ounce of triple sec.
Nutrition
Calories:
242
kcal
|
Carbohydrates:
10.2
g
|
Protein:
0.1
g
|
Sodium:
110
mg
|
Potassium:
41
mg
|
Fiber:
0.1
g
|
Sugar:
19.3
g
|
Calcium:
4
mg