Roasted poblano peppers and delicious stewed butternut squash with loads of chili spices is the perfect fall comfort food dish! The addition of cinnamon and a few other ingredients make this one amazing vegetarian chili.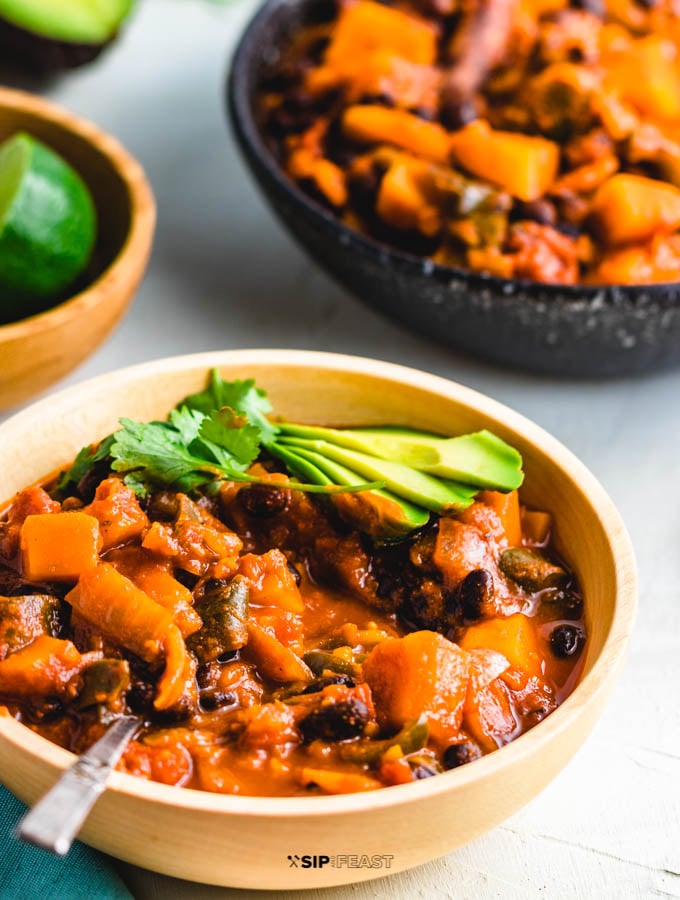 Roasted Poblano Peppers And Other Ingredients:
So the 2 main ingredients in this vegetarian chili are roasted poblano peppers and butternut squash.
When it comes to the poblano peppers, look for nice fresh, firm peppers.
Butternut squash, like most squash, lasts a long time. Still, look for unblemished ones.
Standard chili ingredients like onions, chili powder, cumin, and oregano are used. In addition 2 cinnamon sticks will be needed.
2 cans of diced tomatoes, 1 can of tomato paste, 2 cans of black beans, and 2 cups of vegetable stock complete the ingredient list.
Don't forget to pick up some avocado, cilantro, limes, and sour cream if you like – I think they all go well in this vegetarian chili with poblano peppers.
Poblano Pepper Substitutes?
Poblanos are mild peppers that sometimes have a tiny bit of heat.
I would not use jalapenos as an alternative.
Green hatch chiles would be an excellent substitute. They are hard to find fresh outside of the south, but they are often sold in cans in the Mexican section of supermarkets.
Buying them in the can would save a lot of time in this recipe.
If all else fails, standard bell peppers would be absolutely fine in this vegetarian chili. I use bell peppers in many chili dishes.
How to Roast Poblano Peppers On The Stove, Oven, And Grill?
In the oven it's as simple as placing them on a sheet pan and cooking them for 30-40 minutes on 400 degrees.
They can also be roasted on a gas stove top. Turn the flame to medium and hold the pepper with tongs. Make sure to wear strong heat resistant gloves as the tongs also will get hot. Char the pepper over the flame for a couple of minutes and set aside. This works quick for one pepper. However, if a bunch of roasted poblano peppers are needed this method does not save much time.
Finally, a grill works just as well as on oven. Turn the peppers until they are charred on all sides. Medium heat and a tiny bit of oil on the peppers works well this way.
Can You Use The Poblano Peppers Without Roasting?
Yes! I have made it both ways and though I think roasting the peppers brings out more flavor, but if you're in a pinch for time, chopping them up and sauteing them for 5 minutes is totally fine.
Do Poblano Peppers Need To Be Peeled?
If you follow this recipe and roast them, the pepper skins will bubble and come off. Peel the skins with gloves as pictured below. If opting for chopping and sauteing there is no need to remove the skin.
How To Cook Butternut Squash?
There are so many ways. Butternut squash is probably the most versatile of all the squashes to work with. It can be sauteed, roasted, mashed, and stewed. Soups and oven baked dishes are always great to make with it.
Want a simple roasted recipe? Check out our Butternut Squash With Brown Sugar recipe for a great side dish.
How To Cut Butternut Squash?
This video from the The Kitchn demonstrates how to cut it up. The goal is to get the skin off and chopped in this recipe, otherwise the skin might be left on. Make sure to use a sharp knife as the squash could be a little hard. Microwaving the butternut squash for 3-5 minutes will soften it up, making it easier to cut.
Recipe Process
The first step is to roast the poblanos. Turn the oven to 400 degrees and place the rack in the middle.
Place the peppers on a baking sheet and rub 1-2 Tablespoons of olive oil on them to help in the roasting process.
Roast them for 30-40 minutes. Remove them from the oven and let them cool down before attempting the peeling process above.
I use plastic gloves. It's a good habit to be in when working with any type of chiles.
While the poblano peppers are roasting, start chopping the butternut squash.
Cube the squash into bite size pieces and don't worry if it's all not exactly the same size.
The goal is to get the pieces bite sized so as not to be too big when eating the chili.
Chop 2 medium onions.
After they are cool enough to handle, peel the roasted poblano peppers and remove the seeds, core and stems.
Give them a rough chop into 3/4″ squares. Again, do not worry if they are all exactly the same size.
In a large pot, saute the onion in 3 Tablespoons of olive oil on medium heat for 5 minutes, stirring occasionally.
After 5 minutes add the roasted poblano peppers and the cubed butternut squash.
Stir it all together.
Next, add the tomatoes, paste, stock, chili powder, cumin, oregano, garlic powder, salt, and cinnamon sticks.
Stir it all together and cover the pot. Turn the heat to medium-low.
The stewed butternut squash will absorb the chili spices and cinnamon during the cooking process.
After 30 minutes remove the lid and stir it all together to really incorporate all the amazing flavors.
Finally add the drained black beans to the pot, stir, and let it cook uncovered for a couple of minutes to warm the beans up.
Serve it in bowls with cilantro, avocado, limes, and sour cream.
Much like classic chili, this stewed butternut squash chili is even better the next day. The flavors are so much more intense 24 hours later. This recipe makes a lot so there will definitely be leftovers.
Also, this is actually a vegan chili recipe. I referred to it as vegetarian chili because of the final optional sour cream garnish. The dish is excellent with or without sour cream!
Try These Other Great Fall Recipes
If you've enjoyed this Roasted Poblano Butternut Squash Chili Recipe or any recipe on this site please let us know in the comments. We would love to hear how you did and it's nice to show others as well. Thanks!
FOLLOW US on Instagram, Pinterest, and Facebook. Share this recipe on your favorite social platform. We really do appreciate it!
Roasted Poblano Peppers And Stewed Butternut Squash Chili
This is the ultimate vegetarian chili recipe. Roasted poblano peppers and stewed butternut squash go so well with the cinnamon, chili powder, and black beans.
Ingredients
8

cups

cubed butternut squash

.....1 large or 2 medium size should be sufficient.

4

cups

roasted poblano peppers

2

cups

onion

2

cups

low sodium vegetable stock

2

16oz

can of black beans, drained

2

16oz

cans of diced tomatoes

1

6oz

can of tomato paste

1

tsp

kosher salt

2

tsp

garlic powder

1.5

tsp

oregano

1.5

Tbsp

cumin

3

Tbsp

ancho chili powder

.....Regular chili powder can be substituted.

2

large

cinnamon sticks

.....Can substitute 1 tsp of ground cinnamon.

3-4

Tbsp

olive oil
Instructions
Turn oven on to 400F and place rack in middle.

Place poblano peppers on sheet pan and rub 1 Tbsp of olive oil onto peppers with hands. Roast in oven for 30 minutes.

Remove peppers from oven after 30 minutes and let cool.

While peppers are cooling cube 8 cups of butternut squash into bite size pieces no larger than 1" cubes. Chop the 2 onions.

Peel the skin off the cooled poblanos with gloves and discard the seeds, stems and core of the peppers. Chop the peppers into bite size pieces.

In large pot saute the onion for 5 minutes in 2-3 Tablespoons of olive on medium heat.

Next add the butternut squash and chopped peppers and mix it all around.

Add the cumin, oregano, garlic powder, salt, chili powder, cinnamon sticks, vegetable stock, diced tomatoes, and tomato paste and stir it all together. Cover and set heat on medium-low

After 30 minutes of simmering remove lid and add the drained black beans to the pot. Stir together and cook uncovered for 3-5 minutes. If the chili is too thick , thin with 1/2 cup of vegetable stock or water. If too thin cook uncovered over medium heat for 5-10 minutes to thicken.

The chili is finished. Serve with cilantro, avocado, limes and sour cream. Enjoy!
Nutrition
Calories:
330
kcal
|
Carbohydrates:
63
g
|
Protein:
15
g
|
Fat:
6
g
|
Sodium:
500
mg
Nutrition information is automatically calculated, so should only be used as an approximation.