These roasted garlic mashed potatoes are the creamiest, most decadent mashed potatoes you'll ever eat. My recipe highlights tips and tricks to help you achieve light and fluffy, not thick and gluey, mashed potatoes. Plus the addition of roasted garlic pushes these over the limit! This is the ultimate side dish that is so good you may just eat it as a main meal!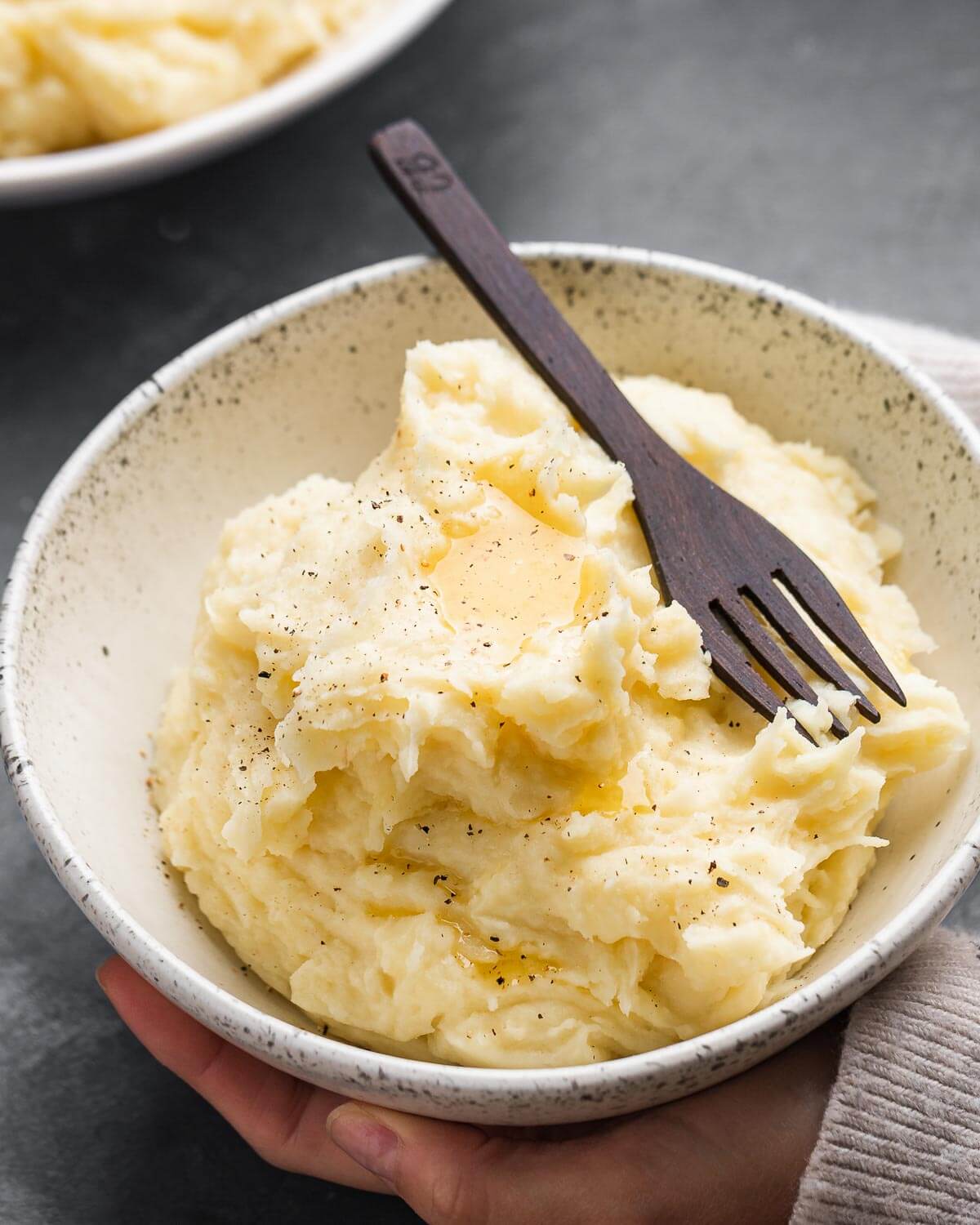 There is nothing quite like a bowl of mashed potatoes. Creamy, light, fluffy are all words that come to mind when I dream about this dish.
But mix them too much, or too hard, and you're left with a sticky mess that not even all the gravy in the world can remedy.
My method employs the use of a ricer, an invaluable tool that is used to create airy and light mashed potatoes.
A ricer is essentially a utensil with small holes through which the potatoes are pushed to form pieces that resemble grains of rice.
If you've ever made gnocchi before, you understand the value of this tool.
Save the electric hand mixer for whipped cream; they tend to produce gluey mashed potatoes, especially if overmixed.
What type of potatoes?
The short answer and our recommendation is to use a 50/50 mix of russet and Yukon Gold.
Russets are light and fluffy. They hold less water than other potatoes making them not only perfect for homemade gnocchi but also great for mashing.
The downside is they lack the taste and creaminess of a Yukon Gold potato.
For this reason, I really like the combination of the two. Using this 50/50 combo provides the perfect ratio of creaminess to airiness.
If I had to choose one though, I would pick all Yukon Gold potatoes for their creamy, and naturally buttery texture.
I'd avoid using red-skinned potatoes for your standard smooth mashed potatoes as they are waxier and can become gluey faster than russets or Yukon Golds.
However, if you're making more rustic, skin-on "smashed" potatoes, red-skinned would be a good choice.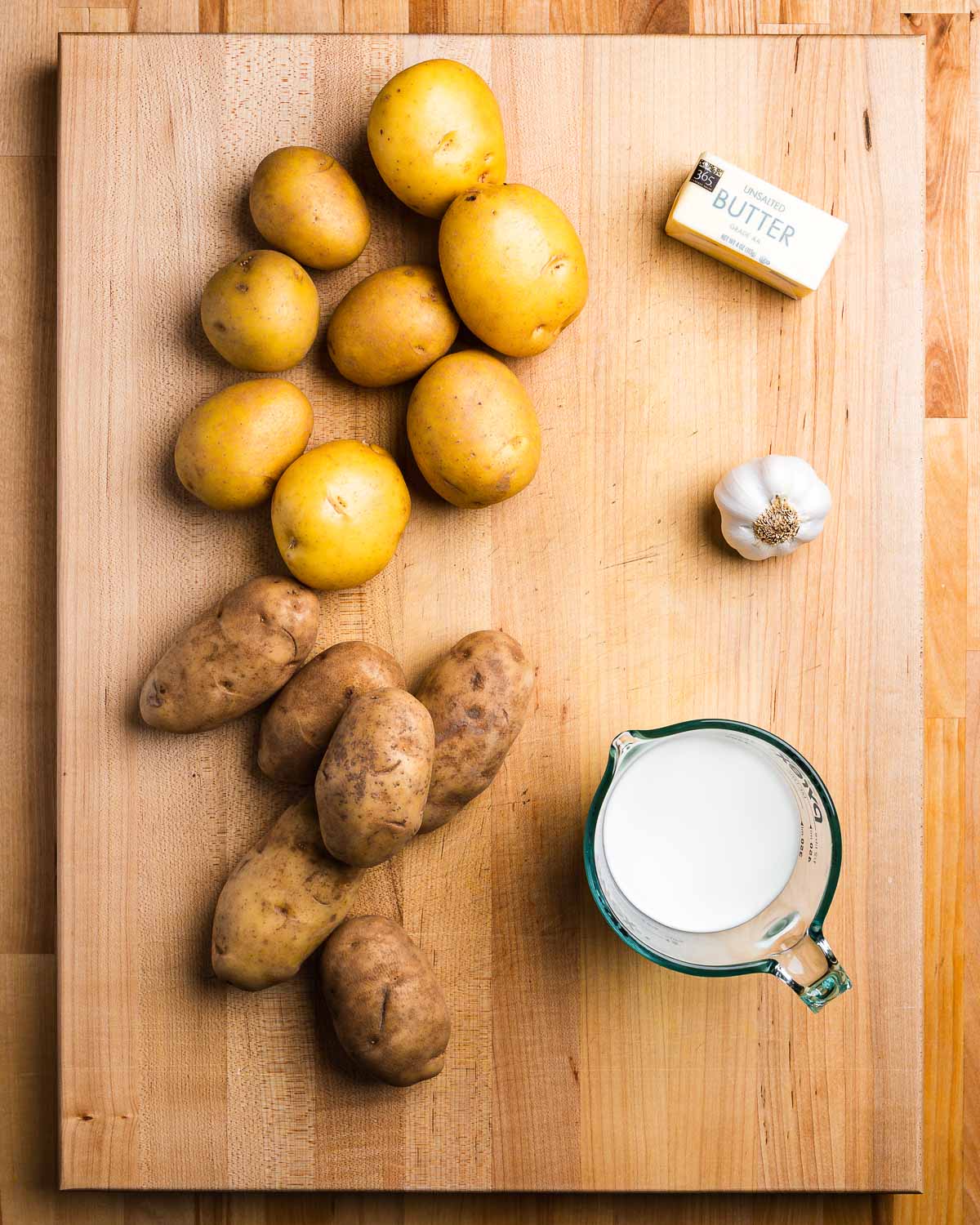 How to make roasted garlic mashed potatoes
Begin by placing 12 cloves of garlic in foil.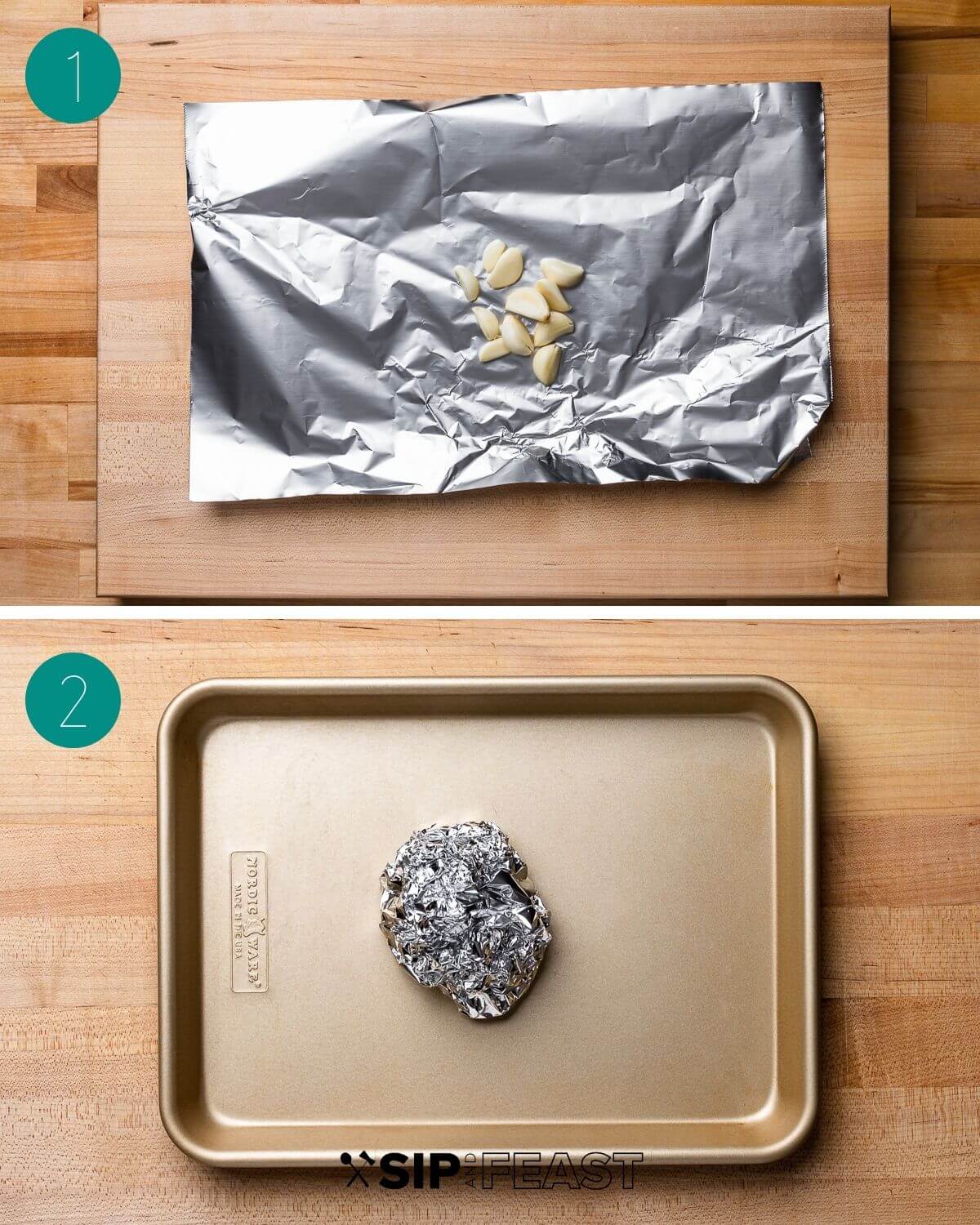 Wrap it tight, place on a baking tray, and bake for 40 minutes at 375f on the middle rack in the oven. Note: To save time you can roast garlic days in advance and store it in the fridge.
Peel the potatoes and quarter. Cut out any bad spots. For this recipe, we use half russets and half Yukon Gold potatoes. You can use all of the same type or a mix depending on availability, and personal preference.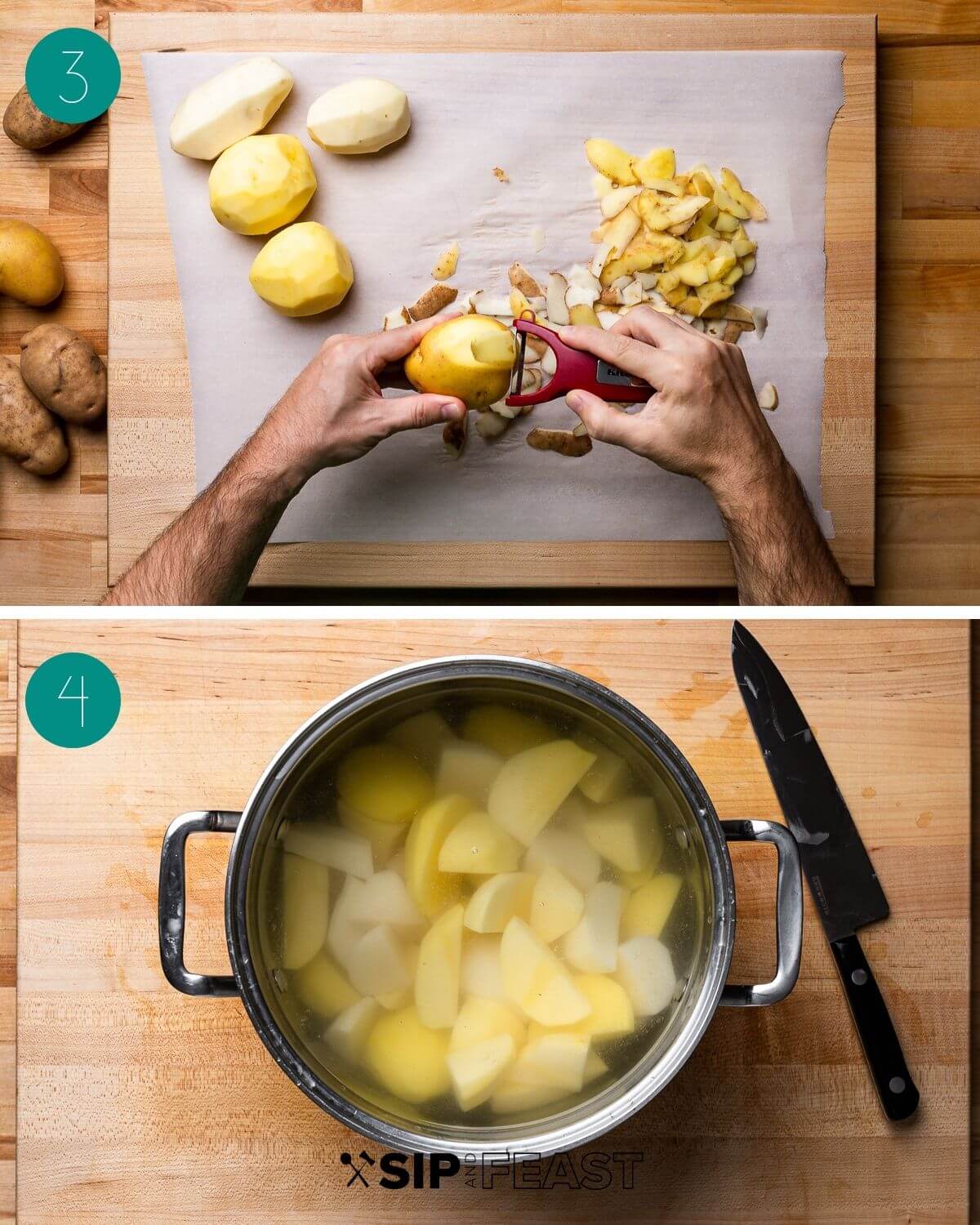 Place the cleaned, peeled, and quartered potatoes into a large pot and fill with cold water at least 2 inches above the potatoes. Bring the pot to a boil, add in two tablespoons of kosher salt and give it a stir to incorporate, then lower the heat to a moderate boil. Cover the pot, but leave the lid slightly ajar. Cook potatoes until fork tender (should take 20-25 minutes).
While the potatoes are cooking, mash the soft roasted garlic cloves into a paste. Using the back of a knife, or a fork works well. Note: The dark color of the garlic from the roasting process is completely fine and tastes wonderful! If you want to remove any dark spots for a better presentation, go for it, but it's not necessary.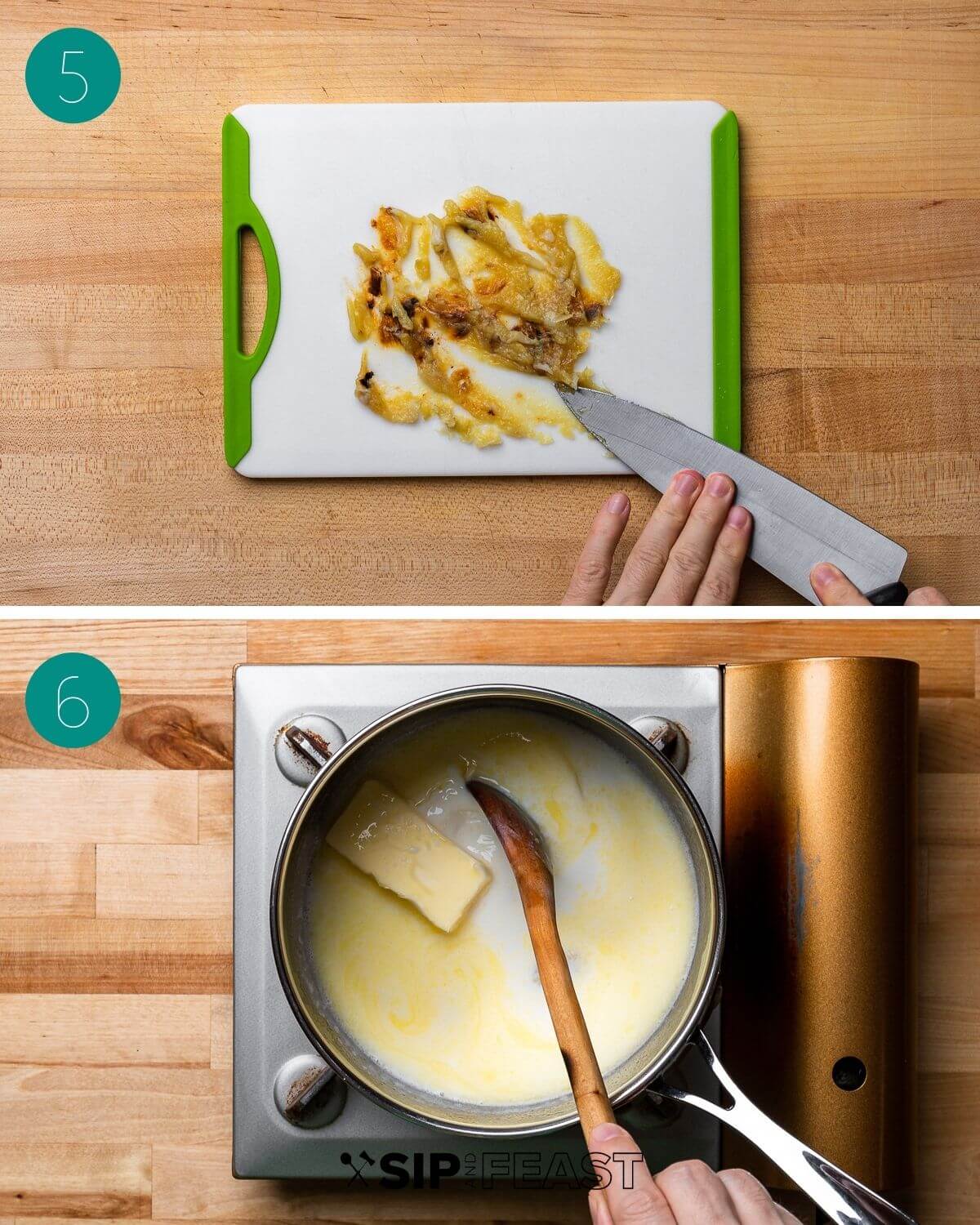 Gently heat 1 stick of unsalted butter, 1 ½ cups milk, and the mashed garlic paste in a saucepan. Break up any larger bits of garlic with a wooden spoon so that it better distributes into the butter mixture.
Once the potatoes are fork-tender, drain well in a colander. While still warm, rice the potatoes into the hot pot that was used for boiling. The hot pot will help dry out any excess water still left in the potatoes.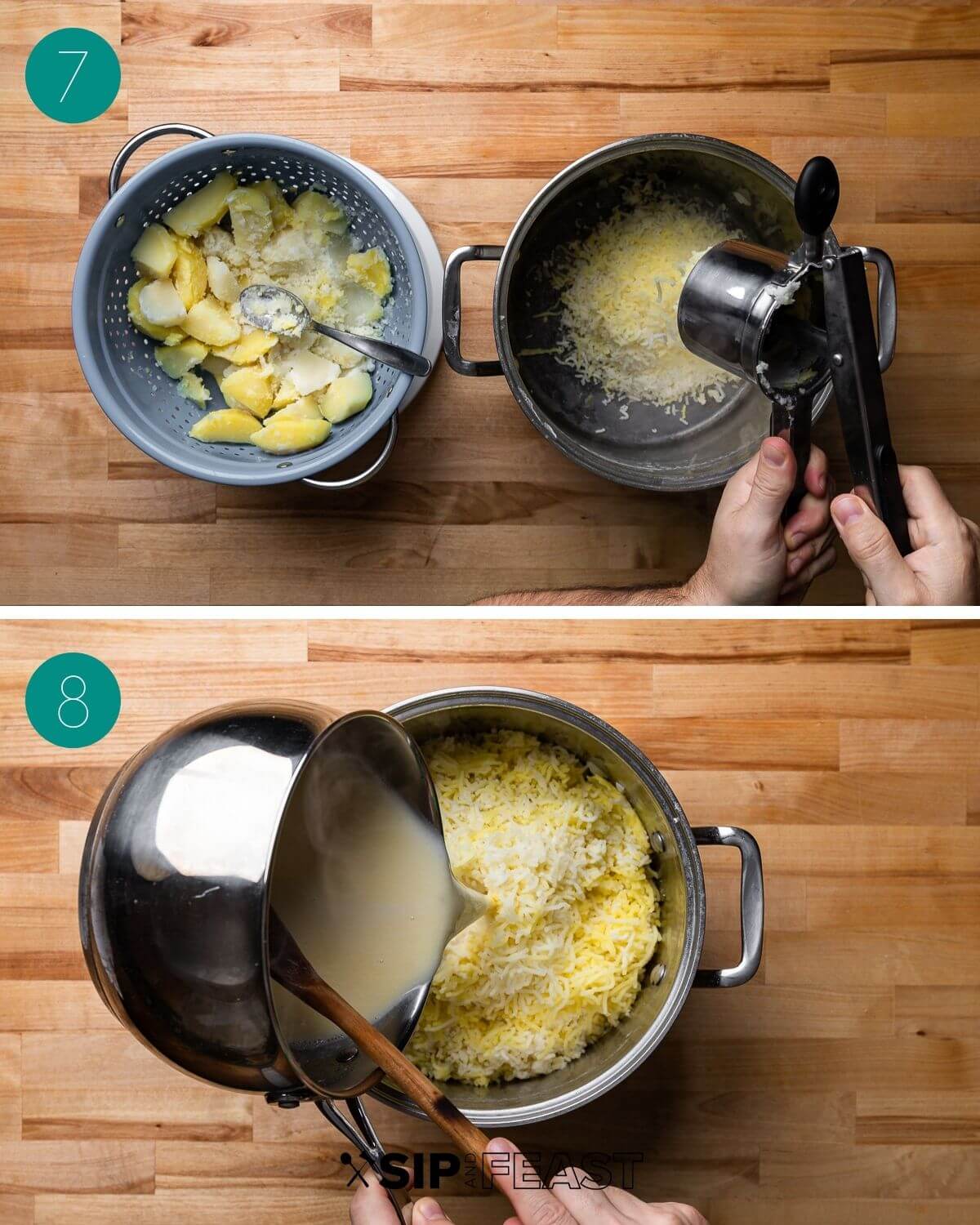 Pour the warm butter, milk, and roasted garlic mixture over the riced potatoes.
Gently mix the potatoes to fold everything together. Season with salt and pepper to taste.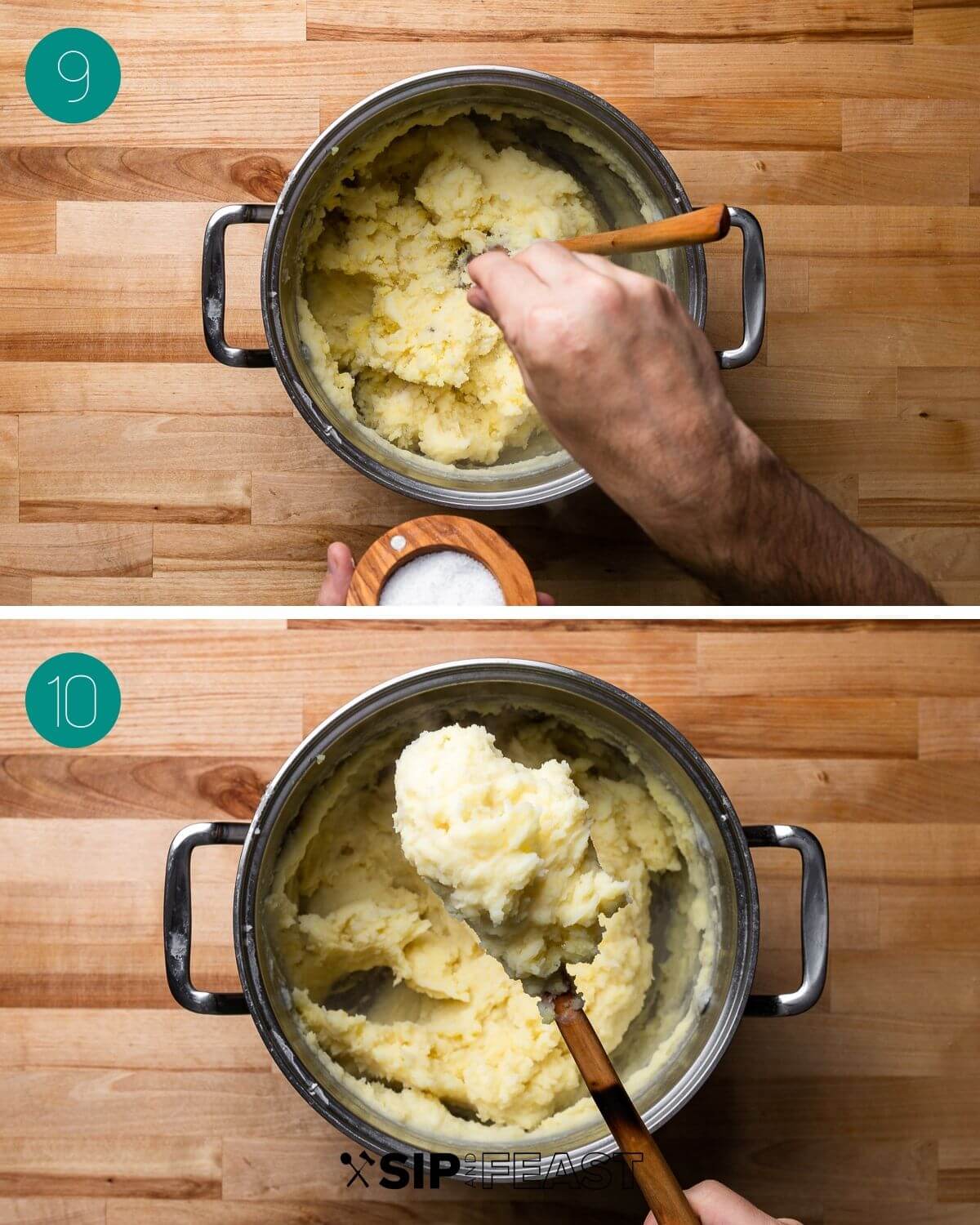 The mashed potatoes are all done and ready to be served. Nothing beats the texture and taste of mashed potatoes made with a ricer.
Milk vs. heavy cream
I've made mashed potatoes with milk, heavy cream, half and half, and even skim milk.
I've found that the starchiness of the potatoes does need fat to help create the creamy texture, so I prefer to opt for whole milk, and butter.
You can definitely use heavy cream or even half and half, but that will increase the calories and fat content of the dish.
If you're looking to cut the calories, you can use skim milk, but the texture will be different, so be aware.
I find that the whole milk and butter combo creates the perfect combination for roasted garlic mashed potatoes.
Top tips
Use a ricer - Ricing the potatoes - I like this one - eliminates the need for an electric hand mixer or the muscle to use a hand masher. An electric mixer will make the mashed potatoes starchier and almost glue-like, while the ricer will create more air gaps in the strands (rice-like strands) of potato leading to fluffier mashed potatoes.
Use the warm pot - The residual heat of the pot in which you boiled the potatoes creates the perfect environment for the riced potatoes. That heat will draw out more moisture, resulting in roasted garlic mashed potatoes that are light, and not water-logged.
Keep tasting - Taste test the potatoes a lot! Don't be afraid to take a bite, season, mix, then take another bite. Keep doing this until you get it right. Try not to eat the entire pot of potatoes. 😉
Reheating - If preparing mashed potatoes a couple of hours before the meal (probably for Thanksgiving right?), keep them in the pot and just reheat them on low until warm. You'll need to add a bit more butter and milk to get the right creaminess back again, but it's as simple as that.
More Thanksgiving favorites
Roasted garlic mashed potatoes are not just for Thanksgiving.
I make these often and serve them with pot roast, meatloaf with mushroom brown gravy, or even with chicken cacciatore.
That being said, no Thanksgiving table would be complete without mashed potatoes, and a few of our other favorites:
Another must-have for the holidays is an easy white wine sangria with pears and apples.
If you're looking for something a little stronger, try our:
If you've enjoyed this roasted garlic mashed potatoes recipe or any recipe on this site, give it a 5-star rating and tell us about it in the comments below.
We strive to satisfy a number of learning styles. If you are someone who prefers to learn by watching, you can find most of our recipes on YouTube and our Facebook Page.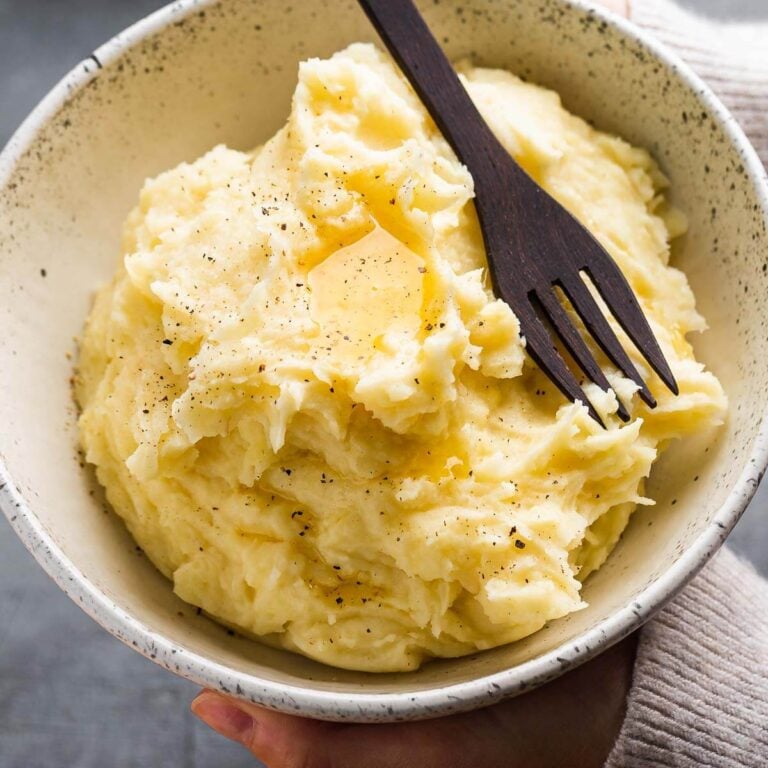 Ingredients
12

cloves

garlic

2 ½

pounds

Yukon Gold potatoes

peeled and quartered, see notes below

2 ½

pounds

russet potatoes

peeled and quartered, see notes below

2

tablespoons

kosher salt

for boiling potatoes

1

stick

unsalted butter

1 ½

cups

whole milk

salt and pepper to taste
Instructions
Place garlic cloves in foil, wrap tight, and bake for 40 minutes at 375f in the center of the oven. Once finished, mash the roasted garlic into a paste.

Place potatoes into a large pot and overfill the potatoes with cold water by 2 inches. Bring to a boil, add in 2 tablespoons of kosher salt and stir to incorporate, then turn the heat down to a moderate boil. Cover pot leaving lid slightly ajar.

Once potatoes are fork tender (about 20-25 minutes) drain in a colander.

While potatoes are draining, heat butter, milk, and roasted garlic paste over low heat. Break up the garlic paste with a wooden spoon to evenly distribute it.

Rice the still-warm potatoes into the dry pot that was used for boiling. After all potatoes have been riced pour in the milk mixture and gently stir to incorporate.

Season the mashed potatoes with salt and pepper to taste. Enjoy!
Notes
A mix of russet (powdery and dry) and Yukon Gold (semi-waxy and creamy) work well, but if choosing just one type go with all Yukon Gold potatoes.
A ricer is the best tool for perfect mashed potatoes.
Rice the potatoes into the still-hot pot that was used for boiling. The residual heat of the pot will further dry out the potatoes.
Mashed potatoes are best eaten the same day. If making hours in advance leave in the pot and reheat over low heat with the addition of more milk and butter and gently stir until smooth and warm.
Nutrition
Calories:
214
kcal
|
Carbohydrates:
31.3
g
|
Protein:
4.3
g
|
Fat:
8.5
g
|
Saturated Fat:
5.3
g
|
Cholesterol:
23
mg
|
Sodium:
661
mg
|
Potassium:
790
mg
|
Fiber:
4.6
g
|
Sugar:
3.6
g
|
Calcium:
56
mg
|
Iron:
1
mg