A shrimp taco recipe that's super easy to make and has only a few ingredients? Yes on both! If you want to go all out and do a bunch of toppings, go for it. But the shrimp recipe itself has but a few ingredients. Basically, it's a cilantro-lime shrimp dish with a tequila garlic sauce.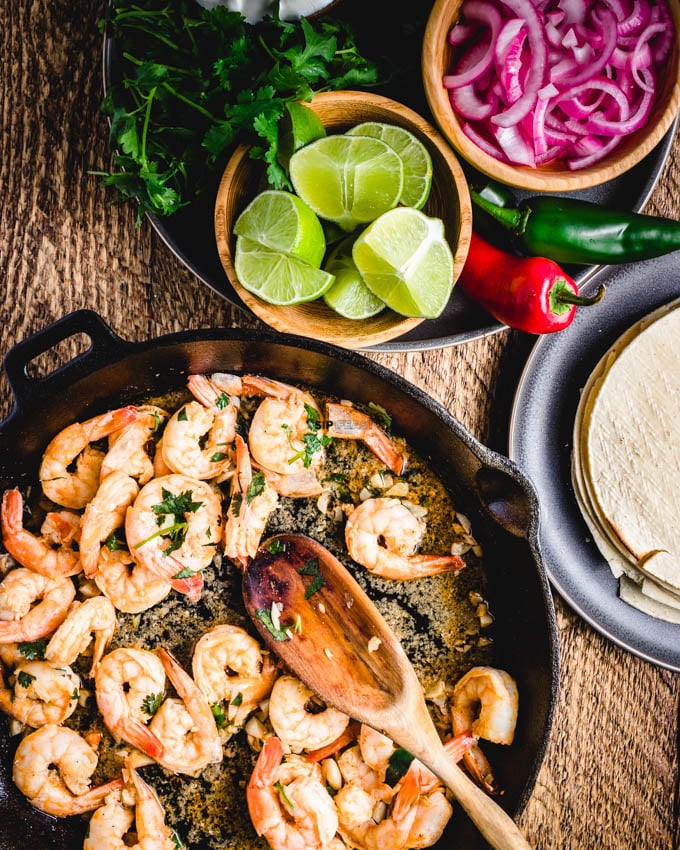 Before you begin the shrimp tacos mix up a delicious grapefruit mint maragrita or a jalapeno margarita. Both cocktails pair great this simple dinner.
These are always a hit when making for the family. They love them - in fact, they love all tacos. These though especially stand out because of how simple they are to make, and how impressive they taste.
The shrimp take about 6 minutes total to sauté in the pan. I love using cast iron for this recipe, but any pan will do. Really the only prep work that needs to be done is making the taco toppings.
With this cilantro lime shrimp taco recipe, I typically serve marinated onions. I love the color contrast and the vinegary blast of flavor they provide.
To make quick marinated onions mix 2 cups of white vinegar with ¼ cup sugar and 1 tablespoon of kosher salt. Mix it all up. Cut up some red onions and let them marinate at room temperature for at least 1 hour. They can be used right away for the shrimp tacos or the onions can be left in the fridge for weeks and only get better.
Cilantro is always on the side when I make any type of taco meal. Sour cream is also a permanent requirement. Limes and hot sauce also, but do what you want. I'm not judging!
Shrimp taco recipe process
If using frozen shrimp, make sure they are fully defrosted before marinating them.
Cut up 10 cloves of garlic and reserve half on the side and place the rest in the bowl with the shrimp.
To the shrimp bowl add the garlic, paprika, cumin, salt, pepper, lime juice, tequila, and baking soda. Mix it all up thoroughly, cover, and place in the fridge.
After 15 minutes, drain the shrimp and set aside.
First, heat the pan to medium and add 1 Tbsp of olive oil. Next, add the other half of the garlic. Sauté the garlic for 2 minutes, then add the shrimp. The shrimp should take roughly 3 minutes per side. They will be a nice pink color when cooked through. Also, they will be quite firm and plump as opposed to their original uncooked soft texture.
During the last minute of cooking, squeeze the juice of 1 lime onto the shrimp, remove, and plate. Add the chopped cilantro at the very end.
That's it - the shrimp are done and ready to be served in tacos. To make it easier, the shells can be removed prior to cooking if desired. I prefer them left on because I think it makes a more beautiful cilantro lime shrimp dish.
Buying shrimp
The shrimp buying process can often be confusing. Sometimes expensive shrimp will disappoint, while cheaper ones are better. What gives? A ton of info on the subject can be read in this serious eats shrimp post.
What I will say is generally frozen shrimp are a safer bet. Remember "fresh" shrimp at a supermarket are just thawed frozen shrimp. I like the idea of the shrimp staying frozen until I need to use them. Who knows how long those thawed shrimp have been sitting in the supermarket.
There are caveats - The large shrimp that Costco sells are a good value and I have had great success with them. I am referring to the fish counter at Costco. The regular bagged frozen shrimp at Costco are always a great deal. 26-30 count shrimp are normally only $7 a pound!
Shrimp size
The size of shrimp is labeled by count per pound. 26-30 means roughly that many shrimp per pound. The smaller the number the larger the shrimp. Often they will be listed as for example U12. This means 12 per pound.
I prefer 26-30 or thereabouts for size on most shrimp dishes. I feel it gives the best price and versatility. For this shrimp taco recipe, I would stay at this size or maybe go for even smaller shrimp.
The 26-30 size is great for stir fry dishes like a shrimp and broccoli dish. It works well for shrimp scampi over linguine or shrimp fra diavolo to name but a few.
Larger sizes I would reserve for shrimp cocktail or maybe bacon wrapped grilled shrimp. That's what I would do - there is no right or wrong - If you love big shrimp go for it!
The shrimp taco recipe is finished. It's a real simple one, and like I said, serve it with any toppings you want. Looking for an awesome drink to accompany this dish? Check out my grapefruit mint margarita.
If you're in the mood for another super easy shrimp dish, this Spanish shrimp with chorizo will definitely hit the spot.
If you've enjoyed this tequila shrimp taco recipe, or any recipe on this site, we want to know so tell us in the comments below. We would love to hear how you did and it's nice to show others as well. Thanks!
FOLLOW US on YouTube, Instagram, Pinterest, and Facebook.
Ingredients
1.25

pounds

26-30 count shrimp

.....The count is per pound.

3

large

limes

2

Tbsp

olive oil

2

ounces

tequila

10

cloves

garlic

¼

tsp

baking soda

2

tsp

kosher salt

¼

tsp

black pepper

2

tsp

cumin

2

tsp

paprika

¼

cup

fresh cilantro
Instructions
Make sure shrimp are completely defrosted before marinating (if using frozen shrimp).

Chop garlic coarsely and chop fresh cilantro.

Combine half of the garlic, shrimp, tequila, juice of 2 limes, salt, pepper, baking soda, cumin, and paprika in bowl and mix thoroughly. Cover and refrigerate for 15 mins, but no longer than 1 hour.

After 15 mins remove shrimp and drain.

Heat cast iron or heavy skillet to medium heat. Add other half of chopped garlic and saute for 2-3 minutes.

Add shrimp and saute about 3 minutes per side. The shrimp will be nice and plump with a pink color when fully cooked.

Before turning off heat squeeze juice of 1 lime onto shrimp. Add the cilantro at the very end.

Plate and serve with tortillas, marinated onions, sour cream and any other sides you desire. Enjoy!
Notes
Remove the shrimp tails if planning to eat all the shrimp in tacos. If not leave them on because it gives a nicer presentation.
Nutrition