Making an authentic New York-style white pizza (pizza bianca) at home can be done, provided you have the right ingredients, and technique. It all comes down to the cheese and the hand stretched cold fermented homemade pizza dough. Our step-by-step guide below walks you through the entire process, enabling you to confidently make a NY white pizza that rivals that of any pizzeria!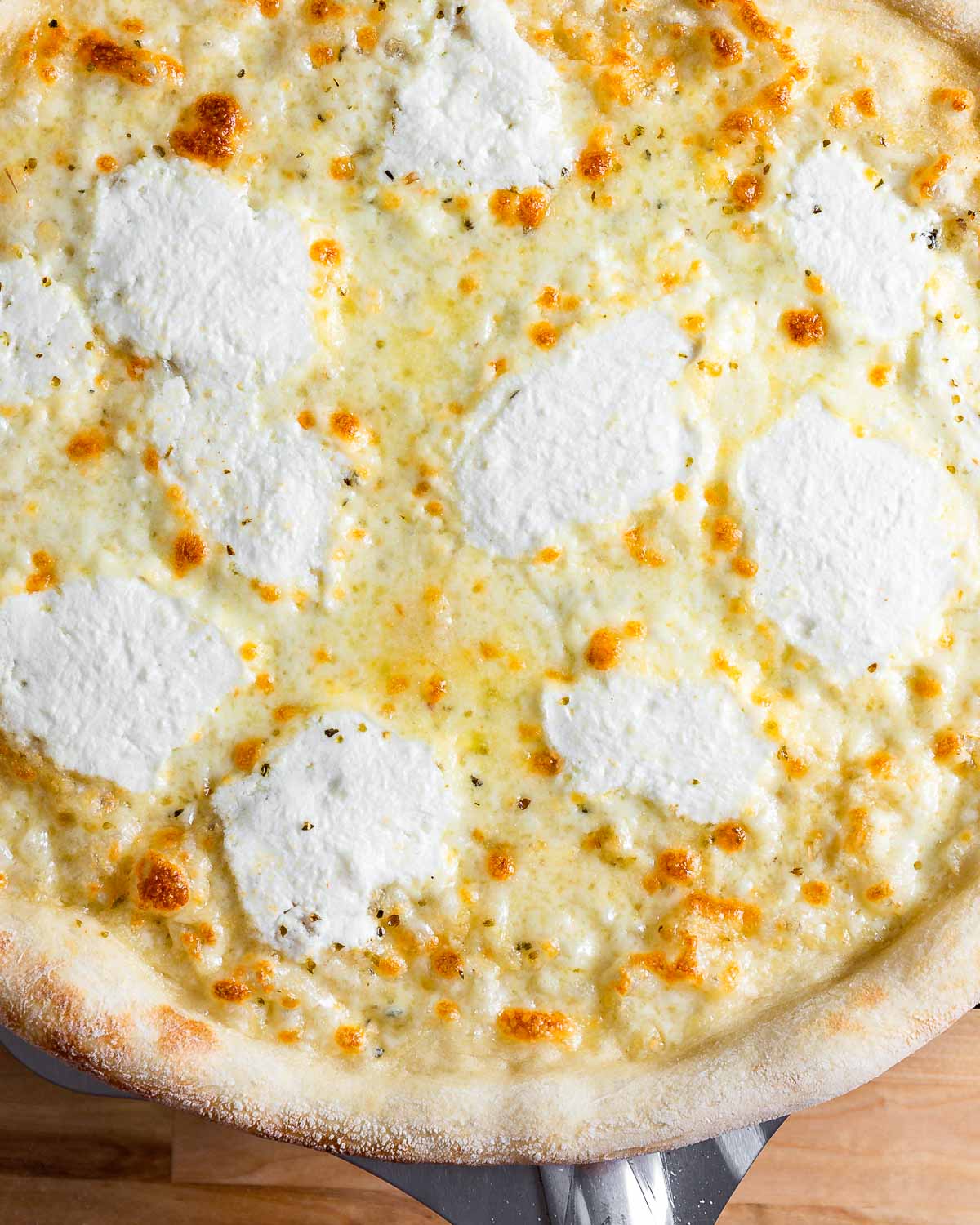 Editor's Note: Originally Published on May 21, 2018. Updated with full process shots and expanded info.
What is New York white pizza?
Also known as pizza bianca, white pizza typically refers to a pizza that is made without marinara sauce.
White pizza is everywhere in New York and most places make it pretty much the same way.
And it all comes down to the ingredients.
Ricotta and mozzarella are the standard, and often pizza makers will sprinkle either Pecorino Romano or parmesan on top, for good measure.
Garlic, in some way, shape, or form is also crucial. You can use fresh garlic or garlic powder, but in my experience, garlic powder works better for this type of pie.
When the mood catches me, I will change it up and encourage you to do the same until you figure out which one you prefer.
For example, you could use the garlic oil from our Grandma pizza recipe.
Another easy changeup for white pizza is to mix in spinach that has been sauteed with garlic, garlic sauteed broccoli, or even broccoli rabe.
Many pizzerias offer these types of pies on their menu and often have individual slices waiting in the wings in their glass display cases.
The dough for white pizza is the same as a regular NY pizza.
Do yourself a favor and read our homemade pizza dough and New York pizza recipe. This will walk you through everything you need to know about making the best cold fermented pizza dough.
If you prefer to use store-bought dough, try to get it from your favorite pizza place. If it's not balled, and instead sold in a bag, I recommend you ball it and get it in the fridge. Our recipe above goes over all the steps to balling your dough.
What it is not
I have noticed that many online recipes use alfredo or a bechamel sauce on their "white pizza".
Perhaps they are trying to replicate a trendy pizza chain, like Artichoke Pizza?
Perhaps they are not native New Yorkers?
But if you were to step into most pizzerias in the NY metro area (and I've stepped into about 500 of them in my lifetime), ordering a white slice will get you the ricotta/mozzarella/garlic slice I've described above.
Some pizzerias may offer an "alfredo" slice, and that is where that type of sauce will show up, but not typically in a white slice.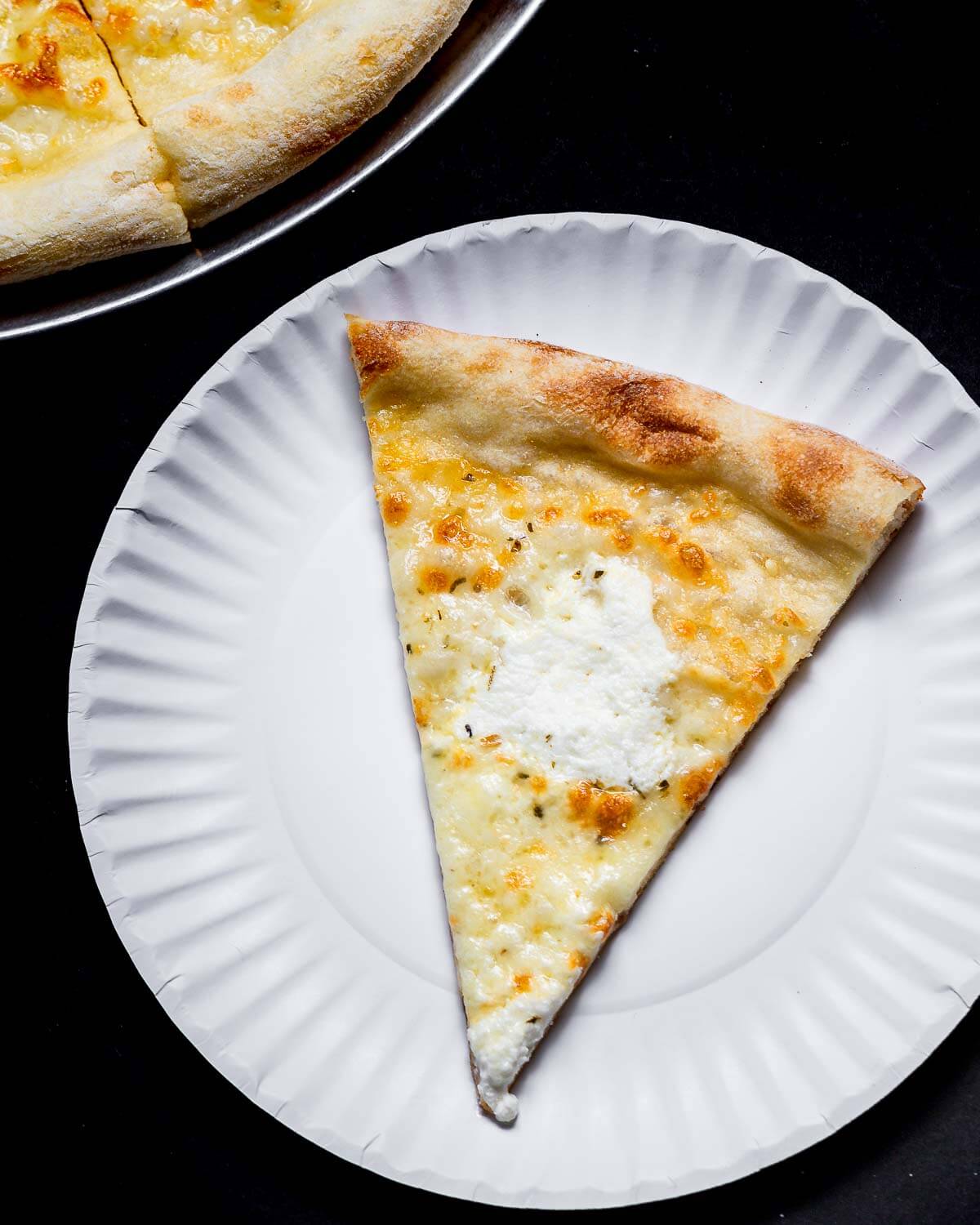 How to make it
Note: Use our pizza dough recipe referenced above and a pizza steel for best results. If you don't have a steel you'll want to use a pizza stone at a minimum.
In the warmer months, you'll want to remove your dough from the fridge at least 2 hours prior to stretching. In the colder months, 3 to 4 hours is usually required. 45 minutes prior to stretching, set your steel or stone to the second-highest oven rack and preheat your oven to the max. If your oven can got to 550f, do it.
Once the steel is nice and hot (remember wait 45 minutes for oven to heat) remove your dough ball and drop it into a bowl of all-purpose flour. I like to keep a large bowl of all-purpose flour on hand, labeled "dough drops" so that I'm not constantly wasting flour. After dropping the dough ball into the flour turn it over once and get it onto your floured work surface.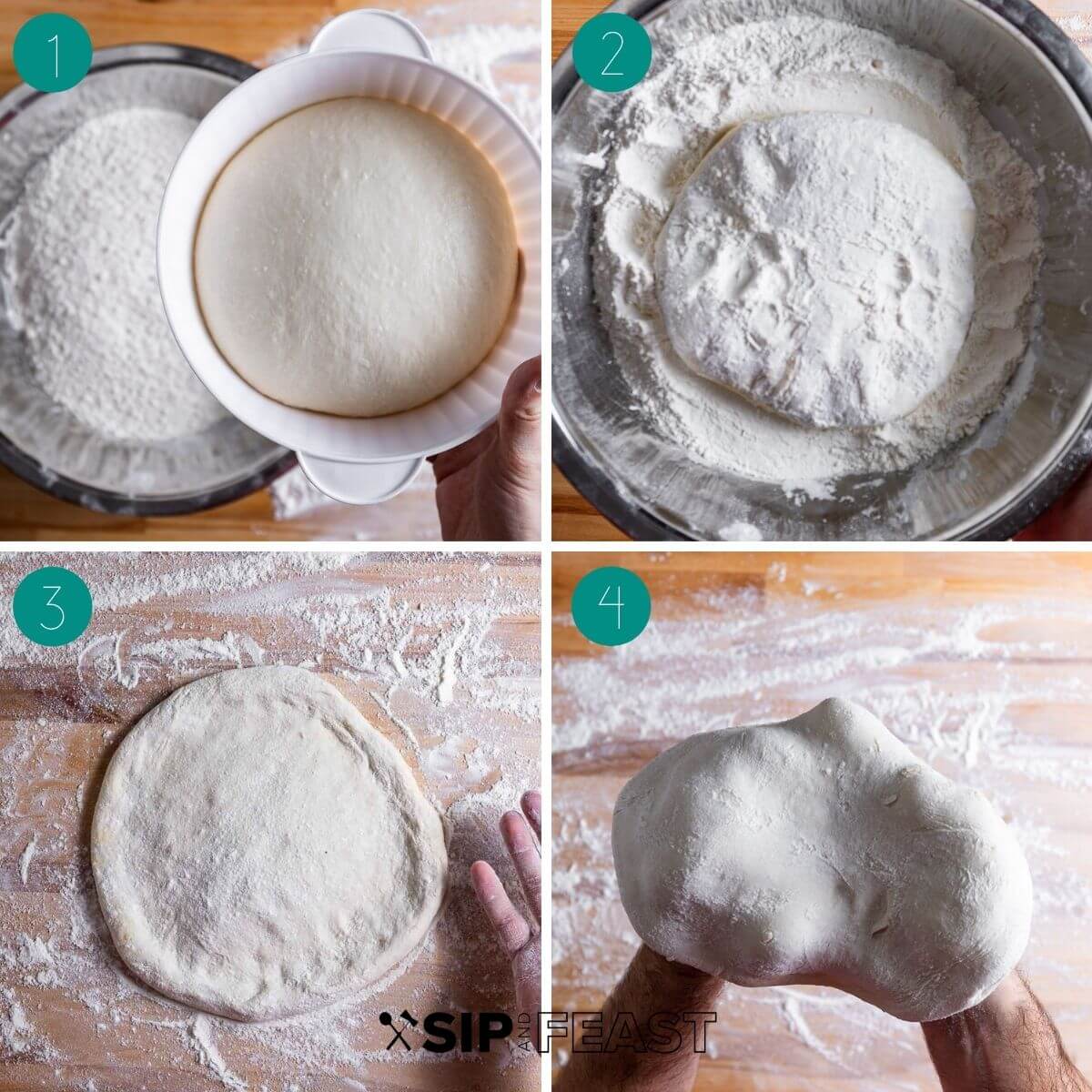 Make sure your work surface is large enough to accommodate a 15" pizza. Place the dough ball down with the sticky side facing up. The sticky side will be the side that was touching the bottom of the proofing container. With your fingers, form the rim by pressing down. Try not to press the rim too much, and also try to leave a bit more dough in the center so that it doesn't become too thin while stretching.
Once you've formed an 8-9" circle bring your wooden pizza peel nearby and sprinkle with semolina flour (you can also use all-purpose, but semolina works better). Bring the dough sticky side up into your knuckles and begin to stretch. If at any time you need to drop the dough, lay it sticky side up on the wooden peel. Placing it back onto the floured work surface will introduce too much flour and you don't want that. Gently stretch the dough, trying to not touch the rim while keeping your knuckles on the perimeter. Keep rotating and stretching by gently pulling your knuckles apart a couple of inches.
When the pizza is stretched, place it on the wooden peel sticky side up. If you need to stretch to a better circle just gently pull each side into position. Trust me. The more you practice this, the better you will get!
Paint the pizza with a bit of water. A pastry brush works better than the silicon brush used in picture 6 below. Without water, and since the pizza has no sauce, it can get dry. Adding a bit of water helps a lot. Also drizzle 1 tablespoon of olive oil onto the pizza dough.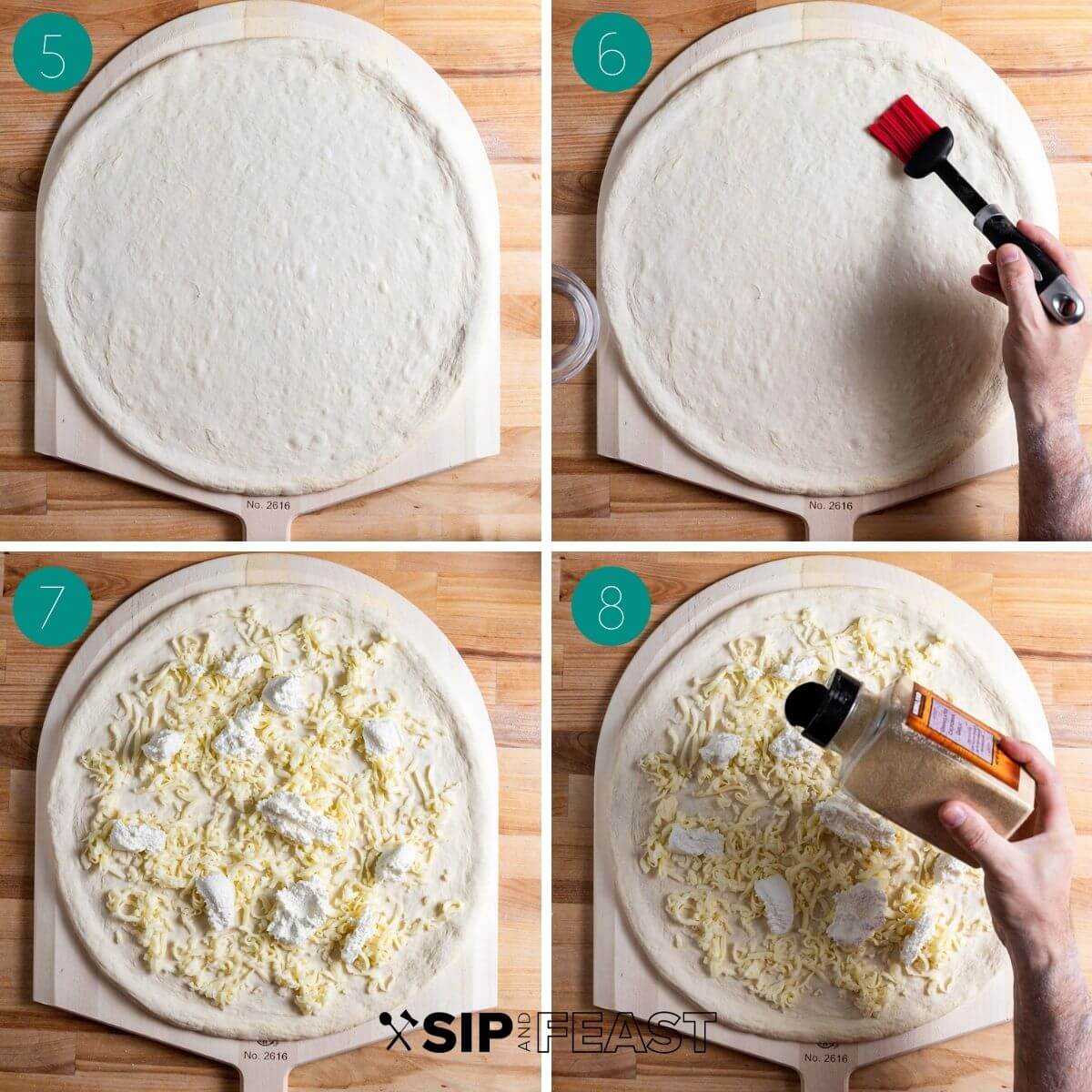 Give the pizza peel a bit of a shake. If the pizza dough sticks at all, lift up the offending edge and sprinkle more semolina flour under the spot. The pizza needs to be able to slide. Once satisfied, add the cheese. For a 15 inch pie, 8 ounces of shredded mozzarella and 1 ½ cups of ricotta work well. You will have to play with these numbers a bit, especially if you don't stretch the pie to the full 15 inches.
Sprinkle a ½ teaspoon garlic powder, a ½ teaspoon kosher salt, and 2 tablespoons of Pecorino Romano all over the pizza. If you like more garlic or less, make those adjustments.
Make sure the pizza moves one more time. If it has any stuck spots, fix that now by adding some additional semolina flour under the spot.
Check the steel temperature with a digital infrared thermometer. My steel is at 618f as shown in pic 10 below. If you have an oven that can do 525f max you should still be able to get the steel up to 575-585f.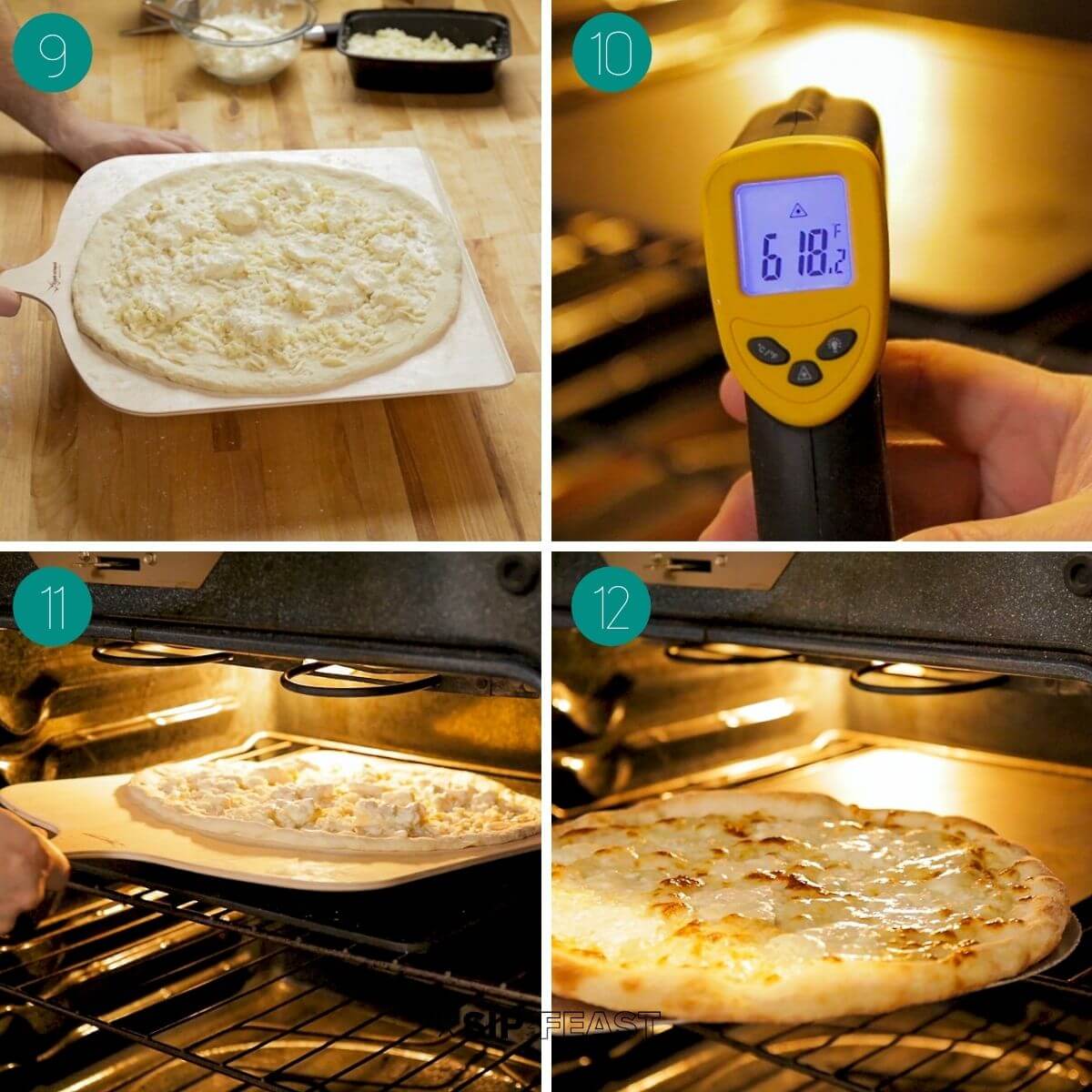 Open the oven door and launch your white pizza by tipping the peel towards the back of the steel and gently sliding the peel out. The goal is to land the pizza on the steel in one smooth motion. If you deform the pizza do not try to correct it. Just close the door and you'll do better next time. Deforming the shape will not change the excellent flavor of your pizza.
After 3 minutes open the door and with a metal pizza peel rotate the pizza 180 degrees. Close the door and after 3 more minutes, the pizza should be done. If your steel was towards the 580f level the pizza might take 7 minutes. Typically New York white pizza is not broiled on top top, but if you want a little color, 15 seconds under the broiler should do the trick. Just watch carefully!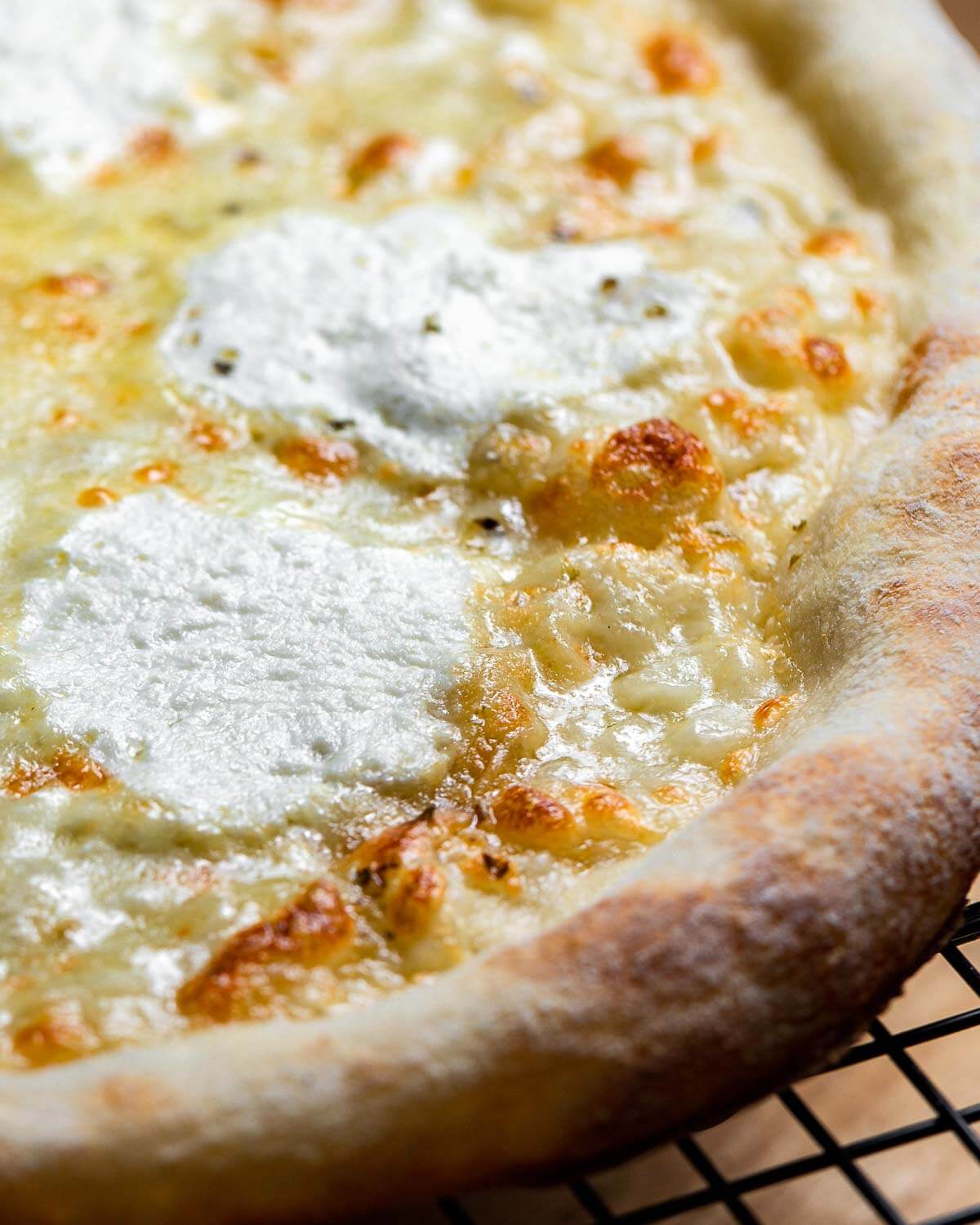 After you remove your white pizza from the oven, place it on a wire rack to cool.
The rack will prevent the pizza from becoming soggy and won't trap air like it would if you placed it in a pizza pan immediately.
After a couple of minutes, cut your white pizza, and serve it in a pizza pan. I prefer to cut pizza on a large cutting board instead of in the aluminum pizza pan which can create cut marks in the soft metal.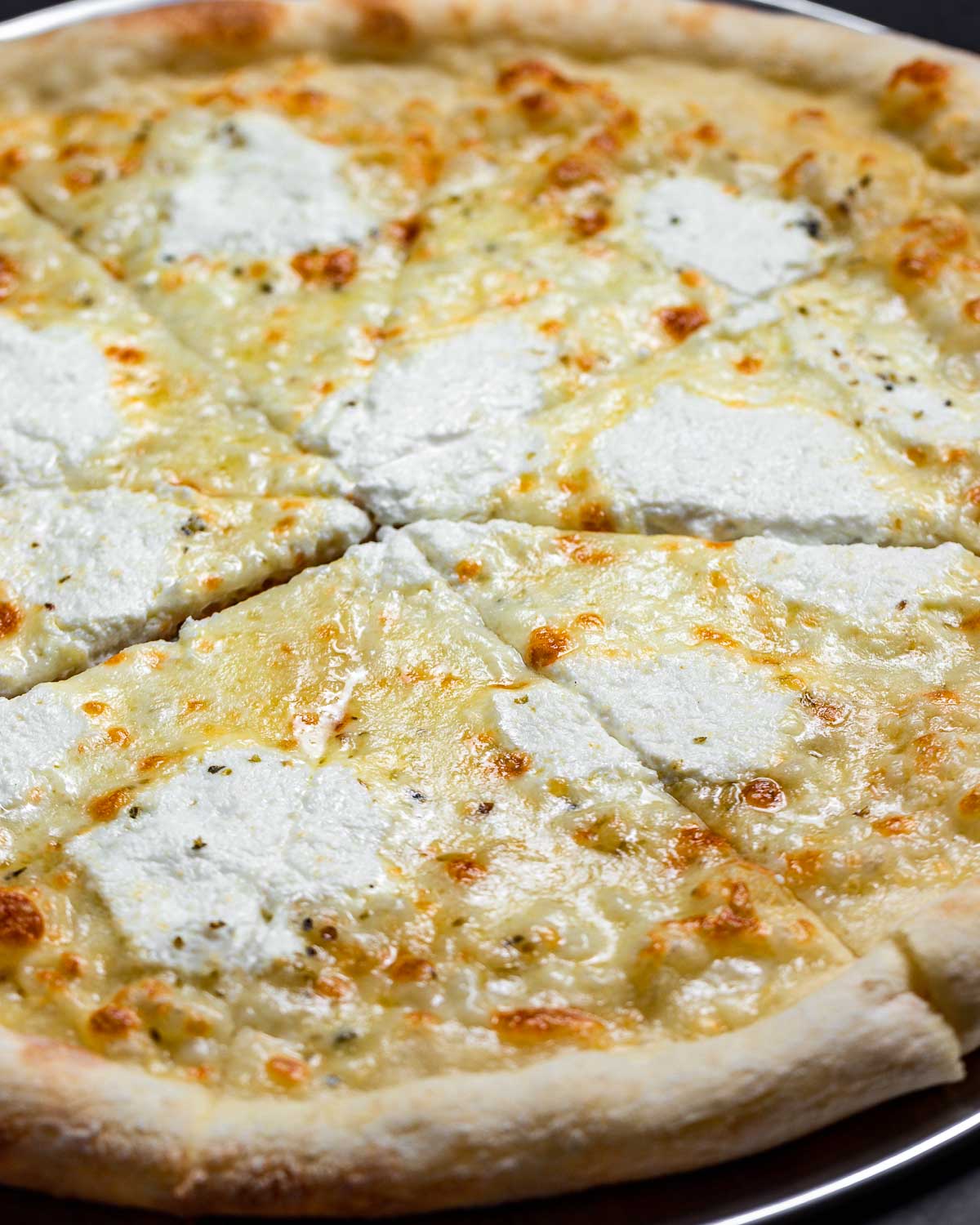 Not all mozzarellas or ricottas are the same
Mozzarella
First things first, don't use fresh mozzarella.
Fresh mozzarella is barely used on any New York pizza.
There is way too much water and not enough heat in your home oven for fresh mozzarella.
Leave the fresh mozzarella for the brick oven shops with the 1000f ovens.
For true New York white pizza, you need to use block mozzarella.
If you live in the New York metro, you'll have access to primarily Polly-O and to a lesser extent, Galbani, at almost all local supermarkets.
Polly-O and Galbani block mozzarella are quite different.
Whole milk Polly-O is very wet and works quite well for a white pie that needs some added moisture.
Don't ever make the mistake of using it for a regular pizza pie though.
Between the moisture in the tomatoes and the wetness of the cheese, it's too much and makes a watery pie. Trust me on that!
But for a white pizza, whole milk Polly-O works quite well, and I strongly recommend it.
If you want to use Galbani instead, you'll definitely need to paint a bit more water onto the bottom of your pizza dough before applying the cheese, as Galbani has less moisture than Polly-O.
Ricotta
Polly-O's ricotta is also far wetter than Galbani's comparable product.
I much prefer Polly-O ricotta for white pizza.
In the white pizza videos on my YouTube channel, I used Galbani, and if you watch them carefully you can see the almost grainy texture in the pie.
With Polly-O, you'll get the smooth white look you normally find at your local New York pizzeria. All but the one white pizza pictured directly above in this post use Polly-O mozzarella and ricotta.
Now, most New York shops aren't using Polly-O but instead are using Grande brand mozzarella and ricotta which are too hard to purchase for the home cook.
But from my testing, and boy there's been a lot of it, Polly-O works best from the easily available ricotta brands.
National grocery chains like Whole Foods and Trader Joe's sell a few other brands that will have their own unique characteristics.
And please, don't think I'm hating on Galbani. Their ricotta is far superior for cannoli filling and a host of other recipes.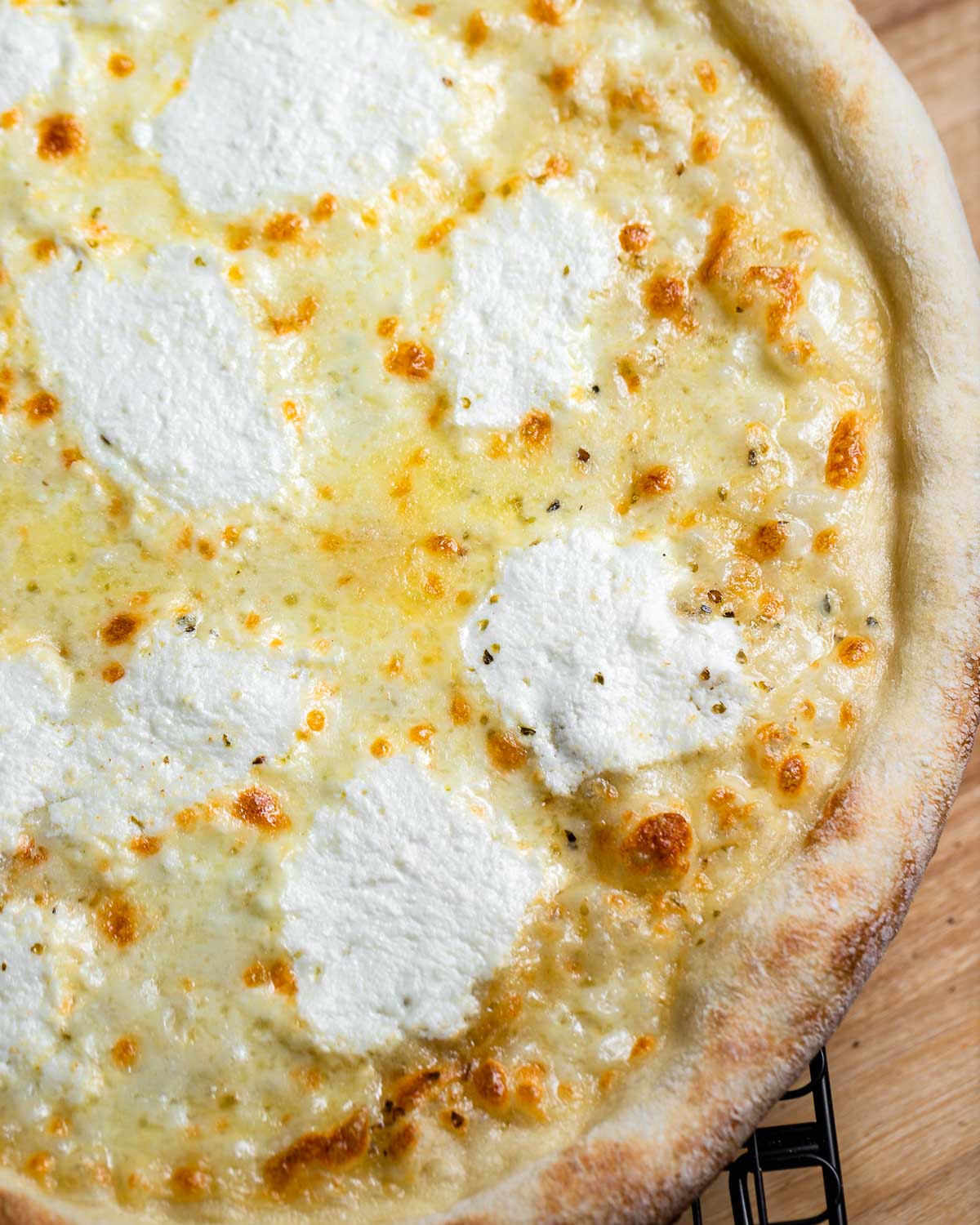 Top Tips
Warm the dough - In order to easily stretch pizza dough, get it out of the fridge at least 2-3 hours prior in the summer and 3-4 during the winter.
Use semolina for launching - The pizza needs to glide off the wooden peel while launching it onto the steel. The coarser semolina works better than all-purpose for launching because it creates a more distinct barrier between the peel and the dough.
Use a baking/pizza steel - A steel will give you amazing results! If using a pizza stone you'll probably need to allow for 4-5 more minutes of cooking time. Baking a New York white pizza in a sheet pan is not recommended.
For multiple pies - Wait 10-15 minutes prior to launching the next one, so that the steel can regain some of its heat. Turning the broiler on high right after removing the pizza for a few minutes, then turning the oven back to high can speed up the process.
Take notes - If the pizza comes out too dry, take note, and add a bit more cheese and/or a bit more water on your next pie. That's the fun part of pizza making. There is always a next time!
Vary the ricotta amount - Some shops will make a white pizza loaded with ricotta where you can't even see the mozzarella, making each slice super heavy and filling. While others will be more judicious. The choice is up to you.
More New York pizzeria food
If you've enjoyed this white pizza recipe or any recipe on this site, we want to know so tell us in the comments below.
We would love to hear how you did and it's nice to show others as well. Thanks!
Watch the video below where Jim will show you how to make this recipe with easy-to-follow instructions.
Some people learn by watching. If you're that type of person, you can find most of our recipes on YouTube and our Facebook Page.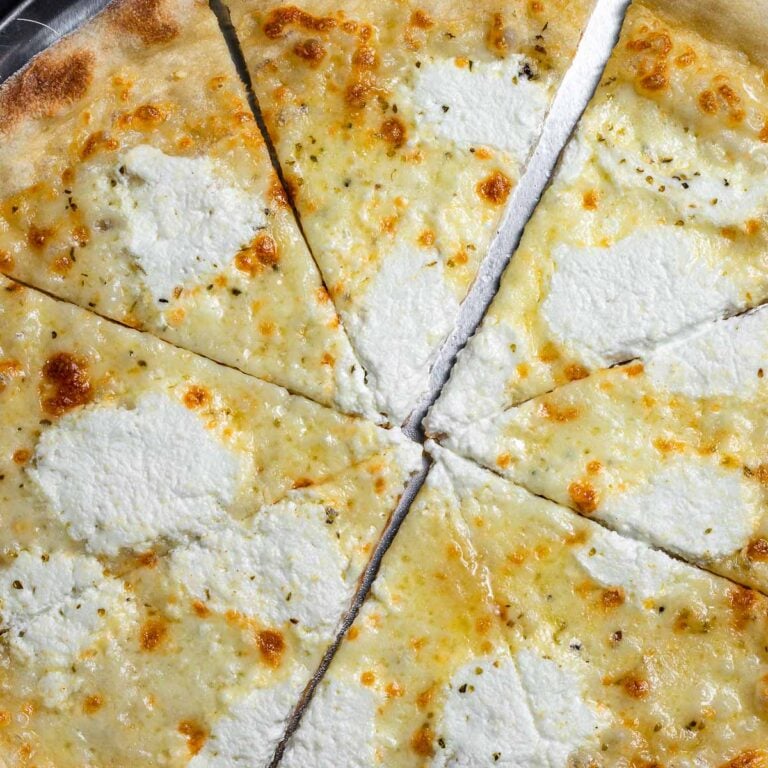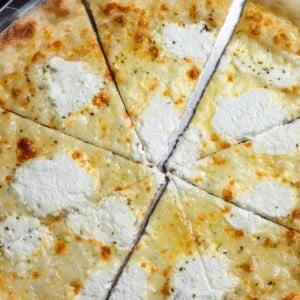 Ingredients
1

12 ounce

pizza dough ball

see notes below

1

tablespoon

semolina flour

for dusting wooden pizza peel

2

ounces

water

you will not need it all, see notes below

1

tablespoon

olive oil

8

ounces

whole milk mozzarella

shredded

1 ½

cups

ricotta

½

teaspoon

kosher salt

½

teaspoon

garlic powder

2

tablespoons

Pecorino Romano

finely grated
Instructions
Remove dough from the refrigerator (leaving covered in proofing container) to warm up for 2-3 hours during the summer and 3-4 hours in winter.

Set pizza steel to the second highest oven rack level and preheat the oven to the highest temperature for 45 minutes prior to shaping dough.

Carefully remove dough ball from proofing container and drop into a large container with all-purpose flour. Turn once, then lay the dough ball with the sticky side facing up(this will be the side that rested on the bottom of the proofing container) onto a floured work surface for stretching. Near your work surface, place a wooden pizza peel sprinkled with semolina flour.

With your fingers press down and form a rim, being careful not to deform the crust and degas the rim. Maintaining a round shape, leave more dough in the center and rotate the dough a couple of times to make the pizza larger.

Once the pizza is about 8-9 inches, bring it into your knuckles to stretch to the final size of 15 inches. Gently stretch the dough by pulling with your knuckles and rotating. Once the pizza is the full size drop it onto the wooden pizza peel.

At this point, you can stretch the dough into its final size, by gently pulling. Just try not to touch the rim too much. Shake the pizza peel and make sure the dough moves easily back and forth. If it does not sprinkle more semolina flour underneath the pizza and check again.

With a pastry brush, wet the surface of the pizza with water to introduce some moisture. Drizzle 1 tablespoon of olive oil all over and brush that in as well.

Sprinkle the mozzarella cheese evenly. Next, add dollops of the ricotta all over the pizza. Sprinkle the Pecorino Romano all over and then the salt, and garlic powder.

Make sure the pizza slides once more, then check the pizza steel with an infrared thermometer. Once a reading of 610f (it will be less if using a 525f max oven) is achieved, launch the pizza onto the steel and close the oven door immediately.

After 3 minutes with a metal pizza peel rotate the pizza 180 degrees. After 3 more minutes, the pizza should be finished. Depending on oven temp it might need another minute but watch carefully. Remove the pizza with a metal pizza peel and place on a wire rack to cook. Enjoy!
Notes
Use our New York pizza dough recipe for one 12 ounce dough ball. For multiple pizzas, just make more dough balls. Alternatively, use store-bought dough but make sure to ball dough prior to using.
You will not need all 2 ounces of water, but if using dry ricotta and mozzarella, water should be painted onto the dough with a pastry brush so that the pizza does not dry out.
The recipe time is for prepping, heating the steel, and cooking the pizza. Remember to warm up the dough before cooking by removing it from the fridge for 2-3 hours in the summer and 3-4 hours in the winter prior to stretching.
Calorie info is for 1 New York white pizza.
A pizza or baking steel is highly recommended. If using a stone, the pizza will take 3-5 minutes longer. Do not use a sheet or baking pan.
Leftovers can be stored for up to 3 days in the fridge. Reheat on a parchment paper lined baking sheet at 350f until hot. About 10-12 minutes. Do not microwave.
Nutrition
Calories:
721
kcal
|
Carbohydrates:
44
g
|
Protein:
33.8
g
|
Fat:
45.8
g
|
Saturated Fat:
18.3
g
|
Cholesterol:
64
mg
|
Sodium:
1234
mg
|
Potassium:
168
mg
|
Fiber:
3
g
|
Sugar:
0.4
g
|
Calcium:
364
mg
|
Iron:
3
mg
This recipe was originally published on May 21, 2018. It was completely updated on July 13, 2021.