Italian Broccoli with garlic and olive oil is one of the simplest and most versatile side dishes you can make! The fresh broccoli and golden garlic are a perfect match! This is a 15-minute recipe that goes well as a side to almost any meal. This will be the recipe for basic Italian sauteed broccoli. Down below we will go over variations like red pepper flakes, anchovies, lemon, Parmigiano Reggiano, and a cold version.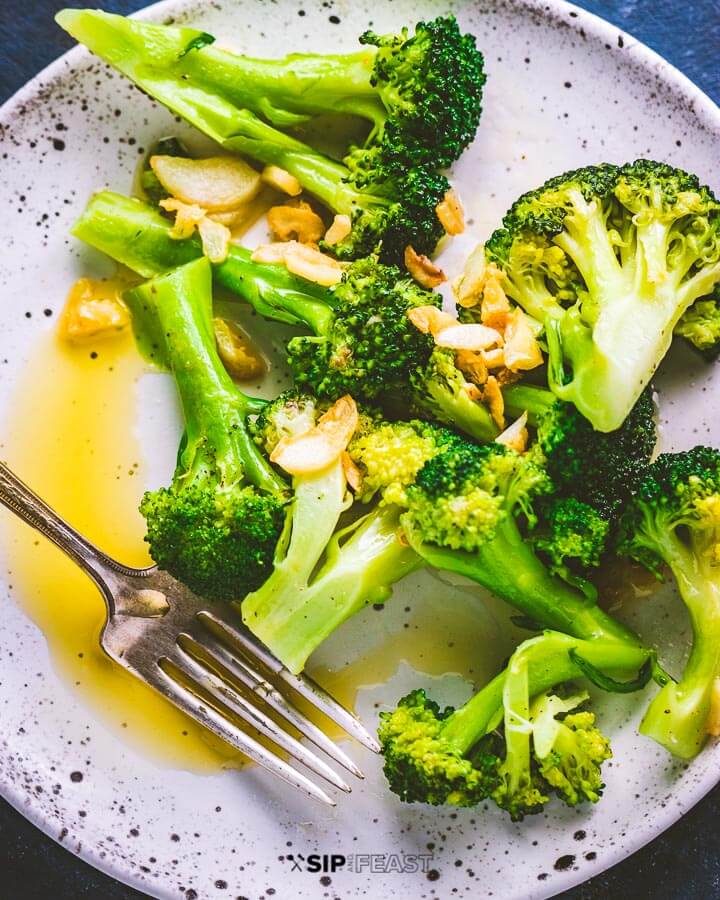 Sauteed garlic broccoli, green beans with garlic and oil, and garlic sauteed broccoli rabe are a few of the easiest and best Italian side dishes.
Broccoli is a versatile ingredient. This pasta con broccoli recipe is an easy and delicious way to pair broccoli with orecchiette, but almost any pasta works.
Anyway, all that's needed for this recipe is broccoli, olive oil, extra virgin olive oil, garlic, and salt. Super simple ingredients!
How to make garlic sauteed broccoli
Begin by breaking the head into florets and chop into roughly equal size pieces.
Bring a pan filled with 1" of water to a boil. Add in broccoli and close lid leaving slightly ajar.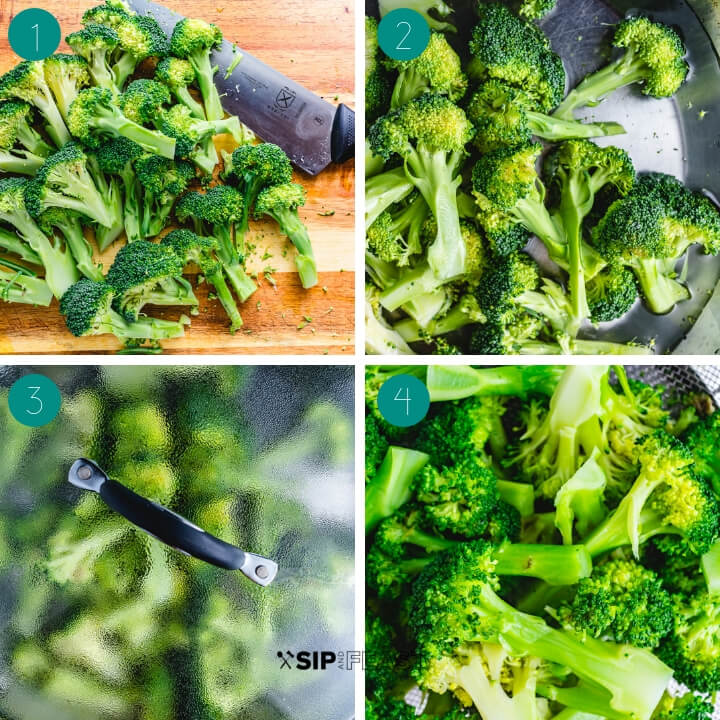 After about 2-3 minutes of cooking, the broccoli will turn bright green. Remove from heat and strain broccoli in a colander.
Leave the broccoli in the colander and dry the pan of any residual water.
Chop 5 cloves of garlic as shown. If you like more garlic go for it!
Saute the garlic in a ¼ cup of olive oil over medium heat for 2 minutes or until lightly golden.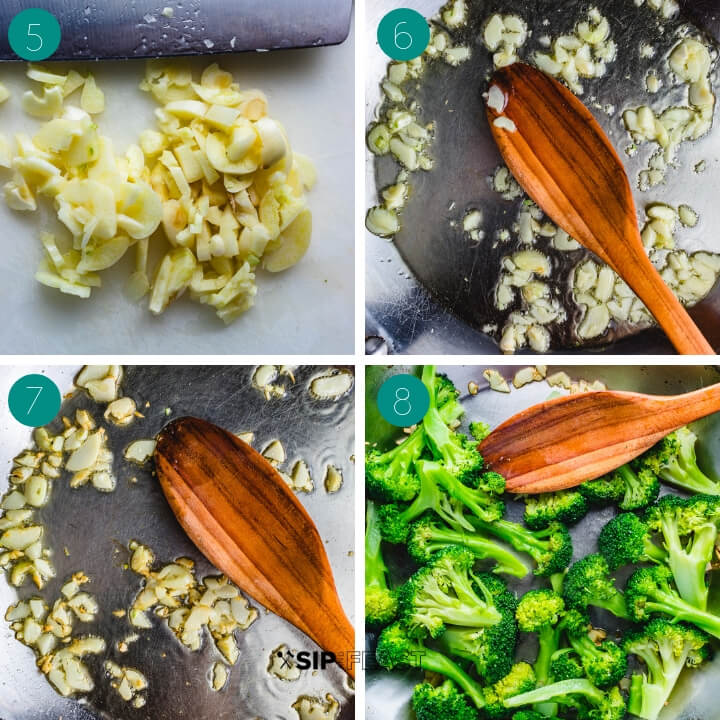 You do not want to burn the garlic, but definitely want to get a little bit of color like shown to get maximum flavor!
Add in the broccoli and saute for 3-5 minutes more. Move the pan around and mix with a wooden spoon to thoroughly coat with the garlic oil mixture. Add 1 tsp of kosher salt, mix and remove from heat. Drizzle some extra virgin olive oil on top right before serving.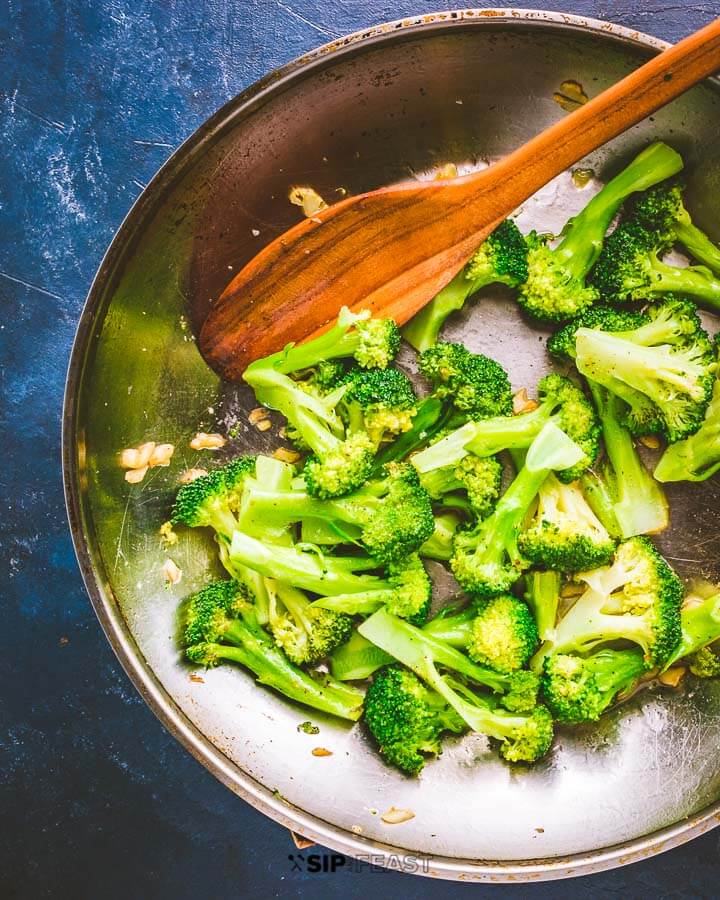 So that's how to make an easy Italian side dish.
There are so many ways to amp up the flavor in this basic garlic sauteed broccoli.
The last step of drizzling extra virgin olive oil on top is just a good technique to use on so many dishes.
There's debate whether one should cook with it or just save high-quality extra virgin olive oil for salads and finishing pasta dishes and sides like this one.
What I like most about reserving the extra virgin for the end is the economics of it.
Cooking with olive oil and saving the good extra virgin for finishing where it shines through, is what I often like to do.
Substitutions and additions
Red chili flakes - We love it this way! Add about ½ tsp of the chili flakes (more if you like it real spicy) into the olive oil before starting the broccoli sauteing process.
Anchovy - So delicious in my opinion, but my kids like to disagree. Use 2-3 fillets chopped up and saute them right in the olive oil with the garlic until they're mostly dissolved, then continue onto the broccoli saute step.
Lemon - The zest of 1 lemon added in right at the end adds a ton of vibrancy and freshness to the dish.
Parmigiano Reggiano - Shave from the block with a vegetable peeler to add the wonderful nutty flavor of this cheese. It looks amazing too!
Cold - My grandmother would always make it this way. Make the same dish, refrigerate it for a few hours or overnight and add chili flakes and lemon juice. So good!
Top tips
Get the garlic golden - this really makes all the difference. To ensure the garlic turns golden without burning start the heat at low and gradually increase it. Sometimes adding chopped garlic to a hot pan can result in burned garlic very quickly.
Steaming the broccoli - Only a few minutes are needed, but it really helps to avoid a long saute process, that can result in charred broccoli that's still not cooked enough on the inside.
Seasoning - salt is crucial to cooking any veggie, 1 head of broccoli will need about 1 tsp of kosher salt, but by all means, add more or less according to personal preferences. Also if you use cheese or anchovies they are both quite salty so adjust accordingly.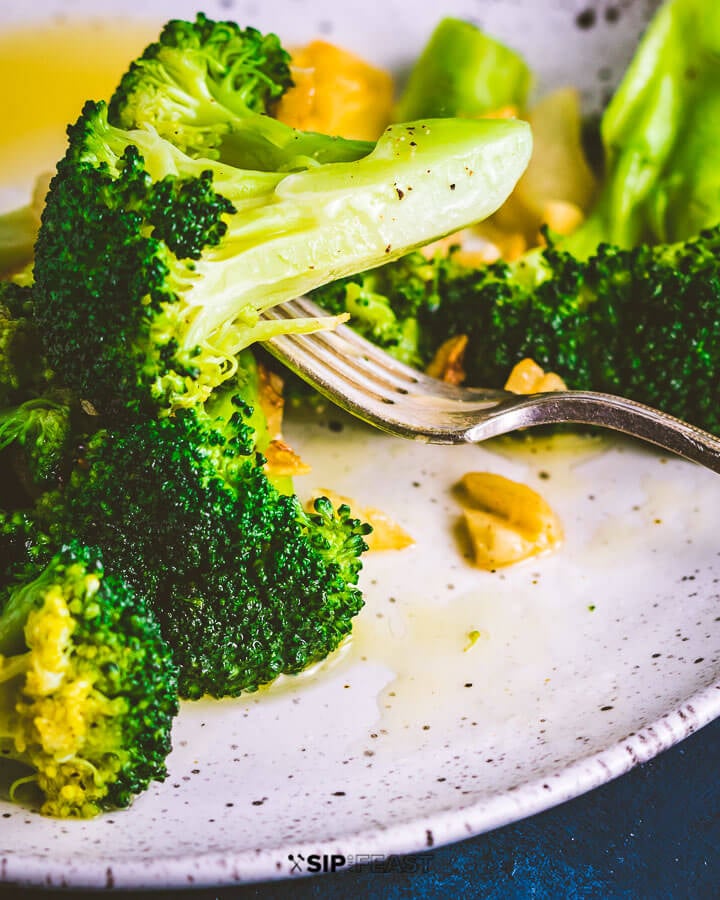 More great sides
If you've enjoyed this Italian garlic-sauteed broccoli recipe or any recipe on this site, give it a 5-star rating and tell us about it in the comments below.
We would love to hear how you did and it's nice to show others as well. Thanks!
Follow us on YouTube, Instagram, Pinterest, and Facebook.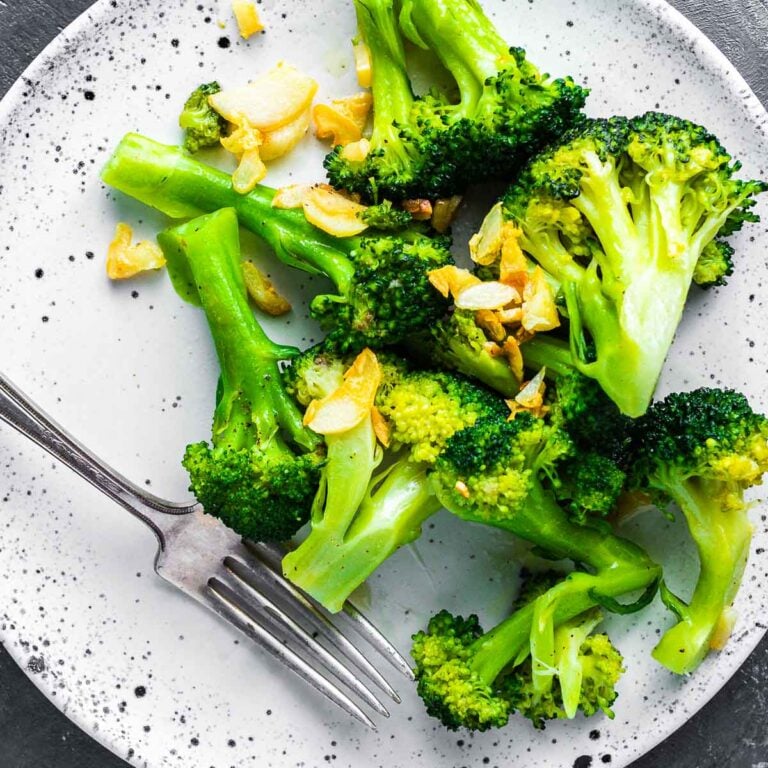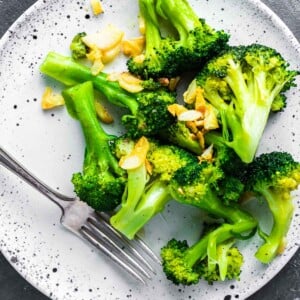 Ingredients
1

large

head of broccoli

cut into florets

5

cloves

garlic

sliced

¼

cup

olive oil

¼

cup

extra virgin olive oil

1

tsp

kosher salt
Instructions
Chop broccoli into florets. Chop 5 cloves of garlic.

Bring 1" of water in lidded pan to boil. Cook broccoli for 2-3 minutes with lid slightly closed until bright green and strain in colander.

Dry off pan and saute garlic over medium heat in a ¼ cup of olive oil until golden (about 2 minutes). Add broccoli to pan and saute for 3-5 minutes, mix well with spoon and thoroughly coat the broccoli with the garlic.

Season with 1 tsp kosher salt, mix and remove from heat. Drizzle a couple tablespoons of extra virgin oil on top before serving. Enjoy!
Notes
Adjust salt to taste - only 1 tsp kosher salt was used.
Add a ¼-1/2 tsp of crushed red pepper flakes during last 30 seconds of garlic sauteing process if desired.
Nutrition
Calories:
245
kcal
|
Carbohydrates:
5.8
g
|
Protein:
2.2
g
|
Fat:
25.5
g
|
Saturated Fat:
3.6
g
|
Sodium:
605
mg
|
Potassium:
231
mg
|
Fiber:
1.9
g
|
Sugar:
1.2
g
|
Calcium:
30
mg
|
Iron:
2.2
mg