Sauteed portobello mushrooms with balsamic vinegar and butter make an amazing side dish. The sweet but acidic balsamic pairs perfectly with the earthy mushrooms and the butter adds depth and gloss making this a beautiful dish to serve, no matter the occasion. This dish is easy to make and takes about 15 minutes. I just know you're going to love them!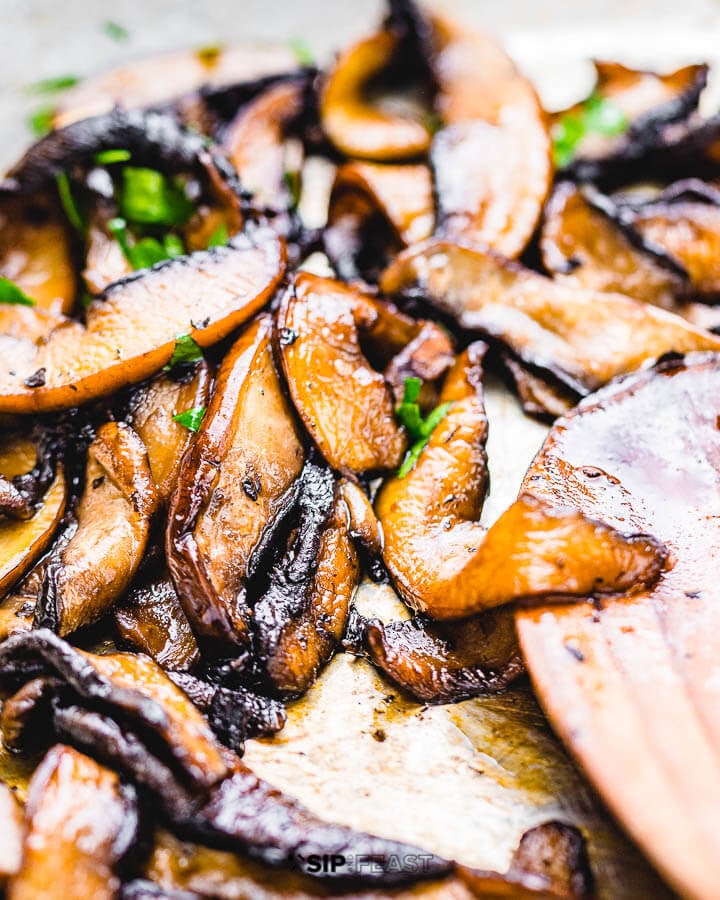 Adding balsamic vinegar to mushrooms or even Brussels sprouts makes a killer flavor combination!
In our stuffed baked portobello mushrooms with tomatoes and mozzarella, we added balsamic vinegar. It just really adds another dimension and takes it to the next level!
That recipe takes a bit longer and we hope you try it, but this one is much quicker and super easy!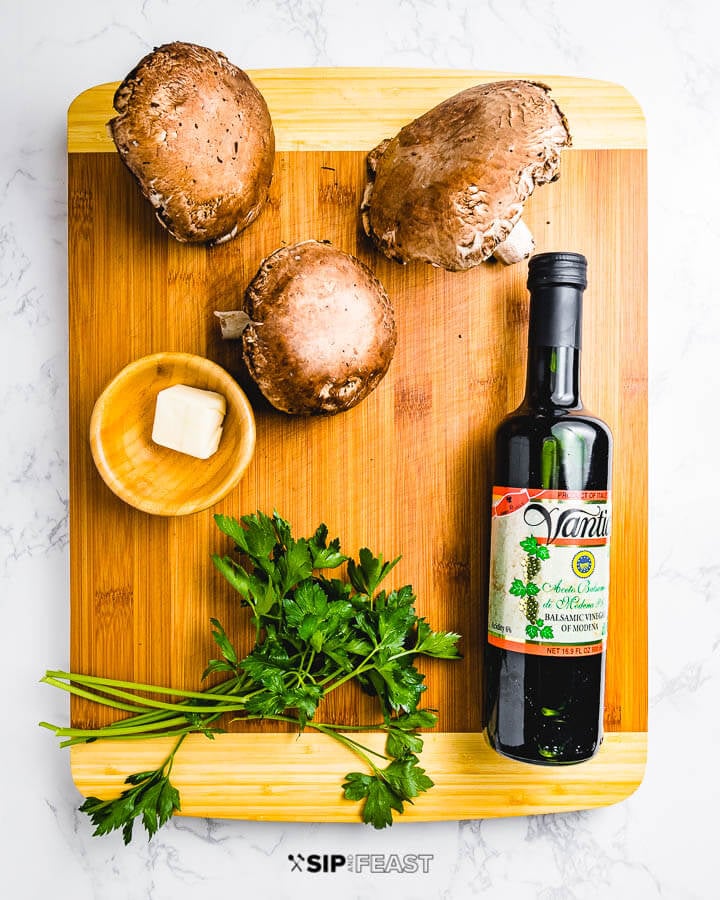 You will need 1 pound of portobello mushrooms. I prefer full-sized portobello mushrooms as opposed to baby Bellas.
Baby Bellas are the same variety, just smaller. I like the larger ones because they produce long meaty slices that look great!
But of course use whatever type of mushroom you can find. White button mushrooms would be fine.
You will also need balsamic vinegar, butter, salt, pepper, olive oil, and a touch of parsley to finish. Super simple ingredients!
How to make sauteed balsamic mushrooms
Begin by gently scooping out the gills of the portobello mushrooms. A spoon works very well. Just hold the back of the mushroom to avoid breaking it in its most gentle area. You do not have to remove the gills, the mushroom will still taste good, but they can hold dirt and make your final dish and cutting board very dark.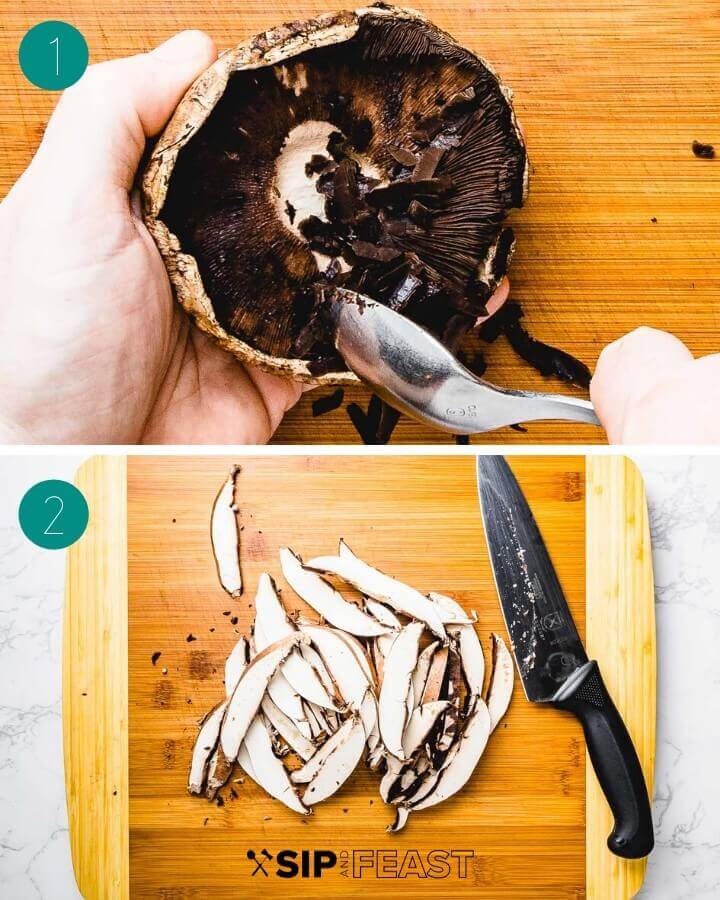 Slice the portobellos into strips about ¼" thick.
Heat a large pan to medium-high. Get the pan nice and hot then add 1-2 Tbsp of olive oil. Add the mushrooms in and sautee them. A hot pan and working in batches works best to get brown seared mushrooms. Adding a bit of kosher salt will encourage the mushrooms to release their water. Some people prefer to wait and salt when finished. Either way is fine.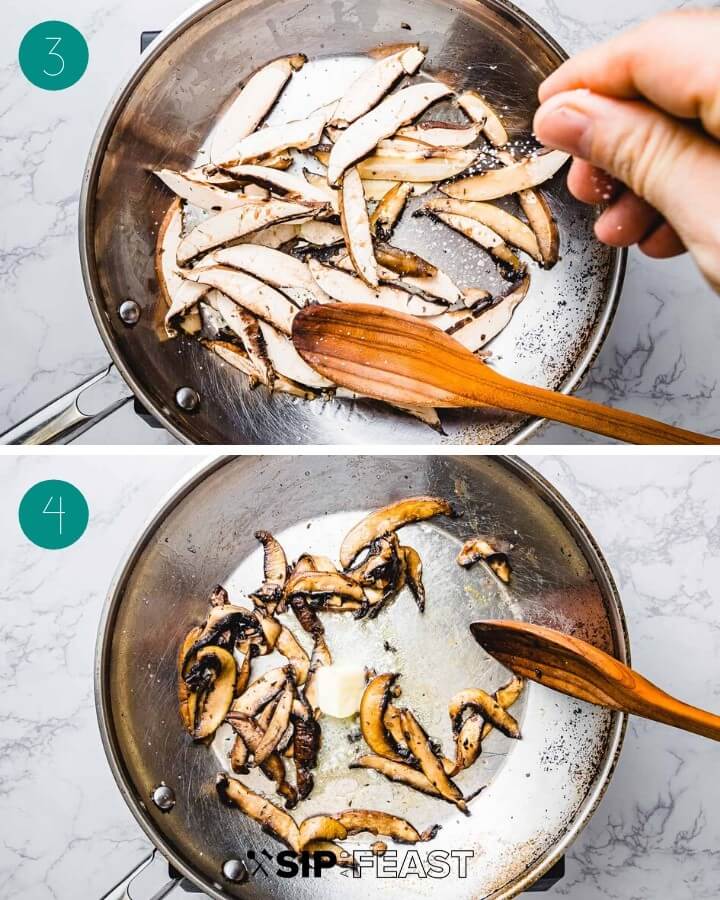 Once the portobello mushrooms release their water and it evaporates they will start to sear and brown. When they are nice and golden brown, add 2 tablespoons of butter to the pan and turn the heat to medium.
Add in the balsamic vinegar (about 2 tablespoons) and continue to cook for a couple of minutes. The mushrooms will absorb the vinegar and take on its tangy flavor.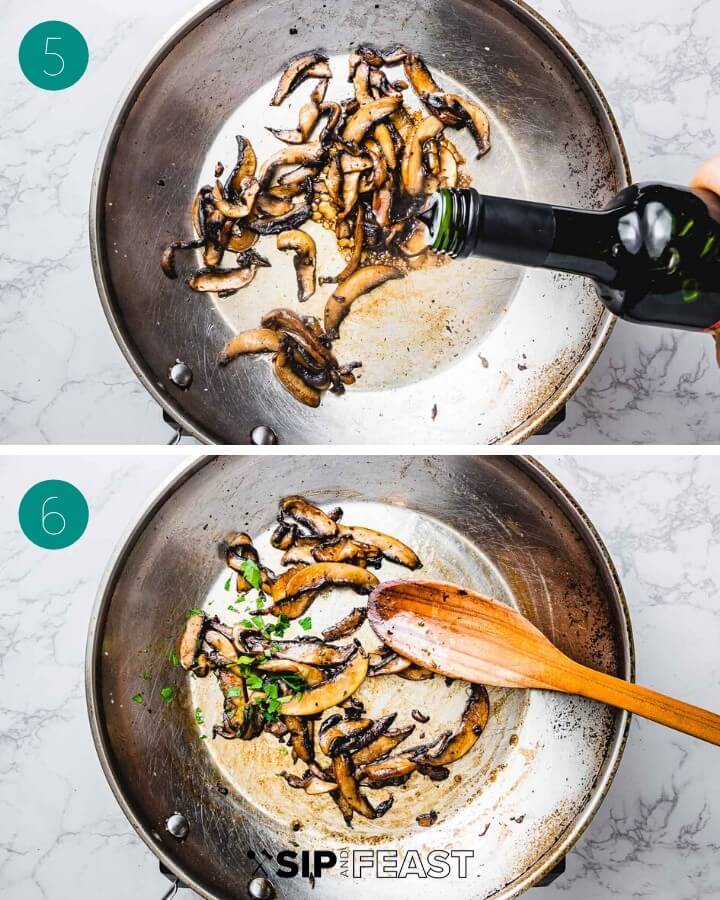 Season the balsamic mushrooms with salt and a bit of pepper. Sprinkle with 1-2 tablespoons of parsley and serve.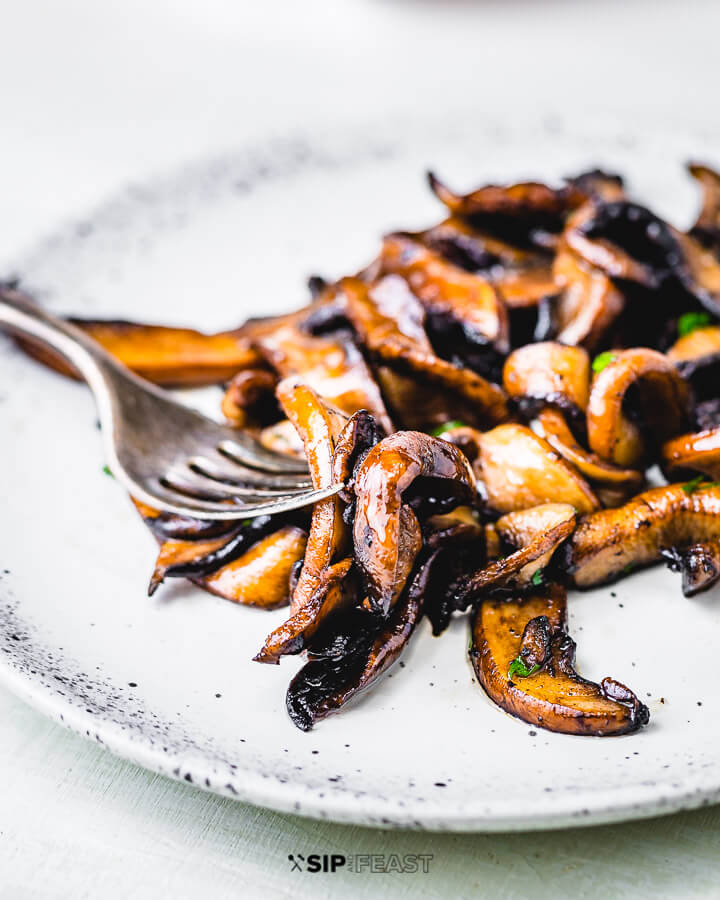 The mushrooms will look buttery smooth and will have taken on the color and flavor of the balsamic vinegar. Simply delicious and so easy!
Top tips
Buy fresh firm mushrooms that are nice and dry. Often portobello mushrooms are sold loose and you will be able to pick the freshest.
Clean them with a slightly damp paper towel and optionally remove gills to further remove any dirt stuck inside them.
Do not overcrowd the pan. Unless you use a 14" pan you will probably have to do 2 batches. Just add a bit more olive oil to the second batch.
All that's needed is a touch of butter (1-2 tablespoons) and balsamic vinegar (2 tablespoons) to give the mushrooms the perfect flavor.
Thyme is also a great herb to pair with mushrooms - give it a try instead of the parsley if you are so inclined!
More mushroom lover recipes
If you've enjoyed this sauteed balsamic mushrooms recipe or any recipe on this site, give it a 5-star rating and tell us about it in the comments below.
We would love to hear how you did and it's nice to show others as well. Thanks!
Follow us on YouTube, Instagram, Pinterest, and Facebook.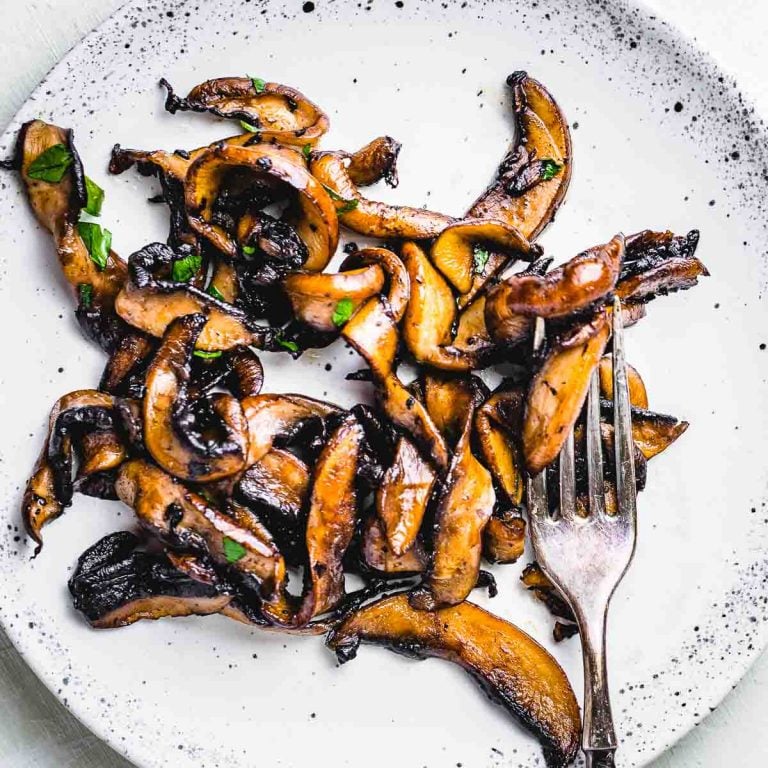 Ingredients
1

pound

portobello mushrooms

3

tablespoons

olive oil

2

tablespoons

butter

unsalted

2

tablespoons

balsamic vinegar

2

tablespoons

parsley

minced

1

teaspoon

kosher salt

¼

teaspoon

black pepper
Instructions
Remove portobello gills (optional), clean, and slice into ¼"strips.

Heat a pan to medium-high heat and let it get hot. Coat the bottom of pan with 1-2 tablespoons of olive oil and saute mushrooms. Do not crowd mushrooms. Work in batches if necessary.

After the mushrooms release their water (5-10 minutes), continue cooking until the mushrooms turn golden brown.

Turn heat to medium and add the butter. Cook for 1 minute, then add the balsamic vinegar. Sautee for 1-2 minutes more or until the mushrooms absorb the balsamic vinegar.

Turn off heat and season to taste with salt and pepper. Sprinkle fresh parsley on top and serve. Enjoy!
Notes
Buy fresh firm mushrooms that are nice and dry.
Removing the gills is optional.
Do not overcrowd the pan. If necessary, saute in multiple batches.
Thyme is also a great herb to pair with mushrooms - give it a try instead of the parsley if you are so inclined!
Leftovers can be refrigerated for up to 3 days and microwaved to reheat.
Nutrition
Calories:
169
kcal
|
Carbohydrates:
4.1
g
|
Protein:
4
g
|
Fat:
16.3
g
|
Saturated Fat:
5.2
g
|
Cholesterol:
15
mg
|
Sodium:
623
mg
|
Potassium:
412
mg
|
Fiber:
1.4
g
|
Calcium:
3
mg
|
Iron:
1
mg