Easy side dishes are always a great thing. Sauteed zucchini and mushrooms with burrata delivers big flavor in a real simple way!
We are always looking for great sides when making a Sunday sauce or really any pasta dish. Pasta is great by itself, but having a nice veggie on the side is always a good idea!
We also love serving zucchini and mushrooms with chicken dishes such as this Chicken Sorrentino Recipe or our Easy Baked Chicken Legs. Both recipes need a compliment that doesn't take a long time. That's where this burrata topped side dish comes in.
Zucchini Mushroom Ingredients:
2 medium zucchini – Go for ones on the smaller side as they taste better and are more tender.
8 ounces mushrooms – Cremini or white button are good choices.
1 tomato chopped – diced small
burrata – Optional but goes so well on top.
4 cloves garlic – chopped or sliced is fine
oregano, kosher salt, pepper, crushed red pepper
1/4 cup olive oil – for sauteing
extra virgin olive oil – for finishing
Sauteed Zucchini And Mushrooms Step By Step Instructions:
Ingredients shown – cremini mushrooms, tomatoes, zucchini, garlic, and burrata.
Cut the zucchini in half lengthwise and then slice into 1/4″ pieces. Don't worry about being precise.
Chop or slice the garlic.
Clean any dirt from the mushrooms and chop like shown.
Chop the tomato into small pieces.
Heat 1/4 cup olive in large pan on medium heat and saute garlic for 1 minute until lightly golden.
Turn heat to medium-high and add the mushrooms in and saute. They will at first absorb the oil and then will release their water.
After they release water they can be browned like shown. The whole mushroom process will take about ten minutes.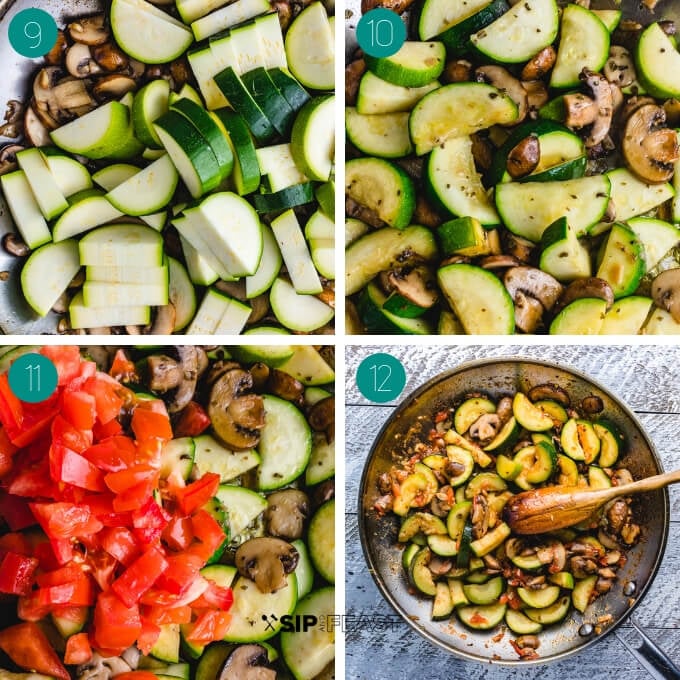 Add the zucchini and continue to saute the zucchini and mushrooms together for another 5-7 minutes on medium heat.
Add 1/2 tsp of oregano, 1/2 tsp kosher salt, and a 1/4 tsp of crushed and black pepper.
Add the tomatoes and let all the flavors come together. Saute for 3-5 more minutes.
Total saute time is roughly 15-20 minutes and the dish will look like shown. Most of the tomato juices will have evaporated. Turn off the heat and top with burrata either in the pan or on individual plates. Drizzle some extra virgin olive on the zucchini and mushrooms. Taste it and adjust with more salt and pepper if needed.
This Zucchini Mushroom And Burrata Appetizer Or Side Dish Comes Together Real Quick!
Besides the seasonings and oil, this Italian recipe only has 4 ingredients! If you want to make it vegan, just omit the burrata. It's a great dish either way.
Some Common Questions:
How To Cook Zucchini On A Stovetop?
It really is simple. Personal preference definitely plays a role. I like it more on the undercooked side which retains more nutrients and freshness. I always prefer olive oil when sauteing zucchini, really I prefer olive oil most of the time for any Italian zucchini recipe.
A simple way to make zucchini is a cast iron pan, olive oil, salt, pepper, and pecorino sprinkled on top at the end. My grandmother always made it this way when I was a kid.
Zucchini Substitutes:
For this recipe yellow squash would be an excellent substitution. I view them as interchangeable in many zucchini recipes. Another great option would be eggplant. Just remember that the eggplant will take quite a bit longer to saute than the zucchini. If you decide on eggplant, cutting up the pieces and roasting for 20 minutes can really cut down the pan saute time.
Burrata Vs Fresh Mozzarella:
They are very similar looking and tasting Italian cheeses. Burrata is a shell of fresh mozzarella with a creamy interior. It is made up of two different types of cheese, so when the outer shell is broken, it is nice and creamy on the inside. It's great on some Italian bread as a buttery spread, and of course perfect in this Italian zucchini recipe.
My wife recently went to one of the best Italian restaurants in America, Via Carota in Manhattan, and had a dish of sauteed winter greens with burrata on top. That dish has led me to want to use burrata in so many ways!
Where To Buy Burrata?
Finding burrata can be a little difficult. I know Trader Joe's sold it in Minnesota where we lived for a few years. I believe Costco does as well, but these places carry different products based on regions, so I can't guarantee it will be at your location. Burrata is definitely getting more popular, so hopefully you can find it.
But do not worry. Fresh mozzarella would be a fine substitute. Try to find a real wet one to mimic the creaminess of the burrata.
Difficulty Level:
On a 1-5 scale with 1 being easy this recipe is a 2. Just make sure to chop the veggies well and to give the saute process on the mushrooms enough time. They need to release their water before browning. I go over the mushroom cooking process in more detail in our Creamy Garlic Mushroom Pasta Recipe. This zucchini mushroom recipe would be a perfect side for that dish.
Great Entrees To Pair With Zucchini, Mushrooms and Burrata:
DID YOU TRY THIS ZUCCHINI RECIPE?
Give it a star rating.
Sauteed Zucchini And Mushrooms With Burrata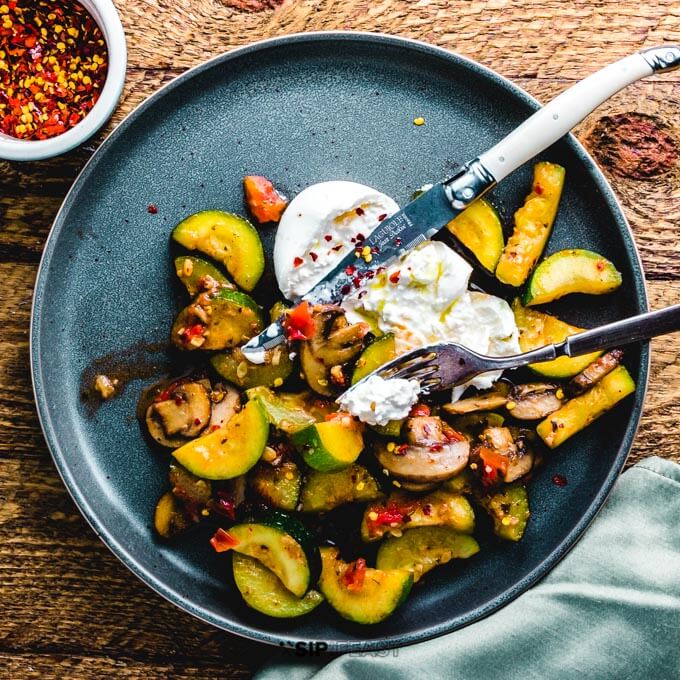 Easy Italian side dish of garlic sauteed zucchini and mushrooms topped with delicious burrata cheese.
Ingredients
2

medium

zucchini

8

ounces

mushrooms

1

medium

tomato

8

ounces

burrata

4

cloves

garlic

1/2

tsp

oregano

1/2

tsp

kosher salt

1/4

tsp

crushed red pepper

1/4

tsp

black pepper

1/4

cup

olive oil

3

Tbsp

extra virgin olive oil
Instructions
Chop or slice garlic. Slice zucchini lengthwise and chop into 1/4" half disks. Slice mushrooms. Chop Tomato.

In a large pan turn heat to medium with 1/4 cup olive oil. Saute garlic for 1 minute, then add mushrooms. Turn heat to medium-high and saute mushrooms until they release their water. Continue to brown them for 2-3 minutes more after the water is evaporated.

Turn heat back to medium and add the zucchini. Stir and if anything is sticking add a little bit more olive oil. Cook zucchini for 5-7 minutes, then add the tomatoes and cook for another 3-5 minutes.

Add the oregano, salt, pepper, and optional crushed red pepper. Stir it all together and taste test. If necessary adjust salt and pepper. Total saute time will be 15-20 minutes.

Finally, add the burrata on top and serve in the pan or plate, then top with the burrata. Add a nice drizzle of extra virgin olive on top of everything and serve with some more crushed red pepper and Italian bread on the side. Enjoy!
Notes
Crushed pepper is optional.
Substitute a wet fresh mozzarella if unable to locate burrata.
Salt is kept moderate on all our recipes so adjust according to taste.
Nutrition
Calories:
380
kcal
|
Carbohydrates:
6.5
g
|
Protein:
13.4
g
|
Fat:
33.5
g
|
Sodium:
400
mg
Nutrition information is automatically calculated, so should only be used as an approximation.
If you liked this zucchini, mushroom, and burrata recipe we would really appreciate it if you would share it on Instagram or Facebook using #sipandfeast.
We would love to know how you did and it's nice to show others as well. Thanks!
Follow us on Instagram, Pinterest, and Facebook. Sign up to receive great recipe ideas in your inbox.