Clams in red sauce is such an easy recipe to make. They can be made by themselves or tossed in with some pasta. This is one of my favorite Italian dishes, and I hope you will add it to your list as well. So let's get on to making this awesome seafood dish.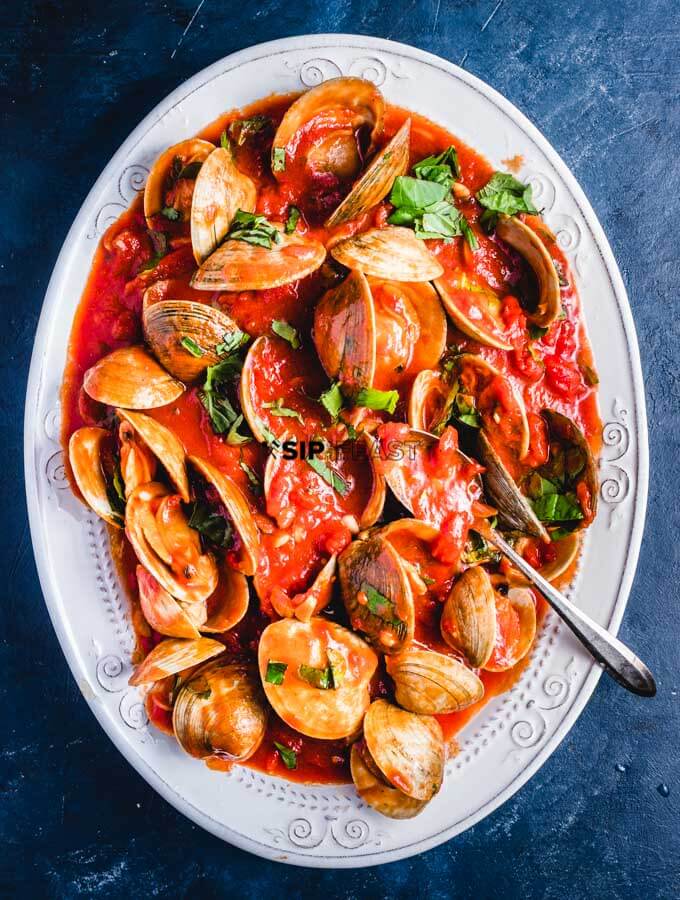 Dreaming about Italian red clam sauce
I really do dream about the deliciousness of good clams. There are so many ways to make them.
If you want a full pasta dish be sure to check out our linguine with red clam sauce recipe.
Or maybe you prefer baked clams oreganata, clams casino, or linguine with white clam sauce. Clams are so versatile and can really impress your guests.
Think about it, how many times have people made good clams for you? Not many, right?
I'm not sure what it is but lots of people seem to be intimated by making seafood other than salmon or shrimp.
Now, there's nothing wrong with those, and they are staples in my house, but sometimes it's nice to jump outside one's comfort zone.
And the best thing though is that jumping out has never been easier.
Clams In Red Sauce Ingredients:
So what do we need to make these awesome clams in red sauce?
Obviously, clams are needed. I usually use Littlenecks. But like I mentioned in my other clam recipes, use what is good and fresh.
Cockles and mussels would work well if you can't get Littlenecks.
Most clams you can buy from Costco or other big sellers, such as Whole Foods, have purged clams. If you want to go the extra mile and purge them, go for it.
Tomatoes are also needed for the sauce.
What type? I like to make my quick sauces out of canned whole plum tomatoes and 1 can of tomato paste. It's a combo that has never failed me.
Garlic is also needed and is a key flavor component in this dish. Some basil, olive oil, salt, pepper, and red pepper flakes complete the list.
Red Clam Sauce Process:
Just 2 simple steps to make this dish.
Step 1:
The first step is to make the sauce and keep it warm. Slice up 10 cloves of garlic and sauté in a sauce pan with olive oil for a few minutes on medium heat. Sautéeing the garlic really brings out its flavor.
Open your can of tomatoes and crush them – if you prefer a chunkier sauce, crush with your hands.
If you want a smoother sauce, you can blend them by using the pulse feature on your blender.
After the garlic is light golden in color, add the crushed-up tomatoes, paste, and 4 oz of water and make the sauce.
Add salt, pepper, and crushed red pepper flakes and stir it all together.
15 minutes later and the sauce is done. Set it on another burner on low heat to keep it warm.
Step 2:
The clams should be washed and then steamed with 4 ounces of water.
To steam them, place the clams and water in a lidded wide pan. Keep the heat at medium and let them cook until they open.
Clams open at their own pace, some will open in 2 minutes, some might take 8 minutes.
I usually stop the cooking at 10 minutes and discard the unopened ones. Those are usually dead and will not open.
The best thing to do is remove the clams in batches as they open, ensuring that you do not overcook them. When they are all done set the clams aside.
In that same pan, add half the sauce and turn heat to medium-low.
Cook the sauce for 1 minute to heat it up, then add the clams and mix it all together. Add the basil, stir it up and bring to the table to eat immediately.
I love to serve the clams in red sauce with crusty Italian bread and some more olive oil to drizzle all over everyone's plated clams.
Don't forget the remaining sauce can be used to make the clams even saucier, or used on the side for more bread dipping. Enjoy!
More great seafood recipes
In the mood for seafood? Creating your menu for The Feast of the Seven Fishes? We've got you covered. Here are a few of our tried and true favorites, from our family to yours. Mangia!
Littleneck clams in red sauce. Fresh whole clams are cooked in a garlicky Italian red sauce with basil. A delicious and easy Italian recipe.
Ingredients
2

pounds

Littleneck clams

1

28 oz

can of whole plum tomatoes

1

6 oz

can of tomato paste

10

cloves

garlic

1

tsp

salt

1/4

tsp

black pepper

1/8

tsp

red pepper flakes

1/4

cup

olive oil

1

bunch

basil
Instructions
Tear the basil and wash. Set aside about a 1/4 cup of washed basil leaves.

Slice up ten cloves of garlic. Saute garlic with 2 Tbsp of olive oil on medium heat for 2 minutes in sauce pan.

Blend whole plum tomatoes on pulse setting or use hand and squeeze them to break them up in a bowl. Be careful not to make a mess if using the squeezing method.

Add tomatoes and all the tomato paste to sauce pan. Add 4 ounces of water, all the salt, pepper, and red pepper flakes. Stir to combine and cook for 15 minutes on medium low.

Wash clams to remove any sand or debris.

Heat a clean large pan on medium-high and add 4 oz. of water and clams. Cover.

Clams should open within 5-10 minutes. Remove clams as they open. Continue to cook unopened clams for 10 minutes and remove all the open ones. Place all the open clams in a serving bowl and set aside.


After 10 minutes discard any unopened clams. In the empty clam pan add half the sauce and heat for 1 minute on medium-low. After 1 minute add the clams to the sauce. Stir it all together and turn off heat.

Add basil to pan, stir it all together and serve. Serve in plates with a drizzle of olive oil, and some crusty bread. Use remaining sauce if needed or dip the bread into it. Enjoy!
Notes
This whole recipe can be adapted to make a large meal with pasta, or could easily be doubled or tripled if serving for many guests.
Mussels are a great substitute.
Adjust salt/pepper to taste.
Crushed red pepper is optional.
Nutrition
Calories:
289
kcal
|
Carbohydrates:
22.2
g
|
Protein:
22.4
g
|
Fat:
15.2
g
|
Sodium:
820
mg
Nutrition information is automatically calculated, so should only be used as an approximation.