Fried calamari is the king of all appetizers. Tender calamari rings are lightly dusted with flour and corn starch and deep-fried until golden. Served with a squeeze of lemon and a simple marinara sauce for dipping, this is the appetizer you'll find in nearly every Italian (and even non-Italian) restaurant in the New York metro area.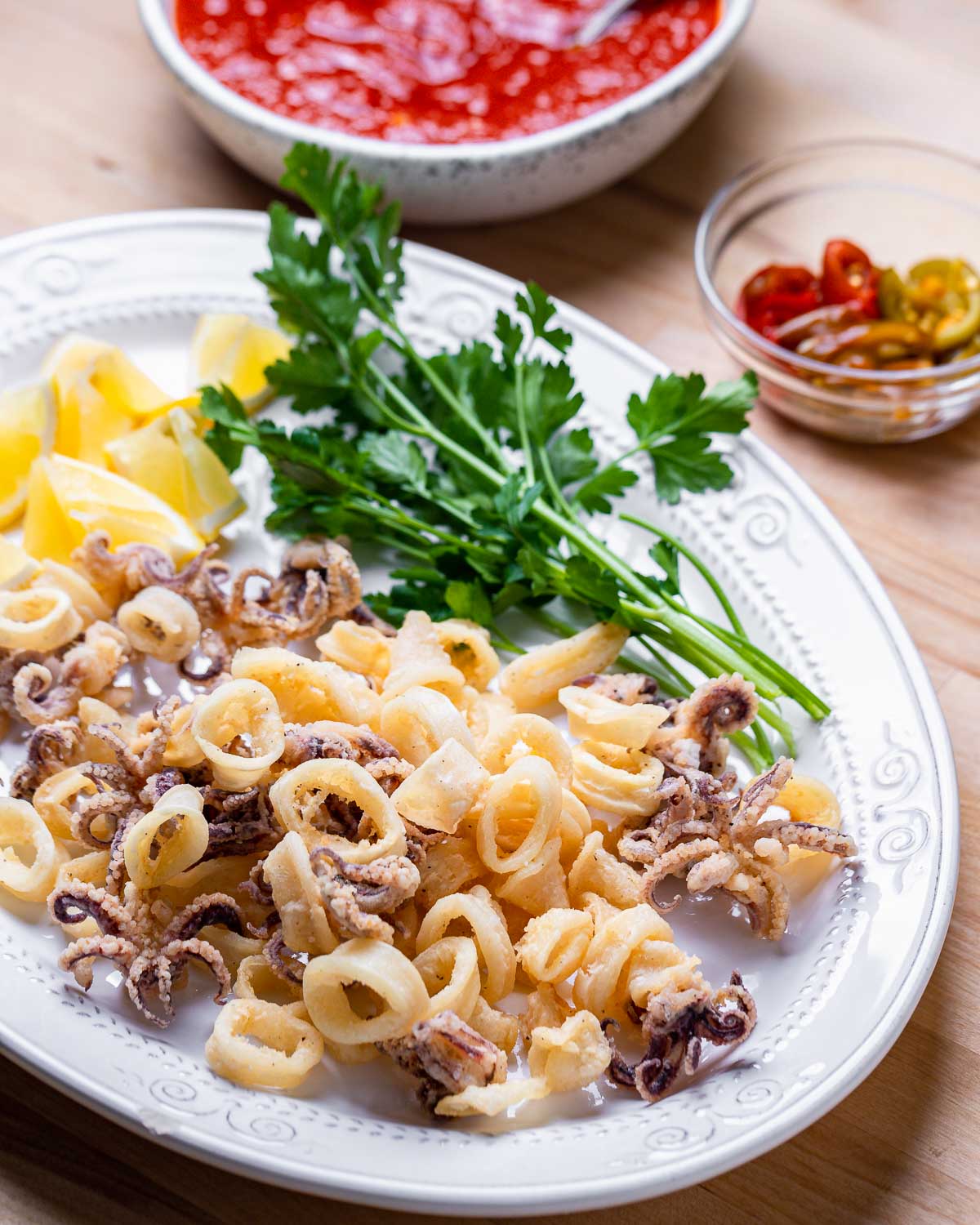 Fried calamari may just be my favorite appetizer ever, and that's saying a lot!
Whether I'm enjoying this on Christmas Eve as one of the seven fishes, on game day with some garlic parmesan wings, or in the summer with an ice-cold beer, it never disappoints.
And what's not to like? As far as seafood goes, calamari is fairly inexpensive, its flavor is mild, and because my recipe uses a very light dusting of flour and corn starch, it's not as heavy as other deep-fried versions.
By the way, during Christmas time, Costco has a great deal on calamari. It's way cheaper there than in most other stores.
The only complaint I've heard from calamari nay-sayers is that the consistency is too tough.
While fried calamari can at times be on the chewier side, I've included some tips below that will help mitigate that and help you achieve the best results possible.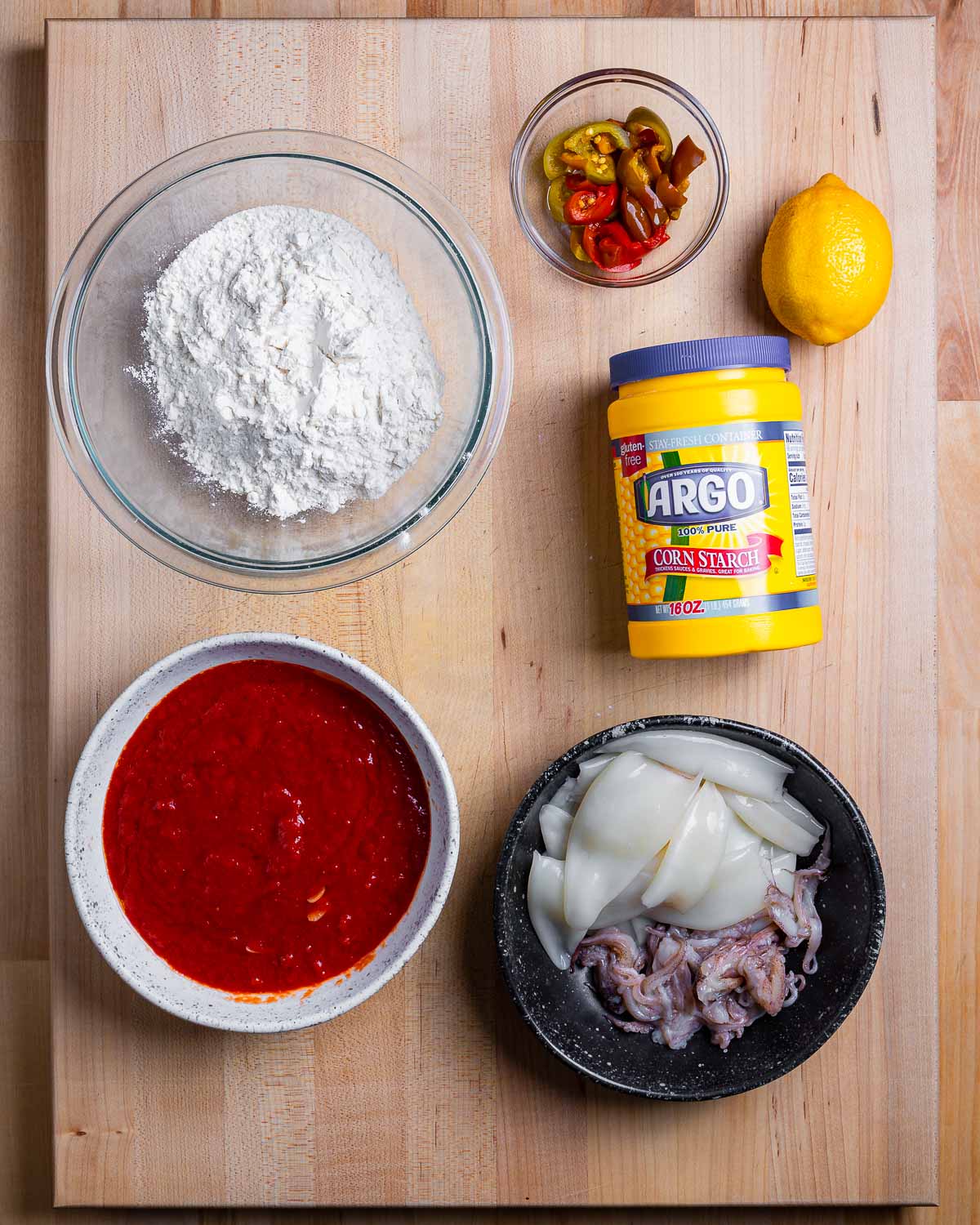 How to make it
Each number corresponds to the numbered written steps below.
Preheat oven to 200f. Slice calamari tubes into ½" pieces. Any large tentacles can be cut in half. Note: I'm using very small tubes that are about 4 inches long. The ideal size would be about 6 inch tubes. Try not to buy enormous squid, since they will be tougher and the rings will be way too large. For larger squid, the tentacles should be cut in half.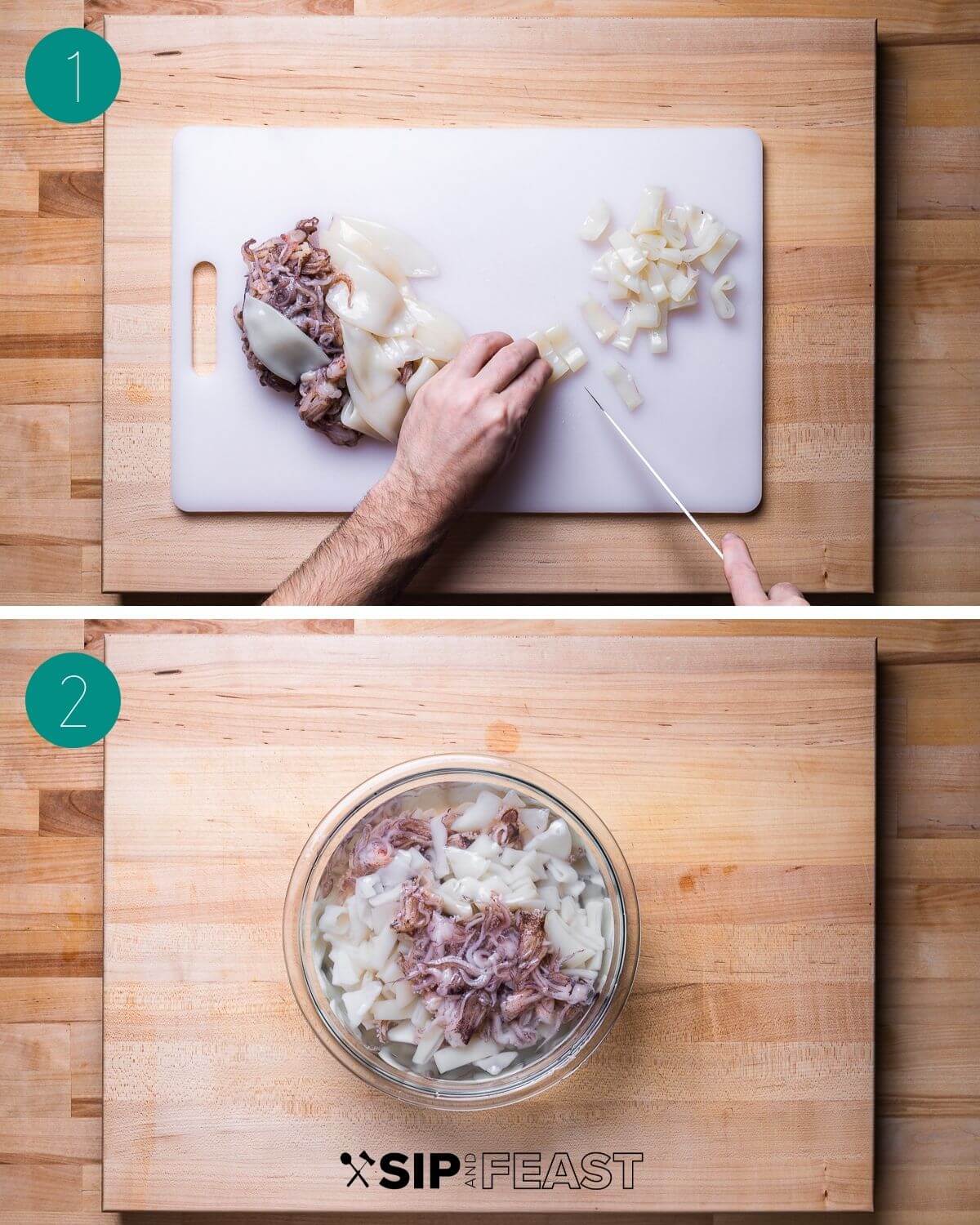 Place the calamari into a bowl with 1 teaspoon of baking soda and 1 teaspoon of kosher salt plus enough water to completely cover. Mix well to distribute the baking soda and salt. While the calamari is soaking, heat vegetable oil to 370f in a cast iron or heavy gauge frying pan. Fill the oil to at least 1 inch high.
After 15 minutes drain the calamari and pat dry. Mix 1 cup all-purpose flour, ¾ cup corn starch, and ¾ teaspoons of black pepper together in a large bowl. Ideally, use a bowl larger than shown below or a flat tray to make things easier.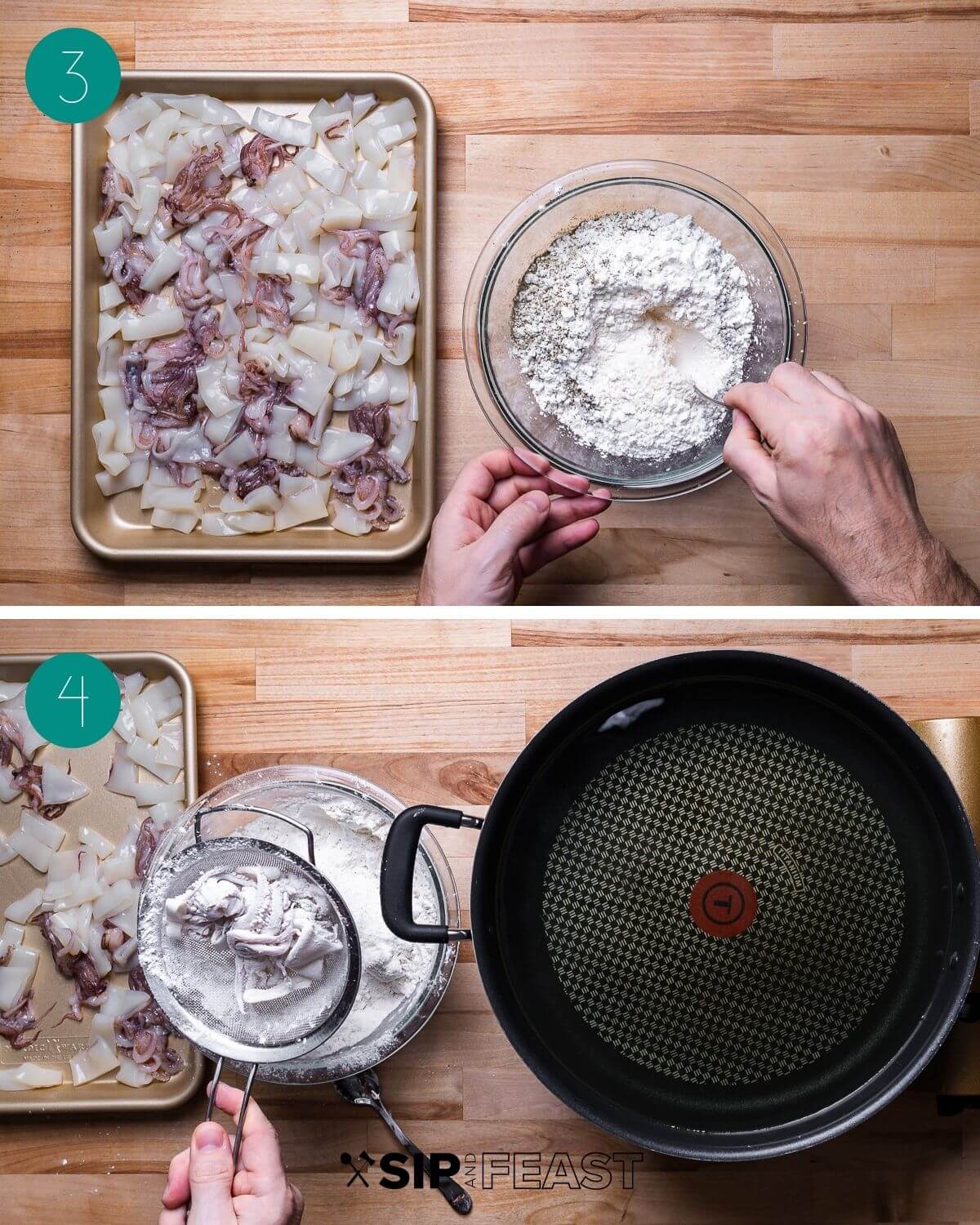 Dredge the calamari rings and tentacles into the flour mixture and shake off the excess.
Gently place the calamari into the 370f vegetable oil. Don't overcrowd the pan. Depending on the size of the calamari rings and pan size you might have to fry 1 to 2 more batches.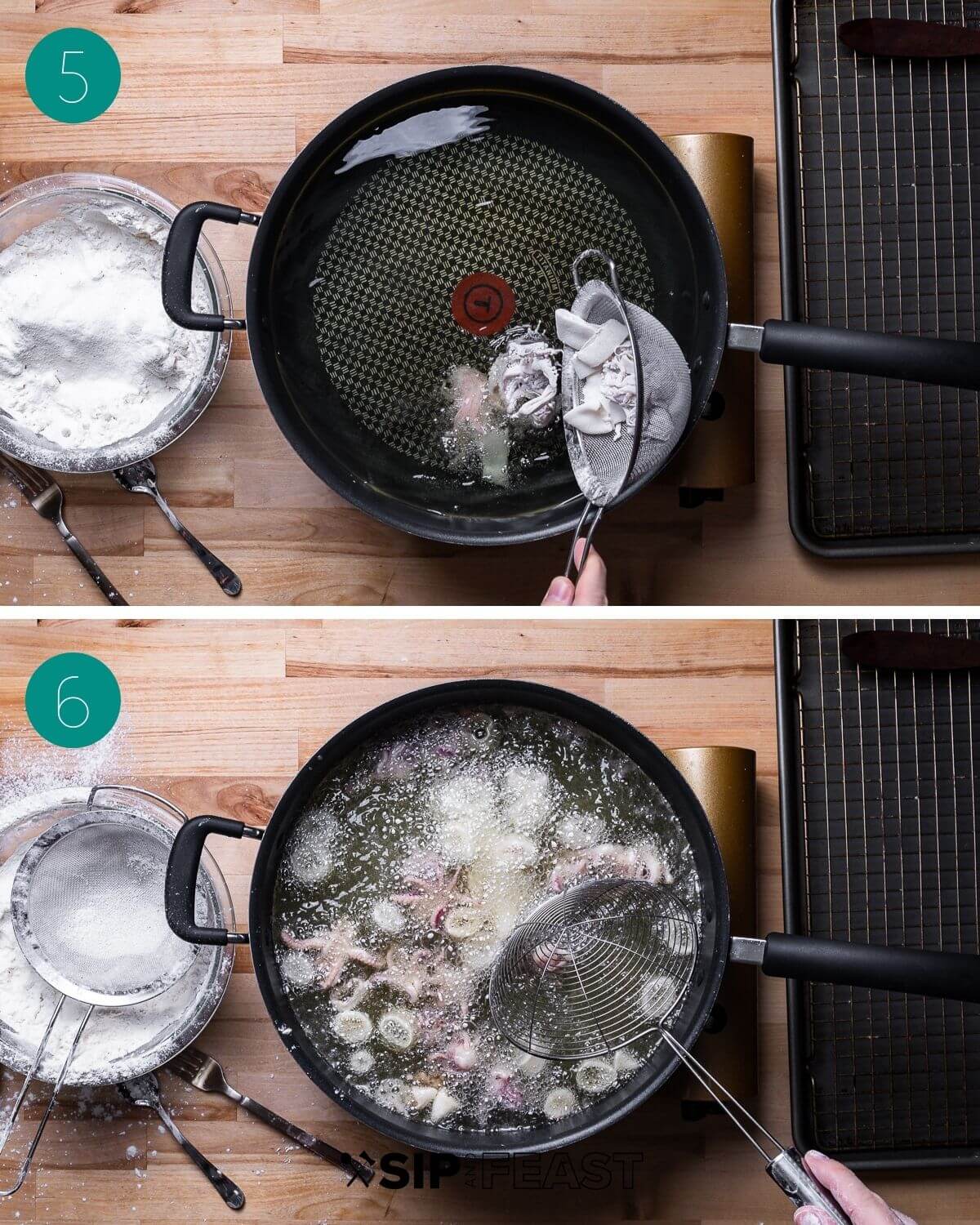 Give the calamari a gentle stir to prevent any of the pieces from sticking together.
After 3-4 minutes the calamari will be perfectly fried and golden. Remove with a slotted spoon and place onto a wire rack or paper towels to drain.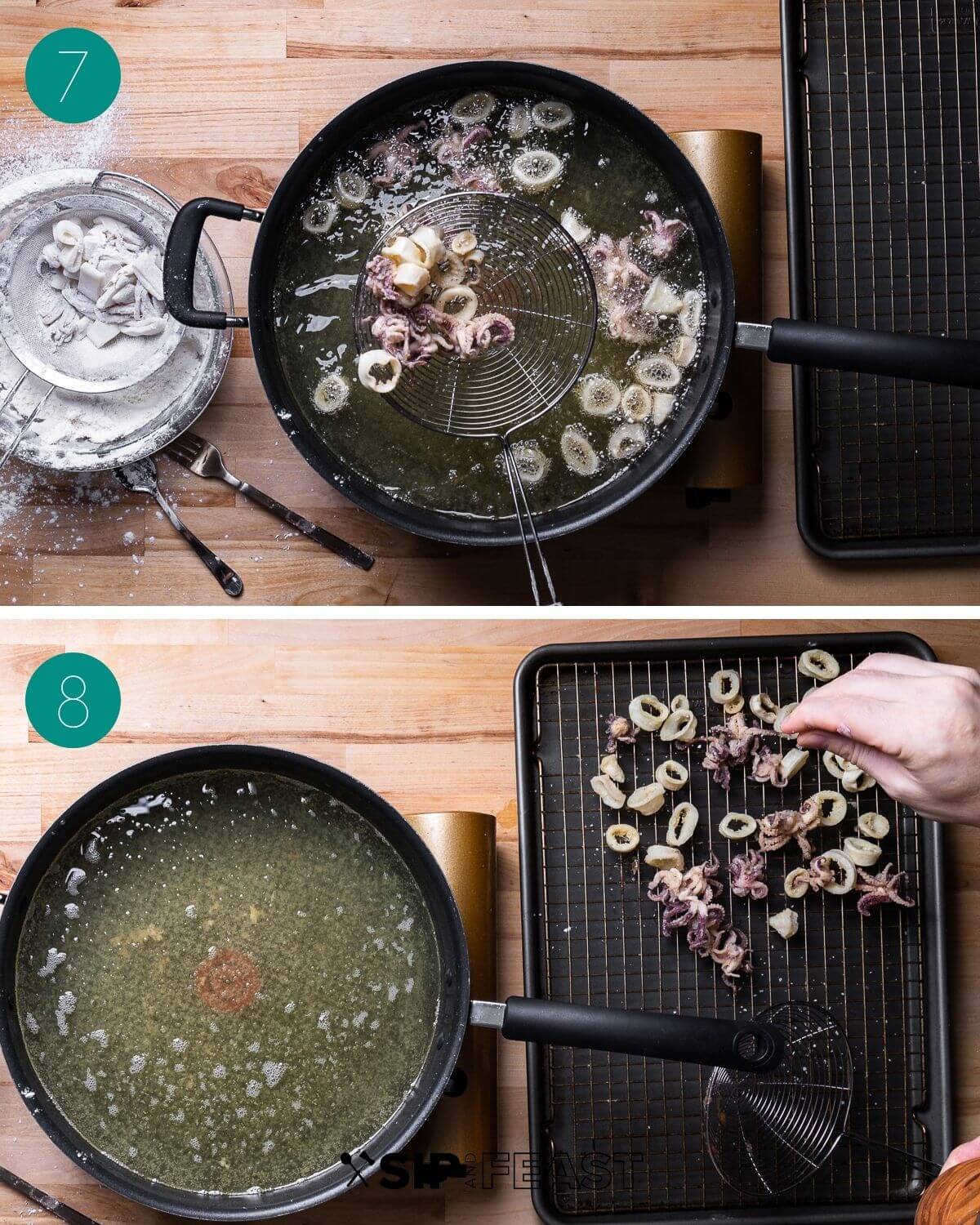 Immediately salt the fried calamari. Right after exiting the oil is the best time to salt fried food. Place the fried calamari in the oven to keep warm. Scoop any excess flour bits and gunk out of the oil and once the temp again hits 370f fry your next batch. Repeat until all the calamari is fried.
This Italian appetizer is best served right away. In fact, I like to make a batch with my family at the table and serve it up immediately. They can enjoy it while I wait to fry the second batch.
Serve alongside lemon wedges and a simple marinara sauce.
You can also add some chopped cherry peppers for extra heat if desired. Alternately, you can flour and fry the cherry peppers in the same manner as the calamari.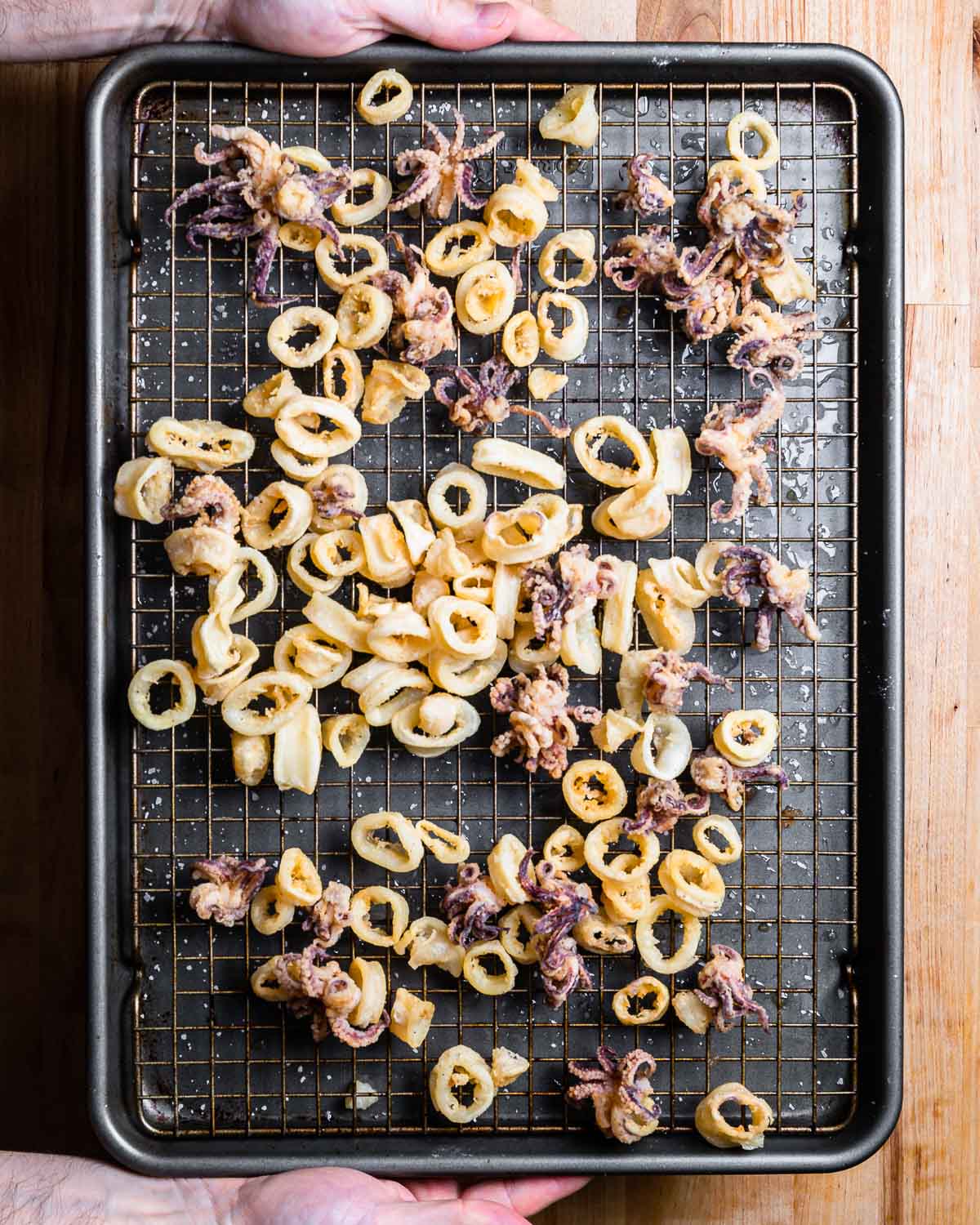 Top tips for the best fried calamari
This favorite appetizer may seem intimidating, or something you'd only consider ordering in a restaurant.
I'm here to tell you that not only can you make this easily in your own kitchen, but that it will be better than any you get in a restaurant! Here are a few tips to help you along the way:
Texture is everything. For maximum tenderness, use smaller squid. The larger the squid, the tougher it will be. I also soak my calamari in a water, baking soda, and salt bath for 15 minutes before frying to help ensure a more tender texture. Some people prefer to soak in milk as the lactic acid helps to tenderize the calamari. If you choose to do this, use enough milk to cover the calamari. This will also yield a thicker batter.
Don't forget to season. Calamari is a fairly bland food so it's essential to season it with salt. The best time to salt any fried food is as soon as it comes out of the oil. At this stage, the fried food will soak up the salt and allow it to essentially melt into the fried calamari.
Prep the oil. In between batches of calamari, be sure to skim out the bits of gunk from the oil and ensure the temp reaches 370f again before frying the next batch.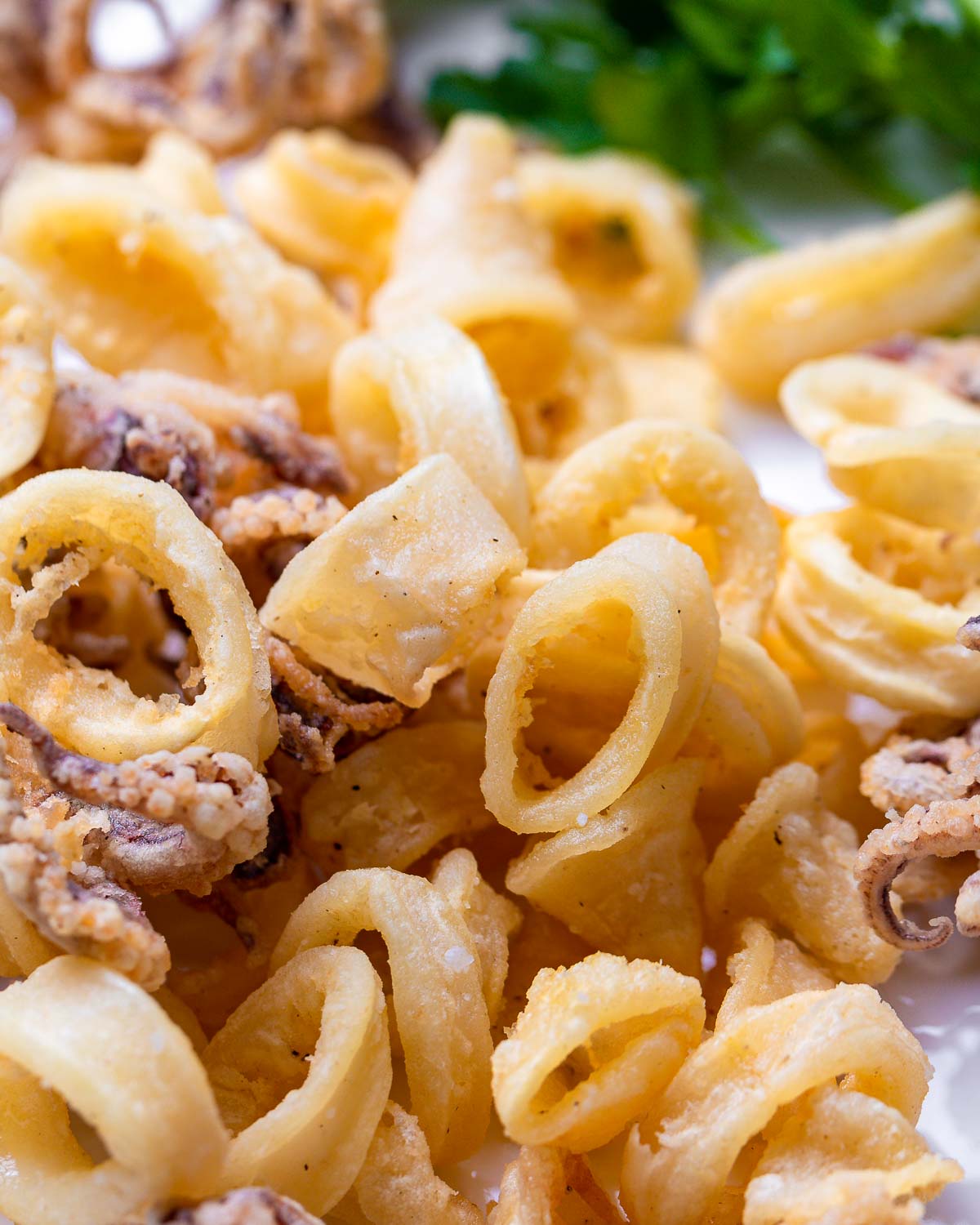 More seafood recipes
In the mood for seafood? Creating your menu for The Feast of the Seven Fishes? We've got you covered. Here are a few of our tried and true favorites, from our family to yours. Mangia!
If you've enjoyed this Italian fried calamari recipe or any recipe on this site, give it a 5-star rating and leave a review.
Some people learn by watching. If you're that type of person, you can find most of our recipes on YouTube and our Facebook Page.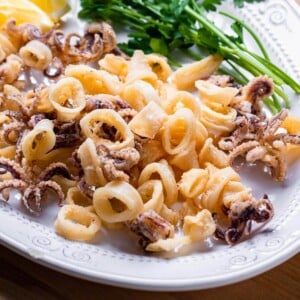 Ingredients
1

pound

calamari

tubes cut into ½" circles and tentacles left whole

1

teaspoon

baking soda

1

teaspoon

kosher salt

plus more for sprinkling after frying

water

enough to cover calamari in bowl

vegetable oil

enough to fill pan at least 1" high

2

cups

marinara sauce

see notes below

½

cup

cherry peppers

optional, see notes below

2

large

lemons

cut into wedges
Flour mixture (mix together in large bowl)
1

cup

all-purpose flour

¾

cup

corn starch

¾

teaspoon

black pepper
Instructions
Preheat oven to 200f. Place the calamari into a bowl and cover with water. Stir in the baking soda and kosher salt and set aside for 15 minutes.

While the calamari is soaking heat vegetable oil to 370f in a cast iron or heavy gauge frying pan.

After 15 minutes remove the calamari and pat dry.

Place calamari into the flour mixture and shake off excess. Gently place the floured calamari into the hot oil and fry for 3-4 minutes or until golden. Work in batches and do not crowd the pan.

Remove the fried calamari with a slotted spoon and place onto a wire rack. Sprinkle with salt immediately. Place the fried calamari into the oven to keep warm.

Remove any bits of flour from the oil and once it again reaches 370f fry the next batch. Repeat the process until finished. Serve with marinara, lemon wedges, and/or cherry peppers. Enjoy.
Notes
Salting the calamari after frying is key to having great flavor. The hot calamari will readily absorb the salt so do this immediately after each batch comes out of the oil.
For a thicker batter, place calamari in milk for 15 minutes instead of water then proceed to dip into the flour mixture and fry the pieces.
Use this marinara sauce or make your own.
Cherry peppers can be served on the side or dipped in flour and fried along with the calamari.
Fried calamari should be eaten immediately and shouldn't be served for leftovers. If you must have it leftover, reheat in the oven and not the microwave.
Nutrition
Calories:
466
kcal
|
Carbohydrates:
26.8
g
|
Protein:
20.4
g
|
Fat:
29.6
g
|
Saturated Fat:
5.4
g
|
Cholesterol:
263
mg
|
Sodium:
633
mg
|
Potassium:
34
mg
|
Fiber:
0.8
g
|
Sugar:
0.1
g
|
Calcium:
46
mg
|
Iron:
2
mg