Italian calamari salad is a cold appetizer that is chock full of flavor and textures. Calamari rings and tentacles are quickly cooked and added to a delightful salad of crunchy celery, green olives, red onion, and roasted red peppers. Tossed all together in a simple lemon and olive oil vinaigrette, this dish is best once it's had a few hours in the fridge making it the most perfect make-ahead appetizer, especially as one of Christmas Eve's Seven Fishes!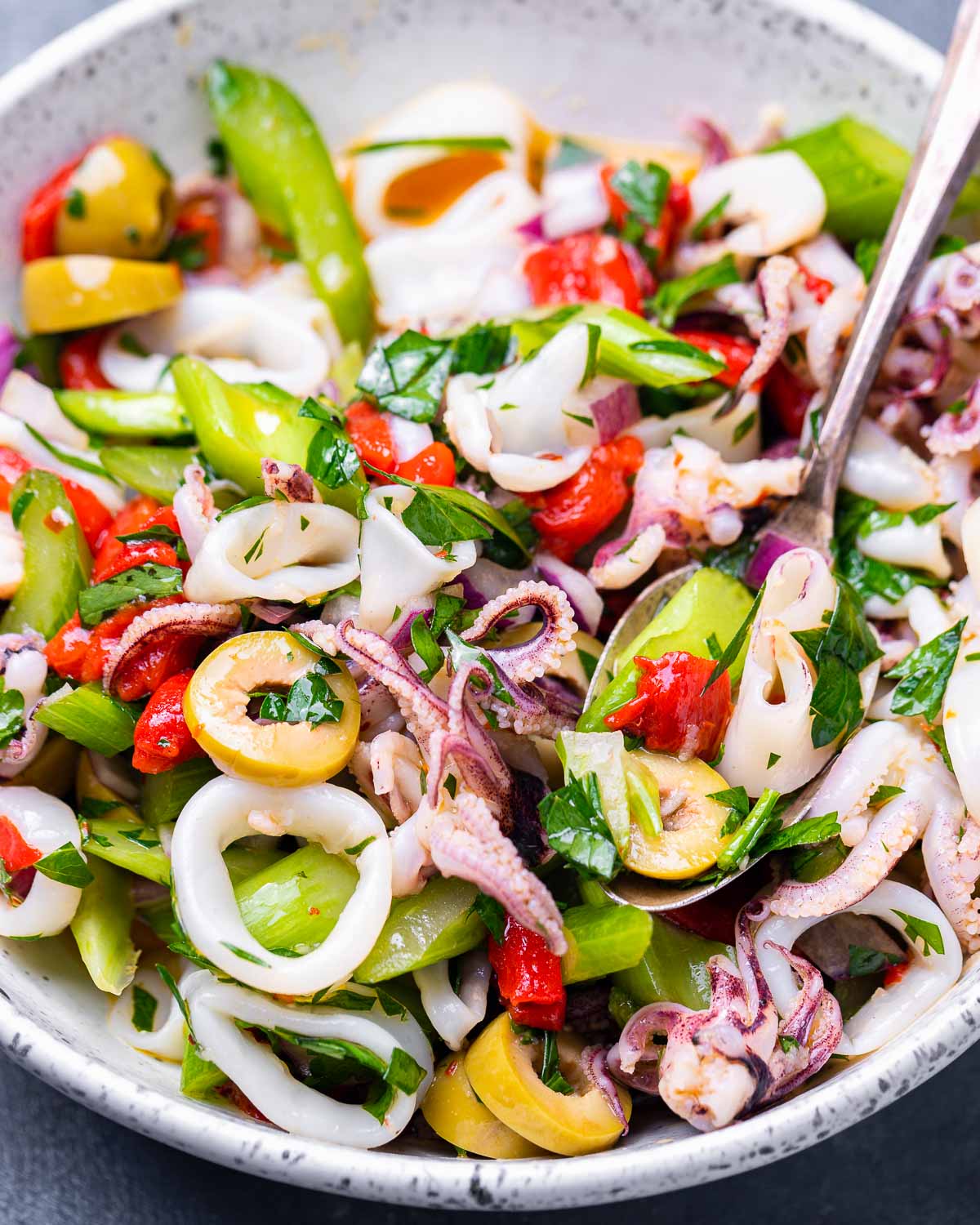 A calamari salad is one of my favorite appetizers to make for several reasons.
First, it's really easy to make and quite hard to mess up. As long as you've got good quality ingredients, you'll be just fine.
In fact, in my recipe below I note that the veggie ingredients can be increased, decreased, or omitted to suit your taste.
So feel free to take liberties here and simply use my recipe as a jumping-off point. And feel free to add other types of seafood, such as shrimp, scallops, or scungilli.
Second, calamari salad actually tastes better once it's had a few hours in the refrigerator. In fact, the sweet spot for this salad is about 12-24 hours. And when I'm rushing around trying to prepare a bunch of dishes for a night like Christmas Eve, something that can be fully prepped and made ahead of time is a Godsend.
While I could go on with plenty more reasons, I'll leave you with this last one: calamari salad tastes so darn good.
Even the individuals who don't love seafood LOVE this dish. Calamari in general tends to be mild in flavor and combining it with the crispy celery, smoky red peppers, and green olives just take the flavor over the top!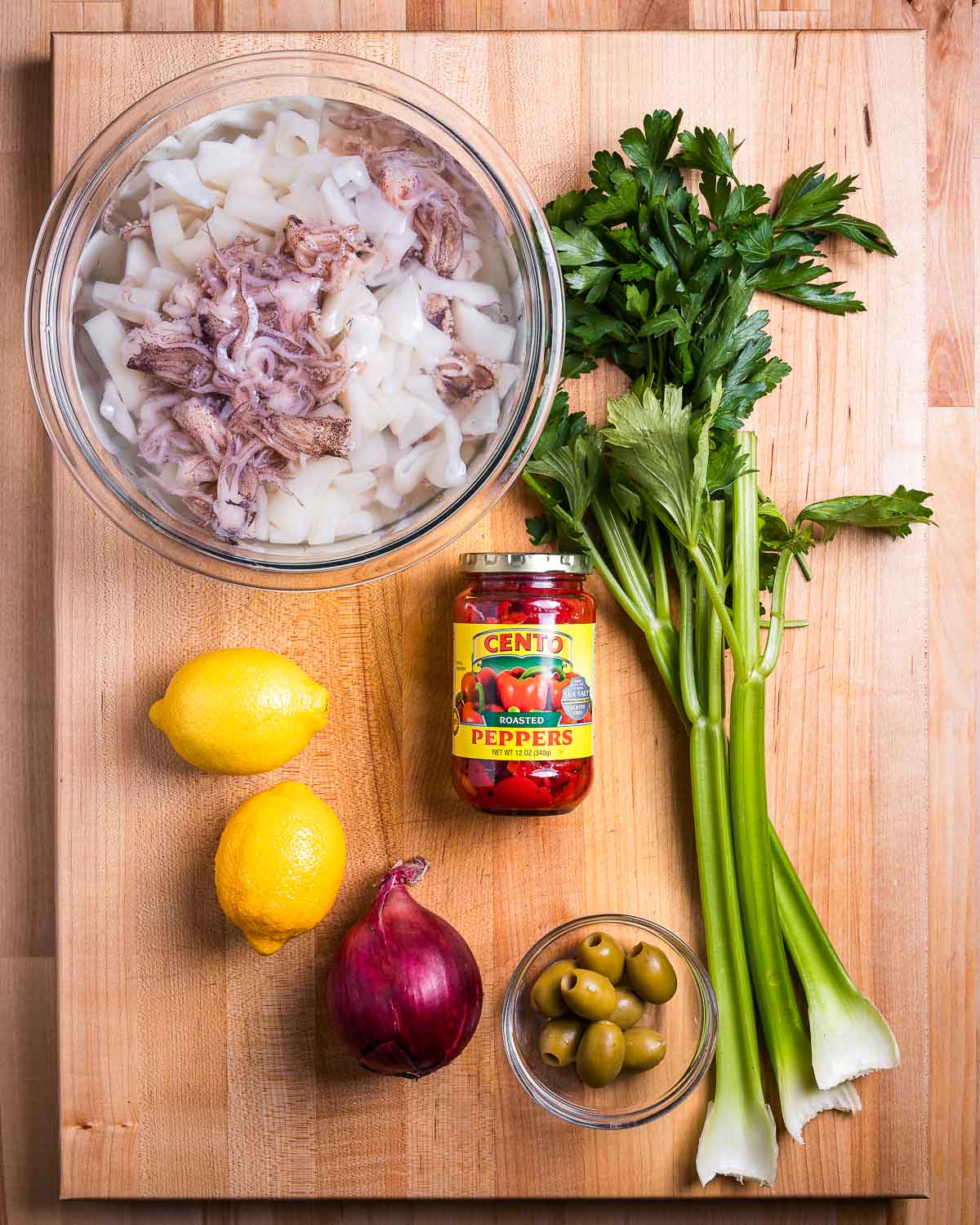 How to make it
Each number corresponds to the numbered written steps below.
Begin by cleaning the calamari. Make sure to remove the cuttlebone and guts if the calamari has not been cleaned at the store. Most calamari sold in America will come pre-cleaned or you can ask your fishmonger to do it for you. After cleaning, cut the tubes into ½" wide rings. The tentacles can be left whole if you're using smallish calamari. Note: Small squid will be about 20-30 tubes to a pound and be about 4-6" long. Try to avoid buying very large (only 5 or so to a pound) squid.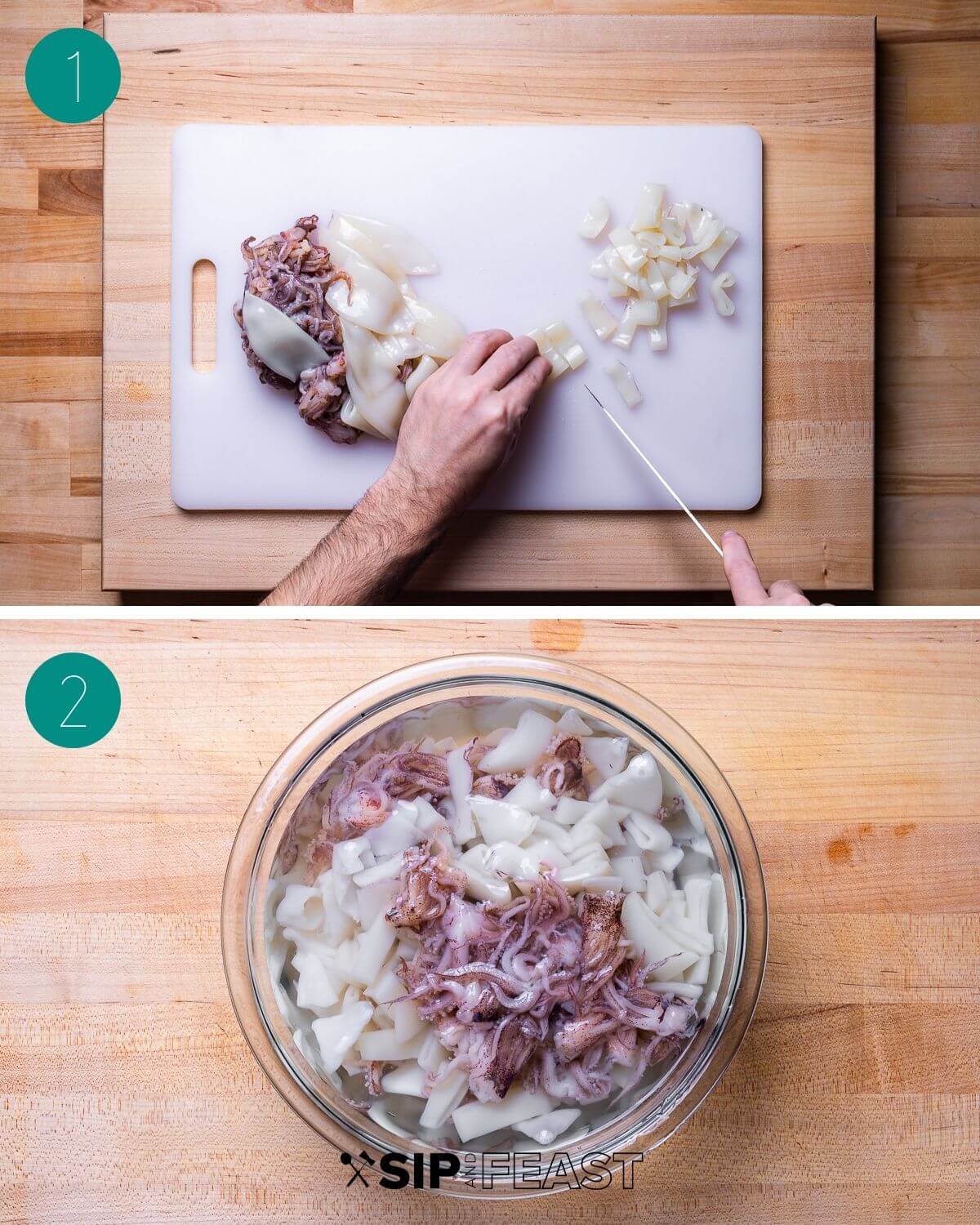 Place the cleaned calamari into a bowl of water with 1 teaspoon of baking soda and 1 teaspoon of kosher salt. Mix well and set aside for 15 minutes before cooking.
Meanwhile, chop a ½ cup of red roasted peppers, dice a ¼ cup of red onion, and slice a ¼ cup of Sicilian olives (or any high-quality olives that you like). Also, thinly slice on a bias 2 ribs or about 1 cup of celery. Also, mince a ¼ cup of parsley and grate 1 clove of garlic. Note: All of these ingredient amounts can be increased, decreased, or omitted to suit your taste.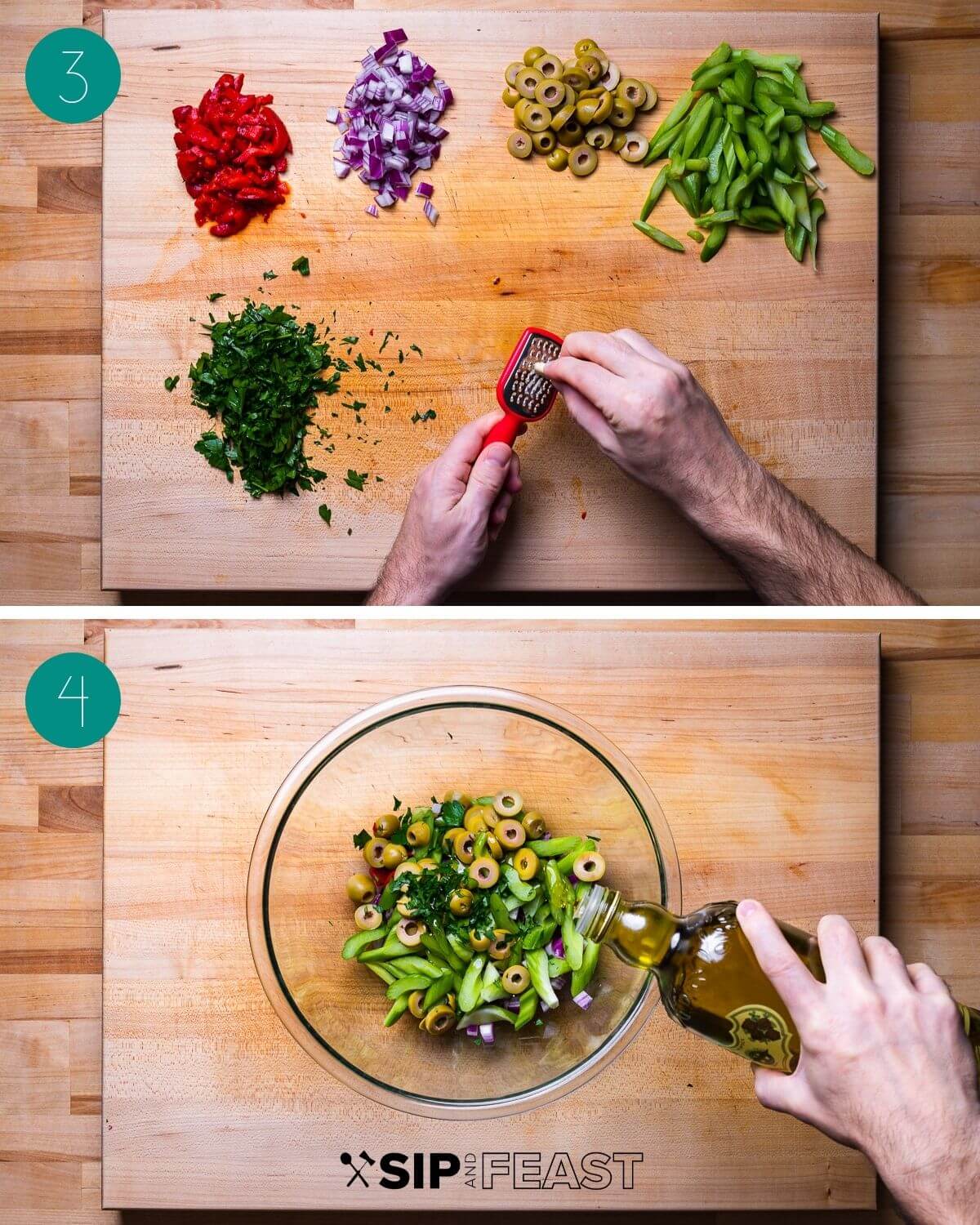 Combine all of those ingredients into a large bowl and add a ½ cup of extra virgin olive oil, 4 tablespoons of fresh lemon juice, and a ¼ teaspoon of red pepper flakes. Mix well and set aside.
Bring a large pot of water to boil and add the drained calamari. Cook the calamari for about 2 minutes. For small calamari such as the ones used in these photos, you will only need to cook them for 2 minutes or even just 90 seconds. Larger ones might need 3 minutes of cooking.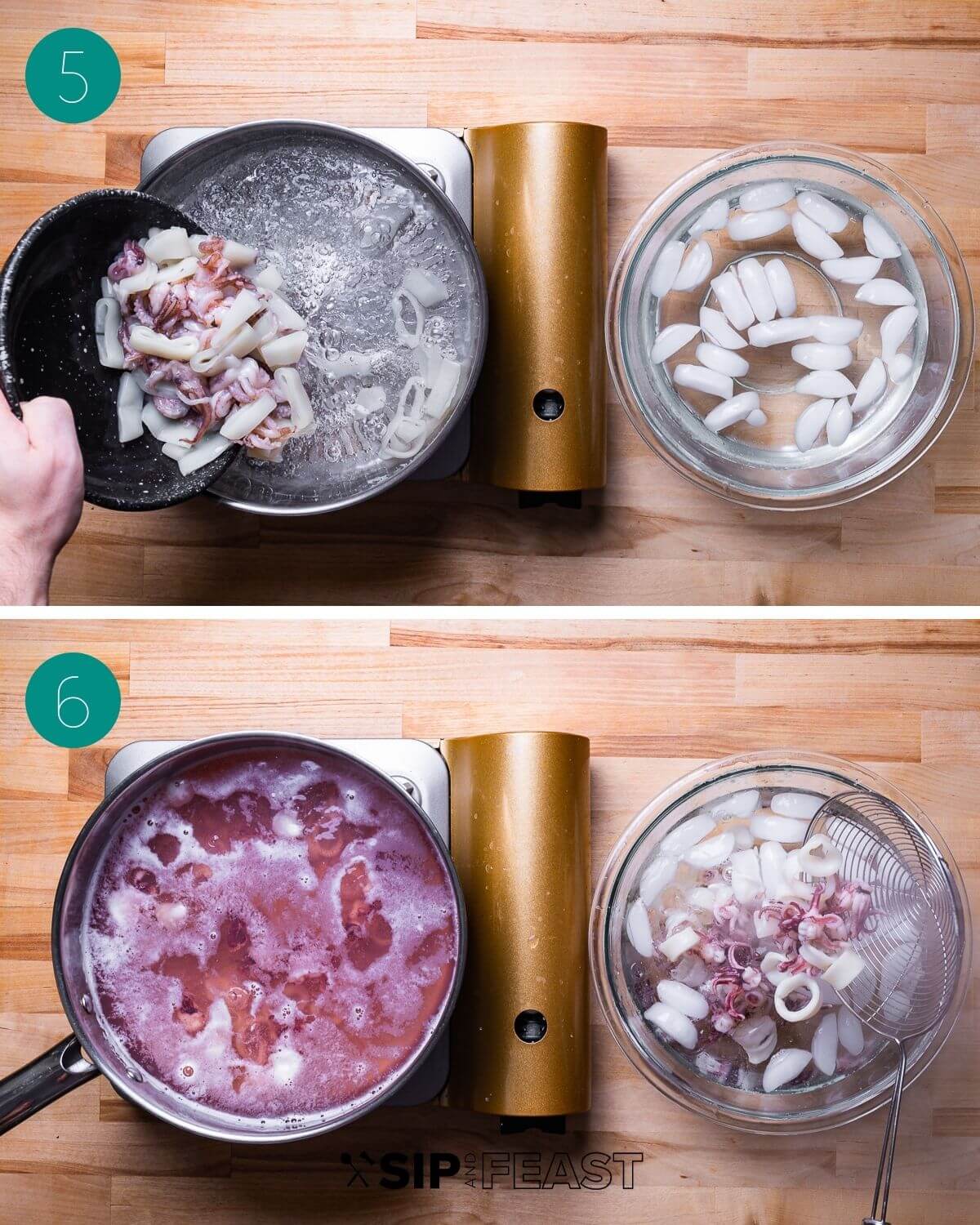 Immediately after they finish cooking add to a bowl of ice water to shock them and stop any residual cooking.
Drain the calamari well and add to the bowl with the other ingredients. Mix well to thoroughly combine.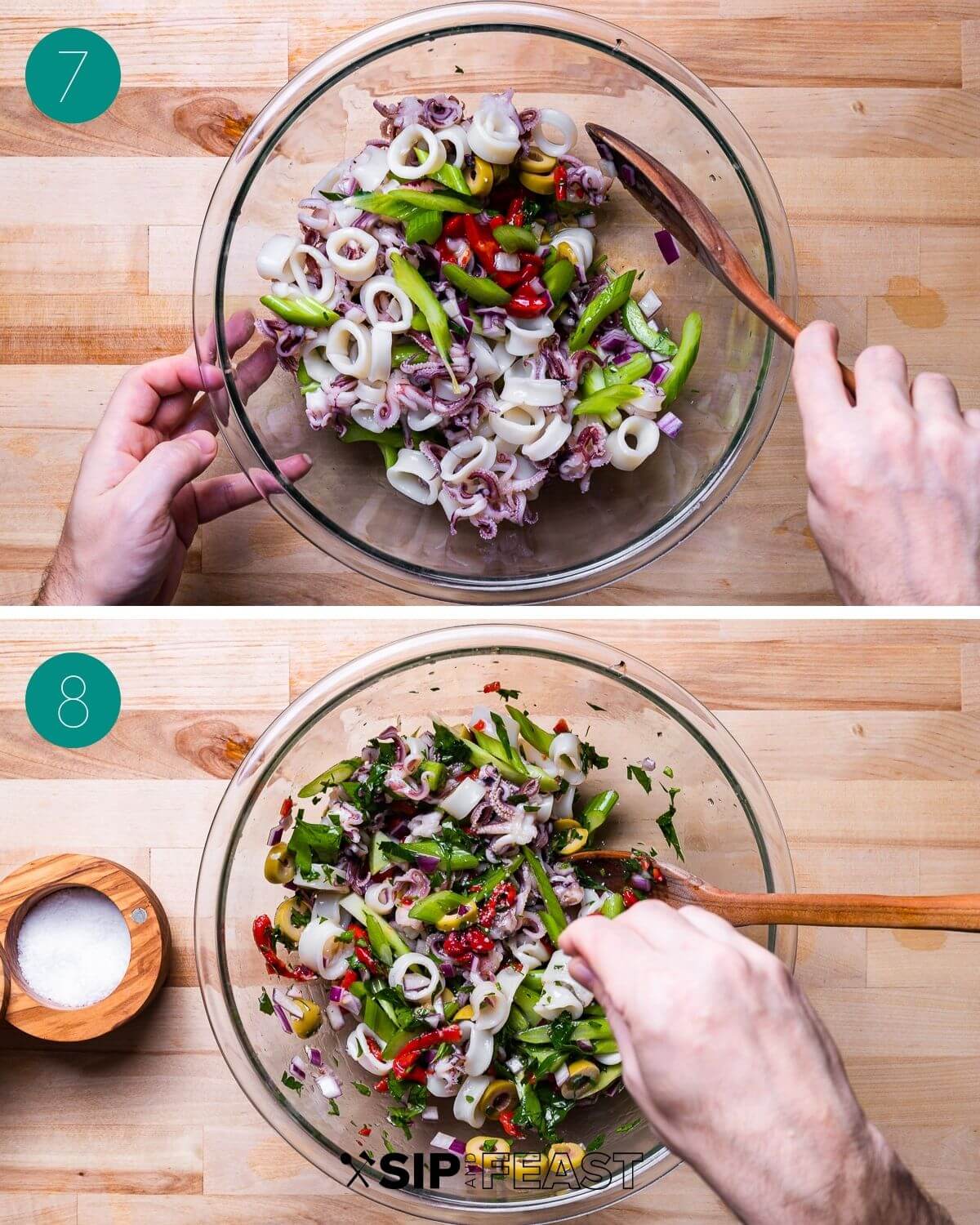 Taste test, then season with salt to your liking. Refrigerate the calamari salad for at least 2 hours before serving but overnight is even better. Before serving taste test again and add any more salt, lemon juice, or olive oil that's needed. Note: The salad should be taken out of the fridge about 30 minutes prior to consumption to allow the possibly congealed olive oil to come back to a fluid consistency.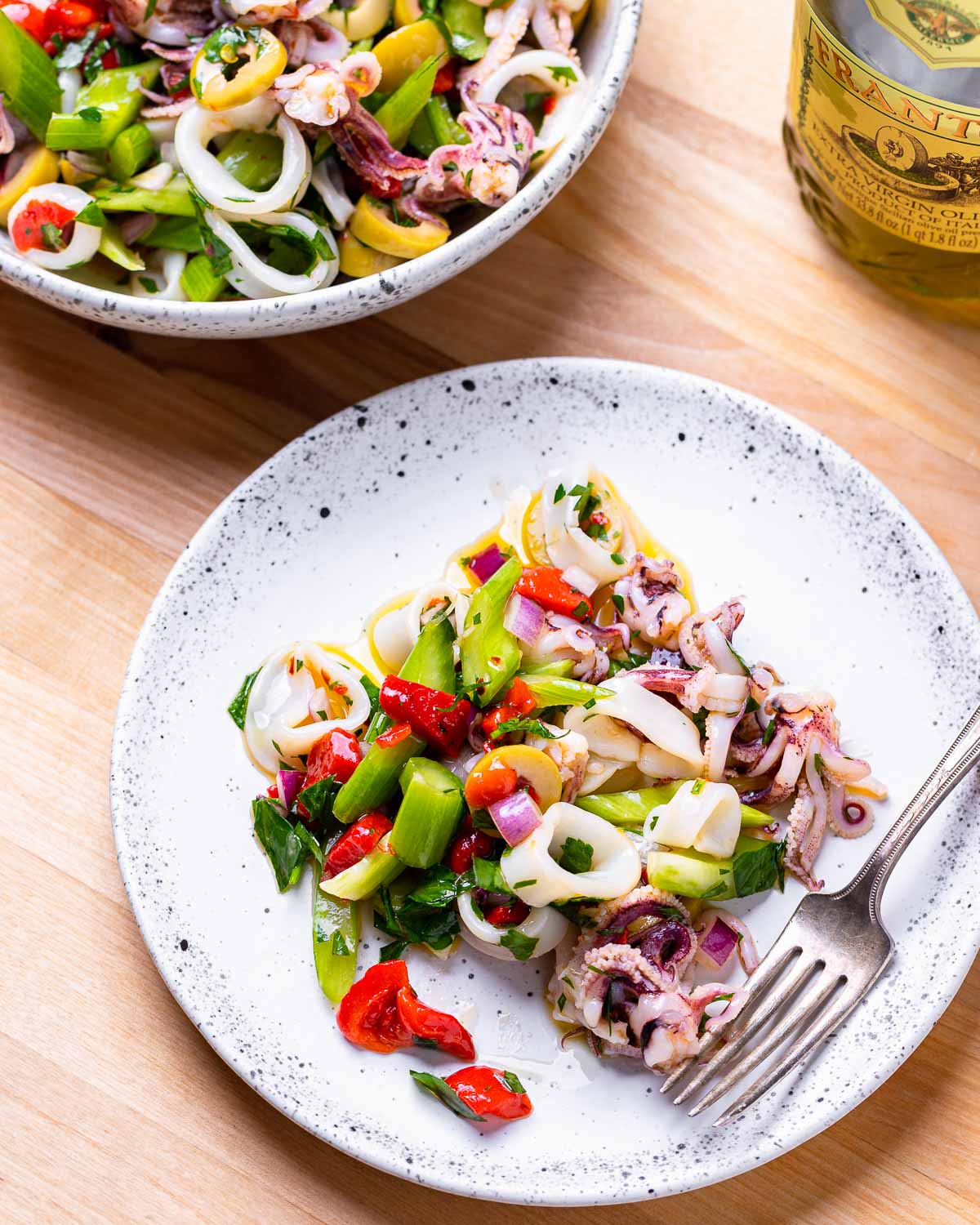 Top tips for awesome calamari salad
Making calamari can be intimidating if you've never worked with it before. Here are some tips to help you along your way.
Buy smaller squid. Ideally, your fishmonger will have squid whose tubes are roughly 6 inches long. This will amount to roughly 20-30 tubes per pound. Try to avoid buying large squid as it will have that tougher, chewier consistency for which calamari gets a bad rap.
Don't skip the baking soda. The first step in my recipe, after cleaning the squid, is to let it sit in a baking soda bath for 15 minutes. This is important as baking soda helps to tenderize the squid.
Use the ice bath! This is one of the most critical steps to follow as it's important to stop the cooking process to prevent tough calamari. The squid should only need about 90 seconds of boiling and should then be placed immediately into the ice bath to prevent further cooking. How do you know if it's cooked long enough? Taste one. Pretty simple right?
Top-quality ingredients. As I mentioned above, feel free to take liberties with your ingredients, but try to use the best possible ingredients that your budget will allow. For example, opt for green Sicilian olives, Kalamata, or Gaeta over anything you'd buy in a can. If you're able to find celery with the leaves on it, feel free to use the leaves in the salad as well. Use fresh parsley, fresh lemon juice, and high-quality extra virgin olive oil.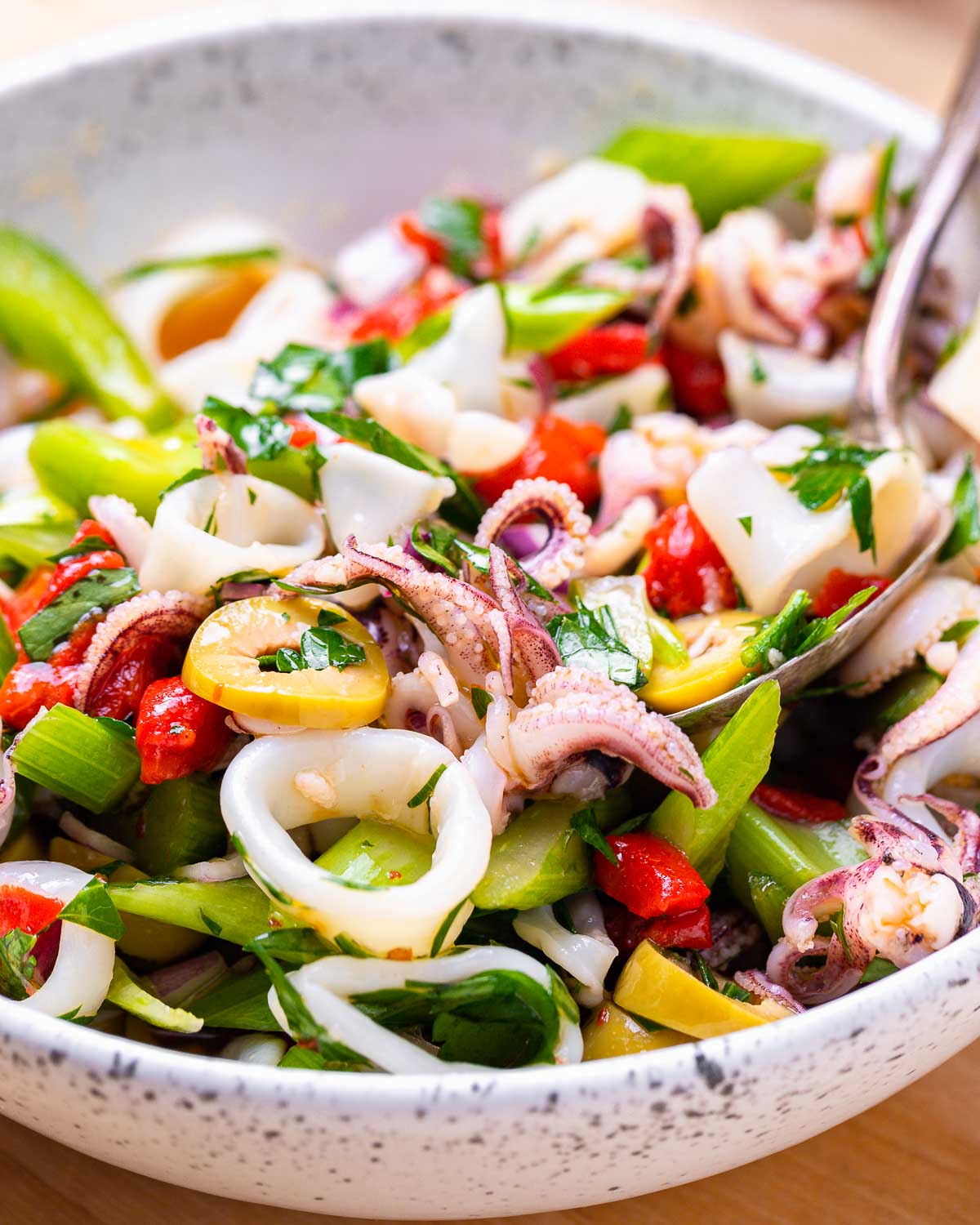 Feast of the Seven Fishes menu options
Calamari salad is one of my family's Feast of the Seven Fishes favorites. We've got a few more that we love - and more we plan to add soon!
What is your family's "must-have" for Christmas Eve? Drop us a line below and let us know!
If you've enjoyed this Italian calamari salad or any recipe on this site, give it a 5-star rating and leave a review.
Some people learn by watching. If you're that type of person, you can find most of our recipes on YouTube and our Facebook Page.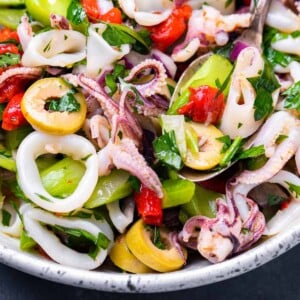 Ingredients
Mix together in bowl
1

pound

calamari

cleaned, tubes cut into ½" circles and tentacles left whole

1

teaspoon

baking soda

1

teaspoon

kosher salt

water

enough to cover calamari in bowl
For the salad
1

cup

celery

or roughly 2 ribs - thinly sliced on a bias

½

cup

red roasted peppers

chopped

½

cup

Sicilian green olives

pitted and sliced

¼

cup

red onion

diced

1

clove

garlic

grated

¼

cup

parsley

minced

4

tablespoons

lemon juice

plus more to taste

½

cup

extra virgin olive oil

plus more to taste

salt

to taste

¼

teaspoon

crushed red pepper flakes
Instructions
Rinse and clean calamari then cut into rings and cut any large tentacles in half. Mix calamari with salt, baking soda, and enough water to cover and set aside for 15 minutes.

Place celery, red roasted peppers, olives, onion, garlic, parsley, crushed red pepper, lemon juice, and olive oil into a large bowl and mix together.

Set up a bowl of ice water and bring a large pot of water to boil.

Drain calamari well then boil in water for two minutes or until cooked through. Using a slotted spoon, place cooked calamari in the ice water bath immediately.

Once calamari is cold, drain and then add to the bowl of veggies and mix together. Taste test and season with salt to taste.

Chill the calamari salad in the fridge for at least a couple of hours. Before serving, taste test and add more olive oil, lemon juice, or salt and pepper if required. Enjoy!
Notes
It's recommended to use squid that are about 6 inches long. If using very large squid, it's best to cut thinner rings and to cut the tentacles in half or into quarters.
Sodium levels reflect the addition of 1 teaspoon of kosher salt, but salt to taste.
Make sure to taste test the calamari salad right before serving and add any extra olive oil, lemon juice, or salt and pepper as required.
It's best to chill the salad for at least a couple of hours, but it's even better if left overnight so that the flavors come together.
Leftovers can be saved for up to 3 days.
Nutrition
Calories:
359
kcal
|
Carbohydrates:
7.3
g
|
Protein:
18.2
g
|
Fat:
28.7
g
|
Saturated Fat:
4.4
g
|
Cholesterol:
264
mg
|
Sodium:
839
mg
|
Potassium:
379
mg
|
Fiber:
1.2
g
|
Sugar:
1.7
g
|
Calcium:
66
mg
|
Iron:
1
mg