Baccala alla Napoletana is an Italian dish made with salt cod, otherwise known as baccala, olives, tomatoes, capers, and potatoes. As its name suggests, the dish hails from Napoli and is perfect to serve for the Feast of the Seven Fishes on Christmas Eve. This step-by-step recipe walks you through the process of soaking and preparing the salt cod if you choose to go the traditional route, but could just as easily be made with fresh cod.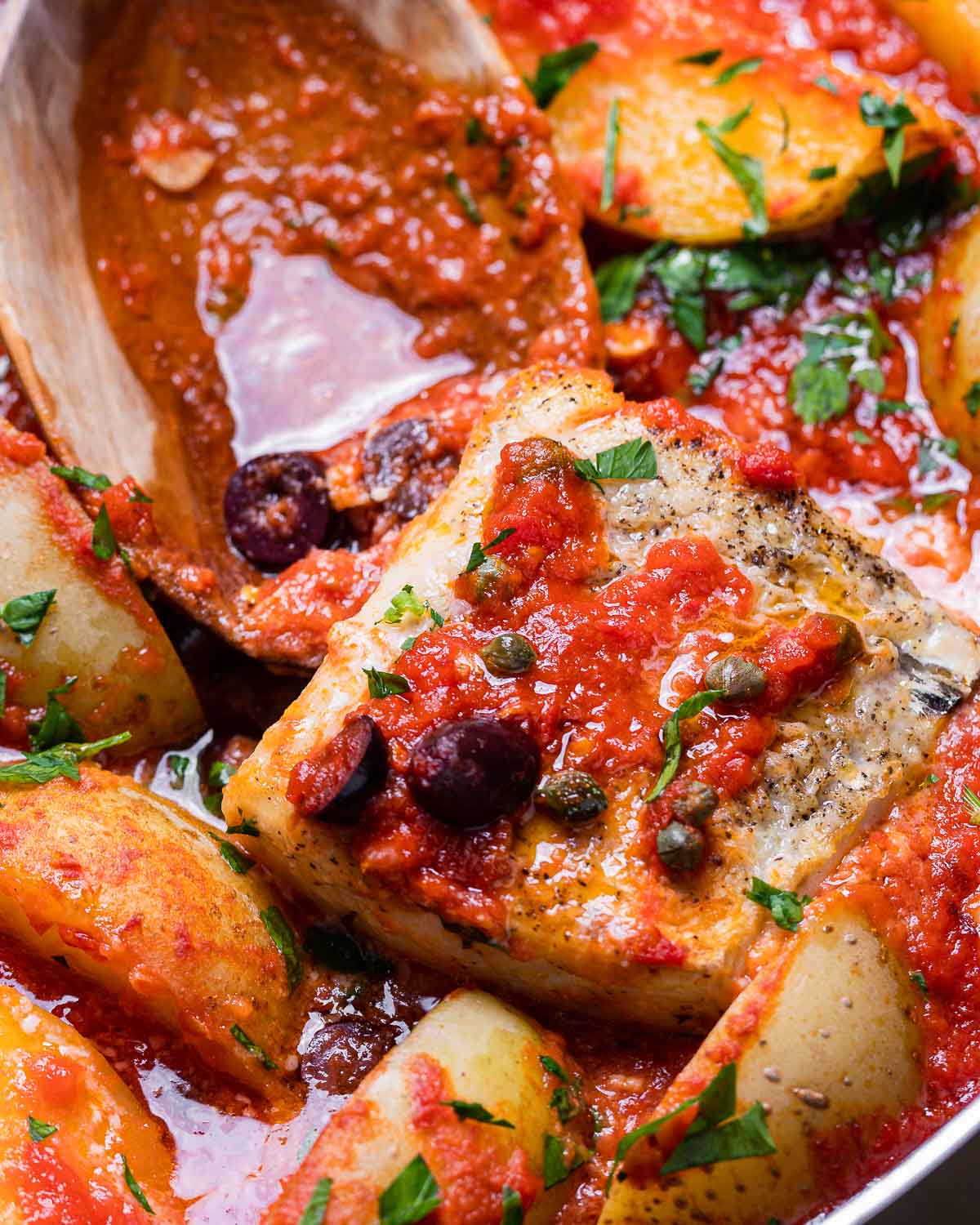 In New York and New Jersey, you can tell that Christmas is right around the corner when you start finding baccala in your local Italian grocery stores.
Usually located near the fishmonger, but not refrigerated, the baccala sits and waits for someone to take it home and bring it back to its original state.
While fresh cod is widely available, it's the tradition of preparing baccala, salted preserved cod, that makes baccala alla Napoletana such a special and beloved dish for Italian-Americans, especially on Christmas Eve as one of the Seven Fishes.
And when it comes to food, carrying on tradition can often mean extra work as it harkens back to a time where ingredients were less abundant, and electric appliances didn't exist.
Since this fish is preserved/dried with salt, before it is edible, it needs to be soaked in water and changed frequently to reconstitute it and remove the salt.
The steps below walk you through the entire process of how to prepare the baccala and get it ready for the olive and caper sauce which is similar in flavor and ingredients to puttanesca.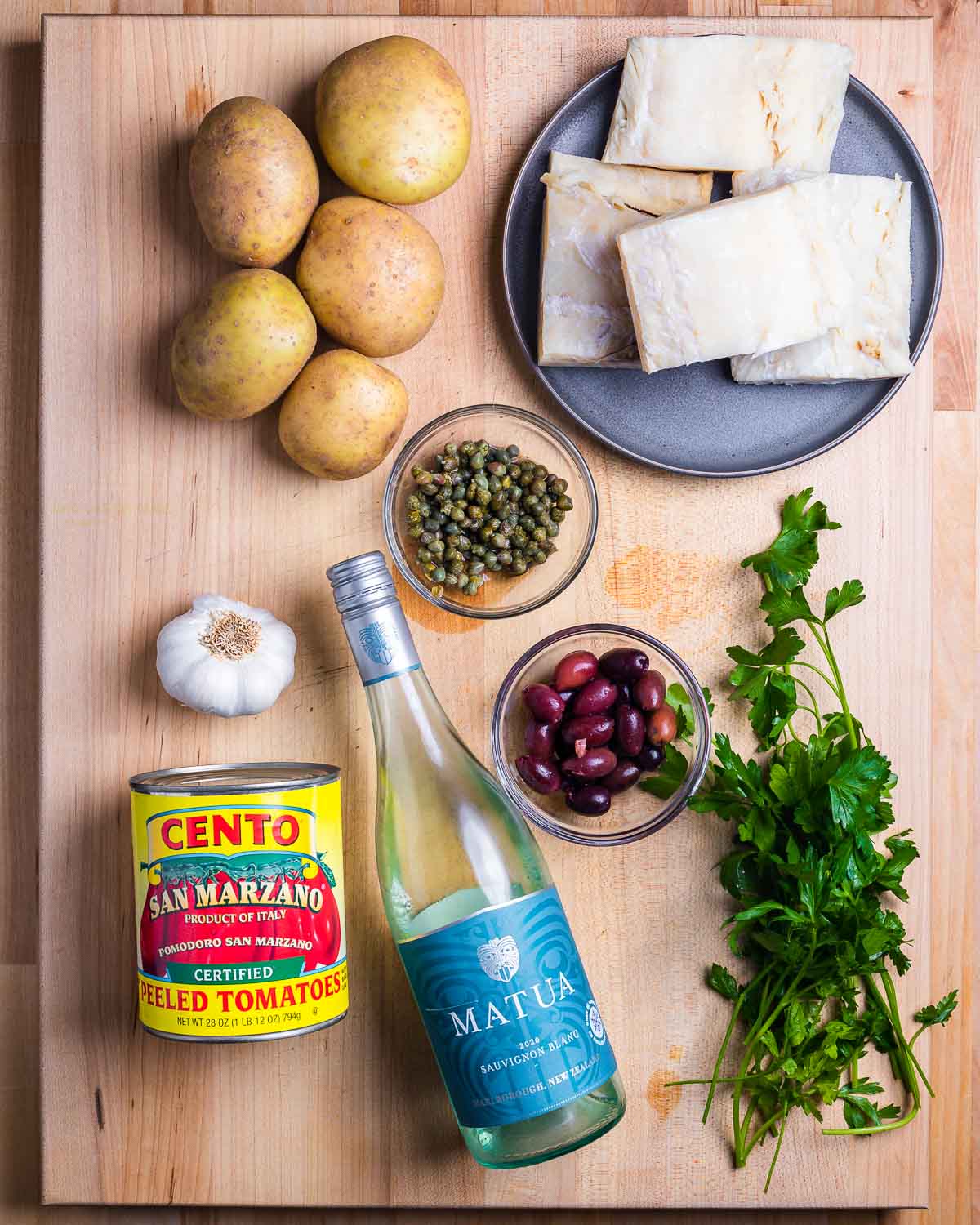 How to make Baccala alla Napoletana
Each number corresponds to the numbered written steps below.
Below is 1 ½ pounds of baccala. It comes packed in a ton of salt and that heavy saltiness needs to be removed before it can be cooked.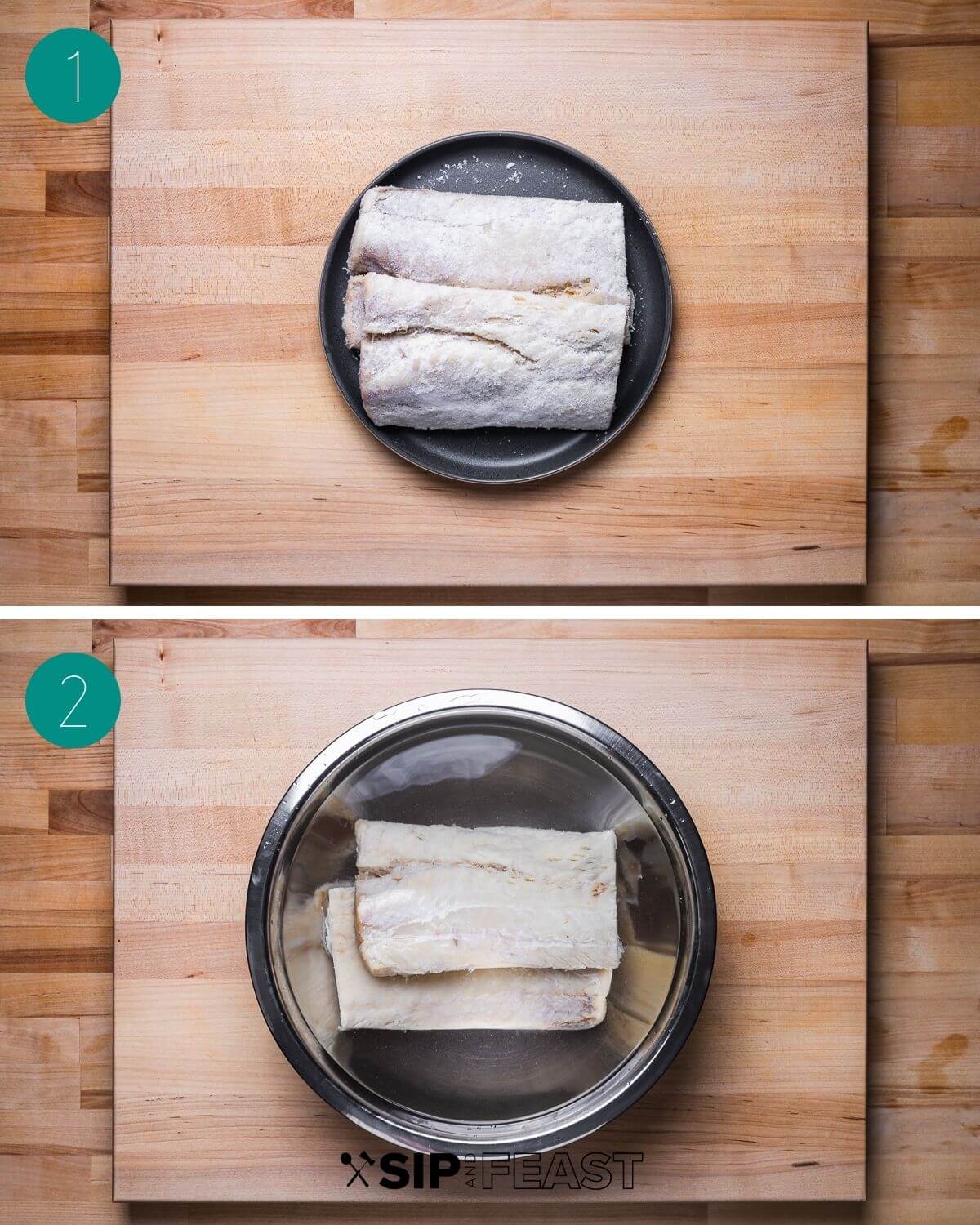 Start by rinsing the baccala pieces and remove as much exterior salt as you can. Place the baccala into a very large bowl, fill it with cold water and cover with plastic wrap. Refrigerate for 2-3 days and change the water every 6-8 hours. By changing the water, the salt will be removed each time until finally, the cod will be able to be eaten without being overly salty. Note: I recommend using thick fillets for this dish. Save the thinner pieces for baccala fritters or salad if you plan to make more than one dish.
2-3 days later and once the salt has been removed, start prepping the ingredients. Mince a ¼ cup parsley, slice 3 cloves of garlic, and slice a ¼ cup of pitted Gaeta olives (or Kalamata, Sicilian, etc). Also, boil 2 pounds of quartered Yukon Gold potatoes until they are almost tender, but not quite, then drain and set aside. Also, at this time you can preheat your oven to 400f and set the rack to the middle level.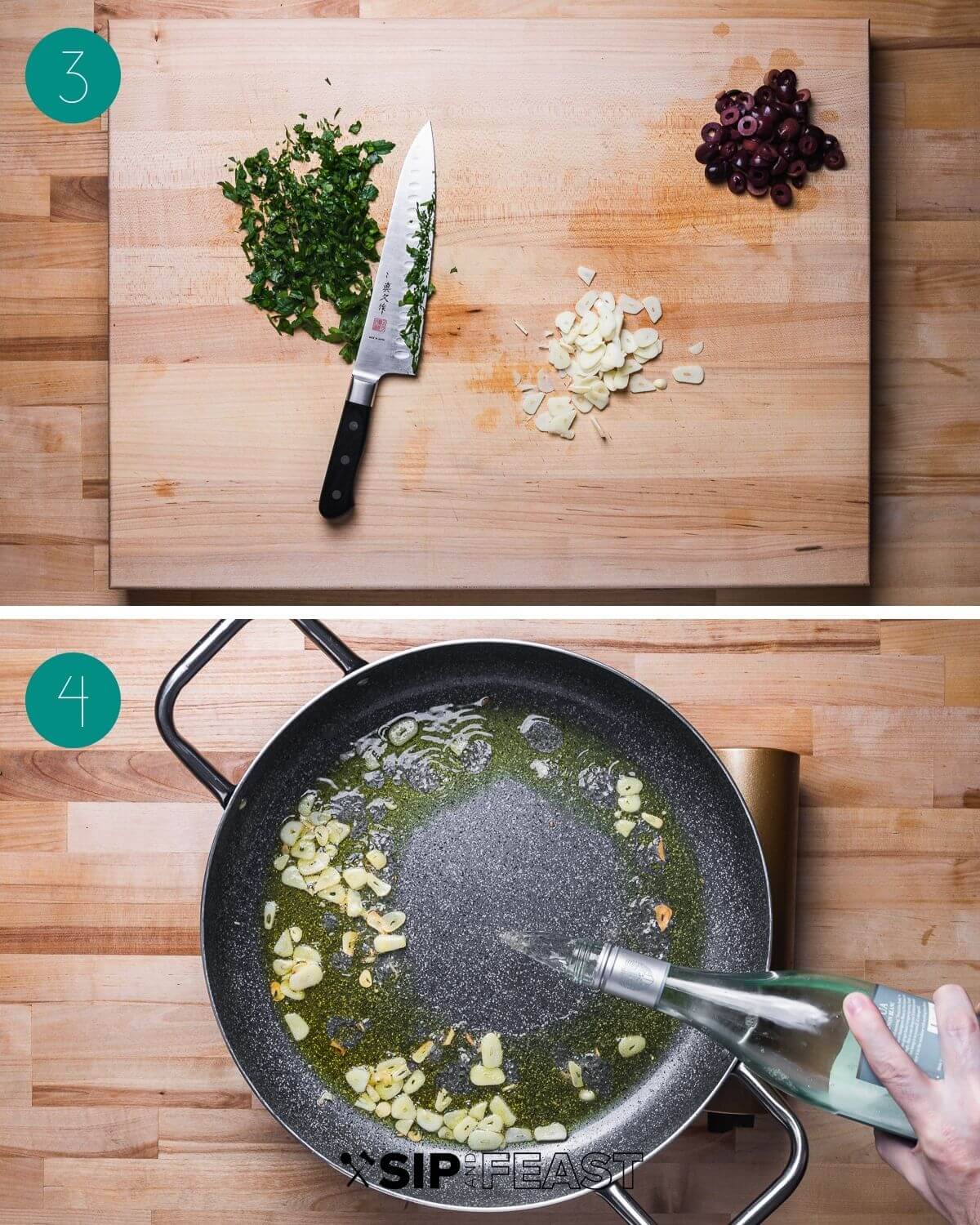 In a very large oven-safe pan, saute the garlic in a ¼ cup of extra virgin olive oil until golden then add a ½ cup of dry white wine and turn the heat to medium-high. Cook for 90 seconds or so to burn off some of the alcohol.
Next add in the plum tomatoes, olives, and capers and stir it all together. Once simmering turn heat down to keep the sauce at a low simmer.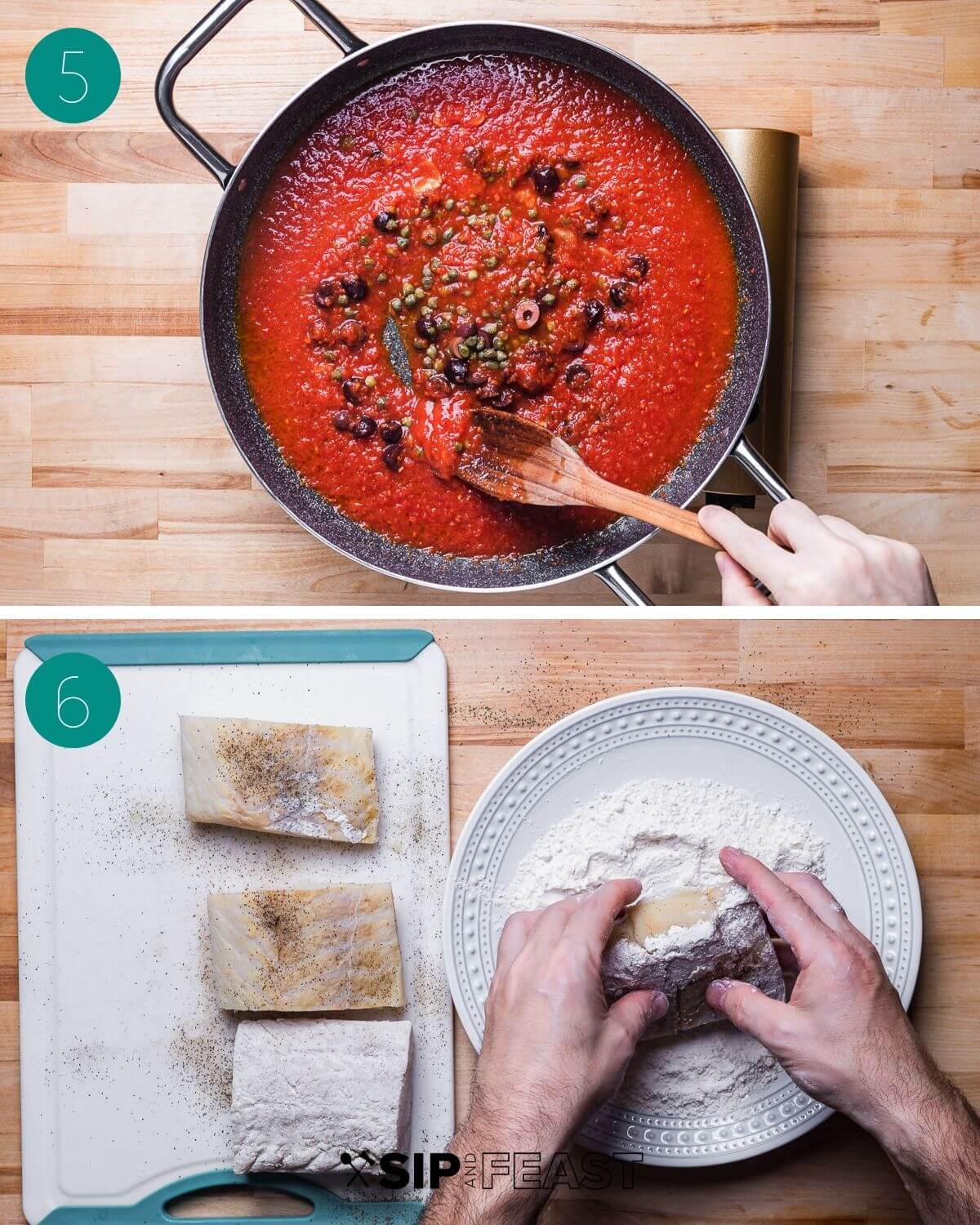 Pat the baccala dry then season with pepper on all sides. Dredge the pieces in the flour then shake off all of the excess.
Heat a nonstick pan to medium and sear the baccala pieces for 2-3 minutes on both sides. If required, work in batches.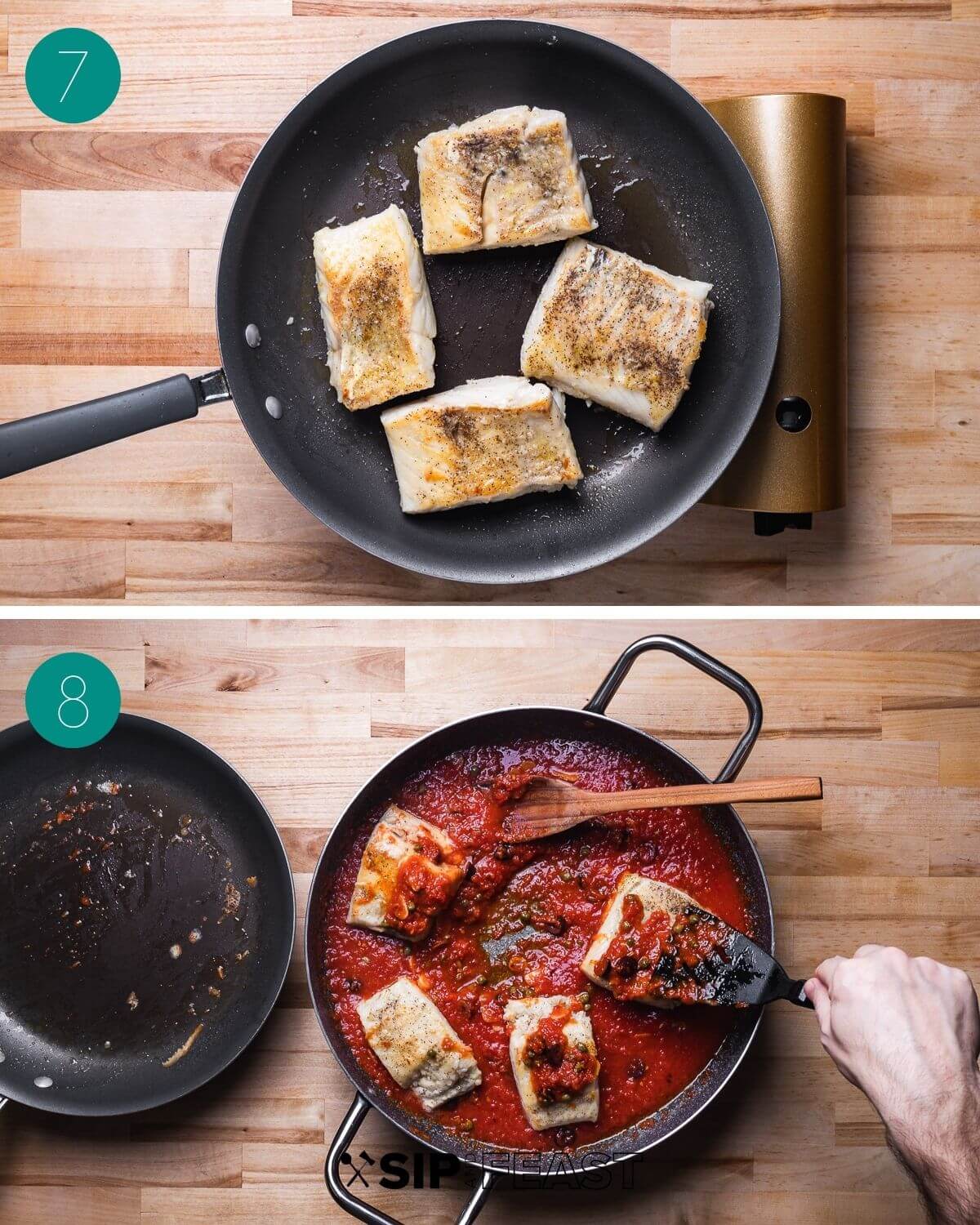 Place the seared pieces into the sauce. Spoon a bit of the sauce onto the top of each piece.
Nestle the parboiled potatoes around the cod pieces, then bake in the oven.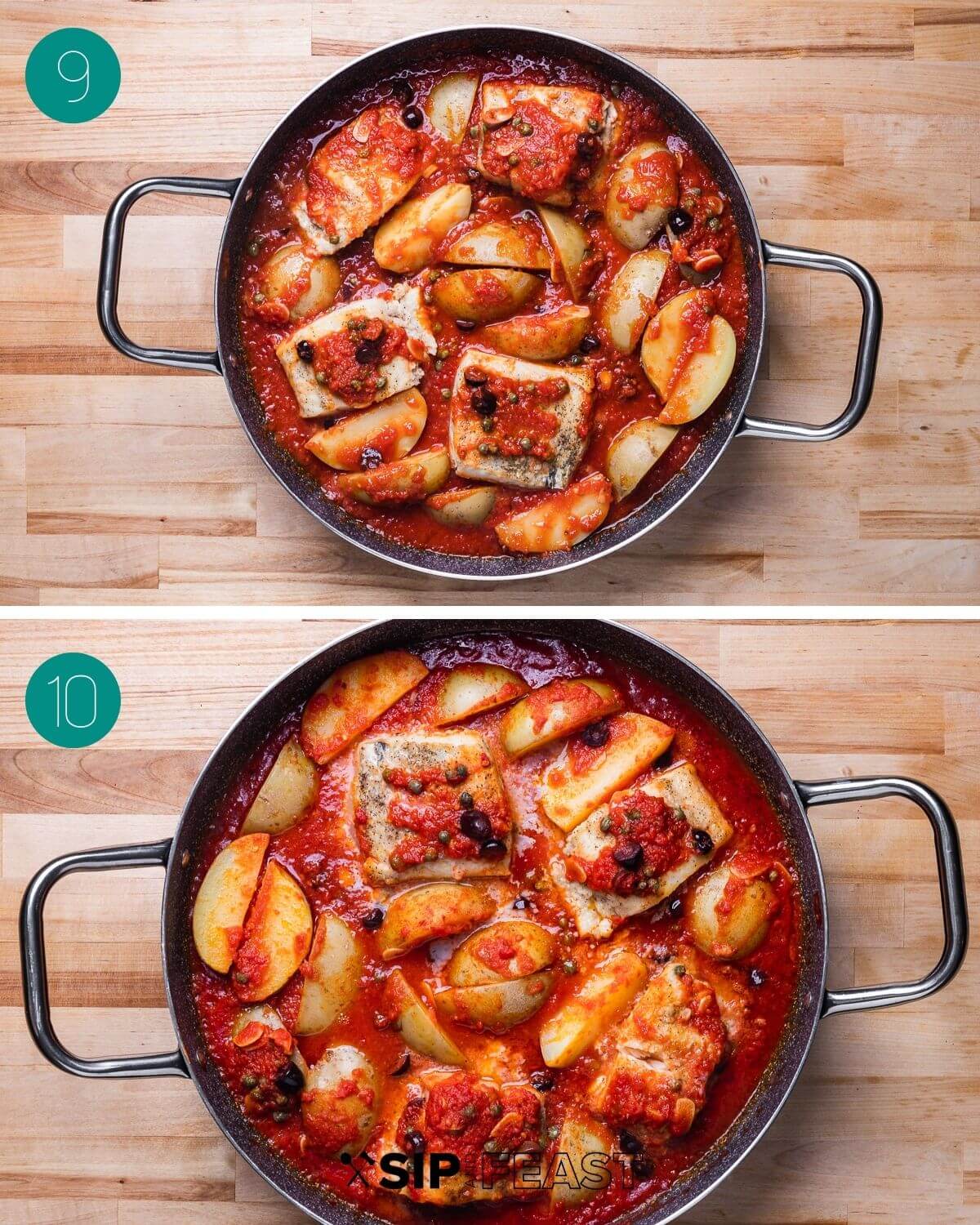 After about 20 minutes of cooking the baccala should flake a bit. Just make sure the pieces are cooked all the way through. Taste test the fish and the sauce. If needed add more pepper or hot red pepper flakes. If for some reason you need extra salt, add it now, but I seriously doubt that would be the case as the baccala is quite salty as are the capers and olives. Sprinkle the parsley all over the baccala alla Napoletana and serve. A drizzle of extra virgin olive oil onto each plate would be a nice finishing touch.
A note about water changes for salt cod (baccala)
Baccala has a ton of salt and nothing would be worse than rushing the process and ruining your special meal.
Thicker fillets are much better for this dish, but those thick pieces will take at least 48 hours to remove the salt. I often let it go for 3 days.
Trust me on this - I see plenty of recipes online saying you only need a 24-hour soak. In my experience that simply won't work and you'll be left with inedible overly salty pieces.
24 hours will almost always not be enough time. Do yourself a favor and give it at least 48 hours.
To be extra certain you can break off a piece after 48 hours and boil it until cooked. Eat it and find out if it needs an extra day of soaking and water changes. It really is that simple!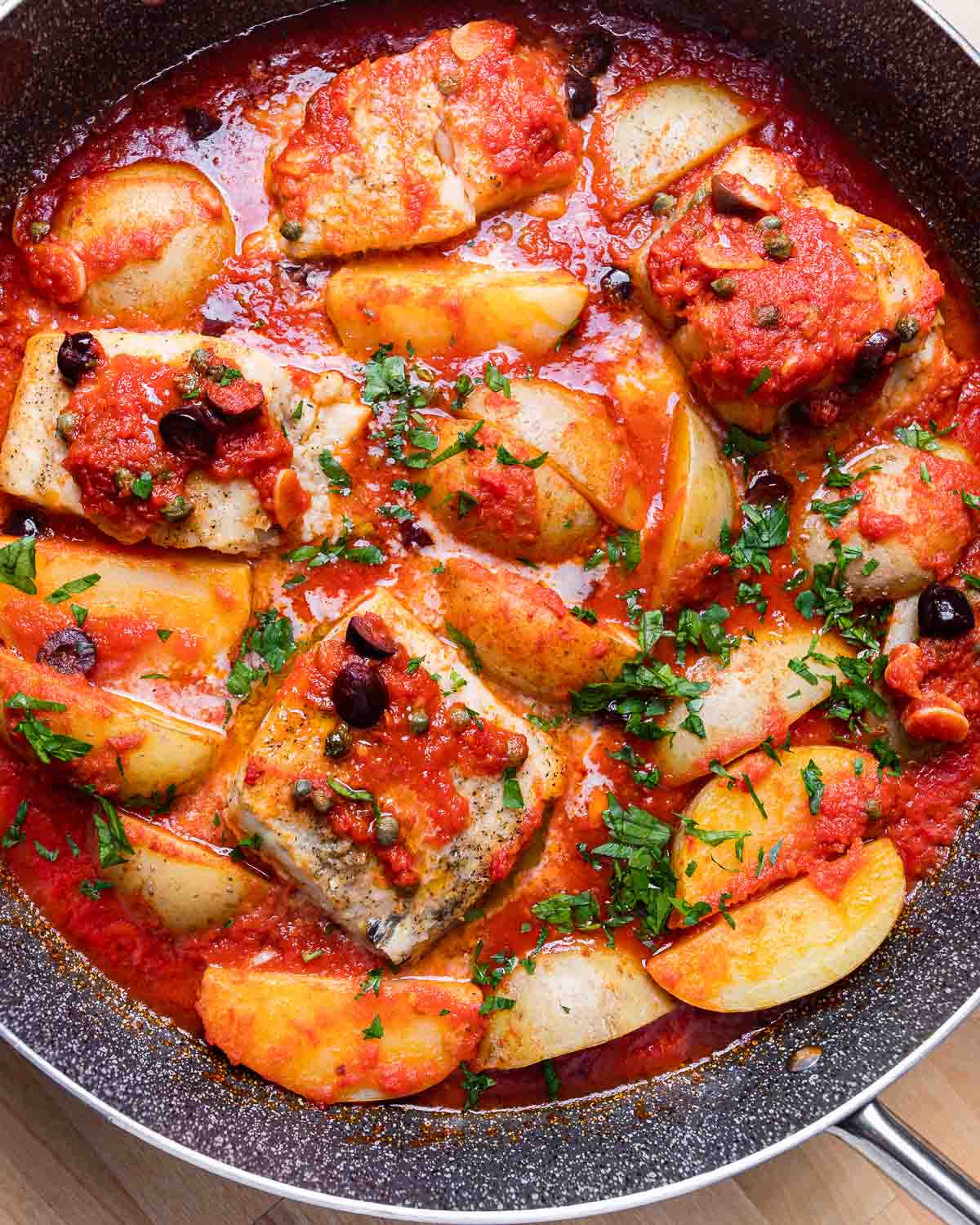 Can fresh cod be used for baccala alla Napoletana?
The short answer is yes, you can definitely use fresh cod for this dish. Just skip the soaking process. The cook time would be roughly the same.
As I mentioned above, this dish is more of a traditional dish and a labor of love.
If you're pressed for time and don't have a couple of days to let the baccala soak in the refrigerator, opt for the fresh cod.
Also, if you live in an area where you're not able to find baccala, but can easily find fresh cod, you can still make this recipe. Note: You can absolutely find it online, but the prices will be substantially higher than if purchased locally. An Italian pork store might sell it too, so be sure to check those places out.
Story time: I lived in Minnesota for 3 years and couldn't find baccala anywhere, but lutefisk was widely available during the holidays. Lutefisk is basically the Scandinavian version of baccala and is made from salted dried cod that has been preserved in lye. Lutefisk requires soaking for days ahead of time, is gelatinous in texture, and is part of the traditional Nordic Christmas feast. I opted for fresh cod over the lutefisk for our Christmas Eve dinners.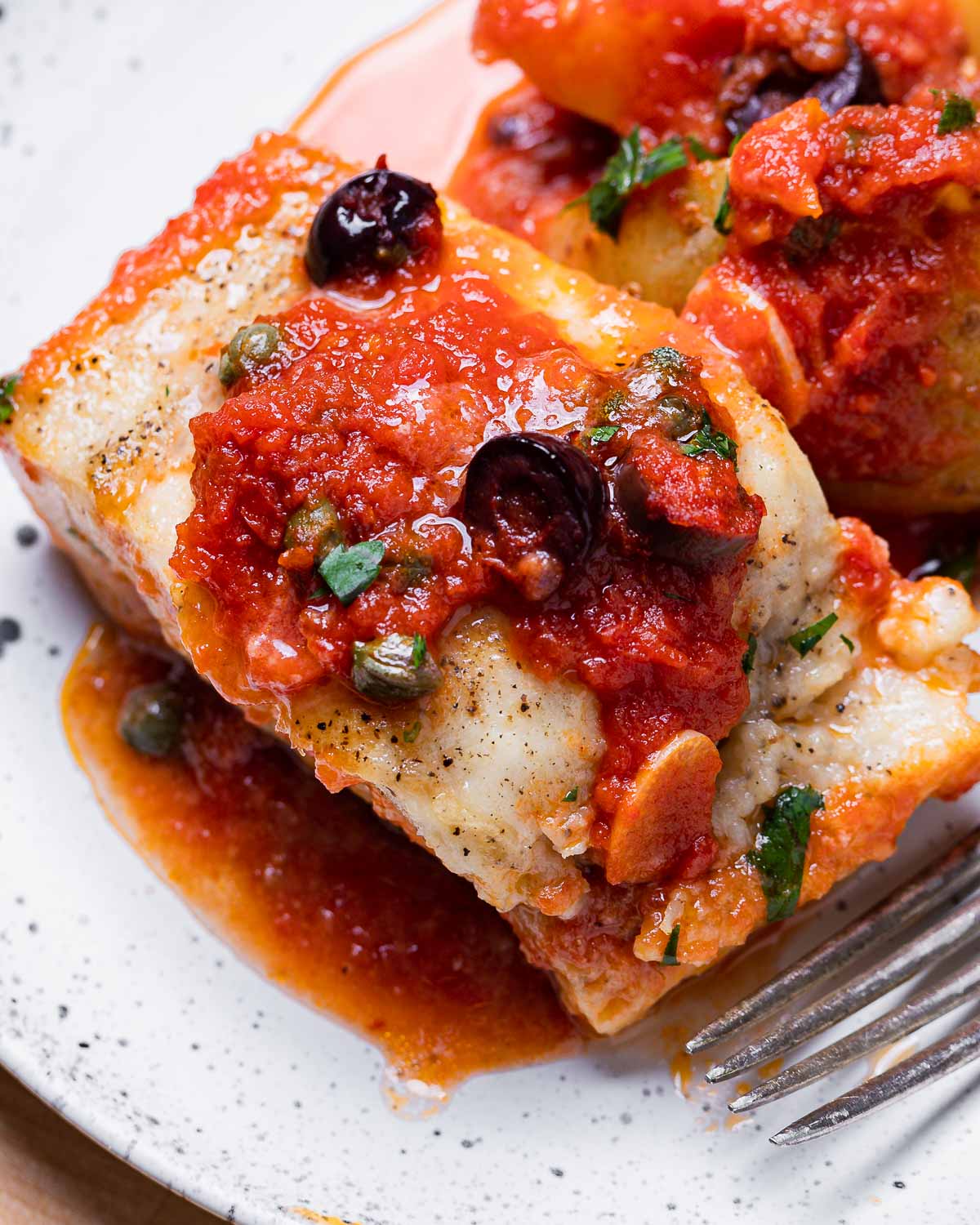 More feast of the seven fishes dishes to try
Seafood or calamari salad is one of my family's Feast of the Seven Fishes favorites. We've got a few more that we love - and more we plan to add soon!
What are your family's "must-haves" for Christmas Eve? Drop us a line below and let us know!
If you've enjoyed this baccala alla Napoletana recipe or any recipe on this site, give it a 5-star rating and leave a review.
Some people learn by watching. If you're that type of person, you can find most of our recipes on YouTube and our Facebook Page.
Ingredients
1 ½

pounds

baccala

soaked and rinsed then cut into 4 equal size pieces - see notes below

2

tablespoons

extra virgin olive oil

1

cup

flour

for dredging, will not use all of it

pepper

to taste

1 ½

pounds

Yukon Gold potatoes

quartered
For the sauce
¼

cup

extra virgin olive oil

3

cloves

garlic

sliced

1

28 ounce

can plum tomatoes

hand crushed or blender pulsed

¼

cup

Gaeta olives

pitted and sliced

2

tablespoons

capers

rinsed

½

cup

dry white wine

¼

cup

parsley

minced

¼

teaspoon

crushed red pepper flakes
Instructions
Soaking Instructions
Rinse baccala pieces of all salt then place them into a very large bowl submerged with water and covered with plastic. Store in the refrigerator for at least 2 days (thicker pieces might need 3 days).

The water needs to be changed every 8 hours to help flush the baccala of its saltiness.
Baccala alla Napoletana Instructions
Preheat oven to 400f. Par boil the potatoes to almost but not quite fork tender (about 10 minutes). Drain and let cool.

In a large oven-safe pan saute the garlic over medium-low heat in extra virgin olive oil until lightly golden (about 2 minutes). Add the hot red pepper flakes, cook for 30 seconds, then add the wine. Turn heat to medium-high and cook for 1-2 minutes to burn off some of the alcohol.

Turn the heat back down to medium-low and add the tomatoes, capers, and olives. Let the sauce simmer over very low heat stirring occasionally.

Heat a large nonstick frying pan to medium heat with 2 tablespoons of extra virgin olive oil. Season the baccala with pepper on both sides then dredge into the flour and shake off the excess. Fry pieces in the pan until brown on both sides (about 2-3 minutes per side). If required, work in batches.

Place the seared fish into the sauce along with potatoes and bake for 20-25 minutes.

Remove from the oven and add the parsley, mix, and serve. A healthy drizzle of extra virgin olive on top of each piece is a good idea. Enjoy!
Notes
Baccala should be rinsed then soaked. To soak, place baccala into a very large bowl submerged with water and covered with plastic and store in the refrigerator for at least 2 days (thicker pieces might need 3 days) with water changes every 6-8 hours.
Because baccala is so salty, no extra salt was added to the dish. You can test a piece of cooked fish right before serving and add extra salt if needed, but because of the salty capers and olives, no extra salt is usually required.
Cooked baccala can be saved for up to 3 days, but is best served and eaten right after cooking.
Nutrition
Calories:
579
kcal
|
Carbohydrates:
42.7
g
|
Protein:
44.6
g
|
Fat:
24.1
g
|
Saturated Fat:
3.5
g
|
Cholesterol:
94
mg
|
Sodium:
355
mg
|
Potassium:
1627
mg
|
Fiber:
7.1
g
|
Sugar:
7.5
g
|
Calcium:
76
mg
|
Iron:
3
mg