Penne Puttanesca is an easy and inexpensive way to enjoy some of the most flavor-rich ingredients. Briny capers and olives harmoniously marry with tomatoes, garlic, anchovies, fresh basil, and parsley for the sauce that is gently tossed with al dente penne pasta. The best part is this dish can be made and on your table in about 35 minutes.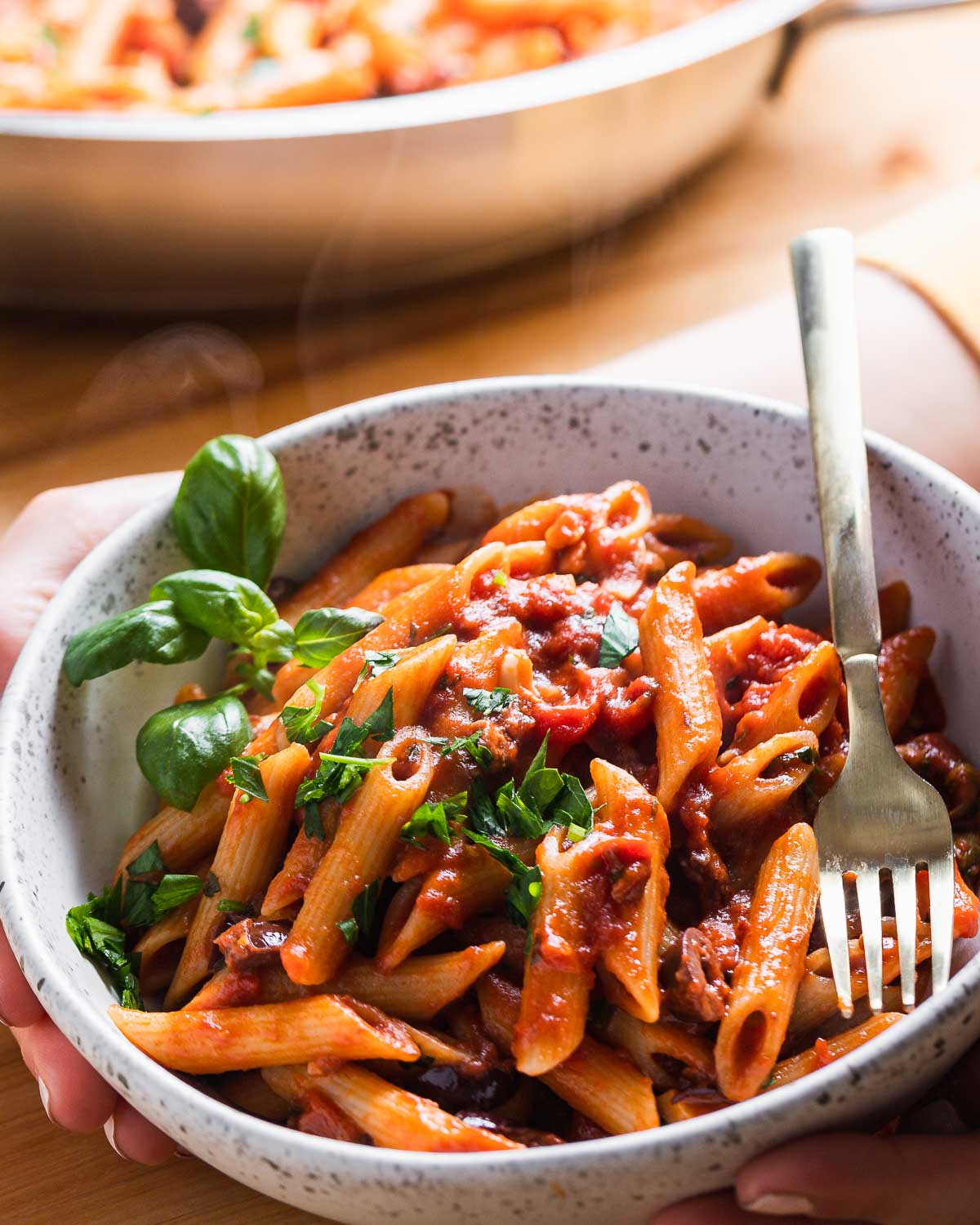 Some of my favorite ingredients can be found in a bowl of penne puttanesca.
The combination of tomatoes, olives, and capers is not only tasty, but versatile and can be used in so many ways, such as in caponata, baccala alla napoletana, or as a simple Mediterranean style dressing for pan-seared swordfish.
Anchovies are yet another favorite ingredient and help create the quintessential puttanesca flavor.
If you love the flavors in pasta puttanesca as much as I do, experiment with them!
Add a puttanesca sauce to grilled, or fried chicken cutlets.
You can even top your homemade pizza dough with olives, capers, and anchovies. Now that would be killer!
Which pasta for puttanesca sauce?
My favorite for puttanesca, and the pasta I've used in my pictures below, is penne.
I have tried making it with varying shapes and I always come back to penne for a few reasons:
Penne, specifically penne rigate, is ridged which allows the sauce to adhere to grooves on the pasta.
Penne is tubular in shape making the inside of the pasta shell the perfect space for the bits of garlic and capers to nestle. There is nothing like biting into a penne pasta and receiving the gift of flavor!
Penne is shorter than spaghetti or linguine making it closer in size to that of the olives. It's just a bit easier to grab a forkful of penne, olive, and caper than it is to do so with spaghetti.
That being said, I encourage you to use whichever pasta you enjoy most. It really does come down to personal preference when you're dealing with Puttanesca.
In the accompanying video, I used long fusilli which is one of my kid's favorites.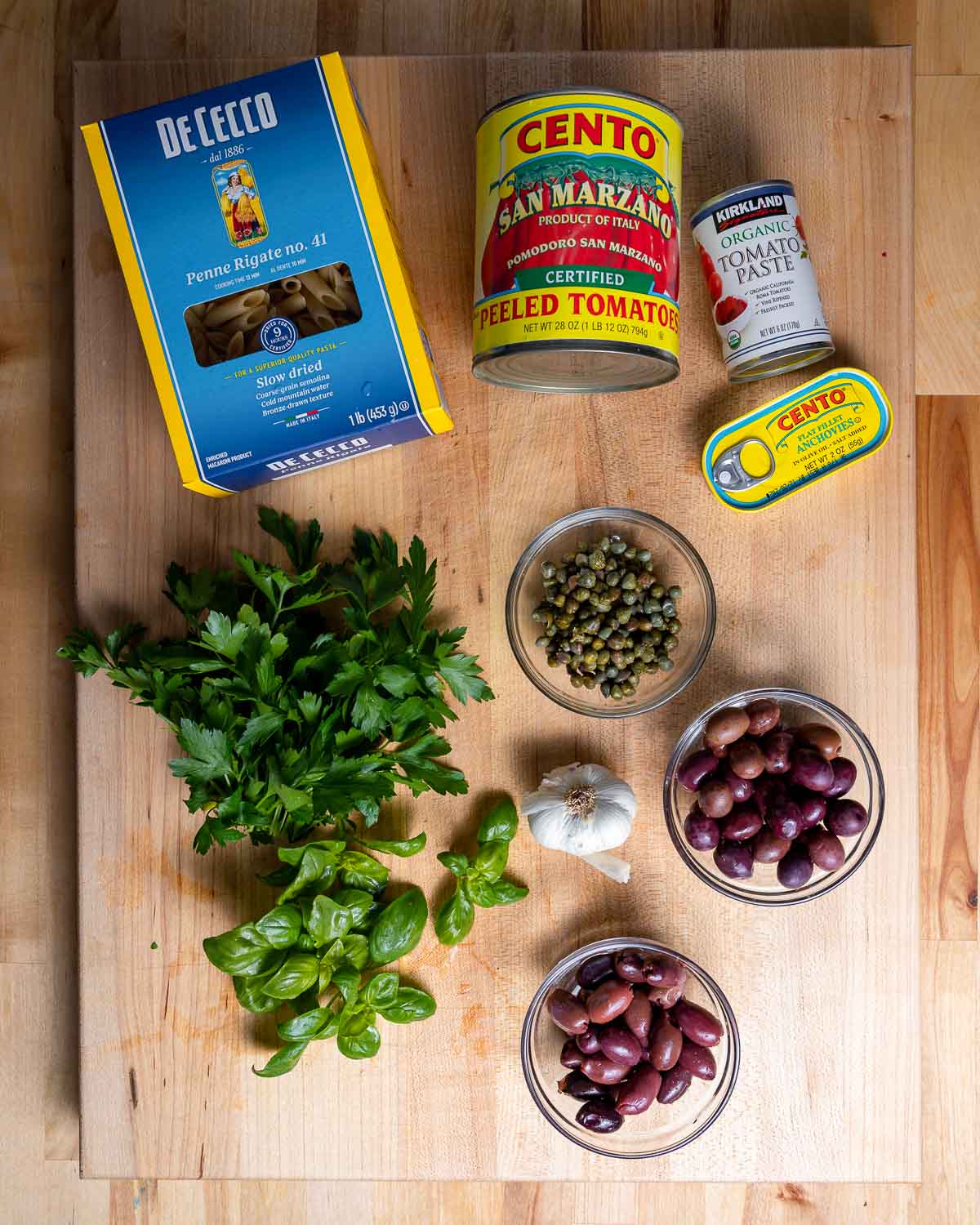 What are the best olives for penne puttanesca?
For this particular recipe, and for these pictures, I used a combination of Gaeta and Kalamata olives.
They are both similar in taste and texture and generally work really well in puttanesca.
However, my absolute favorite olives to use in penne puttanesca are oil-cured olives.
I use them in many dishes such as chicken cacciatore, and grilled fennel salad, and they are a favorite in my household.
Oil-cured olives are extremely salty though, so if you do choose to use them, be sure to give them a rinse with cold water (similar to how I rinse the capers in this recipe) before adding to your Puttanesca sauce.
Pro tip: Penne puttanesca contains many salty ingredients. Besides the pasta water, you may not need to add any additional salt to the recipe. Be sure to taste it before adding any additional salt.
Green Castelvetrano olives would also be a good pick for puttanesca. In fact, doing a combination of all the olives I've mentioned here would be great and would provide a nice variety of flavor and color.
Again, use what you like and more importantly, what is available.
How to make it
Hand crush the plum tomatoes. Alternatively, blender pulse or use crushed tomatoes. Bring a pot of water to boil with 2 tablespoons of kosher salt.
With the back of your knife mash 5 anchovy fillets into a paste. Slice 6 cloves of garlic. Before moving on to step 3, wash the capers to remove excess salt. If necessary remove olive pits and give them a rough chop.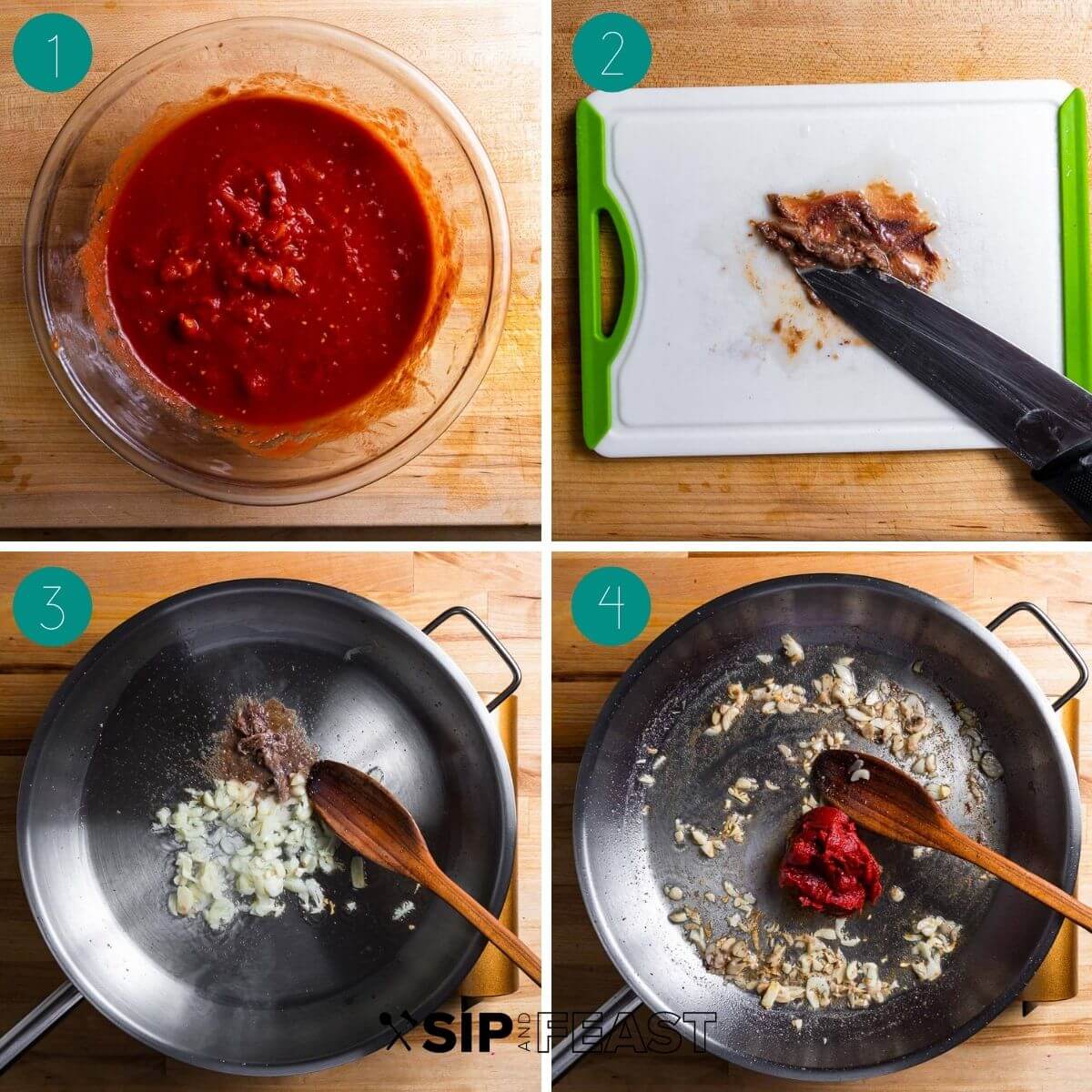 Heat a large pan to medium-low and wait 2-3 minutes for it to heat up. Once the pan is hot, add a 1/4 cup of extra virgin olive oil then the garlic and anchovies.
Once the garlic turns golden and the anchovies dissolve (about 3-4 minutes), add in the chili flakes and cook for 30 seconds more. Next, add the tomato paste.
Cook the tomato paste for 5 minutes, stirring frequently to break it up.
Add the plum tomatoes and then the capers and olives. Stir well to incorporate.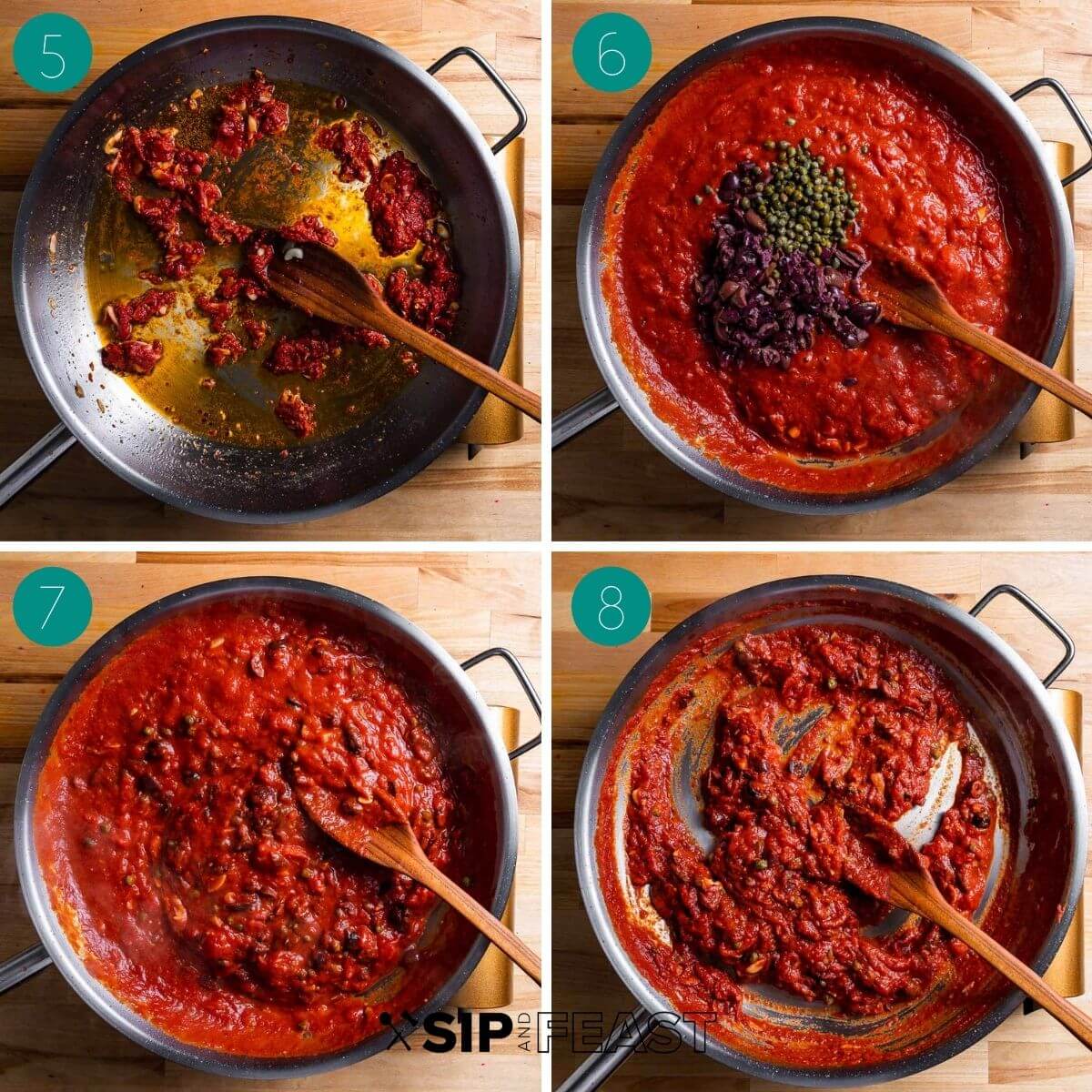 Bring the sauce to a simmer. While the sauce is simmering cook the penne pasta until al dente.
The sauce will thicken (after about 10 minutes) and some of the water from the tomatoes will evaporate.
Add a ladle of pasta water and turn heat to medium.
Add in the al dente pasta and cook for 1 more minute, stirring quickly.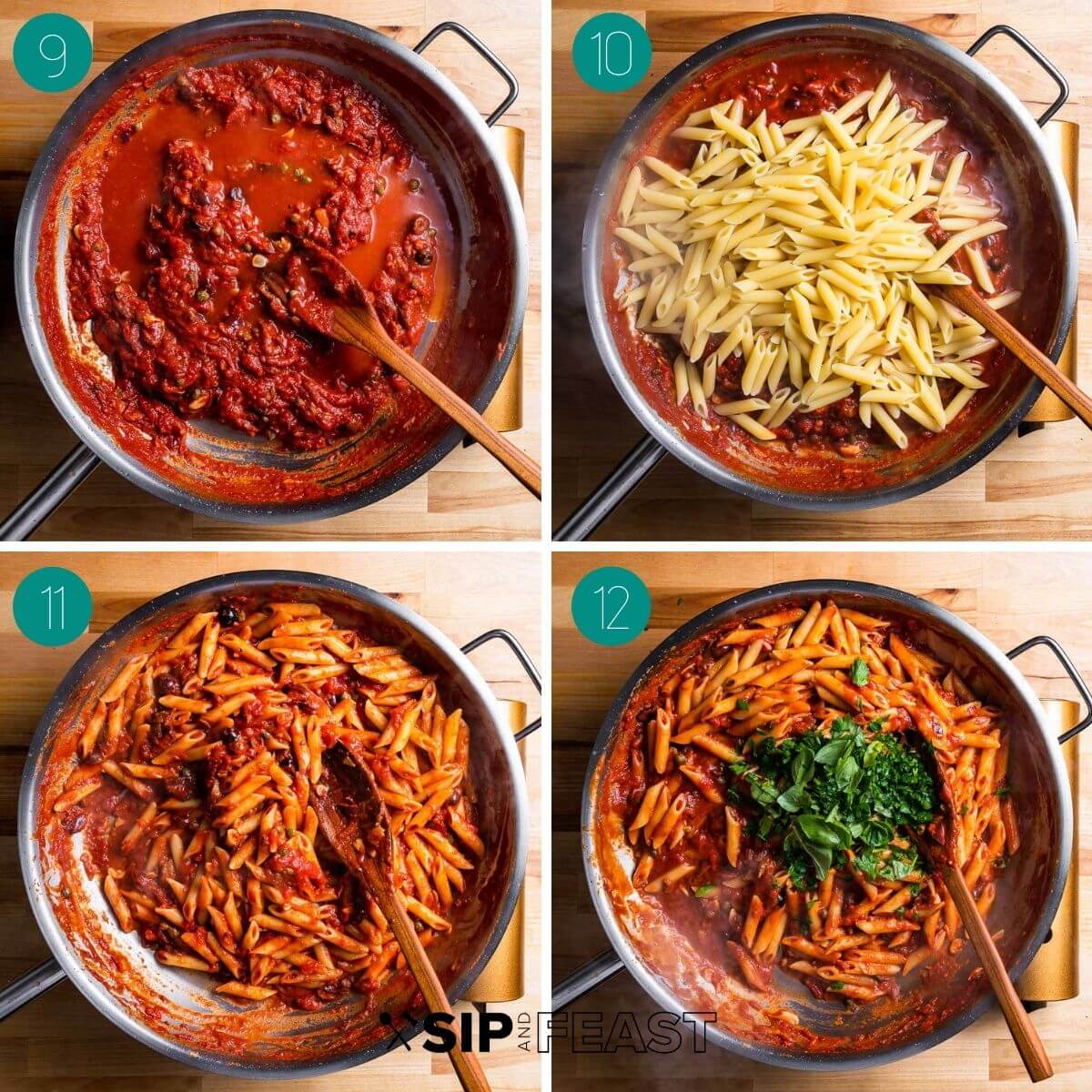 If you feel comfortable, toss the pasta to help the sauce better stick to the pasta.
Turn off the heat and taste test. Make any final adjustments to salt and pepper levels, then add in the basil and parsley. Enjoy!
Penne puttanesca variations
One of the questions I am asked most frequently is "can I omit the anchovies"?
Yes, you can omit them, and if you want to make this a vegetarian dish, certainly do so.
But be aware that you will be missing out on an essential puttanesca ingredient and will be missing that umami flavor that comes along with anchovy.
One of my favorite ingredients to add to penne puttanesca is canned or jarred Yellowfin tuna.
This adds an extra dose of protein and kicks up the Mediterranean flavor even more so.
I used fresh parsley and basil in my recipe, but you can experiment with other fresh herbs such as mint or oregano.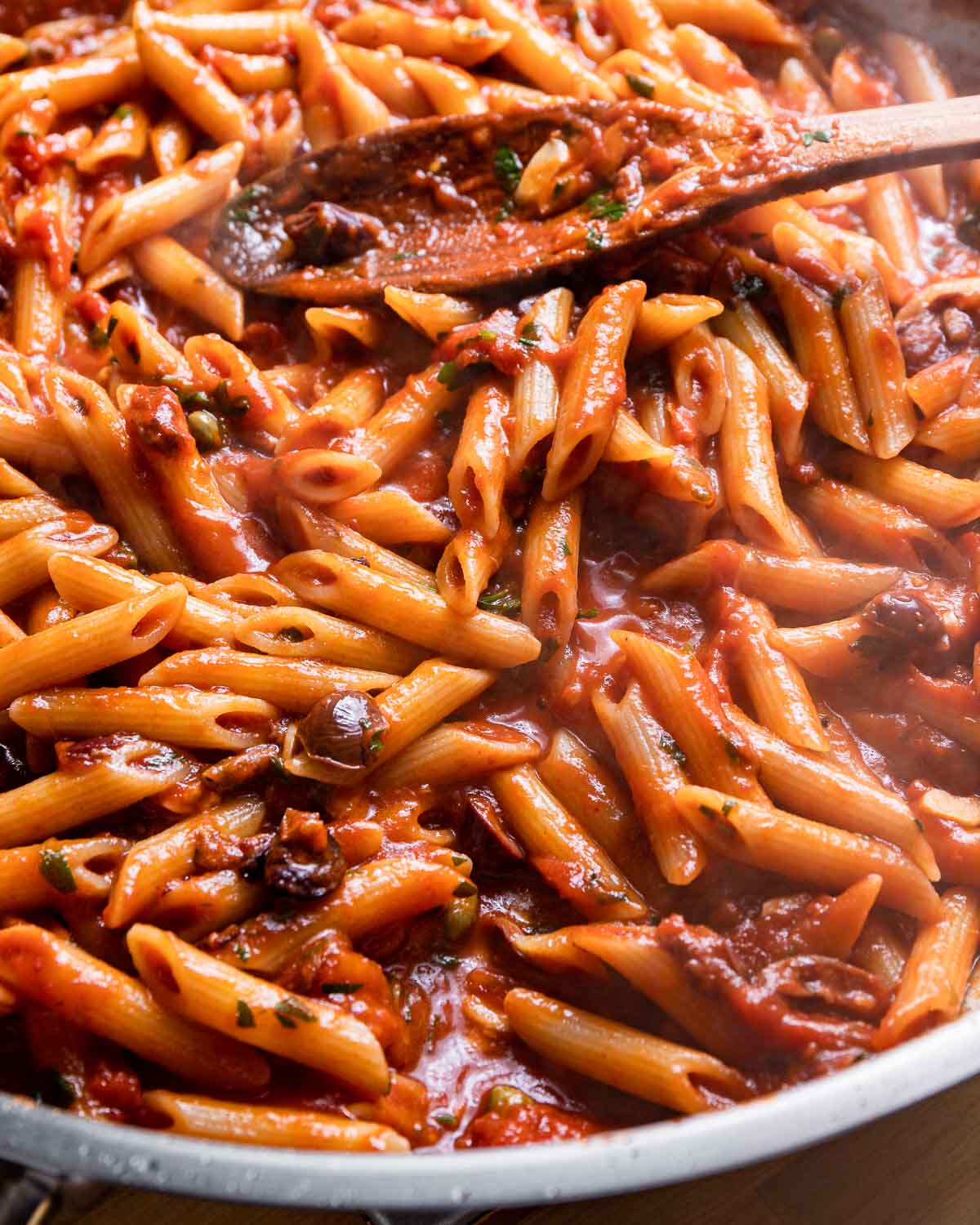 More simple pasta recipes
As mentioned above, one of the best things about penne puttanesca is that it can be made in a relatively short period of time.
This puts puttanesca on my list of go-to weeknight, simple pastas.
Some of my other simple pastas that can be made quickly include: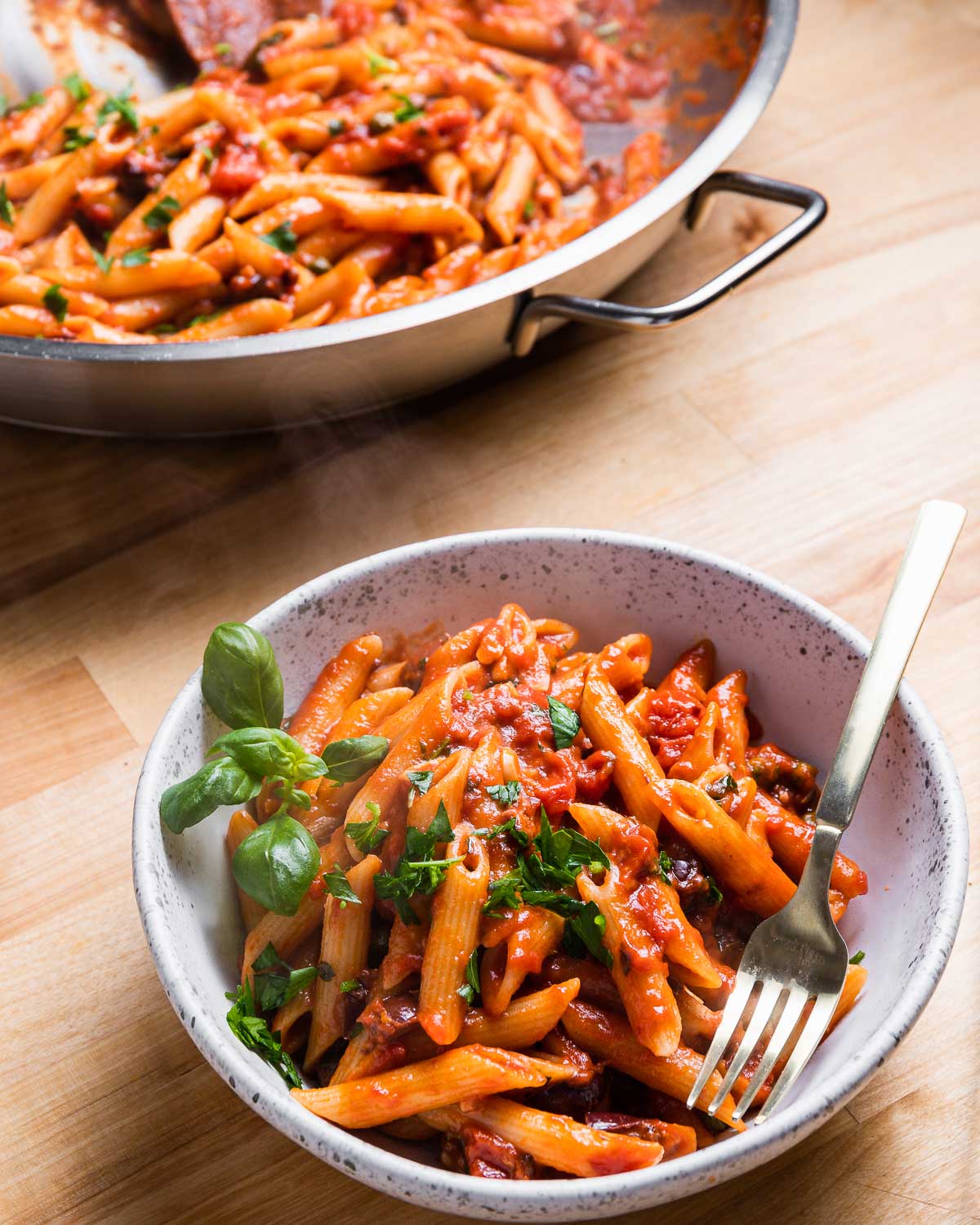 If you've enjoyed this pasta Puttanesca recipe or any recipe on this site, we want to know so tell us in the comments below.
Give it a star rating. We would love to hear how you did and it's nice to show others as well. Thanks!
Watch the video below where Jim will show you how to make this recipe with easy-to-follow instructions.
Some people learn by watching. If you're that type of person, you can find most of our recipes on YouTube and our Facebook Page.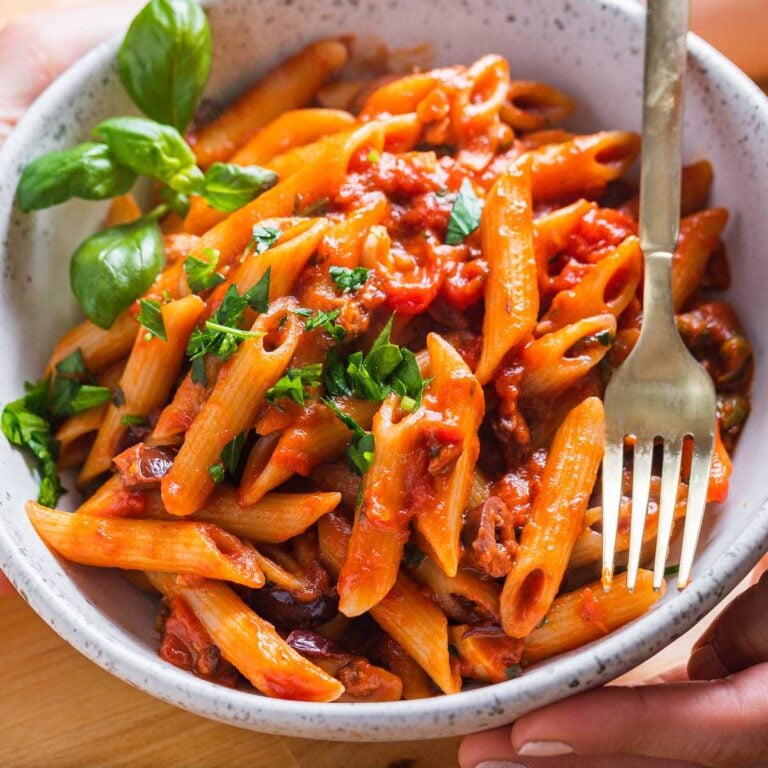 Ultra flavorful pasta with capers, olives, anchovies, garlic, tomatoes, and fresh basil and parsley. Simple and can be made in about 35 minutes.
Ingredients
1

pound

penne pasta

1

28 ounce

can of plum tomatoes

hand crushed or blender pulsed

1

cup

olives

pitted and chopped, see notes below

2

tablespoons

capers

rinsed

1/4

cup

extra virgin olive oil

2

ounces

tomato paste

6

cloves

garlic

sliced

5

anchovy

fillets

mashed

1/2

teaspoon

chili flakes

salt

to taste

pepper

to taste

3

tablespoons

parsley

minced

3

tablespoons

basil

hand torn

2

ounces

reserved pasta water
Instructions
Bring a large pot of water to boil with 2 tablespoons of kosher salt.

Heat a large pan to medium-low and wait 2-3 minutes for it to heat up. Once the pan is hot, add a ¼ cup of extra virgin olive oil then the garlic and anchovies.

Cook until the garlic turns golden and the anchovies mostly dissolve (about 3 minutes), then add the chili flakes and cook for 30 seconds more.

Next, add in the tomato paste and cook for 5 minutes stirring frequently.

Add the plum tomatoes, capers, and olives and stir them all together. Bring the sauce to a simmer. While the sauce is simmering boil the pasta until al dente.

Add 2 ounces of pasta water to the pan and turn heat to medium. Add the pasta to the sauce and stir quickly. Mix well and/or toss to emulsify. Cook for only 30-60 seconds being mindful to not overcook the pasta.

Turn off the heat and taste test. Adjust salt and pepper if required. Sprinkle the parsley and basil onto the pasta and serve in bowls with a drizzle of extra virgin olive oil. Enjoy!
Notes
There are many salty ingredients in this dish. Often no extra salt is needed. Adjust according to taste.
Oil-cured black olives are my number one pick for pasta puttanesca. If using oil-cured olives you must rinse them because they are extremely salty.
Other good choices include Gaeta, Sicilian (Castelvetrano), or Greek Kalamata.
Anchovies are best purchased in jars. They can be refrigerated and used when needed.
Leftovers can be saved for up to 3 days and reheated in the microwave.
Nutrition
Calories:
644
kcal
|
Carbohydrates:
96
g
|
Protein:
23.9
g
|
Fat:
21.1
g
|
Saturated Fat:
2.9
g
|
Cholesterol:
21
mg
|
Sodium:
1363
mg
|
Potassium:
545
mg
|
Fiber:
7.4
g
|
Sugar:
11.9
g
|
Calcium:
115
mg
|
Iron:
7
mg
Nutrition information is automatically calculated, so should only be used as an approximation.