You're looking for the best garlic parmesan chicken wings. Maybe you clicked because you liked the thumbnail pic. If you know your way around the kitchen and only need the recipe, click the "jump to recipe" button. But if you need some help, we've got you covered! Below there are full process shots to show you how to make awesome garlic parm wings. I like to give you, the reader, what you want.
Before I talk about these parmesan chicken wings, I want to mention this other Easy Baked Chicken Legs With Cajun Seasoning Recipe. It's even simpler than this one and is equally good for a game day snack or full meal. Anyway, back to what you're here for.
Maybe you want to make these because frying requires a lot of oil and tends to be a pain. One of my first jobs was at a gourmet deli that served a lot of wings. Deep frying them was one of my jobs, along with the making of hundreds of egg sandwiches, so I know how annoying it can be to use the fryer.
Wings are amazing fried, the best really, but hard to replicate at home for a variety of reasons. The main reason is that the oil will drop in temperature when batches of wings are added to a small volume of oil, therefore requiring time to get the oil back up to optimal temp. This compounds on every batch and it ends up taking longer to fry a bunch of batches at home.
I prefer these crispy baked garlic parmesan wings, due to the simplicity.
They take about 1 hour but you can make a ton of them at one time. The trick is to keep them separated and oiled on a rack or parchment paper and just let them cook.
Turn them once, sauce them with the amazing garlic parm wing sauce, and hit them up with a quick broil to get the wings real crispy. I'll go into the complete directions below, but first on to the ingredients.
Ingredients
4 pounds chicken wings - Buy the already separated wingettes and drumettes for an easier time.
¼ cup vegetable oil - For the initial toss of the wings before baking.
1 stick unsalted butter
2 Tbsp extra virgin olive oil
8 cloves minced garlic
2 Tbsp chopped parsley
½ cup grated parmesan - I like Parmigiano Reggiano or Grana Padano.
¼ tsp crushed red pepper - Optional, but gives a real nice spice to these wings.
salt/pepper
Crispy Garlic Parmesan Wings Recipe Instructions
Block of Parmigiano Reggiano, garlic, and parsley. I love this cheese and it is definitely the way to go for this recipe. Don't use the canister style cheeses - use a good quality parmesan cheese.
Preheat oven to 425f and set rack in middle. Dry the wings very well with paper towels to help the baking process.
Place the dry wings into a bowl and toss with ¼ cup vegetable oil, 1 tsp kosher salt and ½ tsp black pepper. Toss the wings to coat evenly.
Lay the wings out on a baking sheet so that they are not touching. Ideally, use a wire rack or parchment paper like shown. Bake wings in the oven for 45-50 minutes.
Mince the garlic.
Grate ½ cup of cheese. I like it grated like shown, but grating on a finer setting would be good as well.
In a sauce pan on medium-low, heat the butter and 2 Tbsp of extra virgin olive oil and saute the garlic for 2-3 minutes until lightly browned. If using crushed pepper flakes, add during the last 30 seconds. Remove the garlic butter and set aside.
After 30 minutes, flip wings and continue baking for remaining time.
After about 45-50 minutes the wings will look like shown. They are not done yet!
Place the wings in a clean bowl and pour on ¾ of the garlic butter.
Add ¾ of the cheese onto the wings and toss to coat. Spread the wings out onto the wire rack and broil them for 5-10 minutes until the garlic parm wings are super crispy.
Pull them out and hit them up with some of the fresh parsley.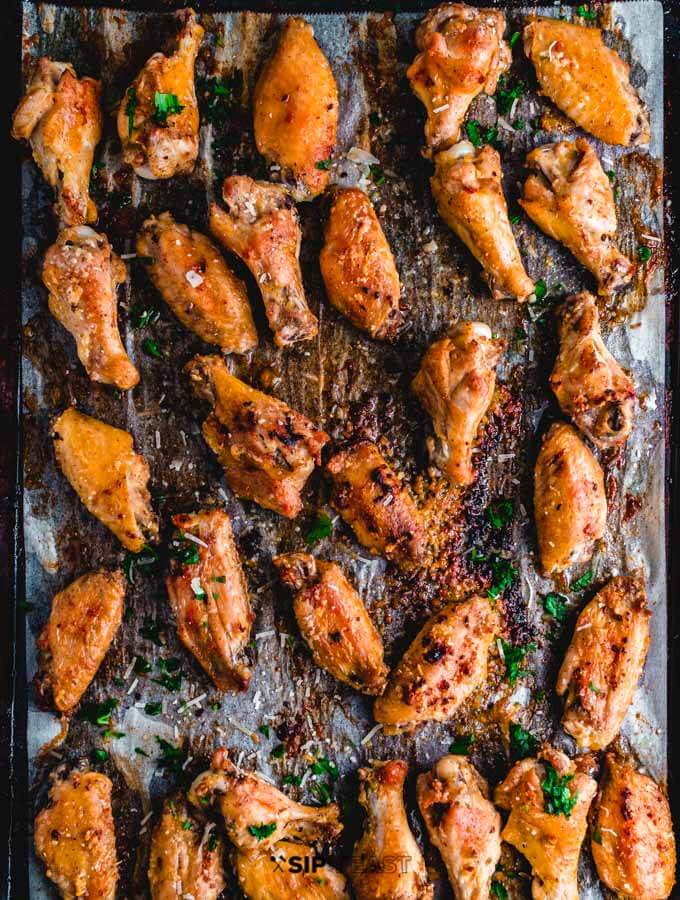 The crispy garlic chicken wings will look like shown and are ready for serving. Some parsley on top and some drizzling of the remaining garlic parmesan wing sauce will make them perfect.
Also, use the last bit of cheese on top.
What Type Of Dipping Sauce?
A real easy one, and our go-to for these crispy chicken wings, is a combo of 75% thick ranch dressing and 25% red wine vinegar mixed together. The ranch dip dressing that's used for veggie dips works real well for this.
It's all personal preference though: my kids love the ranch sauce, but I like the wings plain. The garlic parmesan sauce for the chicken wings has so much flavor already that I never need a dipping sauce.
What Type Of Cheese For Garlic Parmesan Wings?
Parmigiano Reggiano - This is the number one choice for these crispy garlic wings. Use an aged 18 months or under cheese so that the cheese is not super overpowering, plus the longer aged ones cost a lot more and are not necessary for this application. Costco has an excellent Parmigiano Reggiano.
Grana Padano - Another wonderful cheese that would be great for these wings. Grana Padano is always a great value and sometimes I have found it for as low as five dollars per pound.
Argentine Reggianito - Great cheese at a good price. It's a cheese that we are seeing more and more at a few of the places we frequent. I have a very hard time distinguishing a good Reggianito from real Parmigiano Reggiano.
Full Wings, Wingettes And Drumettes
Using the full wing is all the rage right now on Instagram and I'm not going to lie, I've made them this way. They are, in my opinion, not as good and harder to eat. Plus, for a game day or Super Bowl wing party it makes it easier to serve the individual wingettes and drumettes.
And it's hard to dip a full wing in the ranch sauce or blue cheese. The only time I prefer full wings is when I'm outdoors grilling.
How To Know When Chicken Wings Are Cooked
Chicken is done when the internal temp reaches 165f. It's kind of hard to check if a wingette is done with an instant read thermometer, so check those drumettes.
By checking the fattest drumettes and getting 165f readings the rest should be fully cooked through as well. Chicken wings are quite hard to overcook so don't be worried if they go over temp by a little bit.
Boneless Garlic Parmesan Wings
Boneless would be great. The garlic parmesan wing sauce would work real well with the boneless wings that you can buy already breaded. All you would have to do is make the sauce.
I recommend making more sauce than you might need, because boneless wings have a tendency to really absorb the sauce.
Other Great Game Day Recipes:
If you've enjoyed this garlic parm chicken wings recipe or any recipe on this site please let us know in the comments. We would love to hear how you did and it's nice to show others as well. Thanks!
FOLLOW US on YouTube, Instagram, Pinterest, and Facebook.
The full YouTube video for this recipe is directly below in the recipe card.
Ingredients
4

pounds

chicken wings

¼

cup

vegetable oil

1

stick

unsalted butter

2

Tbsp

extra virgin olive oil

8

cloves

garlic

2

Tbsp

fresh parsley

½

cup

grated parmesan

¼

tsp

crushed red pepper flakes

1

tsp

kosher salt

½

tsp

black pepper
Instructions
Preheat oven to 425f and set rack in middle. Chop the parsley, mince the garlic and grate ½ cup of parmesan.

Dry the wings very well with papers towels and toss with ¼ vegetable oil, 1 tsp kosher salt and ½ tsp black pepper. Place wings on a wire rack and bake for 50 minutes turning once after 30 minutes.

While wings are baking heat butter and extra virgin olive oil over medium-low heat and saute garlic for 2-3 minutes. During last 30 seconds add crushed red pepper flakes, stir, then turn off heat and set aside.

After 50 minutes remove wings and toss with ¾ of the garlic butter and ¼ cup of parmesan. Place wings back on the rack and broil for 5-10 minutes until crispy and golden brown. Watch during broiling process to avoid burning.

Remove wings and plate. Drizzle remaining garlic butter and sprinkle remaining cheese on top of wings. Sprinkle the parsley on as well. Enjoy!
Notes
Total cooking time should be roughly 50-55 minutes. All ovens are different so use time as a general guideline.
Keep an eye on the wings during broiling process. If the wings are very crispy prior to broiling, skip the step or only broil for 1-2 minutes.
Crushed red pepper is totally optional, but adds a nice kick.
1 part red wine vinegar to 4 parts ranch dressing makes a nice dipping sauce for the garlic parmesan wings.
Nutrition
Calories:
678
kcal
|
Carbohydrates:
0.5
g
|
Protein:
70
g
|
Fat:
42.4
g
|
Cholesterol:
242
mg
|
Sodium:
794
mg