Zuppa di pesce is a rustic stew brimming with seafood, like clams, mussels, squid, shrimp, and cod that's simmered in a tomato, white wine, and fennel broth. Zuppa di pesce is perfect for anytime of the year but is especially good on Christmas Eve as part of the Feast of the Seven Fishes.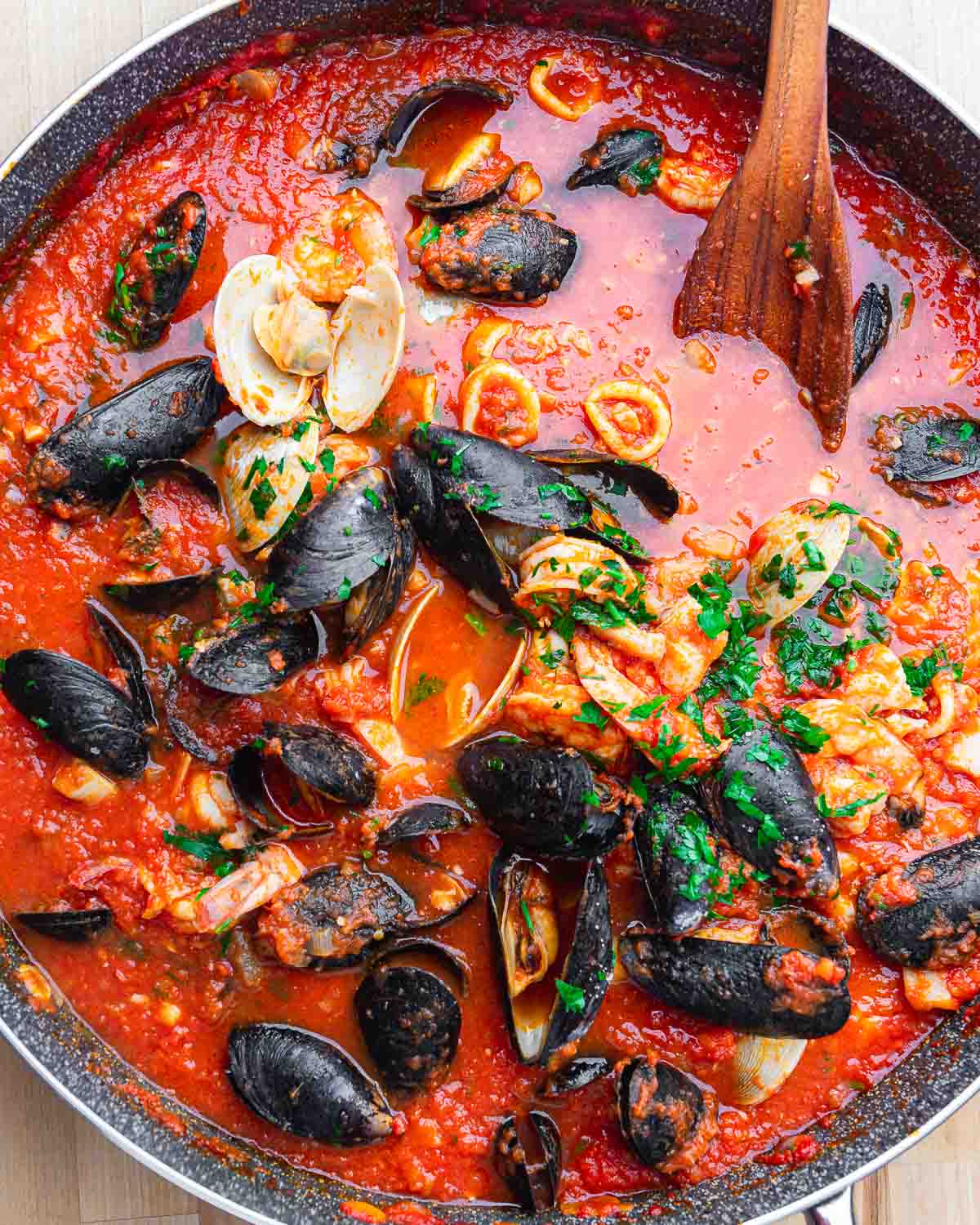 Zuppa di pesce, which translates to "fish soup", will always hold a special place in my memory.
Growing up, when my parents would take us to dinner, we'd usually wind up at either at a Chinese or Italian restaurant.
And if we were eating Italian, I could count on my dad ordering the zuppa di pesce.
Honestly, I think he ordered it as a way to impress my mom (who's 100% Italian), with his attempt to "speak Italian".
Luckily for my dad, zuppa di pesce was and is still available at nearly every Italian-American restaurant on Long Island, and for good reason.
It's full of flavor from the fennel, shallots, and wine, while the variety of seafood presents texture and depth, and most importantly, it allows my dad to exercise his linguistic skills.
But I'm here to show you how incredibly easy it is to to make this rustic seafood stew in your own home.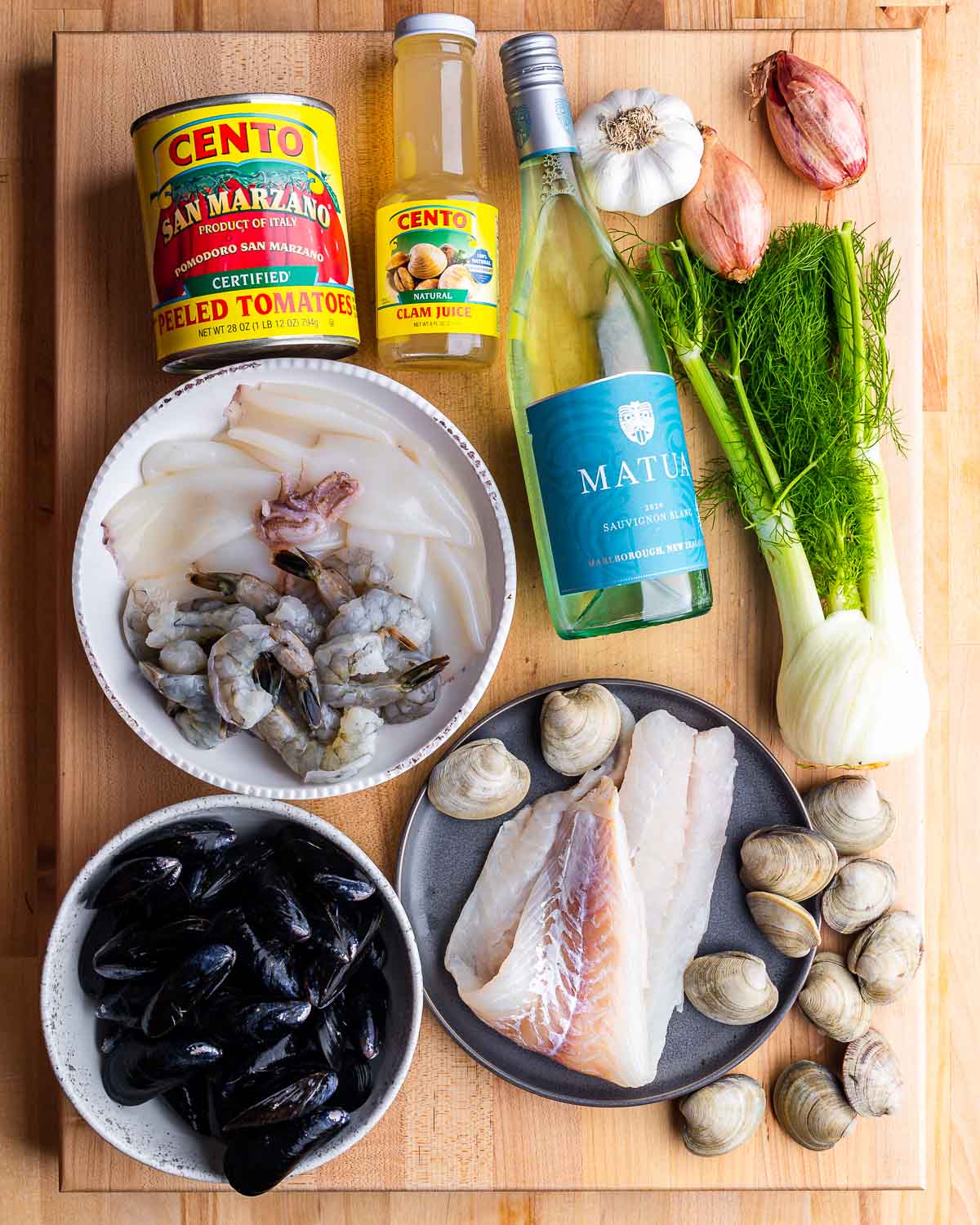 How to make zuppa di pesce
Each number corresponds to the numbered written steps below.
Begin by slicing 5 cloves of garlic and mincing a 1/4 cup of Italian parsley. Also, dice 2 medium shallots and 1 medium bulb of fennel.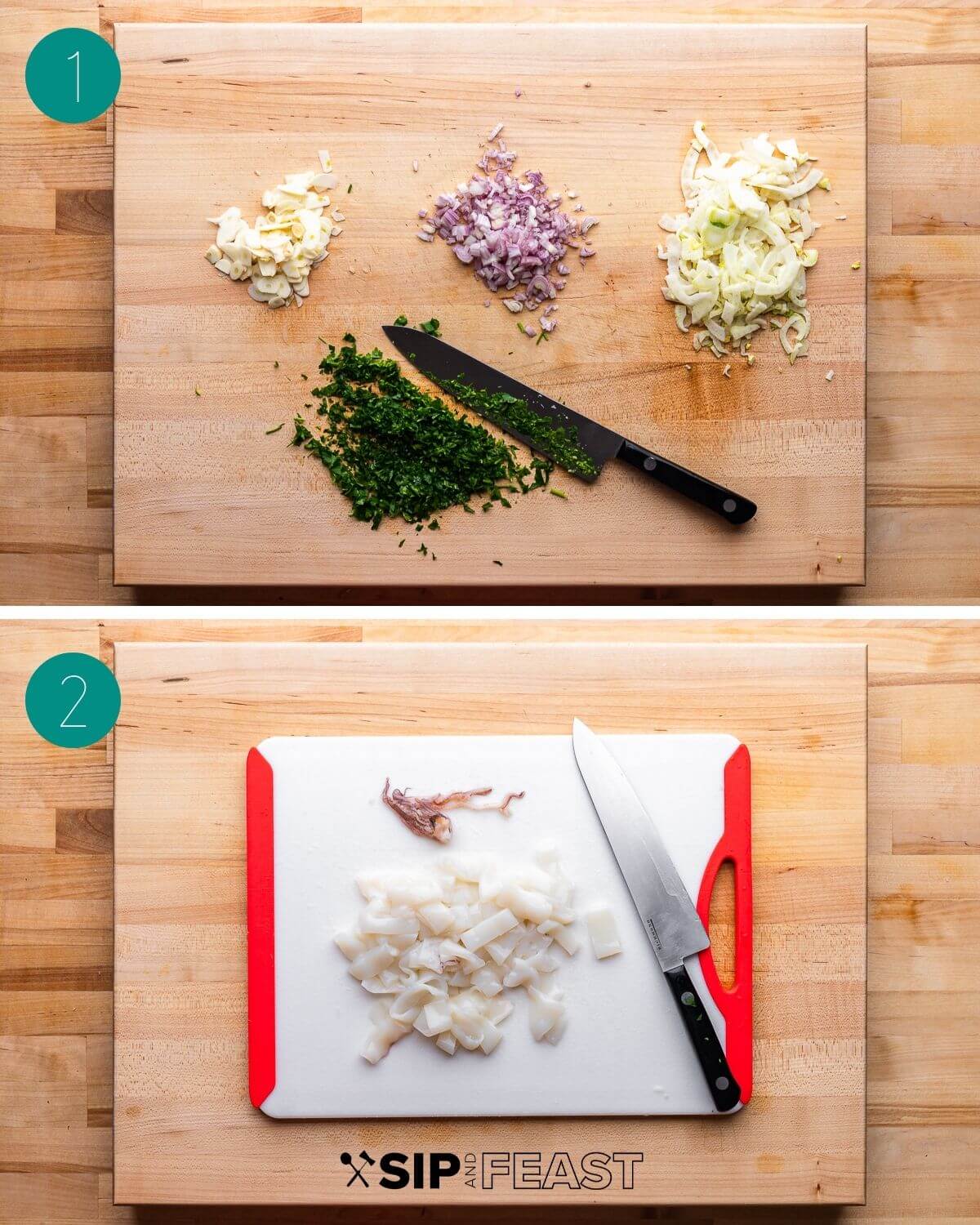 Scrub the clams and mussels and cut the cod into chunks. Also, cut 3/4 pound of calamari tubes into 1/2″ rings. Any large tentacles can be cut in half. Note: The store I purchased them from was out of tentacles so I'm using mostly tubes.
Heat a large pot or pan (a 6-quart Dutch oven works great!) to medium-low and saute the shallot and fennel until soft (about 5-7 minutes). After that, add the garlic and saute for another 2-3 minutes or until golden then add a 1/2 teaspoon of crushed red pepper flakes and cook for 30 seconds more.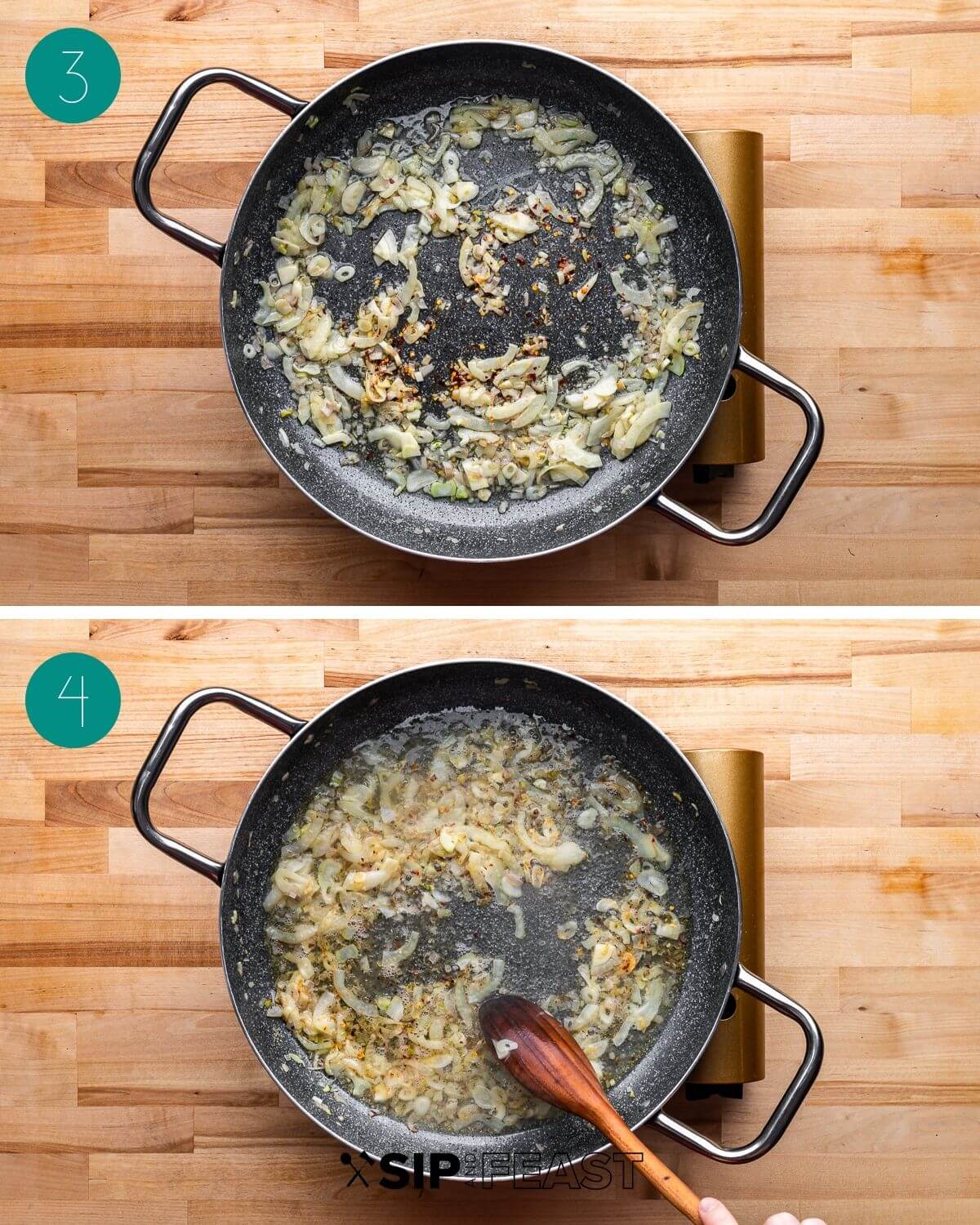 Next, add 1 cup of dry white wine and turn heat to high. Cook for 90 seconds to burn off the alcohol. Lower the heat to medium and add (2) 28-ounce cans of hand-crushed or blender pulsed plum tomatoes and 10 ounces of clam juice. Bring sauce to a simmer, and wait 10 minutes before adding any seafood.
The first seafood to add is calamari since it needs to cook for a while to get tender. Note: For small calamari tubes (4-6″) they'll need about 25-30 minutes of total cooking time. Large can take up to 45-60 minutes to get tender. You can also flash cook calamari right at the end of this dish, but I prefer the long-cooked method to allow the flavors to better come together.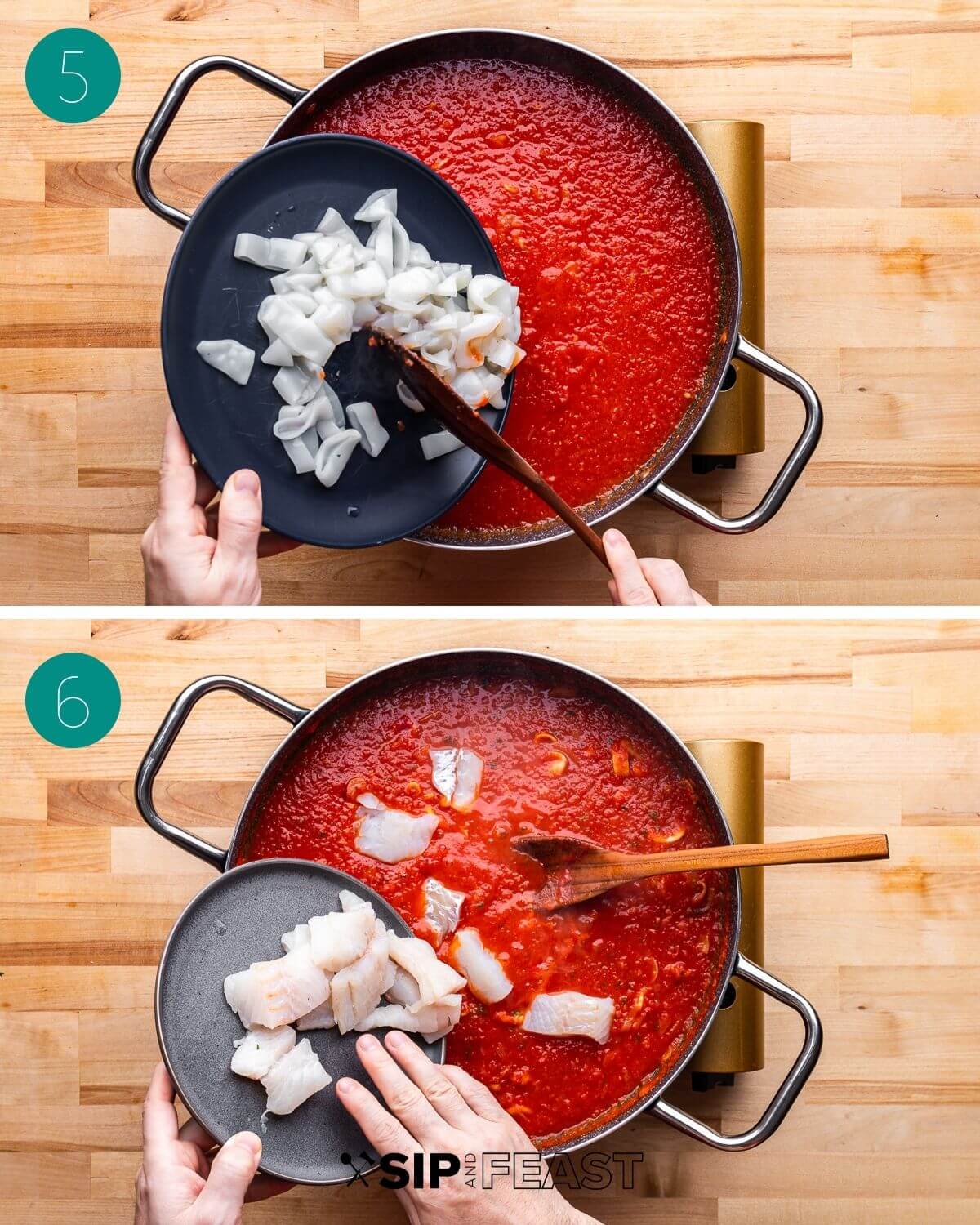 After 15 minutes of cooking (for small tubes) add in the pieces of cod and cook for 5 minutes.
After 5 minutes, add in the clams and cover. Cook the clams for 5-7 minutes or until they start to open, then add in the shrimp and mussels, cover once more and continue to cook.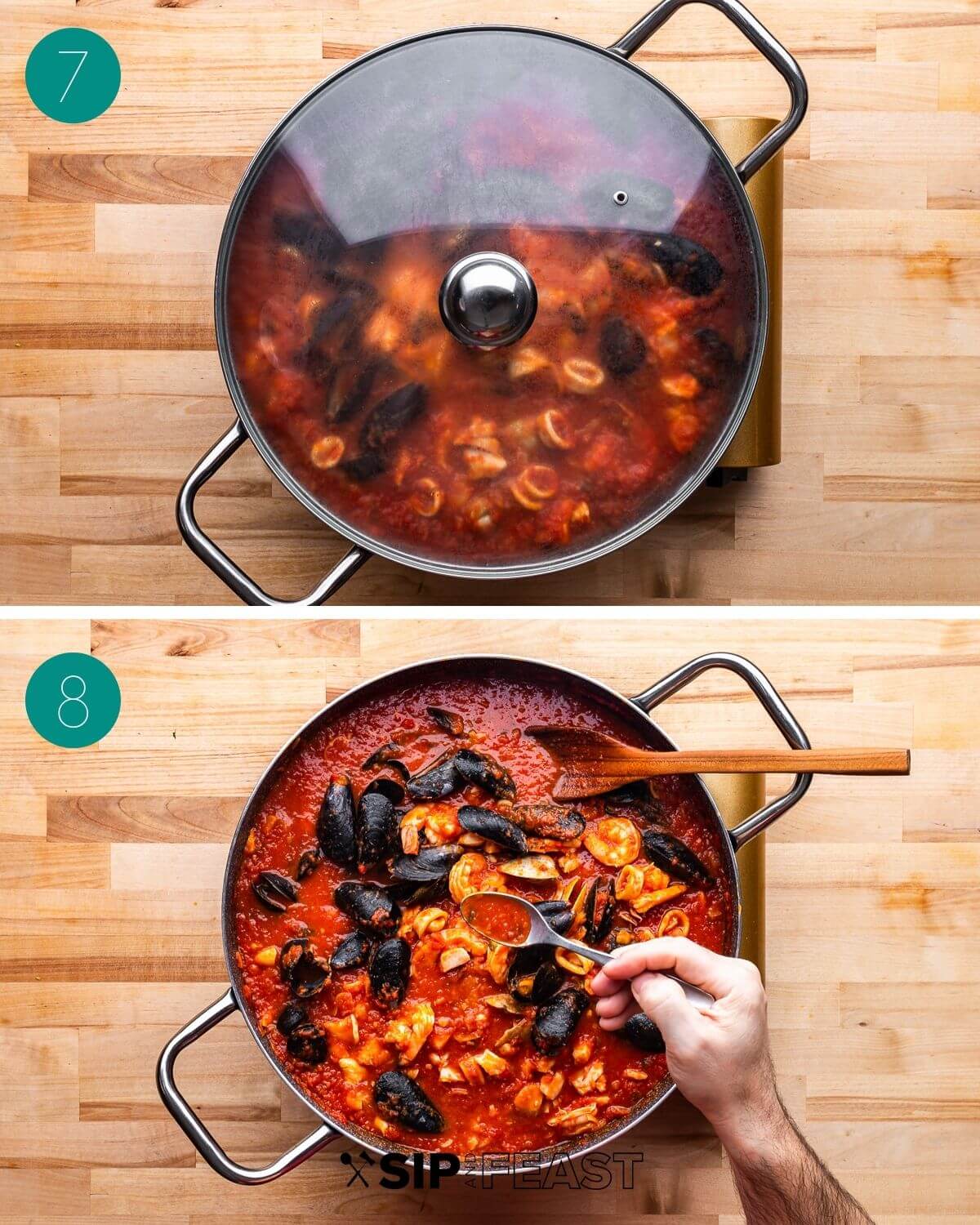 Once the shrimp are fully cooked and the mussels have opened (about 5-7 more minutes), turn off the heat. Give the sauce a taste test and season with salt and pepper if required. Note: Shellfish are inherently salty, so extra salt isn't often needed.
Add in the parsley, mix together, and serve in bowls with a drizzle of your best quality extra virgin olive oil and fennel fronds for garnish.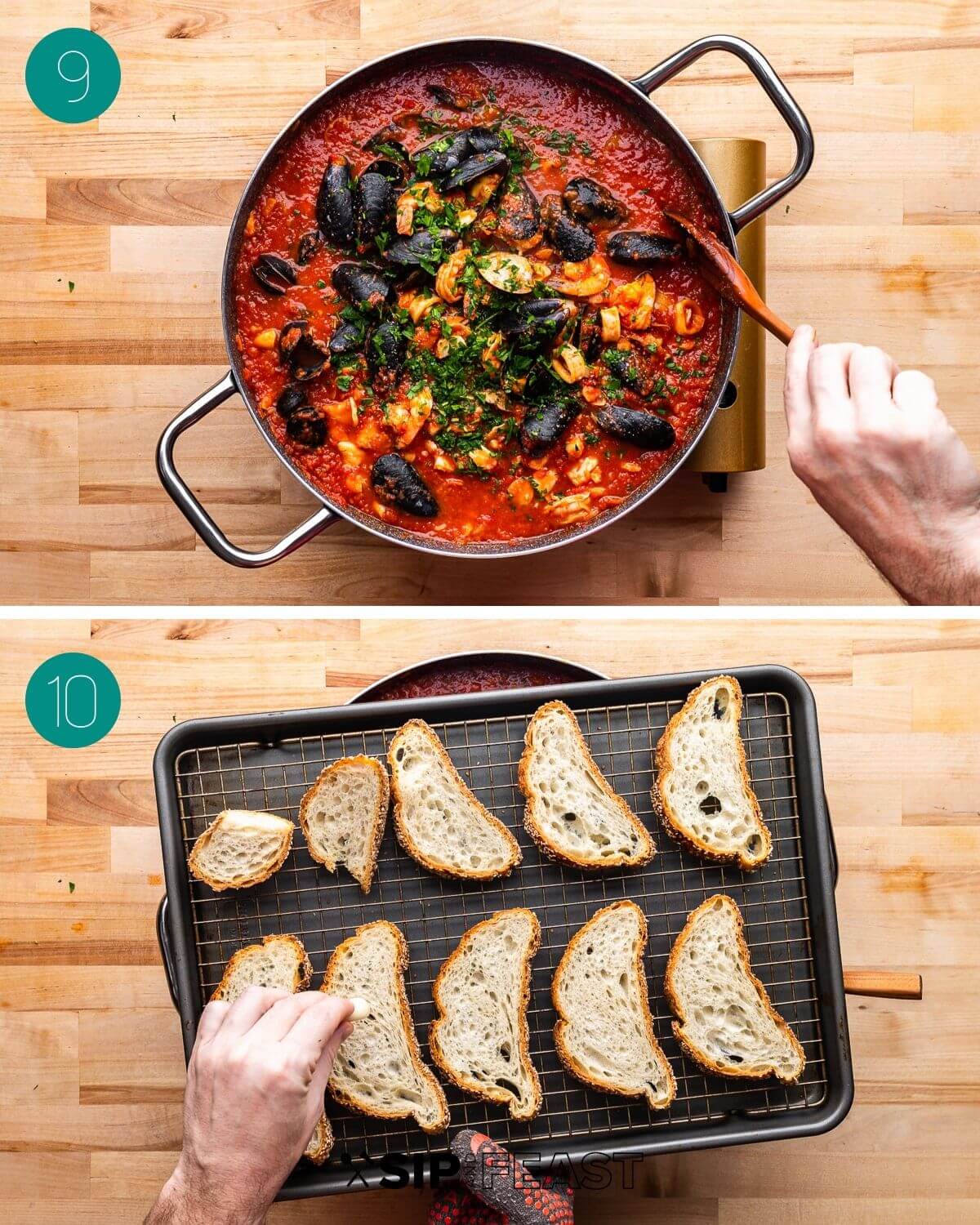 Zuppa di pesce is excellent with toasted Italian bread that has been rubbed with a garlic clove. Toast plenty of bread to mop up all of the soupy seafood flavor!
Note: While this Italian seafood stew is best served right away, it will still be good if kept warm on a sterno rack if serving a crowd for Christmas Eve's Feast of the Seven Fishes.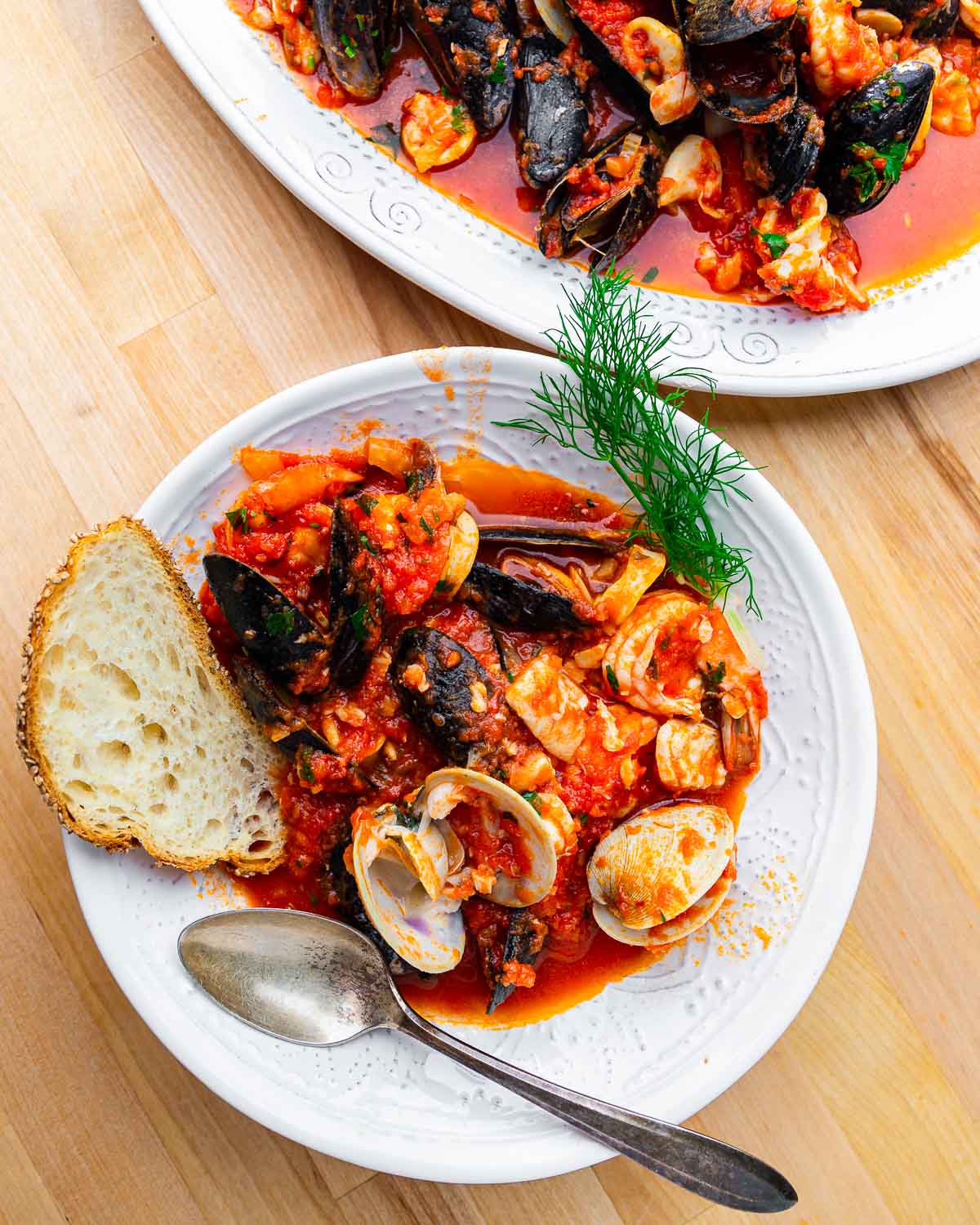 Top tips
Zuppa di pesce is pretty simple to make and these tips will help make the process even easier:
The ingredients. Using the best quality ingredients, especially seafood, is recommended. I used cod for this particular recipe, but you can use any firm white fish, such as monkfish, snapper, sole, or halibut. Similarly, with the other seafood ingredients, feel free to mix and match depending on what is freshest. You may want to use lobster instead of shrimp, all mussels and no clams, etc. Your best bet will be to ask your fishmonger which is freshest and go with that.
Prep the ingredients. If you purchase wild clams, it's likely that they will need to be purged. I go into great detail on purging in my clams oreganata recipe if you'd like to read more on this topic. Mussels will likely be cleaned and de-bearded, however, you should scrub and look them over before using and remove any beards if needed.
The cooking process. It's tempting to want to throw all the seafood in at once to cook, but avoid that as it will leave you with overcooked ingredients. It's important to begin cooking the seafood requiring the most time first (ie. the squid), followed by the fish, and so on.
The salt. Since shellfish is inherently salty, you may not need to add a whole lot more, if any. It's important to first taste the zuppa di pesce, and then add any salt and pepper if needed.
The garnishes. I love serving zuppa di pesce with fresh parsley, fennel fronds, and of course a toasted slice of garlic-rubbed Italian bread. I also drizzle a healthy dose of extra virgin olive oil on top for good measure. That being said, feel free to omit any of these to suit your taste.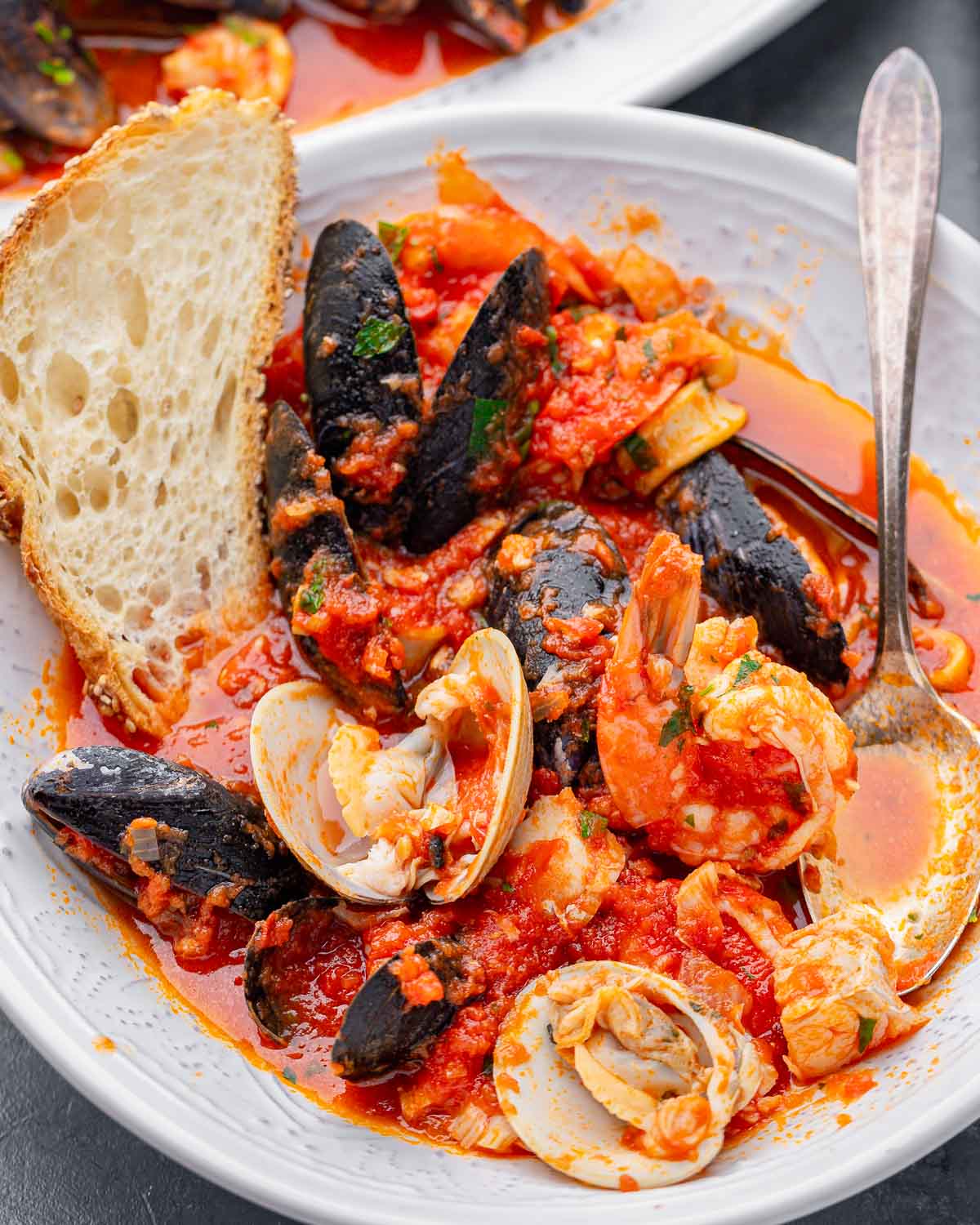 More great seafood recipes
If you love seafood as much as we do, check out these other awesome recipes:
If you've enjoyed this zuppa di pesce recipe or any recipe on this site, give it a 5-star rating and leave a review.
Some people learn by watching. If you're that type of person, you can find most of our recipes on YouTube and our Facebook Page.
A rustic seafood stew with clams, mussels, squid, shrimp, and cod in a tomato, white wine, and fennel broth.
Ingredients
1/4

cup

extra virgin olive oil

2

medium

shallots

diced

1

medium

fennel bulb

sliced

5

cloves

garlic

sliced

1/2

teaspoon

crushed red pepper flakes

optional, to taste

1

cup

dry white wine

such as sauvignon blanc, pinot grigio, or chardonnay

2

28 ounce

cans plum tomatoes

blender pulsed or hand crushed

10

ounces

clam juice

3/4

pound

calamari

cleaned, tubes cut into 1/2" rings and large tentacles cut in half

3/4

pound

cod

or other meaty white fish like monkfish, striped bass, red snapper, etc

12

little neck clams

scrubbed, see notes below

1

pound

mussels

scrubbed and beards removed

3/4

pound

large shrimp

approximately u26 size

salt and pepper

to taste

1/4

cup

parsley

minced
Instructions
Heat a large Dutch oven or heavy pot to medium-low and saute the shallot and fennel in extra virgin olive oil. After they soften a bit (5 minutes) add in the garlic and cook for 2 minutes more until fragrant.

Next, add the crushed red pepper flakes, cook for 30 seconds, then add the wine and turn heat to medium-high. Scrape the bottom of the pot with a wooden spoon to dislodge the brown bits. Cook the wine for 90 seconds then turn the heat to medium and add the tomatoes and clam juice. Cook the sauce at a moderate simmer for 10 minutes before adding any seafood.

Add the calamari and cook for 15 minutes to soften. Next, add the fish and cook for 5 more minutes, then add the clams and cover with a lid. Cook for 5-7 minutes longer or until the clams just start to open.

Finally, add the mussels and shrimp and cover with the lid. Cook until the shrimp are pink and cooked through and the mussels open (about 5-7 minutes). Any clams or mussels that do not open should be discarded because they are most likely dead.

Taste test and adjust salt and pepper levels. When satisfied turn the heat off and add the parsley. Serve in bowls with toasted Italian bread that has been rubbed with a garlic clove. Also, drizzle your best extra virgin olive oil onto each plate as well. Enjoy!
Notes
Go easy on the salt since the shellfish will have a lot of it. Season with salt and pepper to taste right at the end to get the flavors just right.
Serve lots of bread to mop up the sauce. Toasted bread rubbed with a garlic clove is excellent to serve with zuppa di pesce.
Other types of clams and fish can be substituted. Use what's fresh and available.
Mussels are normally sold cleaned with beards removed, but scrub and look over all of them before using and remove any beards.
Seafood should be eaten right away but leftovers can be saved for up to 3 days in the fridge and can be gently reheated over the stovetop.
Nutrition
Calories:
650
kcal
|
Carbohydrates:
26.9
g
|
Protein:
76.9
g
|
Fat:
19.2
g
|
Saturated Fat:
3.2
g
|
Cholesterol:
478
mg
|
Sodium:
1037
mg
|
Potassium:
1426
mg
|
Fiber:
2.3
g
|
Sugar:
3.5
g
|
Calcium:
213
mg
|
Iron:
17
mg
Nutrition information is automatically calculated, so should only be used as an approximation.