Fragrant garlic. Earthy, meaty mushrooms. Silky ribbons of pappardelle. There isn't a better combination of ingredients for an easy, quick, (and inexpensive) meal that will fill bellies, stick to ribs, and delight tastebuds. This creamy garlic mushroom pasta is perfect for those crazy weeknights when you just need an easy button and a glass of wine.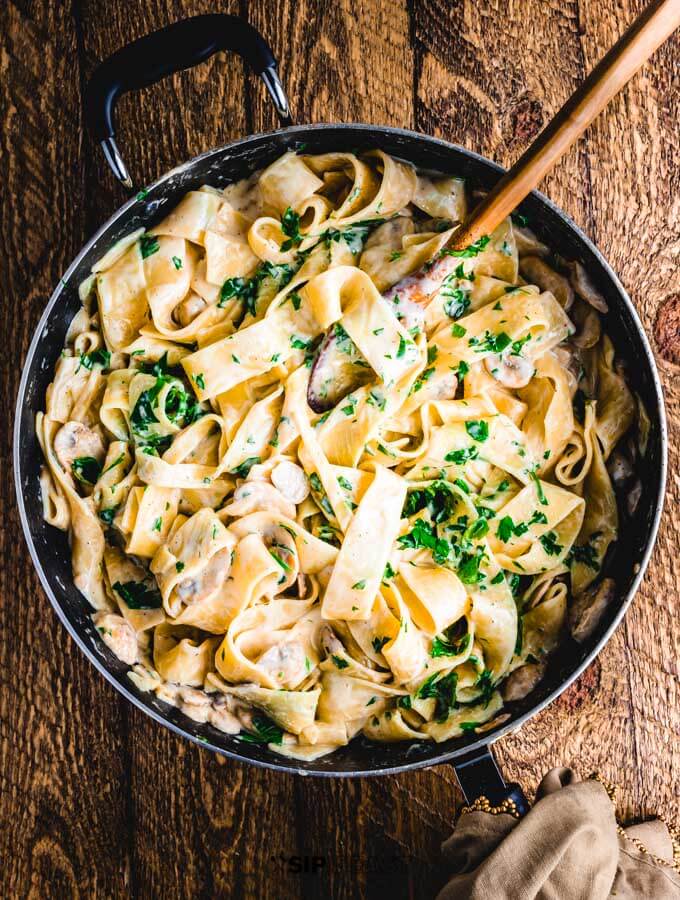 Editor's Note: Originally Published November 28, 2018. Updated with full process shots, detailed YouTube Video, and expanded info.
This creamy Italian pasta may not follow a classic "Italian" recipe, however, it is a classic in our home and that's good enough reason for us to share with you!
And besides, we are using classic Italian ingredients, like salty sheep's milk Pecorino Romano, fresh garlic, and extra virgin olive oil.
If you've come to this page because you've got a hankering for some stick to your ribs pasta, make sure to check out our short rib ragu, authentic pasta bolognese, and this creamy Italian sausage pasta.
All three dishes are made with pappardelle pasta (the same pasta used for this recipe).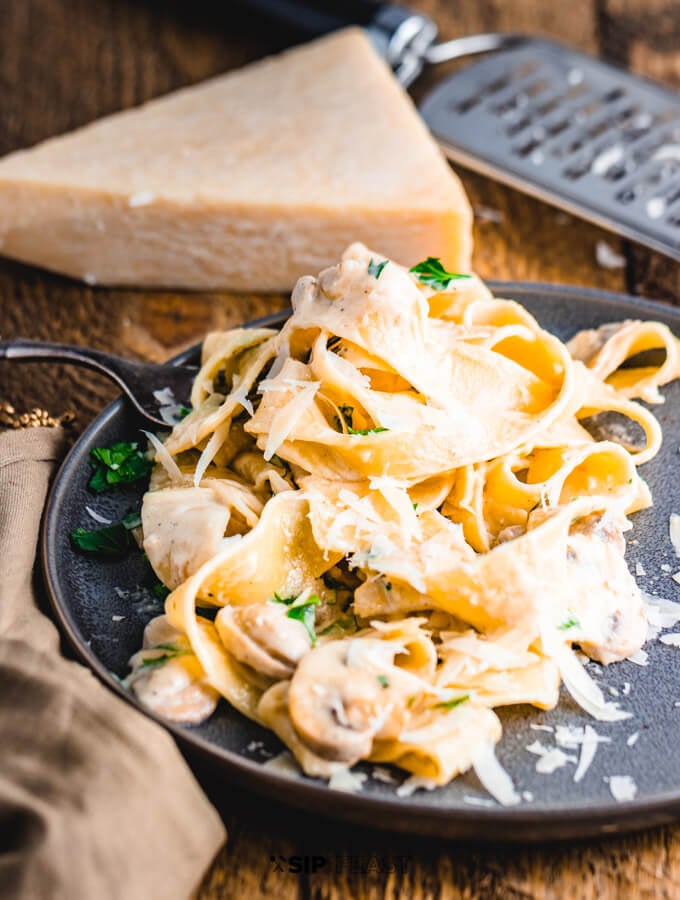 Creamy garlic mushroom pasta step by step instructions
Each number corresponds to the numbered written steps below.
Clean any dirt off the mushrooms with a paper towel and slice like shown. Also, chop or slice the garlic and chop the parsley. Cook pasta to 1 minute less than package directions.
Saute the garlic in the olive oil on medium heat for 1 minute.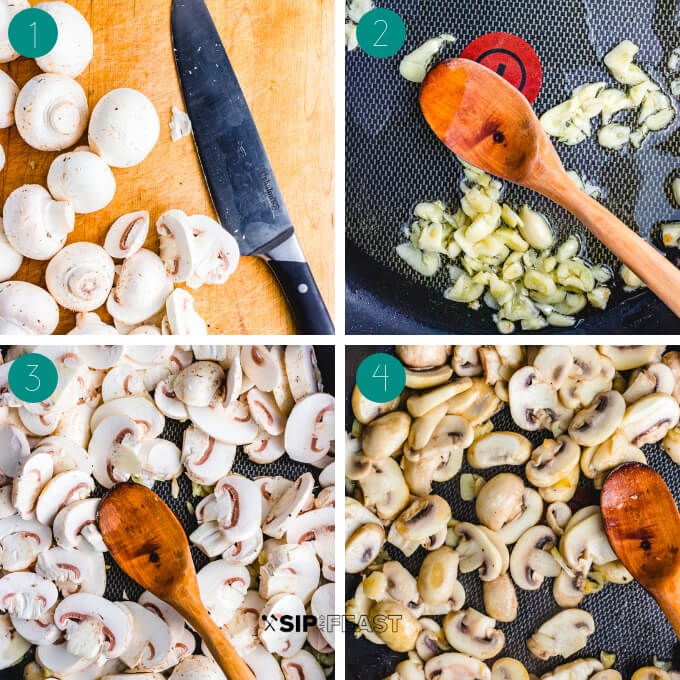 Add the mushrooms to the pan and turn heat to medium-high. Let the mushrooms release their water.
Keep sauteing for a few more minutes to get them nice and brown.
The mushrooms are now nice and brown. Before draining the pasta make sure to reserve 2 cups of pasta water. I ladle the 2 cups into a large coffee mug for this step.
Next, add the salt, pepper, and 1 cup of pasta water. Cook for 1 minute, then turn heat to low and add the cream and cheese and stir it all together.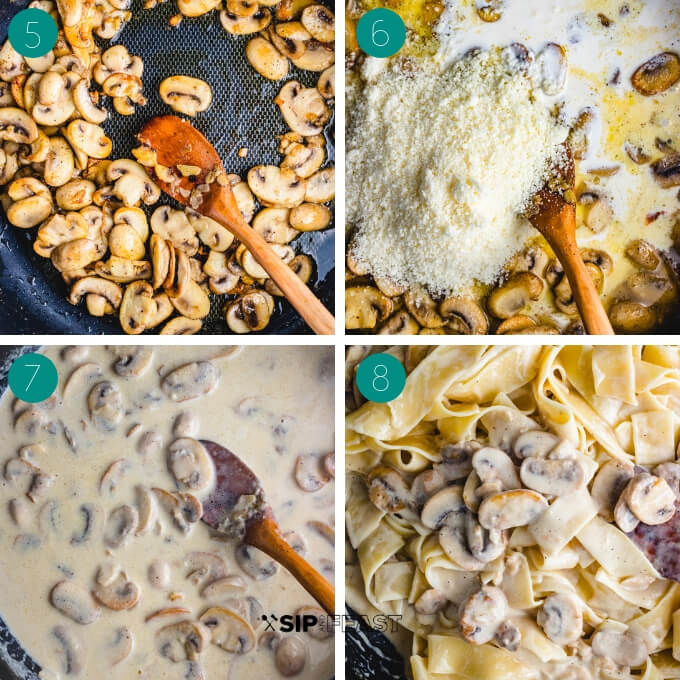 The sauce will be smooth and creamy like shown in the picture.
Add the pasta to the sauce and thoroughly incorporate everything.
Taste the sauce and if it needs more salt or pepper add it now. Add the parsley and stir it all together. If before plating the sauce thickens up too much on the pasta, use a little bit of the extra pasta water to thin it out.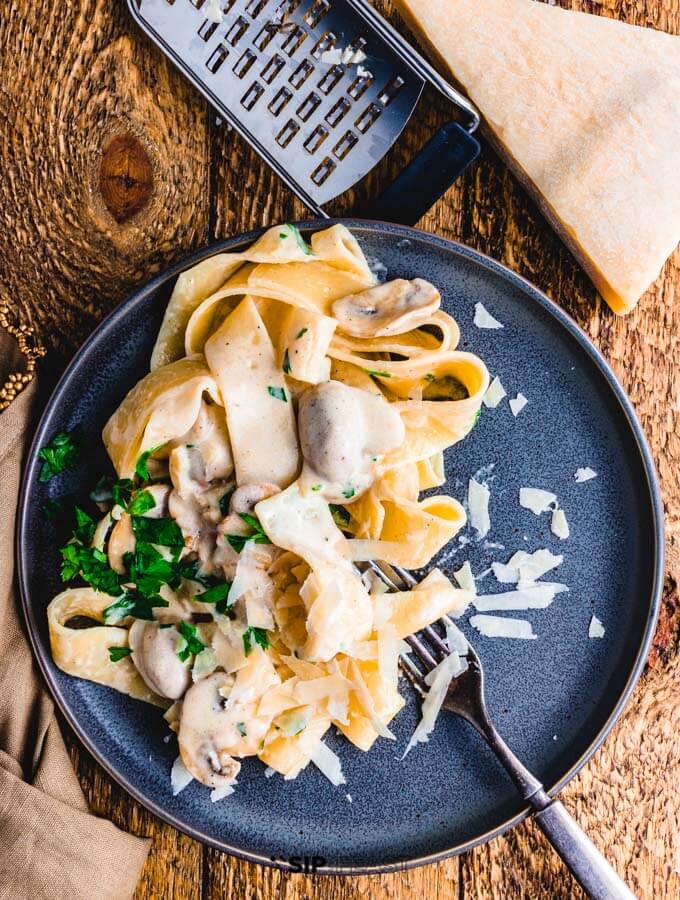 So friends, seeing how easy this creamy mushroom pasta is to make, and knowing that it can be on your table quicker than your take order, go grab your ingredients and start cooking.
Oh, and pour yourself that glass of wine. A drier Riesling or a Chardonnay would pair perfectly and would certainly help to bring out the flavors in the dish.
What type of mushrooms to use?
Use whatever mushrooms you have available in your local grocery store.
We used white button mushrooms because they are the most widely available, and least expensive and we wanted to account for ingredient availability and cost with this particular recipe.
That's not to say that other mushrooms wouldn't be fantastic. Cremini, shiitake, large portobellos cut up into strips, chanterelle, and oyster mushrooms would all be great choices.
But again, for this dish, use what is easy, available, and budget-friendly.
How to correctly cook mushrooms?
Mushrooms are like sponges and have the ability to retain a lot of liquid.
Cooking them is quite simple as long as the heat is high enough in the pan to evaporate the water they release.
If they are sauteed too low they can boil out. When working with a lot of mushrooms like in this dish, the water can be a slight issue.
White mushrooms release a lot more water than the others mentioned above.
We suggest draining the water from the pan and turning the heat to high to get them nice and brown.
Mushrooms require no oil or butter to saute as they will release water and still brown after it all evaporates. The only olive oil these are cooked in is what was leftover from sautéing the garlic.
Cream or half and half?
We recommend using heavy cream because the sauce will never break. This can happen when using half and half. and the sauce will never break.
Interestingly enough, there are some pasta dishes that while extremely creamy in nature have no cream at all, such as the classic Roman pasta, Cacio e Pepe, which relies upon the combination of the pecorino and the starchy pasta water to form a velvety, creamy consistency.
For the purposes of this dish though, we use heavy cream.
Pecorino Romano substitute
Full disclosure - I love Pecorino Romano cheese. It is my favorite cheese. Use it if you can find it!
It is the cheese used in the classic Roman pastas, and I put it on almost everything, from Spaghetti Amatriciana to a hearty bowl of Pasta Fagioli.
Parmesan cheese also works for this dish.
Pecorino really is quite salty and we've accounted for that in the recipe by using only 1 tsp of salt. So make sure to test the sauce at the end if you opt to use a less salty cheese like parmesan or a different cheese.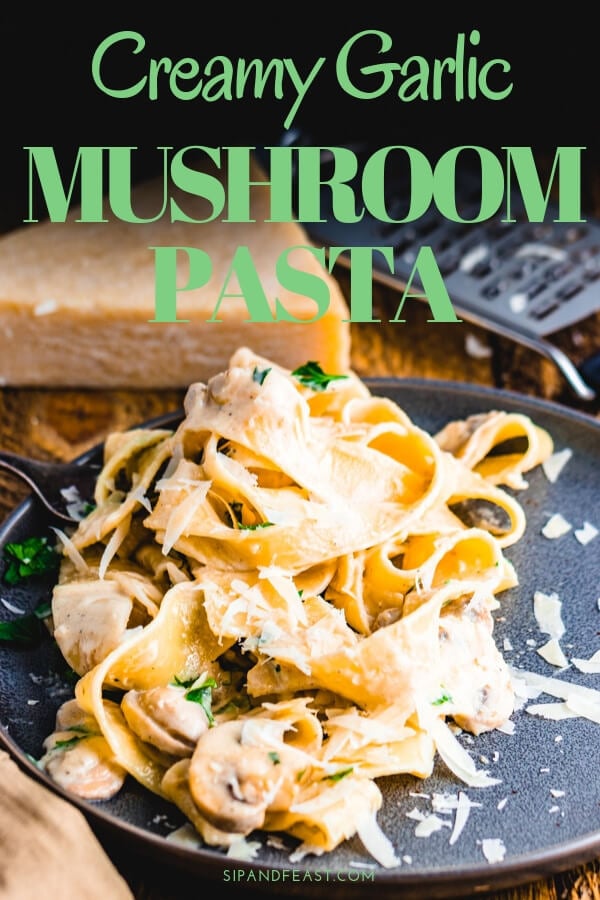 More delicious mushroom recipes
If you've enjoyed this creamy garlic mushroom pasta recipe or any recipe on this site, give it a 5-star rating and leave a review.
Watch the video below where Jim will show you how to make this recipe with easy-to-follow instructions.
Some people learn by watching. If you're that type of person, you can find most of our recipes on YouTube and our Facebook Page.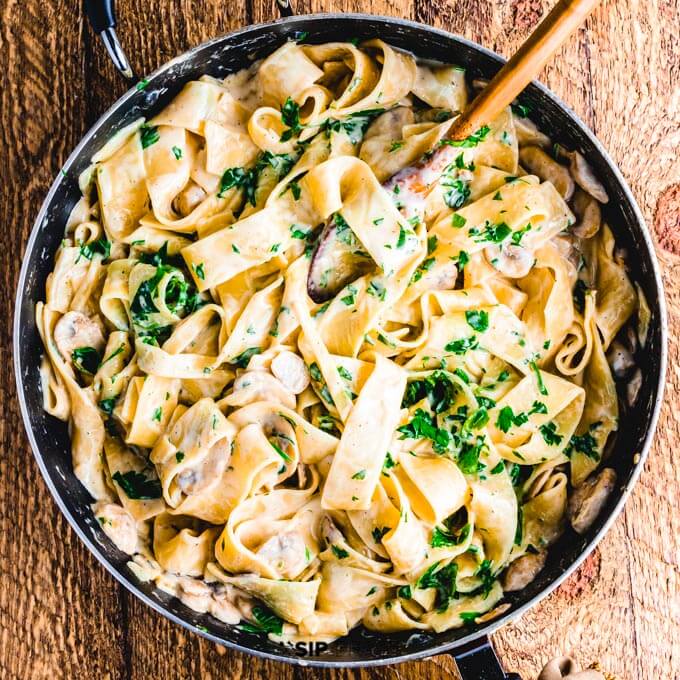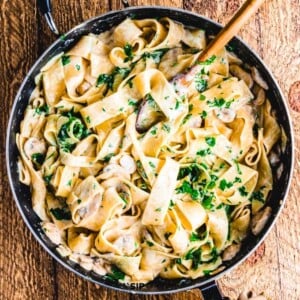 Ingredients
1

pound

white button mushrooms

sliced

1

pound

pappardelle pasta

1

cup

Pecorino Romano

grated

1

cup

heavy cream

2

cups

pasta water

10

cloves

garlic

sliced or chopped

2

Tbsp

olive oil

1

tsp

kosher salt

1

tsp

black pepper

½

cup

parsley

minced
Instructions
Bring salted water (2 tablespoons kosher salt per gallon of water) to boil and cook pasta to 1 minute less than package instructions.

In large pan saute garlic in 2 tablespoons of olive oil for 1 minute on medium heat. Add the mushrooms to the pan and turn heat to medium-high. Let mushrooms release their water and continue to saute to brown.

Before draining the pasta reserve 2 cups of the pasta water. Add 1 cup of the pasta water, 1 tsp salt, and 1 tsp of pepper to the browned mushrooms and cook for 1 minute.

Turn heat to low and add 1 cup of cream and 1 cup of cheese. Mix thoroughly to make the sauce.

Add the pasta to the sauce pan and let it all cook to coat for 1-2 minutes while stirring. Taste test and adjust salt and pepper if required. Finally, add the parsley, mix it all together and serve with more grated Pecorino Romano cheese. If the sauce is too thick use a little bit more pasta water to thin it out. Enjoy!
Notes
Only 1 teaspoon of kosher salt was used because of the salty Pecorino Romano cheese, but adjust according to personal taste.
It's good to have extra pasta water on hand for thinning because cream sauces have a tendency to dry up quickly right before serving.
Most thick pasta shapes work well for this recipe.
Nutrition
Calories:
534
kcal
|
Carbohydrates:
66.6
g
|
Protein:
22.3
g
|
Fat:
20.8
g
|
Saturated Fat:
11.8
g
|
Cholesterol:
146
mg
|
Sodium:
1041
mg
|
Potassium:
586
mg
|
Fiber:
1.1
g
|
Sugar:
2
g
|
Calcium:
224
mg
|
Iron:
7
mg
This recipe was originally published on November 28, 2018. It was completely updated on October 27, 2020.