A creamy garlic mushroom pasta sauce is absolutely perfect for a weeknight meal because it can be made in under 30 minutes.  Pappardelle is used but feel free to use any type of pasta you want.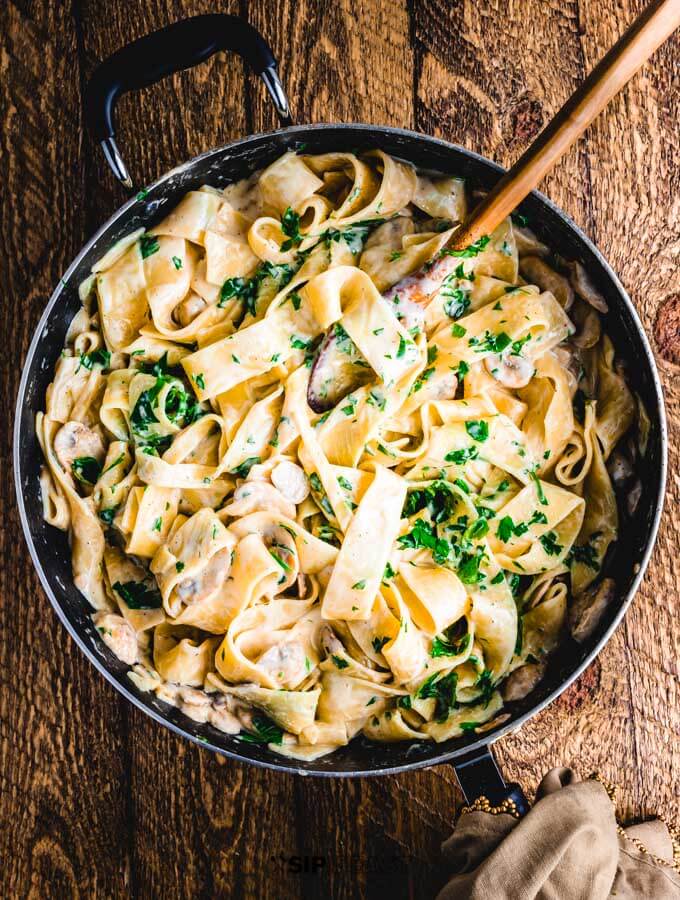 This creamy Italian sauce is not based on any particular regional recipe, it just uses some great Italian ingredients like pecorino, garlic, and olive oil.
As with nearly all of our pasta dishes,  pasta water is combined with some heavy cream and sauteed mushrooms to make an easy and delicious creamy pasta sauce.
Before we go on, the main flavor in this dish is a salty sheep's milk cheese named pecorino.  It blends so well with the cream and garlic.  Another great mushroom pasta of ours is this Mushroom Brandy Cream Sauce With Spaghetti, which has a very strong brandy flavor that is equally delicious.
They are both great mushroom recipes to choose from!
Ingredients
 16 ounces mushrooms – Any type of mushroom like cremini or shiitake would be great.  White are obviously the most affordable and widely available.
 1 pound pappardelle pasta – I love this pasta, but any type would work well in this recipe except for angel hair which might be too weak to hold the thick sauce.  Go for fettuccine, spaghetti, penne, etc…
 1 cup grated pecorino plus more for plating – Pecorino is preferred but parmesan is a fine substitute.
 1 cup heavy cream 
 10 cloves sliced or chopped garlic – doesn't matter!
 2 Tbsp olive oil 
 1 tsp kosher salt
 1 tsp black pepper
 1/2 cup chopped parsley
 2 cups pasta water – 1 cup for the sauce.  Extra in case the sauce needs to be thinned.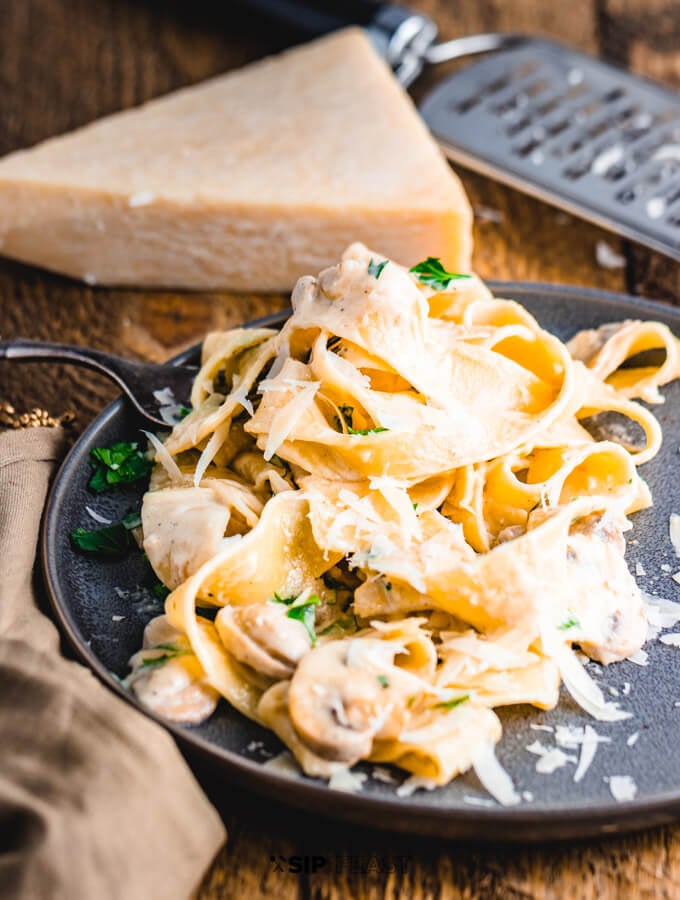 Creamy Garlic Mushroom Pasta Step By Step Instructions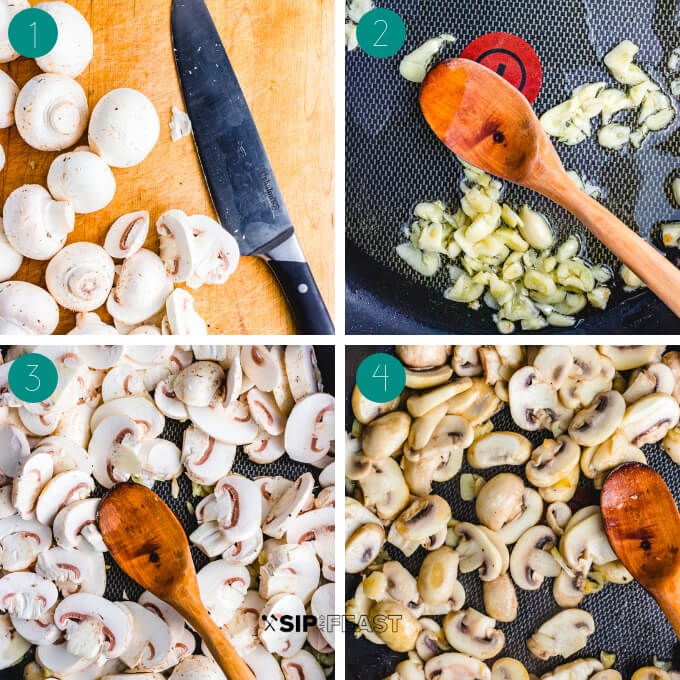 Clean any dirt off the mushrooms with a paper towel and slice like shown.  Also, chop or slice the garlic and chop the parsley.  Cook pasta to 1 minute less than package directions.
 Saute the garlic in the olive oil on medium heat for 1 minute.
 Add the mushrooms to the pan and turn heat to medium-high.  Let the mushrooms release their water.
 Keep sauteing for a few more minutes to get them nice and brown.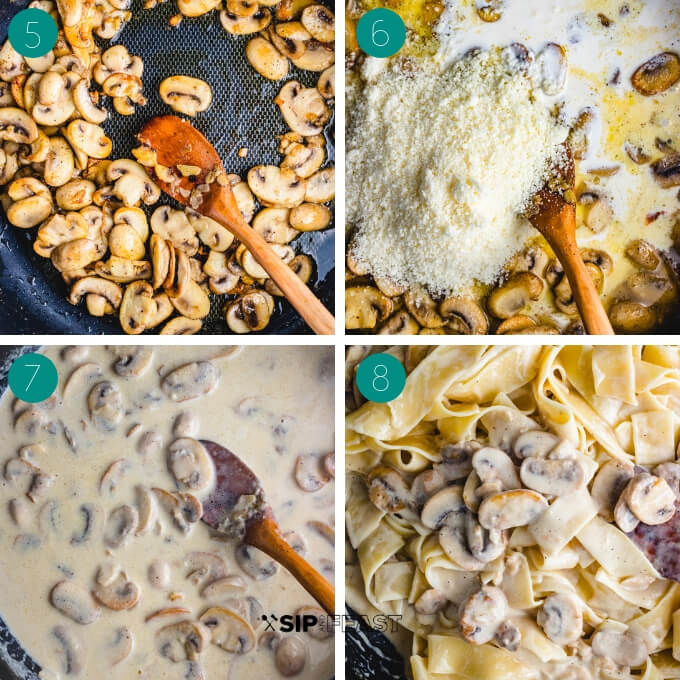 The mushrooms are now nice and brown.  Before draining the pasta make sure to reserve 2 cups of pasta water.  I ladle the 2 cups into a large coffee mug for this step.
 Next, add the salt, pepper, and 1 cup of pasta water.  Cook for 1 minute, then turn heat to low and add the cream and cheese and stir it all together.
 The sauce will be smooth and creamy like shown in picture 7.
 Add the pasta to the sauce and thoroughly incorporate everything.
Taste the sauce and if it needs more salt or pepper add it now.  Add the parsley and stir it all together.  If before plating the sauce thickens up too much on the pasta, use a little bit of the extra pasta water to thin it out.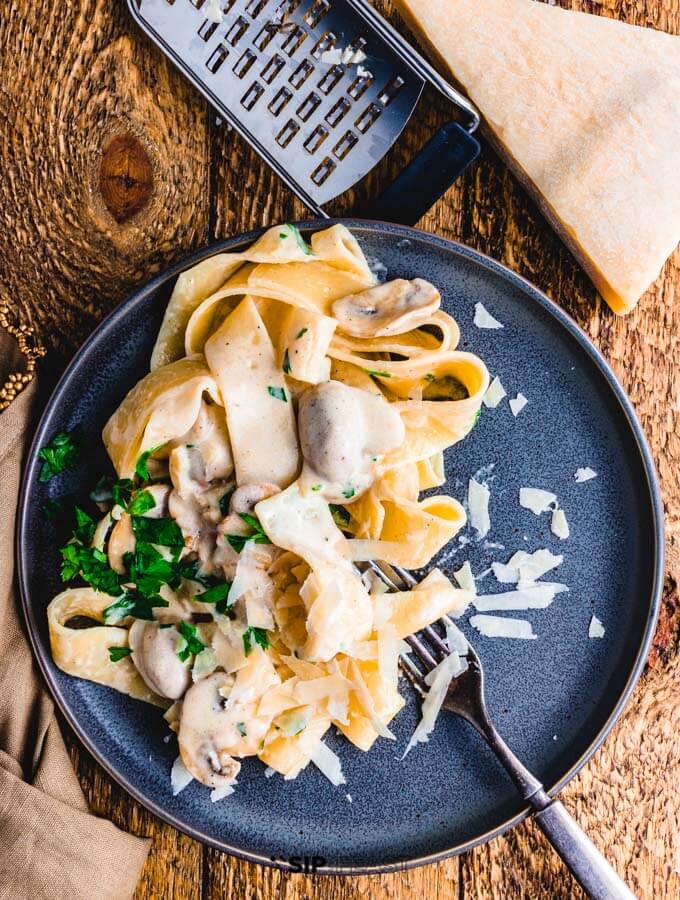 So that's it!  This creamy mushroom pasta really is easy to make and I do hope you enjoy it!  Also, I hope you like these step by step instructions and any feedback on them would be greatly appreciated.
What Type Of Mushrooms To Use?
Really any type would work well.  White button mushrooms are always the easiest to find.  They were used in this dish with excellent results.  Cremini, shiitake, large portobellos cut up into strips, chanterelle, and oyster mushrooms would all be great choices.
How To Correctly Cook Mushrooms?
Cooking mushrooms is easy as long as the heat is high enough in the pan to evaporate the water they release.  If they are sauteed too low they can boil out.  When working with a lot of mushrooms like this recipe, the water can be a slight issue.
White mushrooms release a lot more water than the others mentioned above.  If you want, drain the water from the pan and turn the heat to high to get them nice and brown.  Anyway, don't overthink it.  Mushrooms are quite easy to cook, in fact they require no oil or butter to saute as they will release water and still brown after it all evaporates.  I do use a little bit of olive oil, like in this recipe, most of the time though as it was needed to first saute the garlic.
Cream Or Half And Half?
Use heavy cream and the sauce will never break.  I don't like to mess around with my cream sauces and want a perfect result every time.   Now, similar dishes can be made with no cream at all and just pasta water or maybe some white wine for a lighter recipe, but that's a different topic in of itself.
Pecorino Substitute
First off I love pecorino.  Use it if you can find it!  It's my favorite cheese to use for coating a pasta like this Spaghetti Amatriciana  or a hearty bowl of Pasta Fagioli.
Parmesan cheese would be a fine substitute.  I love the high quality parmigiano reggiano that Costco sells and really recommend it.
Pecorino is quite salty so make sure to test the sauce at the end if using a different cheese as only 1 tsp of salt is in the ingredient list.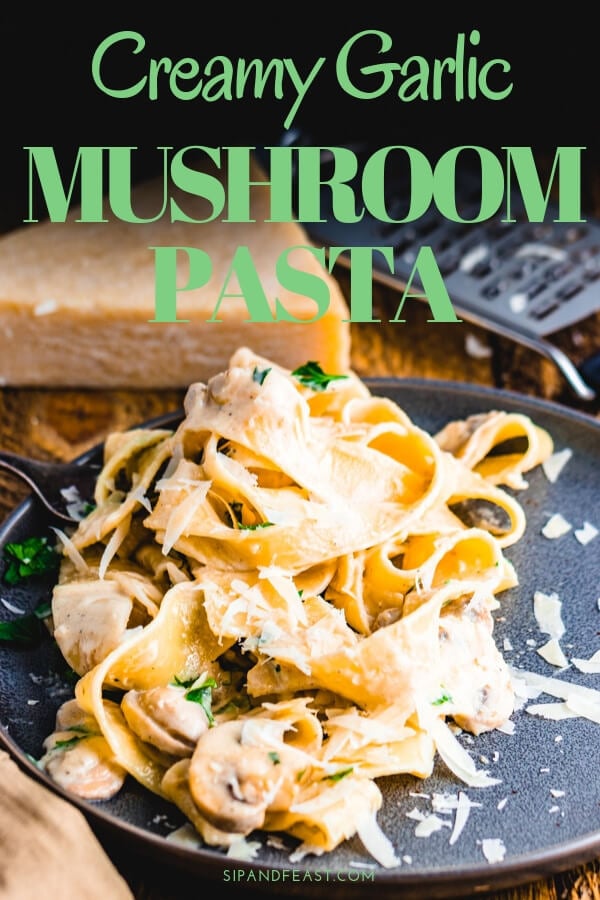 Other Great Pasta Recipes
If you've enjoyed this Creamy Garlic Mushroom Pasta Recipe or any recipe on this site please let us know in the comments.  We would love to hear how you did and it's nice to show others as well.  Thanks!
FOLLOW US on Instagram, Pinterest, and Facebook.  Share this recipe on your favorite social platform.  We really do appreciate it!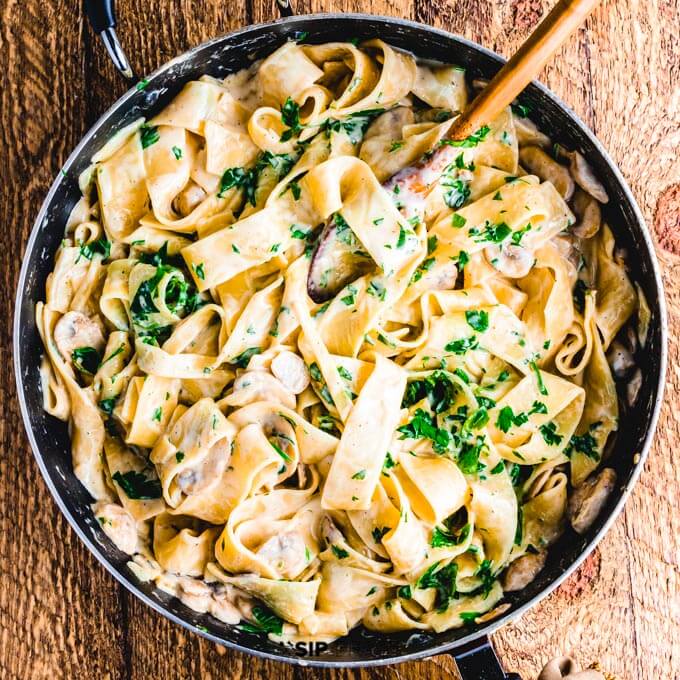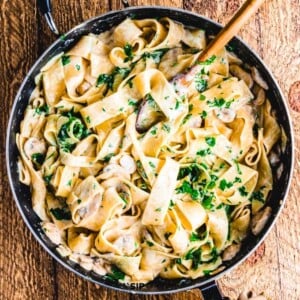 Ingredients
1

pound

white button mushrooms

1

pound

pappardelle pasta

1

cup

grated pecorino

1

cup

heavy cream

2

cups

pasta water

10

cloves

chopped garlic

2

Tbsp

olive oil

1

tsp

kosher salt

1

tsp

black pepper

1/2

cup

chopped parsley
Instructions
Slice mushrooms. Chop garlic and parsley. Bring salted water to boil and cook pasta to 1 minute less than package instructions.

In large pan saute garlic in 2 Tbsp of olive oil for 1 minute on medium heat. Add the mushrooms to the pan and turn heat to medium-high. Let mushrooms release their water and continue to saute to brown.

Before draining the pasta reserve 2 cups of the pasta water. Add 1 cup of the pasta water, 1 tsp salt, and 1 tsp of pepper to the browned mushrooms and cook for 1 minute.

Turn heat to low and add 1 cup of cream and 1 cup of cheese. Mix thoroughly to make the sauce.

Add the pasta to the sauce pan and let it all cook to coat for 1-2 minutes while stirring. Taste it and add more salt or pepper if needed. Finally add the parsley, mix it all together and serve with more grated pecorino. If the sauce is too thick use a little bit more pasta water to thin it out. Enjoy!
Notes
Only 1 tsp of kosher salt was used because of the salty pecorino, but adjust according to personal taste.
It's good to have extra pasta water on hand for thinning , because cream sauces have a tendency to dry up quickly right before serving.
Most thick pastas work well with this recipe.  
Nutrition
Calories:
534
kcal
|
Carbohydrates:
66
g
|
Protein:
21
g
|
Fat:
20
g
|
Sodium:
700
mg