Mouth-watering, pizzeria-quality slices at home were once a pipe dream, but not anymore, thanks to the pizza steel. A fully seasoned, turnkey steel ranges from $150 - $200, making the baking steel the most underrated kitchen tool. But, you're probably here because you are money savvy, and derive satisfaction from doing things yourself. I'm going to show you how to make your own DIY homemade pizza steel at a fraction of the cost. Once you're done, you'll not only feel accomplished but empowered to make some insanely awesome pizza!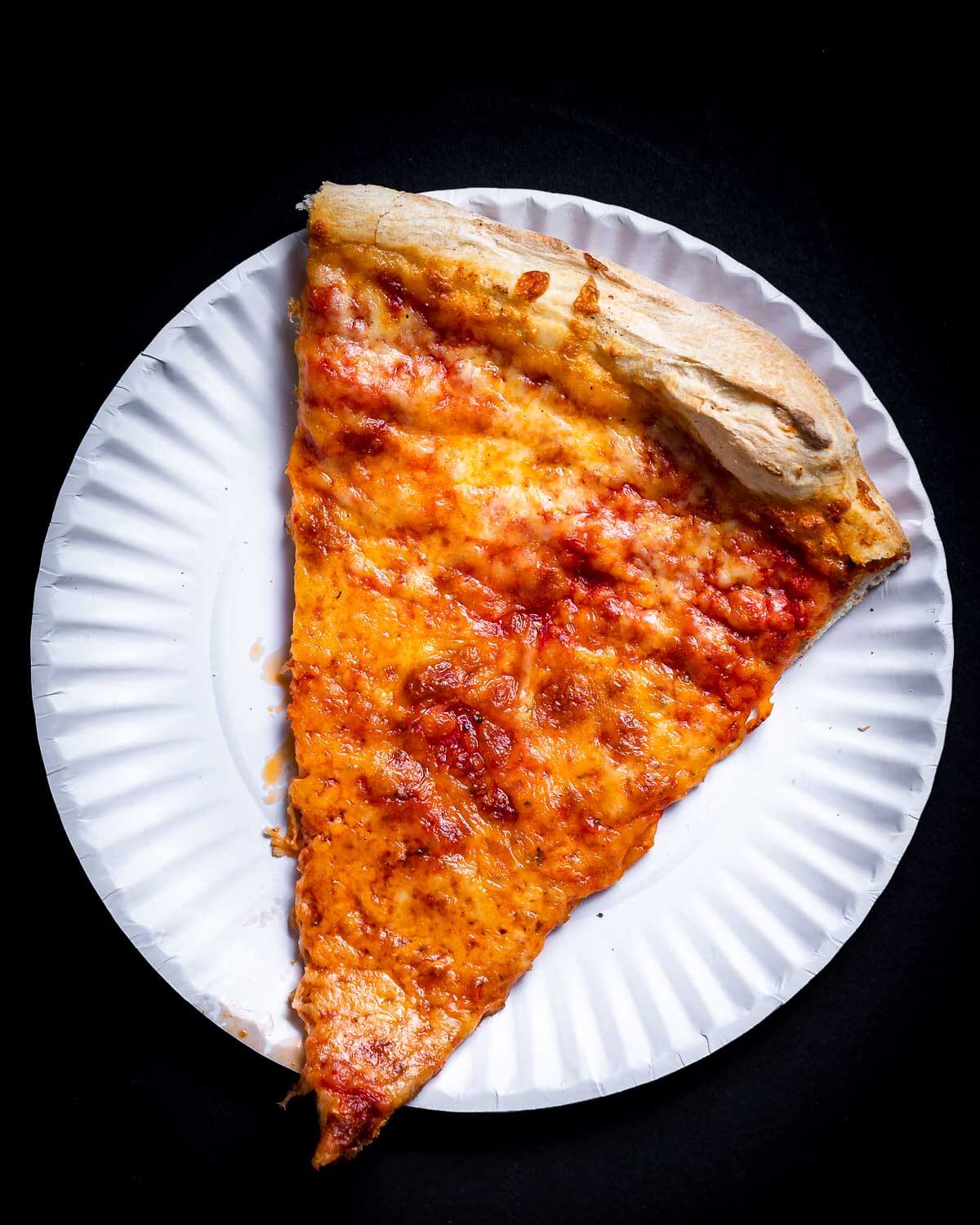 The trick to making great pizza in a home oven is the pizza steel. It destroys other home methods and truly is a game-changer!
For naming sake, baking steel and pizza steels are the same things.
They are pieces of steel that typically range from 3/16" all the way up to a ½" thick. I'm sure some people use ¾" steel, but that would be insanely heavy.
More on thickness in a bit, but for now, know that the reason a pizza steel yields such incredible results is because it's ultra-efficient at conducting heat.
The heat travels directly from the steel to the pizza creating that classic charred bottom that New York pizzas are known for. Essentially, pizza made on a steel will have the same look as a pizza that came straight out of an expensive deck oven in a professional kitchen.
Getting started
To get started making your DIY pizza steel, you'll need the following items:
One ¼" x 16" x 16" A36 steel plate, and the cardboard packaging
Flax oil, such as Barleans 100% organic flax oil
150 grit sandpaper
1 small block of wood for wrapping sandpaper
1 gallon of white vinegar
1 gallon of water
spacers, or pencils (see below instructions)
1 wheelbarrow, bathtub, or something large enough to hold the steel and vinegar without draining
1 sponge with an abrasive edge, such as Scotch-Brite
Disposable blue shop towels
Infrared thermometer (for making your pizza!)
DIY pizza steel instructions
Begin by removing the steel from the cardboard. Save the cardboard for later.
A 150 grit piece of sandpaper is all you need. Wrap it around a small block of wood and gently sand the edges of the steel to remove any burrs (sharp edges from where the steel was cut). You just need to do a few swipes.
I have some plastic spacers that are used for mounting a TV. If you have something like that use it or just use 4 pencils.
Place the spacers or pencils into the 4 corners of a large container. The container needs to be large enough to hold the steel when placed flat. I am using a wheelbarrow that's propped up at the front wheel to level the container section.
Place the steel onto the spacers.
You need to cover the steel completely with a 50/50 ratio of water to white vinegar. For my size wheelbarrow, it took one gallon of each.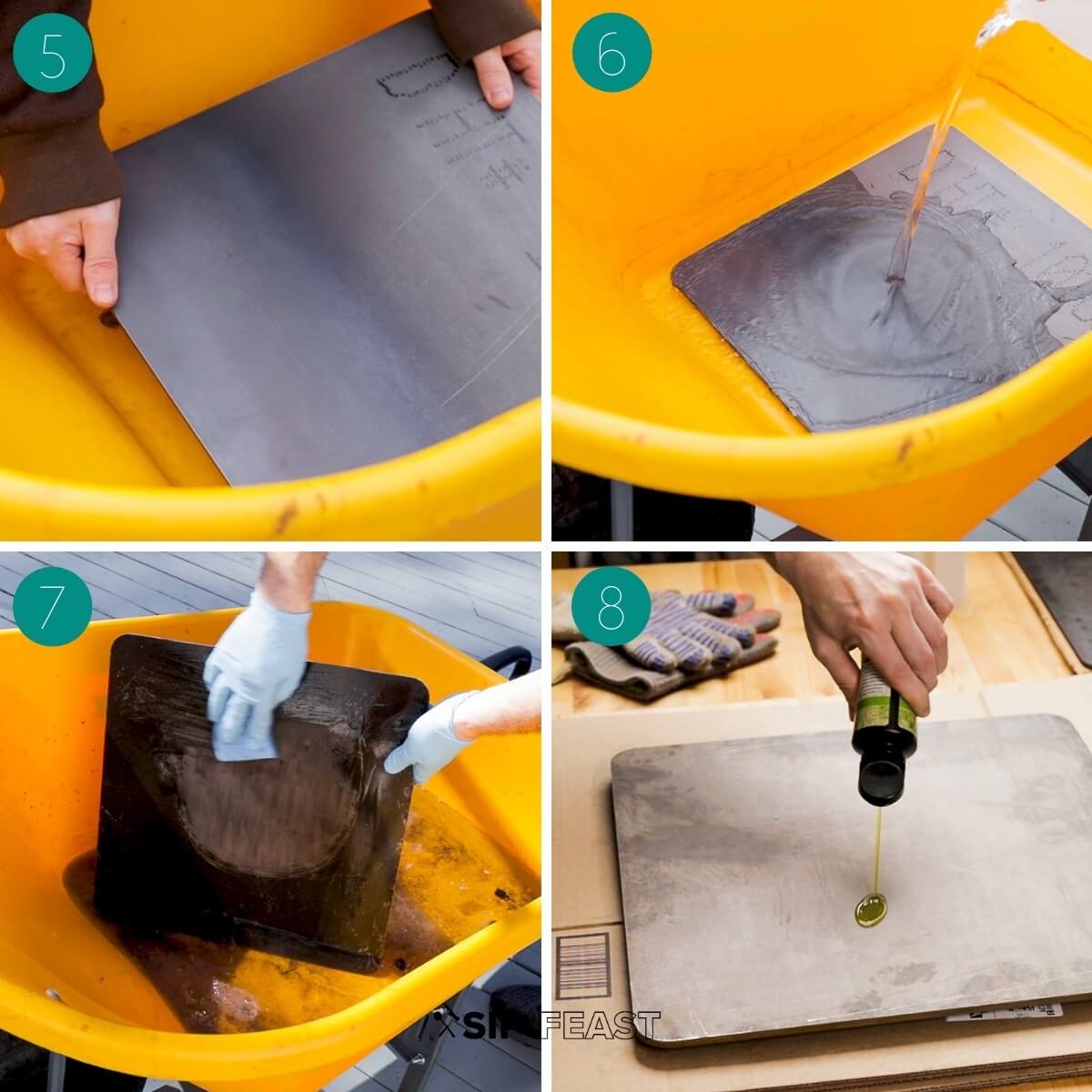 After 48 hours the mill scale will come off very easily. Any tough spots can be scrubbed with a Scotch-Brite pad. After removing the mill scale, hose off the steel and dry it off as quickly as you can. Immediately place it in a 170f oven to dry off even more.
After 20 minutes remove the steel from the oven (it will be hot) and place the steel on a work surface. Then, turn the oven to 450f. You can see the cardboard has come in handy. Squeeze a bit (less than a tablespoon) of flax oil onto the steel and rub it all over.
Do the same for the other side and the 4 narrow side edges. All 6 sides of the steel need to be coated.
Once all sides are coated, rub all the flax oil off. You're not really rubbing it all off, but try your best. A thin layer of flax oil will still be on the steel. Blue shop towels work well because they don't release any lint, but regular paper towels will do the job too. At this point place the steel onto the middle rack of your oven and let it cook for 1 hour at 450f. After 1 hour, turn the oven off. Keep the door closed the whole time, and wait two more hours before removing the steel.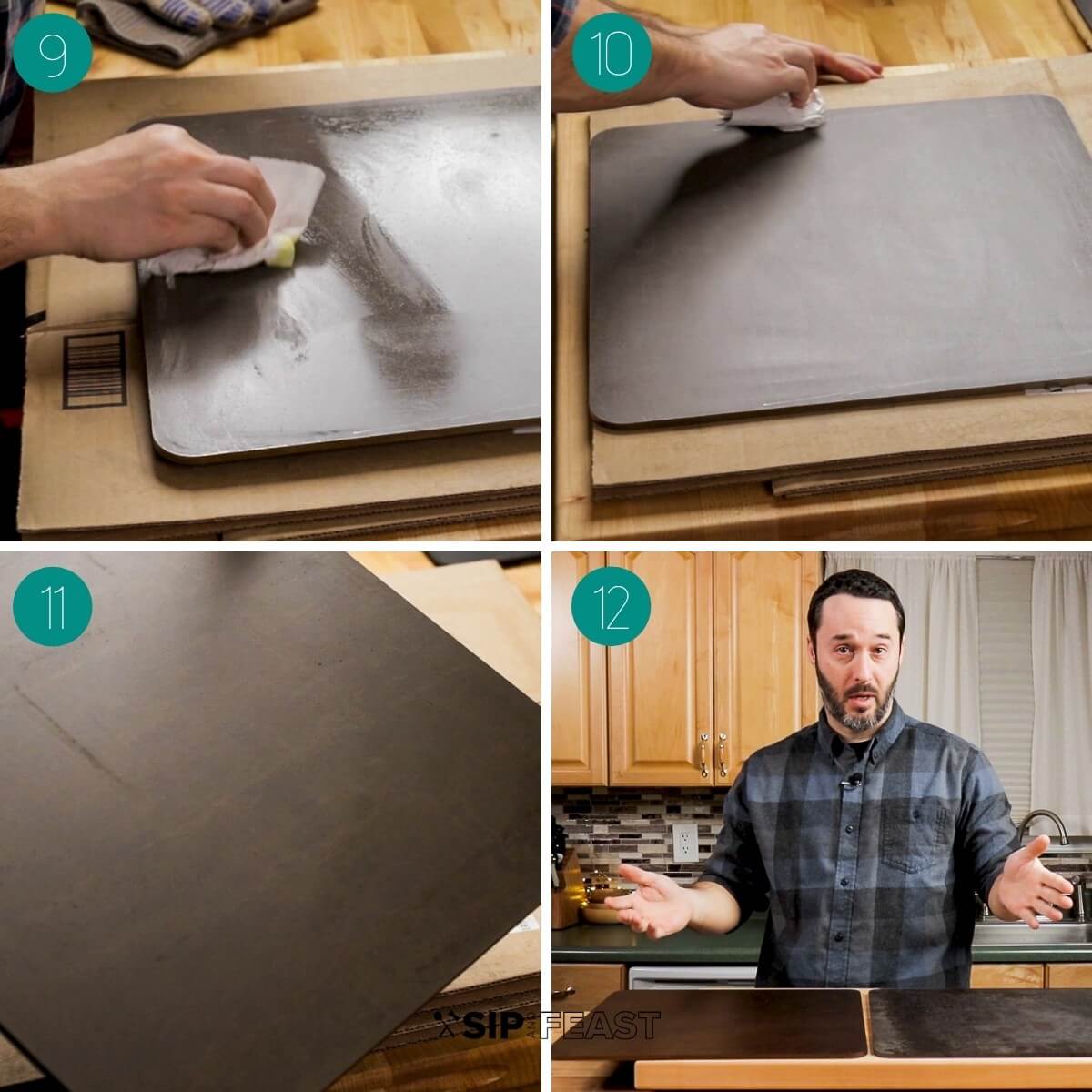 This is the steel after 1 coat. It will get more maroon/brownish after every coat. Remember to allow enough time for the whole process to get at least 3 coats on. Starting early in the day for the seasoning process is a good idea.
On my right is the new pizza steel after 3 coats of flax oil. The other steel is a well-used one that probably baked at least 100 pizza pies by that point.
With your new pizza steel, you'll want to have a laser temp gun to check the temperature of the steel after preheating the oven. 600f makes a great pizza!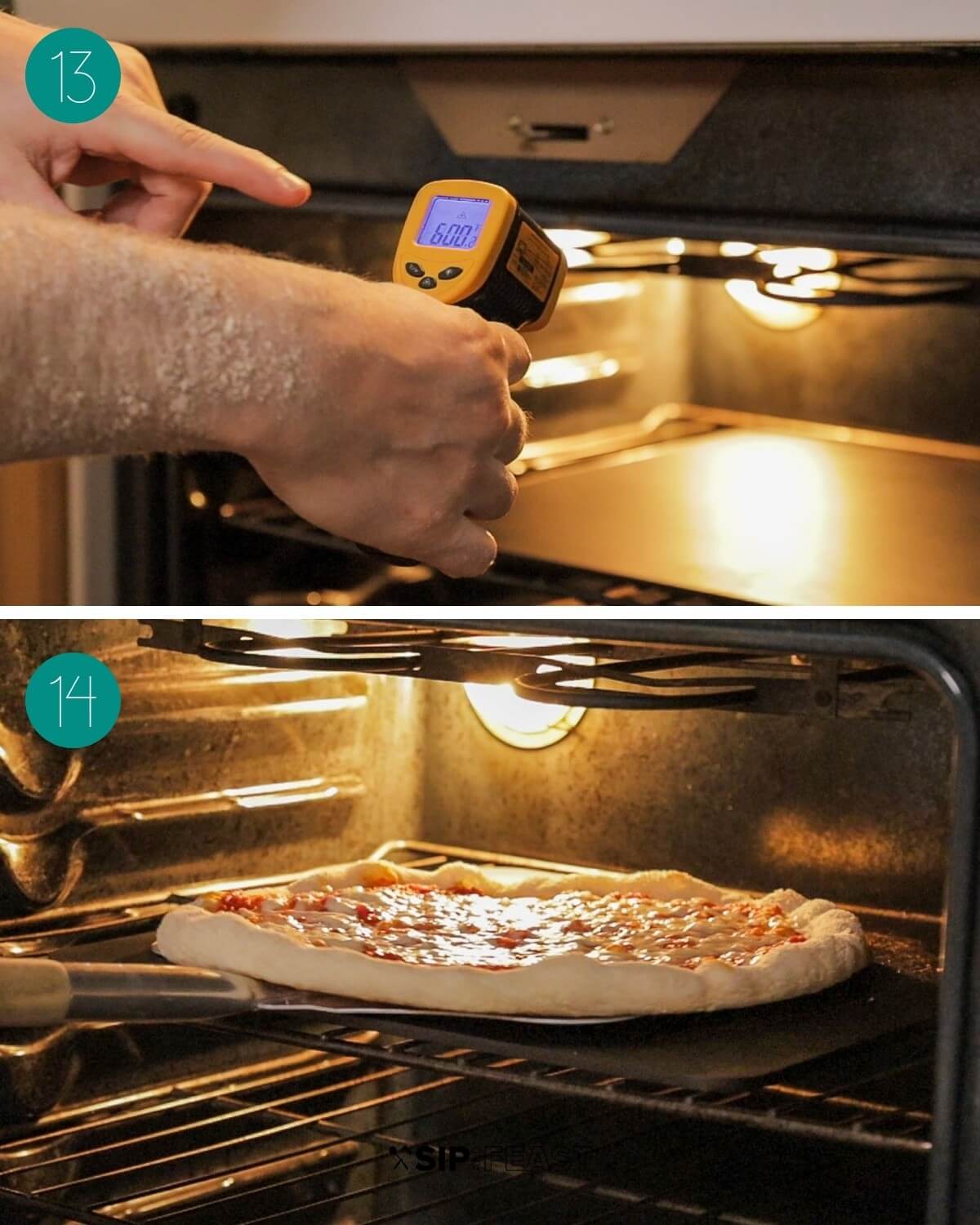 The baking steel acts as the oven floor. All you have to do is slide a metal peel in there to grab the pizza. Easy peasy!
Why are we seasoning the steel?
The multiple coats of flax oil create a polymerized layer that gives the steel a patina and forms a naturally releasing surface. This allows the pizza or calzone or whatever you're cooking to easily be removed from the nonstick surface.
The seasoning of the steel prevents rust and also allows for easy clean-up from inevitable cheese spills and other messes.
If you ever want to renew your steel with another coat of oil, all it takes is one more coat in the oven.
Make sure the plate is clean and that any debris has been removed prior to seasoning.
There is no need to go through the descaling process again, provided the steel has been cared for and has no rust.
What role does vinegar play?
The vinegar acts as a natural acidic remover of mill scale. Mill scale is a type of iron oxide that forms on steel during the hot rolling process. It needs to be removed from the steel and using vinegar is a safe and easy way to do it.
Mechanical means such as sanding, or employing the use of stronger acids, like muriatic acid, can be used as well, however, exercise caution as muriatic acid can be dangerous if not handled properly.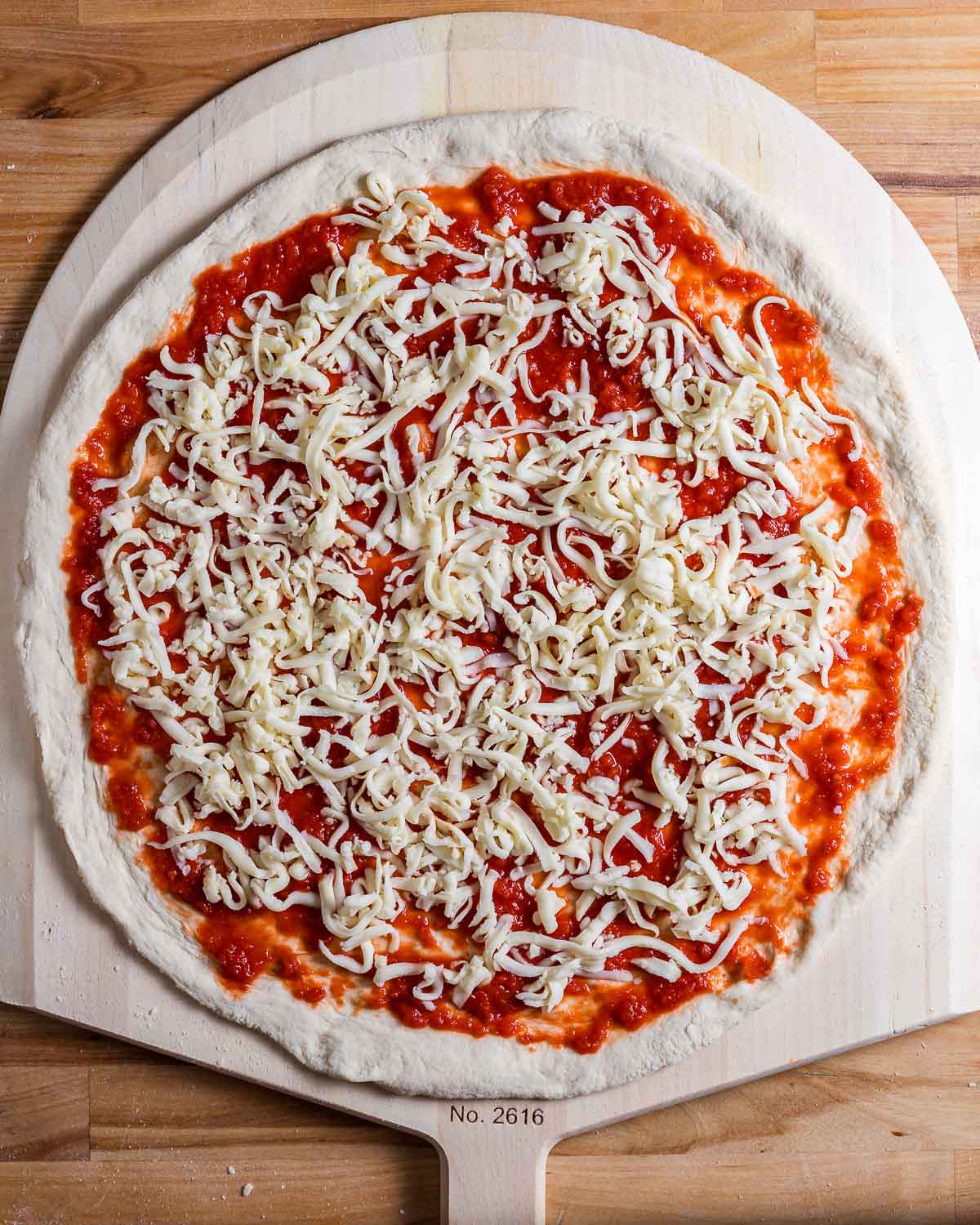 Pizza steel vs pizza stone
It's pretty much common knowledge that inexpensive pizza stones will not yield the same results as a pizza/baking steel for a variety of reasons:
You will be able to make a pizza in 6 to 6 ½ minutes with a steel. With a pizza stone, it will take about 3-5 minutes longer.
You will get a far better bottom on the pizza. Think charred bottom and soft interior.
You will never have to worry about cracking. Pizza stones tend to crack more frequently than one would think.
Possible downsides
A pizza steel is heavy and can be difficult to move around. Because of that, I normally leave my steel in the oven most of the year.
With a ¼" steel plate, the risk of bending the oven racks is quite low, but do keep an eye on them.
Because of the weight, be sure to exercise caution when transporting it during the DIY process, or when removing it from the oven. Treat the steel, in the same manner, you would any heavy object made of steel.
Baking steel thickness
For the home cook, a ¼" plate works perfectly. It's not too heavy to move around and shouldn't bend the grates. A ¼" plate won't be able to maintain its heat as long as a thicker plate.
So, if you think you are going to be making many pizzas in a row pretty regularly a thicker plate might be a better option. Normally for a ¼" plate, I will wait about 7-10 minutes between pies to allow the plate to regain its heat.
That's the perfect amount of time to cut it up and eat the first pie at the table!
Pro tip: To regain the heat quickly, once a pie is finished, turn the broiler on high for ~5 minutes then turn the oven back on to its highest level. Check for 600f with the infrared temperature gun, and then launch another pizza!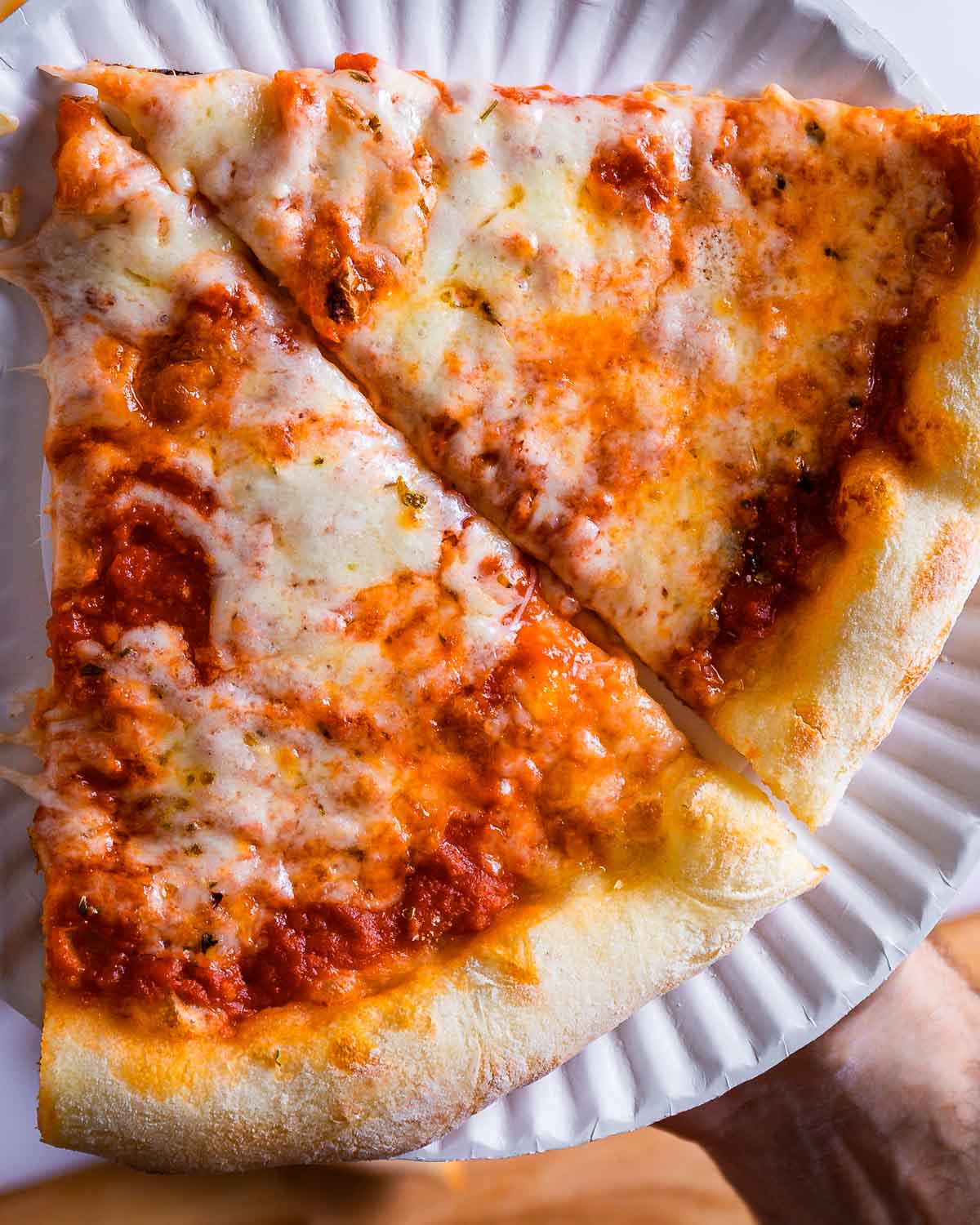 Make these recipes with your steel
New York pizza - this post has everything you've ever wanted to know about making a great pizza and homemade dough.
New York white pizza - mozzarella, ricotta, garlic, and a touch of Pecorino Romano.
Garlic knots - classic NY-style knots of dough with garlic butter and olive oil, Pecorino Romano, and parsley.
Watch the video below where Jim will show you how to season the steel with easy-to-follow instructions.
Some people learn by watching. If you're that type of person, you can find most of our recipes on YouTube and our Facebook Page.
Ingredients
Materials
1

piece

¼ x 16 x 16" steel plate

see notes below

3

ounces

organic 100% pure flax oil

1

gallon

distilled vinegar

1

gallon

water
Tools
4

pencils

to act as spacers

1

roll

paper towels

lint free paper towels or blue shop towels recommended

1

sheet

150 grit sandpaper

1

small

block of wood

to wrap sandpaper

1

large

tub, wheelbarrow, etc

see notes below

1

abrasive sponge

Scotch-Brite or similar
Instructions
Descaling the steel
Wrap the sandpaper around the block of wood and lightly sand all edges of the steel plate checking for any sharp burrs. You only need to take a few swipes with the sandpaper to knock down any sharp edges.

In a container large enough to hold the steel plate, lay the 4 pencils or any small object to act as a spacer and prevent the steel from touching the bottom of the container. Place the steel onto the spacers.

Pour 1 gallon of vinegar and 1 gallon of water into the container making sure the steel plate is completely submerged. If the steel is not submerged add more vinegar and water in a 50/50 ratio to completely cover the steel.

1 gallon distilled vinegar,

1 gallon water

After 48 hours wipe off all the mill scale with paper towels and if needed use the scoring action of an abrasive sponge to remove any tough bits. When finished wiping the scale off, rinse with water then dry off immediately to prevent any surface rust from forming.

Quickly place the dried-off steel in a 170f oven to remove any remaining moisture.
Seasoning the steel
After 20 minutes remove the dry steel (use heat resistant gloves to handle) from the oven and place it on a clean working surface. Preheat oven to 450f. Squirt a tablespoon or less of flax oil (you don't need a lot) onto the steel and wipe it all over. Flip the steel and repeat, then wipe the oil on all 4 small side edges. Basically, wipe the oil on all 6 sides of the steel.

3 ounces organic 100% pure flax oil

With lint-free paper towels rub off every bit of the oil that you can. A small film will be left on the steel. Place the steel in a 450f oven for 1 hour. After 1 hour, turn the oven off. Leave the oven door closed and wait at least two hours to remove the steel.

Continue the process until 3 coats of flax oil have been applied. After the third coat, your pizza steel is ready to be used. Enjoy!

3 ounces organic 100% pure flax oil
Notes
The tub or wheelbarrow must be large enough to hold the steel lying flat so that the water/vinegar can completely submerge the steel.
I have made 3 pizza steels. One each with 5 coats, 3 coats, and 2 coats of flax oil. They all have held up to dozens of pizzas. For extra insurance 3 coats is my recommendation, but feel free to do as many you want.
Use this ¼" x 16" x 16" steel plate. You can use a ½" plate but you will most likely need to reinforce the oven grates.
Any 100% flax oil will work.
Cheese, semolina for launching, and a host of other food will wind up on your steel. The high temps will burn off the food and turn it into ashes. You can scrape off the remaining residue with a nylon brush.
I prefer to leave the steel in the oven at all times and rarely move it.