Garlic knots are a true New York pizzeria staple. These golden, garlicky knobs of dough are best served alongside a pizza, salad, or soup, but are also great by themselves, or dipped in a bit of sauce. Our recipe walks you through the process of making the real deal, New York garlic knots you'd find if you walked into any one of the thousands of pizzerias in the metro area.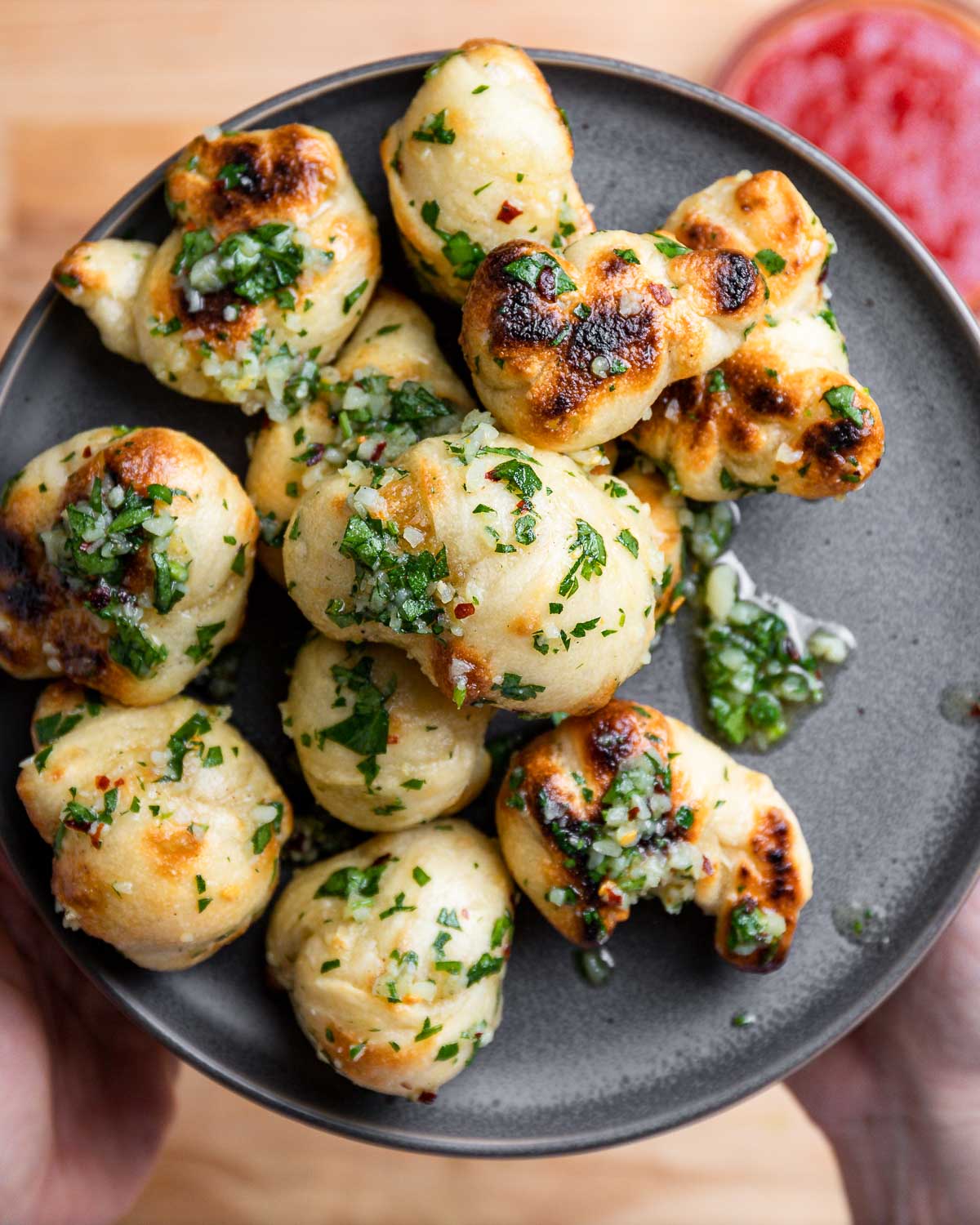 Is there anything better than biting into a garlic knot?
The slightly hard exterior giving way to the soft chewiness inside. And the garlic, oh the garlic!
For me, making garlic knots at home is even better because it comes with the feeling of accomplishment you get when you create something so perfect.
Plus I can eat as many as I want with only a little judgment from my kids. 😉
For these NY-style garlic knots, we'll be using our homemade pizza dough and our pizza steel.
If you don't have a pizza steel, you can use a pizza stone or a baking pan, in that order.
Using a steel will help char the exterior, giving the garlic knots that authentic NY pizzeria style leopard pattern and will only take 6-7 minutes to bake in the oven.
They will have the quintessential hard outside and the softer, chewier inside you know and love.
You know, the way it tastes at a pizzeria.
Now, that being said you can still get pretty tasty garlic knots with a baking pan, so if you don't have a steel or stone, I still encourage you to try this recipe.
If you're looking for a slightly easier recipe that has similar flavor, try our garlic butter dinner rolls.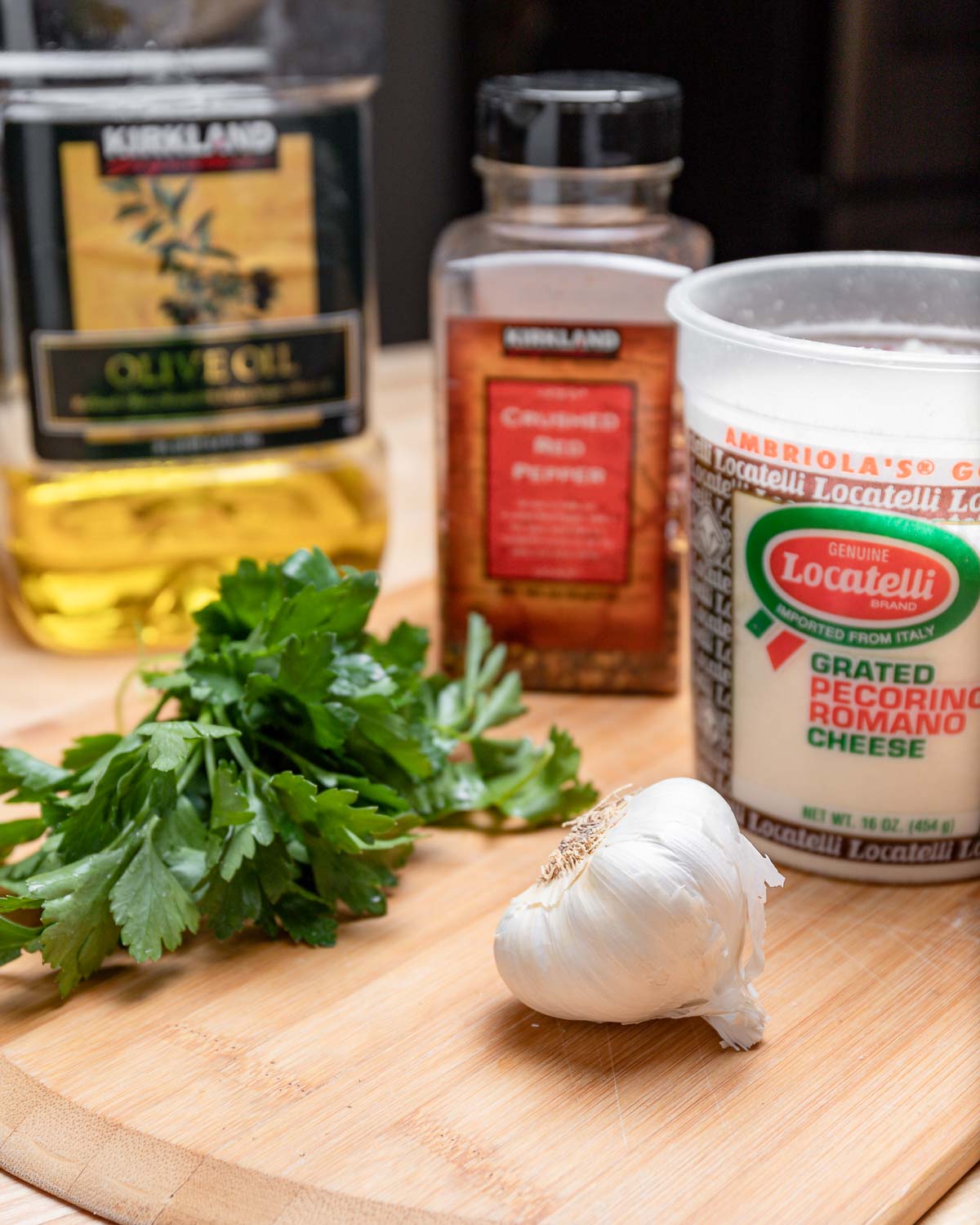 The ingredients
In addition to the pizza dough, you'll need olive oil, parsley, Pecorino Romano cheese, butter, crushed red pepper flakes, and of course, garlic!
While the dough and the garlic are certainly important, the type of cheese used makes a difference too.
To get authentic tasting New York garlic knots, or any NY pizzeria style food, you need to use Pecorino Romano.
Pecorino Romano is a sheep's milk cheese and is integral to the Roman pasta dishes like carbonara and cacio e pepe, but it's also used heavily by Italian-Americans living in New York.
Many people will just call it Locatelli or Romano. Locatelli is the most popular brand of this Roman cheese sold in America.
I always have it on hand and serve it with many dishes from Sunday sauce and meatballs to baked ziti or manicotti.
How to make it
Note: Use our pizza dough recipe referenced above and a pizza steel for best results. If you don't have a steel you'll want to use a pizza stone and cook for 10-12 minutes. Alternatively, use a parchment paper lined baking sheet and preheat oven to 450f and set the rack to second lowest level. If choosing this method, they'll need to bake for about 15 minutes.
Begin by removing 18 ounces of dough (leave covered) from the fridge 2 hours prior to stretching. Once ready to stretch, place the pizza steel on the second highest rack in your oven and preheat to 525f for 45 minutes. While preheating, place the dough ball on a floured work surface and flatten with your fingertips.
Stretch the dough into a 12 inch circle then cut into 6 long strips. Next, cut those strips into 2-3 more strips. You should have roughly 16 strips that weigh about 35 grams or a little bit more than an ounce each. If you want bigger garlic knots you could cut less strips or use more dough. Totally up to you!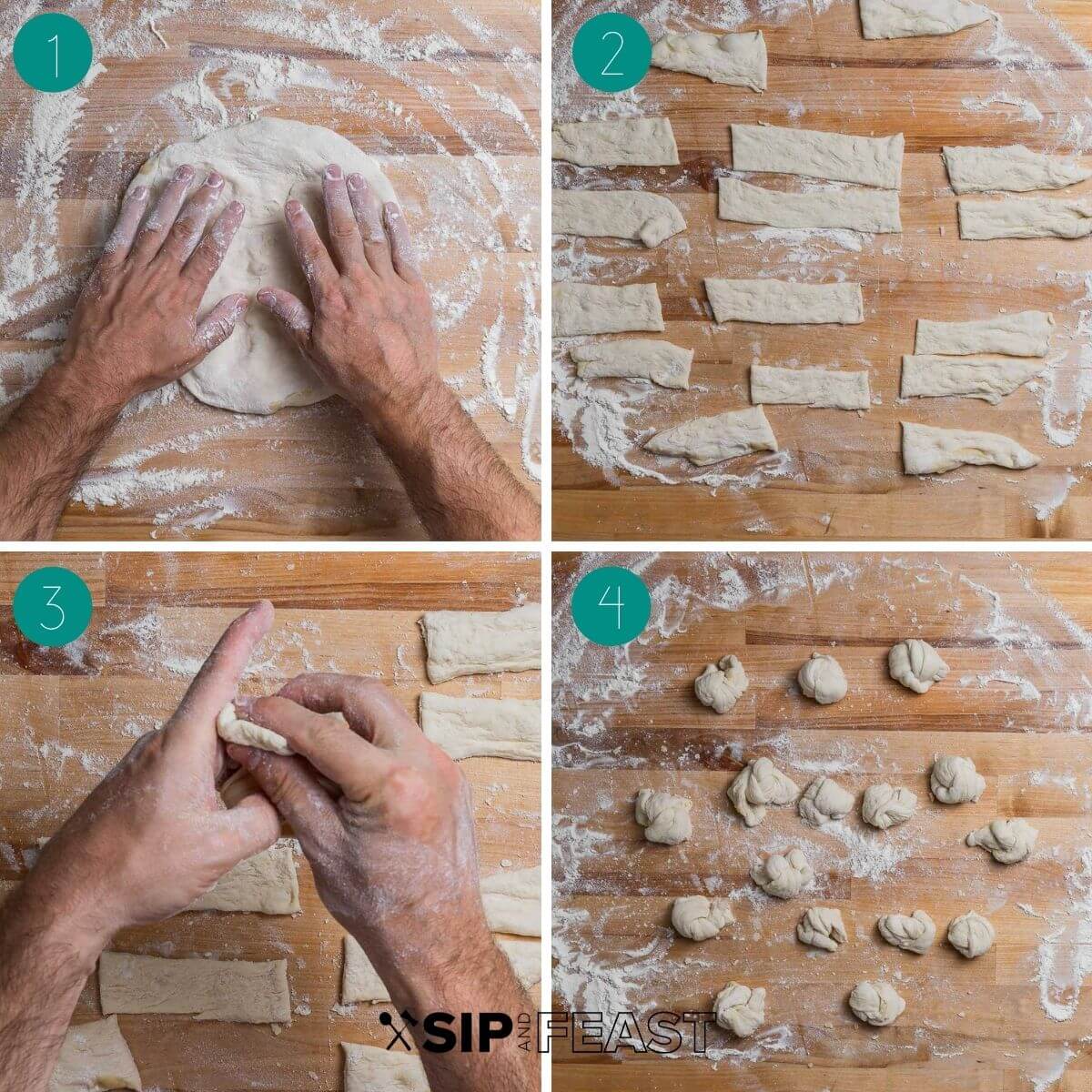 Tie each strip into a knot.
Here we have approximately 16 knots all tied up.
Sprinkle semolina flour onto your wooden pizza peel and spread it all around with your hands.
Place the tied dough onto the wooden peel and cover with plastic wrap.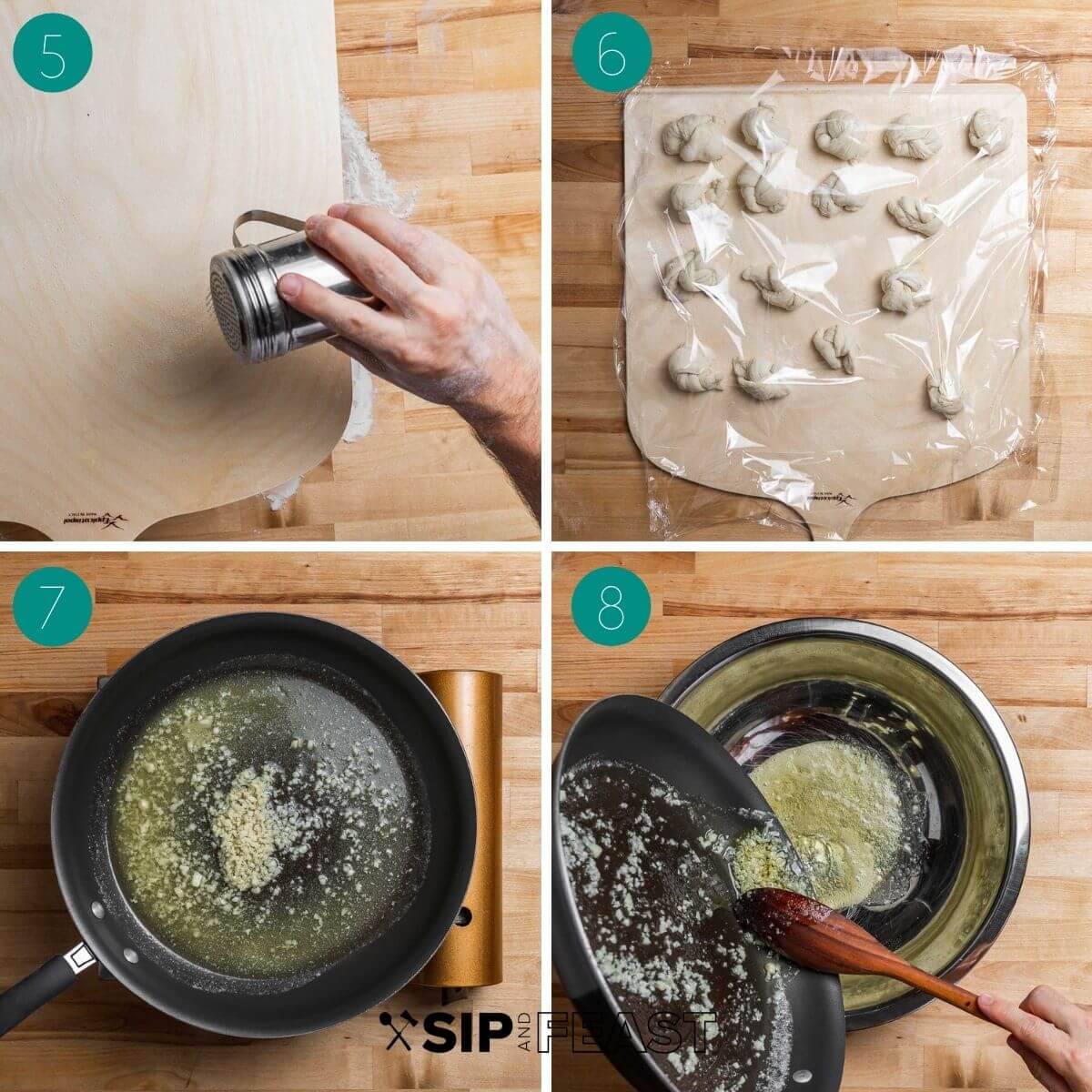 Heat a moderate sized pan to medium-low heat. Add the butter and olive oil. Once the butter is melted, add the garlic.
Sautee the garlic in the oil and butter just until golden. Place the garlic butter into a large bowl and set aside, covered. Remove the plastic wrap and slide (launch) the garlic knots onto the hot pizza steel.
Remove the garlic knots after 6-7 minutes or once the bottom is charred and the tops are light brown. Drop the knots into the garlic butter.
Mix the knots around by swirling and tossing them in the bowl. Sprinkle the salt, Pecorino Romano, and hot red pepper flakes onto the oil and butter-coated knots.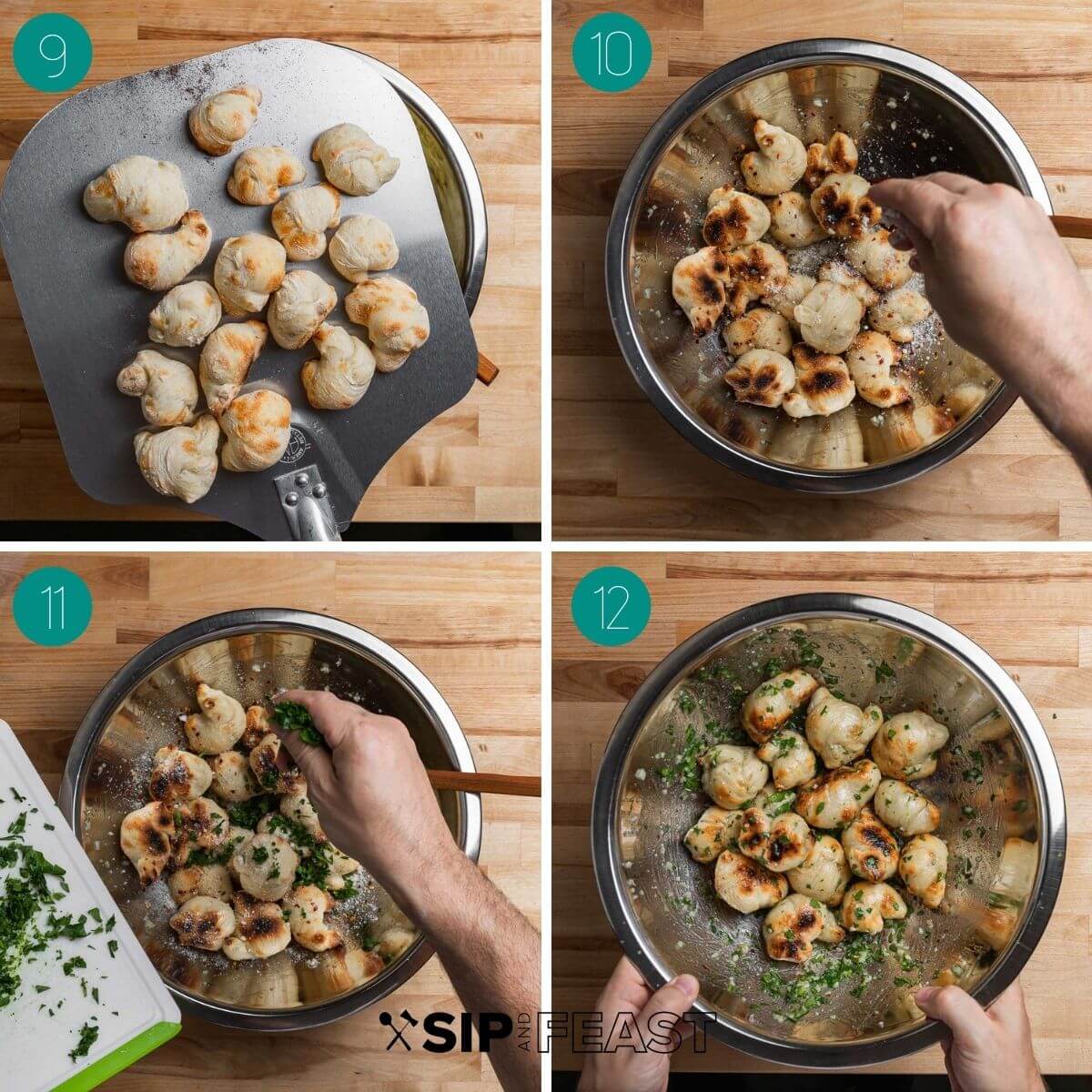 Sprinkle the parsley and mix once more.
Keep mixing then taste test a garlic knot. If they need a bit more salt, cheese, or olive oil, add it now.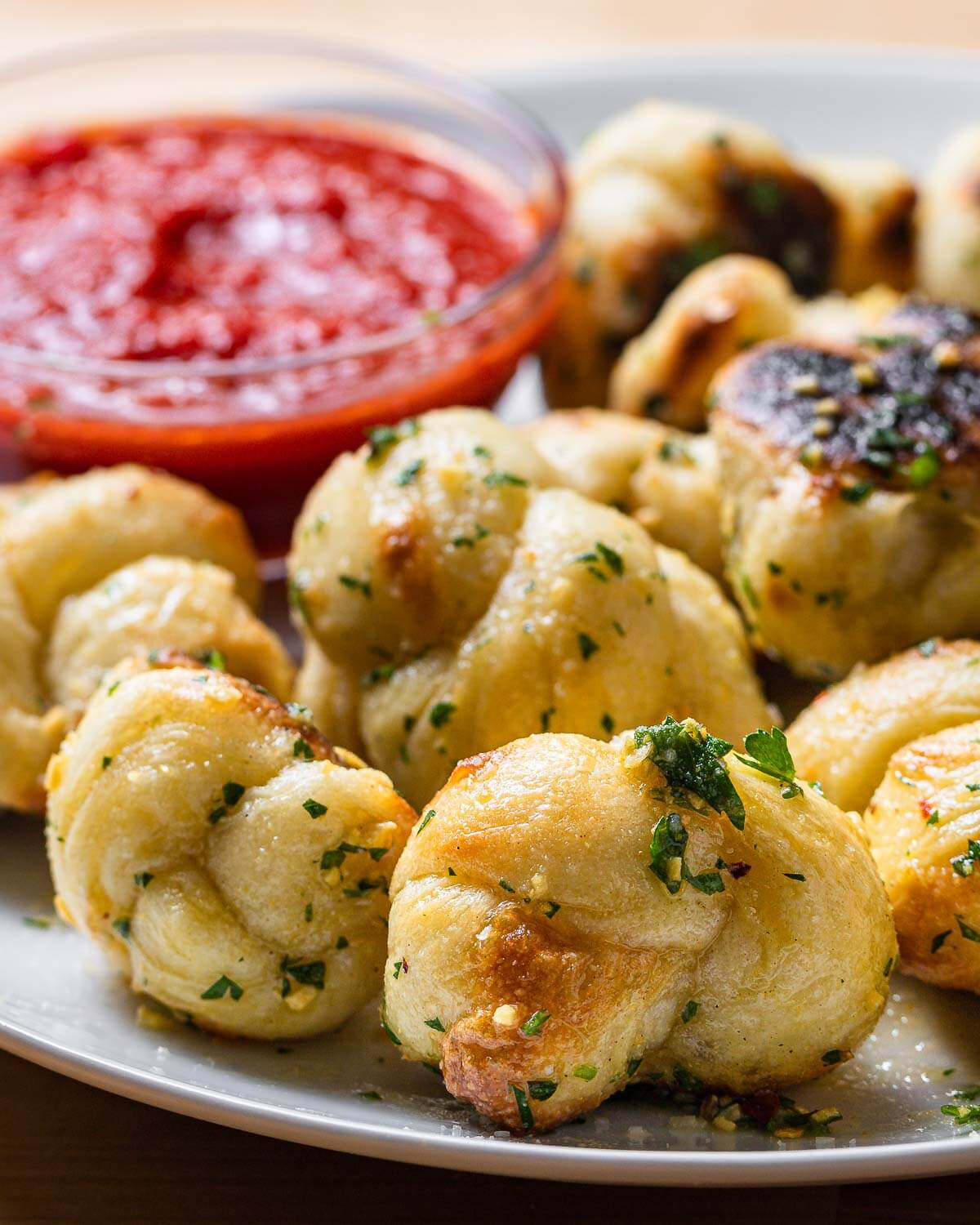 Serve the garlic knots immediately when they are piping hot.
A bowl of marinara sauce for dunking is strongly recommended!
Top tips
In my quest to make the perfect NY-style garlic knots, pizza, and calzones, I've amassed a ton of information, and a few inches on my waist!
Here are some of my nuggets of wisdom, curated especially for you:
cold fermented dough – cold fermenting your dough (this means mixing your dough and leaving it in the fridge overnight or up to 3 days to slow proof and ferment) will yield a superior tasting garlic knot.
pizza steel – cooking garlic knots on a pizza steel will duplicate the deck oven that most pizzerias cook their knots in. Throwing them on a baking pan and cooking them at 450f will yield a garlic knot with a softer more bread-like texture. If you want a NY pizzeria tasting garlic knot, use a pizza steel!
fresh garlic – This recipe needs fresh garlic and a lot of it. Don't use that jarred chopped garlic or garlic powder, use regular fresh garlic.
Say no to Italian seasoning – this bad (yes that's right it's really bad) ingredient should not go on your garlic knots or any Italian or Italian-American food. The only dried herb you should ever use is oregano, but for this garlic knot recipe, we're just using fresh parsley.
Can same day RT (room temperature) dough be used instead of cold fermented dough?
Yes. You can mix your dough and place into an oiled bowl. Cover and let the dough double in size before using.
This should take a couple of hours. But, if you can, using cold fermented dough will yield more flavorful garlic knots.
Can store-bought dough be used?
I recommend you use our homemade New York pizza dough recipe for these garlic knots.
Our standard pizza dough recipe works for all of our pizza recipes, and other recipes such as calzone.
But, if you don't have the time, buy pizza dough from your favorite place and use it in the same manner outlined above.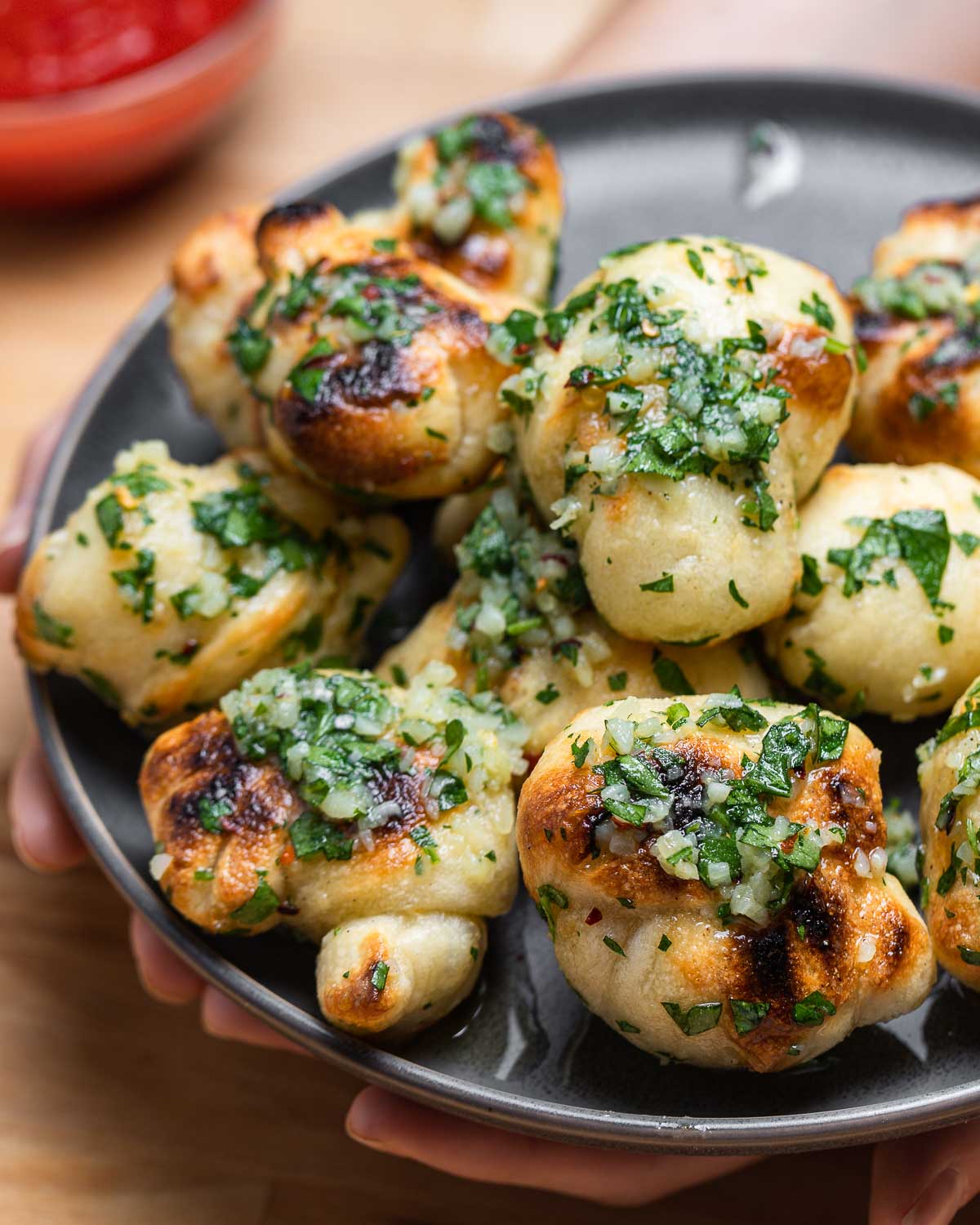 Try these other pizza dough recipes
If you've enjoyed this garlic knots recipe or any recipe on this site, we want to know so tell us in the comments below.
Give it a star rating. We would love to hear how you did and it's nice to show others as well. Thanks!
Watch the video below where Jim will show you how to make this recipe with easy-to-follow instructions.
Some people learn by watching. If you're that type of person, you can find most of our recipes on YouTube and our Facebook Page.
The classic pizzeria side, these garlic knots are made from dough that has been knotted and baked, then tossed with oil, butter, garlic, parsley, and cheese!
Ingredients
18

ounces

pizza dough

see notes below

1/4

cup

olive oil

4

tablespoons

unsalted butter

8

cloves

garlic

minced

3-4

tablespoons

Pecorino Romano cheese

1/4

cup

parsley

minced

1/4

teaspoon

crushed red pepper flakes

kosher salt

to taste
Instructions
Remove pizza dough from the refrigerator 2 hours prior to using to allow it to warm up.

After 2 hours place baking steel on the second highest rack and preheat oven to 525f for 45 minutes.

Remove dough from the proofing container and on a floured work surface shape into a 12" circle then cut into 6 strips. Each strip can be cut into 3 more small strips. Roll the strips out into 6" pieces and tie into knots.

Place all the knots on a lightly floured (semolina flour works better) wooden peel for launching. Cover the knots with plastic wrap and move onto the garlic butter.

In a pan over medium-low heat melt the butter and add in a ¼ cup of olive oil. Add the minced garlic to the pan and cook until lightly golden (about 2-3 minutes). Place the garlic mixture into a large bowl for tossing and set aside.

Slide the knots onto the pizza steel and cook for 6-8 minutes or until the bottom of the knots are charred and the tops are slightly golden.

Remove the knots with a metal spatula or metal peel and immediately place them into the bowl with garlic butter. Toss to coat with the oil and butter, then season with salt, Pecorino Romano cheese, red pepper flakes, and parsley.

If the knots need a bit more olive oil, add it now and toss once more. Taste test and if required add more salt, cheese, or red pepper. Serve with marinara or by themselves right away. Enjoy!
Notes
Recipe time includes the time to preheat the steel, shape, and cook the knots. It does not include the 2 hours needed to warm up the dough.
Use any amount of pizza dough you like. If using our New York pizza dough recipe which makes 4 (345 gram or 12 ounce) dough balls you could use 2 of the balls for pizza and the other 2 (24 ounces pizza dough) for garlic knots. Or just use the baker's percentages in the recipe and make as much dough as you like.
Make sure to adequately season the knots right when they are hot and absorbing the garlic oil and butter.
Store-bought pizza dough can be substituted.
Garlic knots can be stored for up to 3 days and should be reheated in the oven at 350f until hot.
Nutrition
Calories:
564
kcal
|
Carbohydrates:
37.7
g
|
Protein:
6.8
g
|
Fat:
43.6
g
|
Saturated Fat:
13.4
g
|
Cholesterol:
25
mg
|
Sodium:
717
mg
|
Potassium:
88
mg
|
Fiber:
3.1
g
|
Sugar:
0.2
g
|
Calcium:
71
mg
|
Iron:
2
mg
Nutrition information is automatically calculated, so should only be used as an approximation.