Grabbing some store bought pizza dough and creating a garlicky tomato sauce is the secret on how to make a great Margherita pizza.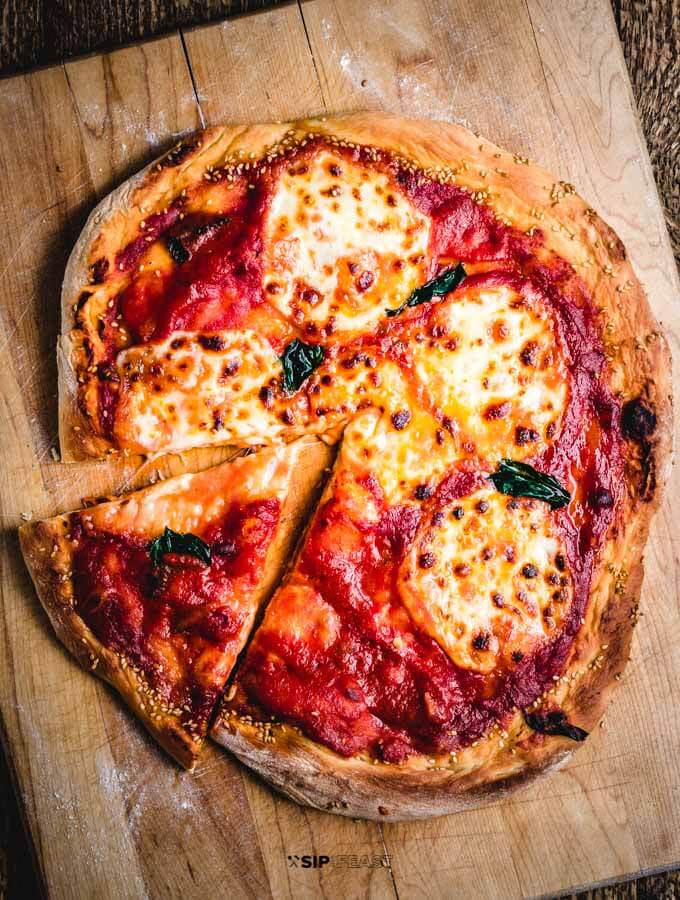 Store Bought Pizza Dough And Other Ingredients:
When I want a good pizza pie quickly I like to use ready made pizza dough.
I recommend buying a good quality one. My first choice would be a great pizzeria in your neighborhood.
My second choice would be Trader Joe's. It's a convenient option when looking for a store bought pizza dough.
Our Cheeseless Pizza With Heirloom Tomatoes is made with it and that is an awesome pie.
If you have the time by all means make your own dough. I do this often and store portioned batches in the freezer.
But, when I run out of it and get a pizza craving I go for the ready made pizza dough option.
Garlicky Tomato Sauce
The sauce ingredients consist of 4 cloves of garlic chopped up, 1 six ounce can of tomato paste, and some salt, pepper, olive oil, and a little water to thin out the paste. That's it!
Add some oregano or fresh herbs in your pizza sauce if you like. I prefer to keep it simple and just love the flavor of a real garlicky tomato sauce.
I've said it before in previous posts - get the Costco tomato paste pack. It's a great deal and I find I am always in need of extra tomato paste when making all sorts of Italian dishes.
Fresh Mozzarella
Fresh mozzarella and fresh basil round out the ingredients.
I used the Trader Joe's brand fresh mozzarella. It comes in a 16oz package which is enough for two Margherita pizza pies.
Again if you have access to a better fresh mozzarella buy it! Buffalo mozzarella is my absolute favorite. It's amazing!
Normally higher quality fresh mozzarella will be wetter and stringier. It will also taste much better. As the price gets cheaper the fresh and regular mozzarella start to look and taste the same. For more info check out this article on fresh mozzarella from cheese.com.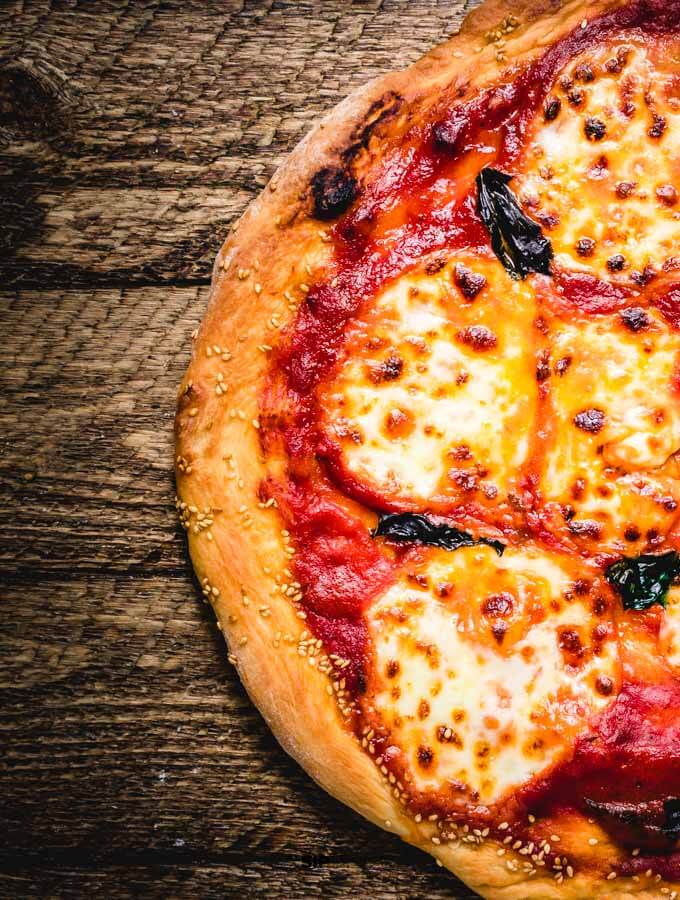 Questions Regarding Store Bought Pizza Dough:
Who makes the best store bought pizza dough?
If you have a great pizzeria near your home, ask them to purchase the dough. Pizzerias have hundreds of dough lots portioned for the next couple of days. I worked in a pizzeria as a kid and we sold the dough often.
In my experience most pizza places will be happy to sell the dough to make your own pizza. It goes without saying, buy from a place you like.
And, if that's not an option, Trader Joe's pizza dough is a very good product. I can not vouch for other brands as I have not tried them.
Avoid buying dough from the chain pizzerias. I was reading the ingredient labels of a few companies and I could not believe how many things are in their dough.
Pizza dough should only have yeast, flour, salt, water, sugar, and oil. That's it!
Why use store bought pizza dough?
Convenience obviously is the most important factor. I love going to the store and picking up a variety of ingredients for pizza night.
If I'm doing a NY Style White Pizza, I will grab some ricotta. Or maybe an anchovy pizza with hot pepper flakes and parsley. Delicious! Anyway you get the idea.
If I'm making three pies I pick up three batches of dough and let it sit out to warm up as I'm prepping the rest of the ingredients. Prepping three different toppings gives the dough the proper amount of time to warm up, so making a few different types might be a good idea!
Working with the dough:
Let the pizza dough warm up to make it easier to roll out and work with. Just leave it out the whole time after leaving the store. Place it in a bowl with a couple tablespoons of olive oil drizzled on top.
Cover it with some plastic wrap or a towel so it doesn't form a skin.
When working the dough make sure you have plenty of flour on hand.
Keep a small bowl of flour at your work surface.
Flour your hands, the cutting board, and the rolling pin to prevent sticking. Let the gravity of the dough work to your advantage. Hold the dough and let it stretch out by itself.
Bring it to the board and roll it out. Repeat this step a couple times to roll out a nice thin pizza.
What else can be made with pizza dough?
I have made calzones, pizza rolls, and garlic knots. Check out my recipe for Broccoli Rabe Sausage Rolls. It's an awesome recipe to make by itself or on pizza night. In fact, a great idea would be to make a pizza, a calzone, and a sausage roll.
I guess go nuts and make the garlic knots as well! They're simply dough knotted together with garlic, parsley, and parmigiano-reggiano cheese. They are so good and so easy to make.
Store bought pizza dough can also be used for cinnamon rolls, churros, various desserts, and pull apart breads.
Difficulty level?
I'm going with a 2.5 out of 5.
The only potential issues I foresee is working with the dough.
To succeed at this, it is imperative to work with dough that is not straight out of the fridge. Can you use cold dough? Yes of course, but I like making things easier and prefer not to fight the dough.

Margherita Pizza Recipe Process:
Start by placing the dough in a glass bowl and drizzling 1-2 tablespoons of olive oil on top of it.
Let the dough warm up and start working on the sauce.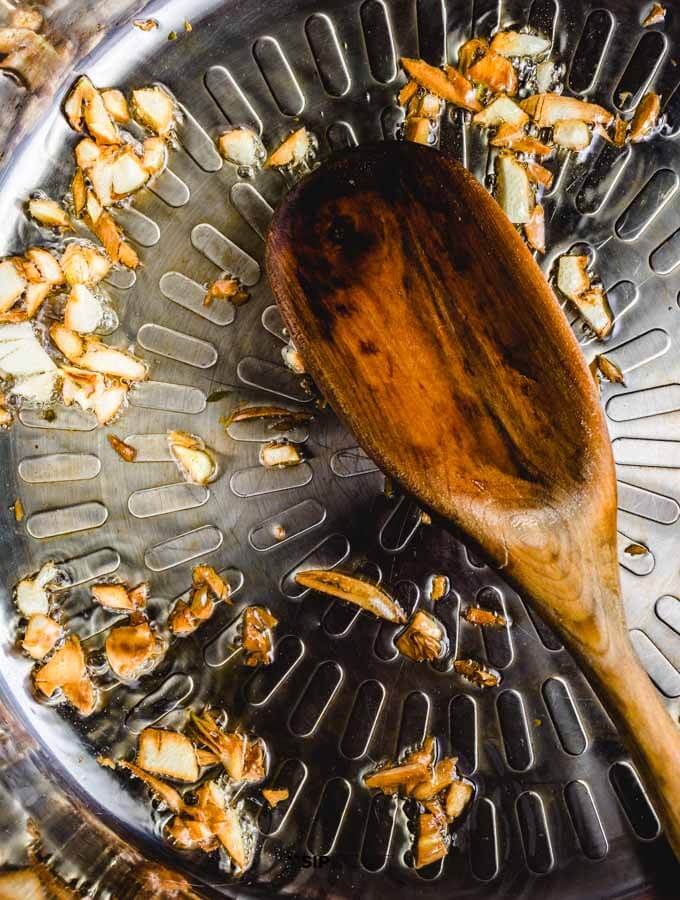 Chop 4 cloves of garlic and saute on medium heat in 2 Tablespoons of olive oil for 2-3 minutes. Get the garlic nice and brown, basically almost to the point of burning but not burning. The most amazing flavor will be released creating the best garlicky tomato sauce.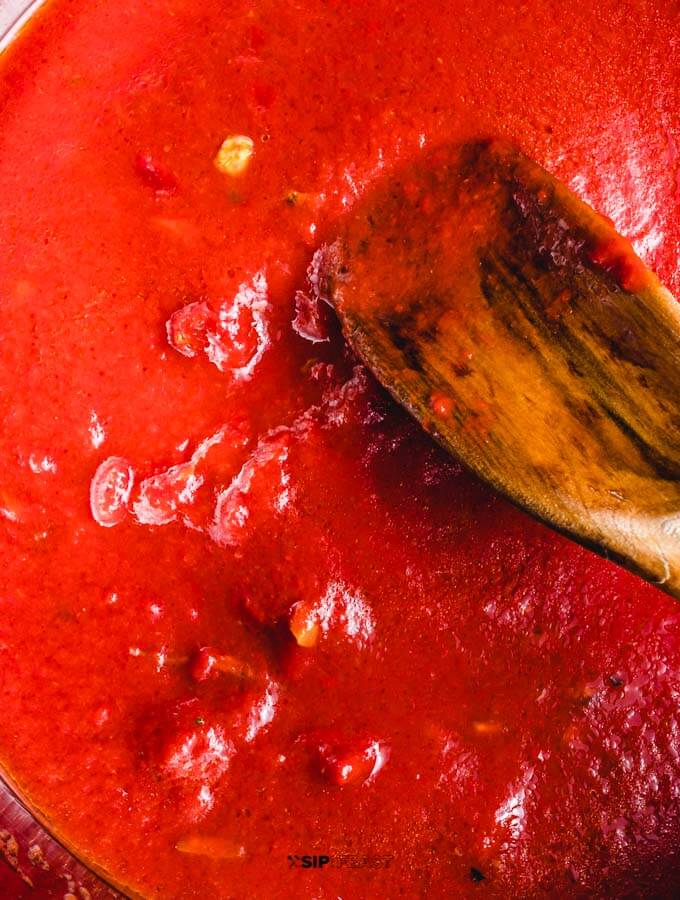 Next, add the full 6 ounces of tomato paste to the pan and 2 cans of water. Be careful with the splattering when the water hits the oil and paste.
Next add the salt and pepper and give the sauce a nice stir. Cover the sauce and turn the heat to medium- low to let it simmer.
Turn on the oven to 450 and place rack in the middle.
While the sauce is simmering start rolling out the pizza dough. The dough is easier to work with when it's warmed up.
Begin by placing flour on the cutting board, your hands, and the rolling pin - Be prepared to make a little bit of a mess. It's all good right ? Hey if you want you could just buy a flatbread and call it a day.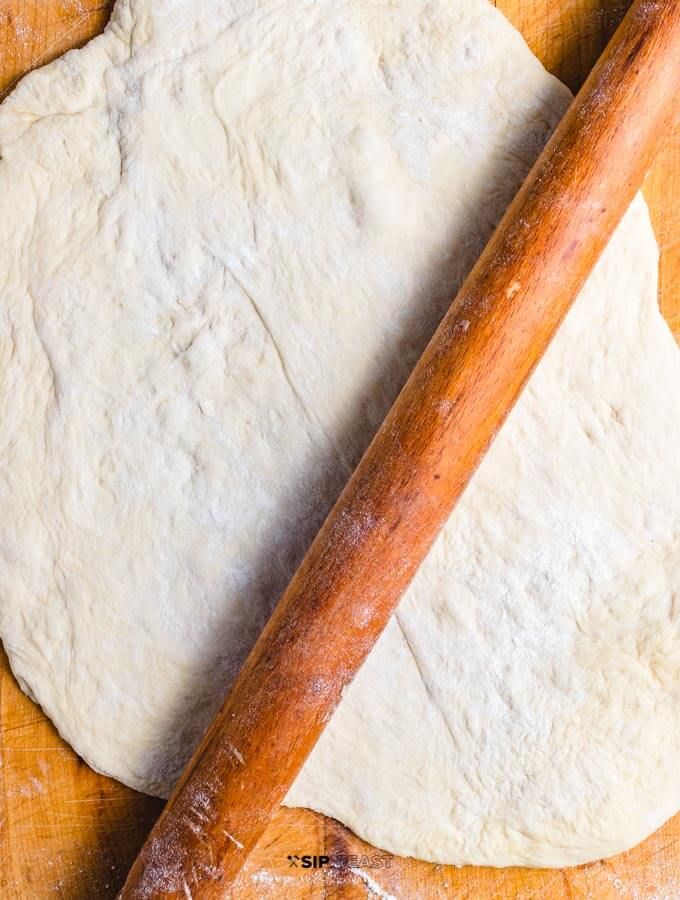 Place the dough on the cutting board and roll it out.
After rolling it out grab the dough and hold it and rotate it in your hands allowing gravity to stretch out the pizza.
This works really well. Be patient as you do it and then return the dough to the cutting board to roll it out flatter.
A circle or oval shape is far easier than trying to fill the pan. Even though you might not get a perfect circle, the homemade pizza will be a uniform thickness.
Place a tiny coating of olive oil on the parchment paper and spread it around.
Why?
To prevent any sticking.
Take the rolled out pizza dough and place it on parchment paper. Form the crust with your hands. I like a small crust, if you want a big one roll up the dough as much as you want.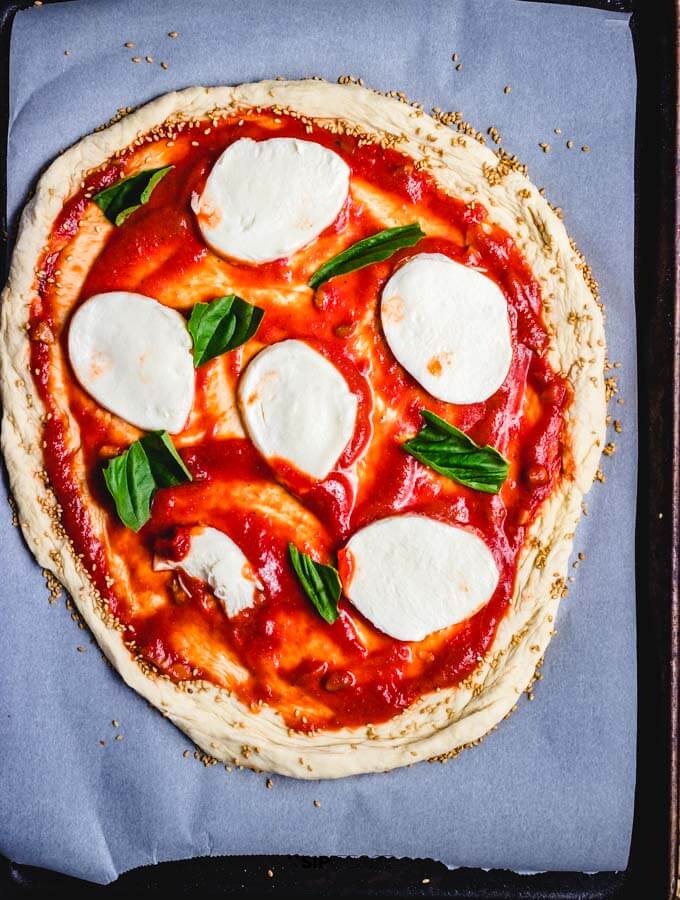 Remove the lid from the simmering sauce and give it a real good stir to make sure it's all incorporated.
Taste it and add more salt or pepper if needed.
Add some crushed red pepper or oregano if you want.
If the sauce is too watery let it cook out uncovered for 5 minutes to thicken up. It's better for the pizza sauce to be on the thicker side.
Place the sauce on the pizza and spread it around. Don't overdo it.
Next place 5-6 slices of the fresh mozzarella all over the pizza.
Next add a few pieces of basil - optionally, you could chop up the basil and spread it on top at the end. I prefer it cooked in like the picture.
Finally, if desired add the sesame seeds on the crust. I love the look, flavor, and texture of this.
Place the pizza in the oven and bake for 15-20 minutes. All ovens are different so pay attention to the pizza to not overcook it. The objective is the nice bubbling cheese and brown crust like the picture.
If the cheese isn't melted properly after twenty minutes broil it for 1 minute. To do this the parchment paper must be removed.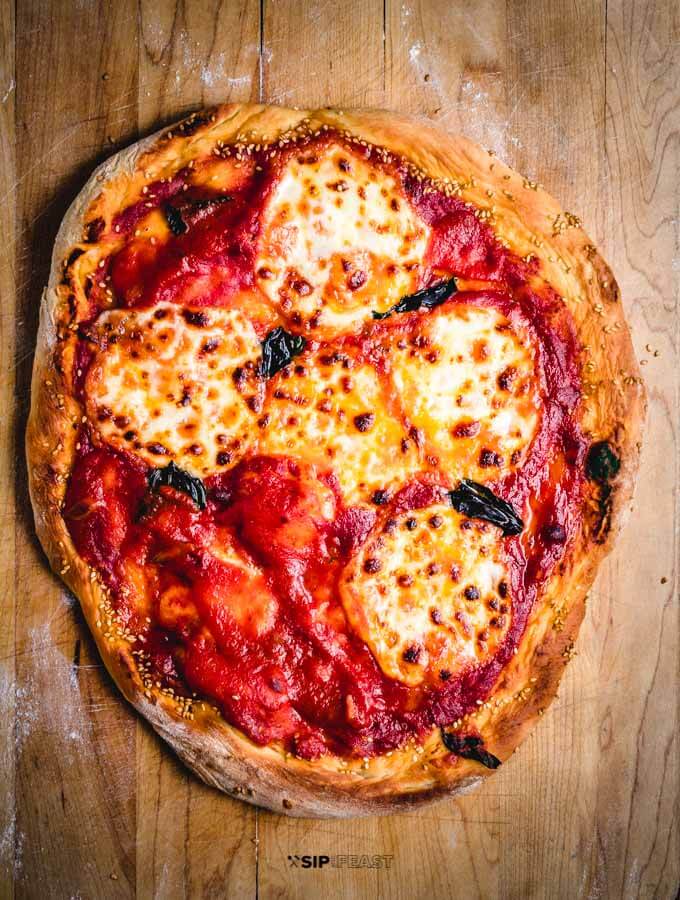 Remove the Margherita pizza and let it rest for 5 minutes. Cutting it will be much easier after a few minutes of resting. Enjoy!
I hope you enjoy this easy homemade pizza pie made with store bought pizza dough.
The total cook time will be around 15-20 minutes.
This is a general time with the oven at 450 degrees. Pay attention to your oven to get a perfect result.
The goal is to get bubbling cheese and a nice crisp crust.
If you're up for more of a challenge, and want to make a pizza from scratch, I encourage you to try our homemade pizza dough and New York pizza recipe.
Also, check out these other easy pizzas:
Other Italian dishes:
Italian inspired drinks:
DID YOU TRY THIS RECIPE?
Give it a star rating.
Ingredients
1

16oz

pizza dough

½

pound

fresh mozzarella

⅛

cup

fresh basil leaves

1

6oz

can tomato paste

12

oz

water

4

cloves

chopped garlic

¼

cup

olive oil

¼

tsp

kosher salt

⅛

tsp

black pepper

1

tsp

sesame seeds
Instructions
Make sure dough has been warming at room temperature for at least 1 hour.

Heat oven to 450 degrees and place rack in the middle of oven.

Chop garlic cloves. Saute garlic in 2 Tablespoons of olive oil on medium heat for 2-3 minutes to get nice and brown. Do not burn garlic but try to get brown.

Add all the tomato paste to the pan with garlic and cook for 30 seconds. Add the water, salt, and pepper and stir around. Watch for splattering when the water hits the oil and tomato paste.

Cover sauce with lid and turn heat to medium-low. Let sauce cook for 5-10 minutes.

Roll out dough to ¼" thickness. Use flour on hands, cutting board, and rolling pin to avoid sticking. I like to roll it then hold and rotate it in my fingers letting gravity stretch it out. Return it back to the cutting board and roll out to the proper thickness and form crust.

Place dough on parchment paper-lined baking sheet coated with 1 Tbsp of olive oil. Parchment paper is not required, a regular sheet pan will work just as well, though it might require a little more oil to avoid sticking.

Remove lid and stir sauce to incorporate the paste completely. Taste and if needed adjust salt or pepper. If the sauce is too thin cook it for 5 minutes uncovered to thicken.

Coat the pizza dough with sauce. Do not overdo the sauce. Use about ¾ cup +/- depending on the size of pizza that was rolled out. Add the sesame seeds to crust if desired.

Place 5-6 pieces of fresh mozzarella on the pizza. Try to separate them for a nicer look. Add a few pieces of basil. Drizzle 1 Tbsp of olive oil onto pizza.

Place pizza in oven and set timer for 15 minutes. The pizza should take 15-20 minutes to get nice and brown and fully cooked.

If the cheese and crust are not cooked enough after the 20 minutes use the broiler for 1-2 minutes. If using broiler remove parchment paper!

When pizza is finished let it rest for 5 minutes before serving. Enjoy!
Notes
The cook time will vary based on the oven being used. 15-20 minutes is a general time. Also, if broiling at the end definitely make sure to remove the parchment paper as it could catch fire.
Trader Joe's regular pizza dough was used for this recipe.
Nutrition
Calories:
550
kcal
|
Carbohydrates:
61
g
|
Protein:
26
g
|
Fat:
23
g
|
Sodium:
610
mg
If you like this margherita pizza with store bought pizza dough we would really appreciate it if you would share it on Instagram or Facebook using #sipandfeast.
It will Let us know how you did and to show others as well. Thanks!
Follow us on Instagram, Pinterest, and Facebook. Sign up to receive great recipe ideas in your inbox.