Simple – Easy – Delicious! I love when all three are going on. This Roasted Broccolini Sheet pan meal with fresh mozzarella, Italian sausage, and cherry peppers is the perfect week night meal. Let's make it!
Why Make This Roasted Broccolini Sheet Pan Dinner?
It's so simple and delicious. Any time you can count on one quality ingredient to be the star of a meal, I say go for it! In this case, the sausage is doing the majority of the heavy lifting. Good Italian sausage has so much great flavor already. You can thank the sausage maker for handling most of the seasoning for this dish.
No different from my Shrimp Tapas dish where the chorizo sausage packs so much flavor, there's not much complicated cooking to complete.
In this dish the roasted broccolini sits on top of the roasted sausage, fresh mozzarella is layered on top of the garlicky broccolini, and finally some vinegary cherry peppers are added for a little heat.
The colors are perfect in this dish. The taste is even better. And like I said – simple!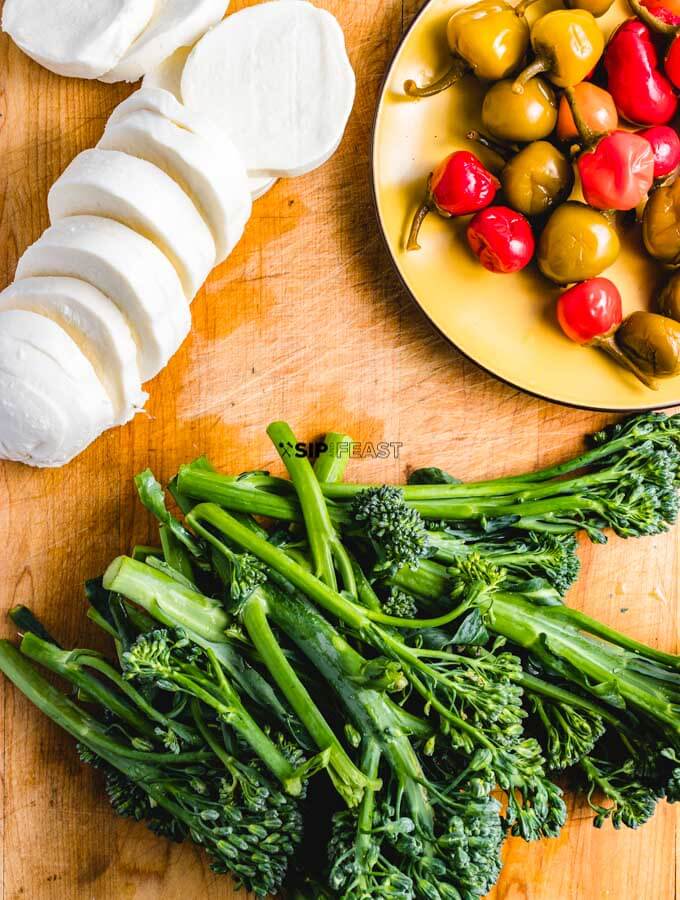 Roasted Broccolini Sheet Pan Dinner Ingredients:
I say get the best sausage you can find. Have access to an Italian pork store? Go there.
The fresh mozzarella I always buy comes from Costco in a 2 pack and is already sliced – perfect!
The broccolini can normally be found in most supermarkets. I got mine at Trader Joe's. If no broccolini can be found, regular broccoli or broccoli rabe would be great substitutes. Broccoli rabe does have a unique flavor and is not related to broccoli. If you love broccoli rabe like I do, check out my recipe for broccoli rabe sausage rolls. Those are awesome!
Cherry peppers are pretty easy to find in most supermarkets. If you are not into spicy get the sweet cherry pepper variety, otherwise go for the hot ones. The hot ones really aren't that hot. Well I think they're not that hot, but I ask for my Thai food hot. Don't do that, unless you know what you're asking for.
That's it on the ingredients besides a little bit of olive oil, garlic powder, and salt and pepper.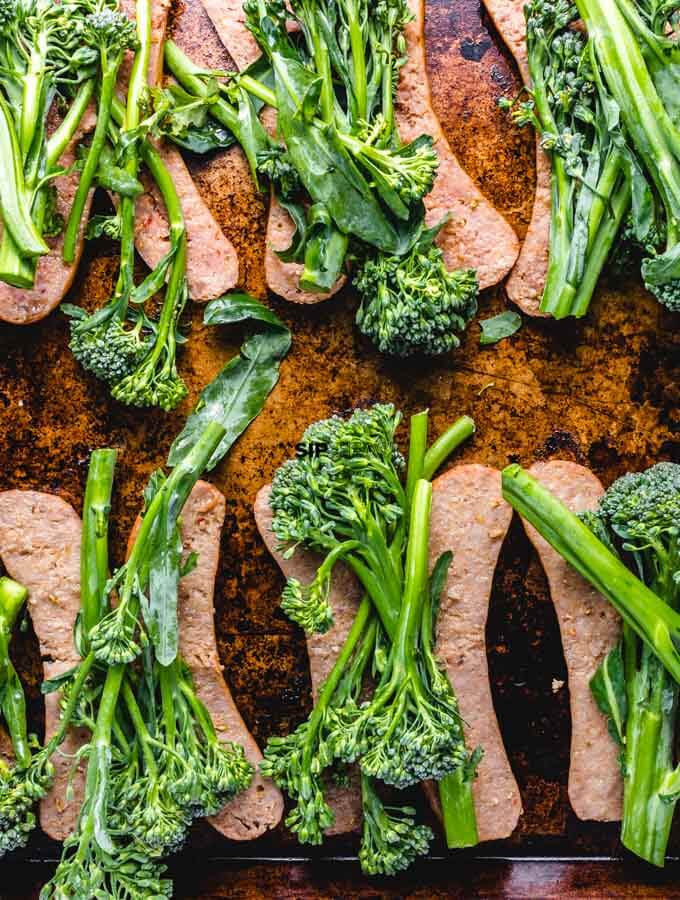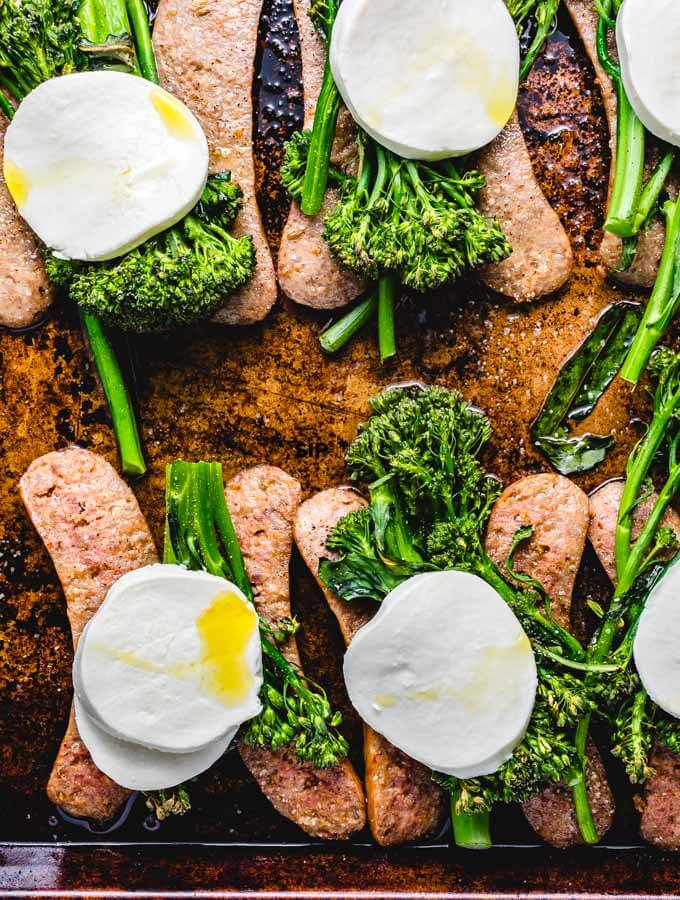 Other Italian Dishes You Might Like:
Did you try this recipe?
Give it a star rating.
Roasted Broccolini And Sausage Sheet Pan Dinner
Easy and delicious sheet pan dinner recipe. Broccolini, Italian Sausage, fresh mozzarella, cherry peppers, and olive oil complete the shopping list.
Ingredients
2.5

pounds

Sweet Italian Sausage

.....Spicy sausage would be great also.

1

bunch

broccolini

.....If it doesn't come in bunches, get about 1 pound.

1

pound

fresh mozzarella

.....I love the sliced version from Costco.

1

pound

jar of cherry peppers

1/4

cup

olive oil

1/4

tspn

kosher salt

1/4

tspn

black pepper

1/4

tspn

garlic powder
Instructions
Heat oven to 425 degrees. When oven comes to temp place sausages on sheet pan and cook in oven for 20 minutes.

While sausage is cooking chop lower 1 inch of broccolini stems off and discard. Drain cherry peppers and remove stems from each pepper. Chop peppers in half or quarters depending on size.

Remove sausage from oven and let cool for a few minutes. Cut sausages in half.

Place broccolini on top of each sausage, evenly distributing it. Drizzle 2 tablespoons of olive oil on broccolini and season with salt, pepper, and garlic powder. Place sausage and broccolini back in oven for 10 minutes.

After ten minutes remove pan. Turn on broiler.

Place one slice of mozzarella on each broccolini and sausage section. Return back to oven to broil for 3-5 minutes.

Watch carefully and remove before it burns.

After removing, top with cherry peppers and remaining olive oil. Enjoy!
Nutrition
Calories:
752
kcal
|
Carbohydrates:
5.2
g
|
Protein:
40.2
g
|
Fat:
63.1
g
|
Saturated Fat:
19
g
|
Cholesterol:
161
mg
|
Sodium:
1211
mg
|
Potassium:
795
mg
|
Fiber:
2
g
|
Sugar:
1.3
g
|
Calcium:
63
mg
|
Iron:
3
mg
Nutrition information is automatically calculated, so should only be used as an approximation.
Please share this sheet pan recipe on Instagram or Facebook using #sipandfeast, to let us know how you did and to show others as well. Thanks!
Follow us on Instagram, Pinterest, and Facebook. Sign up to receive great recipe ideas in your inbox.