Italian sausage and potatoes is a simple, sheet pan dinner that is as comforting as it is delicious. Crispy potatoes are infused with all the flavor that comes from being nestled beside the sausage, plus plenty of onion slices for good measure. We like to serve ours with cherry peppers and grated Pecorino Romano at the end because they both really do make everything better!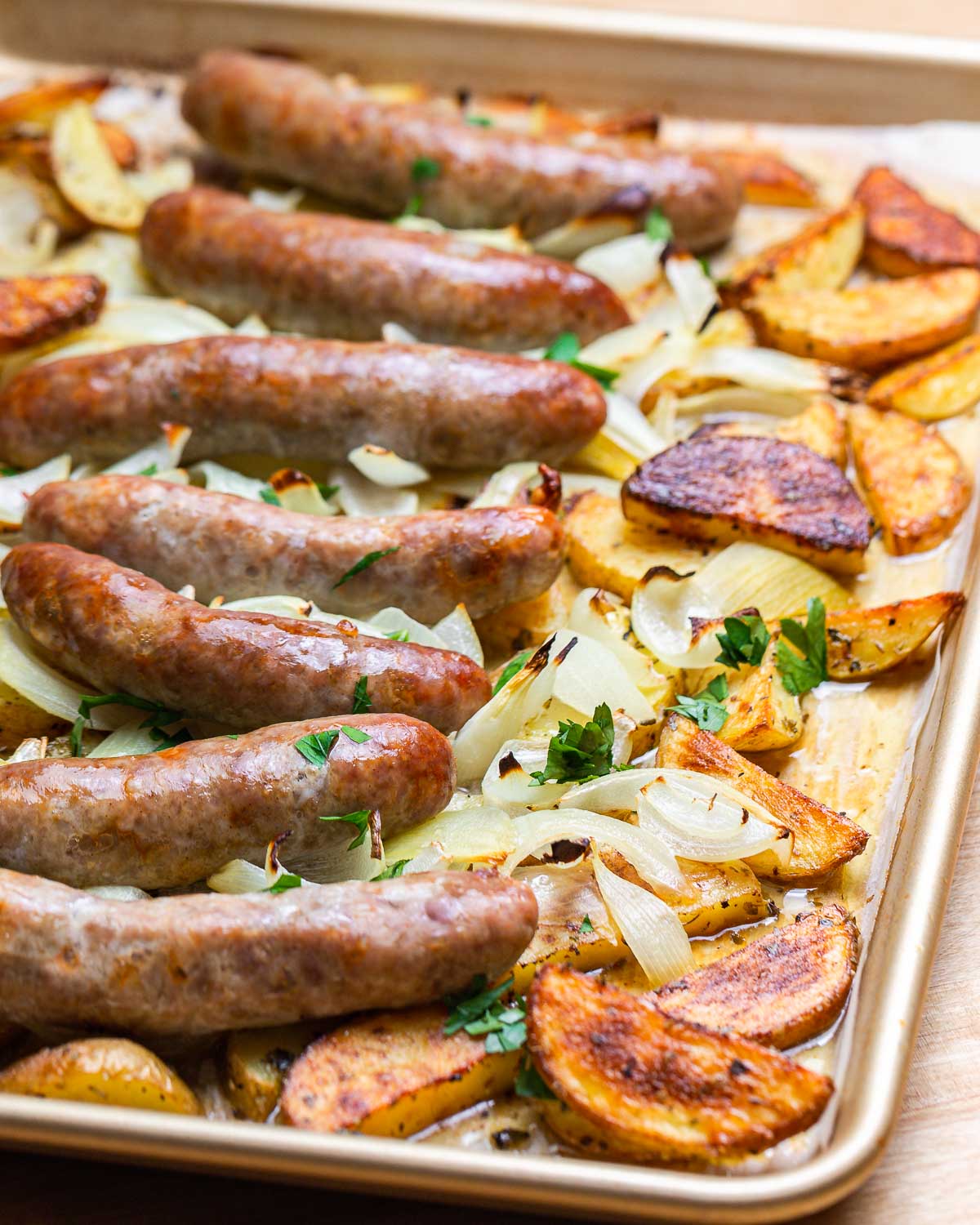 Editor's Note: Originally Published on September 25, 2018. Updated with full process shots and expanded info.
Italian sausage and potatoes is the quintessential New York Italian-American sheet-pan dinner.
I've been eating this since before "sheet-pan dinners" were even a thing. My grandmother, and mother, would make this regularly and it never disappointed!
Now I make it for my family and it's always a hit. Served alongside a simple side, like the best green salad, or our orange fennel salad, this really is the perfect easy dish for any night of the week.
What type of sausage?
Wander into any nonna's kitchen when she's making sausage and potatoes, and you're likely to find pinwheel sausage - the long skinny sausage that is coiled up into a wheel.
Pinwheel sausage can be purchased at almost any Italian pork store here in the New York metro area. Cheese and parsley is the type most commonly found and works great for this recipe.
Having lived outside of New York for a few years, I can say that pinwheel sausage isn't available everywhere - and that is ok, really!
While my preference is to use pinwheel sausage in this dish for tradition's sake, sausage links will work just as well.
I'd recommend using either sweet Italian sausage with fennel or hot Italian sausage. A combination of the two would be great as well!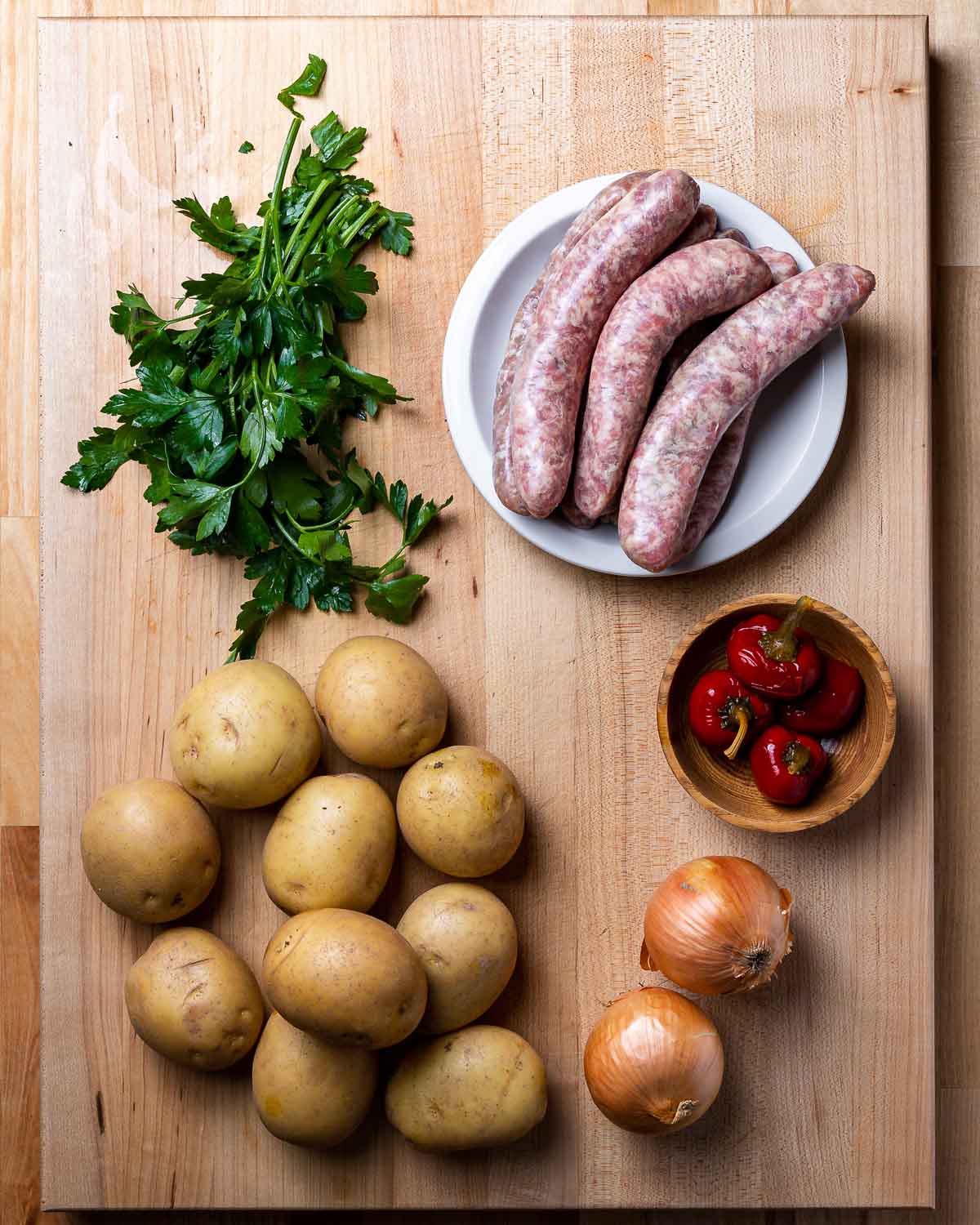 How to make it
Each number corresponds to the numbered written steps below.
Preheat the oven to 425f and set one rack to the lowest level and the other to the middle of the oven. Begin by slicing 1 medium onion. Also cut 2 ½ pounds of potatoes into wedges. Note: The shape isn't too important. Just try to keep the pieces a uniform size so that they all cook at the same rate.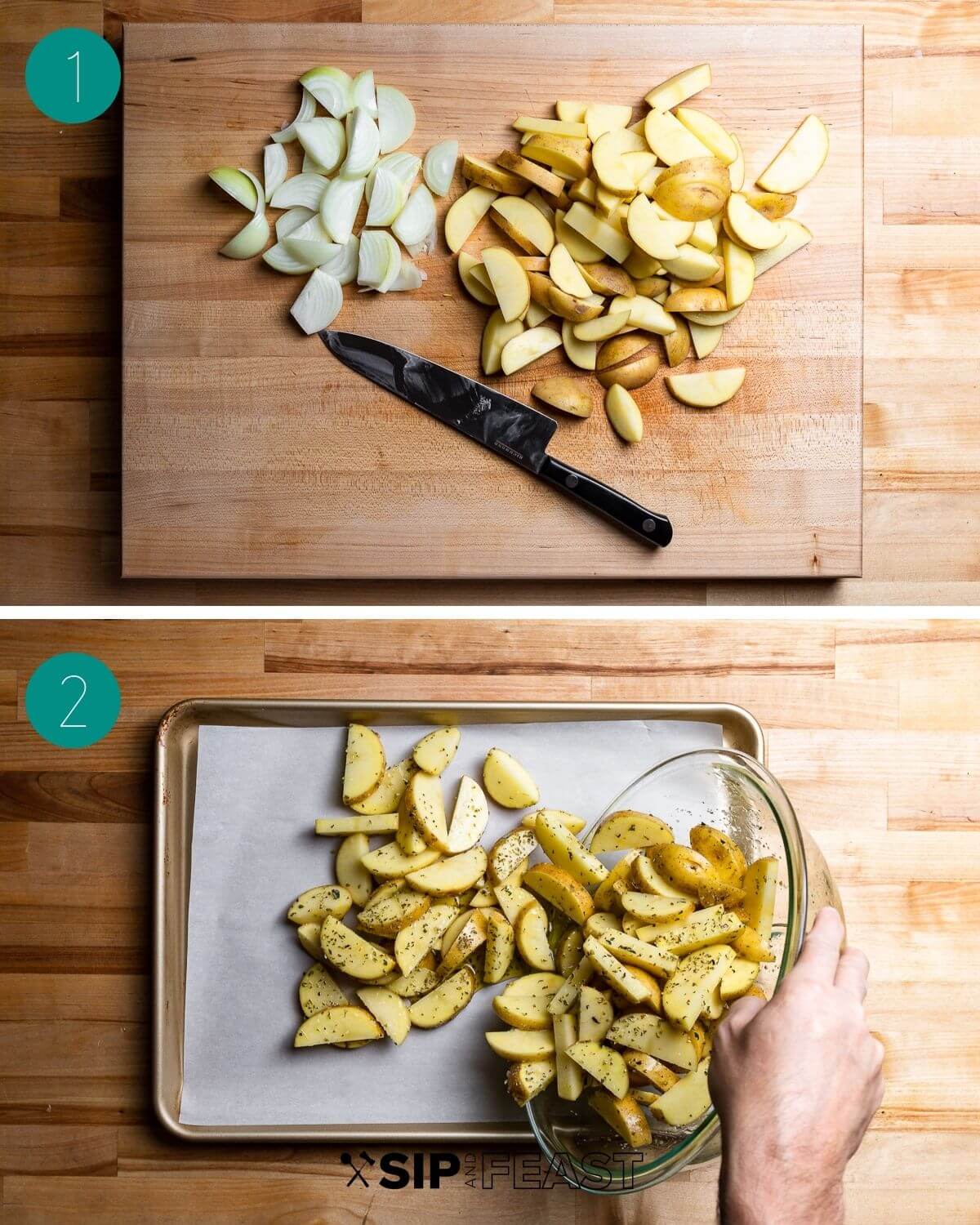 In a large bowl, toss the potatoes with ⅜'s cup of olive oil, 1 ½ teaspoons kosher salt, 1 teaspoon black pepper, and 1 ½ teaspoons of dried oregano. Mix well and spread out onto a baking sheet.
If needed, use two sheets to avoid overcrowding the potatoes. Roast the potatoes in the bottom of the oven for 15 minutes. Note: Overcrowding the potatoes will result in less browning. You can use parchment paper, but if you do, avoid broiling the sausage and potatoes since parchment paper is not broiler safe.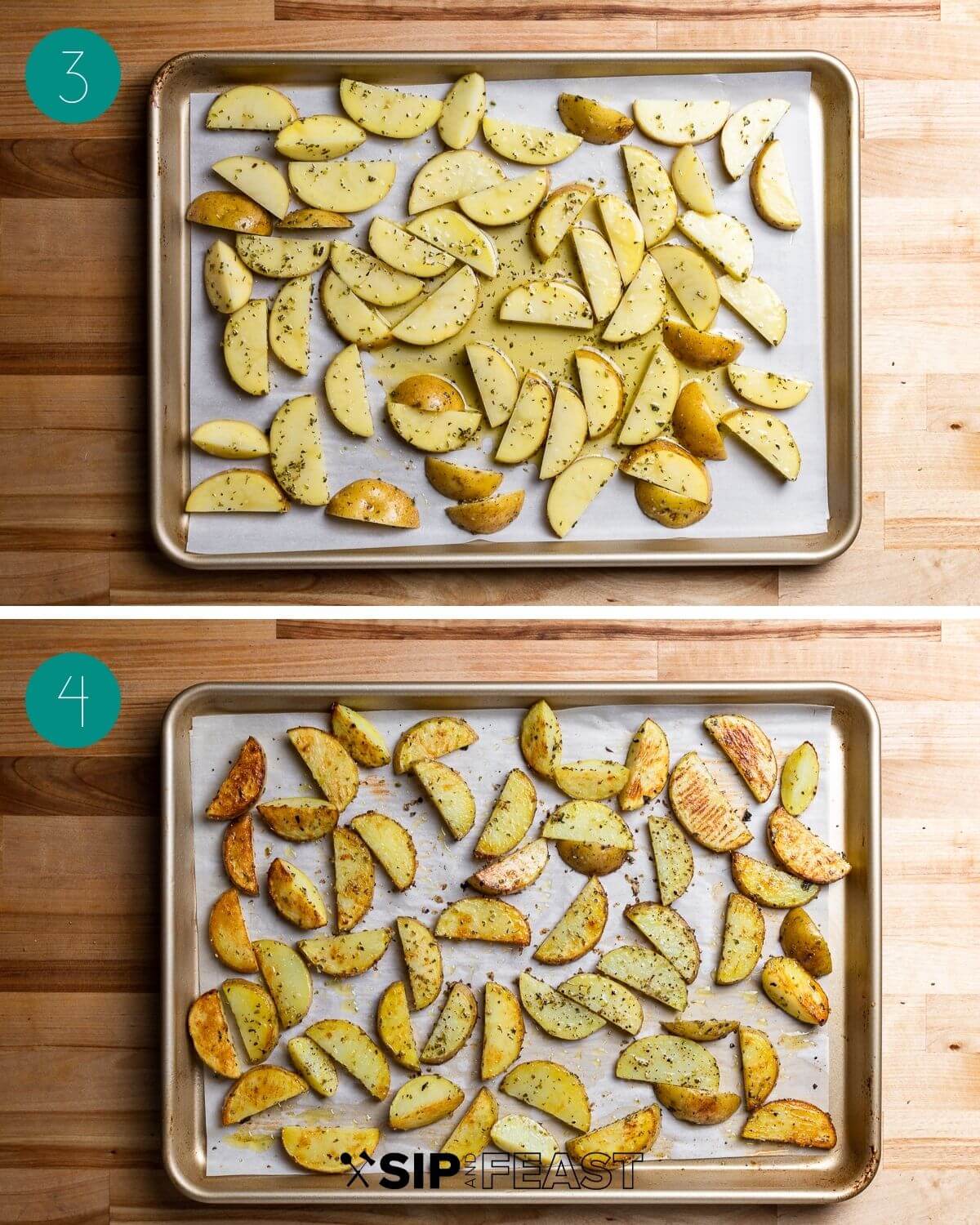 After 15 minutes of cooking, the bottom of the potatoes will be nice and brown. Flip the potatoes over.
Spread the onions out on top of the potatoes and place the sausage links on top of the onions. If using a pinwheel sausage, place the full pinwheel in the middle of the pan. Return the pan to the oven and cook for 30-35 minutes more or until brown.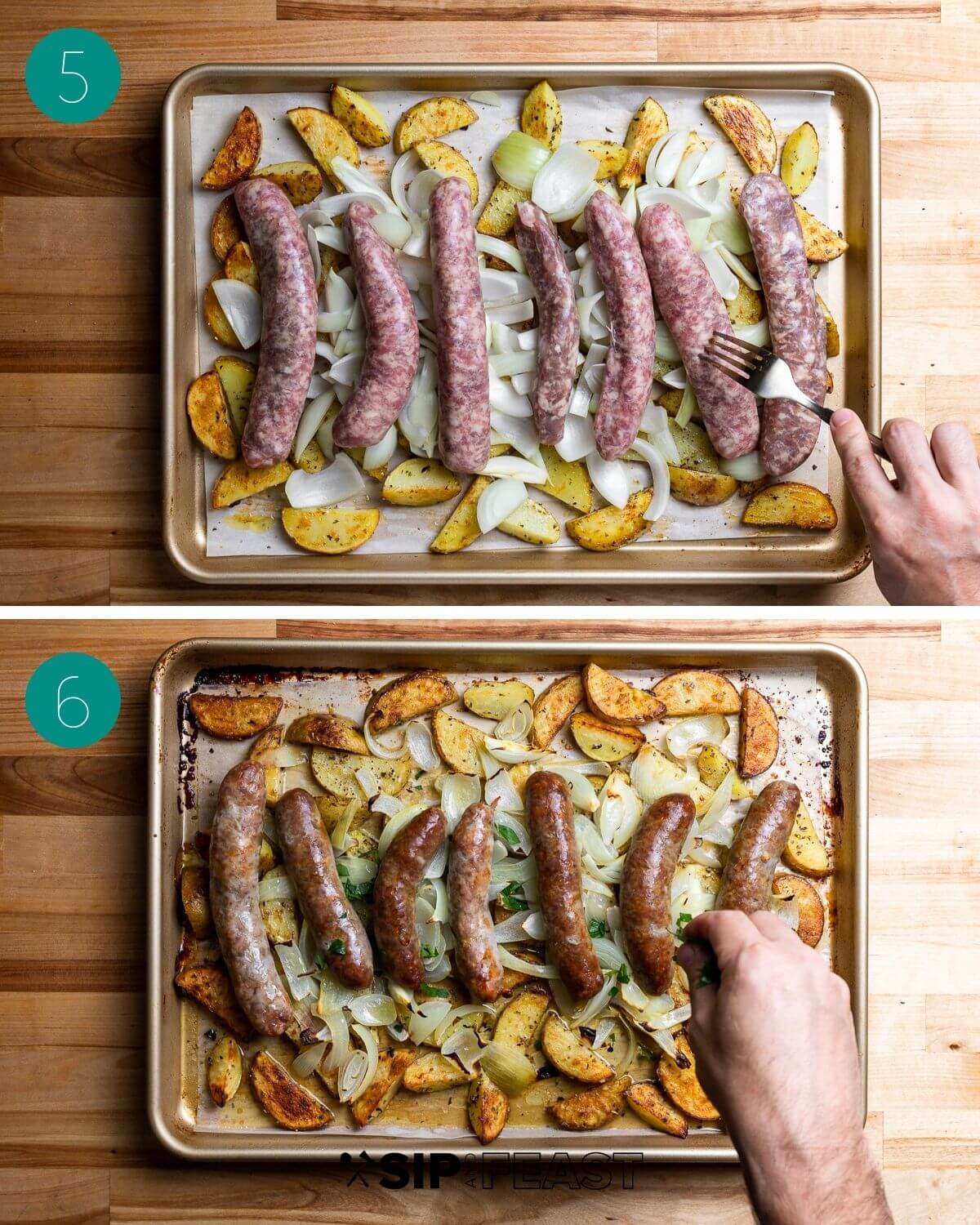 If the sausage and potatoes aren't brown enough after 30-35 minutes of cooking, move the sheet up to the top and broil for 1-3 minutes but watch carefully to avoid burning. When finished sprinkle with 3 tablespoons of minced fresh parsley. Serve with cherry peppers and grated Pecorino Romano on the side. Enjoy!
Top Tips
Brown the potatoes - By initially roasting the potatoes on the lowest rack of the oven at 425f, they will get quite brown and can then be flipped and finished cooking with the sausage and onions. If the potatoes aren't quite brown enough after 15 minutes, give them 5-7 minutes longer or so before flipping.
Don't overcrowd the pan - Overcrowding will steam the potatoes instead of roasting them. If needed, use two sheet pans.
Broil for finishing - If you want a bit more color on top of the sausage, broil for the last 1-3 minutes. Watch carefully! If you do choose to broil, do not use parchment paper since most types are only rated to 450f.
Dried oregano - This is pretty much the only dried herb that you'll see used in Italian-American dishes. From homemade New York pizza to baked chicken and potatoes, dried oregano often makes an appearance. Use Sicilian oregano if you can find it.
Pecorino and cherry peppers - A hefty sprinkle of Pecorino Romano cheese mixes in with the oily sausage and potatoes and just tastes so good. If you like some heat add some cherry peppers to get that chicken scarpariello taste or use Calabrian chili paste for another great flavor. Both peppers work extremely well with this dish.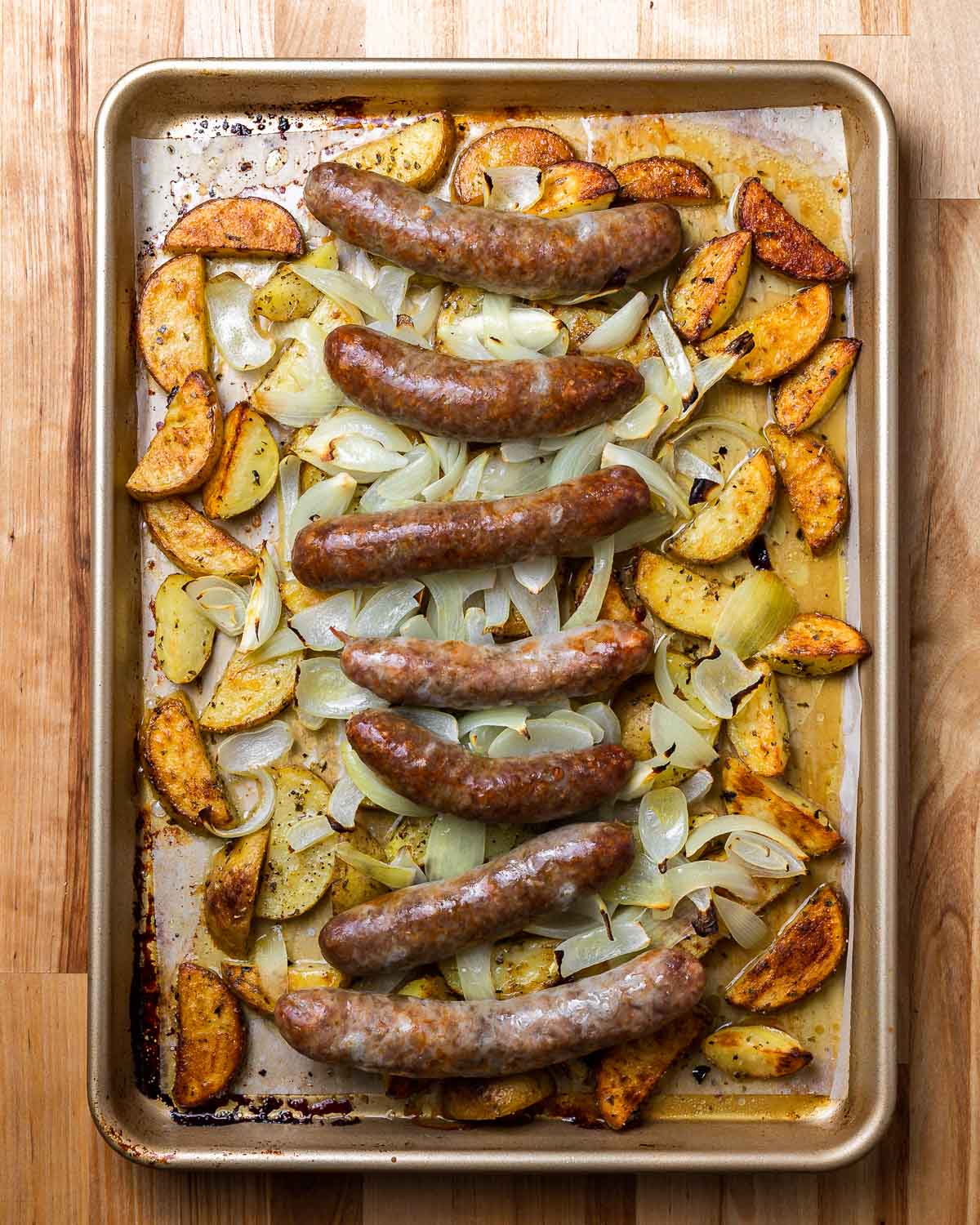 More sausage and/or potato recipes
Sausage and potatoes are a winning combination. But they're also great without one another.
We've got a few recipes that feature either sausage, potatoes, or both that we think you will love!
If you've enjoyed this Italian sausage and potatoes recipe or any recipe on this site, give it a 5-star rating and leave a review.
Some people learn by watching. If you're that type of person, you can find most of our recipes on YouTube and our Facebook Page.
📖 Recipe
Ingredients
2 ½

pounds

Yukon Gold potatoes

cut into wedges

2

pounds

Italian sausage

see notes below

1

medium

onion

sliced

1 ½

teaspoons

dried oregano

1 ½

teaspoons

kosher salt

1

teaspoon

black pepper

⅜

cup

olive oil

3

tablespoons

parsley

minced

3

medium

cherry peppers

optional, for finishing

½

cup

Pecorino Romano cheese

grated, for finishing
Instructions
Preheat the oven to 425f and set racks to the lowest and the middle level of the oven.

Toss potatoes with olive oil, salt, pepper, and oregano. Spread potatoes out onto a baking sheet. If necessary use 2 baking sheets to not overcrowd the potatoes.

Cook the potatoes for 15 minutes on the bottom rack then remove from the oven. Turn the potatoes over in the pan, then spread out the onions over the potatoes, and finally place the sausages on top.

Cook for the remaining time on the middle oven rack until the sausage is completely cooked through. About 30 more minutes. If desired you can move than pan up and broil for the last 1-3 minutes to brown the top. Top with the minced parsley and serve with cherry peppers and/or Pecorino Romano on the side. Enjoy!
Notes
Makes 6 moderate or 4 large servings.
Traditionally this recipe is made with pinwheel sausage. That might prove difficult to find in many parts of the country, so use regular Italian sausage links if required. Pinwheel sausage should take a few minutes less to cook than thick sausage links.
If the sausage is not brown enough, feel free to move the pan up and broil for the last 1-3 minutes to get better color.
Yukon Gold potatoes are recommended for their flavor and creaminess, but russet potatoes would work well too.
Nutrition
Calories:
759
kcal
|
Carbohydrates:
31.5
g
|
Protein:
32.8
g
|
Fat:
55.7
g
|
Saturated Fat:
15.7
g
|
Cholesterol:
127
mg
|
Sodium:
1345
mg
|
Potassium:
1242
mg
|
Fiber:
5
g
|
Sugar:
3
g
|
Calcium:
41
mg
|
Iron:
3
mg
This recipe was originally published on September 25, 2018. It was completely updated on October 8, 2021.