Italian sausage meatballs are the perfect way to change up your meatball game! These simple meatballs get their rich flavor from Italian sausage, garlic, Pecorino Romano cheese, and breadcrumbs. Baked in the oven, these meatballs are perfect when paired with a simple marinara sauce, a side of pasta, and plenty of grated Pecorino Romano cheese.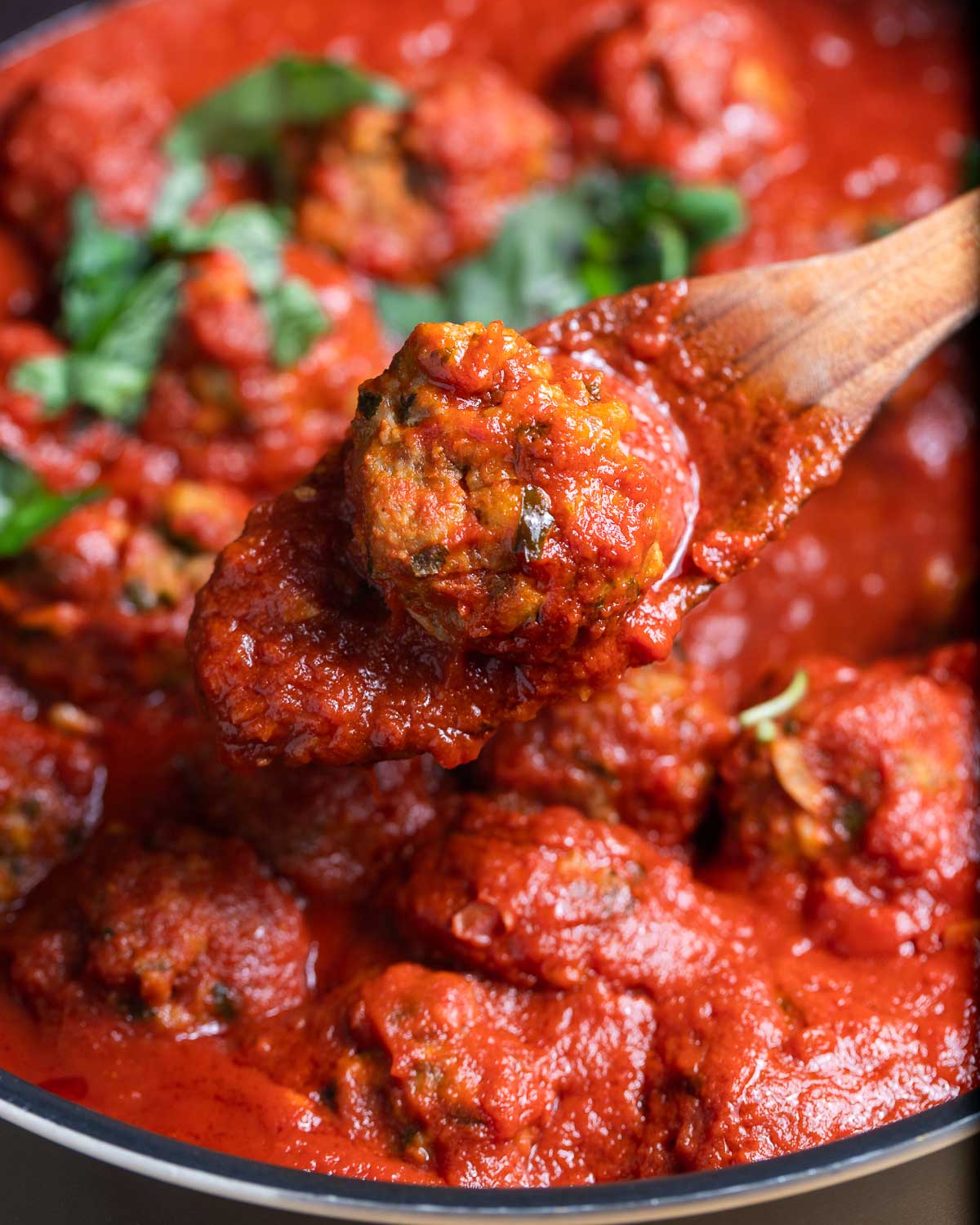 Meatballs are one of the quintessential Italian-American Sunday sauce staples, as are braciole, pork ribs, and sausage.
And just every now and then you combine two of these to make one really spectacular creation.
And that is how these Sunday sauce-inspired sausage meatballs came to be.
The best part might be the reactions you'll notice when you serve these.
I love seeing the delight on my kids' faces when they thought they were biting into a regular meatball but instead were surprised with that wonderful sausage flavor.
These Italian sausage meatballs are the perfect changeup because who doesn't enjoy a little surprise every now and then?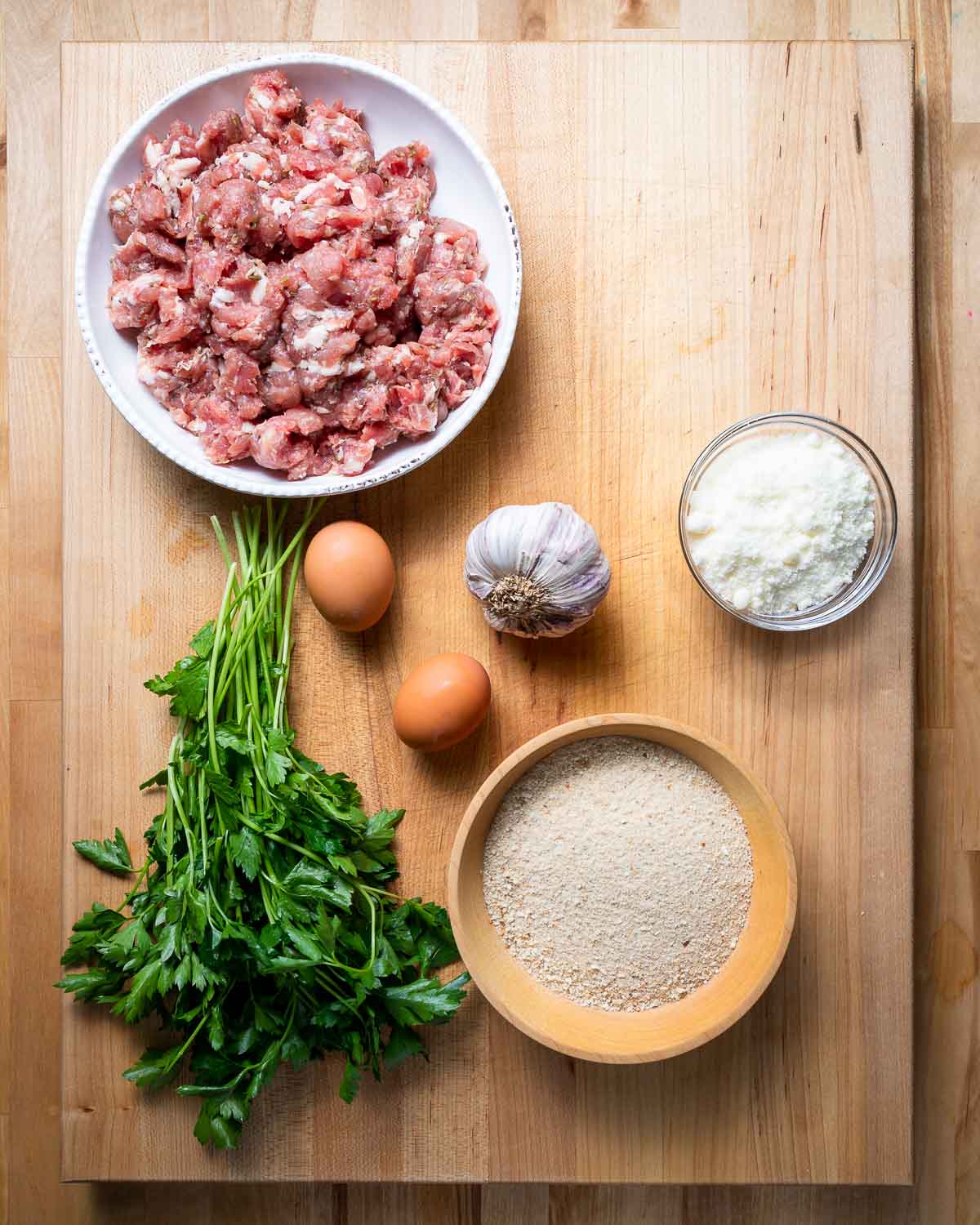 How to make sausage meatballs
Each number corresponds to the numbered written steps below.
Preheat your oven to 375f and set the rack to the middle level. In a large mixing bowl combine 2 pounds of bulk Italian sausage, 3 cloves of grated garlic, 1 cup of grated Pecorino Romano, 1 1/2 cups of breadcrumbs, 1/4 cup milk, 1/4 cup minced parsley, 3 eggs, 1/2 teaspoon kosher salt, and a 1/2 teaspoon of black pepper. Mix well to rehydrate the breadcrumbs with the egg and milk. Note: Feel free to use fresh breadcrumbs. If doing so wet them with milk or water and squeeze out the excess prior to using. For store-bought breadcrumbs, the milk and egg should coat and saturate the breadcrumbs to help rehydrate and take some of the dryness out of them.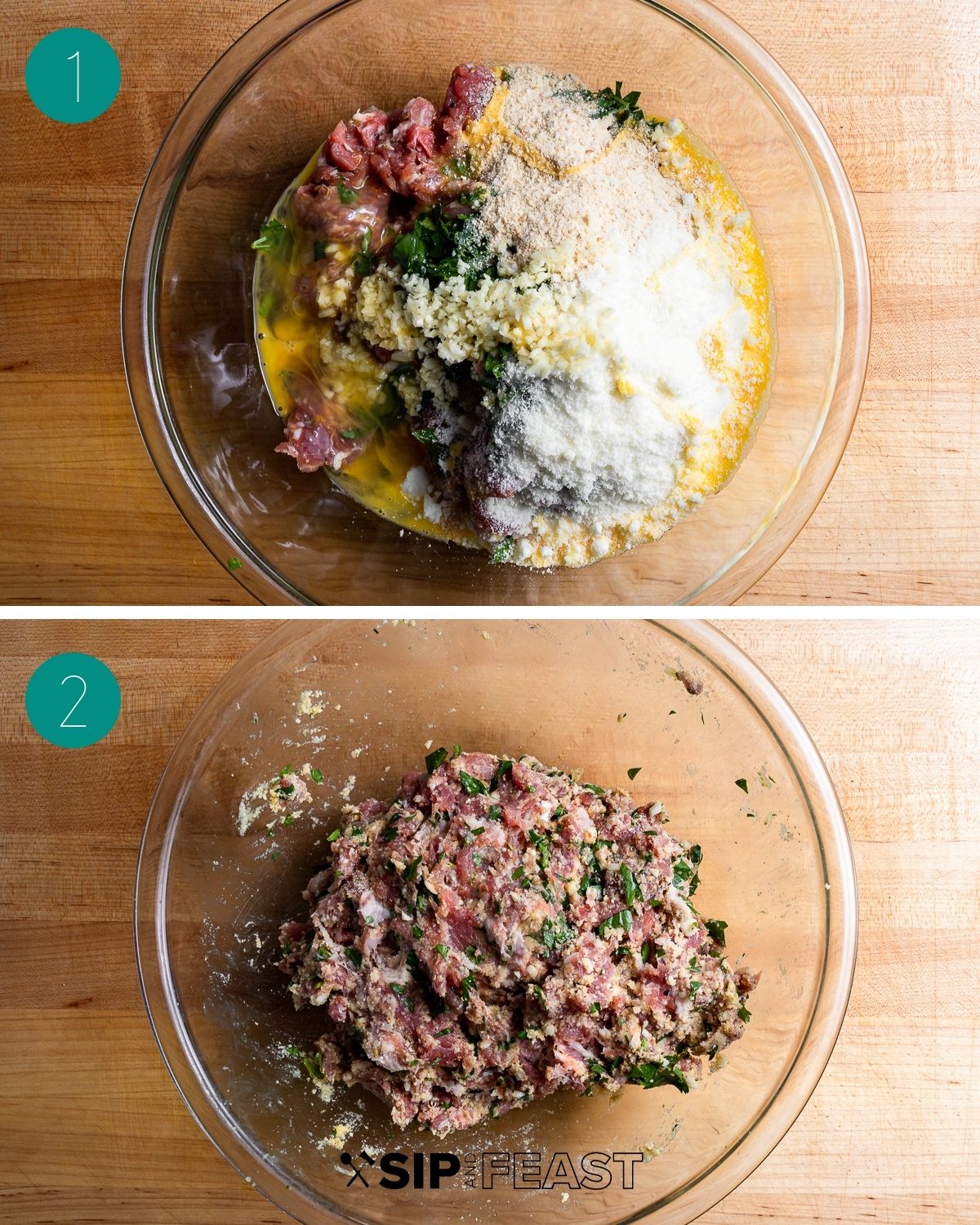 If the mix seems too wet and will not form a sausage meatball that will hold its shape, add a bit more dry breadcrumbs (~1/4 cup or so) and mix again.
Once satisfied, set up a bowl of water next to the bowl of the sausage meatball mix. Dip hands into the water and roll a golf ball size meatball. Place all of the sausage meatballs onto a wire rack lined baking sheet. Note: The water helps keep the mix off your hands and facilitates an easier rolling process.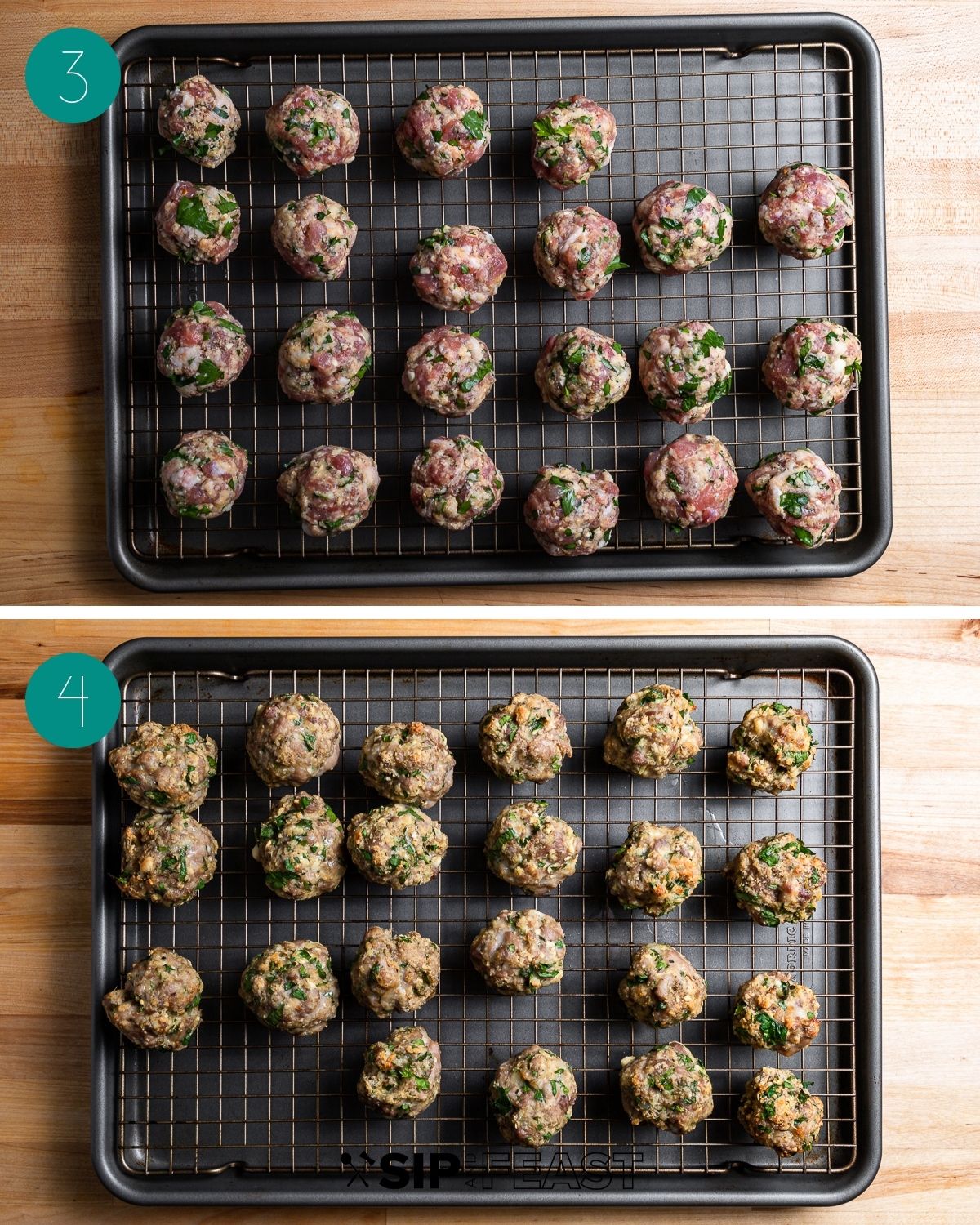 Bake the sausage meatballs until they reach an internal temperature of 160-165f. Depending on the exact size rolled, they should take anywhere from 20-30 minutes. For accuracy, use an Instant-read thermometer, or just cut one open to see if they are done.
Place the meatballs into a simmering pot of marinara sauce. The cooking time will help soften the sausage meatballs, but it's not required. In fact, they are great straight out of the oven. If you have the time, I still do recommend about 30 to even 60 minutes in the sauce. The sauce will take on the flavor of the sausage improving the flavor of the overall dish.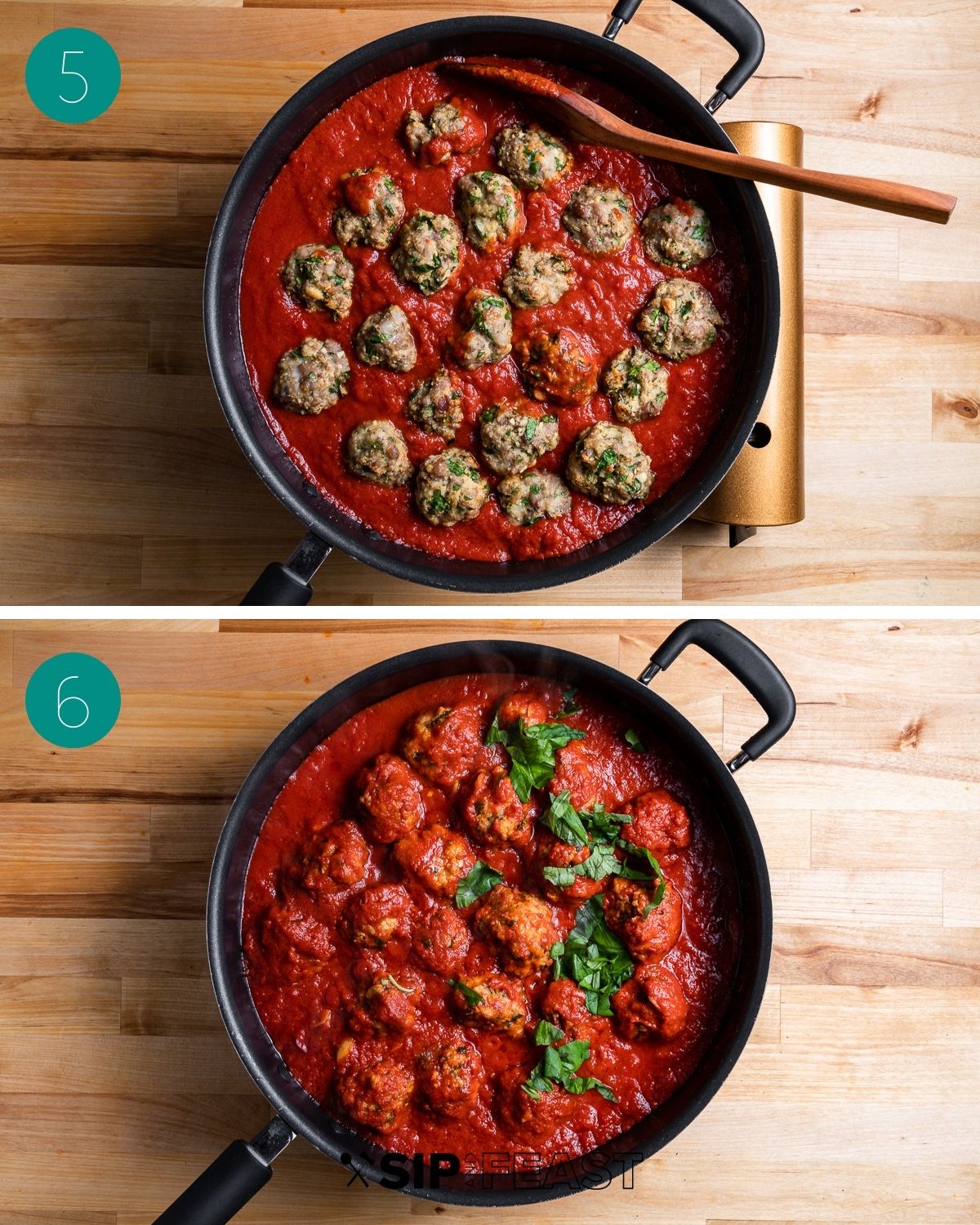 Finish the meatballs with a 1/4 cup of hand-torn basil. Serve with grated Pecorino Romano and crusty bread to mop up the sauce. Rigatoni or any pasta you like can be used to create a larger meal.
Note: Leftovers can be saved for up to 3 days in the refrigerator or can be frozen for three months. I'll often triple this recipe and save 2/3's in the freezer for use at a later date. When ready to use, simply reheat in the sauce of your choice over moderate heat on the stovetop.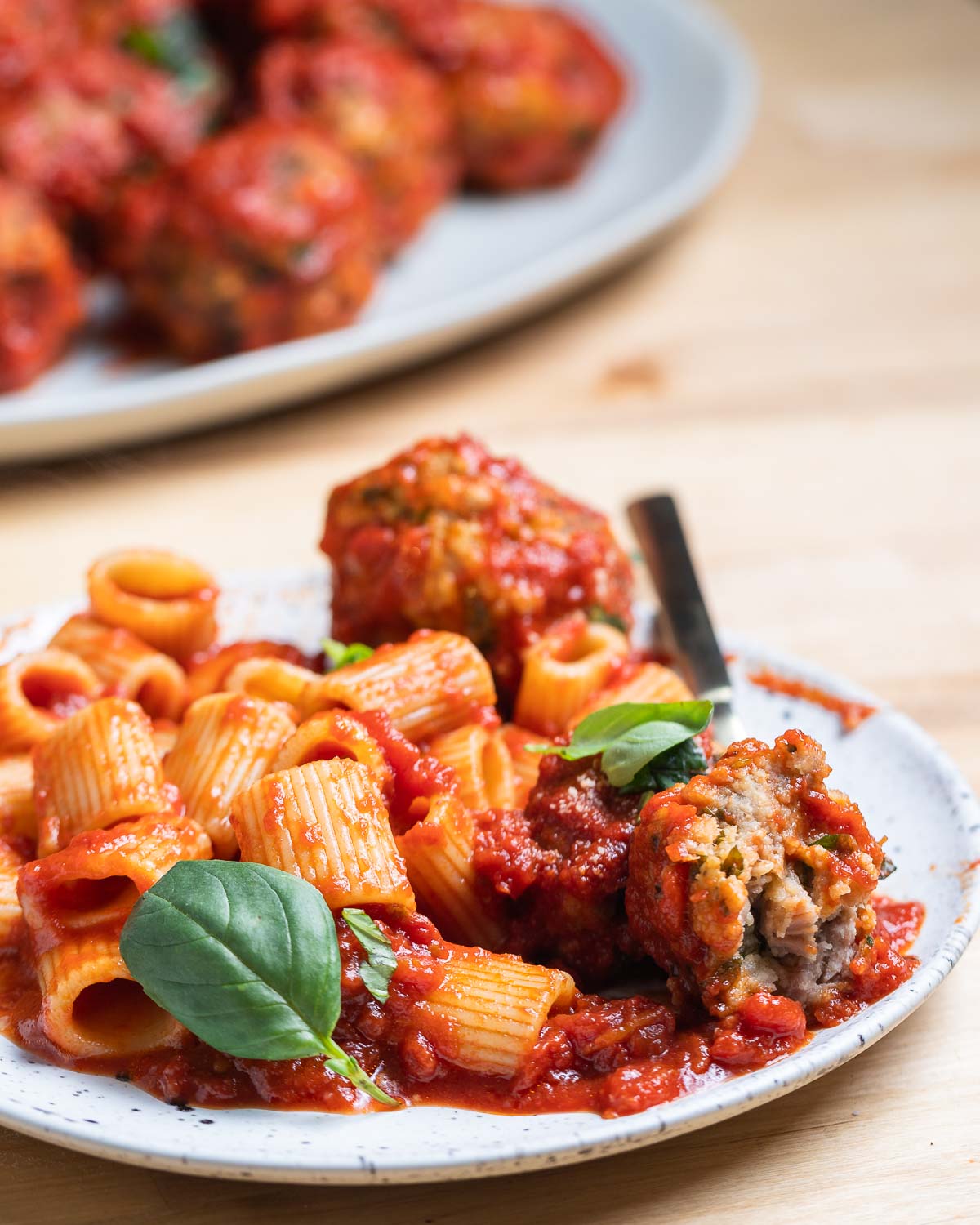 Variations and ideas
The sausage – For this particular recipe, I used sweet Italian fennel sausage. If you prefer to use hot Italian sausage, that would work just as well. If you're lucky enough to live near an Italian pork store, like A&S in Massapequa, New York, you can use any of their special sausages, like their broccoli rabe sausage, that would be great as well. You'd just need to remove those from the casing or ask them if you can buy the sausage in bulk.
The sauce – For purposes of this recipe, I served the meatballs with a simple marinara sauce. You can also achieve very similar results with a Sunday-style sauce.
For other dishes – You can cut up the sausage meatballs or make them much smaller and use them for lasagna or baked ziti. Delicious!
Variations – If you're in the mood for something other than tomato sauce, skip the marinara and serve these as a side for fettuccine alfredo or with garlicky broccoli rabe and melted mozzarella on a hero!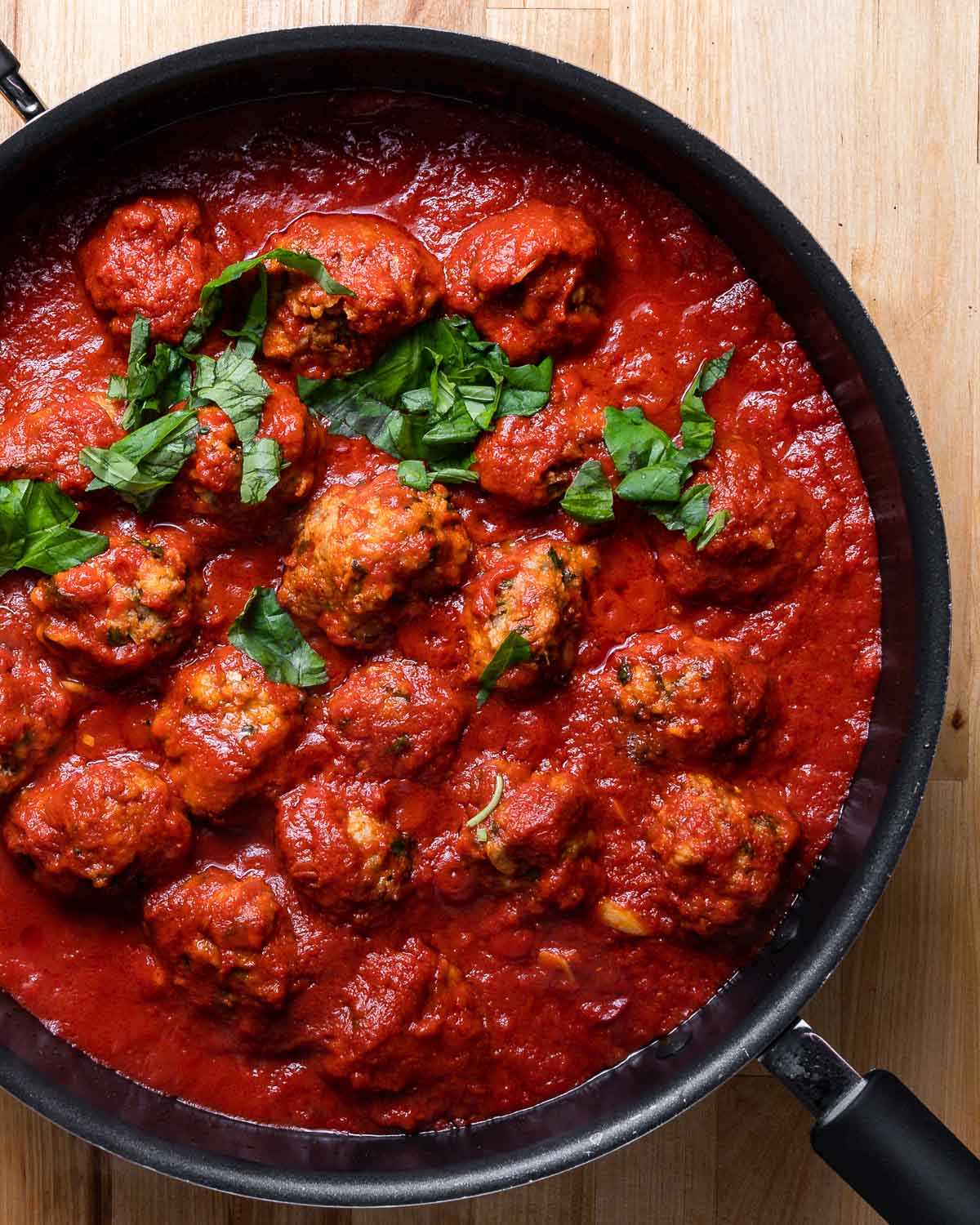 More great meatball recipes (and sausage too!)
If you're looking for more ways to change up your meatball game, check out these options. Also included are some of our favorite sausage recipes. Enjoy!
If you've enjoyed this recipe for Italian sausage meatballs or any recipe on this site, give it a 5-star rating and leave a review.
Some people learn by watching. If you're that type of person, you can find most of our recipes on YouTube and our Facebook Page.
Italian Sausage Meatballs
Italian bulk sausage, breadcrumbs, garlic, and Pecorino Romano bring all the flavor to this fun alternative to the original meatball.
Ingredients
Meatball mix
2

pounds

bulk Italian sausage

or sausage removed from casings

3

cloves

garlic

grated

1

cup

Pecorino Romano cheese

grated

1 1/2

cups

breadcrumbs

plus possibly extra, see notes

1/4

cup

milk

3

large

eggs

1/2

teaspoon

kosher salt

1/2

teaspoon

black pepper

1/4

cup

parsley

minced
Instructions
Preheat oven to 375f and set the rack to the middle level.

In a large mixing bowl combine sausage, garlic, Pecorino Romano, breadcrumbs, milk, parsley, eggs, salt, and pepper. Mix well to hydrate the breadcrumbs with the egg and milk.

Roll approximately golf ball size meatballs. To prevent sticking, dip hands into a small bowl of water between rolling each meatball.

Place the meatballs on a sheet pan with a wire rack and bake for approximately 25 minutes or until the internal temperature of the center of the meatball reaches 165f.

The meatballs can be served right away with marinara sauce or braised in the sauce on medium heat for about 30 minutes to soften and flavor the sauce.

Before serving hand tear the basil and serve with more Pecorino Romano cheese. Enjoy!
Notes
This recipe only calls for a 1/2 teaspoon of salt due to the inherent saltiness of bulk sausage and the addition of Pecorino Romano cheese. Different sausage brands will have more or less sodium, so keep that in mind and make a note for the next time you make the recipe.
If the meatball mix is too wet add a bit more dry breadcrumbs to thicken the mix. The meatballs should hold their shape when rolled and placed on the wire rack.
Use this Sunday sauce or marinara sauce recipe. Or make your own!
Leftovers can be saved for up to 3 days or frozen for 3 months. Reheat in sauce over moderate heat on the stovetop or in the microwave.
Nutrition
Calories:
149
kcal
|
Carbohydrates:
5.5
g
|
Protein:
8.8
g
|
Fat:
10.2
g
|
Saturated Fat:
3.5
g
|
Cholesterol:
45
mg
|
Sodium:
476
mg
|
Potassium:
188
mg
|
Fiber:
0.6
g
|
Sugar:
1.5
g
|
Calcium:
56
mg
|
Iron:
1
mg
Nutrition information is automatically calculated, so should only be used as an approximation.